diversity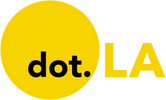 Get in the KNOW
on LA Startups & Tech
X
diversity
Jordi Oliveres, who spent nearly a decade at Spanish-language media giant Univision, has been struck by how few podcasts speak to Latinos. This week, he — along with the former heads of Universal Music Group and Fonovisa Records — debuted their Latino podcasting company, hoping to tap a market that's largely been overlooked by some of the larger podcast studios.
"There isn't any content that speaks to [U.S. Latinos'] culture and interests," Oliveres said. "So we just thought there was a huge opportunity there to create content that genuinely speaks to the Latino community in podcasting."
L.A.-based Pitaya Entertainment launched with six new podcasts hosted by popular personalities including Puerto Rican actress Giselle Blondet and her daughter, Gabriella Pabón. For now, most of the podcasts are in Spanish, but the company will produce in both Spanish and English, as well as a mix of both.

Created by Oliveres, the former Universal Music Group President Zach Horowitz, former head of Fonovisa records Guillermo Santiso, Slate.com's podcast founder Andy Bowers and Campanario Entertainment Vice President of Spanish Development Diana Mejia-Jones, the company aims to produce shows about Latinos in the burgeoning new media form.
"[U.S. Latinos] are a community that's really engaged with media and entertainment, but they lag behind in podcast listening," Oliveres said. He added that Latinos overindex on all forms of media consumption, and podcasts will be no different.
According to the first-ever Latino Podcast Listener Report from Edison Research in 2020, 45% of U.S. Latinos ages 18 and over have listened to a podcast at some point in their lives. The study also found that podcast listening for over half of adult U.S. Latinos has increased since the outbreak of COVID-19.
"Podcasting companies are definitely paying attention to trends observed in video content," said Alejandro Rojas, executive director of Parrot Analytics, a global content analytics company. "In video, we're seeing demand for Spanish language content growing rapidly and gaining share."
Pitaya's six initial series launched over the last two weeks, all hosted by well-known Latino personalities with a large and devoted fan base; together, they have a combined social media following of more than 27.5 million. Among them are Blondet and Pabón, who cohost "¡Ay, Mamá!," a podcast on motherhood, and actress Alejandra Espinoza her sister Damaris Jimenez, who cohost "Entre Hermanas," a podcast series on self-improvement and female empowerment.

"Sin Rodeo," a podcast run by Jomari Goyso, debuted at number one on the Apple Podcasts U.S. Entertainment News chart. "Ana Patricia Sin Filtro," hosted by Ana Patricia Gámez, debuted as the highest-ranked Spanish language podcast in the U.S. on Apple's top 200 podcasts chart.
Pitaya also released an English-language podcast named "Hyphenated," in which Latina comedians Joanna Hausmann and Jenny Lornzo discuss the connections of Latino and American culture.
"We thought it was important to find hosts who are already very well known and respected in the community, and that had things to say that were meaningful and interesting," said Oliveres. "We looked for figures that already have large followings on social media and that have a presence in Latino media in general. And then we work together with them to build a show that represents their interests and the things that their followers are interested in, so that it's just a very organic extension of who they are and what their followers care about and want to hear about."
Pitaya's podcasts are free and available on Apple Podcasts, Spotify, YouTube, Google Podcasts, Amazon Music, Pandora and Pitaya Entertainment's website,
pitaya.fm
. The company got its name because of pitaya fruits' origins in Latin America, their unique color and shape, and the ease of spelling and saying "pitaya" in both Spanish and English, said Oliveres.
Related Articles Around the Web
Halogen Ventures, the Los Angeles venture firm focused on increasing the woefully underrepresented number of female founders who lead consumer tech startups, has closed a second $21 million fund.
"With this fund, we will continue to prove out that investing in women and diversity are the best bet for allocation of startup capital and make for more economically efficient, profitable, stronger businesses and better returns," Halogen Ventures Founding Partner Jesse Draper said in a statement.
Female founders received fewer than 10% of venture capital deals in Los Angeles in 2019, according to an analysis by dot.LA using data provided by PitchBook. Only 2% of the $8 billion in venture capital that poured into Los Angeles companies that year went funded female-founded companies.
Despite all the attention paid to diversity in the last year, the problem actually got worse as investors poured money into big, established funds that are overwhelmingly led by white males. Established firms secured nearly 75% of total capital raised in 2020, the highest share since 2012.
Funding of female-founded startups fell 27% last year, according to Crunchbase data, and Los Angeles saw the biggest drop in funding in a decade for female-led startups in 2020.
Halogen was founded by Draper in 2015 and has invested in over 60 female-founded companies, ten of which have exited. Those include Squad App, which was acquired by Twitter and ThisisL, which was bought by P&G.
The pandemic has paused a substantial amount of venture activity for women entrepreneurs in Los Angeles. This year is on track to record the sharpest drop in investment in female-led startups in nearly a decade.
Female-founded companies in L.A. closed 2019 with 234 deals worth $1.4 billion. As of September 30, there have been 141 deals and $900 million invested, according to a report from Pitchbook released this week.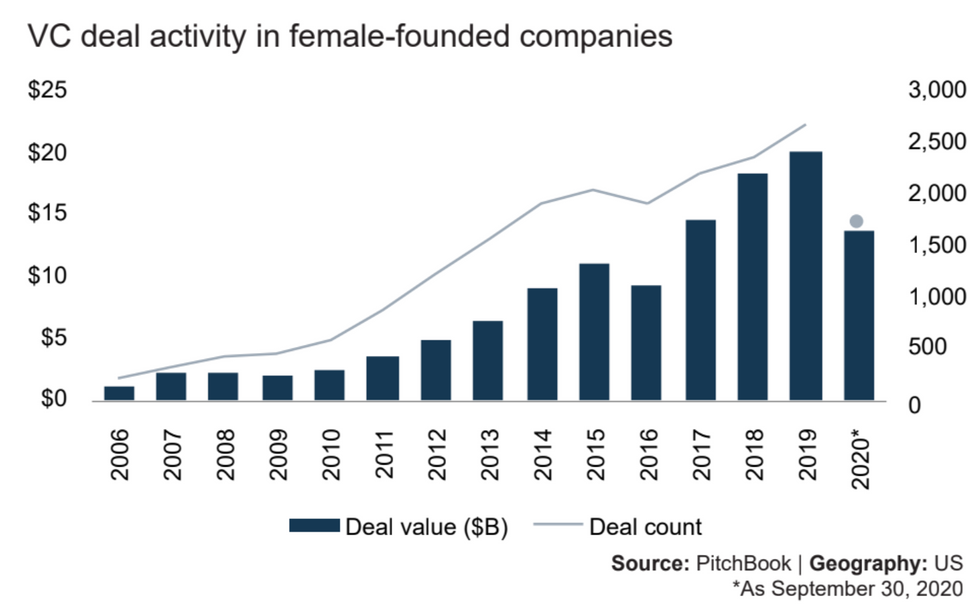 VC deal activity for female-founded companies from 2006 through 2020.
The figures, though not complete for the year, show the pandemic is disproportionately hurting female entrepreneurs, eroding strides made in recent years. Across the economy, the pandemic has hit women harder.

In November there were 2.5 million fewer women in the workforce compared to the same time last year, according to U.S. Bureau of Labor Statistics. And economists worry the inequity caused by the pandemic could have long-term impacts.
This setback comes after years of progress for women-owned startups. Last year, investments in female-founded companies hit over $20 billion — 10 times the amount of a decade ago.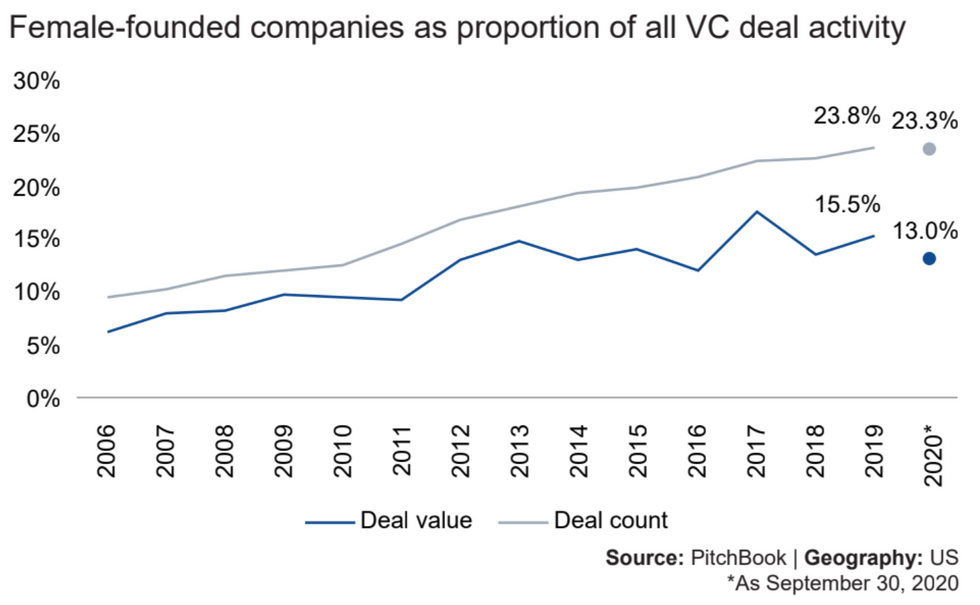 Female-founded companies as a proportion of all VC deal activity from. 2006 through 2020
The report did not take into account race, but Los Angeles is notable as a popular city for Latina and Black women founders to begin startups along with New York and San Francisco, according to a survey by digitalundivided, a nonprofit that tracks female entrepreneurs of color across the country. These entrepreneurs tend to have a harder time accessing capital.

Beatriz Acevedo, the co-founder of a new fintech company for Latino youth, was one entrepreneur on the hunt for funding mid-pandemic. She was able to double the pre-seed amount she sought, but she attributed that to her investors. 90% of them are Latina and all are women.
"Even in the middle of a pandemic, of an economic downturn, they saw the need," she said. "I didn't have to oversell myself."
Acevedo, the founder of millennial media company mitú, which was sold to Latido Networks earlier this year, said she had a much harder time when she sought to raise money from traditional investors, most of whom were white men.
"I'm kind of like an outlier," she said. "I'm incredibly grateful and I understand I'm in a position of privilege because not only am I a woman, but I'm a woman and I'm an immigrant. I'm over 50. I've never been in FinTech."
Funding for female founders across the country dropped 31% from the first three quarters of 2019. That's compared to a 16% drop to all-male founders.
Yet, female-founded companies exited faster than the overall market. Pitchboook found that 2020 was on track to mark the 10th straight year of that trend.