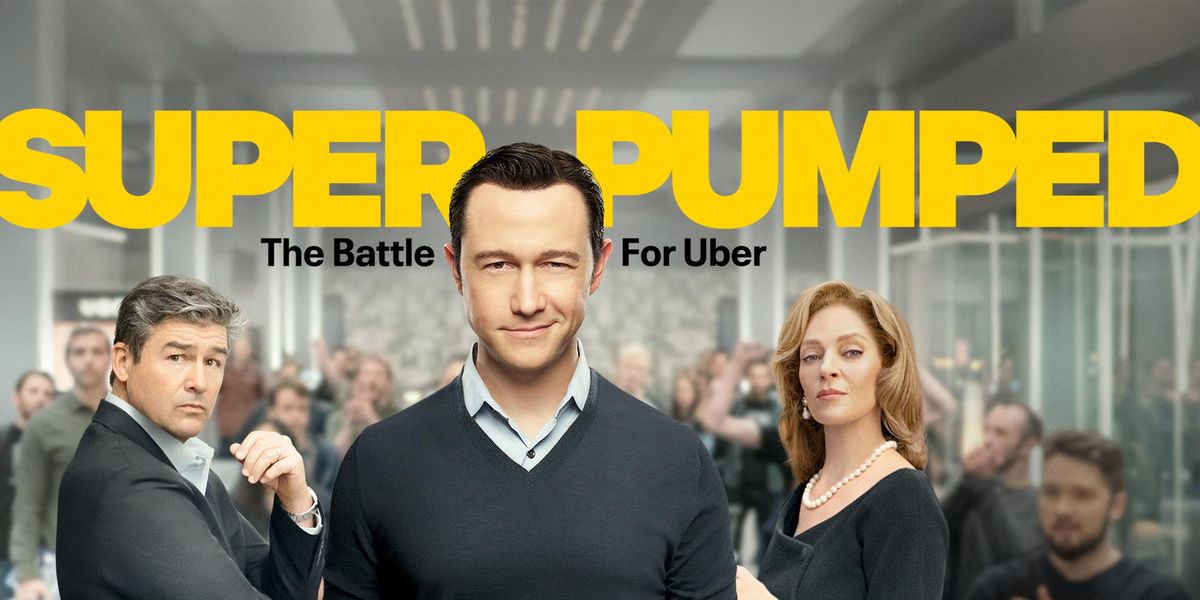 Courtesy of Showtime
This is the web version of dot.LA's daily newsletter. Sign up to get the latest news on Southern California's tech, startup and venture capital scene.
"Are you an a--hole?"

We're two seconds into "Super Pumped: The Battle for Uber," Showtime's foray into Bad Tech Founder TV , and it's already the cringiest of the bunch. Which is saying something, considering its current competition is Jared Leto doing an Israeli-by-way-of- Paolo Gucci accent to portray WeWork's ousted CEO Adam Neumann ("WeCrashed") and Amanda Seyfried power-bassing her monologues as Theranos founder Elizabeth Holmes ("The Dropout").
---
But there's something about the way "Super Pumped" creator Brian Koppelman tells the tale of Travis "TK" Kalanick, the foul-mouthed founder and former CEO of Uber, that just strikes the wrong note. Maybe it's because Joseph Gordon-Levitt, who plays Kalanick, is so terribly miscast as a misogynistic, expletive-filled tech bro.
Super Pumped: The Battle For Uber | Series Premiere | Free Full Episode (TVMA) www.youtube.com
Or maybe it's that "Super Pumped" wants it both ways: It's decided to be an anti-hero story, yet wants you to root for that anti-hero to hook up with Arianna Huffington (played by Uma Thurman) after manipulating her onto his board. We need to think TK is cool, because look at all his "dope" hyper-relevant cultural references—like name-checking characters from the Paul Thomas Anderson movie "The Master" and comparing his crew to "The Untouchables." And yikes, did this 20-something just opine about The Rolling Stones? Nothing says "I was written by a 55-year-old screenwriter" like a character who yearns for Mick Jagger's pomp.
In its desire to cast its subject as a crass pop culture-obsessed edgelord whose life story is narrated by none other than Quentin Tarantino (did he own Uber stock or something?), "Super Pumped" ends up being an unfortunate B-rate mashup of "The Wolf of Wall Street" and "The Big Short," without any of the former's joie de vivre or the latter's ability to stand as info-tainment.
Because even if this was all true—even if Kalanick really was as "colorful" a figure as "Super Pumped" wants him to be—as far as founders go, he's never going to be as interesting when compared to people like Neumann or Holmes. His upbringing and subsequent success is neither hard-won nor a result of hyper-privileged handouts; by the show's own admission, Kalanick came from a normal middle-class home (he grew up in Northridge) and had a typical upbringing before dropping out of UCLA and entering the startup world.
See, the real interesting story about Uber is the company's origin story, and not that of its founder: How it went from a scrappy startup with one major investor and grew into a monster with so much money behind it that it became one of Silicon Valley's most mysterious unicorns. It's a story about how too much money and hype can corrupt a brand; Uber might have started as the underdog taking on local taxi commissions, but with investors shoveling cash into it and sending its valuation through the roof, it developed more aggressive tactics to win by whatever means necessary against rivals like Lyft and outmaneuver big guns like Apple, Google and, uh… China.
Along the way, Uber morphed from a genuine public service that did right by its crowdsourced network of drivers into a monopolistic behemoth all too willing to exploit the millions of contractors comprising its driver fleet. And oh, yeah—the rampant sexual harassment, data mining, corporate espionage and more was all horrible, too. And it certainly all happened under Kalanick's watch.
Was it Kalanick who corrupted Uber's shining ideals with his hubris, or the other way around? Maybe the more interesting story would have been to explore who—with all that VC money and mounting pressure for growth to appease investors—would be able to withstand the temptation to play dirty. But no: "Super Pumped" is the mostly not-true story of an evil manchild who leveraged his one good idea against the father-figure investors who trusted him with their money, and ended up losing his company—only to make out as a billionaire and launch another decacorn somewhere else .
What do we learn? It's hard to tell. It's a fantasy that I'm sure benefits someone to peddle, but the real losers of "Super Pumped" aren't on the show at all—they're the viewers. — Drew Grant