cleantech
The way Kameale C. Terry sees it, her startup ChargerHelp! has two goals: to help encourage drivers to adopt electric vehicles by providing on-demand technical support for charging stations, and to create more full-time jobs that pay a living wage. By hitting both targets, the company can not only get places outside of California interested in plug-in vehicles, but can help make the technology an economic engine in its own right.
"EV gets a lot of attention in our industry, and that's great," she said. "But it also brings in a lot of people who don't understand the benefits or what we do."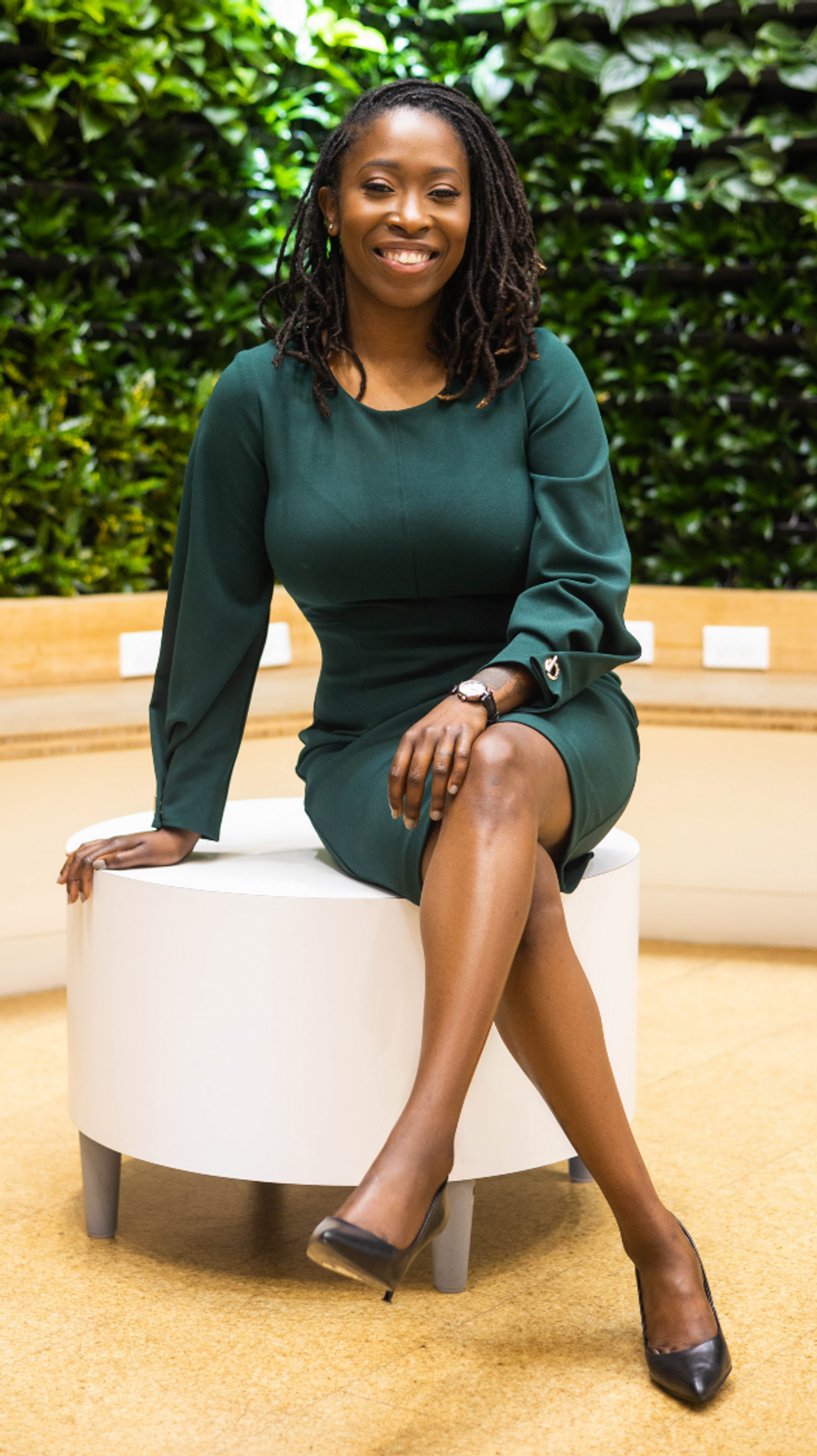 ChargerHelp! CEO Kameale C. Terry
Launched by Terry and co-founder Evette Ellis in January 2020, ChargerHelp! markets itself as the first and only app that supports electric vehicle charging repairs. Its technicians troubleshoot issues preventing drivers from being able to charge their cars, as well diagnose and repair the problem at stations run by their partners.
In March, the downtown L.A.-based startup announced a $2.75 million investment round that included partners Trucks VC, Kapor Capital, JFF, Energy Impact Partners and The Fund. The company currently contracts with such clients as ABB, SparkCharge, EnelX, Xeal and EV Connect, with plans to sign with nine additional firms by the end of this quarter, and is operational in California, but Arizona, Florida, Colorado, New York, Oregon, Texas and Washington.
In order to keep pace with the company's rapid growth, ChargerHelp! Has gone on a hiring spree, bringing on 20 new technicians in the last few weeks, swelling its ranks to 32 employees.
On paper, ChargerHelp! looks like a company that's set to grow rapidly with the significant push behind plug-in electric vehicles made at various levels of government as well as by automakers. Just last month, President Biden unveiled plans to create 500,000 charging stations across the country.
Car manufacturers are also building up nationwide charging networks to support the electric vehicles (EVs) they sell or plan to build in the near future as states such as California phase out sales of gasoline-powered new cars in the next decade. Tesla already has its Supercharger stations, while Volkswagen Group of America operates its Electrify America subsidiary. General Motors announced last week its Ultium Charge 360 network that partners with several charging companies, including L.A-based EVgo, for future EV customers of Cadillac, Chevrolet, and GMC.

But Terry still sees a long road ahead for electric vehicles, and believes more people from across geographies and income brackets need to embrace the tech for her company to really grow. And part of people's hesitation, she believes, is their skepticism of the batteries and public charging stations.
While utility companies sponsor charging stations in shopping centers or parking structures, many of the property owners didn't also opt for a labor warranty to cover regular maintenance. The responsibility of maintaining a charging station thus often gets lost between two entities, trapping EV owners — possibly in their car and stranded at a station that won't recognize a credit card or the vehicle's on-board charger — in a customer support runaround.
Little wonder, then, that a study released last month in the journal "Nature Energy" found 18% of battery EV owners decided not to get another one. "It was really easy to find contractors to install stations, but when the stations started having issues, they weren't there," Terry said. "We can't invest all this money and just expect these stations to work without repair."
Here is where ChargerHelp!'s technicians set the company apart. In many cases, non-functioning charging stations don't have an electrical problem, Terry said, and sending out an electrical contractor more equipped to install the stations doesn't resolve what's actually a software issue.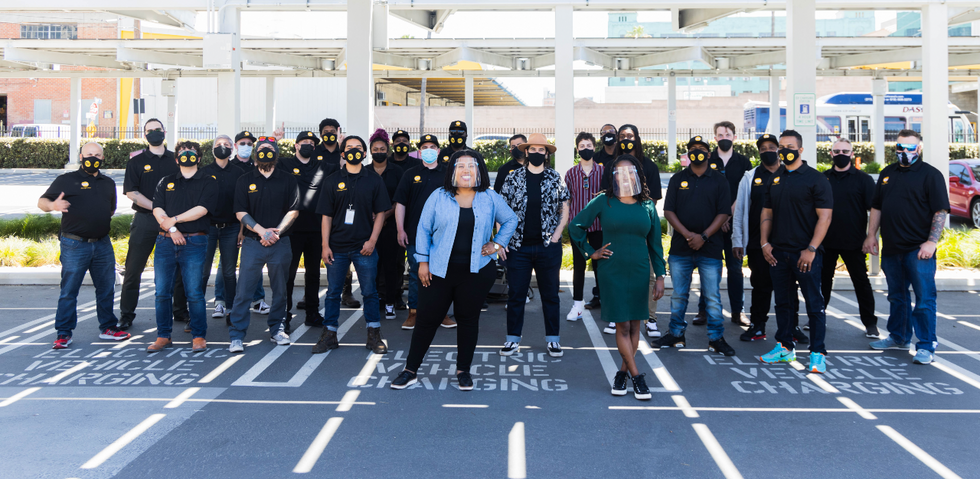 Chargerhelp!'s team is based in downtown's Arts District.
That's where ChargerHelp! comes in. "Because every station is different, our app is like a decision tree. The rapid report immediately goes back to our customer. We do a lot of swap-outs, fix vandalism and removal of snow for owner-operated properties."

Such work requires a wide-ranging skill set, and Terry decided from the start that, in order to ensure high-quality technical assistance (and to deliver on the company's mission of adding well-paid jobs to the economy), ChargerHelp! would make its technicians employees, rather than contractors. "The technology changes too quickly to rely on contractors," she said.
Once hired on, ChargerHelp! technicians start off at $30 per hour in a full-time, 40 hours per week position and receive benefits and shares in the company. Terry also sees the technicians as informal evangelists for EV—especially in less tech-forward parts of the country.
"A lot of our techs had never been in an electric car before they came to training," she said. "We let them test drive a car, and they went back to their friends to talk them up."
In the fall of 2017, Lou Cooperhouse took the stage at the Hawaii Agricultural Foundation conference to talk about what he saw as the trend that would lead to the total transformation of our food supply: alternative proteins.
At the time, Cooperhouse — whose long career in food innovation includes founding and running Rutgers Food Innovation Center, an incubator for startups — was working with multiple companies making plant-based products. (Impossible Foods Inc., of Impossible Burger fame, was a client.) But the real transformative technology, in his view, was the use of cell culturing to make meat from animal cells — products that would have the look, feel, taste and nutritional content of real meat, because that's exactly what they are.
The first cell-cultured hamburger — a five-ounce patty that cost more than $300,000 to produce — was made in 2013, and a slew of beef and poultry-based products were under development. "I said to myself, that's amazing technology," Cooperhouse said, "but the real home run, the holy grail, would be seafood."
Chris Somogyi, an entrepreneur in the audience that day, agreed. Before the year was out, Somogyi and Cooperhouse had teamed up with Chris Dammann to launch BlueNalu, a seafood-focused cell culture company. Since its founding in 2017, the San Diego-based company has become the first to create stable cell lines from a variety of fin fish. (Both Somogyi and Dammann have since left the company.)
The cell-based protein industry is booming. Dozens of startups trying to grow food in labs have formed in the United States in recent years, and they raised more money in the first quarter of 2020 — some $189 million — than in all previous years combined, according to the Good Food Institute, a nonprofit that advocates for alternative meats.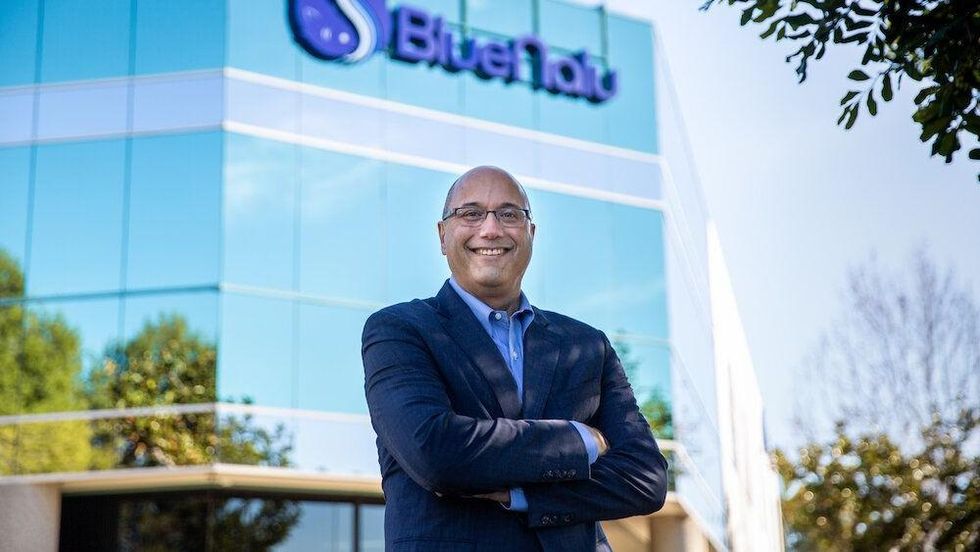 BlueNalu President + CEO Lou Cooperhouse
So far, only one company has made it to market: the U.S.-based start-up Eat Just received regulatory approval to sell it's cell-cultured chicken at a restaurant in Singapore in late 2020. One of the major obstacles for many companies has been cost, and most are still working to bring down the price of the raw materials, scale-up production and gain regulatory approval. A few more are expected to hit the market this year. By one estimate, as much as 35% of meat will be cultured by 2040, buoyed by efforts to reduce carbon emissions, antibiotic use and the risk of disease.

But to Cooperhouse, seafood, more than any other industry, is in need of a transformation: Overfishing has pushed fisheries around the globe to the brink of collapse. Ocean acidification, heat waves, plastic pollution, and more threaten the stocks that are left. Research suggests that as many as 60% of the marine species humans fish are at a high risk for extinction in the coming years. Yet demand continues to rise since at least the mid-20th century. According to the United Nations's Food and Agriculture Organization, the rise in global fish consumption since 1961 has outpaced both population growth and increases in production of other meat products.
"Our global supply gap is only getting worse, our supply is increasingly compromised with mercury and environmental pollutants and plastics, and we just can't feed the world," Cooperhouse said. But in cell culture technology, he saw an opportunity to create a stable supply of one of the world's most sought-after protein sources, easing pressure on our oceans and feeding the world at the same time.
In January, the 40-person company announced it had raised $60 million in debt financing led by Rage Capital, bringing its total fundraising up to more than $84 million. BlueNalu's other significant investors include New Crop Capital, Lewis & Clark Agrifood, Siddhi Capital, and Rich Products Corp. The latest round of funding is expected to see the company through the next two phases of its development, according to Cooperhouse: FDA approval, and the initial launch of its products in select restaurants in San Diego.
It's too soon to say which restaurants those will be.
After market testing in restaurants, BlueNalu plans to scale up production with the construction of more factories, creating jobs and providing consumers with a third option to farmed or wild caught fish.
Already, the company is building out its facility in San Diego. By the end of the year, it will be capable of producing several hundred pounds of cell-cultured fish per week.
The Good Food Institute, which has called on the Biden administration to allocate some $2 billion toward research and research facilities for alternative proteins, believes that the production of plant-based and cell-cultured meats "will spark a renaissance in American manufacturing."
Critics of cell-cultured meat worry that the product could put farmers and fishermen out of work, but BlueNalu claims that it is carefully choosing its products with these issues in mind. Its first product to market will be mahi-mahi, a nod to the company's Hawaiian roots, and the most practical choice for a company that's trying not to compete with U.S. fisheries.
"We're specifically targeting seafood that are typically imported, that are high in mercury or other contaminants, or they can't be farm-raised at all," Cooperhouse said. A cell-cultured Bluefin tuna, a species that is both overfished and high in mercury, will follow. "The bottom line is there's a fundamental global supply chain gap. If we don't find another solution, we will be out of fish or it will be so high priced it will be unattainable."
The National Fisheries Institute, a nonprofit focused on seafood sustainability, is supportive of cell-cultured seafood as part of the solution. "As the global demand for seafood increases, so will the need for innovative solutions like cell-cultured products," an NFI spokesperson said by email.
The final challenge for the first cell-based fish company is marketing. To prepare for direct-to-consumer sales, BlueNalu worked with the Alliance for Meat, Poultry and Seafood and the NFI to agree on a term that would allow the public to distinguish between wild-caught, farmed and fish grown from fish cells: cell-cultured. The term can be used more broadly to distinguish proteins from animals, and those made from animal cells.
As CEO, Cooperhouse has worked to distance BlueNalu from earlier cell-cultured products presented to the public as meat grown in petri dishes. BlueNalu's facility is a food factory, he says, not a lab.
"We are first and foremost a food company," he said. "BlueNalu is a culinary driven company. We are making great-tasting seafood products with all the sensory benefits, all that you love about seafood, but without the mercury, microplastics or pollutants."
Lead Image by Ian Hurley.
Related Articles Around the Web
One of the largest U.S. electric vehicle charging companies is expanding its Southern California presence with a $200 million investment in California, with $25 million slated for the port cities of Long Beach and L.A.'s Wilmington neighborhood. The investment comes in anticipation of surging demand for electric big rigs and other heavy duty vehicles.
The two regions make up the nation's busiest ports, a bustling hub bringing in billions of dollars of consumer goods — mostly from Asia — that get carried to retailers around the country usually by a diesel trucks. The funds would go toward regional fleet operators to build out a charging infrastructure for electric vehicles that come from the Los Angeles and Long Beach ports.
"This investment will go a long way in supporting our efforts to improve air quality in our highly impacted communities," Long Beach Mayor Robert Garcia said in an announcement, "and to support further upgrades to our fleets with more all-electric vehicles."
Electrify America also said it will be adding fast chargers in several California metro areas, including Greater Los Angeles and Orange, Riverside, San Bernardino and San Diego counties. It will also add Kern, Santa Barbara and Ventura counties to its service areas.
Electrify America is a Volkswagen Group of America subsidiary, which is based in Virginia. The company was created in 2017 as part of a settlement with the Department of Justice, the EPA and California Air Resources Board — which required a $2 billion fund to create a nationwide EV charging network — following the 2015 diesel emissions cheating scandal. As of April, Electrify America operates 2,600 fast chargers in 47 states, including California.
Another part of the agreement with the California Air Resources Board stipulates that 35% of Electrify America's investment to improve access to charging and electric vehicle education is supposed to go to low-income and disadvantaged communities in California — which makes up 64% of the Long Beach-Wilmington area, according to the state agency.
Being owned by VW Group of America, customers who purchase or lease certain Volkswagen, Audi and Porsche electric cars have access to free charging through the Electrify America network for up to three years.
Orange County-based Hyundai Motor America, Stellantis (formerly Fiat Chrysler) and Ford Motor Company are among the automakers that have announced deals with Electrify America for their own plug-in vehicles. The Virginia-based subsidiary of Volkswagen Group of America also counts startups Lucid Motors and Manhattan Beach-based Fisker Inc. as partners for upcoming vehicles.
Electrify America also announced it would add more DC fast charging stations in retail areas for consumer use, as well as others near multi-unit residential buildings without easy access to home charging.
From Your Site Articles
Related Articles Around the Web