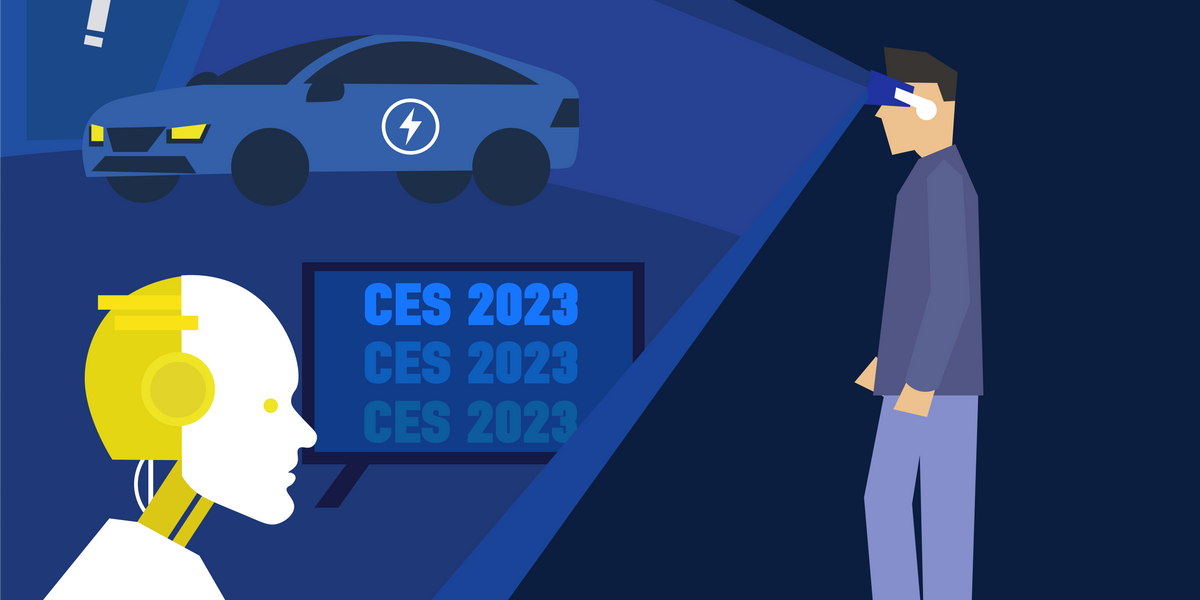 Evan Xie
This is the web version of dot.LA's weekly newsletter. Sign up to get the latest news on Southern California's tech, startup and venture capital scene.
The Consumer Electronics Show (CES) returned to Las Vegas this week with a bit of renewed vigor after an all-virtual 2021 show and a sluggish 2022. (With the Omicron variant sweeping across the nation in January of last year, the annual Vegas showcase suffered a 70% drop in attendance.) This year, about 100,000 total attendees are expected to tour around the Vegas Convention Center, checking out the latest TVs, VR headsets, robots, electric vehicles, smartphones, wearables, and other assorted gadgets.

---
Typically with CES, major tech companies dominate the first few days, while the latter half of the show gets largely devoted to startups with cutting-edge or innovative products to showcase, and 2023 was no different. Here are some highlights.
The Latest Toys
Sony opened the show by debuting its prototype Afeela electric sedan, designed in collaboration with Honda and chipmaker Qualcomm. The vehicle comes equipped with 45 cameras and sensors around the interior and exterior, which can both detect objects around the car and monitor the driver's own condition. Among the many other bells and whistles are a full entertainment center in the cabin; a powerful real-time interface of road, navigation and safety data; and the ability to customize and personalize an "emotive" rear light display. That's right; bumper stickers are officially OVER.
Additionally, LA-based audio equipment giant JBL introduced their new Tour Pro 2 wireless earbuds, which are water resistant, feature six individual microphones for clear calls and noise canceling, and come with 8 hours of battery life. But here's their big, innovative selling point: you can check the charge on your earbuds and adjust their volume and settings from a touchscreen on the case, without touching or adjusting your phone or the actual buds themselves.
Artificial Intelligence
One of the major themes of this year's showcase was, of course, artificial intelligence, or at least devices being marketed based on features reminiscent of AI systems. If you want to get technical. To that end, Samsung presented its Bespoke AI Oven, which automatically recognizes more than 80 ingredients and dishes using an internal camera and optimizes its cooking settings accordingly. (Naturally, there's also an option to record footage of your food for later uploads to your favorite social media or video platform.) The Korean electronics giant also introduced a new line of QLED TVs that uses machine learning to tweak its settings in real-time, ensuring consistent picture quality scene-by-scene.
During its keynote, Nvidia debuted a new feature coming to all of its machines that uses AI to automatically upscale low-resolution internet videos up to 4K.
Japan's Citizen wearables company announced the CZ Smart, which uses an artificially intelligent "self-care adviser" to collect biometric and sleep data on the wearer and provide tips to help them combat fatigue. Canadian startup Glüxkind even introduced a hands-free motorized "smart stroller" that stops automatically upon encountering obstacles, comes with a customizable white noise machine and the ability to "rock" a baby to sleep, and can even drive itself alongside parents while they're holding their child.
Local Startups
On the local front, a number of Southern California startups also made headlines at this year's show. Electric bike makers Bosch introduced a new anti-lock braking system, which uses sensors to determine exactly how fast the wheels are spinning and calculate the precise force required to bring you safely to a stop, without causing your cargo to go flying everywhere. The systems are sensitive and fine tuned enough that different variations will be made available for mounting biking vs. city commuting, and even different climates. The company is based out of Foothill Ranch.
San Diego's FluentPet introduced its new animal communication system, called the FluentPet Connection, which encourages animals to use programmable buttons that issue vocal commands or simple requests. (For example, "Water," "Outside," "Ball" or "Play.") Dog owners record themselves speaking the words – selecting everyday phrases their pets are likely to recognize, of course – and then train their animals to use the buttons on their own. FluentPet claims that around 70% of dogs master the use of at least two buttons within the first month, with "play" and "outside" being the most popular commands. A dog named Bunny uses an early version of the system in a series of viral TikTok videos; she currently has over 8 million followers.
As the US Food and Drug Administration authorized over-the-counter hearing aid sales in 2022, a number of medical device companies and startups have started to enter the space. Carlsbad's JLab debuted new, super-tiny OTC Hearing Aids that pair with both Android and iPhone systems. But the real selling point is the price; while comparable devices from Sony can run up to $1000, JLab's hearing aids start at just $99.
Finally, CES is a SHOW, after all, and some of the exhibits are still about good old fashioned showmanship. Filmmaker M. Night Shyamalan promoted his latest thriller – "Knock at the Cabin" – with an intense mixed-reality experience, allowing visitors to virtually tour through sequences from the movie, and interact with artificially intelligent simulated versions of the characters, within a realistic cabin setting. The experience was designed along with the Canon photography company, which has similar installations planned for a number of upcoming Hollywood studio projects. - Lon Harris