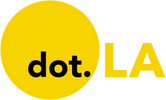 Get in the KNOW  
  on LA Startups & Tech  
X

Why Do People Resist New Technology Like Electric Vehicles?
David Shultz
David Shultz reports on clean technology and electric vehicles, among other industries, for dot.LA. His writing has appeared in The Atlantic, Outside, Nautilus and many other publications.
04:55 PM | August 31, 2022
Last week California air regulators voted to ban all new internal combustion car sales starting in 2035. The news was met with a predictable mix of responses: Some lauded the decision as forward-thinking and environmentally responsible; others saw it as government overreach–an attack on consumer freedom and the free market.

Whether the arguments against EVs are in good faith or not (they're often not), the fact remains that this burgeoning technology has been met with fierce resistance since Teslas started hitting the road back in 2008. It's easy to find examples of people keying EVs, rolling coal to spite them or blocking chargers with gas-powered cars.
---
A part of human nature is naturally resistant to change and to the unknown. It has served us well evolutionarily over the past 200,000 years. Tradition keeps us safe when it comes to eating the right wild berries or choosing a route to the next town. It wouldn't surprise me to learn that there were people in the Roman Empire spreading myths about how using indoor plumbing makes your sword hand weak, or that riding in a chariot would make your uterus fall out. Even without political tribalism and pressure from the fossil fuel industry, new tech can be divisive.
Rosabeth M. Kanter, a professor of business at Harvard Business School, who studies these ideas, says the number one reason people resist change is that they fear a loss of control over their lives. This may explain why the ban on new gas cars in California has faced some backlash.
"For people who are feeling like life is slipping out of their control–that sinister forces are pushing them around–they're likely to not want to be forced into making a change," says Kanter. Whether or not the state could have accomplished the same goal without a mandate is debatable, but due to the California Air Resources Board's successful history of driving national policy with ambitious state-level laws, it's not surprising they chose to take that risk.
However, Kanter also notes that plenty of new tech innovations have been welcomed with open arms. Take the smartphone, for instance. Steve Jobs announced the iPhone in 2007. By 2017, 77% of Americans owned a smartphone. Cars, of course, were always going to be slower transition—after all, the lifecycle of a car is at least three or four times as long as that of a smartphone. But why has there been so much cultural resistance to the growing EV market share?
The biggest and most obvious answer is cost. Smartphones aren't cheap, but there's a big difference between $700 and $70,000. The current batch of EVs on the road are simply too expensive for the average person to afford. Knowing that demand would outstrip initial manufacturing capacity, EV makers have chosen to offer luxury models first in order to make as much money as possible while ramping up production. And while legacy OEMs are beginning to enter the scene and change this dynamic, we're still early in this story and costs are still extremely high.
Kanter says that to get consumers to adopt new tech, the transition has to be smooth. It has to be easy. Remember taking your flip phone to a Verizon or AT&T and trading it in for a smartphone? These companies made it simple and offered excellent financing plans–just a few extra dollars added to your bill every month. And while there are about a thousand different EV rebates and incentives on offer (see Wednesday's newsletter) finding and understanding how to apply these deals is a whole lot harder than trading in a Motorola Razr for an iPhone.
Regarding smooth transitions: Charging infrastructure remains another huge impediment. While EV range anxiety is perceived to be much more of an issue than it actually is, the fact remains that America's charging infrastructure is inadequate–especially rural areas in the middle of the country. If California wants to get everyone in an EV as quickly as possible, the state will need to make EV charging as seamless as gassing up.
Another thing Kanter says made the transition to smartphones different from EVs and other technology. New phones offered immediate and obvious benefits. Maps and internet access alone would've sold the devices. They also connected customers to networks that were pretty much inaccessible without the device. Nobody wants to miss out on the group chat drama. "The minute they see things that are benefits for themselves, you don't have to argue with them anymore," says Kanter. "The benefits are right there in front of them."
The benefits of electric vehicles, on the other hand, are more subtle or even existential. Calculating the cost of recharging the vehicle or the cost per mile of driving almost requires some familiarity with high-school physics. While the math isn't necessarily complex or difficult, it's new and foreign enough to present a barrier. Yes, it's usually cheaper per mile to drive an EV than to fill up with gas, but to figure that out you have to know what a kilowatt hour is and how many your car consumes per mile of travel and how much electricity costs per kilowatt hour. Climate benefits only really apply at a society- and perhaps planetary level.
Of course you have this entire debate playing out against a climate in which batteries and gasoline have somehow become political footballs. If "opposing any policy from the other side" remains de rigueur in Washington, EV adoption will be slowed by politics…until the transition is truly seamless and the benefits are impossible to ignore.
David Shultz
David Shultz reports on clean technology and electric vehicles, among other industries, for dot.LA. His writing has appeared in The Atlantic, Outside, Nautilus and many other publications.
02:00 AM | February 13, 2023
Photo: Astroforge
One of the most-used elements in industrial work on Earth is disappearing.
Popular for industrial use because of its resistance to corrosion and heat, platinum sells for over $1,000 an ounce and is in everything from wedding bands to medical devices to a number of auto parts.
And retrieving what little of the element does remain, will only exacerbate the ongoing climate crisis – resource extraction was the source of half the world's carbon emissions and 80% of its biodiversity loss in 2019 and that number has likely only risen.
The problem's been known for awhile; back in 2016 the Massachusetts Institute of Technology predicted demand would outpace supply of platinum and palladium. At that time, the college estimated we'd run out of platinum by 2050, a mere 27 years from now.
There's also the issue that what platinum remains is in the hands of powers adversarial to the U.S.
Russia accounts for up to 30% of the world's palladium supply, and up to 10% of its platinum, and its war in Ukraine has pushed export prices higher. MIT also estimated that China, another stockpiler of industrial metals, could stop selling its platinum stores to the greater globe as soon as 2034.
So what is there to do?
The answer could lie thousands of miles from our planet, in deep space, according to Astroforge CEO and former Virgin Orbit veteran Matt Gialich. Gialich is certain that in the near future, it'll be commonplace for companies to operate refineries in space that can sort and send back elements crucial for construction on earth.
"We know that these concentrations are super high in space," Gialich said. He said Astroforge is starting with platinum metals, but it does have "a future roadmap that's much, much bigger than that," but wouldn't share more about what other materials the company hopes to mine in space. It's reminiscent of the old California Gold Rush – the minute you tell someone there's platinum in them there asteroids, others with means will want to rush in first.
Astroforge is developing technology to mine and refine minerals in deep space. The company will face a vital test in its mission to mine asteroids for minerals this April, when it tests its in-space refinery technology for the first time.
In particular, Astroforge is looking at retrieving palladium and platinum from asteroids. The shrinking store of these metals makes it easier to understand why going to space to mine more might not be such a far-fetched plan.
Gialich pointed out the emissions problem and noted, "part of that is platinum group mining… not all, but a big part of it. When it comes to mining metals, there's just no way to solve that; you can do things to reduce it, but we're running out of ore on the earth as we continuously mine."
He noted that a while ago, it wasn't feasible to undertake these sorts of missions, but said that mission price continues to drop as more companies enter the private space race and offer rideshare missions for lower and lower costs.
"As we continue to run out of ore and as access to space becomes cheaper, we think we're actually past the inflection point of when this makes more economic sense to do," Gialich said.
But, it'll take a lot of cash and crafty partnerships – NASA spent $800 million to retrieve only 60 grams during a similar project. Two other space mining firms, Planetary Resources and Deep Space Industries, were bought out before reaching their goals. This is why Astroforge raised $13 million in May, but it'll likely need much more than that for future missions and anticipates future fundraises. Gialich wouldn't disclose if Astroforge has any customers signed up for future missions or to buy space ore yet.
This upcoming mission in April will see Astroforge's small in-orbit refinery hitch a ride to space on SpaceX's Falcon 9 rocket, in partnership with British small satellite launcher OrbAstro. The plan is to test the refinery capabilities in space first by supplying the refinery with an "asteroid-like material" (so, a rock, but not an asteroid) that the tech will then vaporize and sort into its elemental components while in orbit. It's a vital test of if the refinery can function in space, and if all succeeds, a critical part towards Gialich's overall mission – becoming the first company to successfully mine asteroids.
"We have gone to asteroids before," Gialich said. "We've landed on them, we've taken samples from them, we've done every step of the way, scientifically, multiple times. We just haven't added that refining piece in, but that is actually very simple. You can prove that out on Earth, there's not a big difference [in space]."
And Gialich really, really wants to be first. After all, whoever is,will have their pick of lucrative contracts as other private and public players rush in to gather up their share of the valuable asteroid minerals. NASA is leading a mission to explore an asteroid that some have joked could be worth $10 quintillion.
"We're going to be the first commercial company to explore that frontier," he promised. "There's enough space out there for a ton of companies to exist and be successful. We're still going to do it first."
That, of course, remains to be seen. The SpaceX launch doesn't yet have a window open. But when it does, it'll be a crucial test of Astroforge's system. And, it could eventually lead to an overhaul of our centuries-old mining system that might very well one day help the planet. At least, that's Gialich's overall goal.
"We're going to save the planet, and to save the planet we need to have big, audacious ideas that really solve a critical problem we have on Earth, and we have a resource problem on Earth," Gialich said. "Now that we're a globalized world, there's nowhere else to grow. There's not an option here, this has to be done."
Samson Amore
Samson Amore is a reporter for dot.LA. He holds a degree in journalism from Emerson College. Send tips or pitches to samsonamore@dot.la and find him on Twitter @Samsonamore.
https://twitter.com/samsonamore
samsonamore@dot.la
05:00 AM | February 15, 2023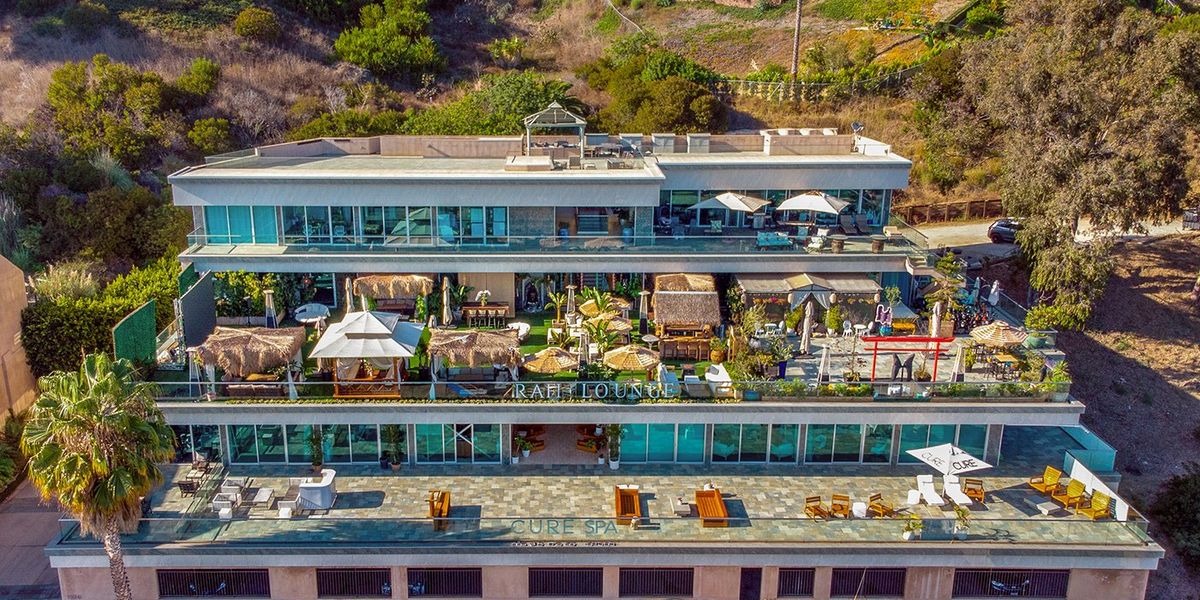 Photo: Rafi Lounge
Set in the foothills of Eastern Malibu across the street from Robert de Niro's Nobu, the Rafi Lounge, a NFT-powered wellness center and coworking space, somehow looks like both a beachfront country club and a swank monastery. On a clear day, you can see Catalina Island across the ocean. The sign above the entrance says, "Welcome, please allow us to reintroduce you to yourself."
Pushing through the braided rope entryway and passing a tranquil stone Buddha head waterfall, I arrived just after a yoga class former playboy model-turned "Dancing With the Stars" host Brooke Burke finished. The central open space that usually houses yoga mats or stationary bikes has been cleared off, and the giant projection screen behind the small stage is playing a tranquil plant video – an hour earlier, a larger-than-life Burke was on it helping clients "booty burn."
The building – which used to belong to a venture capital firm – has been totally transformed to look like nature's reclaimed it, dotted with lemon trees and cloaked in ornamental faux grass carpeting. Buddha statues are in every corner, some larger than five feet. On the way to one yoga room, there's a small shop selling pricey essential oils, Rafi Lounge merch, and CBD gummies. On the wall of the shop hang three breathtakingly detailed portraits of indigenous peoples made by the founder with charcoal. There's some construction ongoing, as they're converting former corner offices into hot yoga saunas and a spa.
On the day of my visit, the place is bustling with staff who are lugging boxes of Himalayan salt panels to install in the hot yoga room. Israeli-born Kung-Fu master and former monk Rafi Anteby, the founder of the eponymously named space, tells me that after our chat he plans to paint them all black to match the walls. No detail is too small to notice, something evident in his Mandala work.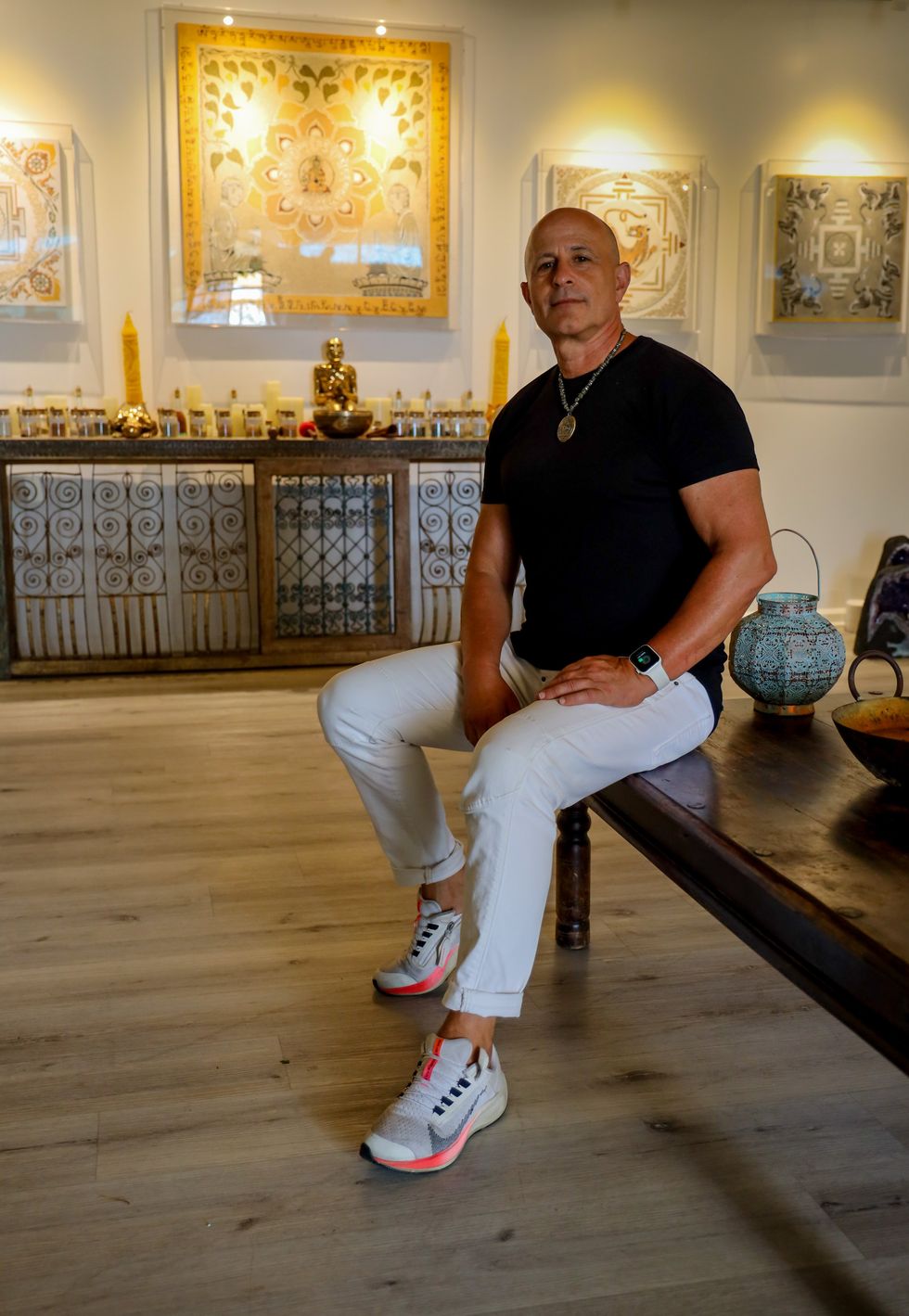 Rafi Lounge founder, Rafi Anteby, pictured here with his Mandala and sand collections. Photo: Rafi Lounge
The Rafi Lounge opened last year on November 10—the day before crypto exchange FTX went bankrupt. "Everyone said Rafi, go into a shutdown, don't do it," Anteby said. "I said I can't, because I pre-sold to members and I promised them [the launch is] what will happen."
Still, Anteby felt he couldn't renege on his promise to open the lounge to those who did buy in, so he forged ahead. So, what do NFTs have to do with a wellness center?
Each, according to Anteby, corresponds to a level of access. The least expensive, Unity, is the lowest tier and gives holders access to virtual classes. The second tier, Mindful, encompasses physical and virtual access to the Lounge. And the highest tier selling for $5,500, Awakened, are the ones Rafi is selling individually that act as an all-access pass to the Lounge and its benefits and events (including, Anteby said, "spiritual yacht parties"). Both Mindful and Awakened NFTs are lifetime memberships to Rafi Lounge, and include free access to annual retreats it hosts.
But facing the changing seasons of the crypto market and unwilling to sacrifice his brand by letting the Rafi Lounge tokens be resold to oblivion on public markets, Anteby took the drastic step to control his NFT inventory – buying up the remainder a mere day after the minting.
Anteby admitted he "lost a quarter of a million dollars" between creating and buying the NFTs back. But he said it was worth it: "I'm going to take each because I want to control who's coming to my lounge. I want to know that they will be my advocates as well."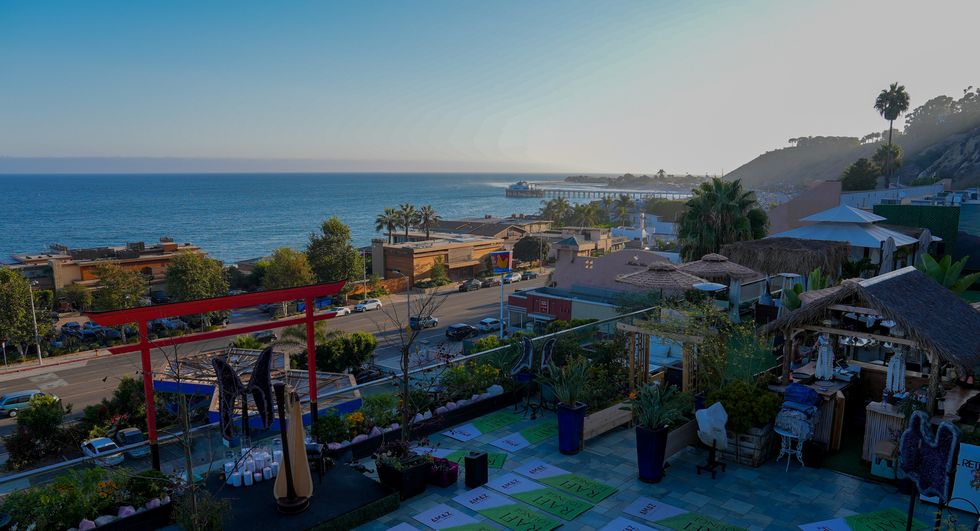 A view of the Rafi Lounge in the afternoon, before a yoga class. Photo: Rafi Lounge
Currently, there are 100 members, 55 of which are lifetime NFT holders. The 6,000 square-foot rooftop lounge is also open to the public. Which is to say, anyone can buy a 10-day pass for $250, pay the $40 fee for individual classes or come to public events. One of those people is Amie Yaniak who was diagnosed with stage four cancer last May that has since metastasized into her bones.
"I've never been anywhere like this. This was the first class I've done since the cancer, and it was just so cleansing," Yaniak says. While she's not a member, Yaniak told me she was interested in returning for more classes.

In addition to people like Yaniak, Anteby is also curating a more select crowd of well-to-do celebrities that can act as brand ambassadors for the lounge. He said he wants it to be a sort of more laid-back SoHo house, where top minds converge on the Pacific Ocean to make deals and network. Some of the names dropped during my tour of the property included Jamie Foxx (who Anteby calls a good friend), Chris Noth, Gladys Knight, and Equinox co-founder Lavinia Errico, whom I actually briefly met, since she's a member of the Lounge's advisory board.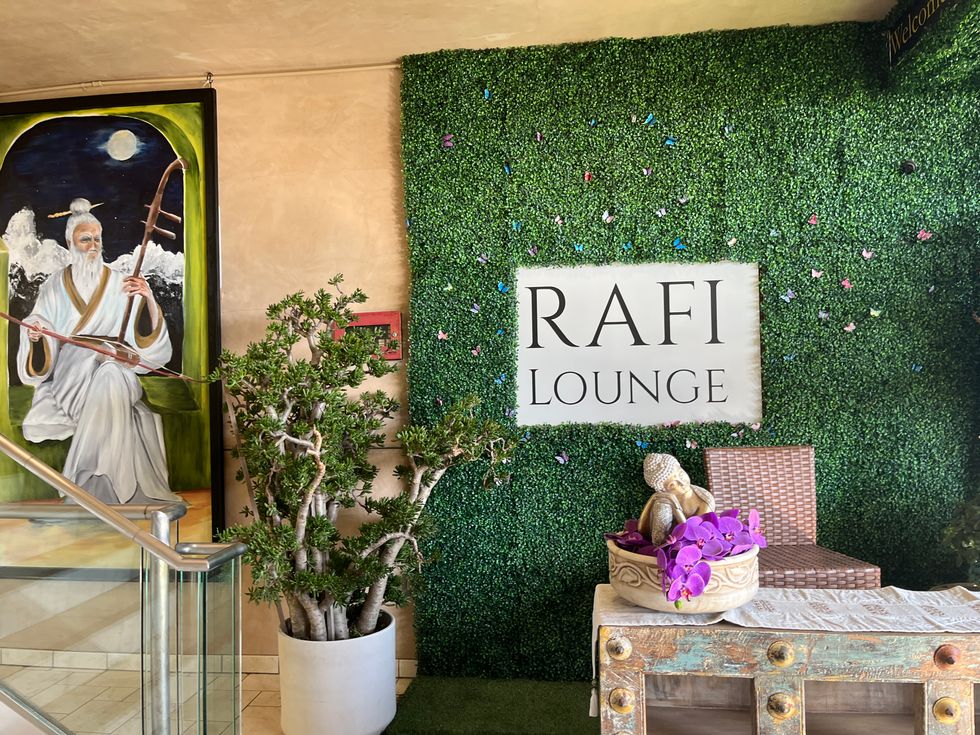 The lounge's entryway and check-in. Photo: Samson Amore
As Tame Impala wafts from the lounge's speakers, Anteby tells me stories of getting Taoist monks drunk at karaoke bars and studying medical qigong and tai chi in China. Anteby hung the intricate mandalas on the walls of a yoga room and he says they take around two years to complete as he carefully places individual grains of sand and uses tree sap to preserve their form. The mandalas are meant to be a contemplation of man's relationship with nature, which is partly why Anteby designed the NFT versions of them to resemble a sort of elemental fusion that combines water, fire and earth.
Owning an NFT also corresponds to owning a fraction of the Malibu Mandala Rafi made that hangs in the lounge.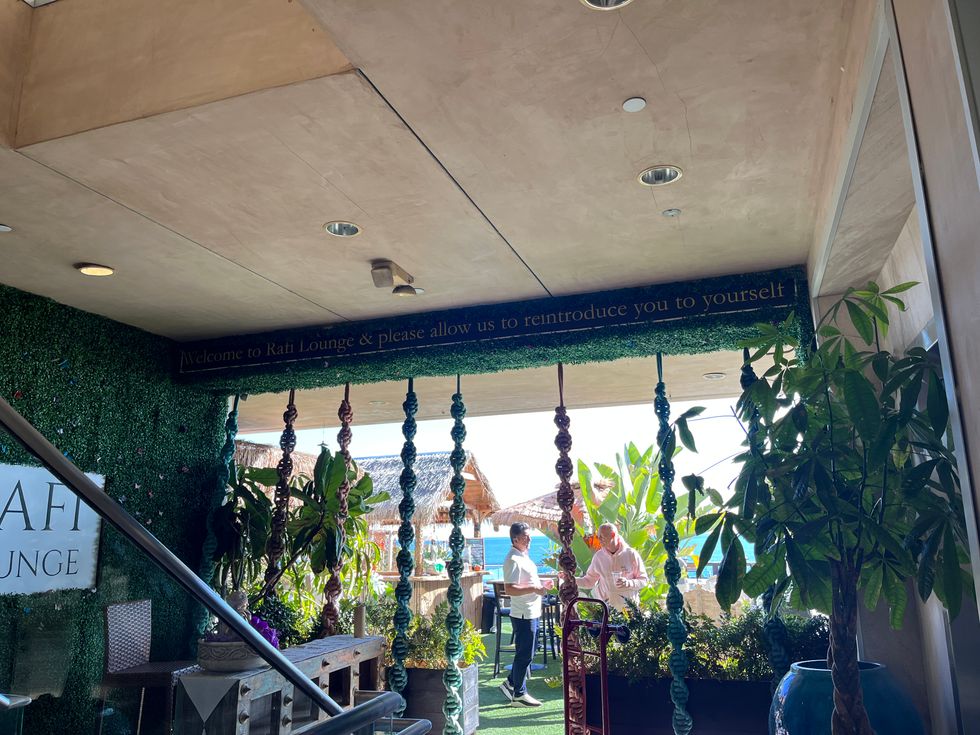 Anteby, right, speaks with a partner at his lounge in Malibu.Photo: Samson Amore
While Anteby admits the launch hasn't netted him any profits yet and said he's out around $1 million launching the place, he's determined to turn the Rafi Lounge into a franchise and has plans to open future locations in other cities big into tech and wellness like Miami, Scottsdale, Ariz., Newport Beach, and Austin.
Besides the obvious cases like Yaniak's, Anteby said he thinks the larger tech community needs a breather. "They all have digital burnout," he said. "It's more than just me helping you to breathe. You need to take care of yourself, and here people do that all the time."
Samson Amore
Samson Amore is a reporter for dot.LA. He holds a degree in journalism from Emerson College. Send tips or pitches to samsonamore@dot.la and find him on Twitter @Samsonamore.
https://twitter.com/samsonamore
samsonamore@dot.la