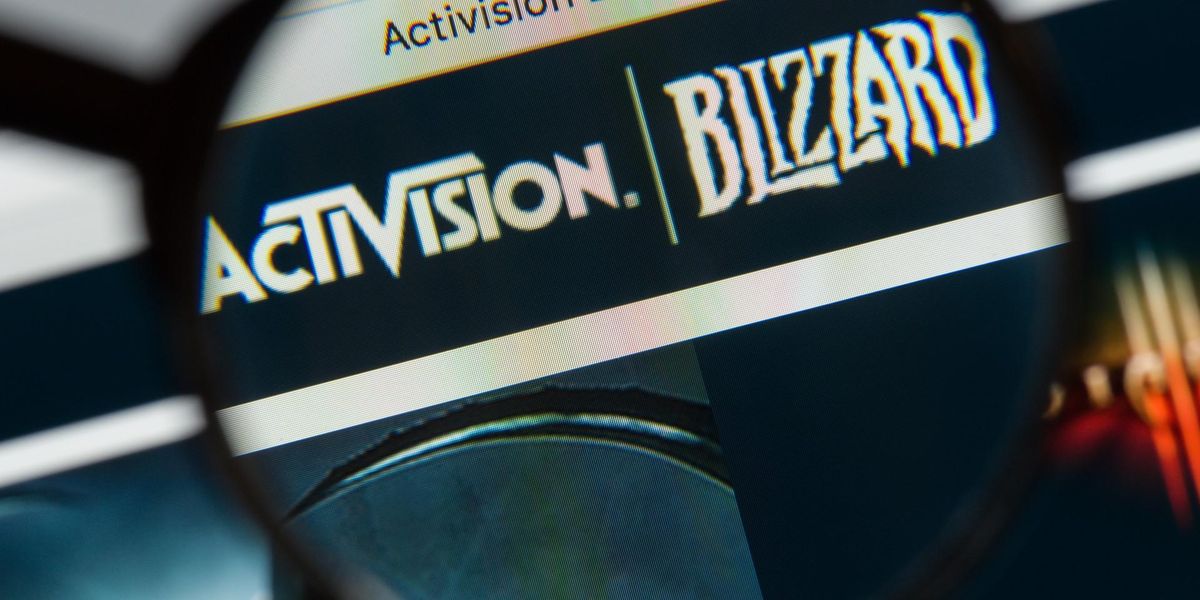 Activision Blizzard Logo Under Microscope
This is the web version of dot.LA's weekly newsletter. Sign up to get the latest news on Southern California's tech, startup and venture capital scene.
It's a fascinating and dramatic moment for Activision Blizzard, the Southern California game studio behind "Call of Duty," "World of Warcraft," "Candy Crush" and a number of other titles. As regulators consider a proposed acquisition by Microsoft, the company's now facing unionization efforts by a number of staffers, along with other ongoing legal challenges.
---
A group of Activision Blizzard QA testers working on the "Diablo" franchise in Albany, New York, voted unanimously to form the company's second union. (The final vote tally was 14-0.) This is actually the game publisher's second team to unionize so far this year. A group of 28 QA testers working for the Activision Blizzard subsidiary Raven Software joined together as the "Game Workers Alliance" back in May. (Raven Software staffers work on the company's high-profile "Call of Duty" franchise.)
Thus far, Activision Blizzard has been hostile to the collectivization efforts. Activision Blizzard executives attempted to delay the most recent vote, arguing that it should also include the Albany office's developers, but the National Labor Relations Board (NLRB) ruled that it could continue as planned. In May, hours before the Raven Software vote, the NLRB declared that it had "found merit" in allegations that the company illegally conspired to prevent employees from unionizing, via threats regarding working conditions and wages. According to NLRB, management used an "overly broad social media policy" to discourage employees from discussing unionization efforts. Many of the original complaints had been filed by the Communication Workers of America, which will now represent the Activision Blizzard staffers.
Activision Blizzard, formed following a 2008 merger and headquartered in both Santa Monica and Irvine, is also facing a good deal of legal scrutiny regarding sexual harassment and hostile workplace allegations.
Last January, Microsoft announced its intention to acquire Activision Blizzard in a $68.7 billion deal, valuing the company at $95 a share. If permitted, the deal promises to bring some immediate benefits to gamers and investors. Microsoft announced plans to add a number of popular Activision Blizzard titles to its Xbox Game Pass service, to boost the platform's current subscriber count of around 25 million. As well, it's likely that a change in leadership and a general boost in visibility will boost the company's prospects, at least in the short term, though it has already started to recover from a post-pandemic slump, all on its own.
Nonetheless, regulators have signaled that they might hold up the deal based on anti-trust concerns. After the UK's antitrust authority announced an in-depth investigation into the proposal in September, commissioners with the European Union followed suit. In the U.S., President Biden's Federal Trade Commission (FTC) – and its trustbusting chair Lina Khan – has signaled that it's also likely to fight the acquisition, according to a report in Politico.
The deal poses a number of concerns for regulators, in terms of how it reduces competition and gives Microsoft an excessive level of control in a number of gaming industry markets, including console distribution, gaming subscription services, cloud streaming services and PC operating systems. By preventing rivals from distributing or integrating high-profile Activision Blizzard titles into their own networks, Microsoft could theoretically exercise unfair or anticompetitive control over these markets. According to the Microsoft's own internal metrics, it will become the third-largest gaming corporation by revenue, after only Tencent and Sony, upon closing the deal.
For their part, Microsoft has vowed not to engage in anticompetitive behavior, and has offered a 10-year deal to keep "Call of Duty" titles specifically available on Sony's PlayStation console. In a sign of just how large a threat a unified Microsoft-Activision Blizzard could be to the rest of the industry, Sony argued against it by throwing its own "Battlefield" game franchise under the bus. In a filing with a UK regulator, the company noted that, despite the success of the "Battlefield' games in general, the franchise "cannot keep up" with the runaway popularity of "Call of Duty." — Lon Harris