You Can Now Buy Movie Tickets on Snapchat
Sam Blake
Sam primarily covers entertainment and media for dot.LA. Previously he was Marjorie Deane Fellow at The Economist, where he wrote for the business and finance sections of the print edition. He has also worked at the XPRIZE Foundation, U.S. Government Accountability Office, KCRW, and MLB Advanced Media (now Disney Streaming Services). He holds an MBA from UCLA Anderson, an MPP from UCLA Luskin and a BA in History from University of Michigan. Email him at samblake@dot.LA and find him on Twitter @hisamblake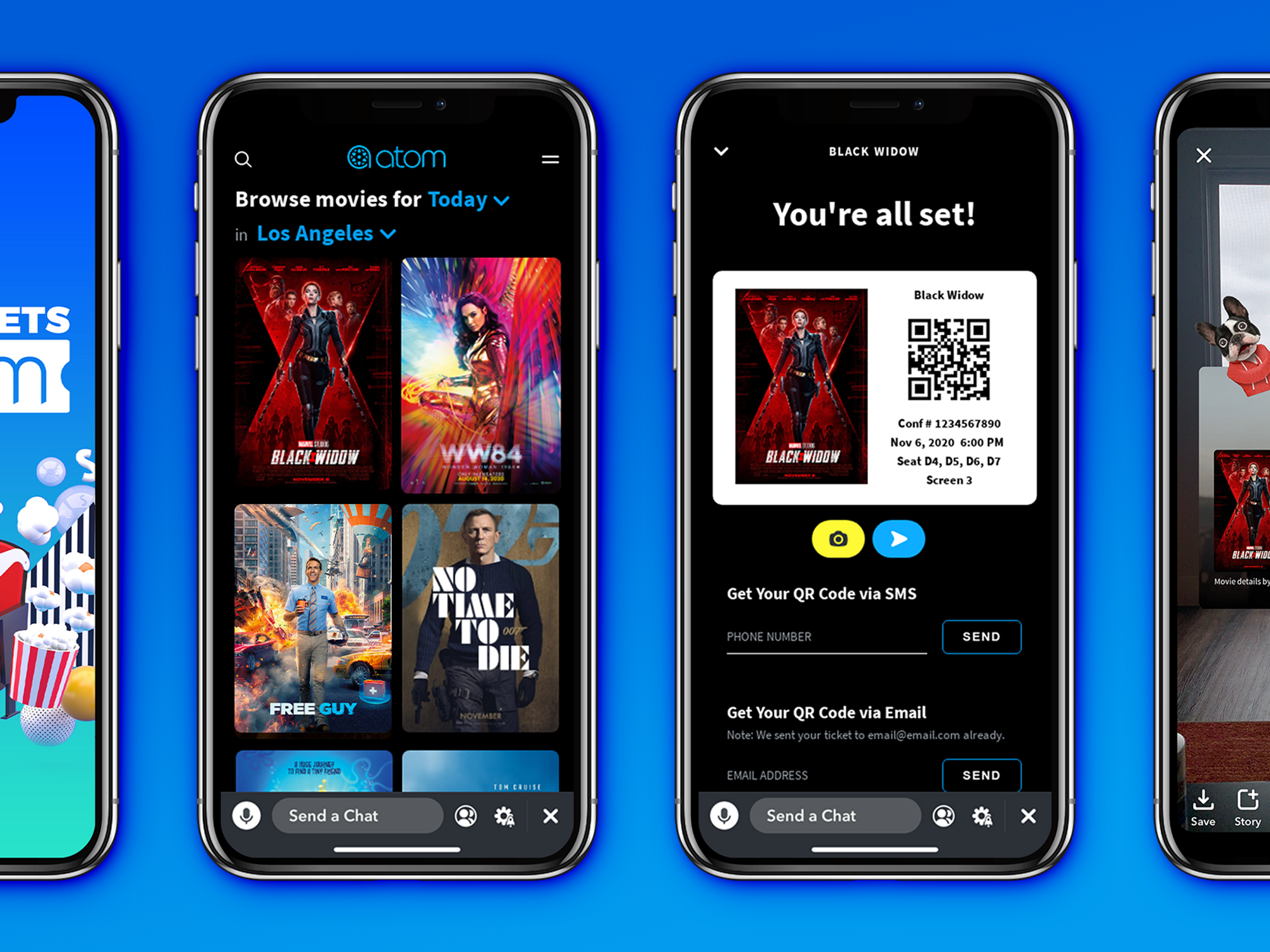 Snapchatters can now watch movie trailers, coordinate theater trips and purchase movie tickets in the app – with the "Movie Tickets by Atom" Snap Mini.
The new feature was rolled out just as theaters are starting to open in some markets (though not yet in California or New York), and studios have finally (we think?) committed to premiering several new releases (e.g. "Bill & Ted Face The Music" on August 28th; "Tenet" on September 3rd; "Wonder Woman 1984" on October 2nd).
---
The debut last Friday of mid-budget thriller "Unhinged" starring Russell Crowe kicked off what will be an litmus test of consumers' desire to return to theaters. The film only grossed $4 million at the U.S. and Canada box office, but industry insiders hope it whet the appetite of moviegoers.
Will people come back? Santa Monica-based Atom Tickets is optimistic. It recently surveyed 16,000 of its cinephile users and found 74% said they would be ready to come back to theaters within one month. Of those surveyed, 40% said they would come back immediately. The most commonly cited safety measure that respondents said they wanted to see was spaced seating, followed by wearing masks for both staff and guests.
"With safety measures in place and movie fans eager to return to the movies, we knew the timing was right to launch Atom's ticketing experience on Snapchat," said Atom Tickets co-founder and chairman Matt Bakal.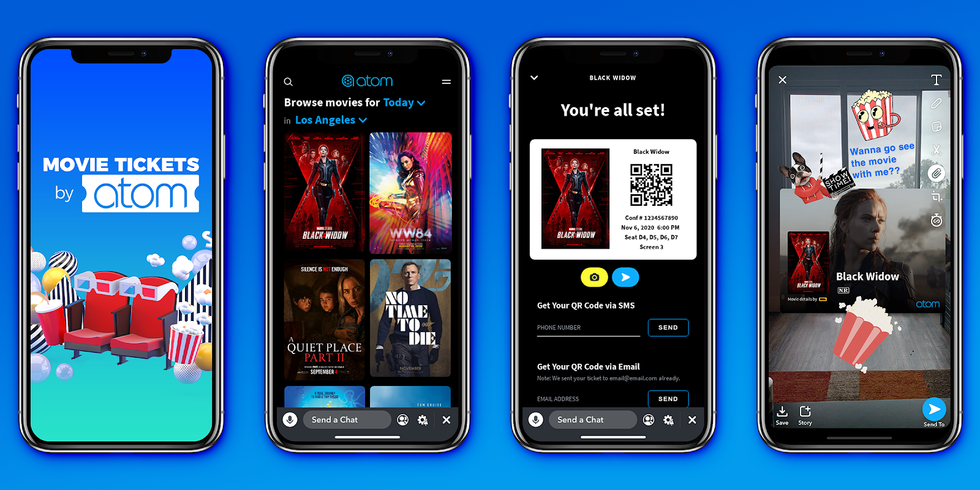 What is a Snap Mini? As announced at its Partner Summit earlier this year, Snap now incorporates simplified third-party apps directly within its platform. This particular feature lets users access Atom Tickets without having to leave the Snapchat interface.
Atom Tickets was founded in 2014. Its partners, which will support the Mini, include AMC Theaters, Cinemark, Harkins Theatres and ArcLight Cinemas. The company has raised $110 million and its backers include Disney, Lionsgate, and Fidelity Management & Research Company.
Sam Blake
Sam primarily covers entertainment and media for dot.LA. Previously he was Marjorie Deane Fellow at The Economist, where he wrote for the business and finance sections of the print edition. He has also worked at the XPRIZE Foundation, U.S. Government Accountability Office, KCRW, and MLB Advanced Media (now Disney Streaming Services). He holds an MBA from UCLA Anderson, an MPP from UCLA Luskin and a BA in History from University of Michigan. Email him at samblake@dot.LA and find him on Twitter @hisamblake
https://twitter.com/hisamblake
samblake@dot.la