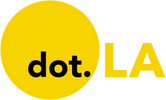 Get in the KNOW  
  on LA Startups & Tech  
X
Sam Blake
Sam primarily covers entertainment and media for dot.LA. Previously he was Marjorie Deane Fellow at The Economist, where he wrote for the business and finance sections of the print edition. He has also worked at the XPRIZE Foundation, U.S. Government Accountability Office, KCRW, and MLB Advanced Media (now Disney Streaming Services). He holds an MBA from UCLA Anderson, an MPP from UCLA Luskin and a BA in History from University of Michigan. Email him at samblake@dot.LA and find him on Twitter @hisamblake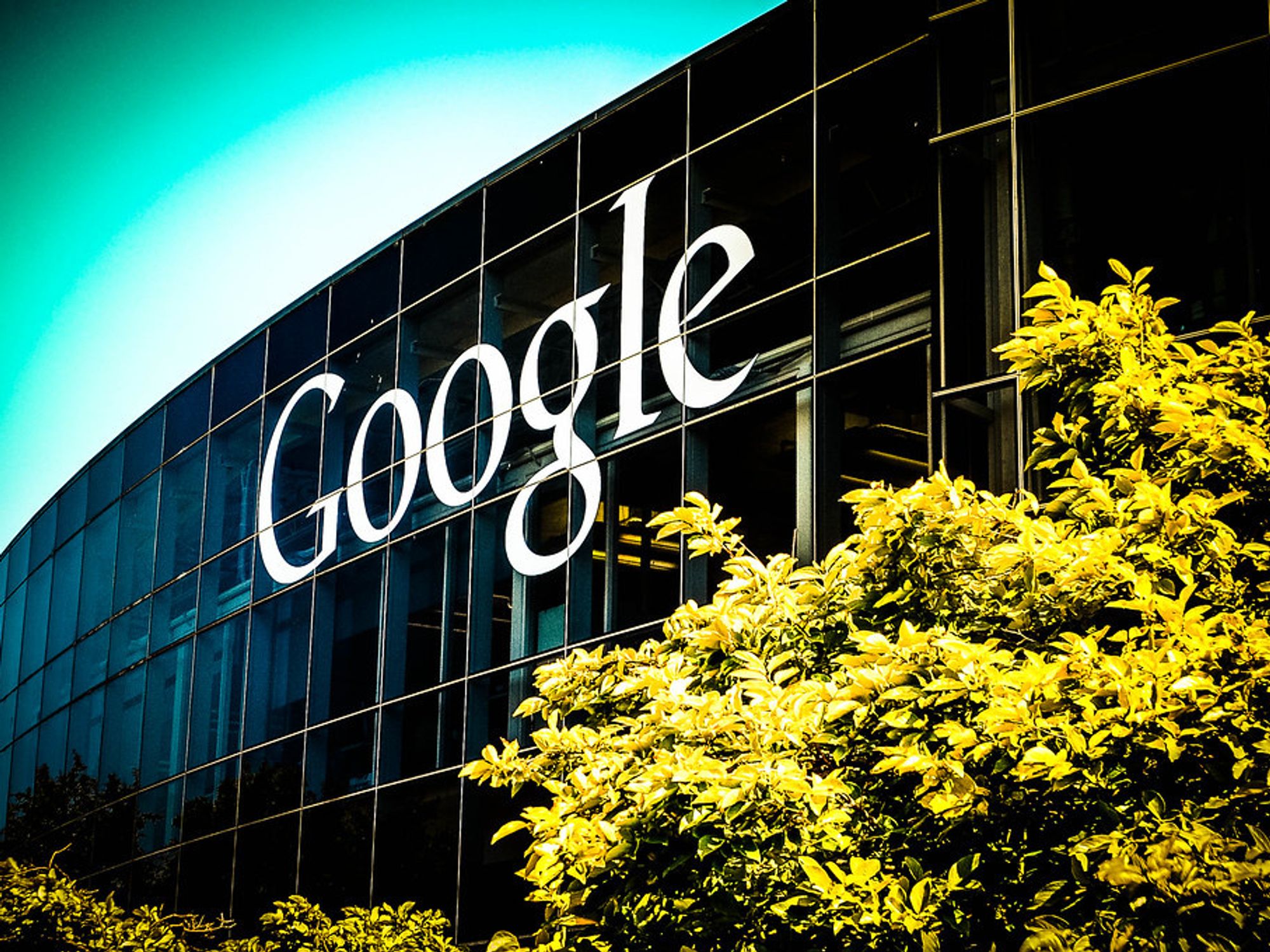 Craig Kornblau, now entertainment and media advisor for Alphabet's venture arm, GV (formerly Google Ventures), is familiar with disruption.
As president of home entertainment at Universal Pictures managing revenue over $2 billion, he saw his booming DVD business blow up during the 2008 financial crisis as consumers tightened their spending, having decided that what they wanted from their films was not ownership but access. But that experience showed Kornblau, who began his career at Disney, that adversity also creates opportunity. Out of that sea change emerged the rise of Redbox and Netflix rentals, which, he says, kicked off the modern era of entertainment.
---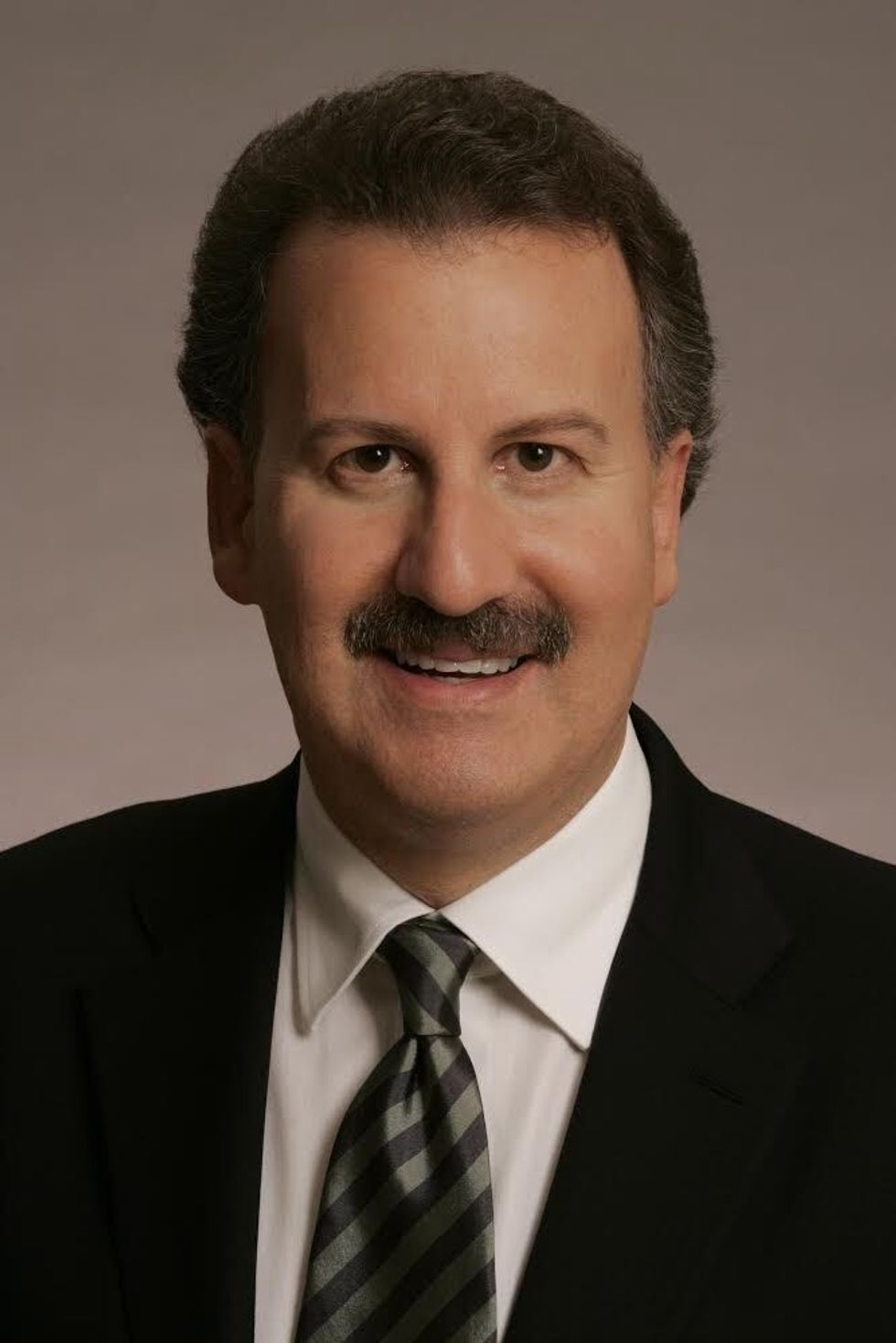 Craig Kornblau is entertainment and media advisor for Alphabet's venture arm, GV.
Today many argue that disruption of the entertainment industry has been accelerated by the coronavirus. As consumer behaviors and habits change, one increasingly vulnerable bulwark is the long-entrenched theatrical window, which has historically reserved an exclusive exhibition period for movie theaters.
Meanwhile streaming is increasingly available in the homes that are now our cocoons, and appears to be strengthening its hold on the future of video. As an example, Disney revealed in its most recent earnings report that its legacy businesses built on theme parks, retail and movies have been shellacked, while its streaming service Disney+ has outperformed expectations.
The upshot is that a film industry that was long tethered to screenwriter William Golding's maxim that "nobody knows anything" now finds itself shrouded in perhaps more uncertainty than ever.
For some clarity, dot.LA caught up with Kornblau to hear how his experience at both major studios and startup ventures shapes his thoughts on what the coronavirus pandemic will do to Hollywood, how the streaming wars will unfold, and which entertainment innovations he's most bullish about on the horizon.
As the forced shuttering of theaters has brought tough decisions to studios regarding what to do with their already-produced films, the sanctity of the theatrical window has come under scrutiny. Tension boiled over with a very public open-letter battle between leaders at Universal Pictures and AMC Theaters. You used to lead a business that directly followed that window of exclusivity; how do you see this playing out?

Kornblau: In reading all the articles covering those comments by Jeff Shell (Chief Executive of NBCUniversal) and Adam Aron (Chief Executive of AMC Theatres), you'd imagine the studio wants movies to come out at home the same day they reach the theater. But I don't think there are a lot of executives that want that. I think they want to not have a blackout period.
Historically, up until the pandemic, movies would come out in theaters and there'd be a 74-to-85-day delay until they were available in the home, which is absolutely the silliest thing ever. 90% of the box office is generated in 30 days on almost all movies, so films usually start to leave theaters after 30 days. Is there another industry where hundreds of millions of dollars are spent creating and marketing a product, it's only available for 30 days and then there's nowhere to use it or see it again for another 45 days?
If you're doing 90% of your business in 30 days, it's silly that there isn't an opportunity to see films at home on day 31. I think that's where the rubber will meet the road: the exhibitors will acknowledge that has to happen.
What do you think the studio heads are thinking about right now regarding their release strategy?
A lot of what they do will depend on how the coming-out party occurs. In the U.S., will theaters open incrementally, first in certain areas where people feel comfortable going to a theater? Will theaters open in some places but stay closed in places with a big chunk of America's theaters, like L.A. or New York? I think studios are thinking about whether they want to wait to release their films until they have 80% or more of the theaters open. Plus, how do you market a movie that won't come out around the country all at once?
Then on the other side, it's crystal clear that consumers are bingeing and taking full advantage of streaming. Now that we're all bound at home those consumers that haven't gotten into the SVOD/AVOD game are learning about it very quickly and embracing it. It's clear consumer habits are shifting much more broadly and quickly.
The result will be continued investment in your home theater. This has been going on for a long time but the pandemic has given more reason to invest in your home, since it's where you're spending so much time. The tech keeps getting better and people are spending more and more on their in-home experience. It may not be the home theater of a movie mogul, but it's yours.
So the hurdle to leave your home to go to a theater will keep getting higher. It's been doing that for years; it's not a radical change but it's an acceleration and amplification of a trend that's been going on for a long time.
Speaking of streaming, with so many players in the space, some analysts describe the current situation as unsustainable. Where do you think it's headed?
I think there's going to be more consolidation. The one thing that's crystal clear about technology and the world we live in today is it's made up of very few enormous companies that control an awful lot. I don't see that being any different in the world of entertainment. You don't have to look further than what's happened in music, where the six majors eventually shrunk down to three. There are an awful lot of streaming services and already consumers are questioning whether they need them. I think there will be fewer services but I think they'll have an extremely wide breadth of product to satisfy the consumer.
What's interesting to me is the appetite for risk that the major tech companies have. If you look up the top R&D spenders for last year, what you'll see at the very top is several of the biggest tech companies that happen to have streaming services. They're spending over $20bn on R&D every year. The entertainment companies aren't even on the list. You could argue their spend on content should be included in their R&D, but even if it was they may not make the list. I think we live in a world where the big get bigger and the appetite for risk gets bigger.
Do you think that appetite for risk will lead to tech companies making acquisitions?
I remember being at the studios and being fearful that Microsoft or Apple or Google was going to buy us. What became very clear very quickly, though, is that they really didn't need us. What they needed was creative talent. And with their money and their appetite for risk, they're a magnet for creative talent. It goes back to the big getting bigger. There are few tip-top creative names that haven't aligned with these big companies but the ones that have't probably will very soon. So the companies will increasingly have the content along with their tech. These are complex companies that see the power of entertainment and want to use that power to drive their entire business.
Why do you suppose they view entertainment as the way to do that?
It's the emotional connection with consumers. In my career, I stayed in home entertainment for 30 years because I never thought my business was about convincing someone to own or buy something; it was all about providing consumers an emotional experience, with amazing, culture-changing storytelling. I think the tech companies approach it similarly. Their entertainment business provides consumers with emotionally resonant experiences and stories, and that can help the rest of their business whether you're Apple trying to sell devices or Google selling services.
What types of entertainment innovation are you excited for on the horizon?
The reason I decided to work with early-stage and growth companies is, having lived in big corporate America and big entertainment companies, it's really hard to find massive innovation in large companies. I think real innovation is going to come from small companies.
There's an awful lot of attention on AR. As you sit at home, you can have experiences as if you're not at home, and I think that's a super interesting space. I'm not necessarily talking about big goggles, but experiences you can have on your smart devices -- tablet, phone. I think AR is poised for a massive explosion of growth.
The other area is the cloud. It's fascinating how before the pandemic many companies were already moving quickly to the cloud while others remained hesitant. What it translates to is now some companies are really hurting, those who had their equipment on premises, while companies that had moved their business to the cloud and can still run their business relatively easily. I think the pandemic will accelerate the movement to the cloud -- it's been happening, but I think it will create much more rapid movement there. In entertainment it'll change the face of production and distribution.
How have you seen the Los Angeles tech scene evolve throughout your career?
It's been extremely exciting to see the movement of all these enormous tech companies to L.A. They may not all be based here but they have a significant presence. It's not just Silicon Beach — it's all over the city, from Santa Monica to downtown. The spark of creativity that's been brought by these young companies that have chosen L.A. as their home rather than what may have been the traditional choice of the Bay Area is very exciting. And it's just starting.
(This interview has been edited for clarity and brevity)
---
Sam Blake covers media and entertainment for dot.LA. Find him on Twitter @hisamblake and email him at samblake@dot.LA

Sam Blake
Sam primarily covers entertainment and media for dot.LA. Previously he was Marjorie Deane Fellow at The Economist, where he wrote for the business and finance sections of the print edition. He has also worked at the XPRIZE Foundation, U.S. Government Accountability Office, KCRW, and MLB Advanced Media (now Disney Streaming Services). He holds an MBA from UCLA Anderson, an MPP from UCLA Luskin and a BA in History from University of Michigan. Email him at samblake@dot.LA and find him on Twitter @hisamblake
https://twitter.com/hisamblake
samblake@dot.la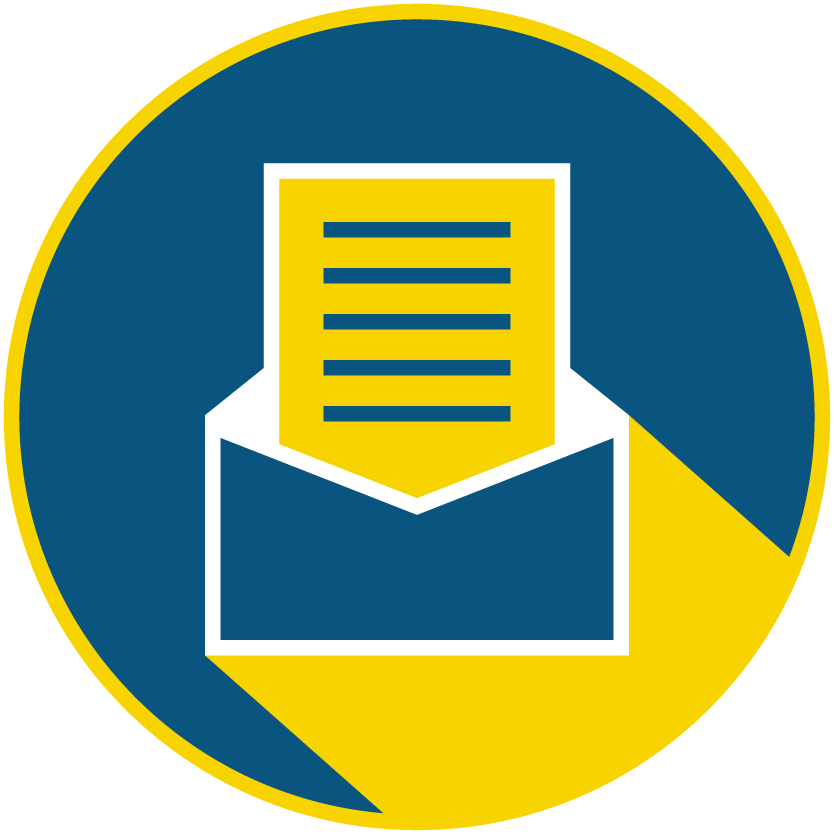 Subscribe to our newsletter to catch every headline.
Samson Amore
Samson Amore is a reporter for dot.LA. He previously covered technology and entertainment for TheWrap and reported on the SoCal startup scene for the Los Angeles Business Journal. Send tips or pitches to samsonamore@dot.la and find him on Twitter at @Samsonamore. Pronouns: he/him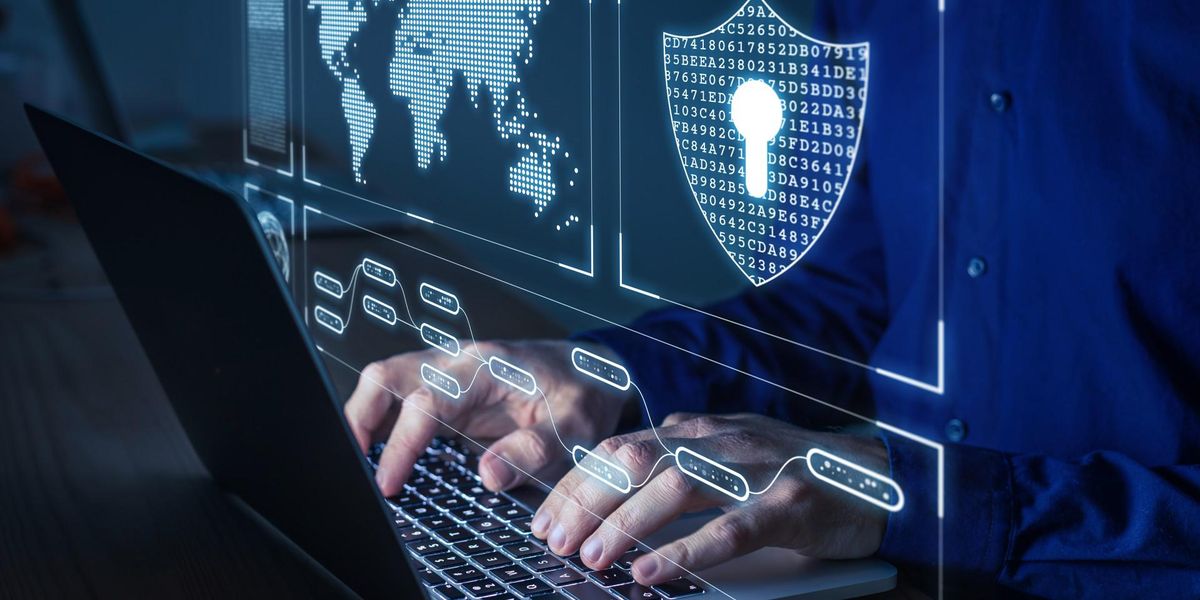 Art by NicoElNino/ Shutterstock
What do education startups, maternal care platforms and Minecraft servers have in common? They're all susceptible to hacking.
Also, businesses in each industry use software created by Manhattan Beach-based Inspectiv, which announced Thursday that it's raised an $8.6 million Series A round to continue developing its artificial intelligence that detects and wipes out security threats.
The new funds bring the total Inspectiv has raised to $16.6 million since its 2018 launch. Founder and chairman Joseph Melika told dot.LA the company's recent growth has largely been steered by the pandemic as companies put a higher value on data security.
The heightened need for better security, according to Melika, is due to recent changes in how people work. "Just people, frankly, getting distracted," he said, has made some businesses more vulnerable to hackers.
"They're working remotely, their laptops are from home [with] no firewall," he said, adding that has left a lot of systems potentially exposed to hacks.
Inspectiv's risk management platform runs autonomously 24/7 and is constantly scanning for threats, Melika said. The software isn't just run on A.I., it's also combined with a network of security researchers. Melika said part of Inspectiv's intelligence comes from the input of thousands of researchers.
Once it finds a threat, the software alerts Inspectiv, whose vulnerability spot-checkers verify it and identify it to the client. Then, Inspectiv scans its other clients for the same threat, or similar invasions that could be lurking. There's also the potential for the software to review backup files, in case a company wants to make sure no older resolved threats spring back to life.
Melika pointed out several current Inspectiv clients using its software are local, including GoGuardian, maternal care company Mahmee and Minehut, a platform for people to host custom "Minecraft" servers.
The funding round was led by StepStone Group, among a suite of existing Inspectiv investors including Westwood-based Fika Ventures, San Francisco's Freestyle Capital and Santa Monica-based Mucker Capital.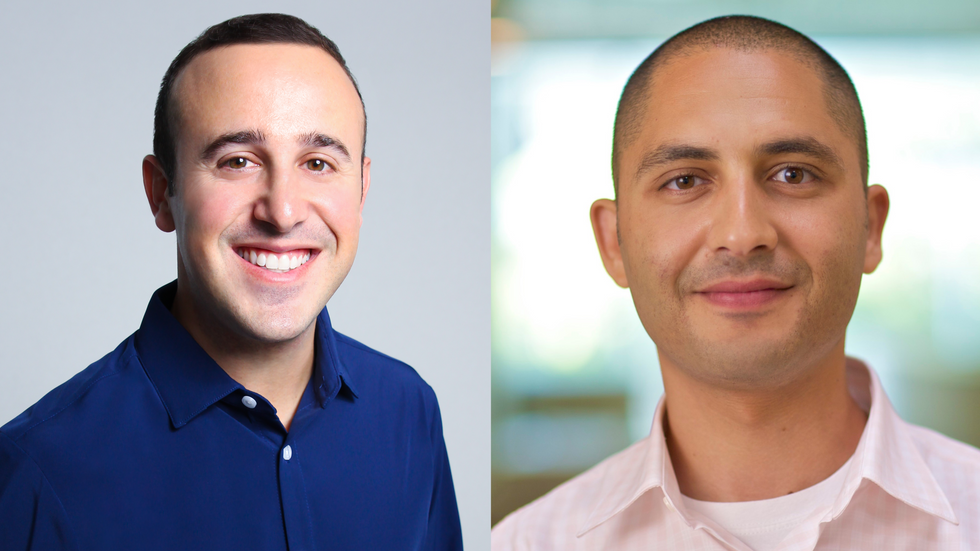 CEO Ryan Disraeli (left) and Founder and Chairman Joseph Melika (right) Courtesy of Inspectiv
Inspectiv also announced a leadership transition this week alongside several new hires – former CEO and co-founder of fraud prevention service Telesign Ryan Disraeli will take the reins as CEO of Inspectiv, while Melika will remain on board as the company's board chairman.
"Inspectiv is really helping secure the internet, and that was something that personally I could get passionate about," Disraeli said. "To be able to work with a team of people that we brought in that also has that security background, but also experience scaling up organizations was a pretty exciting opportunity."
The company also hired Karen Nguyen as chief revenue officer, Ray Espinoza as chief information security officer and Ross Hendrickson to be vice president of engineering. Disraeli said the Inspectiv team is currently 22 people but the company is "adding aggressively to that number" by expanding its product development team.
Disraeli wouldn't disclose revenues but told dot.LA he's confident he can grow Inspectiv quickly.
"There's a lot of companies raising money that don't have customers and don't have real growth," Disraeli said. "This is a company that has real customers that are growing and growing with us."
Samson Amore
Samson Amore is a reporter for dot.LA. He previously covered technology and entertainment for TheWrap and reported on the SoCal startup scene for the Los Angeles Business Journal. Send tips or pitches to samsonamore@dot.la and find him on Twitter at @Samsonamore. Pronouns: he/him
https://twitter.com/samsonamore
samsonamore@dot.la
Samson Amore
Samson Amore is a reporter for dot.LA. He previously covered technology and entertainment for TheWrap and reported on the SoCal startup scene for the Los Angeles Business Journal. Send tips or pitches to samsonamore@dot.la and find him on Twitter at @Samsonamore. Pronouns: he/him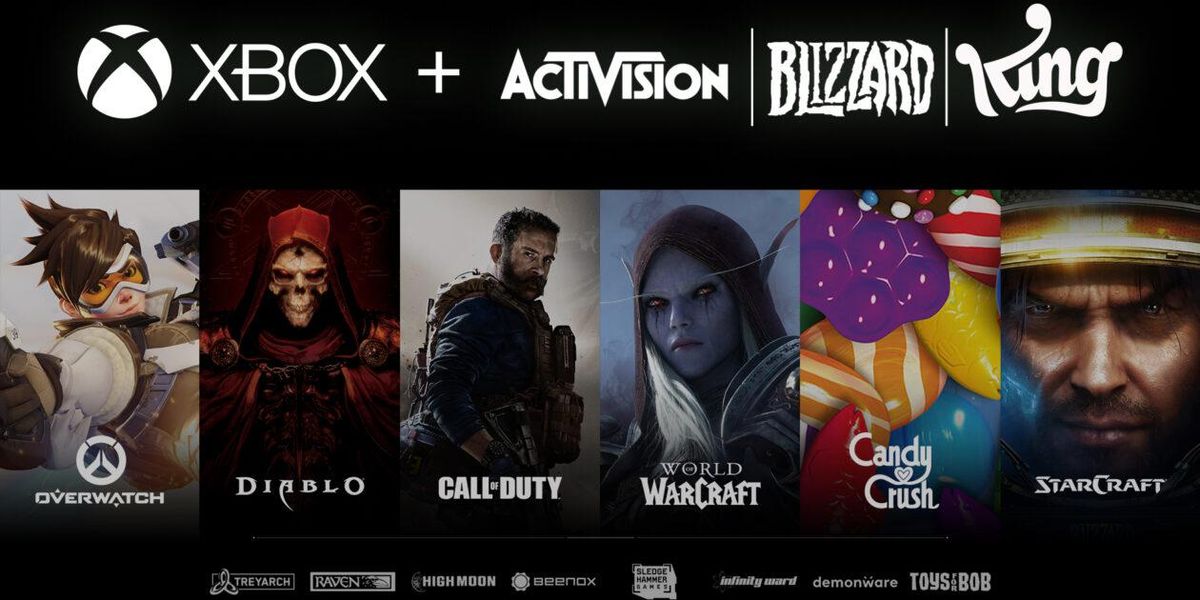 Courtesy of Activision Blizzard
Activision Blizzard intends to acquire Proletariat, a Boston-based game studio that developed the wizard-themed battle royale game "Spellbreak."
VentureBeat first reported that the Santa Monica-based publisher was exploring a purchase, noting its ongoing mission to expand the staff working on Blizzard's hit massively multiplayer online game "World of Warcraft," which launched in 2004.
Proletariat's team of roughly 100 people will be merged into Activision's "World of Warcraft" team to work on its upcoming expansion game. Though there's no release date as yet for the title, "World of Warcraft: Dragonflight" is expected to debut before the end of this year.
Activision did not immediately return a request for comment. Financial terms of the deal were not available.
This Proletariat deal is Activision's latest push to consolidate its family tree by folding its subsidiary companies in under the Blizzard banner. More than 15 years after it bought out New York-based game developer Vicarious Visions, Activision merged the business into its own last year, ensuring that the studio wouldn't work on anything but Blizzard titles.
The deal could also have implications for workers at Activision who have looked to unionize. One subsidiary of Activision, Wisconsin-based Raven Software, cast a majority vote to establish its Game Workers Alliance—backed by the nationwide Communications Workers of America union—in May.
Until recently, Activision has remained largely anti-union in the face of its employees organizing—but it could soon not have much of a say in the matter once it finalizes its $69 billion sale to Microsoft, which said publicly it would maintain a "neutral approach" and wouldn't stand in the way if more employees at Activision expressed interest in unionizing after the deal closes.
Each individual studio under the Activision umbrella would need to have a majority vote in favor of unionizing to join the GWA. Now, Proletariat's workforce—which, somewhat ironically given its name, isn't unionized—is another that could make such a decision leading up to the Microsoft deal's expected closing in 2023.
Samson Amore
Samson Amore is a reporter for dot.LA. He previously covered technology and entertainment for TheWrap and reported on the SoCal startup scene for the Los Angeles Business Journal. Send tips or pitches to samsonamore@dot.la and find him on Twitter at @Samsonamore. Pronouns: he/him
https://twitter.com/samsonamore
samsonamore@dot.la
Kristin Snyder
Kristin Snyder is an editorial intern for dot.la. She previously interned with Tiger Oak Media and led the arts section for UCLA's Daily Bruin.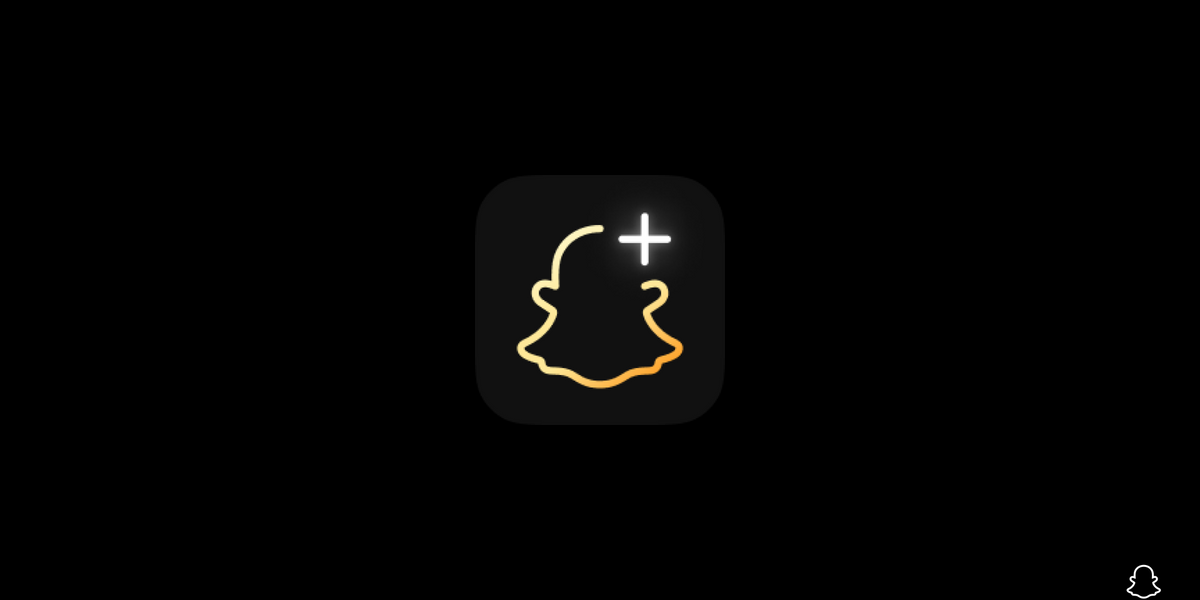 Courtesy of Snap
Snap is officially launching Snapchat Plus, a paid subscription plan on Santa Monica-based social media company's flagship app.
Snap is now the latest media company to tack a "plus" to the end of its name—announcing Wednesday that the new service will provide users with "exclusive, experimental and pre-release features" for the price of $3.99 a month. The first features available to paying subscribers include the ability to customize the style of app's icon, pin a "BFF" to the top of their chat history and see which users have rewatched a story, according to The Verge.
The new product arrives after Snap confirmed reports earlier this month that it was testing Snapchat Plus—though the version that it has rolled out does not incorporate the rumored feature that would allow subscribers to view a friend's whereabouts over the previous 24 hours.
Snapchat Plus will initially be available to users in the U.S., Canada, U.K., France, Germany, Australia, New Zealand, Saudi Arabia and the United Arab Emirates. While certain features will remain exclusive to Plus users, others will eventually be released across Snapchat's entire user base, Snap senior vice president of product Jacob Andreou told The Verge. (Disclosure: Snap is an investor in dot.LA.)
The subscription tier introduces a new potential revenue stream for Snap, which experienced a "challenging" first quarter marked by disruptions to its core digital advertising market. However, Andreou told The Verge that the product is not expected to be a "material new revenue source" for the company. He also disputed that Snap was responding to its recent economic headwinds, noting that Snap had been exploring a paid offering since 2016.
Despite charging users, Snapchat Plus does not include the option to turn off ads. "Ads are going to be at the core of our business model for the long term," Andreou said.
Snap is not the first popular social media platform to venture into subscriptions: Both
Twitter
and
Tumblr
rolled out paid tiers last year, albeit with
mixed
results.
Kristin Snyder
Kristin Snyder is an editorial intern for dot.la. She previously interned with Tiger Oak Media and led the arts section for UCLA's Daily Bruin.