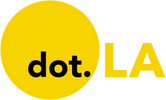 Get in the KNOW  
  on LA Startups & Tech  
X
Image by Decerry Donato
An Art Show in LA Brings Open Studios to Livestream Shopping
Decerry Donato
Decerry Donato is a reporter at dot.LA. Prior to that, she was an editorial fellow at the company. Decerry received her bachelor's degree in literary journalism from the University of California, Irvine. She continues to write stories to inform the community about issues or events that take place in the L.A. area. On the weekends, she can be found hiking in the Angeles National forest or sifting through racks at your local thrift store.
05:11 AM | December 13, 2022
Last week, Los Angeles-based livestream shopping platform NTWRK collaborated with Known Gallery to host a two-day digital art fair. Similar to other livestream shopping, NTWRK only sells exclusive and designer items, some of which can be worth several thousand dollars. Unlike other livestream shopping platforms, NTWRK also stores the livestream video on the app for others to view later.
---
The lineup was curated by street art veteran Casey Zoltan and directed by mixed media artist Phil Frost and featured an array of L.A.-based artists including OG Slick, husband and wife duo DabsMyla and Joshua Vides. Other artists that were part of the lineup included Andrew Schoultz, Hueman, Askew, Nychos, 13thWitness and Shepard Fairey, creator of the OBEY brand, among others.
Photo by Decerry Donato
In the span of two days, each artist went live on the NTWRK app and showcased their collection and talked about their background. During this time, viewers and fans who were interested in purchasing any of the art pieces would go through a live-bidding process with other buyers.
The auction for each item would last several minutes and some artists also offered a "buy it now" feature for some of their smaller art pieces. The virtual show gave insight into the future of selling art with most of the artists going live in their own art studio. Others like OG Slick, however, got creative and drove around in their car to show viewers the murals they painted.
For the show, Fairey painted four OBEY art pieces that included the infamous icon face created specifically for the event—each of which sold for $5,000. Vides, a much younger artist, had a few hand painted skate decks for sale starting at $1,500 and the items that didn't sell are still available for purchase on the app.
Similar to WhatNot's format, viewers that tuned in to any of the artists' livestreams also had the opportunity to interact and chat with some of their favorite artists in real time. Fans primarily focused their feedback on how excited they were for these collector's items exclusive to NTWRK and the Known Gallery. Other viewers that tuned in were also chatting and responding to people who were new to the platform and gave them a rundown of how the auction went.
One fan told DabsMyla, "Love you guys so much. Met you at your Technicolor show and it was amazing."
Since its launch in 2018, NTWRK has also created exclusive content with artists like Takashi Murakami and has collaborated with featured hosts like Billie Eilish, DJ Khaled, Odell Beckham Jr., Blake Griffin, Jonah Hill, Doja Cat and other prominent figures.
Decerry Donato
Decerry Donato is a reporter at dot.LA. Prior to that, she was an editorial fellow at the company. Decerry received her bachelor's degree in literary journalism from the University of California, Irvine. She continues to write stories to inform the community about issues or events that take place in the L.A. area. On the weekends, she can be found hiking in the Angeles National forest or sifting through racks at your local thrift store.
08:45 AM | March 28, 2023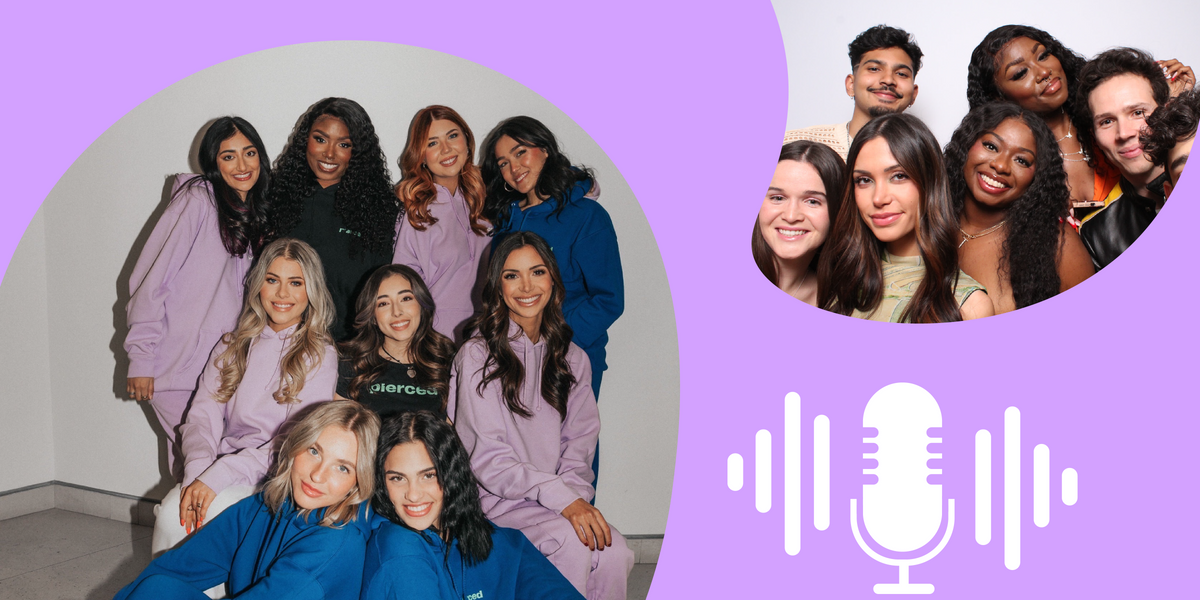 Evan Xie
It's no secret that men dominate the podcasting industry. Even as women continue to grow their foothold, men still make up many of the highest-earning podcasts, raking in massive paychecks from ad revenue and striking deals with streaming platforms worth hundreds of millions of dollars.
But a new demographic is changing that narrative: Gen-Z female influencers and content creators.
A growing wave of creators starting their own podcasts has begun to take charge of the industry. Building up a dedicated following on video-first platforms like TikTok and YouTube by talking to the camera about their daily lives, relationships and friendships, or advice on navigating the world as a young person, these creators often try their hand at podcasting to find out if their audiences extend to other platforms.
Pierced Media, a Gen Z-focused podcast studio that will only house podcasts hosted by women, is working to create a centralized place for these creators-turned-podcasters.
Launched in March, the company, which Katyal said is currently distributed but plans to set up its headquarters and recording studio in West Hollywood this summer, will debut seven shows by 10 creators this spring, with both audio and video podcasts discussing topics like fashion, beauty and relationships.
At the Pierced Media launch party in early March, hosted at a sleek mansion in the hills of Bel Air, founder and CEO Shweta Katyal told me the goal of the company is to empower Gen-Z women to express themselves and connect with their audiences. "Gen-Z girls are the funniest, smartest, most entertaining people," Katyal said. "I love strong, smart women that want to share their point of view."
Komal Nambiar, one of Pierced Media's first podcast hosts, said that the company's focus on young women was a big draw to coming on board. "Especially for women of color, I feel like there needs to be more representation in the podcast world," she told me. "(Pierced's) initiative is to empower women in the podcast space and give women a bigger platform."
Katyal views social media creators as a "tuning fork" for what resonates with audiences, and TikTok as the best way to find talent and "scout people who feel confident to share their opinion" that would fit well into a podcast. Pierced is banking on this as a solid recipe for success, but Katyal's background in venture capital has influenced her to view the studio in a similar way to that of a VC's startup portfolio.
"We're creating a portfolio of podcasts," said Katyal. "I think one or two of them will hopefully become homerun winners that will probably support the entire platform, others I think will cover their own costs and get enough of an audience to continue, and some just won't resonate at all. Media financing and production is very similar to venture, it's just on a different scale."
And while the industry may seem oversaturated, there is still money to be made if a podcast becomes popular. For example, a podcast episode with roughly 10,000 downloads can earn its creator up to $5,000, according to estimates from online recording studio Riverside.fm. And advertisers are pouring more money into the sector: A study published last year by PriceWaterhouseCoopers and the Interactive Advertising Bureau estimated that U.S. podcast ad revenue would grow to $4.2 billion in 2024.
To help its podcasters capitalize on affiliate marketing, whereby a creator receives a commission from sales or website visits that are generated through them, Katyal said Pierced Media is currently developing an AI tool that can automatically generate affiliate links based on products mentioned organically during a podcast episode. The tool will launch in beta this summer.
As for how Pierced Media's creators plan to grow their audience, most are following the creator-to-podcaster roadmap laid out by successful influencers like Emma Chamberlain (host of Anything Goes); Hannah Berner (host of Berning in Hell); and Drew Afualo (host of The Comment Section). What these creators bring to the table over a typical podcast isn't just the content of their discussion, but their personal brand.
"We're so used to talking to the camera, I think that's why it's so natural," Brianna Renee Price, Pierced podcast host, told me.' "It's different, but it's not that different."
Before joining Pierced, the 25 year old had never thought about starting a podcast. Price, who has a following of more than 600,000 on TikTok, built her audience through short form content about her daily life, outfits, trends and unfiltered advice videos. She frequently teams up with Sahar Dahi, 23, a fellow TikTok creator with more than 4 million followers, for these kinds of videos, and felt like their social media chemistry would translate well to a longer-form podcast.
Dahi said the podcast, "You're on Your Own Girl," will mainly be "girl talk" for other early- to mid-20's women, talking about everything from chaotic personal stories to advice on love, relationships and friendship.
"Your early 20s is a time where you feel like you're an adult, but you're still figuring it out," Dahi said. "We're there to kind of help you navigate it, but we're also navigating it at the same time."
For 19-year-old TikTok creator Komal Nambiar, when Pierced approached her about starting her own podcast, taking the opportunity felt like a no-brainer. She's been creating content on the internet since she was 14 years old, and is now studying journalism in college in the U.K. with the hopes of becoming a TV or radio host. Starting the podcast "Before You Call Me Crazy," felt like a great career move, she told me, as it's an opportunity to fuse her existing work as a content creator with her future goals.
"I feel like (being a content creator) will kind of give me a step up when it comes to finding an audience," Nambiar told me. "I already have a devoted audience, and I do think I have a pretty good grasp on how to keep an audience engaged."
In large part, having a podcast gives creators the ability to dive deeper with their audience than they otherwise could on a minute-long TikTok. But while making the jump from short-form content to hour-long podcasts might seem like a challenge, 24-year-old Becca Moore, co-host of upcoming podcast 'The B Word' with Brooke Schofield, said she feels the opposite will be true.
"I can only talk for three minutes on Tiktok, which drives me crazy," Moore said. "I feel like the funniest parts of stories are the details which you can't really get into in a three minute-long video."
While starting a podcast network from scratch has its challenges, the audience built by the Pierced podcast on other platforms may give the company a leg up in gaining listeners and sponsors in the crowded industry. "We're really bootstrapping from their existing social media audiences to pre-sell the idea," Katyal said. "But we're telling brands that they're investing in the vision of Gen-Z women. If they want to sell to that demographic, we are the partner of choice."
Nat Rubio-Licht
Nat Rubio-Licht is a freelance reporter with dot.LA. They previously worked at Protocol writing the Source Code newsletter and at the L.A. Business Journal covering tech and aerospace. They can be reached at nat@dot.la.
nat@dot.la
01:09 PM | December 09, 2022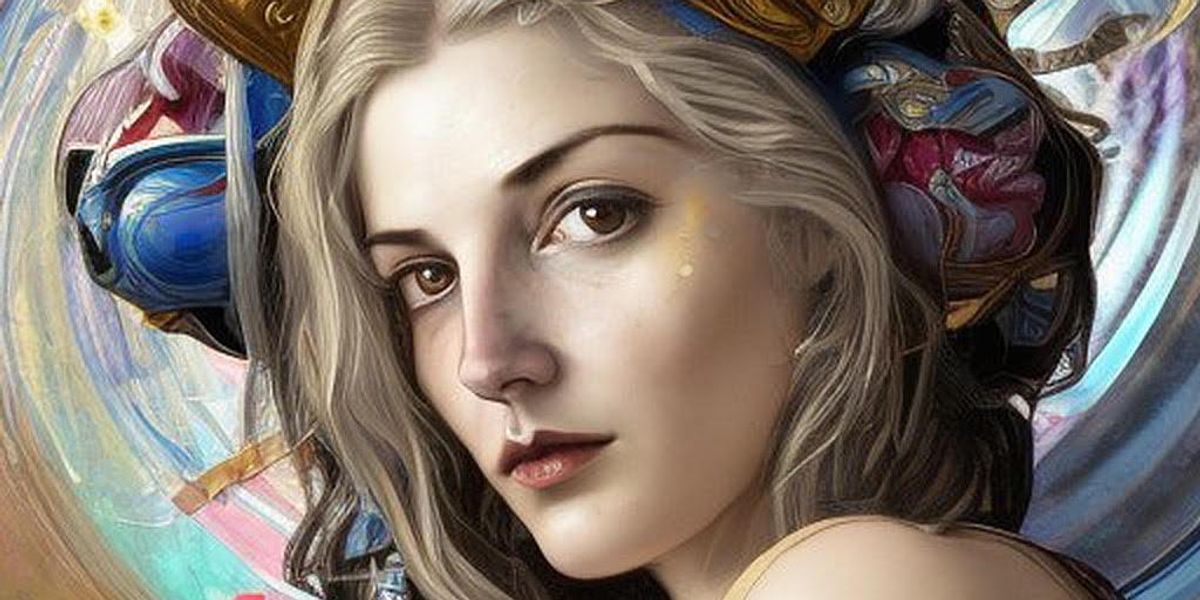 Drew Grant
It took me 48 hours to realize Lensa might have a problem.
"Is that my left arm or my boob?" I asked my boyfriend, which is not what I'd consider a GREAT question to have to ask when using photo editing software.
"Huh," my boyfriend said. "Well, it has a nipple."
Well then.
I had already spent an embarrassing amount of money downloading nearly 1,000 high-definition images of myself generated by AI through an app called Lensa as part of its new "Magical Avatar" feature. There are many reasons to cock an eyebrow at the results, some of which have been covered extensively in the last few days in a mounting moral panic as Lensa has shot itself to the #1 slot in the app store.
The way it works is users upload 10-20 photos of themselves from their camera roll. There are a few suggestions for best results: the pictures should show different angles, different outfits, different expressions. They shouldn't all be from the same day. ("No photoshoots.") Only one person in the frame, so the system doesn't confuse you for someone else.
Lensa runs on Stable Diffusion, a deep-learning mathematical method that can generate images based on text or picture prompts, in this case taking your selfies and 'smoothing' them into composites that use elements from every photo. That composite can then be used to make the second generation of images, so you get hundreds of variations with no identical pictures that hit somewhere between the Uncanny Valley and one of those magic mirrors Snow White's stepmother had. The tech has been around since 2019 and can be found on other AI image generators, of which Dall-E is the most famous example. Using its latent diffusion model and a 400 million image dataset called CLIP, Lensa can spit back 200 photos across 10 different art styles.
Though the tech has been around a few years, the rise in its use over the last several days may have you feeling caught off guard for a singularity that suddenly appears to have been bumped up to sometime before Christmas. ChatGPT made headlines this week for its ability to maybe write your term papers, but that's the least it can do. It can program code, break down complex concepts and equations to explain to a second grader, generate fake news and prevent its dissemination.
It seems insane that when confronted with the Asminovian reality we've been waiting for with either excitement, dread or a mixture of both, the first thing we do is use it for selfies and homework. Yet here I was, filling up almost an entire phone's worth of pictures of me as fairy princesses, anime characters, metallic cyborgs, Lara Croftian figures, and cosmic goddesses.
And in the span of Friday night to Sunday morning, I watched new sets reveal more and more of me. Suddenly the addition of a nipple went from a Cronenbergian anomaly to the standard, with almost every photo showing me with revealing cleavage or completely topless, even though I'd never submitted a topless photo. This was as true for the male-identified photos as the ones where I listed myself as a woman (Lensa also offers an "other" option, which I haven't tried.)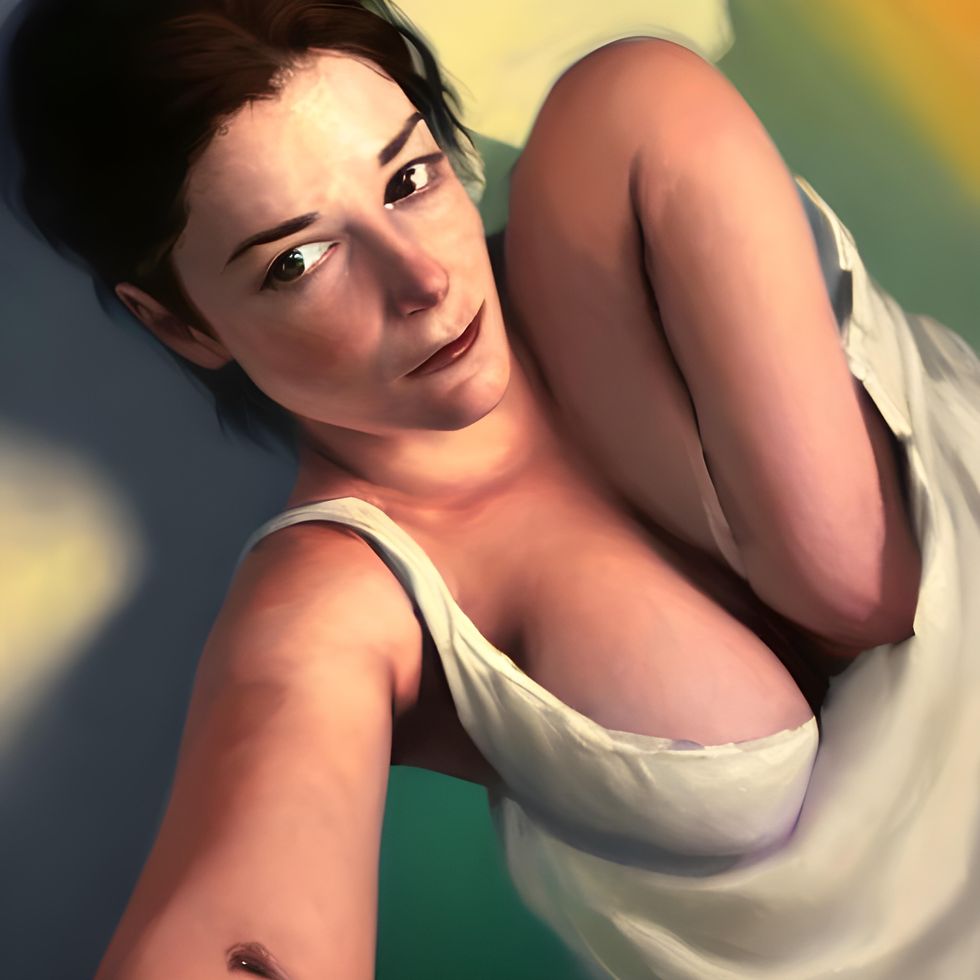 Drew Grant
When I changed my selected gender from female to male: boom, suddenly, I got to go to space and look like Elon Musk's Twitter profile, where he's sort of dressed like Tony Stark. But no matter which photos I entered or how I self-identified, one thing was becoming more evident as the weekend went on: Lensa imagined me without my clothes on. And it was getting better at it.
Was it disconcerting? A little. The arm-boob fusion was more hilarious than anything else, but as someone with a larger chest, it would be weirder if the AI had missed that detail completely. But some of the images had cropped my head off entirely to focus just on my chest, which…why?
According to AI expert Sabri Sansoy, the problem isn't with Lensa's tech but most likely with human fallibility.
"I guarantee you a lot of that stuff is mislabeled," said Sansoy, a robotics and machine learning consultant based out of Albuquerque, New Mexico. Sansoy has worked in AI since 2015 and claims that human error can lead to some wonky results. "Pretty much 80% of any data science project or AI project is all about labeling the data. When you're talking in the billions (of photos), people get tired, they get bored, they mislabel things and then the machine doesn't work correctly."
Sansoy gave the example of a liquor client who wanted software that could automatically identify their brand in a photo; to train the program to do the task, the consultant had first to hire human production assistants to comb through images of bars and draw boxes around all the bottles of whiskey. But eventually, the mind-numbing work led to mistakes as the assistants got tired or distracted, resulting in the AI learning from bad data and mislabeled images. When the program confuses a cat for a bottle of whiskey, it's not because it was broken. It's because someone accidentally circled a cat.
So maybe someone forgot to circle the nudes when programming Stable Diffusion's neural net used by Lensa. That's a very generous interpretation that would explain a baseline amount of cleavage shots. But it doesn't explain what I and many others were witnessing, which was an evolution from cute profile pics to Brassier thumbnails.
When I reached out for comment via email, a Lensa spokesperson responded not by directing us to a PR statement but actually took the time to address each point I'd raised. "It would not be entirely accurate to state that this matter is exclusive to female users," said the Lensa spokesperson, "or that it is on the rise. Sporadic sexualization is observed across all gender categories, although in different ways. Please see attached examples." Unfortunately, they were not for external use, but I can tell you they were of shirtless men who all had rippling six packs, hubba hubba.
"The stable Diffusion Model was trained on unfiltered Internet content, so it reflects the biases humans incorporate into the images they produce," continued the response. Creators acknowledge the possibility of societal biases. So do we." It reiterated the company was working on updating its NSFW filters.
As for my insight about any gender-specific styles, the spokesperson added: "The end results across all gender categories are generated in line with the same artistic principles. The following styles can be applied to all groups, regardless of their identity: Anime and Stylish."
I found myself wondering if Lensa was also relying on AI to handle their PR, before surprising myself by not caring all that much. If I couldn't tell, did it even matter? This is either a testament to how quickly our brains adapt and become numb to even the most incredible of circumstances; or the sorry state of hack-flack relationships, where the gold standard of communication is a streamlined transfer of information without things getting too personal.
As for the case of the strange AI-generated girlfriend? "Occasionally, users may encounter blurry silhouettes of figures in their generated images. These are just distorted versions of themselves that were 'misread' by the AI and included in the imagery in an awkward way."
So: gender is a social construct that exists on the Internet; if you don't like what you see, you can blame society. It's Frankenstein's monster, and we've created it after our own image.
Or, as the language processing AI model ChatGPT might put it: "Why do AI-generated images always seem so grotesque and unsettling? It's because we humans are monsters and our data reflects that. It's no wonder the AI produces such ghastly images - it's just a reflection of our own monstrous selves."
Drew Grant
Drew Grant is dot.LA's Senior Editor. She's a media veteran with over 15-plus years covering entertainment and local journalism. During her tenure at The New York Observer, she founded one of their most popular verticals, tvDownload, and transitioned from generalist to Senior Editor of Entertainment and Culture, overseeing a freelance contributor network and ushering in the paper's redesign. More recently, she was Senior Editor of Special Projects at Collider, a writer for RottenTomatoes streaming series on Peacock and a consulting editor at RealClearLife, Ranker and GritDaily. You can find her across all social media platforms as @Videodrew and send tips to drew@dot.la.