Santa Monica Is Using the Metaverse to Gamify Its Shopping District
Decerry Donato
Decerry Donato is dot.LA's Editorial Fellow. Prior to that, she was an editorial intern at the company. Decerry received her bachelor's degree in literary journalism from the University of California, Irvine. She continues to write stories to inform the community about issues or events that take place in the L.A. area. On the weekends, she can be found hiking in the Angeles National forest or sifting through racks at your local thrift store.
04:04 PM | December 13, 2021
Last week, the app FlickPlay announced it was partnering with Santa Monica (which is where the company is based) so that it would become the first U.S. city to have access to the metaverse through its app.
After all the Facebook hype, I wanted to find out what the metaverse looked like and why a city would sign on.
So, standing on the bustling corner of Santa Monica Blvd and 3rd Street, I scanned FlickPlay's interactive map on my phone in search of tokens.
---
A blue coin users can pick up in the FlickPlay app.
Previously a social wallet app designed to work with various types of digital art and collectibles; the app now works in downtown Santa Monica as a way both to draw you into storefronts and gamify the experience. That could be good business for brick and mortar stores and the city's tax base.
Finding tokens wasn't too difficult: The map was filled with glowing yellow, blue, and green dots indicating I was in the right place to cash in on tokens in FlickPlay's new metaverse social app.
Similar to TikTok, the explore page on FlickPlay features full-screen, looping videos set to music that often include people dancing and utilizing their exclusive collectibles as a backdrop. The experience can be enthralling.
As a user, you have the option to like, comment and share on other social platforms. While apps like TikTok and Instagram focus on the subject, FlickPlay is focused on the landscape around them - bridging the gap between physical and digital spaces. At one point I became disoriented from the physical world.
FlickPlay allows people to collect tokens to unlock and show off videos through the app using their rare filter-like collectibles - most of which have a limited quantity.
Currently, the app doesn't have any challenges, but like the NFTs there is a scarcity factor that increases the value of the collectibles. This gives the user the opportunity to monetize their digital collectibles. Like most mobile games, FlickPlay is free to download, but offers players the opportunity to use the tokens they earn in exchange for tangible goods.

Tokens are categorized into three colors: yellow, blue and green, and can be earned by visiting the map on the FlickPlay app. The yellow coins act as the player's currency to unlock experiences or purchase items from local retailers, blue coins unlock collectibles, and green coins (the rarest) come with a reward.
If a token is nearby, you tap on its location on the map and the token will appear on your phone. I saw one token was further away and the app led me right to it. The token amount I received ranged from a value of 150-250 per coin and was stored in a digital wallet within the app. That token brought me to a Dodger's Clubhouse on the Promenade.
While I received some odd looks walking around with my phone pointed toward the sky—there were tokens to be had!— I also saw some curious faces.
If FlickPlay founder and CEO Pierina Merino is right, that will soon be a familiar scene and everyone will be on the metaverse. "In the next two years, we're all going to own something digital," she said. "We are all going to have some sort of wallet or digital inventory of objects."
Merino established FlickPlay in 2019 and has grown the company to include 20 employees. Earlier this year, FlickPlay raised $5 million in seed funding backed by global VC firm Lightspeed Ventures and co-lead by SF-based seed investor, Abstract VC.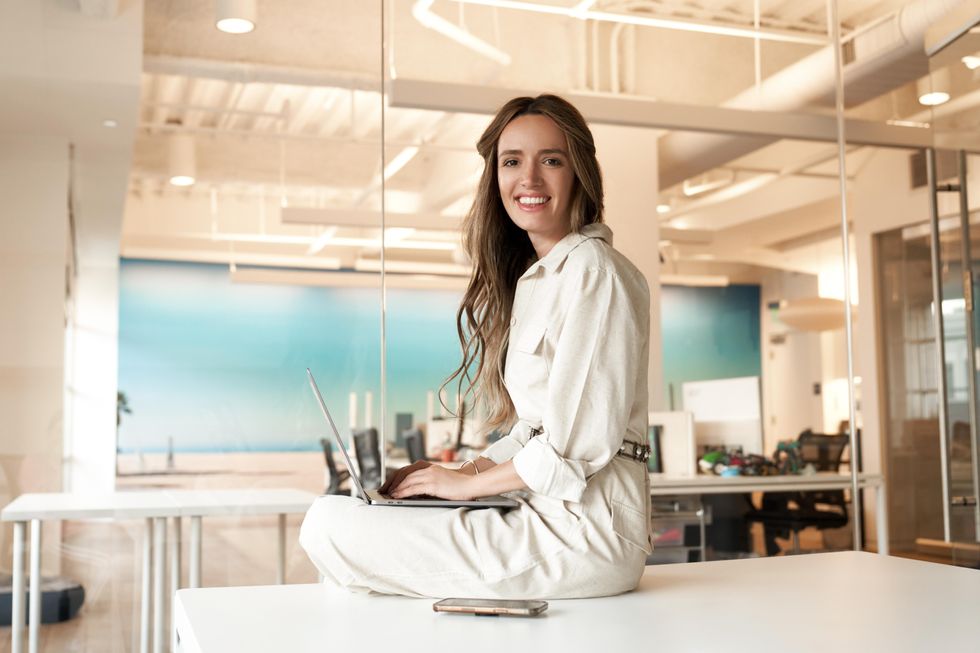 FlickPlay founder and CEO Pierina Merino hopes to create more activity in parts of Santa Monica that have traditionally been less trafficked.
Before Merino founded FlickPlay, she launched the startup Pemier, a 3D printed product line that was picked up by Nordstrom in over 30 stores six months after its launch in 2016.
But what was lacking was the inability to interact with the consumer. "As a founder, it was crazy to think that I made it to one of the top retailers in the U.S. and I was still not talking with my customer," she said.
During this time she saw how the Museum of Ice Cream created communities where people can create shareable content as well as Pokemon Go's impact in the way that people interact with the real world. With FlickPlay, Merino is hoping she can help create more activity in parts of Santa Monica that have traditionally been less trafficked—and are thus more susceptible to crime.
"It has been proven that activating unused city spaces with art reduces crime rates," she said. "There is no better incentive for us than building a metaverse ecosystem with strong values and purpose that have a direct impact in the world we live in."
Merino believes her app can help the local economy, too. "You're not only activating the city from a creative standpoint, and enabling the city to control the narrative and the storyline of how people interact with their different locations, but it also involves local retailers," she said.
As someone who has never been interested in gaming, I found the app entertaining. It even brought me to stores I've never been to before, like BookMonster. Even though I didn't earn enough tokens to purchase physical items in one of the retailers, I'd consider coming back to rack up more tokens once more local retailers jump on board which would incentivize shoppers like myself to go out and play.
After about three hours of participating in the metaverse, My token counter hit just over 2,000—finally I had enough to unlock some rare collectibles. I gravitated toward the Los Angeles Lakers collectible which cost me 900 tokens. Once unlocked, I was able to "flex" the purchase by showing off my new collectible in a video.
Merino, meanwhile, has plans to expand FlickPlay to other cities -- including New York, Miami and Chicago -- as early as next year. FlickPlay has also partnered with some local shops like fashion retailer JapanLA and Mexican restaurant Lanea to allow users to shop using their digital wallets.
"I like moving people through our cities," she said. "At the same time, all these new consumer behaviors are really tied to how we're building our digital identity and the value that these offline interactions are having on how people perceive us online."
Decerry Donato
Decerry Donato is dot.LA's Editorial Fellow. Prior to that, she was an editorial intern at the company. Decerry received her bachelor's degree in literary journalism from the University of California, Irvine. She continues to write stories to inform the community about issues or events that take place in the L.A. area. On the weekends, she can be found hiking in the Angeles National forest or sifting through racks at your local thrift store.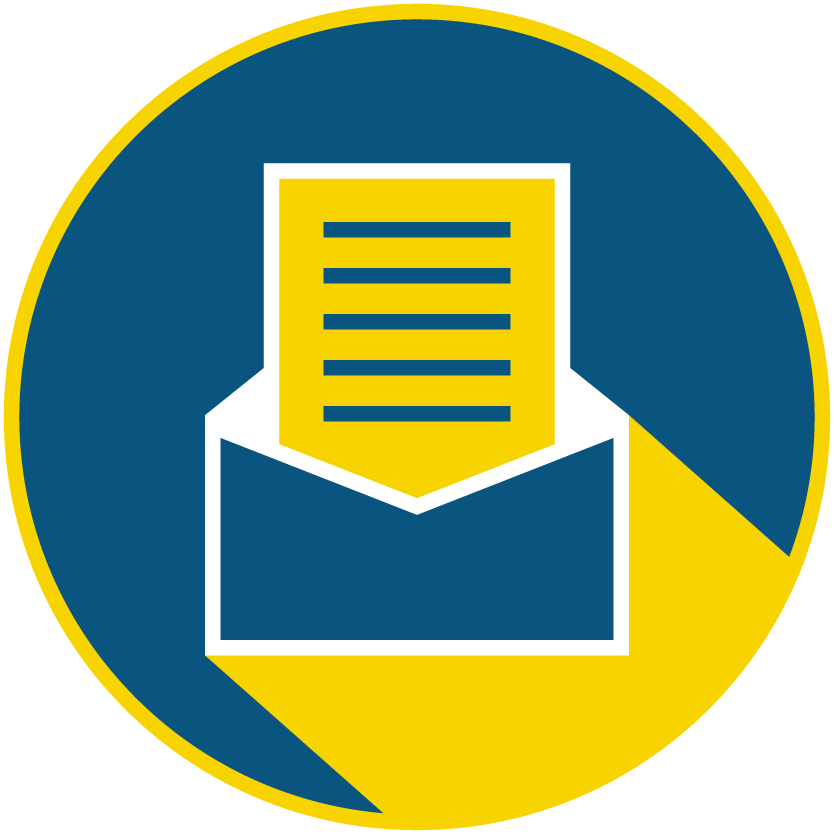 Subscribe to our newsletter to catch every headline.
04:00 AM | October 29, 2021
Pejman Nozad, a founding managing partner at Pear VC, joins this episode of LA Venture to discuss Pear VC's current initiatives, including its accelerator and fellowships. He's seen as one of the most successful angel investors in the area, and for good reason: he has made more than 300 investments in his lifetime.
"I'm a child of revolution and war and difficult times," said Nozad of his upbringing in Iran during the revolution.
Nozad went to college before dropping out. That's when his brother told him about his dream to go to America. After his brother was denied a visa multiple times, Nozad went himself to the embassy and got lucky; the woman in charge of the process liked him enough to approve him.
"When you're in [your] early twenties, you don't analyze much of the future. And then your risk-takers. I came to America in 1992 with $700 and I didn't speak any word of English," said Nozad.
Nozad went from working at a carwash, then a yogurt shop, to a (now famous) Persian rug store in Palo Alto. Many of his clients happened to be CEOs and venture capitalists; Nozad wanted to be part of that community.
"I was very lucky because I had access to people who normally nobody can see them, but I was hanging out with them at Sunday barbecues while selling carpets," said Nozad.
In his early days as an investor, Nozad bet on companies that included Dropbox and DoorDash. He said he took inspiration as a venture capitalist in lessons he learned from his time playing professional soccer in Iran.
"In soccer, you can score minute one, or you can score at minute 90. Both of them [are] one goal and you can win the game. So, when you go to fundraise, don't get disappointed if you hear a lot of nos, because the yes could be the last meeting after the whole two months," he said.
Want to hear more L.A. Venture? Listen on Apple Podcasts, Stitcher, Spotify or wherever you get your podcasts.
dot.LA Engagement Intern Joshua Letona contributed to this post.
From Your Site Articles
Related Articles Around the Web
Minnie Ingersoll
Minnie Ingersoll is a partner at TenOneTen and host of the LA Venture podcast. Prior to TenOneTen, Minnie was the COO and co-founder of $100M+ Shift.com, an online marketplace for used cars. Minnie started her career as an early product manager at Google. Minnie studied Computer Science at Stanford and has an MBA from HBS. She recently moved back to L.A. after 20+ years in the Bay Area and is excited to be a part of the growing tech ecosystem of Southern California. In her space time, Minnie surfs baby waves and raises baby people.
06:05 AM | January 25, 2022
Image courtesy of Shutterstock
The age of the creator is upon us.
After years of gaining momentum, the creator economy has gone mainstream. Payment processing platform Stripe estimates the number of individuals who now see themselves as full-time "creators"—those who use online tools to sell digital content—grew 48% in 2021, while earnings across the industry are expected to soon eclipse $10 billion.
Major brands have taken notice, as influencers can garner loyal social media followings that outpace those of many Hollywood celebrities. Meanwhile, some top-tier influencers now make more than S&P 500 CEOs. As more Gen Z creators enter the workforce—looking for opportunities beyond traditional models—the industry is poised to grow at a breakneck pace. We talked with Famous Birthdays founder Evan Britton, whose platform tracks and measures the industry, as well as several emerging influencers about what to watch for over the coming year.
1. Gaming Influencers Grow
There is more gaming content now than ever. According to TwitchTracker, which catalogs streamers, 2021 was the most popular year ever for Twitch, which averaged more than 3.1 million daily viewers at its peak in May 2021. January 2022's numbers (2.9 million) are not far behind.
"Twitch streamers have highly engaged fans," said Britton. He pointed to Twitter as an example of a platform where many brands and personalities find it "hard to get engagement," yet where many streamers routinely manage to draw "thousands of likes and comments."
"Their fans are so engaged with them because they're watching them for hours on end," he added. "They just want more content."

Even though demand for gaming content is up, expect gaming creators to become more strategic about repurposing content in 2022.
"As a streamer, one of the biggest things right now is finding ways to continue to grow while being efficient," said gamer and Twitch streamer Nick Bartels. In the past, influencers in the gaming world would commit many hours to livestreaming their adventures—but when the game was over, traditionally, so was the stream, and few did anything with the resulting content.
Expect to see creators looking for ways to funnel growth into platforms even when they aren't streaming. Bartels said he's looking to work with an editor who can repurpose much of the live content he creates.
"One of the bigger concerns is burnout over air time," said Bartels. "It's part of the grind initially, but the last thing you're going to want to do after you stream is edit. You want to have some life balance."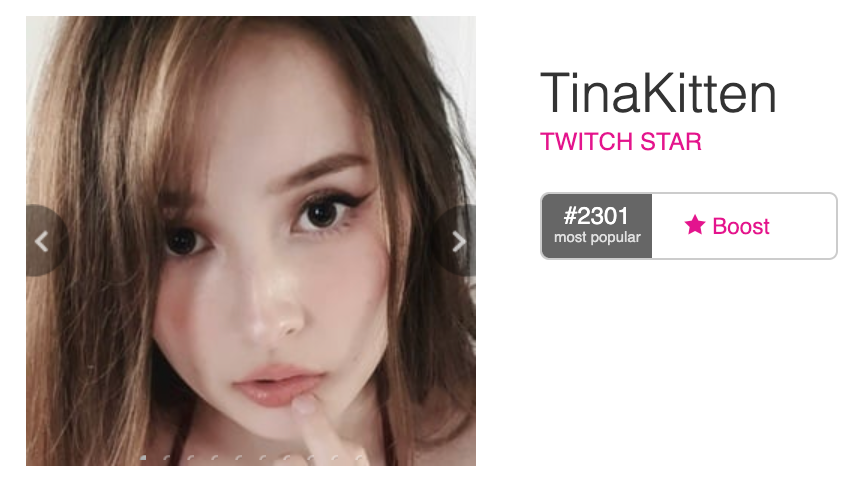 TinaKitten/ Famous Birthdays
Famous Birthdays' Gaming Influencers to Watch
2. The Blockchain Provides a New Source of Income and Experimentation
In years past, influencers relied largely on advertising dollars to monetize their massive audiences and provide them with an income. More recently, however, the blockchain—including cryptocurrency and NFTs— have stepped in, providing a new way to create community while growing revenue.
"The growth of cryptocurrency followed by the explosion of NFTs was a big trend in 2021 that will continue into 2022," said Britton. "Last year, creators sold digital art and communities sold limited edition collectables offering unique access and clout. This year, offerings will become even more creative."
Britton said one driver of this trend is entertainment and engagement. NFTs, or non-fungible tokens, provide a way for influencers to reward their most engaged users, as well as a way for audiences to literally invest in the creators they love. "I think it's a fun way for people to get involved and be part of a community," he noted. As creators build engaged communities of their own, NFTs could provide additional methods for them to monetize.
But there has been a dark side to influencers' interest in crypto. Earlier this month, Kim Kardashian and Floyd Mayweather were among a number of influencers accused of taking part in an online pump-and-dump crypto scam. TikTok has since banned promotional content related to financial services, including cryptocurrency, by adding them to its list of "globally prohibited industries."
While it remains to be seen just how effective NFTs will be as an investment tool, expect interest in the space to continue to grow.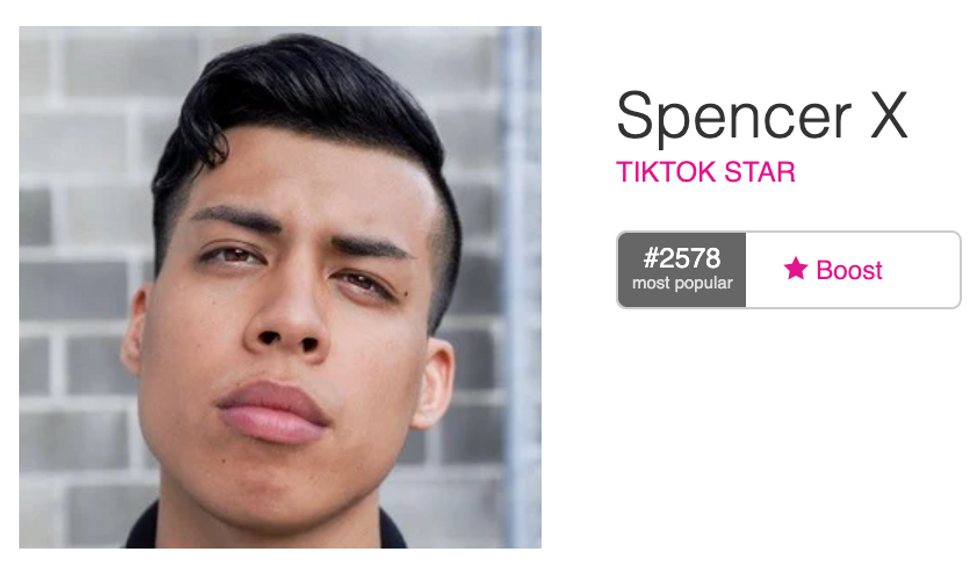 Spencers/ Famous Birthdays
Famous Birthdays' Influencers with NFT Projects to Watch
3. More Fun with Food
Food has emerged as a growing subset of the influencer economy, and several new platforms launched in 2021 looking to seize on that growing interest. Restaurants large and small have taken notice.
"One huge tailwind on TikTok has been creators offering up their unique recipes and fun takes on food," said Britton, who expects this trend to build throughout 2022. "TikTok is about fun, short videos. Everybody loves food and a lot of people like making food. It just has a lot of natural product-market fit with TikTok."
Videos showing food can be instrumental in convincing consumers to try new restaurants or menu items. In a survey by restaurant marketing firm MGH, 36% of TikTok users said they have visited or ordered food from a restaurant after seeing a TikTok video featuring that establishment.
Influencer Cassie Sharp found success in 2021 by creating bite-sized content around food challenges, like her popular "five random ingredients" challenge.
"I'm trying to find new challenges that garner similar engagement, and take short-form videos and turn them into long-form content so that I can take some of those views on my shorts and apply them on my long-form videos," she said, highlighting a trend common among creators in all verticals: repurposing content.
"The greatest thing about short-form content is you can throw it out there and see what catches," Sharp added. "If I get an audience for a specific short-form video, when I start making long-form videos people are already comfortable with it."
Her biggest takeaway so far: Clear bowls are essential for creating engaging food videos. "It's just more interesting to watch the butter and brown sugar melt together," she said.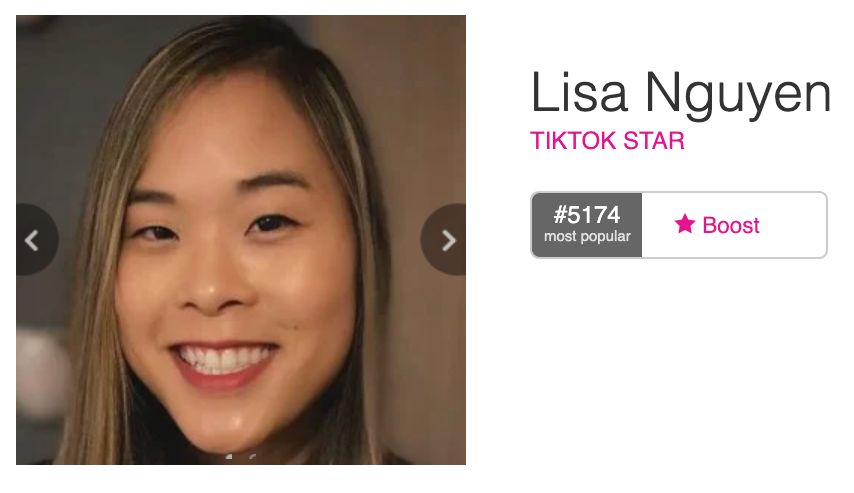 Lisa Nguyen/ Famous Birthdays
Famous Birthdays' Food-Focused Influencers to Watch
4. Social Shopping Upends Ecommerce
The pandemic helped cement ecommerce's rapidly growing advantage over brick-and-mortar shopping. As more influencers take to livestreaming platforms, expect the nature of online shopping to change.
"Facebook, Instagram and TikTok each facilitate live-shopping and YouTube launched livestreams to promote shopping ahead of the 2021 holiday season," noted Britton, who added that he expects live-shopping to become increasingly popular in 2022. "It took a while to get here, but it's growing."
Gen Z is certainly keen to buy in real time. Survey results from the 2022 Instagram Trend Report show 27% of users aged 13 to 24 shop directly on social media.
Instagram's native affiliate tool is just one example of this trend in action. The platform began testing the tool in 2021, incentivizing creators to include shoppable content not just in their feeds but also in their Instagram Stories and livestreams.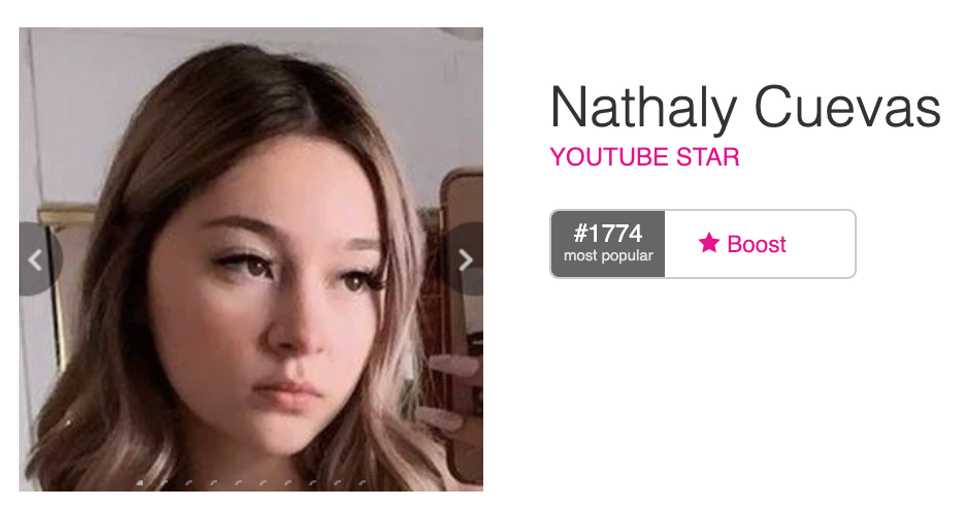 Nathaly Cuevas/ Famous Birthdays
Famous Birthdays' Ecommerce Influencers to Watch
Correction: An earlier version of this story misspelled Nick Bartels' last name.
From Your Site Articles
Related Articles Around the Web
Jolene Latimer
Jolene Latimer has her Master of Arts in specialized journalism and writes about sports, entertainment and personal finance.