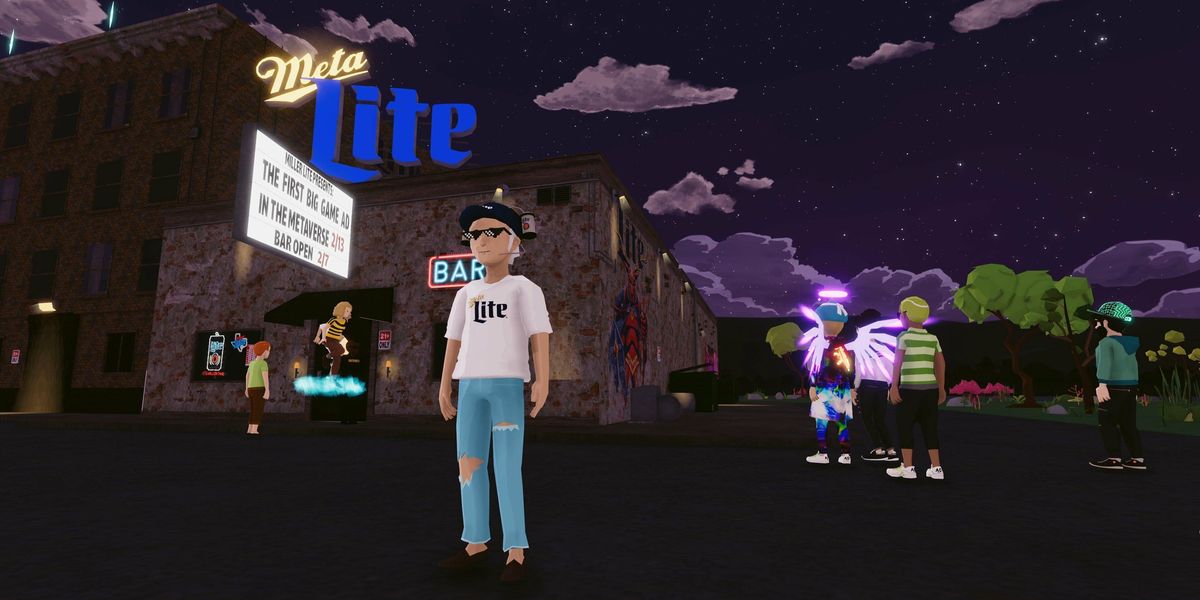 Courtesy of TerraZero
This is the web version of dot.LA's daily newsletter. Sign up to get the latest news on Southern California's tech, startup and venture capital scene.
If we are truly going to spend much of our lives in the virtual realm of the metaverse, many of us are going to need a drink. While immersive technology hasn't yet figured out digital booze—at least not to my knowledge—one Los Angeles startup is already working on virtual bars.
TerraZero, a self-described "metaverse development group," designed the Meta Lite Bar for beer brand Miller Lite. Located in Decentraland, a platform where users buy digital plots of land as NFTs, the virtual bar was a preview of the kind of marketing we may see in the metaverse—a vision for the internet where we work, shop and socialize in 3D virtual environments.
---
For one week last month, Decentraland users could enter an industrial-style building, pour themselves fake beer and ride a mechanical bull, Ryan Kieffer, TerraZero's chief metaverse officer, told me. The virtual bar even had a virtual bouncer to make users confirm they were at least 21 years old. Of course, there was no shortage of Miller Lite signage.
"The purpose was to make it feel like that hometown dive bar kind of vibe," Kieffer said.
Metaverse skeptics will question why someone would want to hangout inside a virtual bar. According to Kieffer, users are spending 15 to 30 minutes inside their virtual experiences, which include games like scavenger hunts and other clickable activities. The Meta Lite Bar, for example, featured digital collectibles for fans of singer J Balvin. TerraZero, which has another headquarters in Vancouver, also built a virtual Jimmy John's, where people could make sandwiches then receive coupons to eat actual food in the real world.
From a brand perspective, having someone engage with your marketing for up to half an hour could be a convincing value proposition. Kieffer declined to share specific metrics from Meta Lite Bar, but noted it was the second time the beer brand activated the experience (the first was during the Super Bowl). One can presume Miller Lite was at least encouraged enough by the initial campaign to try it again.
Kieffer said, "Our general pitch is, essentially, this as a new emerging audience and a new emerging space. You should come in, start creating a strategy, dip your toes, see how you like it." The company also contends that brands get long-term value from metaverse marketing spend, since companies can repeatedly re-launch the same virtual builds, like Miller Lite did.
Founded last year, TerraZero has raised roughly $15 million and employs about 30 people, company representatives said. It's not the only local startup bringing brands into the metaverse, including Melon and Super League Gaming, which have built marketing experiences on gaming platforms like Roblox.
Despite the land rush into the metaverse, Kieffer doesn't envision a future where we spend our entire lives inside a virtual shopping mall. "We don't want to have it where people are wearing VR glasses all day," he said. "We believe that this is going to connect to the physical world." You know, the place where bars have real beer.— Christian Hetrick
P.S. Have you been to a metaverse bar or restaurant before? Why? DM me or reply to this newsletter if you'd like to help me on an upcoming piece.