seven seven six
The Los Angeles-based disposable camera app Dispo, whose co-founder stepped down after one of his crew members was accused of sexual assault, confirmed it closed a Series A.
The boost for an undisclosed amount is a comeback for the startup marred by the scandal. Alexis Ohanian's Seven Seven Six, Unshackled Ventures, Endeavor, 35 Ventures and F9 Strategies led the round.
Absent from the round is Spark Capital, which said in March that it would "sever all ties" with the startup following an investigation from Business Insider about a woman who said she was sexually assaulted by a former content creator in Dobrik's vlog crew.
Dobrik also cut ties with the company in March and issued a YouTube apology for his behavior.
After the report, Seven Seven Six tweeted that it would "donate any profits from our investment in Dispo to an organization working with survivors of sexual assault," but added that it would continue to support the company. The firm did not immediately respond for comment.
Among the company's new backers are celebrities Kevin Durant, Andre Iguodala, Cara Delevigne and Sofia Vergara — plus photographers Annie Leibovitz and Raven B. Varona, who "will hold us to a higher standard of photographic excellence," Dispo's CEO David Liss said in a blog post announcing the raise.
The app works like a plastic disposable camera, releasing a user's photos 24 hours after taking them. An updated version, which launched in February, introduced social functions like "Rolls" for users to scroll through each other's pictures.
Like the founders of new L.A. photo app Poparazzi, Dispo's team is pushing for a social media experience that feels less orchestrated and curated. In Tuesday's blog post, Liss pointed to big tech's reach on "body dysmorphia and mental health."
"Imagine a world where Dispo is the social network of choice for every teen and college student in the world," he wrote. "How different a world would that be?"
"Our resolves are strengthened. With our product, team, and community we have a chance to build differently, creating a company on our terms and our values. Hope springs eternal, and Dispo is ready."
As the influencer economy grows, creators are looking for more ways to make money.
The Los Angeles-based Pearpop hopes to help them do just that. On Thursday, it got a $16 million boost to grow its influencer monetization platform.
Pearpop launched in October 2020. Currently integrated into TikTok only, the startup helps social media creators make money by collaborating with other creators, through making a shared video, leaving a comment or incorporating someone's sound clip into a post.
The investment was split between two rounds. One, a $10 million Series A, was led by Alexis Ohanian's Seven Seven Six venture firm with participation from Bessemer Venture Partners. The other was a prior $6 million seed round co-led by Ashton Kutcher and Guy Oseary's Sound Ventures and Slow Ventures, with participation from Atelier Ventures and Chapter One Ventures.
Numerous celebrities have also invested, including Snoop Dogg, Mark Cuban, Kevin Durant, The Chainsmokers, Amy Schumer, MrBeast and Kevin Hart.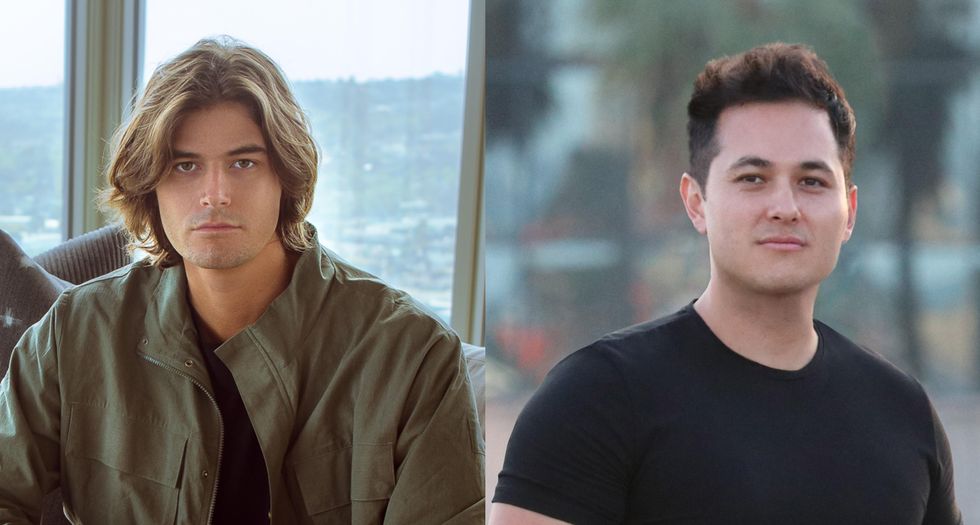 Pearpop co-founders Cole Mason (left) and Spencer Markel.Courtesy Pairpop
Pearpop was founded by Cole Mason, who joined the tech industry after a run as a male model.

"The initial concept came out of an obvious gap within the space: no marketplace existed for creators of all sizes to monetize through simple, authentic collaborations that are mutually beneficial," Mason said in a statement.
Pearpop says it has attracted 10,000 creators to the platform, including Snoop Dogg, Tony Hawk and Heidi Klum.
Employing a similar business model as Cameo, payments are negotiated between the two parties, with Pearpop taking a percentage of the transaction. Prices vary depending on the particular request. Snoop Dogg asks $5,000 for a duet and $1,500 for using another creator's sound recording.
Several influencer talent agencies have added their rosters to Pearpop, including TalentX, Get Engaged, Next Step Talent and The Fuel Injector, according to the company's statement.
Along with Pearpop, other startups in L.A. working to grow the influencer economy's financial infrastructure include Promotely, Social Native, and a host of marketing agencies. Snapchat has been paying $1 million a day to users posting videos onto its Spotlight platform and TikTok has set aside a $2 billion fund to pay creators over the next two and a half years.
Add it all up and the many young people who dream of making it big as a social media star may have some cause for optimism.
Related Articles Around the Web
Investors behind David Dobrik's app Dispo are beginning to cut ties.
The venture-backed startup lost its top investor Sunday night following an investigation into a sexual assault allegation against a former member of his vlog crew.
And two early investors have since released statements and confirmed they would donate any profits from from investments to organizations working with survivors of sexual assault.
Spark Capital, who led the startup's $20 million Series A round in February, announced Sunday night that it has chosen to "sever all ties."
"We have stepped down from our position on the board and we are in the process of making arrangements to ensure we do not profit from our recent investment in Dispo," the venture capital firm posted on Twitter.
The firm did not directly address its investment and could not be immediately reached for comment.
Meanwhile, Dobrik, a co-founder of the Los Angeles company, said he has stepped down from Dispo, according to a report from The Information.
The departures come on the heels of a report from Business Insider last week that outlined the story of one woman who said she was sexually assaulted by a former member of the content creator group Vlog Squad. The woman said Dobrik had been present that night before the assault, filming.
Days after the story was published, a handful of Dobrik's sponsors, including HelloFresh and the Dollar Shave Club, ended their partnerships with the social media influencer. DoorDash, Honey, General Mills and Angel City Football Club also dropped sponsorships.
Early-stage investors are beginning to speak up about the allegations and reports.
Seven Seven Six, an early-stage venture capital firm created by Reddit's Alexis Ohanian, tweeted Monday that the allegations "are extremely troubling and are directly at odds" with the firm's values.
"We have made the decision to donate any profits from our investment in Dispo to an organization working with survivors of sexual assault," the firm posted. "We have believed in Dispo's mission since the beginning and will continue to support the hardworking team bringing it to life."
Ohanian could not be reached directly for comment.
Minutes later, Unshackled Ventures, an early-stage fund for immigrant founders, posted a brief statement calling the allegations "disturbing." The firm also participated in Dispo's October seed round and told TechCrunch it would also donate any profits to groups dedicated to survivors of sexual assault.
"As a female majority team, we do not take this lightly," reads the tweet. "We are in support of the companies decision to part ways with David and will continue to monitor the situation closely."
Editor's note: This story has been updated with new information about sponsorships and investors throughout.
Breanna de Vera also contributed to this report.