dot la summer series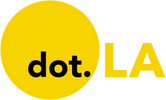 Get in the KNOW
on LA Startups & Tech
X
dot la summer series
By now, everyone has heard about 5G but Verizon says the wireless network technology goes far beyond faster web surfing and streaming.

Tech industry leaders and venture capitalists gathered for a final dot.LA 2021 Summer Series event at the Verizon 5G Labs in Playa Vista on Thursday to get a first-hand look at the technological promises of the new generation of wireless. The event was sponsored by Compass real estate agents Ari Afshar of Voyage Real Estate, Lauren Forbes and Jen Winston.
Luke Wang, 5G Labs lead for Verizon, moderated a speaker panel featuring Pam Allison, head of 5G Labs strategy and partnerships, Ian Nelson, senior manager of business development of Ryot, and Corey Laplante, chief operating officer of Mixhalo.
Verizon 5G Labs co-hosted the event with dot.LA.
"L.A. is at the very intersection of tech media entertainment, and 5G is completely changing the game for all kinds of use cases across the super industry," said Sam Adams, CEO of dot.LA, in his introductory remarks at the event.

Nelson, who works on technology that relies on fast wireless speeds, said 5G has been greatly beneficial in his line of work.
"I tend to think about 5G as an accelerant to degree, right? It does enable quite a bit of features and ways to interact with content and products, but it really does benefit when you tie it to other technologies," said Nelson.
Allison talked about the accessibility of 5G for people with newer phones.
"The first is nationwide 5G and that you know, if you have a 5G phone, it means you get 5G almost anywhere that you can typically get 4G," said Allison.
Laplante lauded Verizon for what the company has been doing outside of being just a mobile carrier and entering the entertainment space.
"Look at the NFL deal that they just struck two or three weeks ago. It's a 10-year deal. They're in all these stadiums, the opportunity and scale, there's like nothing we could achieve with another mobile carrier," said Laplante.
From Your Site Articles
Related Articles Around the Web
What should be the relationship between every startup and their investor?
Last week, dot.LA hosted a Summer Series event that featured a discussion with Justice Tention, chief operating officer at Clash App, and Travis Mason, an operating partner at Alexis Ohanian's Seven Seven Six.
The event was hosted by STAY OPEN, a Venice-based firm transforming unused commercial space into affordable, socially engaging POD hotels and co-living properties, and it was attended by an exclusive list of investors, startup founders and technologists.
Mason says that the relationship between an investor and a startup starts with the rudimentary questions of what drives passion.
"Why do you want to spend the next 10 years of your life building X thing?" said Mason. "The answer to that question can tell you a lot about someone can tell you a lot about their leadership, and tell you a lot about why they're doing what they're doing. So diligence for us is really taking a test on on the founder their skills and the team skills."
Tention adds that the creator space has changed dramatically, moving from a place where everybody is attached to a platform to where now large audiences follow creators to other platforms.
"We think it's really important to build a team that understands the lived experience of the users," Tention said about what every investor looks for in a startup.
Stay tuned for this and other events from dot.LA.
From Your Site Articles
Related Articles Around the Web
Photo by David Ruano
Immersive gaming experiences took a hit during the pandemic as venues shut down, but expect them to come roaring back as people seek greater connections and the industry grows.
That's what a bullish panel of leaders in the field said this week in an intimate gathering hosted by dot.LA at the immersive Two Bit Circus in downtown L.A. this week.
"We got sick and tired of doing the Zoom call," said Jane Chung Hoffacker, co-founder and CEO of Incredible Dream Studios, a studio focused on translating tabletop games for online gamers. "So much about being in person now is so valuable."
She said while locked down at home, people gained connections with their neighbors and it deepened their appreciation for moments. Now that pandemic's peak appears to be behind us, where is immersive gaming headed?

"Being in person right now is so valuable," she said. The sentiment translates to people playing board games or stepping into escape rooms as opposed to sitting in front of a screen alone playing video games, which exploded during the pandemic.
COVID paused business for some in Southern California's burgeoning immersive community, said panelist Tommy Honton, designer of the escape room Stash House and co-creator of The Museum of Selfies. But there was a silver lining.
"Designers and companies that never would have gotten any attention have gotten a chance to shine," he said. Immersive creators went online and shared a hybrid virtual version of their games, attracting investors who might not otherwise have been exposed to them.
And Southern California, where a deep talent pool of engineers and storytellers has fueled the industry, is especially well poised to flourish as the pandemic recedes.
"There's a deep well of great storytellers and... great creators here," said Brent Bushnell, panelist and co-founder of the experimental entertainment company Two Bit Circus. He's looking toward that well as he starts to create experiences for the Olympics and the Super Bowl.
Watch the recap below: