mucker capital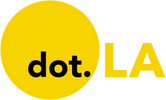 Get in the KNOW
on LA Startups & Tech
X
mucker capital
Courtesy of Bambee
Sign up for dot.LA's daily newsletter for the latest news on Southern California's tech, startup and venture capital scene.
Bambee, a Los Angeles-based startup that takes care of human resources for small- and medium-sized businesses, has raised $30 million in new funding to scale up its HR tools and staff.
There are about 6 million small businesses in the U.S. with paid employees, and the vast majority of them—96%, according to Bambee founder and CEO Allan Jones—don't have in-house HR services to address matters like hiring and anti-harassment training. That is the market Bambee is looking to serve.
Led by fintech-focused venture firm QED Investors, the new round takes Bambee's total funds raised to date to $65 million. SoftBank, General Catalyst chairman Ken Chenault and American Financing CEO Damian Maldonado also joined in on the deal, as did Santa Monica-based Mucker Capital, L.A.-based Alpha Edison and Gaingels, a syndicate that aims to represent the LGBTQ+ community in venture capital.
Plenty of software companies offer HR and payroll services, including Gusto and Justworks, but Jones says that Bambee is the "only business that offers a dedicated HR manager for $99 [per month]." Bambee directly employs its HR managers, each of whom work on multiple client accounts (the number of which varies based on the size and complexity of the client's business, per Jones).
Without sharing specific figures, Bambee said in a statement that it doubled its revenue last year and is on track to do it again in 2022. The nearly six-year-old company has just shy of 10,000 paying subscribers.
The Series C round will go toward expanding Bambee's HR and payroll offerings as well as hiring 150 new employees, primarily at its Downtown L.A. headquarters. The firm also plans to grow its engineering team in Nashville.
A veteran of the L.A. tech scene, Jones dropped out of college to work at wireless network operator Helio in 2006, a few years before the startup was snapped up by Virgin Mobile. He went on to work with Peter Pham's Science Inc., ZipRecruiter and early-stage investor Amplify before launching Bambee.
From Your Site Articles
Related Articles Around the Web
Most hotels still make you wait at the front desk to check in, receive your key card and confirm your payment by verifying with an ID. Los Angeles-based hospitality startup Jurny wants to make that process faster and easier -- for both the traveler and hotel .
"The idea of Jurny was to really consolidate this very fragmented space into a one-stop solution from both the guest standpoint and the operator's standpoint, because it's fragmented from both sides," Jurny CEO and co-founder Luca Zambello said, adding he sees the hospitality industry as one of the last to automate.
The startup provides software and services to hotel and short-term rental operators in an effort to streamline their operations and make guest service available from a single dashboard. Travelers can do everything from change the temperature in their room to unlock their door from their app.
Hotel and rental operators -- many of whom were hard hit by the pandemic -- can automate pricing, cleaning services and monitoring systems from Jurny's dashboard.
On Monday, the startup announced it raised $9.5 million in funding, led by the Santa Monica venture firm Mucker Capital, in addition to Okapi Venture Capital and SaaS Ventures.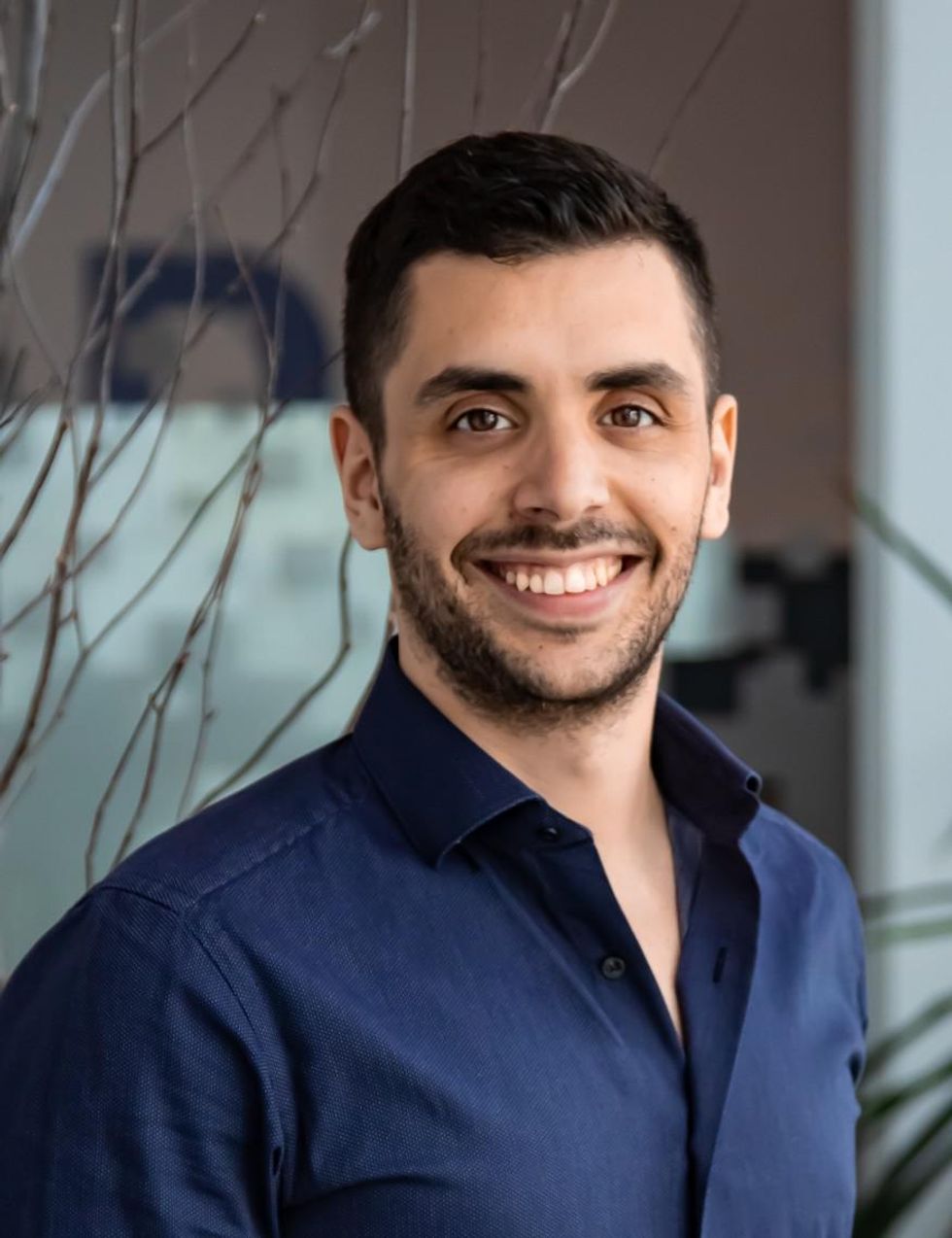 Jurny CEO Luca Zambello
Zambello said he created the company because he wanted to provide travelers with an "Uber type of experience." It's currently available only in Apple's App Store and Google Play.
The 33-year-old Zambello is regarded as one of the early pioneers of Airbnb's platform, building a house-renting business on the app. He said the experience helped him see the need for a more streamlined, on-demand hospitality service that could make staying in hotels easier for guests and operators.
Jurny works on a revenue-share model. The company receives a percentage of the hotel's earnings, based on the package an operator chooses and the services it needs.
Zambello said the company will use the new funds to expand, develop more features and make integration easier for independent property owners and hotels.
So far, the app hosts New York City's Blue Moon Hotel, Mexico's Casa De La O and Nashville's 121 Hotel, among others.

Related Articles Around the Web
It's no accident that this has been a banner year for direct-to-consumer furniture brand Outer. The Santa Monica startup co-founded by a former Pottery Barn designer seemed to emerge just as people were forced to stay home and its showroom concept seemed appropriately tailored to the social distanced demands of the pandemic world.

The company, which uses customer's backyards as a showroom for potential customers, is now looking to go beyond retail sales.
Outer CEO Jiake Liu said the company wants to furnish hotels, shopping malls and other businesses with their $95 throw pillows and outdoor sectional couches that retail at upwards of $9,000. And it's got some help. Outer announced on Thursday it raised a $50 million Series B round led by Chinese investor and Capital Today founder Kathy Xu.
"We're pretty excited to start testing the waters for working with hospitality groups: hotels, restaurants, and also shopping centers soon," Liu said.
The global outdoor furniture market topped $15.7 billion in 2020, and it's expected to grow 5.7% by 2027, according to a September report from Global Market Insights. The market was already on the rise before the pandemic, but like many industries, the coronavirus accelerated the existing growth trends.
Outer distinguishes itself from competitors like IKEA, Home Depot and Pottery Barn with their high-end eco-friendly designs inspired in part by co-founder and Chief Design Officer Terry Lin.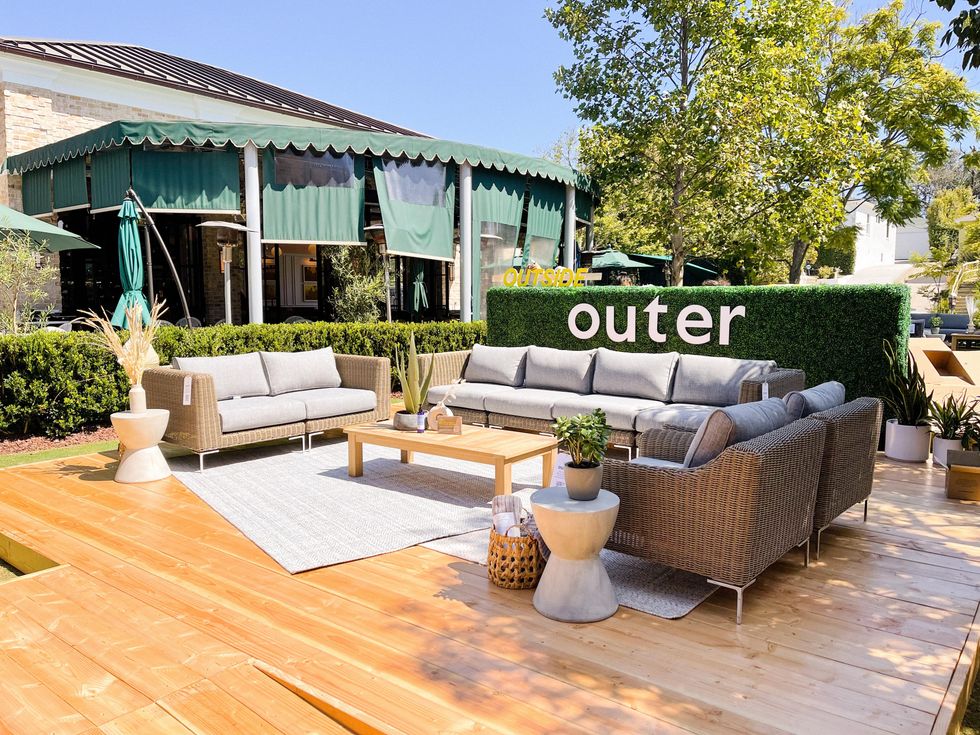 The company's wicker furniture, blankets and rugs are all made with recycled materials and Liu wants to use some of the Series B funds to invest heavily in making Outer's materials renewable.
A 2019 report from Grand View Research found that while residential purchases of outdoor furniture are still holding steady globally, the real growth is in the commercial sector. The report predicted explosive growth in commercial markets in Asia, including India and China, where Outer does its production at Liu's family-owned factory.
"The area that I'm from, there are a lot of master craftspeople that can actually weave rattan and this all weather wicker," Liu said. "It's a technique that we can't find that readily available in the U.S."
The facility isn't owned by Outer, but it's affected by its demand for sales. Liu said with the pandemic spurring customer demand, the production facility hired roughly 100 people in China over the past 18 months.
"I am really bullish about this marriage of Chinese supply chain and American design," Liu said despite the COVID-related supply chain disruptions that have delayed supply chains and bottle-necked the Los Angeles and Long Beach ports that it relies on.
Liu wants to use some of the Series B funds to invest heavily in making Outer's materials renewable. The company's wicker furniture, blankets and rugs are all made with recycled materials.
New investors Tribe Capital, C Ventures and Santa Monica-based Upfront Ventures joined the round, alongside participation from existing investors Santa Monica-based Mucker Capital, Marina Del Rey-based Mantis VC and Reimagined Ventures.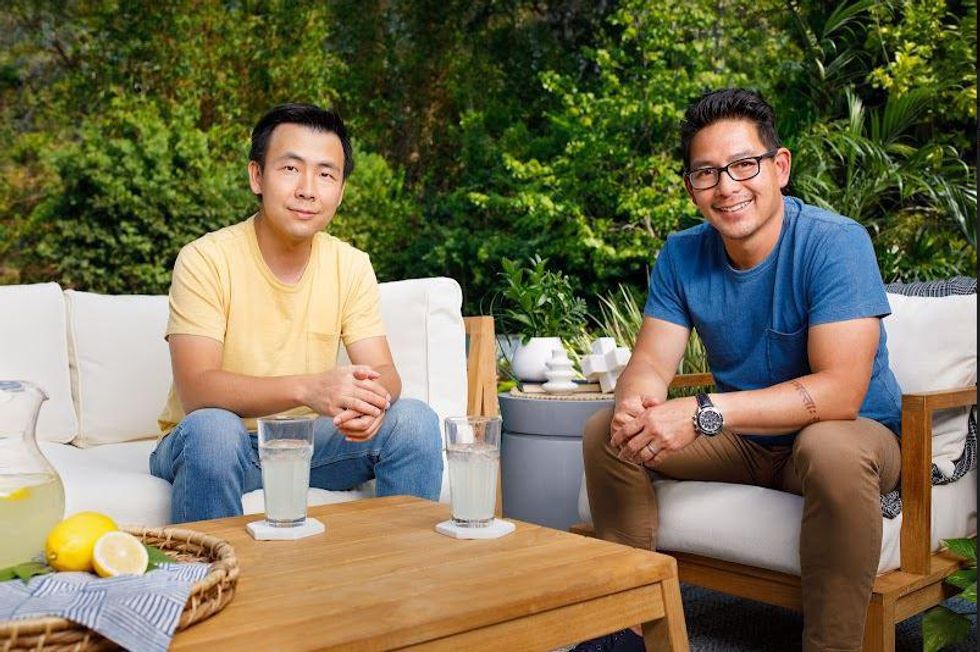 Outer co-founders Jiake Liu (left) and Terry Lin.
Since its launch in May 2019, the company has raised $65 million.
Liu says Outer's pricing reflects the supply chain and added that the production of its woven materials is difficult for Outer to do outside of China, where his family is from.
Another factor spurring Outer's growth is its unique model for showrooms. Instead of leasing costly real estate to operate a showroom, the company recruits existing customers who own their furniture to join its neighborhood showroom program. The furniture owners earn $50 per showing plus a 10% discount, and often network with people in their neighborhood to show off their new setups and encourage them to buy in.
"There is a huge influx of just customers, looking for anything for their yard" or outside spaces, Liu said. "There's never been this level of demand and it's largely catalyzed by the pandemic."
Linda Kruse is a member of the neighborhood showroom program. Kruse said she found Outer while looking for "gorgeous and interesting" furniture for her backyard in her new Woodland Hills home a couple years ago and was the third person to sign up for the home showroom program.
Kruse said beyond the designs and durability, the eco-friendly aspect of Outer was a selling point.
Outer counted 1,000 virtual showrooms across the country as of July. The company employs 70 people in its offices, but Liu said it'll use some Series B cash to hire more people and double its headcount by next year.
"The big selling feature was that they guaranteed their product for 10 years," Kruse said.