mucker capital
On this week's episode of the L.A. Venture podcast, meet Omar Hamoui, a partner at Mucker Capital. Hamoui is the founder of AdMob, a cornerstone of modern mobile advertising. He discusses being one of the first apps in the app store, and early negotiations with Steve Jobs. Hamoui also talks about how entering the venture world was difficult both then and now, despite his early success selling AdMob to Google for $750 million.
After his time with Google, Hamoui became a partner at Sequoia Capital, the venture firm that funded giants like YouTube, Zoom, Instacart and Zappos. He left in 2019 to join Santa Monica's Mucker Capital — a pre-seed and seed stage venture firm that helps early companies scale their brand. In this episode he also discusses why he thinks it's difficult to raise a Series A round outside of the Bay Area.
Hear Hamoui give first-hand accounts on how he learned to create startups, negotiate, when to sell and how to find the right team.
"Sometimes people build businesses that aren't working at their scale. They have to raise money to keep going, but they're really just covering the problem with more money. It's actually not a functional business in the first place." — Omar Hamoui
Omar Hamoui is a partner at Mucker Capital. He currently resides in Santa Monica.
dot.LA Engagement Intern Colleen Tufts contributed to this post.
Want to hear more of L.A. Venture? Listen on Apple Podcasts, Stitcher, Spotify or wherever you get your podcasts.
It turned out 2020 was the perfect breakout year for Outer, the Santa Monica-based direct-to-consumer outdoor furniture brand that first came to prominence after impressing Shark Tank judges in late 2019.
Consumers – forced to spend practically all their time at home last year – were eager to upgrade their patios, backyards and decks. And they did not want to venture into stores and talk to pushy salespeople when they could just as easily order online.
The company saw a 1000% increase in sales last year from 2019, when it was founded by Terry Lin, a product designer who made his name at Casper, IDEO and Pottery Barn, and Jiake Liu, an angel investor who was born and raised in China.
Outer announced Tuesday it has raised $10.5 million in Series A funding led by Sequoia Capital China that will be used to further expand its product line and open a thousand of what it calls "neighborhood showrooms" by the end of the year. Those are where satisfied customers open up their backyards to evangelize Outer furniture – putting a modern sharing economy twist on the multilevel marketing companies like Mary Kay that have been around since the 1960s. But there's a key difference: To avoid high pressure sales tactics, hosts are only compensated for their time, $50 a visit.
The Series A comes after a $4.3 million seed funding round in September led by Mucker Capital, which also participated in a 2018 $1.5 million seed round.
Lin and Liu responded to dot.LA's questions via email about why they think the brand has caught on, and how they plan to use the new capital to jumpstart growth even as stay-at-home orders lift.
What do you attribute the 1000% increase in sales to?
Since launching our inaugural product, the Outer Sofa, in May of 2019, we have been consistently getting raving reviews from our early customers. We were featured on Shark Tank at the end of 2019, which drummed up even more interest for our brand for 2020.
Our Neighborhood Showroom program has been integral to our growth. Hosts have been incredible brand partners and refer new customers to us every day. Knowing that we hit product-market fit and having found a few sustainable customer acquisition channels, we doubled down on growth in January 2020. Our growth curve became even more steep come April, when people started sheltering in place and finding sanctuary in their own outdoor spaces.
What has been the most popular product?
Our Pacific Gray five-Piece Outdoor Sofa has been hands down the most popular product due to its modularity, mattress-level comfort, camping-gear level ruggedness and our patented OuterShell integrated cushion cover.
How has the pandemic changed what people buy from you?
Our modular outdoor sofa collection has been the only product we offered until we released our 1188 eco outdoor rugs (1188 recycled plastic bottles went into each rug), which sold out in record time. As weather cooled in the last few months, we released our tailor-designed, all-weather cover collection that also sold out in less than two weeks.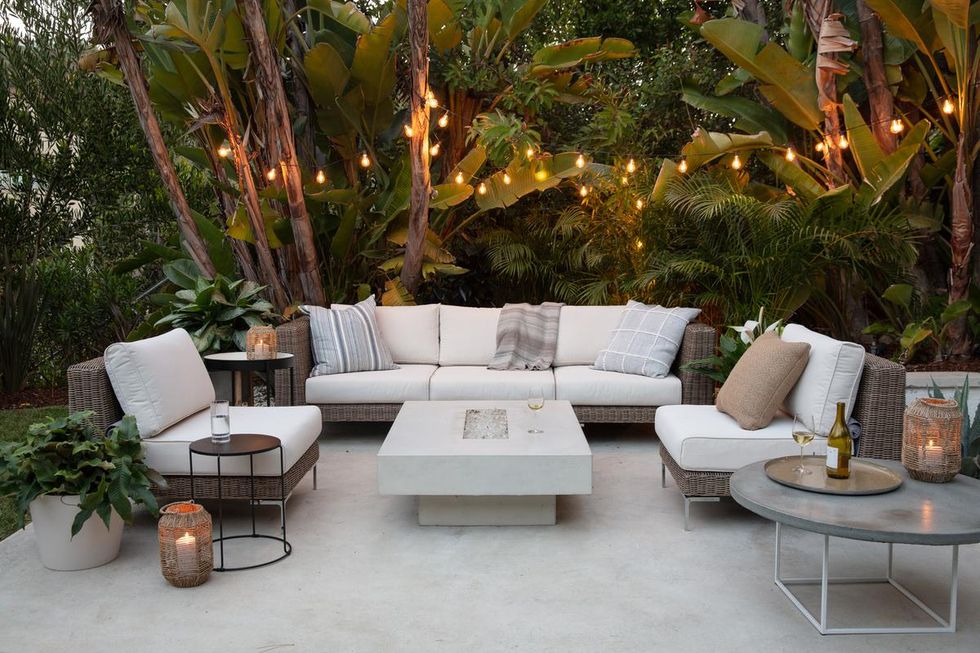 Outer's popular five-piece outdoor sofa set retails for $5,850Courtesy of Outer
Do you worry that you won't be able to sustain this level of growth once the virus subsides and people are not spending as much time at home?

We actually foresee an even stronger year in 2021 for outdoor living. There has been a historic number of homes bought and sold in 2020 in the "Great Reshuffling." According to recent real estate market research, sales of million-dollar homes doubled, and all of those homes are waiting to be furnished with beautiful and functional outdoor furniture. Businesses, offices, and homes will continue to value open/outdoor spaces as people ease back into socializing safely. We are also exploring B2B opportunities as the travel industry bounces back, and hotels, restaurants, and other travel destinations are seeking durable outdoor furniture in droves.
This past year has been like nothing we've seen before and will shape our generation and future generations to come. While we don't have a crystal ball to tell us how we are going to maintain our growth, we believe that the world will not go back to the way it was.
For example, retail continues to transform to meet the needs of expectations of today's consumer. Companies are rethinking what the future of the workplace will be. Employees may never go back to the typical five 5 days in the office every week. The uncertainty has shown us how important it is to create a sanctuary at home - the one place that gives your family a sense of security.
Can you provide more context for what you plan to use the new capital for? What new products can we expect?

The new capital will be used for product development, team expansion and community building. What made us successful in the first place was the fact that our team spent well over a year designing and developing the first product down to the nuts, bolts and yarns of the fabrics. As we evolve from a single-product company to an outdoor lifestyle company with many more highly sought-out products like tables, loungers and chairs, we will continue to invest heavily into material research and product development in order to differentiate our offerings even more from everything else in the market. We will also tackle tangential products beyond furniture in order to make outdoor living even more comfortable, hassle-free and sustainable for all. We grew our team from ten in the beginning of 2020 to 30 by the end of the year, and the new funding will allow us to double or even triple our team again this year. We are hiring across the board.
How did Sequoia Capital China come to be the lead funder? (As opposed to a domestic firm?)
We were fortunate that we had an oversubscribed round with multiple competing term sheets. There are many reasons why we went with SCC, who has been behind the fastest growing consumer startups in the world. One specific reason is because our partner at SCC has deep domain expertise in furniture, global supply chain and international consumer markets. They are uniquely qualified to help us in product R&D and supply chain in the immediate term, paving the way for us to build a global outdoor living brand.
The Q&A has been edited for brevity and clarity.
From Your Site Articles
Related Articles Around the Web
Repeat aims to make consumer packaged goods (CPG) customers more loyal by sending personalized reminders.
The company raised $1.5 million in seed funding from Harlem Capital, Techstars and Mucker Capital.
The two co-founders met at a Venice startup and were planning to get married in April until COVID-19 happened.
The good news for ecommerce companies is that the pandemic has driven U.S. consumers online. Up to half say they buy household supplies with a click, according to McKinsey & Company, but 70% of buyers never return to a brand for another purchase.
Repeat, formerly known as PRZM, aims to change that and make customers more loyal by figuring out their unique consumption habits. The company uses the data to remind shoppers with email nudges, it is time to restock. "Hi Anna. Are you ready for another face wash?" reads one such reminder. When customers go back to the site the items they "need" will be waiting for them in their cart.
"We help brands turn customers into repeat customers," said co-founder and CEO Kim Stiefel. "We're essentially removing the friction from the replenish experience, allowing brands to unlock more repeat revenue."
Repeat announced Wednesday it has raised $1.5 million in seed funding in a round led by Harlem Capital. Existing investors Techstars, Act One Ventures and Mucker Capital returned while Break Trail Ventures, Vamos Ventures and Wedbush Ventures also came on board.
Repeat's business has been booming due to the accelerated shift to ecommerce. "We were already seeing consumers come online, but with COVID it dramatically changed," said Stiefel. Case in point: She says a toilet paper brand that is a client saw a 3000x increase in conversions.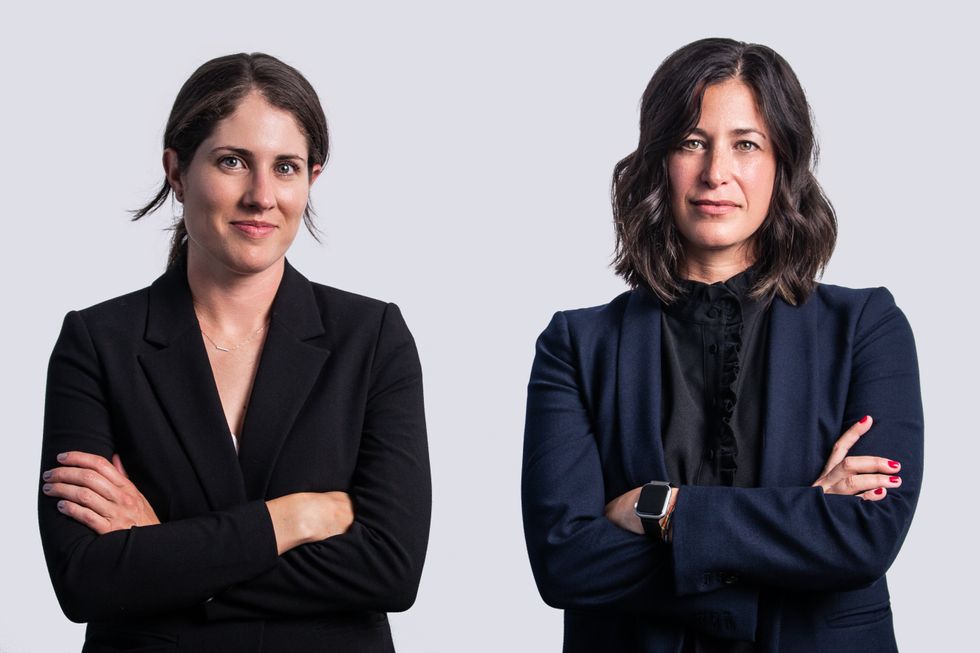 Stiefel and her co-founder Sarah Wissel met in 2015 while the two were colleagues at Vytmn, a short-lived Venice startup.
Stiefel and her co-founder Sarah Wissel met in 2015 while the two were colleagues at Vytmn, a short-lived Venice startup. It soon ran out of money, but the two started dating as well as hatching an idea for a new company that would be a subscription brand. "There was nobody else I wanted to do it with," said Wissel.

But like many startups, they pivoted. "During the process of building a brand we discovered subscribing to products is not a great experience," said Stiefel. The two decided to focus on using their own data to help other consumer packaged goods companies retain customers.
Stiefel says their skills complement each other since she is good at strategy, sales and bringing in revenue while Wissel is more analytic and focused on the product. "There's no power struggle," Stiefel said. "We're big fans of each other."
The co-founders were planning to get married in April until courthouses closed. "They are now offering marriages on Zoom and so I think we're going to do that," said Stiefel.
From Your Site Articles
Related Articles Around the Web