metoo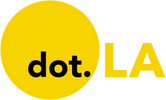 Get in the KNOW
on LA Startups & Tech
X
metoo
After a long fight spearheaded by California tech workers and State Senator Connie Leyva, the California Legislature on Monday passed the "Silenced No More Act," which would expand workplace harassment protections for employees.
Senate Bill 331, which now heads to Governor Gavin Newsom's desk and will take effect next year if signed, would prevent the use of non-disparagement and non-disclosure clauses as part of a severance agreement following any workplace discrimination and harassment. The bill builds on an existing law also authored by Leyva and passed in the wake of the #MeToo movement that bans confidentiality agreements in cases of sexual harassment, discrimination and assault. That law, the Stand Together Against Non-Disclosures (STAND) Act, did not cover harassment related to racism, an issue that hit home for tech workers like Ifeoma Ozoma, one of the bill's co-sponsors.

A former public policy manager at Pinterest, Ozoma claims she was pushed out of the company in March 2020 and presented with a non-disclosure and non-disparagement agreement. She broke her NDA months later, alleging she and her Black colleagues faced racism and wage discrimination at Pinterest. She soon teamed up with Leyva, the California Employment Lawyers Association and Equal Rights Advocates to draft legislation that would cover all forms of discrimination and harassment, including racial claims.

"For me personally, I'm feeling the weight of all this because it's been a long year-and-a-half and I've worked really hard on this bill," Ozoma said, her voice cracking with emotion. "I'm more proud of it than anything else I've worked on, so I'm just really happy."

Mariko Yoshihara, legislative counsel and policy director at the California Employment Lawyers Association, told dot.LA Ozoma's story highlighted how discrimination and harassment often happen intersectionally.

"We have multiple identities and you often can't separate those different characteristics," Yoshihara said. "So for her to have an NDA that just covered race-based discrimination but she was free to talk about gender discrimination doesn't make sense because she was discriminated against because she was a Black woman, not just because she was Black."

If signed into law, the Silenced No More Act would protect workers negotiating settlements and severance following any workplace harassment. In effect, that means an employee who had signed a nondisparagement clause as a condition of a severance agreement can still speak up about unlawful conduct including harassment and discrimination, Yoshihara said.

The bill cleared passage in the State Assembly last week after the California Chamber of Commerce dropped its opposition to the bill. The business advocacy group had expressed concerns with language in the original legislation regarding the ability to keep confidential the amount of severance being offered, but those were assuaged with the amended version, according to Ashley Hoffman, policy advocate for the chamber.

Ozoma was especially sanguine about the prospect of similar legislation passing at the federal level.

"It's a pretty big first step to have 40 million people protected but as far as first steps go, I hope it lays the groundwork and provides sample text even for other states for an eventual federal bill," she said. "I believe California is a trend-setter with legislation because there are so many industries based in the state...if you can pass something with billion dollar opposition that would have waged opposition, there's no reason why you can't pass this everywhere."

From Your Site Articles
Related Articles Around the Web
Photo by Ales Nesetril on Unsplash
Born in the wake of the #MeToo movement, Los Angeles-based startup AllVoices is hoping to make it easier for employees to report incidents of workplace harassment.
The company's platform acts as a third-party tool to let workers report incidents of harassment and give feedback to companies anonymously, but as founder Claire Schmidt readily admits, it's not an end-all-be-all to end workplace harassment.
Still, she says it gives employees a secure way to voice their concerns anonymously – both concerning isolated incidents and about broader patterns within a company's culture. This week, the company raised $9.6 million in an oversubscribed round of Series A funding led by Silverton Partners, M13 Ventures and Crosscut Ventures.
The funding comes in the wake of several high-profile workplace conditions incidents. Recently, Santa Monica-based Activision Blizzard was hit with a lawsuit from the California Department of Fair Employment and Housing alleging that male workers engaged in a "frat boy" culture at the company, drinking "copious" amounts of alcohol at work and treating female employees inappropriately.
The lawsuit led to an internal strike where hundreds of employees walked out of work and demanded change within the company and the resignations of several executives.
AllVoices' CEO and founder Schmidt said she has seen several examples of workplace culture veering into hostile territory. She recalled one employee who reported a company costume party where another worker dressed up as a religious figure.
"It wasn't about making the person who dressed in that costume bad or wrong," said Schmidt, who declined to name the company. "It was just like, 'hey, we're getting this feedback and in the future, we don't want anyone else to feel uncomfortable so we've decided to change the policy'."
The company eventually changed their policy to prevent people from dressing as religious figures.
Victims of workplace harassment often have a hard time getting their companies to take their complaints seriously. Around 75% of workers don't report workplace misconduct, largely out of fear of retribution – a figure that Schmidt wanted to address.
"To me, it seemed like there was a huge gap between companies' perceptions of what their employees were or were not experiencing and reality," said Schmidt. "I wanted to build a tool that could bridge that gap and help companies actually build trust with employees."
Schmidt sees the app as a platform for employees to voice complaints anonymously with a greater sense of security, particularly because employees might not trust internal reporting tools.
"If the employee doesn't have trust in the platform they're either not going to be honest in providing the feedback or they're not going to use it at all," she said. "We realized there was a massive need for a completely secure, encrypted third-party platform that placed the privacy and the security of the employee at the forefront."
AllVoices' user base includes companies such as Zillow, Box and GoPro, and is popular among companies in the tech and fintech industries, Schmidt said. She declined to comment on exact revenue figures, but said the company experienced around 400% growth in customers from 2019 to 2020.
Even if employees feel safe making allegations through AllVoices, companies that use the platform still have the responsibility to adequately respond to complaints.
It's also common for employers to respond to allegations of harassment inconsistently, which can dissuade victims from coming forward in the future, according to Sheerine Alemzadeh, the co-founder of Chicago-based nonprofit Healing to Action and a former litigator who worked with victims of workplace sexual violence. For example, companies may respond in favor of high-ranking employees or apply discipline in ways that victims see as unfair, she said.
"If you feel like people are not going to give you a fair shot when you make this complaint, especially around an issue that's already extremely stigmatized and embarrassing for a lot of people to talk about, there's really no incentive to come forward," she said.
Alemzadeh said it is important to have multiple avenues for employees to report harassment, particularly to prevent retaliation, and third-party platforms like AllVoices can be a good alternative for employees.
But she cautioned that an over-reliance on anonymous reporting tools may be an indication that companies need to address their company culture, she added.
"If you're feeling like the only way you can actually get people to come forward and share this is happening, is through an anonymous report that does not identify them, then you should probably be asking yourself some deeper questions," she said.
Even so, Schmidt said most companies she's worked with have been receptive to feedback received through AllVoices. AllVoices also lets employees give anonymous feedback on how they felt the company handled their complaint.
Schmidt believes a more proactive approach to working conditions could help prevent such large-scale issues from ever occurring.
"These are things that employees do, in my opinion, sort of a last resort," she said. "Ideally, if companies could identify these issues more proactively, provide more channels for employees to speak up, try to take action and help resolve the issues and show employees that you care, I think some of these more serious downstream incidents can be avoided."
Editor's note: dot.LA co-founder Spencer Rascoff is an investor in AllVoices.
From Your Site Articles
Related Articles Around the Web
One woman reported being locked in a conference room while a coworker masturbated between her and the exit. Another 50-year-old female tech professional, with a PhD in engineering, said her entire professional life has been "filled with harassment, sexual or otherwise." Then there was the founder who was invited to join an investor in a hot tub to help close a deal.
It seems that the era of #MeToo hasn't significantly changed things for women in tech, according to a new report released Tuesday by Women Who Tech, a nonprofit founded to draw attention to gender bias in VC funding and support women in tech.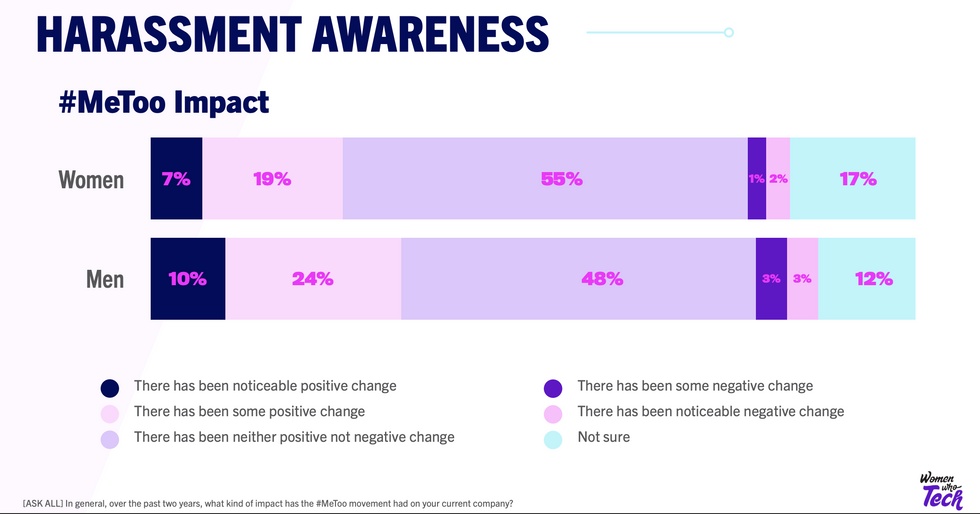 Courtesy of Women Who Tech
Nearly 50% of female founders and workers in technology have experienced harassment, roughly the same three years later. When female employees reported harassment to human resources, 85% said their harasser faced zero repercussions at work.

For female employees, harassing behaviors ranged from offensive "jokes" (75%) to unwanted physical contact (54%) to sexual slurs directed at them (51%) to being propositioned for sex (35%). Eighteen percent of female employees said they were propositioned for sex in exchange for a promotion, an increase of 5% from 2017.
Among the surveyed female founders, 65% reported being propositioned for sex (up 9% from 2017), 59% reported unwanted physical contact (down 3%), 32% were groped (up 7%), and 24% sent graphic photos (up 14%).
The report was the result of 1,003 interviews conducted by Lincoln Park Strategies over more than a month via an online survey.
Tech founders who are women of color reported being harassed 46% of the time by a potential investor, while 38% of white women founders had the same experience.
"We were invited to an opulent private club (with hot tubs, which the investor kept inviting one of our female founders to use with him after we finished — implying we could close sooner if she'd agree to go)," a female founder anonymously reported during the survey.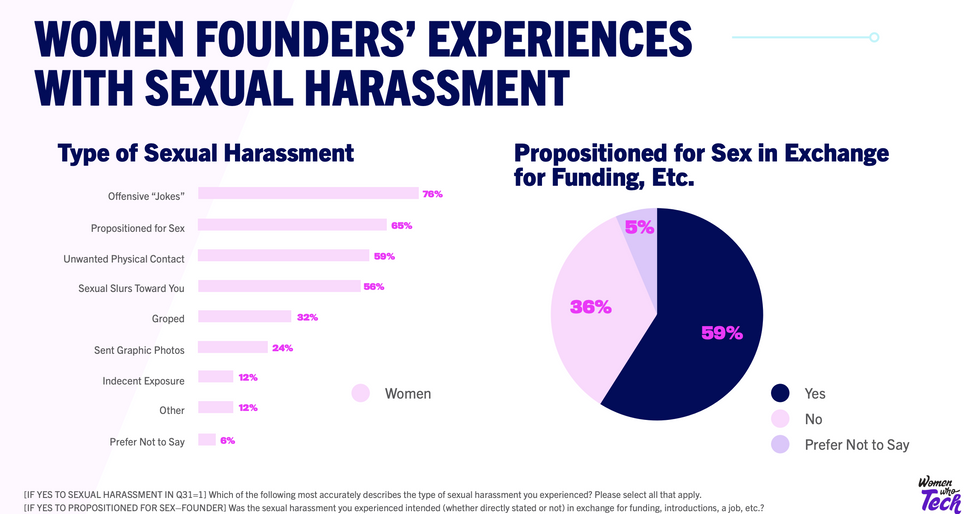 Courtesy of Women Who Tech
Craig Newmark, founder of Craigslist and Craig Newmark Philanthropies and a member of Women Who Tech's advisory board, called the data "disturbing" and added that "we need less ally theater and more people in positions of power to recognize that power, not abuse it, and support women in tech."

A smaller percentage of women said they trust their companies to handle harassment allegations over time in 2020 compared to 2017.
Women who didn't report the harassment said they were scared to lose their job, or had "seen what happens when people do report and I don't want my life made harder." Another woman said she was embarrassed and worried it would impact her job with her supervisor and coworkers.
The report also dealt with the ability to raise money, with nearly 50% of female founders saying they would raise more money if they were a man.
___
Do you have a story that needs to be told? My DMs are open on Twitter @latams. You can also email me at tami(at)dot.la, or ask for my contact on Signal, for more secure and private communications.
From Your Site Articles
Related Articles Around the Web