george floyd protests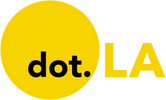 Get in the KNOW
on LA Startups & Tech
X
george floyd protests
Sapann Design/ Shutterstock
Ten venture capital firms have committed to include a "diversity rider" — a promise to startups that they made their best effort to find underrepresented investors — in their deals.
The project was the brainchild of Alejandro Guerrero, a partner at Los Angeles-based Act One Ventures and the child of Mexican immigrants, who often found he was the only person of color in the room when investment deals north of six figures were being made.
"This is about moving diversity forward and there's two themes of how we address that: Money and access," he said.
Inspired by the George Floyd protests and the push it gave the industry to recognize long standing inequities, Guerrero reached out to several venture capital firms and investors with a proposition: add diverse investors in on the deal.
In the end, Greycroft Partners, First Round Capital, SVB Capital, Harlem Capital Partners, Fifth Wall, Plexo Capital, Precursor Ventures and Equal Ventures signed on.
Each of the firms are committed to adding "boilerplate rider language into their standard term sheets" that encourages the addition of underrepresented investors to cap tables.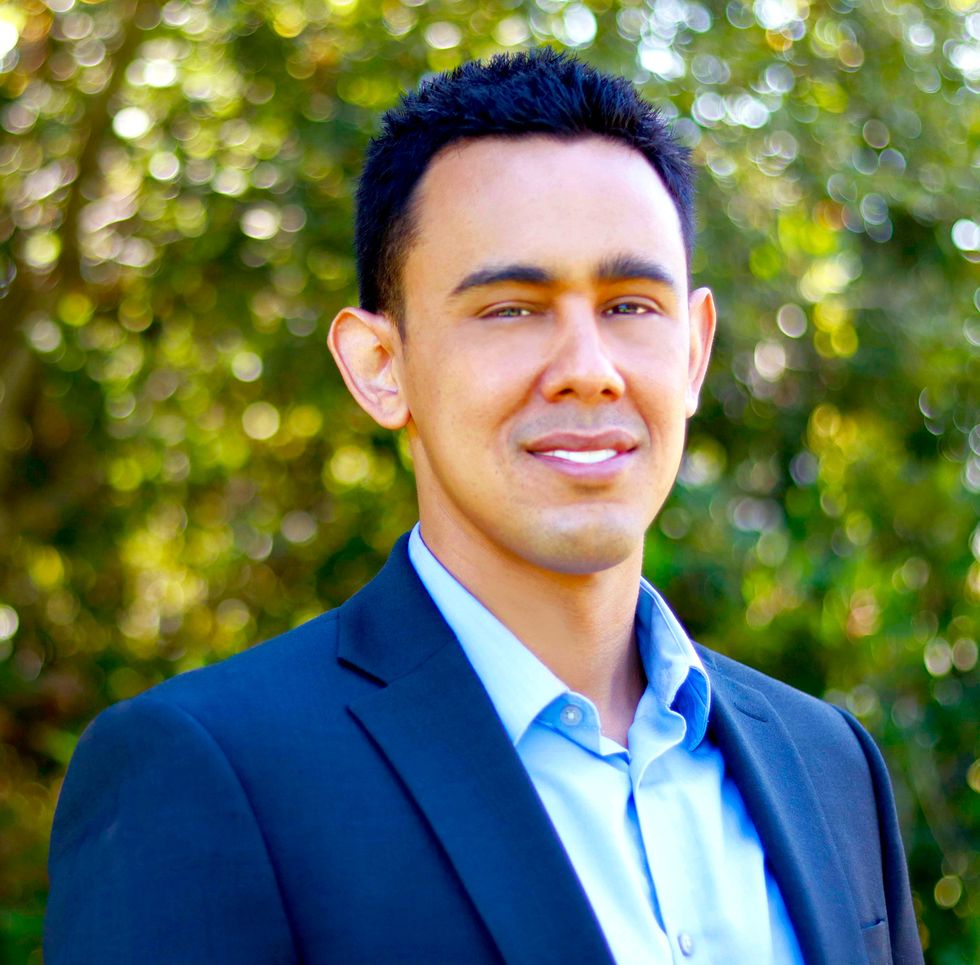 Alejandro Guerrero often found he was the only person of color in the room when big investment deals were being negotiated.
Studies have shown diverse investment teams deliver better returns, Guerrero points out.
"The same way you would have to have a conversation about, 'how much money do you want to raise, at what dilution'," he said. " You want to throw in there, 'who has a diverse investor?'"
Historically, the answer has been few.
A 2018 Deloitte study found 80% of investment partners at U.S. venture firms were white; 15% were Asian/Pacific Islander; 3% were Black; and 3% were Latino. Women accounted for 14% of partners.
In Los Angeles, one of the country's most diverse metropolises, the figures were even worse. Just 2% of VC investment partners identify as African American or Latino and less than 10% of VC-funded companies are led by women or people of color, according to PledgeLA.
The chasm is more than numbers to Guerrero.
"Sometimes it is uncomfortable being the only person of color in the room, being the only Latino person in the room," he said. "You know we're talking about a town in Los Angeles that's 50% Hispanic."
The largely exclusive world of venture capital has remained largely white in part because of the way it operates, relying on tight-knit networks that circle back to people of similar backgrounds. Guerrero said he thought a lot about that and the systematic inequalities that the Black community faced as he watched the video of police killing George Floyd.
"If you're a person of color, or an underrepresented individual you can kind of feel how you know you've been overlooked for opportunities," he said. "You haven't gotten those chances, not because you don't work hard or you're not there, but because you don't come from those networks, you don't have that wealth, you don't have that privilege and that's what's hindering you and that's not your fault. Sometimes you just don't hit the birth lottery."
The effort is an attempt to unlock access to investors of color and underrepresented groups, but it also build their reputation and eventually generate more wealth through increasing who owns a stake in companies.
"Long term, this is a step forward in changing the mindset in venture to ensure more investors are frequently considered for co-investment and follow on opportunities," said Henri Pierre-Jacques, managing partner at Harlem Capital Partners, in a statement.
It comes as others in the industry are trying to address longstanding inequities. Softbank launched a $100 million Opportunity Fund to invest in minority-owned businesses and Andreessen Horowitz announced the Talent x Opportunity Fund.
Guerrero said he's hoping that it will catch on not only with venture firms but will encourage founders to ask for diverse investors.
Firms interested in joining the initiative can sign up here.
Geekwire contributed to this story.
"I am Black ambition, I am always whisperin'," begins the new Pharrell Williams and Jay-Z collaboration, "Entrepreneur."
The song, released on Thursday to coincide with a Time magazine cover package on "The New American Revolution," is a tribute to the Black entrepreneurs across the world who push on in the face of systematic disadvantages.
Williams and Jay-Z, both entrepreneurs and investors themselves, use the video to highlight Black founders and their hustle from Adé Neff, owner of Ride On in Leimert Park, to Denise Woodward, the founder of Partake Food, which Jay-Z's Marcy Venture Partners help lead a $1 million investment.
"They keep telling me I will not," the lyrics continue. "But my will won't listen."
Directed by L.A.-based Calmatic, who produced Lil Nas X's "Old Town Road" video as well as commercials for companies like Uber and Sprite, the video spotlights several Los Angeles startups, founders and entrepreneurs that have created opportunities and upended typical media narratives of Black men and women.
There's actress Issa Rae, who filmed her first web series on the streets of L.A. and is "literally building her empire on those same blocks."
There's Debbie Allen, the founder of Tribe Midwifery that provides home births for Black women, who are more likely than white women to die of pregnancy-related complications. There's the Compton Cowboys, whose South L.A. group mentors youth and rescues horses. There's Six Sev, a Los Angeles artist, designer and entrepreneur. And there's also a tribute to slain rapper and entrepreneur Nipsey Hussle, who spent his investment dollars in South Los Angeles.
Then there's Sole Folks, the South L.A. retail incubator for young designers, part of accelerator Grid110's South L.A. 2020 cohort. The outfit offers a program for young designers and artists in nearby communities and operates under the nonprofit Back Owned and Operated Community Land Trust. It runs a 12-week program for millennial entrepreneurs to source, brand and launch their own designs at pop-up shows.
The music video comes amid a push to create more capital for Black-owned businesses in the wake of the George Floyd protests that forced a conversation on longstanding inequities.
Black Americans make up nearly 13% of the U.S. population, but account for only 3% of its wealth. There are only three Black CEOs in the Fortune 500, and just 1% of venture-funded startup founders are Black.
The song and its chorus, "Black Man, Black Man," is a call for more ownership and in turn more wealth creation.
The over five-minute video gives a panorama view of Black entrepreneurs around the world and those who excel in their field with captioned clips of their stories: Princeton's first Black valedictorian, creators of the first Black anime studio in Japan, a woman who started her own line of household cleaning products and a Broadway star who bought the plantation where his ancestors were once enslaved.

Adé Neff, whose bike shop Ride On opened in 2017, walked by the "Entrepreneur" filming crew two weeks ago, right after they finished shooting the clip of Sole Folks next door.
"How come I'm not in the video?," he said to the crew.
That's all it took.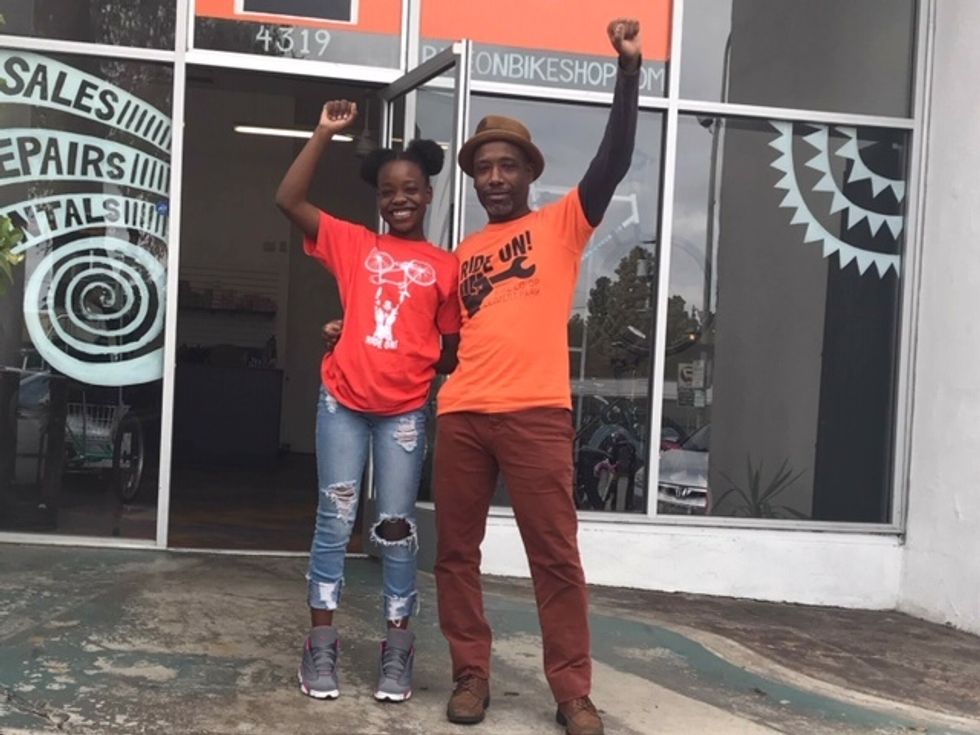 Adé E. Neff, founder of Ride On! Bike Shop/Co-Op in Leimert Park.
"Well you're right, let's do it," they told him. "It was right on time," Neff reflected, "because they hadn't put away their equipment."

Neff didn't know whose project it was, or even when the video would be released. He asked anyway. "A closed mouth doesn't get fed," he quipped. The whole thing took about 10 minutes.
On Thursday, a friend sent Neff the clip. In the video, he raises his right fist above his head just like the store's logo behind him. "I was just being me," he told dot.LA. The gesture is a nod to the Black Power movement.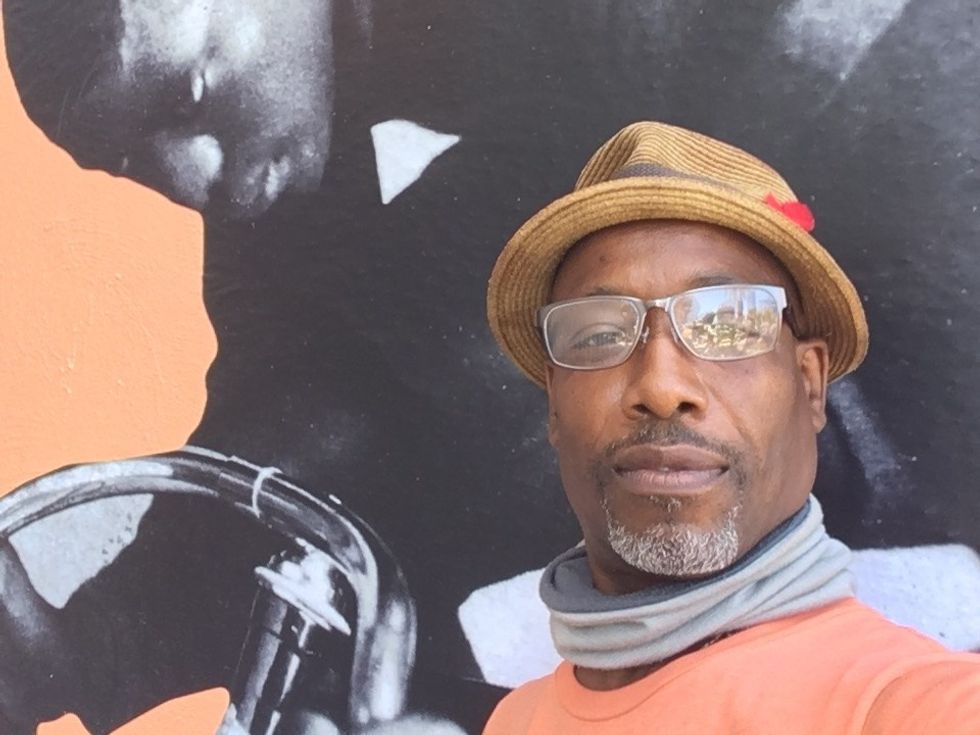 Adé E. Neff, founder of Ride On! Bike Shop/Co-Op in Leimert Park.
His friends are still texting him about it. In Leimert Park, people who know Neff's shop stop him on the street saying "I saw you in the video."

"It looks like it's getting a lot of talk behind it. It's doing its thing," Neff said. "It's letting people know that we're out here, we're doing stuff. We don't have to wait for anyone to come to us. We're out here doing it."
From Your Site Articles
Related Articles Around the Web
Since the widespread protests against police brutality in the wake of the murder of George Floyd, Breonna Taylor, Rayshard Brooks, and countless others — large-scale public conversations have followed. Many companies have shared statements expressing their condolences to and solidarity with their Black employees and customers, and outlining their commitment to fighting racism.
Many of these statements have been welcome, with leaders sharing heartfelt personal sentiments that have hit the right notes, while others have been less well-received, with critics pointing out their uniformity and arbitrary tone.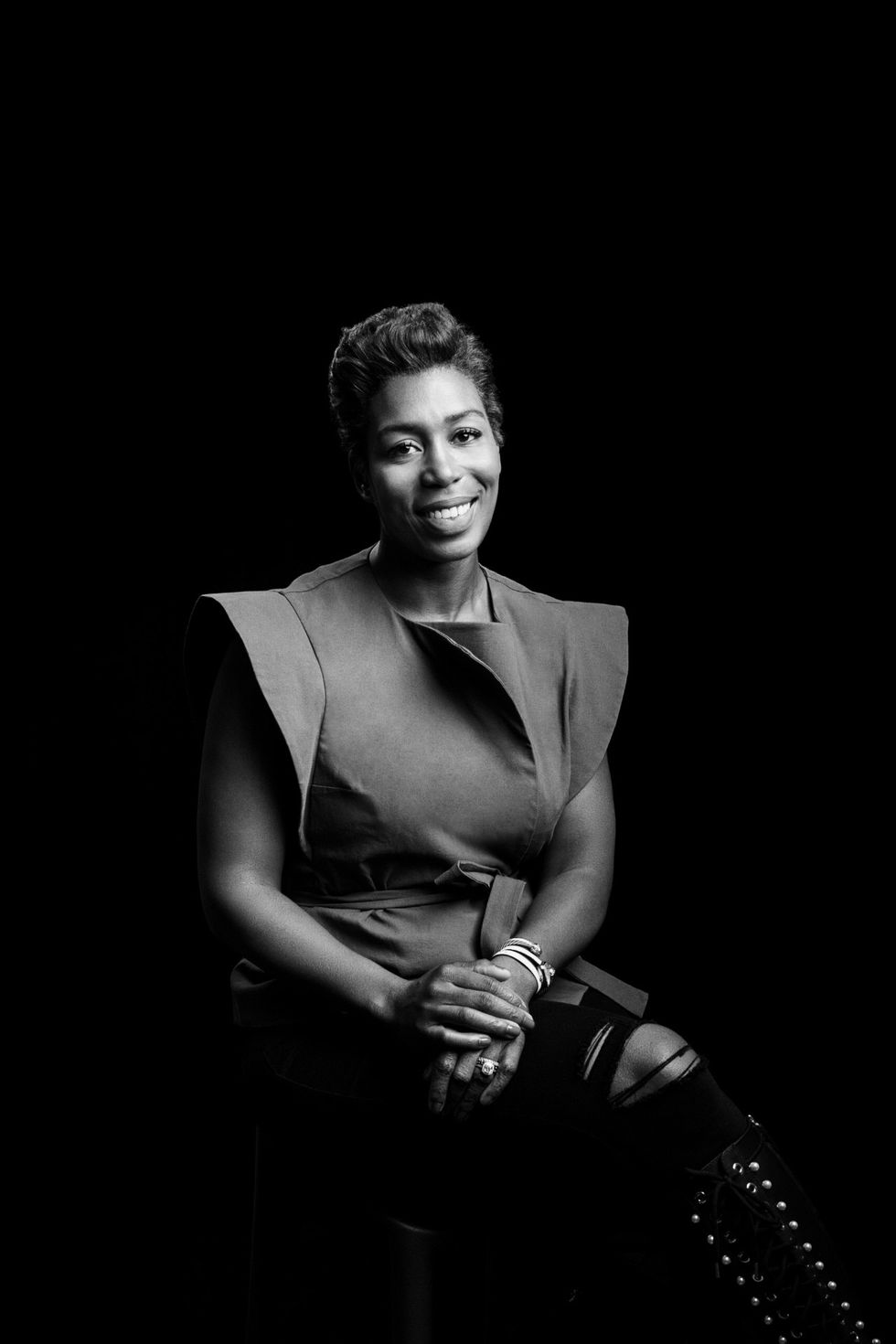 Eyana Carballo is the manager of global commercial strategy & IP at BCG Digital Ventures.

But no matter how strong or wanting these statements have been, they mean very little without a concrete commitment to tangible steps that companies can enact. Now that the words have been shared, it's time for companies and leaders to walk the talk.

So, what can companies do?
Expand Diversity Networks

Enabling employees to work to bolster internal networks is an integral part of making sure their voices are heard. These networks can drive real change, helping to raise issues and set priorities and, in turn, to be heard by leadership. They can be vessels for mutual support, mentorship, and representation.
Invest and Donate
One obvious way companies can take action that backs up their words is by contributing financially. Consistent donations to causes such as the NAACP Legal Defense and Education Fund or the Southern Poverty Law Center are valuable, giving them the resources they need to affect positive change. But companies can also invest other resources, such as talent; partnerships with leading organizations that address racial injustice and inequality are extremely valuable for all parties.
Apply Metrics and Foster Accountability
Without a clear view of what's happening, it's difficult for companies to affect positive change or even decide on what that change might look like. Honing in on the current status quo and what 'good' would look like, in terms of internal diversity but also the external impact of work, enables companies to move in a positive direction and assess success, bolstering accountability in the process.
One aspect of this is a commitment to accelerating representation, which encompasses driving retention parity, increasing representation in leadership and educating leaders and staff. Metrics, whether internal and external, can be the levers which drive this and ensure tangible and lasting impact.
Each company will have its own set of circumstances, its own state of play, and different work that needs to be done. But now that these issues have been raised, we need to make sure that they do everything they can, starting with the initiatives above, to really support Black employees and the wider Black community, moving beyond spoken sentiments to actively making the world a more equitable place.
Eyana Carballo is the manager of global commercial strategy & IP at BCG Digital Ventures, the corporate venture arm of Boston Consulting Group.