When Joanna McFarland co-founded HopSkipDrive in 2014, she thought she had discovered the perfect low-risk business model – contracting with school districts to provide safe and reliable ridesharing for students.

"I always said this is the most recession-proof business there is because it's schools and schools don't close," McFarland recalls. "But apparently it's not pandemic proof."
With the raging coronavirus shuttering schools in most of the eight states it serves plus Washington D.C., McFarland says the company is bringing in "far less" than 20% of the revenue it did pre-pandemic. Though that's up from last Spring when revenue vanished practically overnight.
"2020 has been a year," McFarland said in a Zoom video interview last month. "I don't know what else to say."
McFarland attended The Wharton School for undergrad, and got an MBA at Stanford in 2005, before executive roles at OneWest Bank, AT&T Interactive and GM Consumer Finance. But nothing could prepare her for 2020.
"March, April and May was just crisis mode," McFarland remembers. "New information was coming in every single day. How do you possibly plan for next month or next quarter, let alone like tomorrow? How do you keep your team from freaking out?"
HopSkipDrive laid off 10% of its workforce in March, but thinking that schools would reopen by Fall, McFarland hoped to retain the bulk of her staff. The company received a $1.6 million Payroll Protection loan in April to retain 102 jobs – one of the largest given to an L.A. startup.
"That meant that we got to keep all of our operations team, our support team, our marketing team, our sales team," she said.
The funding ran out in August, and with most students still stuck at home, she laid off 60 people. Fewer than 50 employees remain.
"That was very, very difficult to do," McFarland said.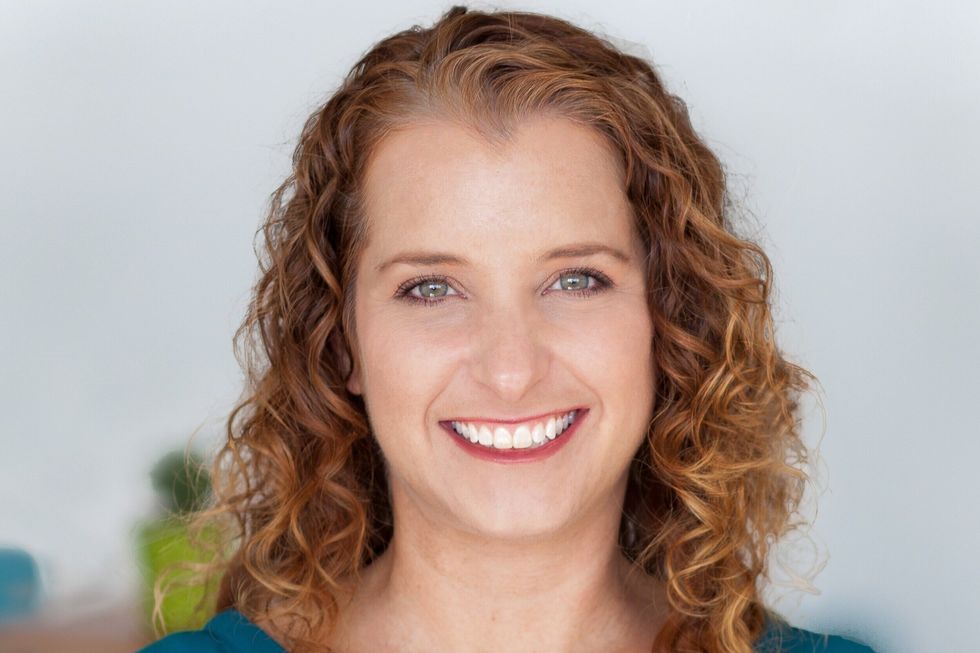 Joanna McFarland attended The Wharton School for undergrad, and got an MBA at Stanford in 2005, before executive roles at OneWest Bank, AT&T Interactive and GM Consumer Finance. But nothing could prepare her for 2020.
It was a major setback for the once fast-growing startup, which was started by McFarland and two other L.A.-area working moms desperate for a safe way to ferry their overscheduled kids to and from school, soccer games and violin lessons — activities that now seem like the relics of a bygone era.
"With eight children between us, we were constantly struggling with the need to be in multiple places at once," McFarland said soon after launching. "We designed HopSkipDrive to be safe enough for our own kids to use, and in doing so, have developed a scalable transportation solution that has been game changing for families."
Before COVID-19, HopSkipDrive had been on a significant hiring spree, relocating its offices to the trendy ROW DTLA in the Arts District, where Spotify has its L.A. headquarters.

HopSkipDrive raised $22 million in late-stage funding last February from two of L.A.'s most prominent venture firms, Greycroft and Upfront Ventures, to bring its total fundraising close to $45 million. (Upfront also got in on the 2015 seed round.)
"We're excited to invest in a L.A.-based company that's creating a whole new category and solving such a real problem for families," Upfront Ventures partner Greg Bettinelli said in 2015. "We see a real growth opportunity."
The timing of the most recent raise – a month before stay-at-home orders went into effect – proved fortunate in extending HopSkipDrive's runway when contracts dried up. Through it all, McFarland has given up trying to predict when students will be back in the classroom.

"In times like this, you look at what you can control and you look at what you can't control and obviously we cannot control when schools open or don't open," McFarland said.
What she can effect is HopSkipDrive's slimmed down operation, which she says will pay dividends when things return to normal.
"It gives you time to take a step back and look at every single process and every single thing that you're doing and figure out how we would do this a little bit faster, a little bit better, a little bit more efficiently," McFarland said. "Ultimately, we have a much faster path to profitability when sales do return than we had before."
And McFarland, who has had to navigate the crisis while her kids have been at home, too, takes a degree of solace in the fact schools will reopen at some point. When that happens she thinks they will need HopSkipDrive more than ever because of a nationwide bus driver shortage that has only gotten worse during the pandemic.
"They're going to need our help, and we're all gearing up for that," she said. "I'm excited for that day."