ridesharing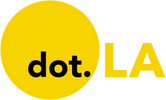 Get in the KNOW
on LA Startups & Tech
X
ridesharing
When Joanna McFarland co-founded HopSkipDrive in 2014, she thought she had discovered the perfect low-risk business model – contracting with school districts to provide safe and reliable ridesharing for students.

"I always said this is the most recession-proof business there is because it's schools and schools don't close," McFarland recalls. "But apparently it's not pandemic proof."
With the raging coronavirus shuttering schools in most of the eight states it serves plus Washington D.C., McFarland says the company is bringing in "far less" than 20% of the revenue it did pre-pandemic. Though that's up from last Spring when revenue vanished practically overnight.
"2020 has been a year," McFarland said in a Zoom video interview last month. "I don't know what else to say."
McFarland attended The Wharton School for undergrad, and got an MBA at Stanford in 2005, before executive roles at OneWest Bank, AT&T Interactive and GM Consumer Finance. But nothing could prepare her for 2020.
"March, April and May was just crisis mode," McFarland remembers. "New information was coming in every single day. How do you possibly plan for next month or next quarter, let alone like tomorrow? How do you keep your team from freaking out?"
HopSkipDrive laid off 10% of its workforce in March, but thinking that schools would reopen by Fall, McFarland hoped to retain the bulk of her staff. The company received a $1.6 million Payroll Protection loan in April to retain 102 jobs – one of the largest given to an L.A. startup.
"That meant that we got to keep all of our operations team, our support team, our marketing team, our sales team," she said.
The funding ran out in August, and with most students still stuck at home, she laid off 60 people. Fewer than 50 employees remain.
"That was very, very difficult to do," McFarland said.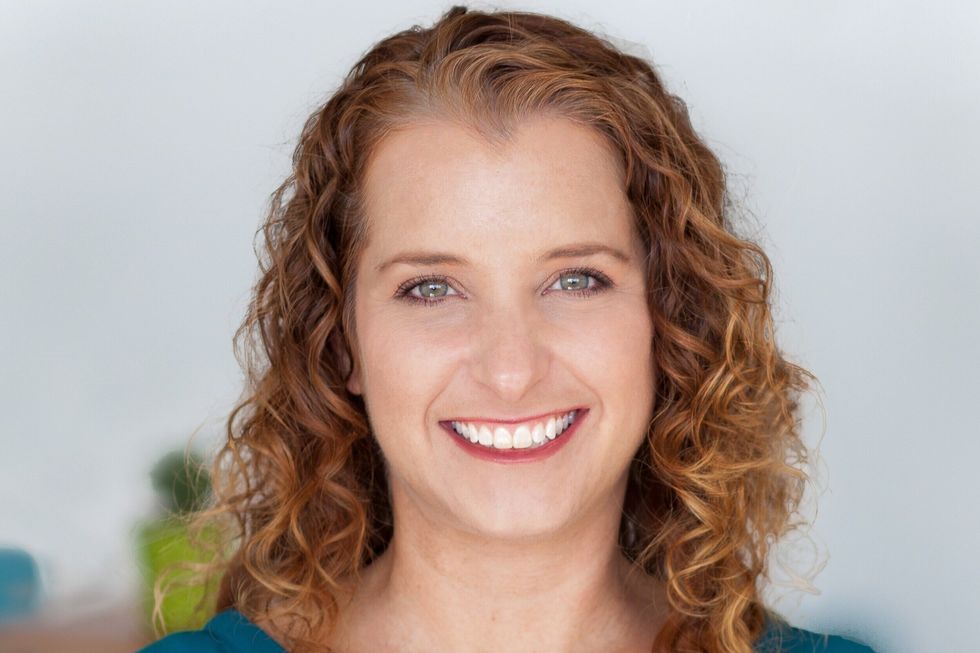 Joanna McFarland attended The Wharton School for undergrad, and got an MBA at Stanford in 2005, before executive roles at OneWest Bank, AT&T Interactive and GM Consumer Finance. But nothing could prepare her for 2020.
It was a major setback for the once fast-growing startup, which was started by McFarland and two other L.A.-area working moms desperate for a safe way to ferry their overscheduled kids to and from school, soccer games and violin lessons — activities that now seem like the relics of a bygone era.
"With eight children between us, we were constantly struggling with the need to be in multiple places at once," McFarland said soon after launching. "We designed HopSkipDrive to be safe enough for our own kids to use, and in doing so, have developed a scalable transportation solution that has been game changing for families."
Before COVID-19, HopSkipDrive had been on a significant hiring spree, relocating its offices to the trendy ROW DTLA in the Arts District, where Spotify has its L.A. headquarters.

HopSkipDrive raised $22 million in late-stage funding last February from two of L.A.'s most prominent venture firms, Greycroft and Upfront Ventures, to bring its total fundraising close to $45 million. (Upfront also got in on the 2015 seed round.)
"We're excited to invest in a L.A.-based company that's creating a whole new category and solving such a real problem for families," Upfront Ventures partner Greg Bettinelli said in 2015. "We see a real growth opportunity."
The timing of the most recent raise – a month before stay-at-home orders went into effect – proved fortunate in extending HopSkipDrive's runway when contracts dried up. Through it all, McFarland has given up trying to predict when students will be back in the classroom.

"In times like this, you look at what you can control and you look at what you can't control and obviously we cannot control when schools open or don't open," McFarland said.
What she can effect is HopSkipDrive's slimmed down operation, which she says will pay dividends when things return to normal.
"It gives you time to take a step back and look at every single process and every single thing that you're doing and figure out how we would do this a little bit faster, a little bit better, a little bit more efficiently," McFarland said. "Ultimately, we have a much faster path to profitability when sales do return than we had before."
And McFarland, who has had to navigate the crisis while her kids have been at home, too, takes a degree of solace in the fact schools will reopen at some point. When that happens she thinks they will need HopSkipDrive more than ever because of a nationwide bus driver shortage that has only gotten worse during the pandemic.
"They're going to need our help, and we're all gearing up for that," she said. "I'm excited for that day."
From Your Site Articles
Related Articles Around the Web
Less than two weeks ahead of the election, Uber and Lyft are hitting new roadblocks after pouring money into a ballot measure intended to protect their business model.
On Thursday, a California appeals court put that strategy into question when it upheld an earlier ruling that the ride-hailing companies must classify their workers as employees instead of independent contractors. The court ruling won't take effect for 30 days, adding even more pressure on the ride-hailing companies' Proposition 22.
Later that day, a group of California Uber drivers filed a lawsuit against Uber alleging the company is engaged in illegal political coercion by constantly sending them pro-Prop 22 in-app alerts. The suit asks for $260 million in penalties.
Uber, Lyft, Postmates and other app-based delivery giants have pumped over $180 million into Prop 22 to keep their drivers from needing to be reclassified as employees. Experts say if it fails, labor costs for the companies could jump 20 to 30%.
The barrage of cash has been spent on in-app messages, commercials and text messages about how drivers would lose flexibility and health care if the measure doesn't pass. The companies also say prices and delivery wait times for customers would skyrocket.
If it passes, gig workers wouldn't be entitled to protections including paid sick leave, overtime pay, and other benefits laid out in California's recently passed AB5 law.
From Your Site Articles
Related Articles Around the Web
Over the last three years, L.A. Lyft driver Nicole Moore has watched her paychecks shrink as her hours have grown. Frustrated, she's ready to leave her part-time gig, but until now there have been few options. That's about to change.
This year, two Texas-based companies are going after one of rideshare giants Uber and Lyft's biggest markets: Los Angeles.
Dallas-based Alto plans to begin their services by the end of October. And the Austin collective Arcade City will start marketing its ride-hailing app in Los Angeles Tuesday. They will be joining other apps already trying to steal away market share such as Wingz and Swoop.
Meanwhile, Uber and Lyft remain mired in a heated battle in California to keep their drivers classified as independent contractors, a business model that, if upended ,could damage their road to profitability. The two, along with other gig companies, have sunk millions into backing Proposition 22, a November ballot measure that would exempt them from a new state law that requires them to classify their drivers as employees.
These two Texas startups offer starkly different employee models.
The venture capital-backed Alto, which has raised $20.5 million, wants to become "the Starbucks of ridesharing," co-founder and CEO Will Coleman told dot.LA.
Unlike Uber and Lyft, Alto classifies its drivers as W-2 employees and supplies them vehicles from its fleet. It launched in 2016, the year Uber and Lyft left Austin in the aftermath of a costly fight to stave off the city's efforts to tighten regulations on ride-hailing companies including background checks.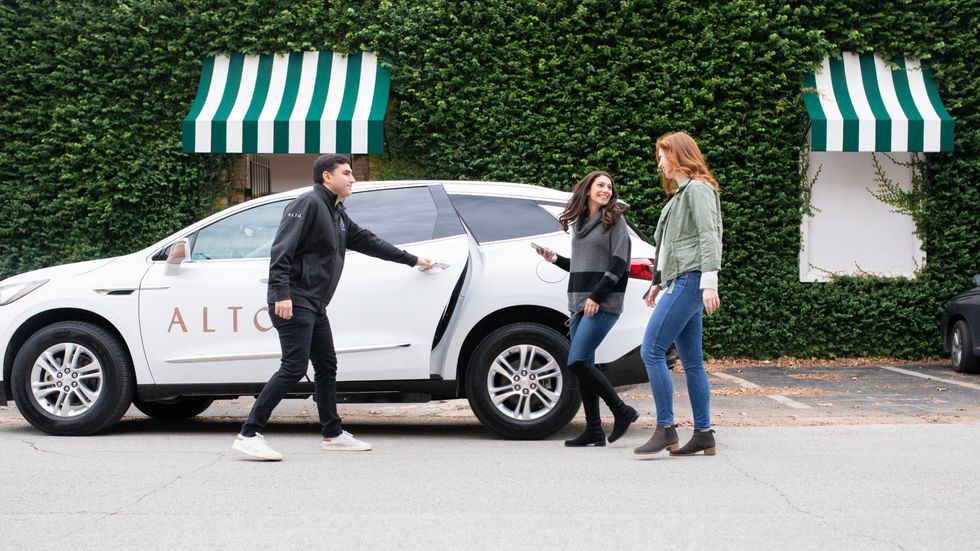 Dallas-based Alto plans to bring their service to L.A. by the end of October.
At the time, a handful of new rideshare startups popped up across the city. One of them was Arcade City, a then-Facebook group where thousands of recently unemployed drivers connected with Austin residents who needed rides.

The startup offers the interface and tools for drivers to build cooperatives, allowing them to set their own rates and build relationships with clients. The peer-to-peer service lets drivers set their own rates and hours. It also allows for them to build up clientele.
"It's a level of job security that no other rideshare in the world is even structurally capable of matching," founder and CEO Christopher David said. "I think that's exactly what California needs. Drivers at minimum deserve the option to build their own recurring customer base."
While Arcade starts marketing its new global app, David said cooperatives take time to form and it could be months before riders here can hail a car as quickly as they can in Austin's 150-driver network. Demand will influence how long this process takes. The app will be in beta testing until next week's official launch.
Moore, the Lyft driver, welcomes new companies to the market and thinks riders would, too. The driver is part of L.A. Rideshare Drivers United, a group that organized following a round of pay cuts and strikes in 2017 and opposes Proposition 22. Many complain that the companies' algorithms that determine the cost of a ride and driver pay are not stable and can't be relied upon for predictable wages.

"Our loyalty is not to Lyft or Uber," Moore said. "Drivers will tell you the 12 companies they've driven for. Almost every Uber driver has a Lyft sticker on their vehicle as well."
A loss of customers or drivers in Los Angeles would be a blow for Uber or Lyft. Last year, nearly a quarter of all bookings at Uber came from five metropolitan areas, two in California — Los Angeles and the San Francisco Bay. Lyft is also reliant on major metropolitan areas and depends on its available pool of drivers to keep up services.
"Goodbye Uber, hello Arcade City." Today Uber and Lyft both threatened to shut down service in California, maybe a… https://t.co/XVZ7dCtS8u

— Arcade City ⚡ (@Arcade City ⚡) 1597285229
Arcade City, Another Side Gig?
Part of David's pitch to would-be drivers is that current Uber and Lyft drivers can start building networks even before the co-ops are fully functioning. Half of Arcade's Austin drivers still work part-time for other ridesharing companies, and drivers are promised 1% from every credit card purchase their referrals make for three years.
"Our model is like beautifully parasitic on the other," he said.
While prices depend on the city and co-op rules, an Arcade City ride will typically run you a couple dollars more than one from Uber or Lyft. Riders can also pay by cash or barter with drivers for rides. In some cases, drivers let riders pay them back days later.
Arcade, which emerged in the heat of a battle between gig workers and the two ridesharing companies in Austin, has not been shy about taking a stance against his competitors.
In an open letter to Californians, Arcade's David encouraged drivers to vote no on Proposition 22 "because Uber and Lyft's years of mistreating drivers and bullying local governments should be punished, not rewarded."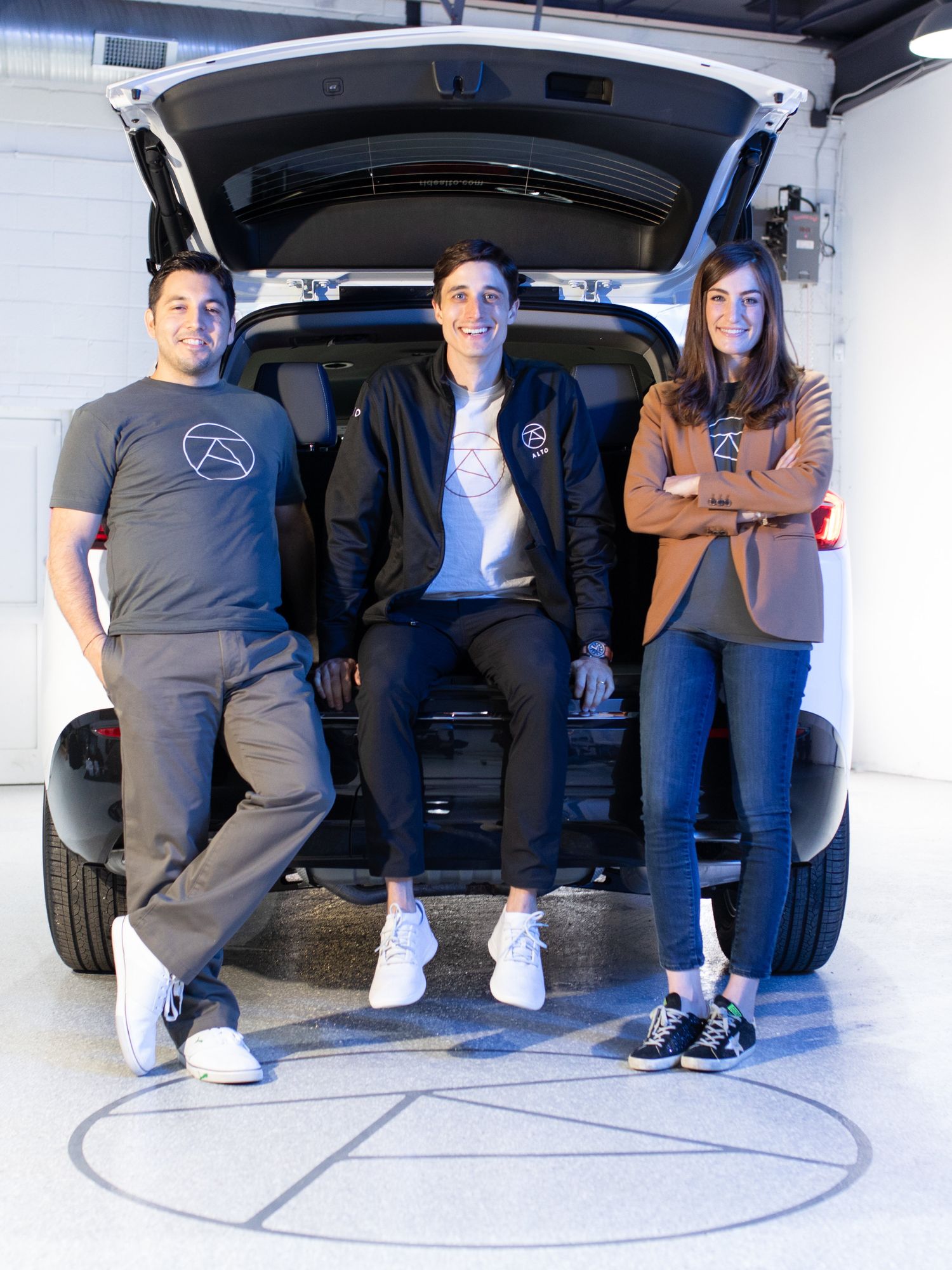 Alto's Ride Hailing Model
Alto is a membership-based service, although non-members can hail rides. Half of Alto employees come from Uber and Lyft, Coleman said, and each one is interviewed and background checked before being hired. He said the company "attracts the most professional drivers," meaning ones who consider Alto a job rather than a gig to make extra cash.
It's expensive to absorb the costs of hiring employees, Coleman told dot.LA, but if companies don't pay into unemployment and workers compensation, taxpayers will. Indeed researchers at UC Berkeley found that Uber and Lyft would have paid $413 million to California's Unemployment Insurance Fund had they classified their workers as employees.
The company offsets the cost by charging more. Coleman told the Dallas Morning News earlier this year that Alto customers come from more affluent households with incomes of $100,000 or higher.
Alto has plans to begin operations in L.A. by late October, just around the corner from Election Day when voters will decide the fate of Prop 22.
Neither Arcade City nor Alto have officially registered for permits from the California Public Utilities Commission yet. According to the state, only one new company, Onward Care Inc., has been issued a permit this year. Both companies said they plan to go through state regulatory channels.

Moore said she's ready for another option because relying on the two apps to pay for expenses isn't cutting it.
"You used to work four or five days a week, pay your rent and put food on the table," Moore said. "And now, doing the same work for the same company in the same vehicle, you have to work seven days a week and you're barely making ends meet."