intellectual property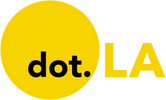 Get in the KNOW  
  on LA Startups & Tech  
X
intellectual property
Musicians are facing a tough road and the pandemic hasn't made life any easier. But changes are afoot that could help.
A flurry of deals between music copyright owners and a grab bag of online video purveyors may be just the first step in a process that could see "the most important copyright reform since the U.S. passed the Digital Millennium Copyright Act (DMCA) 22 years ago," according to one industry observer.
With it, artists and rights holders should be better positioned to benefit from the growing relevance of music across social media platforms, gaming consoles, virtual gyms and much more.
"There clearly has been a frenzy of activity," David Israelite, president and chief executive of the National Music Publishers' Association (NMPA), a trade association representing American music publishers and songwriters, told dot.LA.
The changes stem from a battle that has been playing out in Europe that has pitted the creative community against some of tech's giants such as YouTube and Facebook. Those companies depend on content created by artists.
Last year, the EU adopted tough new copyright laws set to take effect by next June. Though the regulations are facing a slew of challenges, global digital companies are looking to come into compliance to get ahead of the curve, and possibly gain an edge over competitors.
In August, Santa Monica-based Snap struck a deal with several big music companies for rights to their music. L.A.-based Triller signed a deal with digital music firm 7digital for back-end support on its licensing management.
In July, TikTok agreed to terms with NMPA, which included a settlement for past violations and an agreement for the future. The Culver City-based company also recently signed deals with indie digital rights managers Merlin and Believe.
The Believe agreement could be particularly beneficial. It allows the independent artists affiliated with Believe-owned TuneCore to upload tracks onto TikTok, the company announced last week, potentially bringing them a massive new global audience.
And in-home fitness, much of which relies on music, is becoming more popular. Apple, for instance, recently announced a new subscription fitness program that will involve music.
The company is "doing it the right way – licensing from the very start," Israelite said. NMPA will undoubtedly be watching other competitors in the fitness space closely.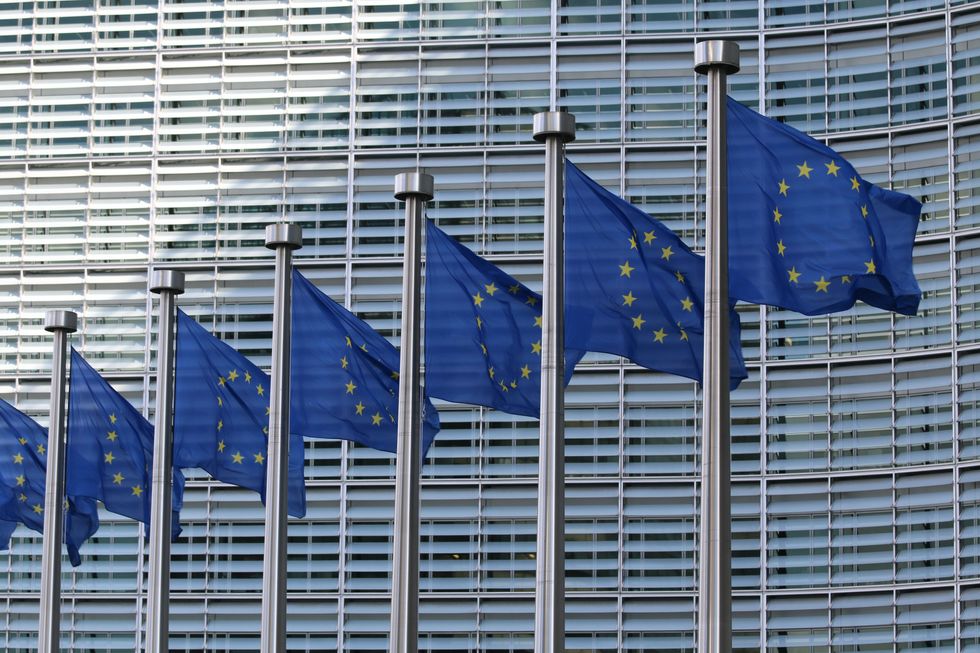 European Union member countries will begin enforcing Article 17 by June 2021 that require platforms to make an upfront effort to avoid copyright violation. Photo by Guillaume Périgois on Unsplash
Why Are All These Deals Happening Now?
In the U.S., the current legal framework – which emerged with the DMCA, before social media existed – requires platforms to respond to takedown notices, but not to proactively ensure that songs that show up in user feeds are properly licensed.
When a song's rights holder issues a takedown notice, it leaves the platform with the choice of obtaining a license, removing the song from the platform (and potentially upsetting users) or possibly getting sued.
Songs have two kinds of copyright: one for the sound recording, and one for the underlying composition. If a platform is making money in part thanks to a song, both copyrights are relevant.
Since the performer is the face of the music, the songwriter can sometimes be forgotten.
"You often see (platforms) start with labels then move on to publishers. Sometimes they won't, though, or sometimes they won't get to the smaller, independent publishers," Israelite added.
Platforms can also take "Safe Harbor," meaning "what they don't know is on their platform, they're not liable for," said Wilson Hays of L.A.-based Pex, a tech company that monitors audio and visual assets across the web. But by June of next year, the EU will begin enforcing reforms that require platforms to make an upfront effort to avoid copyright violation. The new E.U. laws won't apply directly to content posted in the U.S., but companies with international operations may find it easier to roll out compliance changes across their global operations rather than taking a piecemeal approach.
Hays believes that many are already trying to get ahead of Article 17's requirements before the new legislation takes effect. It may behoove them to do so, since the U.S. is looking at its own copyright reforms.
This is a big deal, Hays said.
"Life will get better come 2021 for independent rights holders because they will have tools at their disposal that will allow them to have more control over their content — on top of generating more revenue," he added. "This attribution will happen prior to upload, allowing any creator to participate in whatever revenue is generated from the get-go."
Indian social media companies, too, are facing a tougher regime of music copyright enforcement. Several short-form video companies that have gained popularity in the wake of TikTok's ban in the country, including Triller, are facing lawsuits.
Amazon-owned streaming video company Twitch also relies heavily on music. Photo by Caspar Camille Rubin on Unsplash
Music Has Become a Core Component of Social Media
On YouTube, for example, there are at least 10 seconds of music on 84% of the platform's videos, and over half of all videos on Instagram contain music, according to Hays. Getting their licenses in order allows platforms to let their users include music in their videos without needing to worry they will be taken down.
Amazon-owned streaming video company Twitch also relies heavily on music. The company has taken heat for Jeff Bezos' poor performance before Congress in July, when representatives asked him if the company pays out royalties. He couldn't say, but the answer is… rarely.
Platforms that delay getting their licensing deals in order can save themselves cash. They can also avoid navigating the complex copyright landscape. But as they grow, that strategy can come back to bite them.
"Once they begin generating substantial revenue, then they'll draw the attention of rights holders," said Hays.
At least part of the change has to do with a growing intolerance by the creative community of extremely wealthy companies using their music without proper licensing. Another driver is the successful, high-profile legal disputes that Israelite said have "sent a message to other companies."
Peloton, for example, faced a protracted legal battle before agreeing to terms that, as with TikTok, accounted for past violations and set new terms for artists featured on its platform. Such cases, Israelite noted, have "accelerated the choice these companies have to make": Either license properly, or be a copyright infringer, and bear the consequences of receiving takedown notices or getting sued.
In the wake of Jeff Bezos's embarrassing admission to Congress, Twitch is "starting to become more of a focus for the need for proper licenses," said Israelite.
As has already been seen in India, TikTok competitors in the short-form video space can't just focus on having the right algorithm and attracting a big user base. Israelite pointed to Triller as an example of a startup that has deals with record labels (for the recordings) and some publishing deals but may soon have to play catch up.
"I think they'll have to deal with a pretty large problem for a significant number of songs being used without proper permission from publishers."
Israelite also noted that Twitter has no publishing licenses yet.
More ripples are likely to emerge wherever music can be found in the digital landscape, from social media to gaming, fitness and beyond. Whether that change comes in the form of lawsuits or more licensing agreements remains to be seen.
Nate Cavanaugh has a penchant for prophecy. The 24-year-old founder of Venice-based Brainbase wrote a letter to his future self when he was 13 in which he presciently asked, "Do you still want to start your own computer company?" At 18, in a high school assignment describing his role model, he chose Mark Zuckerberg, and proclaimed that "I, too, plan on starting my own technology company in college... (and) plan to drop out of college once I can comfortably support myself."
According to plan, he enrolled at Indiana University and promptly founded Guuf, an esports tournament platform, before leaving school and selling the company shortly thereafter. Inspired by a talk on the problem of patent trolls from Union Square Ventures' co-founder Fred Wilson and a blog post on the subject by Elon Musk, at 19 Cavanaugh formed Brainbase, a technology company meant to simplify and streamline the management of intellectual property (for example, trademarks, patents, copyright).
Five years later, the company has around 40 employees and its customers include BuzzFeed, the Vincent Van Gogh Museum, and Sanrio (of Hello Kitty and friends fame). Its flagship product is called Assist, which includes a dashboard for tracking royalty payments and schedules; analytical tools for comparing IP asset performance by property, territory, partner, category and distribution channel; automated invoice generation and contract management; and artificial intelligence tools to identify potential opportunities for exploiting IP.

Now, fresh off an $8 million Series A led by Bessemer Ventures with participation from L.A.-based Struck Capital, Alpha Edison, Bonfire Ventures, and Tera Ventures, Brainbase is expanding its product suite with a marketplace to facilitate IP-oriented transactions and a tool to enable IP filing and renewal. In a statement about the investment, Kent Bennett of Bessemer described Brainbase as bringing "the archaic, paper-shuffling world of IP management into the 21st century."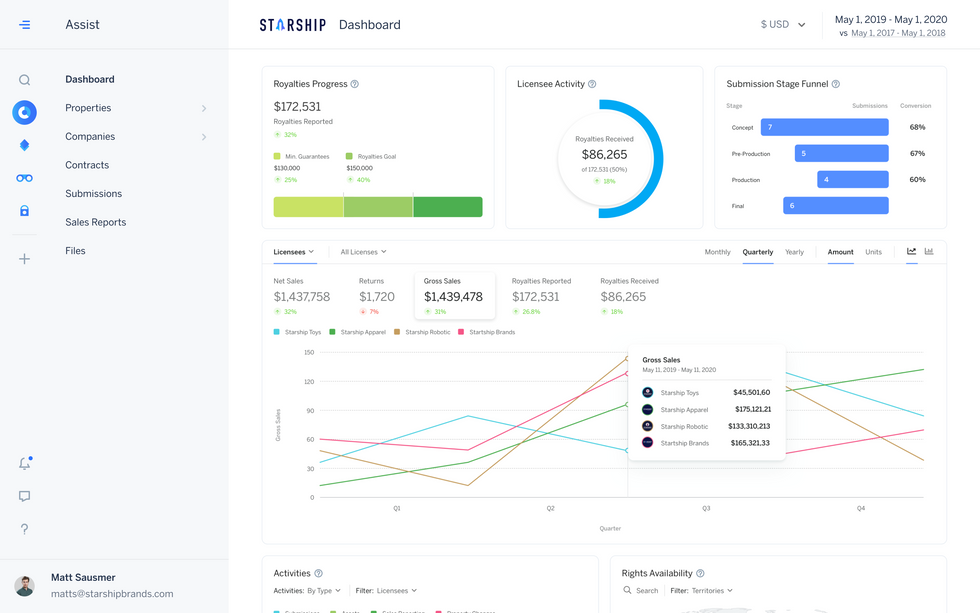 Brainbase's Assist product helps customers manage their IP
Cavanaugh has long been interested in business and tech. His dad is a serial entrepreneur himself whose current venture, Ready Nutrition, recently signed brand partnerships with NBA superstar Giannis Antetokounmpo and L.A. Rams pro-bowler Aaron Donald. As a 10-year-old kid he remembers marveling at videos of Steve Jobs, which he often rewatches now that he, too, runs a business. "The reality is it's in my genes," he says.

dot.LA caught up with Cavanaugh to ask about his journey so far and what motivates him to keep going, sometimes in the face of skepticism around his youth. His latest prediction? He says the next stage for Brainbase is going to be hard, but he's up for the challenge.
dot.LA: Tell me about your background and how that led to the company you sold after dropping out of college.
I'm originally from Pittsburgh and I grew up in an entrepreneurial family. My dad had been starting companies since I was born, so I was essentially interning at startups from the time I was eight years old. In my junior year of high school I started a website design and services business, and I was making enough money from it that I didn't want or need to go to college.
But I went to Indiana, largely because of Mark Cuban – he's from Pittsburgh, too, and he went there. I knew I didn't want to finish, but I don't think I had the risk tolerance to just not go; I wasn't ready to be a full-time founder yet. I didn't want to keep doing my website business so I decided I'd go, and try to start a startup with the intention of leaving early.
I'd been interested in gaming and esports, and as I kept learning about venture capital I thought a services business would be interesting. There was a company called Major League Gaming that was doing well at the time and my freshman year I formed a company that was basically a platform to facilitate esports tournaments. That was really before esports took off and frankly I think we sold it a bit too early.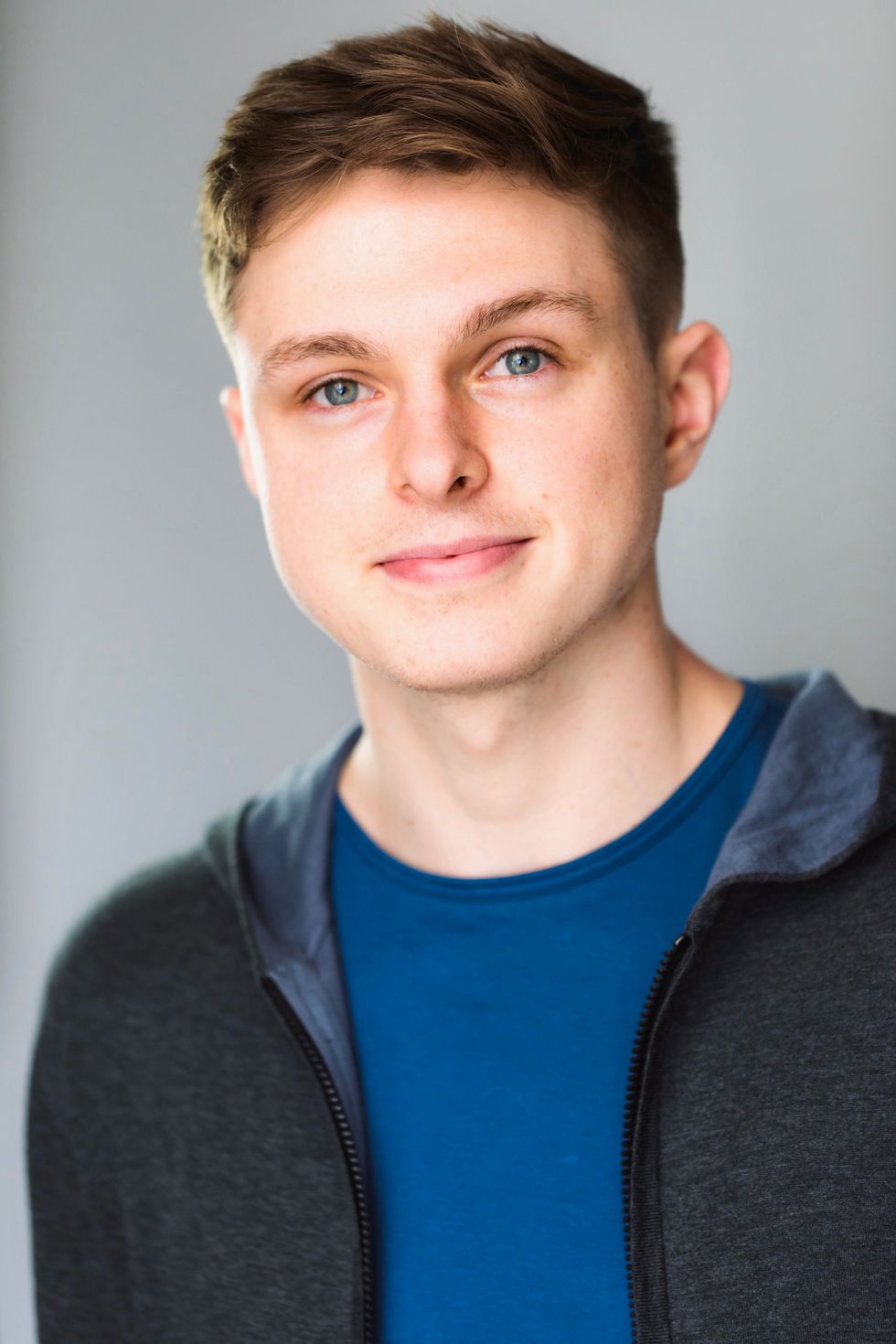 Nate Cavanaugh is the founder of Brainbase
You're now on your third company and you raised over $12 million before turning 24. Have you had any pushback along the way because of your age?
Of course. There's a lot of negative press about young founders who aren't ready to run companies at scale. Until you sign that first set of impressive customers or raise money, you get doubted. I was 21 when Brainbase first raised VC funding and I didn't have traditional domain expertise in intellectual property. I was basically self-taught, and there were a lot of people that questioned our story.
What kept you going?
I'm extremely competitive. When I commit to something I have a will to succeed. And dropping out of college to start something makes you want it to succeed extra badly and do whatever it takes to make it work.
What would you consider some of your biggest personal achievements so far?
I'm a big believer that raising money is not necessarily a successful milestone – you need a strong outcome from that, so there's still a lot of work to do. But the fact that we were able to get a round done with Bessemer during COVID-19 was certainly not easy and I'm proud of that. We also recently did a deal with a big university for trademark licensing; I applied there for undergrad and was denied, so getting rejected and then getting them as a customer is kind of a a funny accomplishment.

And the customers we've been able to get, like Sanrio; they're one of the biggest licensors in the world and we got them as a customer within 12 months of starting.
Also one of our first investors was the founder of Duolingo, a unicorn, and they're from Pittsburgh, so I was proud of that too.
How did your dad's business experience impact you?
He had two businesses when I was growing up that got up to a fairly impressive scale, and then he wound them both down to start Ready Nutrition when I was in high school. So he was starting a clean-slate startup when I was a junior. I saw that grow from a one-person business to making nine figures in revenue. I worked as an unpaid intern and I saw how he ran meetings, interacted with employees, how he closed deals. That gave me a lot of valuable experience early on. It's one thing I don't talk about too much when I'm fundraising – as a founder you want your merits to live separately from that – but I was fortunate to be able to grow up with that.
How has your relationship with your dad evolved as you've had your own success?
We have an interesting dynamic. My family is still in Pittsburgh – when he and I talk it's almost all about work; it's the nature of our relationship. It's interesting to be able to talk about different ways we've done things. His business is bootstrapped, whereas we just closed a Series A. It's been really cool to be able to bring my experience with tech, VC and startups and to hear about his side of things in consumer goods. It's fun to be able to talk about and learn from the challenges he and I are going through.
Who else do you consider your role models?
Of the people in my network, I spend a fair amount of time with Adam Struck, the founder of Struck Capital; he's been a helpful mentor and is on our Board. Severin Hacker (co-founder and CTO at Duolingo) and Kent Bennett (Partner at Bessemer Ventures) have also been helpful. It's been great being able to go to them for function-specific questions.
I've been a fan of Steve Jobs and how elegantly Apple markets their products. I still go back and watch his interviews with Kara Swisher. I'd watch those when I was 10 years old.
I also admire Ben Horowitz; his book The Hard Thing About Hard Things is excellent. Andy Grove (former CEO of Intel), too. And I'm also interested in Peter Thiel, who often provides a contrarian view compared to the mainstream tech narrative.
What's your impression of the L.A. tech scene?
I've been really impressed, on a couple of levels. There's sufficient seed-stage capital from funders and the Series A market is maturing. I still think for Series B and beyond most founders think you need to go to NYC or San Francisco to raise, or at least to make the process competitive. And from a recruiting standpoint, there are so many impressive companies here and the region has a ton of engineering talent. So from the capital and recruiting standpoint it's only maturing and I expect that'll keep growing.
This interview has been edited for clarity and brevity.

---
Sam Blake primarily covers entertainment and media for dot.LA. Find him on Twitter @hisamblake and email him at samblake@dot.LA