column
In L.A. County, where Black and Latino communities represent almost 60% of the population, the numbers aren't much better. Given the fact that distribution of investment dollars roughly reflects the composition of diversity among investment partners, money invested in Black and Brown founders in L.A. is vastly disproportionate. Put simply, VC partners and check writers in L.A. don't look anything like their customers or employees.
Introducing the rider in a recent dot.LA story, Act One's Alex Guerrero put it like this:
"You haven't gotten those chances, not because you don't work hard or you're not there, but because you don't come from those networks, you don't have that wealth, you don't have that privilege and that's what's hindering you and that's not your fault. Sometimes you just don't hit the birth lottery."
While COVID was raging across the country and America was exposed to the horrific killing of George Floyd, Guerrero was thinking about equitable access to opportunity in a new and creative way. Specifically, he was thinking about the opportunity to drive real wealth creation for communities that historically don't have access to the table. He was also thinking about how the venture capital-financed ecosystem needed another tool to drive diversity, equity and inclusion across the entire stack. In particular, the equity component needed real and material change.
How Diversity Riders Work
Guerrero is asking for VC firms leading a deal to add a provision to their term sheets requiring a certain amount of capital in a given financing round be allocated to diverse check writers.
To understand how that provision — called a Diversity Rider — works, you have to understand how venture capital deals work. (This is a simplification, so, finance experts, please bear with me.)
VCs tend to make investments in a given company as a group, but that group of investors is typically led by a single firm, which gets to set the "terms" of the deal in the form of a contract, called the "term sheet."
It is the term sheet that defines many of the critical requirements and conditions of a company's financing event. These documents include many of the most salient and substantive details of an investment deal, including liquidation preferences, voting rights, pro rata rights, board composition changes, right of first refusal and, most importantly (at least, for some), the valuation tied to the investment round.
Much like any contract, everything is subject to negotiation and a lot of creativity can be introduced. This is where riders come along.
Guerrero's initiative is somewhat revolutionary in its incremental nature in that it didn't call for an explicit percentage of a round to go to DCWs, but rather just that a rider should be included and the lead VC. It's sufficiently flexible to enable all sorts of implementation, meaning the Diversity Rider can over time be added to more and more term sheets until it becomes a norm. Ideally we quickly get to the point that the Diversity Rider is perfunctory to include, and noncontroversial — or even better, it's no longer needed at all as the industry has internalized its mission and it becomeis the norm. What a world!
What Is Founders' Role in Expanding the Diversity Rider?
Alex and his supporters have already partnered with at least 10 venture capital firms that are committed to using the rider in their term sheets.
I asked Alex what obligations or part to play he thought founders had in the Diversity Rider call to action.
"Not only are founders incredibly essential to the growth of the rider," he said, "in my opinion they will be the key driver determining how fast the entire industry moves towards normalizing the topic of having a diverse cap table. When you [the founder] see the rider language in a Term Sheet, you will instantly know by their actions that that [VC] cares about D&I where it matters most: at the equity level."
But there's more that can be done, specifically, by founders who want to see their profits, and the ecosystem, grow.
"No founder should be dependent on any VC firm to be the ones to proactively bring up the topic of having a diverse cap table," he said. "These are your companies, and it is your call as to who gets the ability to participate, whether the existing or new investors like it or not."
It is tantamount to success across many dimensions and across many stakeholders to drive a higher participation of diverse participants in cap tables, with allocation requirements baked into the term sheet.
"Hopefully your VC investors will be understanding and supportive," Guerrero added, "but if in today's world you bring this up and an investor balks at it, you might want to ask yourself if you want to be in business with that person or firm in general since you wouldn't be philosophically aligned on this crucial aspect of building your business. I know that this topic of conversation can be uncomfortable, but if we don't commit to having this conversation everywhere, for every round, all the time, nothing will truly change."
We, as founders and entrepreneurs, have the ability to influence terms and make possible the change we want to see. We have leverage as a class, so let's use it for doing good while doing well.
Fernish will be allocating a target of 10% of all future rounds to diverse check writers as our own implementation of the Rider. (Shout out to Finix for setting a great example here for the rest of us!)
We've also broadened our board of directors and kicked off an exploration of DEI training to raise our understanding of unconscious bias in the workplace. We also recently donated to the Fund for South LA Founders and my time as a mentor to the inaugural cohort of this fund.
Why the Rider Works for L.A. Investors, Founders and Communities
Whether you hold a traditional Milton Friedman view that a company's responsibility is solely to its shareholders or a more modern and thankfully broader interpretation of a company's role in society, it is indisputable that more diverse companies — across investors, board members, leadership teams, all the way down to line staff — will have better returns over time. An extensive McKinsey report proved this from multiple angles.
Additionally, VCs are looking for ways to de-risk any and all investments. The rider will drive predictably higher performance so it's inclusion is another edge on the path to venture success. All around, this means the Diversity Rider is a win-win for diverse investors and the rest of the cap table alike.
Even better, the common class stockholders—i.e. the founders and the rest of the employees—will also get to benefit from this better performance. That makes it a win-win-win!
Also important: diverse venture investors get the opportunity to create multi-fold returns, rather than incremental returns, on their investments. Assuming that the investor is comfortable with the risk of an earlier stage investment, and has the financial wherewithal to spread their capital across a decent mix of companies, a blended "Internal Rate of Return" (IRR) target would be 20-30%. Someone who invested in an S&P 500 index fund WHEN? has seen a "compound annual growth rate" of 7-10%. And assuming the investor "picks a winner", this can be multiple multiples on the initial investment.
Venture and private equity as an asset class — and the wide range of preferential tax treatments for investments in this category — is how generational wealth is created.
This is also how DCWs expand their financial footprint, creating a flywheel effect whereby they can invest further. That wealth can, in turn, be used to forward initiatives of various sorts in their "communities" — however that might be defined — that can lead to more opportunity, more founders, more investment.
From Your Site Articles
Related Articles Around the Web
As COVID-19 vaccinations continue and restrictions slowly lift, consumers and companies alike are confronting an entertainment industry changed by the pandemic.
Creators, technologists and investors are working hard to understand today's evolving demand and meet it creatively. It is hard to overestimate the impact of the pandemic on entertainment. Movie theaters remain dark, concerts are cancelled or postponed and many TV and film sets are still on hold.
Entertainment providers have become more creative in developing effective business solutions — including filming TV shows from home, making movies available online and offering virtual concerts. In some cases, they have ended up reaching a larger audience than in the pre-pandemic era.

Since the timeline for the vaccine rollout is uncertain, it is critical that investors look at which startups best understand today's consumer demand, and which are in a good position to grow their business as the pandemic begins to ease.
At Pegasus Tech Ventures, we've been keeping an eye on some of the trends shaping the entertainment and technology worlds. Here's what we see emerging in the future of the industry.
Short Form Video Has a Social Life
Consumers around the globe are looking for new ways to express their creativity and reach out to friends and followers through short-form videos. We've seen the pandemic expand this trend dramatically. According to a recent consumer survey by TheSoul Publishing, 84% of audiences said they spend more or the same amount of time watching short-term videos during the pandemic than ever before.
The startup Triller has gained the attention of such consumers, in part due to the well-known names of its investors and celebrity endorsers, including Snoop Dogg, The Weeknd and Lil Wayne. As TikTok has been banned in many countries around the world, Triller — a Pegasus Tech Ventures investment — enabled users to develop music-driven, short-form content. It is a good example of an innovative startup that has the right platform and content to meet what consumers are looking for today. Having its U.S. headquarters in Los Angeles helps reassure users about their privacy and security.
Hollywood Talent Is Meeting Technological Know-How
As the pandemic drags on, continuing the shutdown of TV and film shoots as well as live events, it's become clear that Hollywood's future is inextricably tied to technology. We have our eye on startups that combine the work of technologists and creatives to launch innovative brand experiences for pop culture audiences. As a result of the pandemic, consumer expectations have risen and we look for startups that meet these expectations.
Caravan – founded in partnership with Hollywood's Creative Artists Agency – is one such company. The startup studio has a mission of identifying gaps in culture and entertainment, where the company can offer next-generation media experiences. It's tapping into a trend of direct-to-consumer market growth and building on its unique connection to celebrities, including musician Carrie Underwood, who recently launched her Fit52 platform with the company. Keep an eye out for new products from Caravan.
Combining Engaging Entertainment with Easy-to-Use Ecommerce
While online shopping was already a rapidly growing industry, the COVID-19 pandemic has rapidly accelerated the shift from physical stores to ecommerce. Consumers spent $861 billion online with U.S. merchants in 2020, up an incredible 44% year over year, according to Digital Commerce 360 estimates.
Popshop is an innovative platform that works to take advantage of this consumer trend, combining the engaging features of a Triller or TikTok with the easy-to-buy ability from a QVC or the Home Shopping Network. It's one of several such startups in this space, including talkshoplive and WhatNot. What sets PopShop apart is its interactive and easy to use interface that enables its users with unique shopping experiences. Generation Z and millennials are looking for a fun and convenient shopping experience — giving the company an opportunity to grow in the U.S. and abroad.
It's more challenging than ever to predict winners and losers in the entertainment industry. Smart investors should understand today's consumer trends and which startups are in the best position to service market demands. Another key factor to consider is their founders' expertise, connections and passion – since an amazing team is the most likely to succeed despite unpredictable headwinds.
Related Articles Around the Web
It's just a few months into a new year — and you're already overwhelmed with resolutions and ideas you should be working on; but how can your team effectively prioritize projects and test out new ideas?
Here's one best practice, derived from "The Lean Startup" and my 10 years of expertise helping companies scale with product market fit, to help you in your product development or personal growth.
Get on the Same Page about Priorities and Scope
First, make sure you're working toward the same goal. This is one of the biggest challenges companies of all sizes have: teams with seemingly different goals and priorities need to collaborate to deliver a product. Whether you're half of a company working on your product -- or half of a team doing so, here's one way to get alignment that also builds rapport.
Start by having everyone contribute ideas, from most immediate to those pie-in-the-sky outcomes, to the backlog of the company-wide product board. What does success look like for your product in the next 3-6 months? How about for the next 2-3 years? And keep coming back to this step, adding new ideas and evaluating existing ones based on what you'll learn later in this process.
To minimize risk, extend your runway, and identify better directions to take, simplify each brainstormed idea into the smallest first step you can take towards this goal. It should be relatively straightforward to implement (such as a waitlist sign-up page in a Google Form), which will allow you to judge if there's enough demand in the market before it's fully built. We'll call this simplified solution the minimum viable test (MVT).
When everything is high priority, nothing is. One way to select the most viable, simplified idea is to quantify: (1) how much easier other ideas on the list become once this one is complete, (2) the potential profit/mission impact of the change, (3) the effort it would take to test it, and (4) the data required to see if it worked. (Considering the impact of a project indirectly accounts for wide customer reach. Why? If you don't solve the actual customer pain point and create value for your customers, they'll stop using your product.)
One rule of thumb to prioritize ideas is: sorting by those with the largest impact, then by smallest time to deliverable and most data availability, breaking ties by picking ideas that will make other goals easier to accomplish. The first item in the sorted list is your MVT -- and now everyone's on the same page that this is the direction you're going in next.
Agree on What Success Looks Like
This is the second biggest challenge: teams with different ideas on what the outcomes look like.
You and your team are on the same page about your goal and you know what you're testing; now you need to know who'll lead development, and who the key stakeholders are — the ones using this idea to actually create the impact. Work with them on what the test will actually look like once it's built (including inputs, outputs and technical details), how the outputs will be used to make the impact, and how you'll measure it -- to help you decide whether the idea is actually worth pursuing.
The success criteria should be based on: (1) how long you want the test to run, (2) what metric(s) can best summarize what you're looking for and what happened, (3) what the baseline currently is, and (4) what the metric should look like at the end of the experiment.
Build a Test with Clearly Defined Goals
You decided what your MVT looks like and now you get to create it.
Once the MVT is built, share it with a small number of customers to see what is and isn't working by checking your metrics every day, for the duration of the experiment. This makes it more manageable to do damage control when things don't work exactly as expected and catch any customer frustrations early. If you skip this step and something's not working, you won't know about it, your stakeholders may be blindsighted, and customers will go elsewhere.
Let Your Test Decide Next Steps
Now that the experiment is over, take 5-15 minutes to do a post-mortem on the process and results, discussing: what worked, what didn't work and what you'd do differently next time.
Here's a quick flowchart to help you decide what to do next: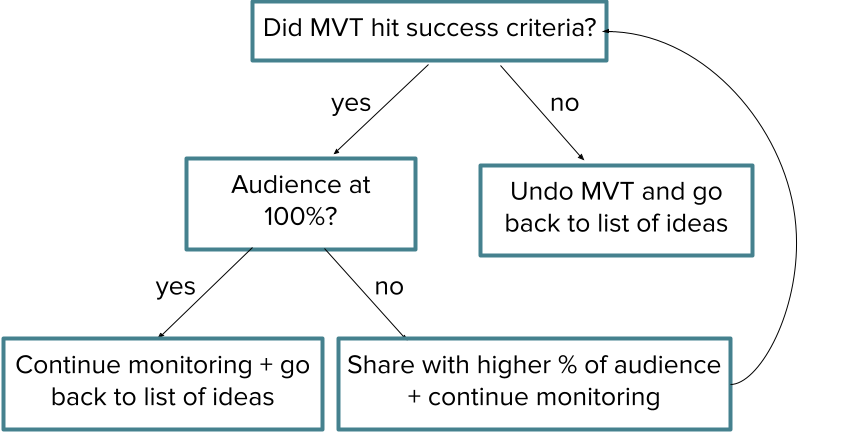 You designed the MVT with clearly defined goals. Did you meet or exceed them in the time frame projected? If yes, then go ahead and share the MVT with more customers, monitoring metrics and responding to customer requests, as before. Share the MVT with more and more of your customers, as it continues to meet expectations — until it reaches 100% of your customers. Continue monitoring and responding to requests, as before. Once your MVT reaches 100%, it's time to get on the same page about scope and priorities for the next MVT, whether that's the next iteration of this idea -- or the first iteration of a new one.

More often than not however, the MVT won't meet the metrics specified in the time frame expected. I've found that the most common reasons tend to be: ambitious metrics, ambiguous customer value, changes in customer preferences, or errors in implementation (of MVT, its dependencies, or metric computations). A post-mortem will help you do better next time, as you and your team go back to prioritize and scope down the next iteration of this cycle.
As you go through this cycle, you'll find that different steps take longer to complete than others; some may feel as if you're stuck there forever. It's all part of the process. Skipping steps can end up with the cycle taking longer, creating more customer frustration, and missing revenue projections.
Here are two examples that walk you through how to apply this framework to:
Now you have a framework to help prioritize your ideas, align your team, minimize business risk and (hopefully) feel less overwhelmed. What idea will you test out next?
Additional Resources
Consider an Opportunity Solution Tree for continuous product discovery
You can incorporate this cycle into your product market fit journey. Here's a slide deck and recording on my talk guiding you through how to think about, benchmark and improve your product market fit.
From Your Site Articles
Related Articles Around the Web