nipsey hussle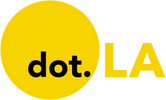 Get in the KNOW
on LA Startups & Tech
X
nipsey hussle
South L.A. has long produced arts and cultural icons and influencers — from actress and producer Issa Rae to two-time NBA All Star Baron Davis. It's now also home to an emerging network of founders and a recent wave of investment. But is it Los Angeles' next tech hub? Much will depend on access to capital, infrastructure and a shift in how it's perceived. That's the takeaway from Wednesday's dot.LA's strategy session, "Is South LA the next tech hub?" with Mirror Digital CEO Shelia Marmon, PLLAY Labs, Inc. CEO & co-founder Shawn Gunn and America on Tech founder and CEO Jessica Santana.
"We have to have a place to tell our own stories and define our own narratives, and that is so important," said Marmon, who grew up in South LA and was at the early network meetups in Leimert Park where the seed for Plug In South L.A. were sown. The group provides a network for founders.
Building those networks are key for Black and Latino entrepreneurs who have historically been excluded from the largely white, male tech and venture capital circles, making it more difficult to raise money and get ideas off the ground.
Just 1% of venture-backed founders were Black in 2018, according to a study led by Silicon Valley Bank. Another survey by the National Venture Capital Association and Deloitte found on 3% of investment partners are Latino and another 3% Black.
South Los Angeles is largely Black and Latino and has a long history of segregation and poverty. The South LA region spans 28 communities and 50 square miles, bordered by the Alameda Corridor, Imperial Highway, Baldwin Hills and Interstate 10.
"It's easy to tell a young person, 'Oh, just go to Santa Monica and go to this conference or, you know, go somewhere like that.'" said Gunn, who has founded several companies and recently raised $3 million for PLLAY, a game wagering platform. "You're not always felt welcome there, right? Or you have all your defenses up. So when you see people, men and women that kind of look like you, and are potentially going down a path that you want to go down...That means a lot."
Like a lot of founders of color, Gunn said, the task felt nearly impossible and he looked outside traditional venture capital firms for funds. In Los Angeles, where Hollywood, sports and tech collide, there's opportunity.
"There are high-net worth individuals that are starting to open up to the concept of becoming early-stage investors," he said.
To his point, Rae and Davis are both investors. The slain rapper Nipsey Hussle was also working on real estate investments in the region when he was killed. Gunn said there's also crowdsourcing and accelerators.

Grid110, a nonprofit that runs an accelerator focused on minority founders, this year created its first South LA cohort.
Jessica Santana, who trains youth in South Los Angeles schools, said that these options help but the narrative must also be changed.
"Generational poverty has obviously taken a toll on the way that (the youth) seek opportunities in their own communities," she said. "What we do is helping young people reimagine the way that they see technology in the first place, so that they can see themselves as creators of it and not just the ones who, you know, are on the platform."
Now she said, she'd like to see more people opening the doors to hiring and writing checks.
For more, watch the video.
This event is in partnership with Plug In South LA & Urban Tech Connect // Forward 2020.

Strategy Session: Is South L.A. the Next Tech Hub? www.youtube.com
Speakers
Sheila Marmon, Founder & CEO of Mirror Digital
Sheila Marmon, Founder & CEO of Mirror Digital 
​
Sheila Marmon has a passion for the launch and operation of new businesses in the digital media industry and has created innovative platforms for over 20 years. As founder + CEO of Mirror Digital, an interactive media and advertising company, she helps Fortune 500 brands tap into the fastest growing U.S. consumer base - the multicultural market. Sheila has executed over 450 digital campaigns in this space for clients including AT&T, Clinique, Disney, Ford, General Motors, Intel, Macy's, Netflix, Procter & Gamble, Universal Pictures and other leading brands and advertising agencies.
Sheila has been featured in leading publications including the Financial Times, and Media Post; she was also profiled in a cover story for Minority Business Entrepreneur Magazine. She serves on the Boards of The American Advertising Federation, A Better Chance, and Cate School and she is also a founding member of the Council of Urban Professionals. Sheila has received The Network Journal "Forty Under 40" Outstanding Achievement Award, the Code Breaker Award from Digital Diversity Network, and has been named a Catalyst in Media & Entertainment by the Council of Urban Professionals.​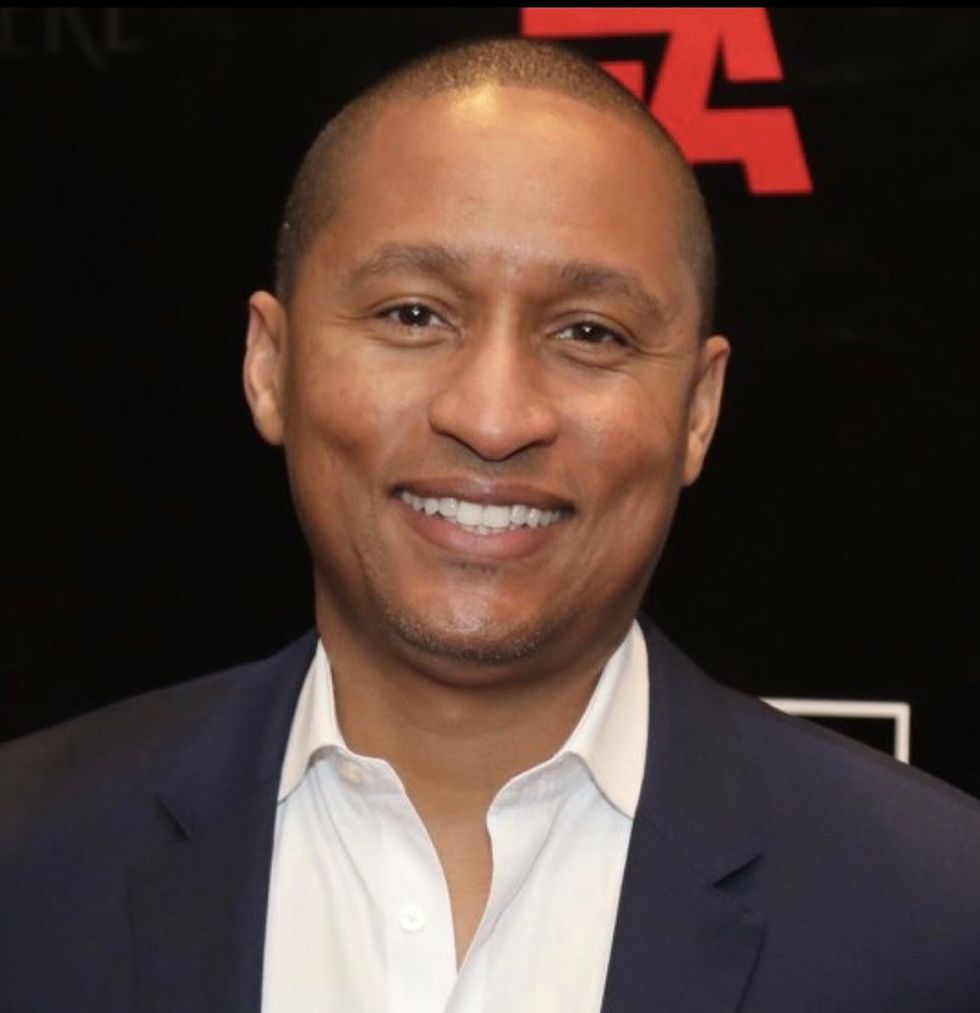 Shawn Gunn, CEO & Co-Founder at PLLAY Labs, Inc.
Shawn Gunn, CEO & Co-Founder at PLLAY Labs, Inc.
Shawn Gunn has successfully exited from five technologies companies during his career as an executive, investor and entrepreneur. Today, he is co-founder and CEO of PLLAY Labs, an artificial intelligence-driven behavioral data and wagering platform focused on the broader video gaming industry, and former founder and CEO of Persona, a personal data security and monetization platform.
Jessica Santana, Founder & CEO of America on Tech
Jessica Santana, Founder & CEO of America on Tech
In 2014, Jessica co-founded America On Tech (AOT) which is an organization that creates pathways for students into degrees and careers in tech. Their work has been featured in major media outlets such as Forbes, CNN, Wells Fargo, Sirius XM Radio, Huffington Post, TechCrunch, BET, Black Enterprise, AlleyWatch and The Network Journal. AOT has offices in NY and L.A.
She has presented and spoken to over 100+ different audiences that include SXSW Edu, TechCrunch, Google for Entrepreneurs, White House, Thomson Reuters and Bloomberg. Her commitment to philanthropy and community engagement is evidenced by her world travels and work in parts of Europe, China and South America to work with nonprofits, private companies and social enterprises that better local communities and economies. She is a board member or PowerMyLearning and the Office of Multicultural Advancement at Syracuse University. She graduated with undergraduate and graduate degrees in accounting and information technology from Syracuse University.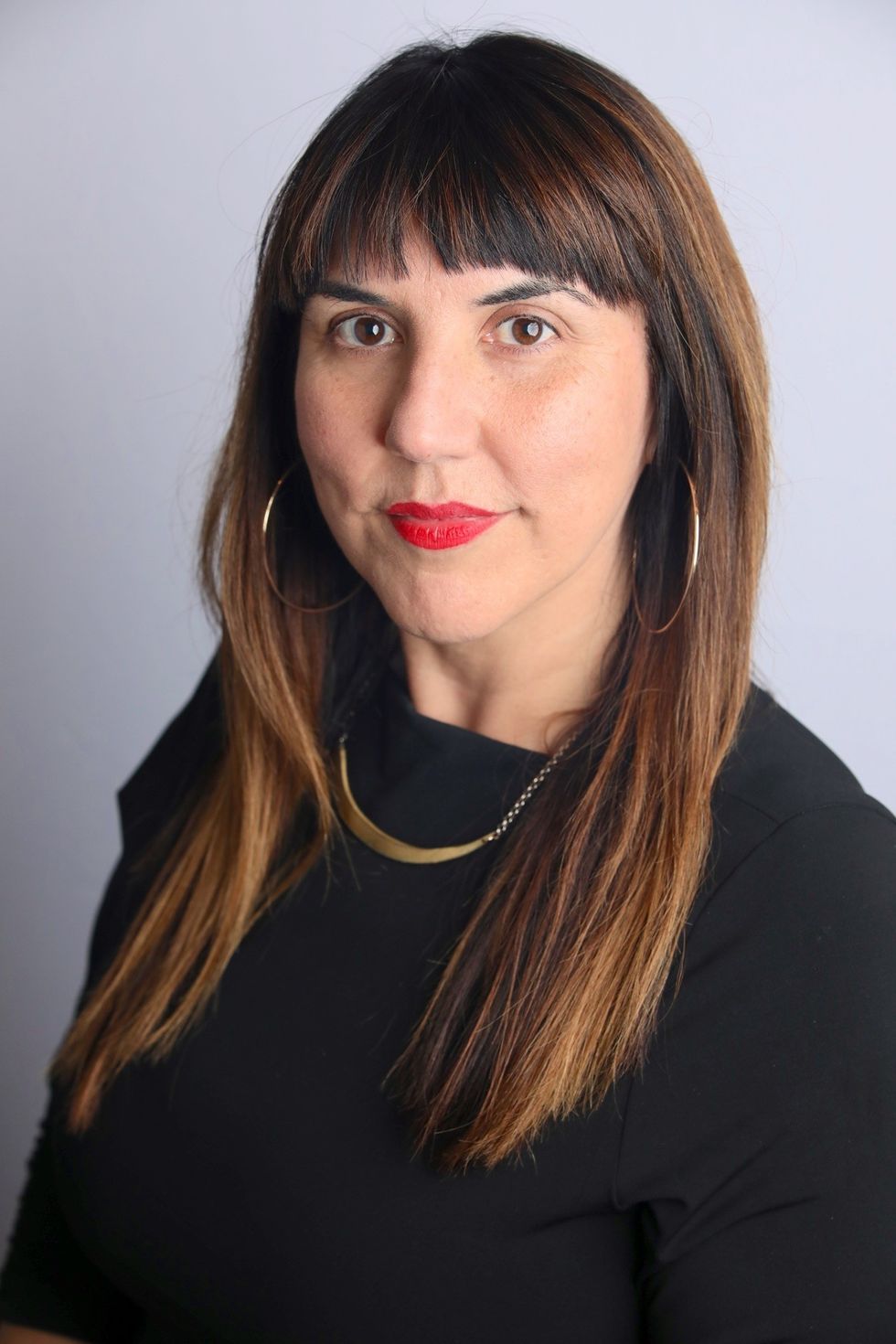 Rachel Uranga, Reporter at dot.LA
Rachel Uranga, Reporter at dot.LA
Rachel Uranga covers the intersection of business, technology and culture. She is a former Mexico-based market correspondent at Reuters and has worked for several Southern California news outlets, including the Los Angeles Business Journal and the Los Angeles Daily News. She has covered everything from IPOs to immigration. Uranga is a graduate of the Columbia School of Journalism and California State University Northridge. A Los Angeles native, she lives with her husband, son and their felines.
"I am Black ambition, I am always whisperin'," begins the new Pharrell Williams and Jay-Z collaboration, "Entrepreneur."
The song, released on Thursday to coincide with a Time magazine cover package on "The New American Revolution," is a tribute to the Black entrepreneurs across the world who push on in the face of systematic disadvantages.
Williams and Jay-Z, both entrepreneurs and investors themselves, use the video to highlight Black founders and their hustle from Adé Neff, owner of Ride On in Leimert Park, to Denise Woodward, the founder of Partake Food, which Jay-Z's Marcy Venture Partners help lead a $1 million investment.
"They keep telling me I will not," the lyrics continue. "But my will won't listen."
Directed by L.A.-based Calmatic, who produced Lil Nas X's "Old Town Road" video as well as commercials for companies like Uber and Sprite, the video spotlights several Los Angeles startups, founders and entrepreneurs that have created opportunities and upended typical media narratives of Black men and women.
There's actress Issa Rae, who filmed her first web series on the streets of L.A. and is "literally building her empire on those same blocks."
There's Debbie Allen, the founder of Tribe Midwifery that provides home births for Black women, who are more likely than white women to die of pregnancy-related complications. There's the Compton Cowboys, whose South L.A. group mentors youth and rescues horses. There's Six Sev, a Los Angeles artist, designer and entrepreneur. And there's also a tribute to slain rapper and entrepreneur Nipsey Hussle, who spent his investment dollars in South Los Angeles.
Then there's Sole Folks, the South L.A. retail incubator for young designers, part of accelerator Grid110's South L.A. 2020 cohort. The outfit offers a program for young designers and artists in nearby communities and operates under the nonprofit Back Owned and Operated Community Land Trust. It runs a 12-week program for millennial entrepreneurs to source, brand and launch their own designs at pop-up shows.
The music video comes amid a push to create more capital for Black-owned businesses in the wake of the George Floyd protests that forced a conversation on longstanding inequities.
Black Americans make up nearly 13% of the U.S. population, but account for only 3% of its wealth. There are only three Black CEOs in the Fortune 500, and just 1% of venture-funded startup founders are Black.
The song and its chorus, "Black Man, Black Man," is a call for more ownership and in turn more wealth creation.
The over five-minute video gives a panorama view of Black entrepreneurs around the world and those who excel in their field with captioned clips of their stories: Princeton's first Black valedictorian, creators of the first Black anime studio in Japan, a woman who started her own line of household cleaning products and a Broadway star who bought the plantation where his ancestors were once enslaved.

Adé Neff, whose bike shop Ride On opened in 2017, walked by the "Entrepreneur" filming crew two weeks ago, right after they finished shooting the clip of Sole Folks next door.
"How come I'm not in the video?," he said to the crew.
That's all it took.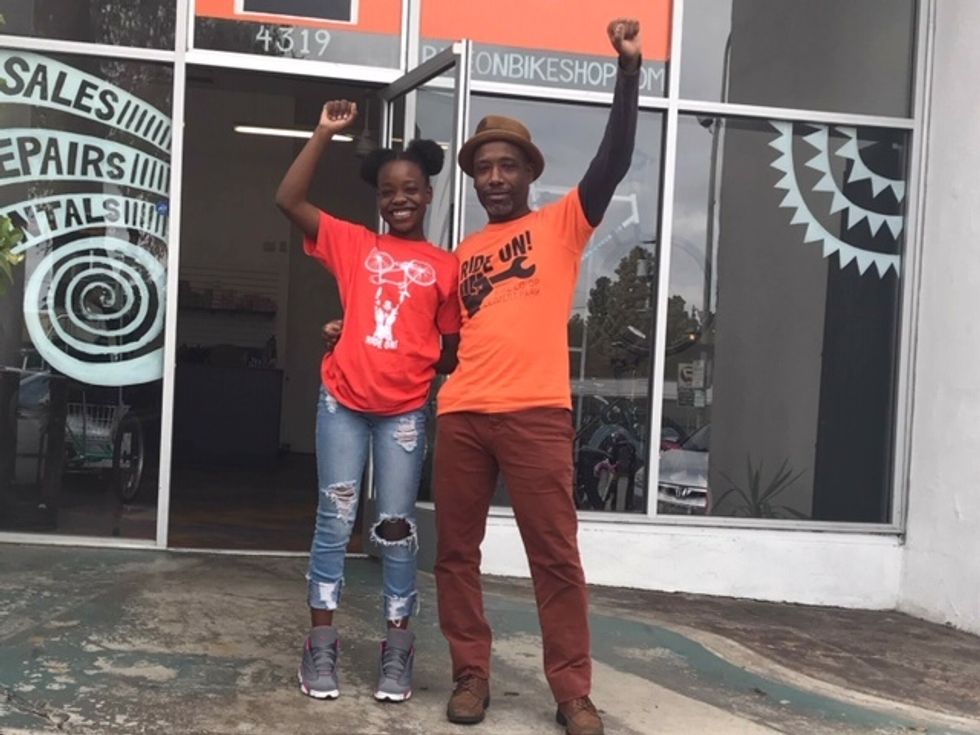 Adé E. Neff, founder of Ride On! Bike Shop/Co-Op in Leimert Park.
"Well you're right, let's do it," they told him. "It was right on time," Neff reflected, "because they hadn't put away their equipment."

Neff didn't know whose project it was, or even when the video would be released. He asked anyway. "A closed mouth doesn't get fed," he quipped. The whole thing took about 10 minutes.
On Thursday, a friend sent Neff the clip. In the video, he raises his right fist above his head just like the store's logo behind him. "I was just being me," he told dot.LA. The gesture is a nod to the Black Power movement.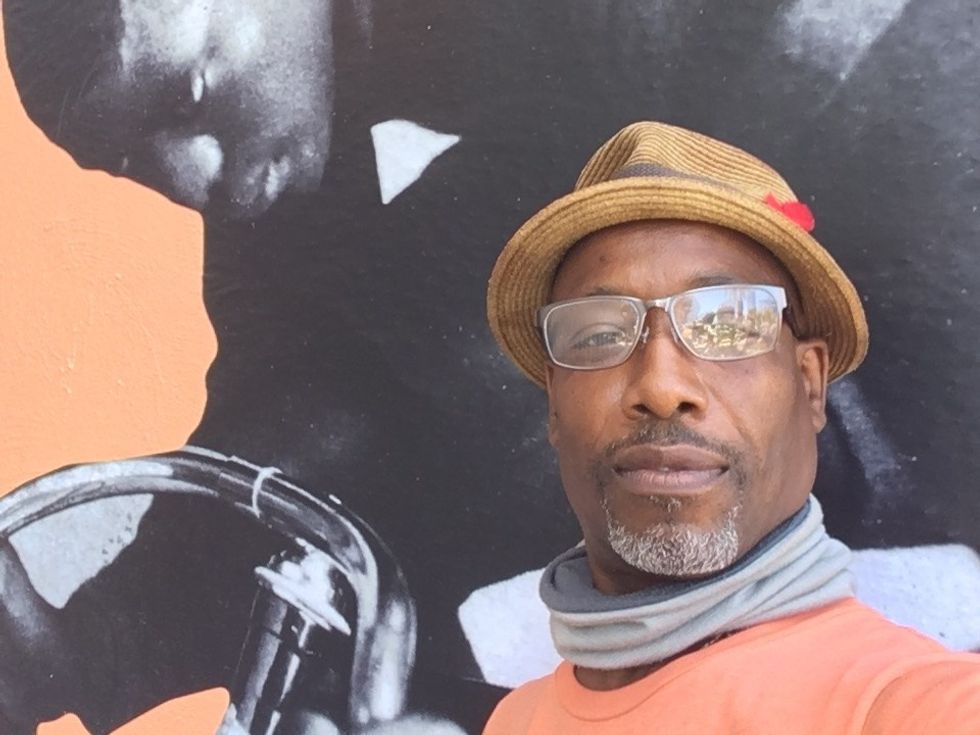 Adé E. Neff, founder of Ride On! Bike Shop/Co-Op in Leimert Park.
His friends are still texting him about it. In Leimert Park, people who know Neff's shop stop him on the street saying "I saw you in the video."

"It looks like it's getting a lot of talk behind it. It's doing its thing," Neff said. "It's letting people know that we're out here, we're doing stuff. We don't have to wait for anyone to come to us. We're out here doing it."
From Your Site Articles
Related Articles Around the Web