hyperloop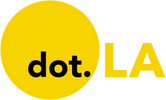 Get in the KNOW
on LA Startups & Tech
X
hyperloop
Forty-five minutes in traffic won't get you very far in Los Angeles. But Virgin Hyperloop estimates it will be able to get you from Los Angeles to San Francisco in that time.
The Richard Branson-owned company unveiled its hyperloop concept video Wednesday, just two months after the company's first tested its design with passengers. Traveling several hundred miles per hour in a pressurized tube is no longer a vision of the far-distant future — Virgin Hyperloop engineers want to make it a reality in less than 10 years.
These renderings put it yet another step ahead of The Boring Company, led by Elon Musk, who published his "alpha paper" plans for hyperloop travel in 2013.

Virgin Hyperloop plans to achieve safety certification by 2025 and begin commercial operations in 2030.
"Daily high-speed transport is currently not feasible for most people, but we want to change that notion," said Virgin Hyperloop chief executive Jay Walder in a statement. "Imagine being able to commute between cities that are currently hours apart in minutes – and the endless possibilities that open up."
Virgin Hyperloop Passenger Experience
The almost three-minute video opens with a rendering of the station, a bustling transit center filled with natural light and complemented with indoor and outdoor greenery, a nod at the more efficient and eco-friendly transportation form hyperloop could be. A Mid-Ohio Regional Planning Commission (MORPC) study last year found that a hyperloop connection between Columbus, Chicago and Pittsburgh could reduce carbon dioxide emission by 2.4 million tons. It suggested making fares closer to the cost of driving than to a pricier plane ticket.

Walder said an affordable ticket would be key to making the concept a success. Virgin Hyperloop estimates its system would be able to transport thousands of passengers per hour by convoying them, as pods are able to ride directly behind each other in the hyperloop, magnetically suspended from touching each other and controlled by the company's machine intelligence software.
The Los Angeles-based company worked with several partners to design disparate aspects of the transportation experience. The video's white-walled portal to enter the pod were designed by Bjarke Ingels Group (BIG) and the pods themselves were designed by Teague.
SeeThree worked on the video and animations and Man Made Music provided the score and sonic identity — the additional sound assets in the film that audiences will associate with the hyperloop.
From Your Site Articles
Related Articles Around the Web
A new type of high-speed mass transit that envisions enabling daily commutes from, say, San Francisco or Las Vegas to Los Angeles in under an hour has moved one crucial step closer to reality.
On Thursday, the U.S. Department of Transportation released a guidance document that provides a clear pathway for hyperloop regulation and deployment in the United States. The document was developed by the Non-Traditional and Emerging Transportation Technology Council, which was created last year to explore this issue.
L.A.-based Virgin Hyperloop, which has raised more than $400 million led by DP World and is also backed by Virgin Group, hailed the step. It hopes hyperloop technology will lead the world into 21st century transportation. The company said it has worked closely with the NETT Council since its creation.
"It takes strong vision to break away from the inertia of the status quo and embrace these opportunities," said Sir Richard Branson, founder of Virgin Group. He said the announcement lays the groundwork for the U.S. to take that leadership.
Transportation Secretary Elaine Chao said that the guidance "bridges the gap between innovator and regulator" and "prioritizes safety during development without hampering innovation."
Hyperloop technology relies on electric propulsion and electromagnetic levitation in a tube at near-vacuum conditions so that a vehicle carrying cargo or commuters can travel along major roadways at rates approaching 700 mpg to the "metro stops" of connecting cities.
The U.S. Department of Transportation also said Thursday that it determined hyperloop projects are eligible for federal funding, including some of its loan and lending projects, just as any maglev or magnetic levitation project is.
The NETT Council, which was appropriated $2 million to study emerging cross-modal transportation technologies like hyperloop, is expected to provide a report to Congress by December 20. The research includes looking for opportunities for regulatory relief from existing rules created for traditional transportation methods, which may not be applicable to certain emerging transportation technologies.
"It's clear that the USDOT shares our vision for infrastructure development as a way for the country to not just rebuild, but evolve as we emerge from this crisis," said Jay Walder, CEO of Virgin Hyperloop, in a statement.
Last month, Virgin Hyperloop announced a partnership with Spirit AeroSystems, an aerospace manufacturer, to produce the hyperloop bogie.
__
Do you have a story that needs to be told? My DMs are open on Twitter @latams. You can also email me at tami(at)dot.la, or ask for my contact on Signal, for more secure and private communications.
From Your Site Articles
Related Articles Around the Web
A senior SBA official told dot.LA that if the lender did not cancel the loan after it was returned, the loan status may not be fully canceled and it would appear in the data. However, Bird said it never returned the loan because it never applied in the first place.
"We did not apply for nor did we receive a PPP Loan," the company said. "We decided as a company not to file an application as we did not want to divert critical funding from small and local businesses."

Bird's founder and CEO, Travis VanderZanden, elaborated on what happened in a tweet Monday afternoon referring to the company's lender; "It looks like Citi started an application while they waited for our decision on whether to formally apply. We discussed internally and told Citi we didn't want to apply via email on April 23rd. They confirmed that the temp app was cancelled that evening and never submitted."'
It looks like Citi started an application while they waited for our decision on whether to formally apply. We disc… https://t.co/K0QLWt1qwx

— Travis VanderZanden (@Travis VanderZanden) 1594064013
Hyperloop and Canoo also on the list

Other local companies included in the PPP database included Culver City-based Hyperloop Transportation Technologies, which received a loan in the range of $150,000 to $350,000 to retain 15 jobs and the Torrance electric maker, Canoo, which got a loan just last week of between $5-$10 million to save an undisclosed number of jobs. (dot.LA also received PPP funds of less than $150,000.)
Canoo has raised a billion dollars in venture funding, according to Pitchbook data, and some of have been critical of deep-pocketed venture backed startups taking money from the program.
"There is a money grab going on right now by some venture-backed startups that this program absolutely should exclude," wrote Albert Wenger, a partner at Union Square Ventures (USV), a New York-based early stage VC firm focused on investing in disruptive networks in April. "I urge everyone who is running a venture backed company with a lot of money in the bank and limited COVID-19 impact to think twice about applying for PPP."
Companies such as Sweetgreen and Shake Shack decided to return their loans in April after being criticized for depleting funds from a program meant to help small businesses.
But far from running out of money the PPP program still has some $130 billion left in the bank and on July 4, President Trump signed legislation extending the deadline to apply until August 8, 2020.
From Your Site Articles
Related Articles Around the Web