coronavirus tests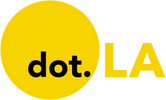 Get in the KNOW
on LA Startups & Tech
X
coronavirus tests
Fred Turner, the 25-year-old founder of Curative Inc., is the man behind L.A.'s push to bring universal testing to the region. But, he has bigger plans.
Turner, an Oxford dropout, just landed a deal with the Air Force to test military worldwide and he's now eyeing national expansion for his startup. By the end of this month, the company he started months ago is expected to pump out more than a million test kits a week.
"We are a strange company because our goal is to essentially put ourselves out of business," Turner said.
Turner, who was named UK Young Engineer of the Year at age 17 when he built a DNA machine from his bedroom to figure out why his brother had red hair and he had brown hair, turned his focus to coronavirus in January. He upended his life as head of Shield Bio, which sought to eliminate sepsis, and moved to Southern California after a local venture capitalist connected him with a lab that he could build out for COVID-19 testing.
Curative Inc. was born.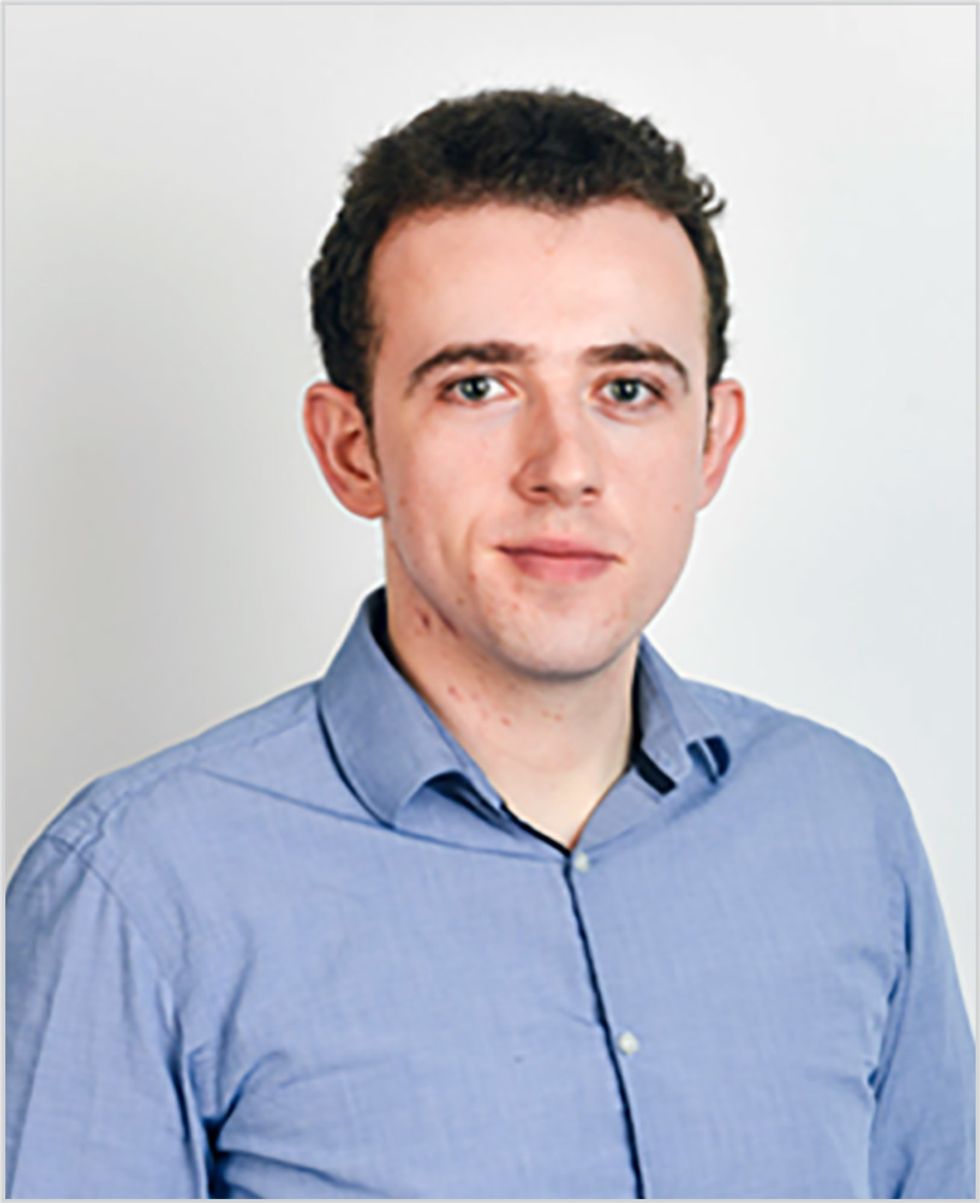 Curative, Inc. Founder Fred Turner is the man behind L.A.'s push to bring universal testing to the region.
For weeks he lived in hotels as he created what has become the backbone of testing in America's second largest city. The company, one of the few saliva-based tests that have gotten emergency approvals from the FDA, has a 10% false negative rate, according to their own non-peer reviewed studies. Turner argues the rate is better than most of the nasal swab testing out there and oral tests, which can be self-administered, are the only way the country can reopen quickly.
He is now operating two labs, one in San Dimas another in Washington D.C., with plans for several more across the nation. Meanwhile, the rest of the country is watching to see if Los Angeles' promise of universal testing meets the expectations with some already complaining about the difficulty of securing an appointment.
dot.LA: Curative is responsible for 95% of Los Angeles COVID-19 tests. Can you meet the demand for universal testing?

Curative, Inc. Founder Fred Turner: We will be able to fulfill demand. There's more infrastructure that needs to be put in place. With the collection site, the mayor's office has been working hard to scale those up and make sure that the collection site infrastructure is in place. On the lab side, we definitely have enough capacity to serve the area.
In (the San Dimas) lab we have capacity for about 20,000 per day. We're going to be scaling this lab up to 30,000 over the next week or so, eventually, probably slightly more than that.
Ultimately, the goal is to do as many tests as we need to reopen the country and I think we've had many different estimates of how many that might be. I've heard estimates (that it will take) as high as five million tests a day to reopen, but the current supply chain is nowhere near going to be able to keep up with that. The next goal we are shooting for is a million tests a week by about mid-May, end of May.
If we're testing more people will that strain the turnaround time? Right now, I understand it's about 24 to 72 hours. Can you take it down to several hours or even minutes?
We are always aiming to push it down. I think it can be pushed under 24 hours, but we tend to focus more on scaling it up at that point. I think 24 hours is around optimal as you bring on more capacity. We're obviously being careful to match the capacity coming into the lab against the turnaround.
Curative is one of the few companies that the FDA has provided emergency approval for use of a saliva test. Do you think this is the answer to universal testing nationally?
Oral fluids is the technical term, which is slightly different from saliva. Our protocol involves having the person cough first, which releases virus from the upper and lower respiratory tract. Some of that is then caught in the saliva, and also viruses in the saliva. The idea is you're effectively sampling multiple sites at once, which we think gives a slight increase in the sensitivity of the testing.
Self-collected sampling has got to be the way forward. There's just no way that we can do a million nasal pharyngeal swabs, or we call them 'brain swabs,' it's just not practical. We don't have the medical staff, and as a country we just can't do that many swabs. And so the way forward is going to be self collection. That's the only thing we can do at scale.
Covid-19 Oral Fluid Test Kit Instructions www.youtube.com
Curative recently secured a contract with the Department of Defense. What's next?

We haven't settled on the exact number, but we will be in a large number of states. That is the plan, building out the infrastructure for this kind of testing. We can take the L.A. model and scale it across the country. We have a version of the drive-thru software that other cities and states can take. We have all the training material. We have a team that fly around the country setting up these drive-thru sites. We have really tried to make a plug-and-play package where cities and states that want to launch drive-thru testing, we have everything they need.
Is Los Angeles a testing ground and a proving ground for national efforts?
Yeah, I think Mayor Garcetti has definitely demonstrated what can be done if the city moves very quickly to build out the infrastructure, I do think the drive-thru testing, walk through testing is going to be an essential component of this.
It's just much faster to get the samples to the lab than shipping it out and then shipping it back again. The infrastructure piece is critical for getting these tests out there and we're working with several other states now on building out a similar infrastructure. Some of them have existing programs that we would be plugging into and expanding, and some of them are looking to roll out their own similar programs. You can test a lot more people with the oral tests with far fewer staff.
What are the challenges with the supply chain in terms of making your tests more widely available?
We need more plastic, more robots, more people. Most of the components that go into these tests are just already maxed out in their production capacity. And so we've been throwing online a bunch of internal production, such as injection molding to make our swab kit tubes, as well as bringing on other sources of similar materials that are not being used for COVID-19 testing and validating them for COVID. So for the swabs, for example, we use a swab type that is usually used for testing clean rooms. It works just as well for COVID testing, but nobody else is using it for that purpose.
We don't want to be competing with other people, stopping them from getting access to resources. We want to bring on new supply so it's not a zero- sum game, and the total amount of tests will increase. But, I think distribution is going to be a bigger bottleneck over the next month. Los Angeles has done a fantastic job in building out infrastructure and collection. That needs to happen now across the whole country.
What would it take to meet national demand?
It would take a network of multiple labs that we are calling gigalabs that can process 50,000 to 100,000 tests a day across the country and a significant scale up in the production of the physical components that go into the tests. We've been investigating lab sites in a few states, something central like Texas or Colorado.
Are you concerned that you have too high of a false negative rate at 10%?
All COVID tests will have false negative rates. In our studies, we demonstrated that the sensitivity is at least as good if not better than the nasal pharyngeal swab tests. So, there will definitely be false negatives as there will be in every test, but we think the data supports us having a low rate of false negatives. The sensitivity is about 90%.
When you include all patients, the nasal pharyngeal came in at about 79%. A new (non-peer reviewed) Yale study shows a higher sensitivity from saliva and all fluids than the nasal pharyngeal. I don't think we have the evidence to say that we're better yet, but we have the evidence to say that we're at least equivalent. The ease of doing oral tests and the accessibility is obviously significantly better. We're not using PPE. We're not exposing healthcare workers. It's just a much easier test to roll out that people can test themselves.
File:Florida National Guard (49677710741).jpg - Wikimedia Commons upload.wikimedia.org
At one point, Curative was attempting to roll out at-home testing and then had to pull back after FDA warnings. Will you be making home testing kits again?

I can't give a time estimate but we are actively working with the FDA right now. I think their concern is "can people adequately collect the sample, or will they do it wrong, and then get a negative test result," which is incorrect. Our plan is to use telemedicine observation. What we've seen in our clinical studies is that if you give people the chance to do it wrong, they will do it wrong. In fact when you have somebody observing, they read the instructions better and they collect a better sample. We're still working on the pricing and potentially looking at whether there is federal or state reimbursement for some of that testing and the potential of billing insurance.
Tracing technology has been promising. Do you have any plans to tie tests to these applications to testing?
We've had several conversations with contact tracing apps and we continue to work in collaboration with public health departments in their contract tracing efforts. Having the test is obviously one thing, but you have to use the information to actually stem the tide of COVID infection. And so, it is an essential step in working closely with various people.
I do like the app-based models where you obviously want to maintain people's privacy, but having people opt-in to share their location history if they test positive so you can contact nearby people.
What does Curative do once there's a vaccine? Are you obsolete?
The U.S. needs to maintain some kind of spare capacity so that next time we are not having to build all of this during a pandemic. But we are a strange company because our goal is to essentially put ourselves out of business. Ultimately, and I say this to everyone we hire, we don't know how long this will go on for. We want to provide as many tests as needed, but the goal is to end COVID and not be doing COVID testing anymore.
Curative took off in March when you arrived in Los Angeles from Silicon Valley, how has the journey been for you personally?
I don't have very much free time, but it's been a lot of fun to be able to work at this pace and have the support of people like the city, the mayor's office to really just do what is needed to scale this up. When we work with suppliers, and we say we're doing COVID testing, they just move heaven and earth to make things happen. It's been really inspiring to be a part of that push forward.
We are just pushing as hard as we can to scale up as fast as we possibly can and bring on as much testing as we can. The city opening up testing to everybody is kind of a culmination of that. We're making about 50,000 kits a day right now and we want to make that as widely available as we can. I would like to get a little more sleep.
The interview has been edited for clarity and brevity.
Correction: An earlier version of this story stated that Curative's saliva tests have a 10% false positive rate. In actuality, the tests have a 10% false negative rate.
Do you have a story that needs to be told? My DMs are open on Twitter @racheluranga. You can also email me.
Courtesy of MiraDx
As the states of California, Oregon and Washington begin strategizing on their regional plan to re-open their economies and control the future spread of COVID-19, a crucial question remains: How can businesses ensure their employees remain virus-free now and in the future?

For the thousands of western U.S. businesses seeking to safely bring their employees back to work, and tens of thousands of residents who desperately want and need to return to their jobs, a robust supply of COVID-19 tests, coupled with a systematic COVID-19 testing strategy supported by evidence-based guidelines will be key to success.
To date, the country has faced testing shortages, confusion about the various testing types, and lack of clarity around who should or can have access to tests. However, that does not mean we can't course-correct by thoughtfully laying the necessary roadmap for more transparent and effective testing guidelines as we look to reopen our economy.
The first step is a clear understanding of the current testing options available. The two predominant tests on the market are viral tests and serum antibody tests:
Viral, or PCR, tests determine if an individual currently has COVID-19 by testing for the virus itself through a swab of the nose or throat. These tests indicate whether the person is contagious to others, even if they are asymptomatic. Viral tests are complex and can require at least 24 hours to perform and report. The PCR test is considered the gold standard given its 90%+ accuracy rate and ability to detect even low levels of virus.
Antibody tests determine whether an individual has been infected with the virus and has developed an immune response (antibodies) against the virus. Antibody tests use a blood sample and can be processed relatively quickly, yet they will not identify people with an early infection, nor can they tell whether an individual is no longer shedding the virus and therefore *no longer contagious.
Both types of tests can be delivered as laboratory tests or point-of-care (POC) tests, the latter having the goal of quick turn-around and broad community delivery. However, none of the companies marketing POC tests have published accuracy data based on patient testing yet.
So where does that leave businesses looking to get their workforce back up and running? Businesses must establish protocols for appropriate testing of employees to confirm that they are virus-free before returning to work. Taking someone's temperature is NOT a valid proxy for determining whether an individual is "healthy" nor is an antibody test alone. Instead, we need to develop a clear decision tree that includes the two different types of testing.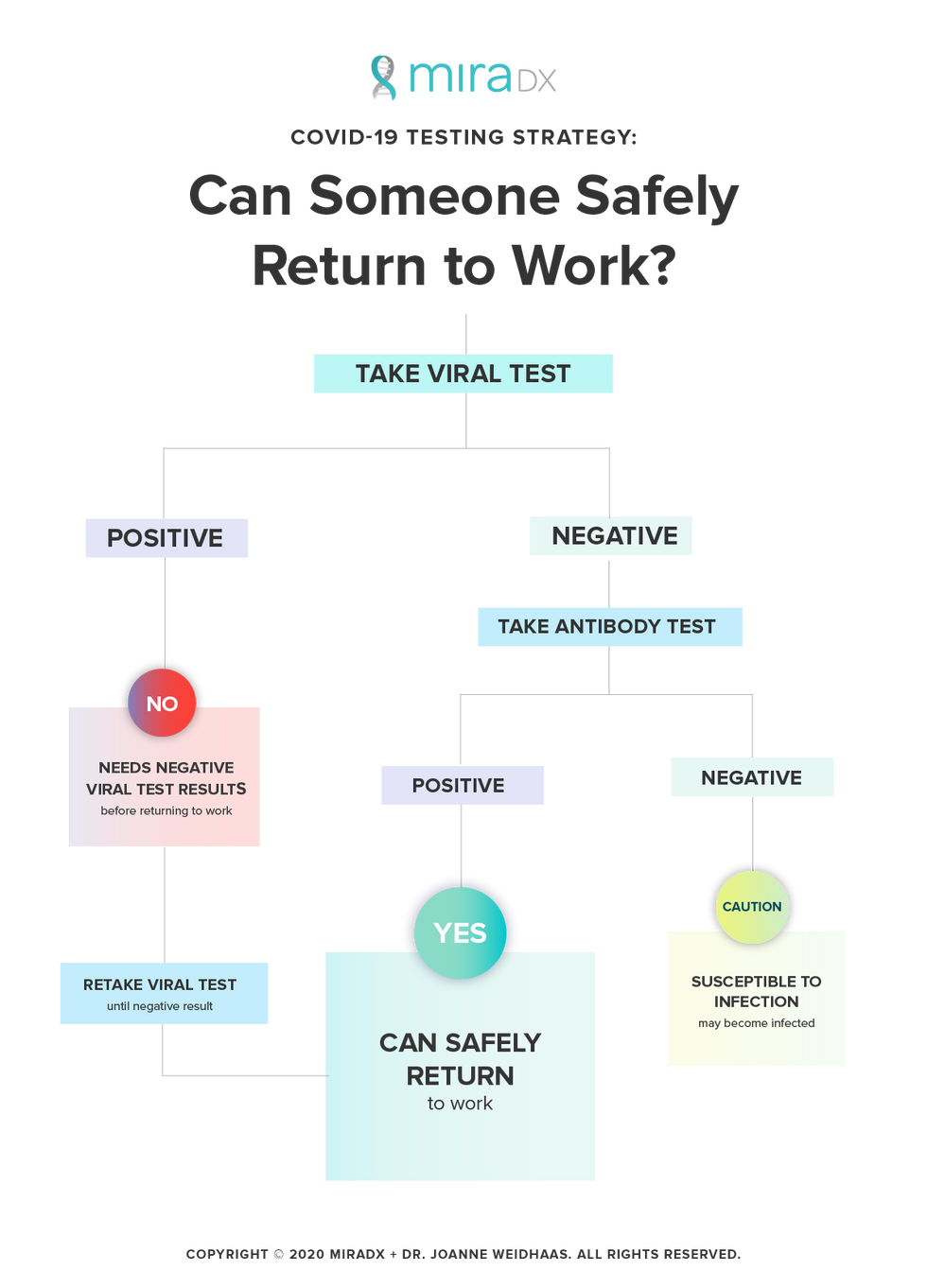 Photo courtesy of Joanne Weidhaas
Companies should institute a multi-step COVID-19 testing protocol:
1) Any person who previously tested positive must receive a negative viral clearance test before returning to work.
2) Any person who has no confirmation of prior infection should receive a viral test first. If they are positive for the virus, they must be retested until they receive a negative result. If they are negative for the virus, they should then have an antibody test to determine whether they were previously infected.
If negative for virus and positive on the antibody test, they can also safely return to work. If negative for the virus and negative on the antibody test, they should know they are susceptible to infection if they return to work.
For those who are still susceptible, one option is to allow them back to work, but develop a prospective viral screening protocol. These screening tests could be on a volunteer and rotating basis through the workforce, with perhaps 10%-20% being tested each week. Anyone with symptoms also should be sent home and receive immediate viral testing.
The federal government should be taking action to coordinate testing supply, help direct it to the highest priority populations and subsidize the cost of testing. Business leaders should coordinate efforts to establish testing protocols and sharing of testing resources for the workforce that reflect the most current science to ensure that workers can safely return to, and stay at, work.
Viral testing is the only established method to confirm if an individual is virus-free and therefore safe to return to work. At MiraDx, we are conducting PCR testing for COVID-19 and are seeing many individuals continue to be contagious for weeks after their last symptoms. This is significantly longer than the current CDC guidelines that indicate that individuals are "clear" to return to work 72 hours after fevers and symptoms are gone. We are completing a larger study on this issue and will report results soon.

Dr. Joanne Weidhaas, MD, PhD, MSM is the co-founder of Los Angeles-based molecular genetics company MiraDx, the founder of MiraKind.org, and currently a professor and vice-chair in the department of radiation oncology at UCLA.
*This story has been corrected to say that if you are no longer shedding virus, you are no longer contagious. It previously and improperly said the opposite.
When Tarryn Marcus set out to create a comprehensive database of COVID-19 testing centers across the United States, her call for volunteers to help build it drew more than 120 responses. Today, with 35 active volunteers including developers, data scientists, content writers, social media producers, and marketers, she is running Get Tested COVID-19 like a tech startup.
Marcus grew up in Washington, attended the University of Washington and worked for a few startups, including most recently at the AR/VR company Pixvana as director of demand generation.

She started the testing database in March with her partner, Zach Boldyga, who runs a healthcare software company called Scalabull, a network that provides connections between clinical labs and doctors across the U.S. He works directly with most of the clinical labs that are providing testing for COVID-19.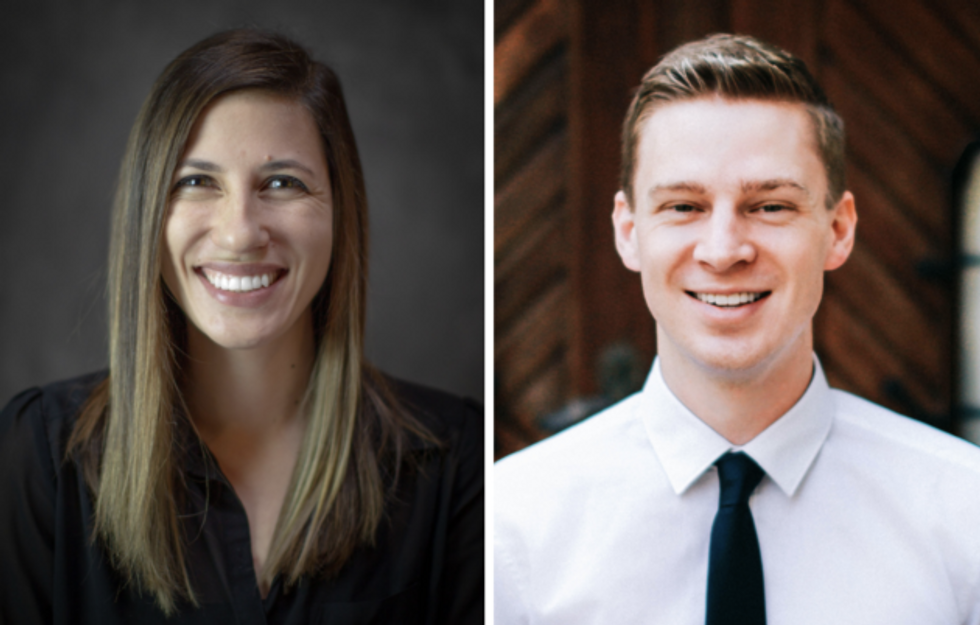 Tarryn Marcus, left, and Zach Boldyga are leading a volunteer-driven effort to build a COVID-19 testing location database. Photos courtesy of Tarryn Marcus
"Our backgrounds were a pretty good launchpad for the effort," Marcus said. "We were able to get some early insight from the healthcare industry, build the initial website, and start to spread the word quickly."

Get Tested COVID-19 is intended to work as a crowdsourced effort to streamline access to testing information, even as reports show that testing has remained inadequate to date.
"We didn't hesitate to see whether other organizations would create this resource. We knew it had the potential to be helpful, it was within our wheelhouse, and we could get it up and running quickly, so we dove in," Marcus said.
The database now includes more than 2,100 testing centers, and users enter their zip code to find the nearest site, including hours and requirements. There is also a comprehensive guide to when and why people should get tested.
Right now, the site primarily tracks active case testing with the nasal swab, which is the primary testing method of the drive-thrus. Some walk-ins are blood testing and a small handful (10) are doing antibody, according to Marcus, who said they are working on a design to distinguish between test types.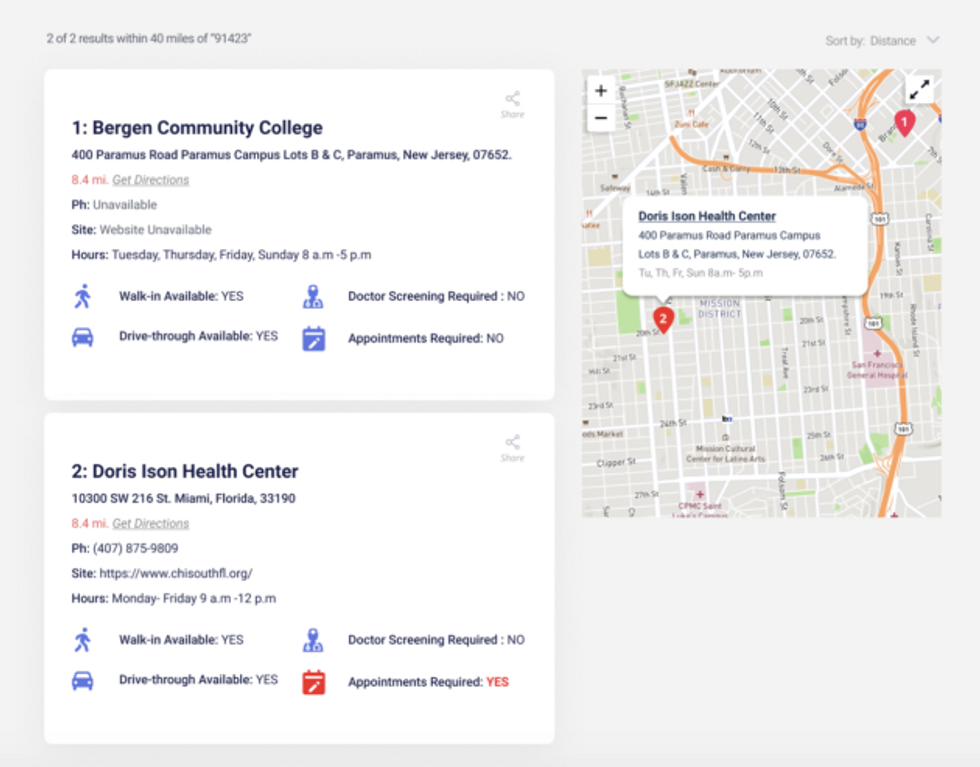 A screen grab showing the information available for a testing location.Get Tested COVID-19 Image
Elsewhere when it comes to resources, Google is now showing information for testing centers on searches for terms related to COVID-19, The Verge reported. And Apple Maps intends to add that information as well, according to Business Insider.

Operating more smoothly like a company now, Get Tested COVID-19 has projects in motion for data science, UX improvements, marketing, software engineering, and communicating with stakeholders in the industry to explore additional ways to add value.
Some of volunteers work full time for larger tech companies, some are freelancers, and others have been recently laid off and are choosing to spend their time on COVID-19-related projects. Organizations like Fullstack Academy have reached out and offered the help of recent graduates.
"Everyone just seems to really want to help in whatever way they can," Marcus said, adding that some contributors are working full time on the effort, and that the time she's put in has been much more than initially anticipated.
The team has identified lots of issues and opportunities, and we're all rallying around putting a high-quality tool in front of anyone who needs it.
With volunteers from six different time zones across the world, establishing clear project workflows and tools for communication has proven critical. There's even a mission statement and guidelines.
Core tools driving the project from an organization standpoint are GitHub for development and Slack, Google Hangouts, and Zoom for communication. Web scrapers, machine learning and human-validated data are all employed. A small team is crunching data in Python to provide helpful insights to responders in the healthcare industry. And Get Tested is leveraging free Amazon Web Services credits to run the website and ensure it is ready to scale.
"The team has identified lots of issues and opportunities, and we're all rallying around putting a high-quality tool in front of anyone who needs it," Marcus said. "The reality is that we are not first responders or essential workers, and outside of giving money and staying indoors, this is a direct way we can hopefully provide value and contribute to the fight against COVID-19."
"I know for sure that we can build something amazing" she added. "Our biggest challenge is ensuring that the average American knows that this resource exists."