fred turner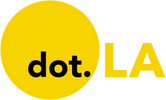 Get in the KNOW
on LA Startups & Tech
X
fred turner
Los Angeles is expected to roll out COVID-19 test kiosks later this month. A similar program in Berkeley may offer a hint of what it will look like.
Curative Inc. the company that administers COVID-19 tests, started a kiosk pilot program in Berkeley that opened last month.
Located in a park in Berkeley, the self-administered testing sites allow individuals to swab their own mouths and place samples in a supervised receptacle. The purple booth with the company's emblem reads "Welcome to your test spot." and "We're glad you are here."

Fred Turner, co-founder of Curative, tweeted out the photos of those kiosk less than a week before Mayor Eric Garcetti announced a similar program on Wednesday.
The kiosks in Los Angeles will process about 500 tests a day and are an alternative to the city's drive-thrus, which can be difficult for residents without cars to get to, Garcetti said.
Great to see our first @Curative mobile COVID-19 testing kiosk in action in @CityofBerkeley this week! We are hopin… https://t.co/yXBL0zOTuY

— Fred Turner (@Fred Turner) 1596141719
"We think this will be a great way of getting tests to people that can't necessarily use one of the drive thrus and making testing more of a part of our daily lives as we continue to fight this pandemic," Turner said during a press conference with L.A. Mayor Eric Garcetti.

The company is also rolling out a mobile unit that's being deployed to hot spots around Los Angeles. Garcetti said the city wants to be able to bring these to people in need.
"We are just getting to the point where it's getting a lot easier to get tested, but it's going to continue to be a pressing need to offer tests and for anybody who wants a test to be able to get tested," Turner said.
Curative has administered 1 million tests in Los Angeles and is averaging about 18,000 a day with an eye toward growing its capacity further.
Watch the full press announcement below:
COVID-19 Response Update from Mayor Garcetti, August 5, 2020
Join me live at a COVID-19 testing site for the latest on testing and more updates on our work to slow the spread of the virus.
COVID-19 testing kiosks could soon be rolling out as the creator of Los Angeles' coronavirus tests looks for ways to get more residents checked for the deadly virus. The founder of Curative Inc, Fred Turner, wants everyone to have access to a test. The company behind Los Angeles' drive-thru coronavirus tests has the capacity to expand testing but said Los Angeles officials have been stymied by lack of access to state and federal funds. Turner, whose tests have a 10% false negative rate, says the reason testing has become difficult have to do with getting them to the populations most at risk, and getting funding to where it's most needed.
Turner talked to dot.LA about the challenges locally and across the country.
Should everyone be able to get a test?
If there's a potential exposure event and somebody wants to get checked to know (whether) they need to quarantine or are they safe to work or be around a loved one, it's very important they have access to that service. Anybody who wants to get tested should get tested. It's not a lab capacity issue, certainly not in L.A..
Priority should be to symptomatic individuals, but we see asymptomatic spread is definitely a key part of the pandemic.
In L.A. city data we've seen about 40% of new infections are in individuals who self identify as asymptomatic. Many of those are pre-symptomatic. Most people do have some symptoms, even if they're mild, but truly asymptomatic cases that never develop any symptoms are quite rare. Many people are infectious and spreading the virus prior to the onset of symptoms. In fact, the day prior to the onset of symptoms is the most infectious day.
The Trump administration wants to have 100 million tests a month by September. Is that feasible?
Potentially. That's one hell of a lift right now. The country is struggling to even get to where we are at right now — at a 10th of what they want to see.
You add a 10x and the supply chain will break all over again. We are already seeing the system bursting at the seams right now.
How much capacity do you have?
We can go up to 100,000 tests per day right now. Our current goal is 1 million a week, by sometime in August.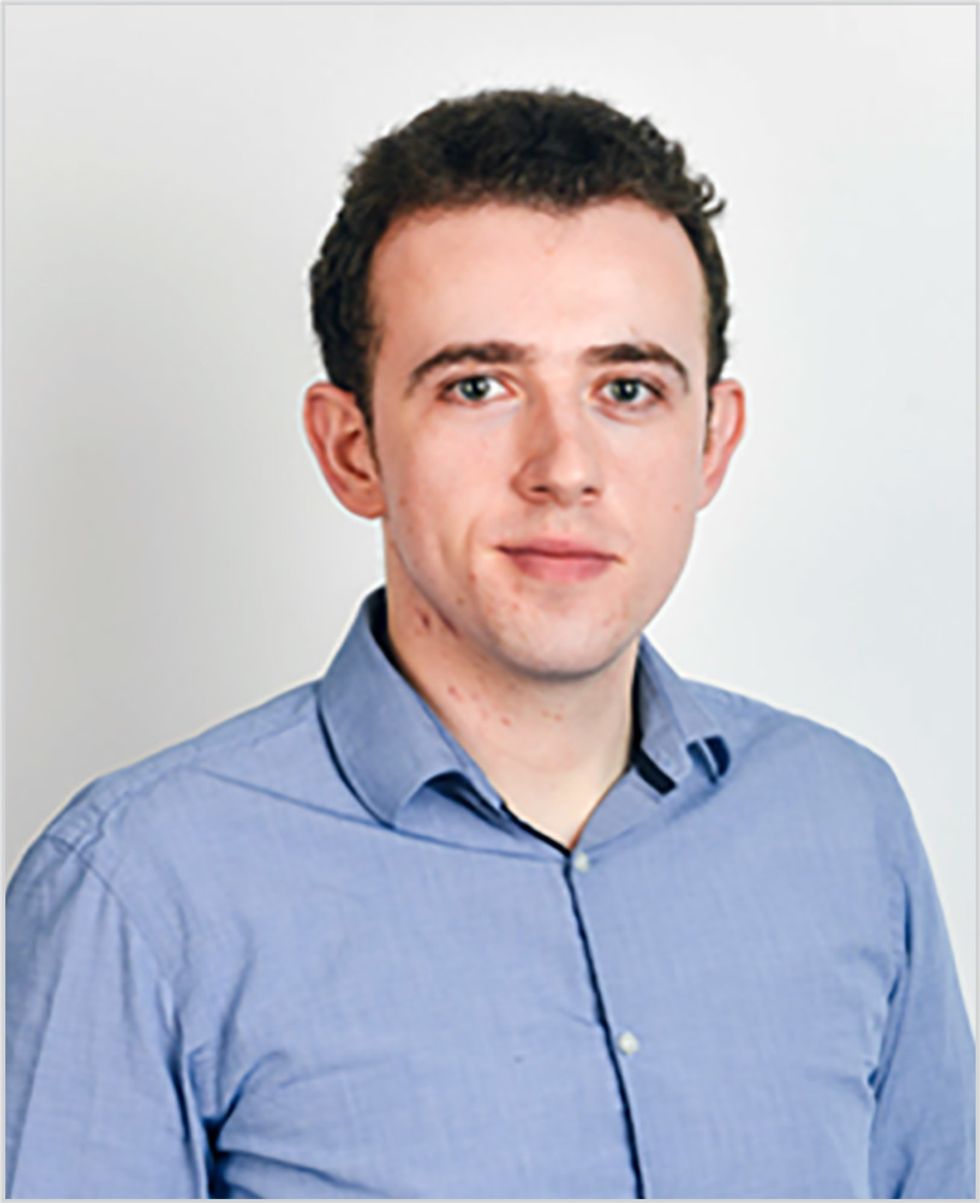 Curative Inc. founder Fred Turner.
How do you get people back to work? Back to live events?
Well, we need a vaccine. Basically, at this point that's the only only thing that will completely turn this around. And that's on the horizon, but it will take some time and there'll be bottlenecks in scaling up as well. Until then, we have targeted lockdowns of areas. But you need to find where the outbreaks are located in very targeted areas. (That's) not really something that's happening right now and it should be — along with widespread testing and of course wearing a mask.
Contact tracing has gotten a lot better but it still has a long way to go to actually be as useful as it could be.
We have an antigen test now from a blood sample that we are piloting at some of the L.A. sites. They have generally proved to be really quite accurate, though there are some cases that we've seen of individuals who've been asymptomatic or had mild cases who don't develop antibodies.
There's been criticism of Los Angeles saying that some people aren't able to get tested. How do you respond?

The city of Los Angeles has been a really great partner in making sure that we can make testing available to as many people as possible, but they're not getting the funding that they really need to scale that program.
It really needs to be two to three times larger. We're seeing people trying to get appointments and it takes two or three days or they just aren't able to get one. Funding needs to be there so that anybody who wants to get a test can get a test within a day. Right now, we're seeing very high positivity rates across California. The chance of somebody being potentially exposed to SARS COVID 2 is a very real risk for anybody living in California.
Do you think that the country has the capacity to get kids back to school safely and to test them?
Right now in the country, we barely have the capacity to test the amount of people who want to get tested. There is certainly a lot of expansion work that needs to happen to be able to offer widespread screening.
We are continuing to scale up and anticipate hitting 100,000 a day in the next couple of weeks. But the country needs millions of tests per day.
What percentage of the market are you testing right now?
Well, 60,000 tests a day is about 10% of the market right now. We're hoping the rest of the market will continue to scale up as well… A lot of labs have greater than five day turnaround testing right now and obviously makes it challenging. If you don't get the results back fast, they're a lot less useful.
Can you make it any faster?
It can be made somewhat faster. But the larger component has to be shipping time. So we focus on keeping the lab time under 24 hours. And then decreasing the shipping time. Some of the other labs take multiple days for lab processing. We've been focused more on how we can get samples to the lab quickly. So, putting samples on cargo commercial flights to get into the lab the same day.
We have also been experimenting with other methodologies of getting tests to us other than just the walkthrough and the drive-thrus. We have mobile vans in Los Angeles that we are working with. We're working on a project to have a semi automated vending machine kiosk type service that could be deployed across cities.
What are the kiosks and why are you considering that?
The drive thrus have been great for big cities where they have the staff and the space to put something like that (together), but it's been challenging for some of the smaller cities to really deploy testing — even the larger cities. You reach a point where the entire fire department is deployed to do testing. That's not feasible for the long term. We've been trying to figure out ways where we can keep testing going without consuming too many of the city's resources, and also to reach neighborhoods that may not have easy access to testing.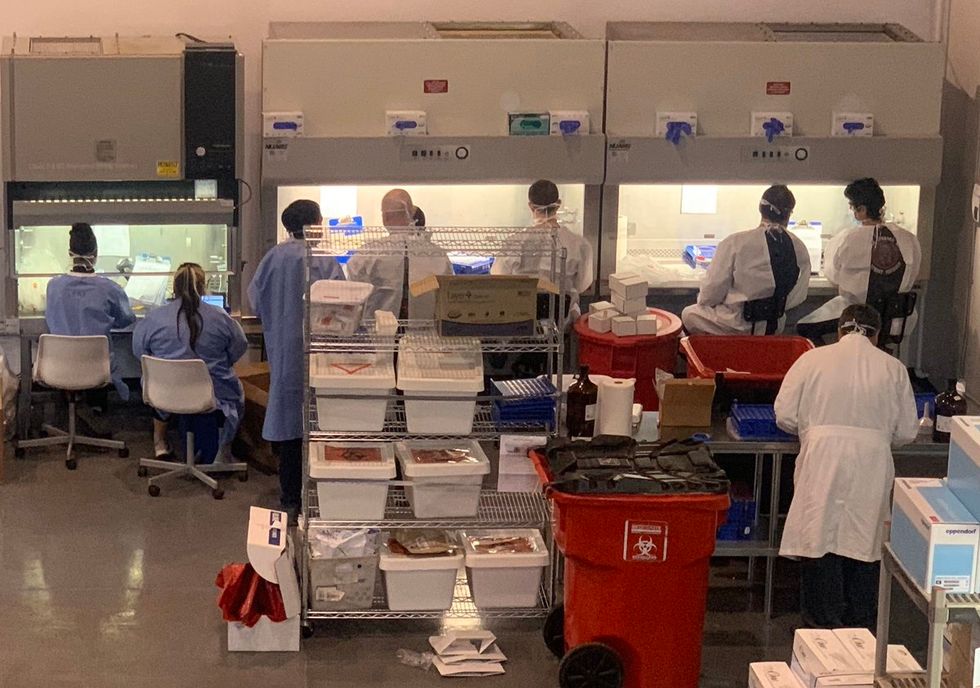 Curative's offices
Are you looking at it in Los Angeles?
We are looking at sites in Los Angeles and in the Bay Area. So we're working with the city of L.A. right now on the mobile testing unit to deploy that to the most useful places to target hot spots.
What are the bottlenecks in scaling testing as the caseload grows? Do you see a kiosk in every supermarket?
Until there is a vaccine, we need to have more rigorous testing to return people to work. We're not seeing any lab bottlenecks right now. We have more capacity and continue to take on new states and counties to scale our testing. The bottlenecks are really in two places. First, the logistics of actually getting a test kit out to people, doing the collections and getting it back again.
One of the challenges in California, testing is very fragmented right now, and in some cases it's led by counties and some cities. There isn't really a statewide plan to push that out.
The other bottleneck is funding. There's a massive amount of funding available in the CARES Act that doesn't necessarily trickle down to the counties to deploy.
What do you mean it's fragmented? How has that played out?
We have to set up separate arrangements for every single small city, fire department and police department one by one. It is a very slow process. Whereas in some states, the states have come in and contracted [services]. it's a much more efficient process to roll it out that way.
There are tens of billions of dollars in the CARES Act that has gone to states but it isn't trickling down. They're apportioned based on population with every state, getting a minimum of $1.25 billion. It's not getting down to the counties and the cities.
Does that mean that counties and cities aren't deploying testing as much as they should?
Absolutely. They are limited right now because the budget for testing is insufficient for the scale that's needed. That's one of the reasons we've worked with the city of Los Angeles to transition their testing to post billing to insurance. But, the insurance billing cycle is slow and long. It adds a lot of complexity to our process.
This interview has been edited for length and clarity.
Fred Turner, the 25-year-old founder of Curative Inc., is the man behind L.A.'s push to bring universal testing to the region. But, he has bigger plans.
Turner, an Oxford dropout, just landed a deal with the Air Force to test military worldwide and he's now eyeing national expansion for his startup. By the end of this month, the company he started months ago is expected to pump out more than a million test kits a week.
"We are a strange company because our goal is to essentially put ourselves out of business," Turner said.
Turner, who was named UK Young Engineer of the Year at age 17 when he built a DNA machine from his bedroom to figure out why his brother had red hair and he had brown hair, turned his focus to coronavirus in January. He upended his life as head of Shield Bio, which sought to eliminate sepsis, and moved to Southern California after a local venture capitalist connected him with a lab that he could build out for COVID-19 testing.
Curative Inc. was born.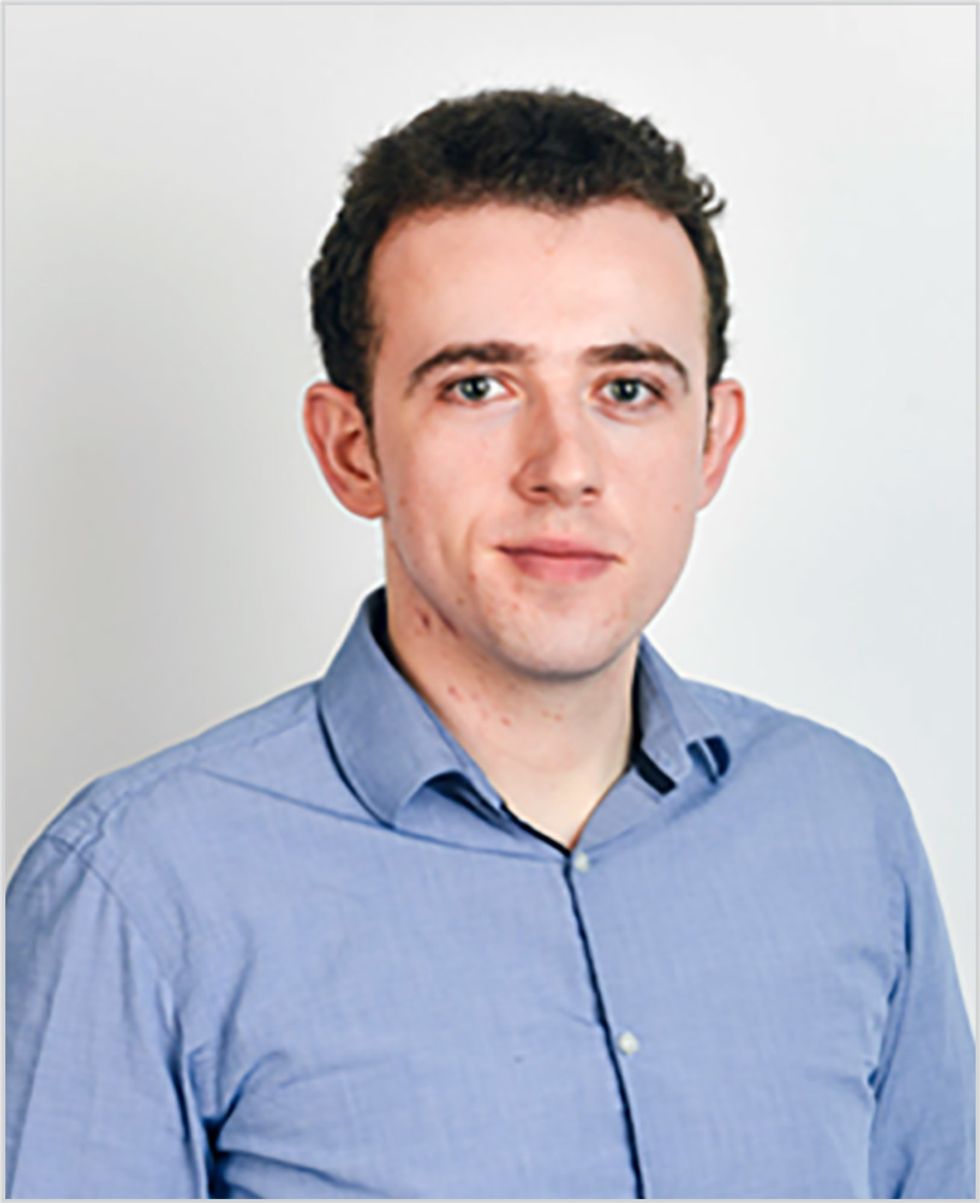 Curative, Inc. Founder Fred Turner is the man behind L.A.'s push to bring universal testing to the region.
For weeks he lived in hotels as he created what has become the backbone of testing in America's second largest city. The company, one of the few saliva-based tests that have gotten emergency approvals from the FDA, has a 10% false negative rate, according to their own non-peer reviewed studies. Turner argues the rate is better than most of the nasal swab testing out there and oral tests, which can be self-administered, are the only way the country can reopen quickly.
He is now operating two labs, one in San Dimas another in Washington D.C., with plans for several more across the nation. Meanwhile, the rest of the country is watching to see if Los Angeles' promise of universal testing meets the expectations with some already complaining about the difficulty of securing an appointment.
dot.LA: Curative is responsible for 95% of Los Angeles COVID-19 tests. Can you meet the demand for universal testing?

Curative, Inc. Founder Fred Turner: We will be able to fulfill demand. There's more infrastructure that needs to be put in place. With the collection site, the mayor's office has been working hard to scale those up and make sure that the collection site infrastructure is in place. On the lab side, we definitely have enough capacity to serve the area.
In (the San Dimas) lab we have capacity for about 20,000 per day. We're going to be scaling this lab up to 30,000 over the next week or so, eventually, probably slightly more than that.
Ultimately, the goal is to do as many tests as we need to reopen the country and I think we've had many different estimates of how many that might be. I've heard estimates (that it will take) as high as five million tests a day to reopen, but the current supply chain is nowhere near going to be able to keep up with that. The next goal we are shooting for is a million tests a week by about mid-May, end of May.
If we're testing more people will that strain the turnaround time? Right now, I understand it's about 24 to 72 hours. Can you take it down to several hours or even minutes?
We are always aiming to push it down. I think it can be pushed under 24 hours, but we tend to focus more on scaling it up at that point. I think 24 hours is around optimal as you bring on more capacity. We're obviously being careful to match the capacity coming into the lab against the turnaround.
Curative is one of the few companies that the FDA has provided emergency approval for use of a saliva test. Do you think this is the answer to universal testing nationally?
Oral fluids is the technical term, which is slightly different from saliva. Our protocol involves having the person cough first, which releases virus from the upper and lower respiratory tract. Some of that is then caught in the saliva, and also viruses in the saliva. The idea is you're effectively sampling multiple sites at once, which we think gives a slight increase in the sensitivity of the testing.
Self-collected sampling has got to be the way forward. There's just no way that we can do a million nasal pharyngeal swabs, or we call them 'brain swabs,' it's just not practical. We don't have the medical staff, and as a country we just can't do that many swabs. And so the way forward is going to be self collection. That's the only thing we can do at scale.
Covid-19 Oral Fluid Test Kit Instructions www.youtube.com
Curative recently secured a contract with the Department of Defense. What's next?

We haven't settled on the exact number, but we will be in a large number of states. That is the plan, building out the infrastructure for this kind of testing. We can take the L.A. model and scale it across the country. We have a version of the drive-thru software that other cities and states can take. We have all the training material. We have a team that fly around the country setting up these drive-thru sites. We have really tried to make a plug-and-play package where cities and states that want to launch drive-thru testing, we have everything they need.
Is Los Angeles a testing ground and a proving ground for national efforts?
Yeah, I think Mayor Garcetti has definitely demonstrated what can be done if the city moves very quickly to build out the infrastructure, I do think the drive-thru testing, walk through testing is going to be an essential component of this.
It's just much faster to get the samples to the lab than shipping it out and then shipping it back again. The infrastructure piece is critical for getting these tests out there and we're working with several other states now on building out a similar infrastructure. Some of them have existing programs that we would be plugging into and expanding, and some of them are looking to roll out their own similar programs. You can test a lot more people with the oral tests with far fewer staff.
What are the challenges with the supply chain in terms of making your tests more widely available?
We need more plastic, more robots, more people. Most of the components that go into these tests are just already maxed out in their production capacity. And so we've been throwing online a bunch of internal production, such as injection molding to make our swab kit tubes, as well as bringing on other sources of similar materials that are not being used for COVID-19 testing and validating them for COVID. So for the swabs, for example, we use a swab type that is usually used for testing clean rooms. It works just as well for COVID testing, but nobody else is using it for that purpose.
We don't want to be competing with other people, stopping them from getting access to resources. We want to bring on new supply so it's not a zero- sum game, and the total amount of tests will increase. But, I think distribution is going to be a bigger bottleneck over the next month. Los Angeles has done a fantastic job in building out infrastructure and collection. That needs to happen now across the whole country.
What would it take to meet national demand?
It would take a network of multiple labs that we are calling gigalabs that can process 50,000 to 100,000 tests a day across the country and a significant scale up in the production of the physical components that go into the tests. We've been investigating lab sites in a few states, something central like Texas or Colorado.
Are you concerned that you have too high of a false negative rate at 10%?
All COVID tests will have false negative rates. In our studies, we demonstrated that the sensitivity is at least as good if not better than the nasal pharyngeal swab tests. So, there will definitely be false negatives as there will be in every test, but we think the data supports us having a low rate of false negatives. The sensitivity is about 90%.
When you include all patients, the nasal pharyngeal came in at about 79%. A new (non-peer reviewed) Yale study shows a higher sensitivity from saliva and all fluids than the nasal pharyngeal. I don't think we have the evidence to say that we're better yet, but we have the evidence to say that we're at least equivalent. The ease of doing oral tests and the accessibility is obviously significantly better. We're not using PPE. We're not exposing healthcare workers. It's just a much easier test to roll out that people can test themselves.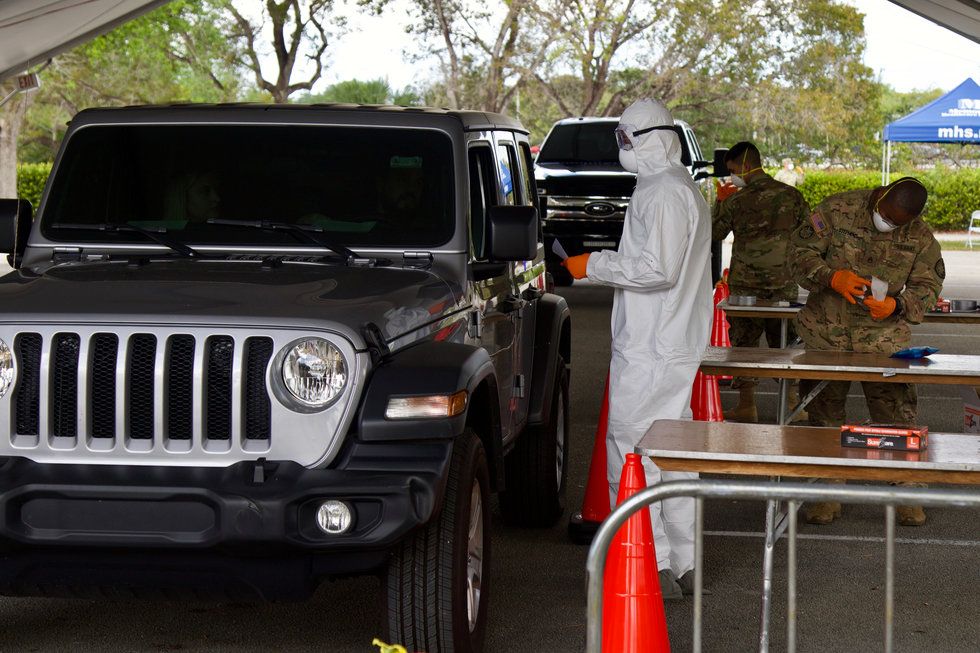 File:Florida National Guard (49677710741).jpg - Wikimedia Commons upload.wikimedia.org
At one point, Curative was attempting to roll out at-home testing and then had to pull back after FDA warnings. Will you be making home testing kits again?

I can't give a time estimate but we are actively working with the FDA right now. I think their concern is "can people adequately collect the sample, or will they do it wrong, and then get a negative test result," which is incorrect. Our plan is to use telemedicine observation. What we've seen in our clinical studies is that if you give people the chance to do it wrong, they will do it wrong. In fact when you have somebody observing, they read the instructions better and they collect a better sample. We're still working on the pricing and potentially looking at whether there is federal or state reimbursement for some of that testing and the potential of billing insurance.
Tracing technology has been promising. Do you have any plans to tie tests to these applications to testing?
We've had several conversations with contact tracing apps and we continue to work in collaboration with public health departments in their contract tracing efforts. Having the test is obviously one thing, but you have to use the information to actually stem the tide of COVID infection. And so, it is an essential step in working closely with various people.
I do like the app-based models where you obviously want to maintain people's privacy, but having people opt-in to share their location history if they test positive so you can contact nearby people.
What does Curative do once there's a vaccine? Are you obsolete?
The U.S. needs to maintain some kind of spare capacity so that next time we are not having to build all of this during a pandemic. But we are a strange company because our goal is to essentially put ourselves out of business. Ultimately, and I say this to everyone we hire, we don't know how long this will go on for. We want to provide as many tests as needed, but the goal is to end COVID and not be doing COVID testing anymore.
Curative took off in March when you arrived in Los Angeles from Silicon Valley, how has the journey been for you personally?
I don't have very much free time, but it's been a lot of fun to be able to work at this pace and have the support of people like the city, the mayor's office to really just do what is needed to scale this up. When we work with suppliers, and we say we're doing COVID testing, they just move heaven and earth to make things happen. It's been really inspiring to be a part of that push forward.
We are just pushing as hard as we can to scale up as fast as we possibly can and bring on as much testing as we can. The city opening up testing to everybody is kind of a culmination of that. We're making about 50,000 kits a day right now and we want to make that as widely available as we can. I would like to get a little more sleep.
The interview has been edited for clarity and brevity.
Correction: An earlier version of this story stated that Curative's saliva tests have a 10% false positive rate. In actuality, the tests have a 10% false negative rate.
Do you have a story that needs to be told? My DMs are open on Twitter @racheluranga. You can also email me.