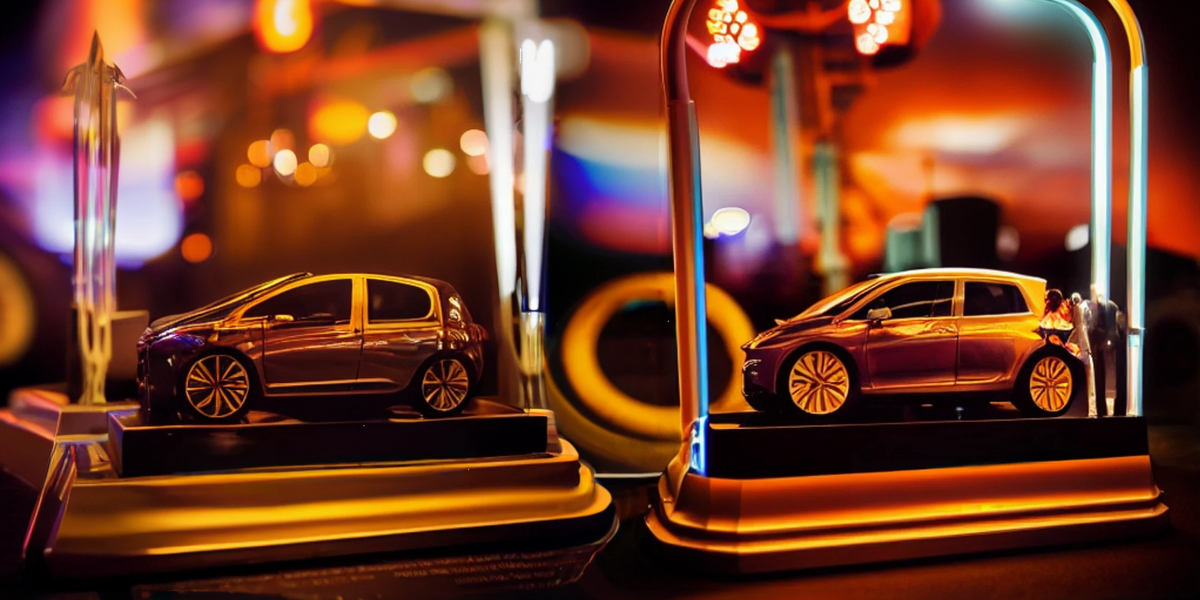 SoCal's Best and Worst EV Awards, 2022 (MidJourney, Dall-e)
This is the web version of dot.LA's weekly newsletter. Sign up to get the latest news on Southern California's tech, startup and venture capital scene.
By the time you're reading this newsletter there will only be three precious days remaining in the calendar year. Let us pause for a moment of reflection…on southern California's electric vehicle scene. What happened? And what might happen next year?
There are a bunch of electrification companies thriving or at least striving in the Southern part of our fair state, but for the purposes of this newsletter we're going to keep it focused on just the big five consumer brands. The criteria I took into consideration were whether these companies made it to market, how sustainable (economically speaking) their business looks, their future prospects, and their history.
---
1. Rivian
2022 Score: 5/10
Predicted score for 2023: 6/10
Rivian makes excellent EVs that are on the road today. That alone sets them apart from most of their competitors on this list. The company's R1T truck has been nearly universally lauded for its excellent performance and technology. The R1S SUV, which launched this year, has also been a smash hit amongst buyers lucky enough to be able to afford and receive one from the company. The Amazon vans also appear to be a winning play for the company, and the retail giant's backing gives Rivian some much-needed stability. Still, the fledgling automaker is a long way from profitability and burned a ridiculous amount of cash this year. Fortunately, cash is one thing the company has plenty of…for now. Rivian also downgraded its initial production targets due to supply chain constraints (bad), but then did hit its revised numbers (good).
If Rivian is going to survive in the long term it needs its second vehicle, the R2, to succeed. That platform is still in development and will be produced at the company's forthcoming plant in Georgia, which is currently embroiled in a legal quagmire. The R2 isn't expected until 2026, so look for 2023 to look similar to 2022–which I'd classify as slightly encouraging–but with a smoother supply chain and more deliveries.
2. Fisker
Score: 6/10
Predicted score for 2023: 7/10
With the first installment of its Ocean SUV set to arrive in Q1 2023, Fisker stands on the precipice of delivering cars to customers. Early reviews of the automobile indicate that it's quite nice, and with a price tag starting at around $40,000 for 250 miles of range, the Ocean could deliver some really nice value. We'll know much more soon.
Fisker's decision to outsource its manufacturing to Magna Steyr and Foxconn comes with advantages and disadvantages, as I wrote about back in the fall. Leveraging existing factories and supply chains gives the company stability and reduces labor and overhead costs. But it also means giving up some control over how quickly a company can scale to match demand. And it makes redesigning or modifying the car expensive. In addition, because the Ocean won't be manufactured in North America, it also limits how much of the Inflation Reduction Act's incentives will apply to Fisker's cars.
Still, if all goes well, and the company can actually hit its production target of 42,000 units in 2023, Fisker could become the leader in the Socal EV race. That's a big "if." We'll know a lot more once the Oceans begin delivery.
3. Vinfast
2022 Score: 5/10
Predicted score for 2023: 4/10
The Vietnamese EV company with a Los Angeles headquarters, just delivered its first shipment of 999 vehicles to the United States this week. This seems like great news until you dig into the specs and realize Vinfast is asking for $55,000 for a vehicle–the VF8–with just 180 miles of range. This "City Edition" version of the VF8 is a ludicrous proposition in a market that's increasingly crowded with better values from proven automotive brands. It's a bad first look for the company no matter how you slice it. But hey, it's cars on the road. It's real. Which is more than you can say about most of the other EV manufacturers on this list.
For 2023, Vinfast needs to get its non-city edition versions of the VF8 onto American soil as quickly as possible to prove it can offer a nice EV with a decent range at a respectable price. With the backing of Vietnam's largest conglomerate, Vingroup, this company may have some wiggle room that others don't. Vinfast also has another, more luxurious car ready for production, the VF9, as well as plans for two smaller models, the VF6 and VF7. All of which could be available by the end of 2023. If the company can hit those targets and find price points that are actually reflective of the value offered to consumers, then it just needs to convince US consumers to plunk down their hard-earned cash on a mostly-unknown Vietnamese brand selling a nascent technology that comes with a battery that you have to rent. Good luck!
4. Mullen

2022 Score: 2/10
Predicted Score for 2023: 1/10
Once every few months or so I call the Tunica County Chamber of Commerce to ask if anyone is working in the Mullen factory there. No one ever is.
Mullen does not make a car and doesn't seem to me like it ever will. Despite acquiring a bunch of bankrupt EV hopefuls in Bollinger Motors and Electric Last Mile Solutions, the company had a dismal year. Its stock is down 96% year to date, suggesting that investors may feel similarly. The Bollinger and ELMS deals give the company intellectual property and some manufacturing assets. But I don't see how buying up tech that already didn't work is going to help this company get its "strikingly different" Mullen FIVE crossover to market any faster. I also am incredibly skeptical of the company's claims about its solid-state battery tech. With each passing day, it seems the scathing Hindenburg report, which alleged everything from defaulted payments to a history of fraud from their CEO David Michery from earlier this year, may have been on to something.
For 2023, Mullen has signaled plans to pivot–at least partially–into electrified delivery. The company intends to resell modified city cars made by Chinese manufacturer Henan Henrey Shiying Vehicle Co. as electric delivery vehicles for the European market. Mullen has set $12,000 as its target price. But you can buy an unmodified version of this car sans "I-GO" branding here for $9,385. The first batch of these vehicles was scheduled to be delivered to Newgate Motor Group yesterday. Mullen missed that target.
5. Faraday Future
2022 Score: 2/10
Predicted score for 2023: 2/10
Faraday Future seems like the sort of company someone is going to make a movie about someday. The automaker is on its third CEO and still hasn't delivered a vehicle. Its original founder, Jia Yueting, was fined $36.81 million by Chinese regulators for securities fraud. The setbacks and delays for its first car, the FF91, have been myriad. Firsthand accounts of the car have been tragically hysterical. The company's stock is down 94% year to date.
The only thing that prevents Faraday from getting a 1/10 is the fact that the company somehow remains able to raise capital. In September the company raised $100 million dollars from Hong Kong holding company Senyun International. Two months later, it secured another credit line from Yorkville Advisors Global for up to $350 million. This money, the company says, will finally get it over the hump and get the FF91 into production. It's a story we've heard before, and I wouldn't hold my breath. But maybe 2023 is finally the year? Maybe? – David Shultz

What We're Reading...
- Some people are still waiting for planes and luggage after Southwest Airlines continued to cancel thousands of flights that had been booked for the holidays.
- Meet the world's first (near) Supersonic Business Jet: Bombardier's Global 7500 business aircraft holds 18 passengers, can fly up to 8,860 miles and 14 hours at 0.925 Mach and costs $10k an hour. Plus side? It goes by real fast.
- Elon Musk will consider buying Substack as an MSM "press alternative" after his Twitter Files nothing burger failed to get the attention.
- -
How Are We Doing? We're working to make the newsletter more informative, with deeper analysis and more news about L.A.'s tech and startup scene. Let us know what you think in our survey, or email us!