Even as Elon Musk's attention seems to be drawn more towards his latest pet project, Twitter, his various other companies continue to charge full steam ahead, and some – like Hawthorne-based hyperloop tunnel startup Boring Co. – have had major developments in recent weeks.
There's a lot to keep track of in the Musk-iverse, so here's a rundown of all the magnate's current ventures and most recent updates.
Twitter
Starting with the big bird, briefly: The billionaire's $44 billion-buyout of the social network hasn't gone exactly seamlessly since he took the reins Oct. 28.
So far Musk has reportedly asked Twitter staff to work 12-hour days and initiated mass layoffs, including firing the C-Suite and sacking 15% of Twitter's Trust & Safety team, which handles content moderation. Some disgruntled ex-Twitter employees have sued Musk for not providing proper notice to state regulators about layoffs.
The new "Chief Twit" has also proposed allowing users to pay for verification, with an $8/month subscription tier of Twitter Blue expected to launch after the midterm elections this week.
SpaceX
Hawthorne-based SpaceX continues to chug along, delivering both private and public government mission payloads to orbit at a pace that dwarfs all competitors.
SpaceX's crafts have completed over 50 launches for commercial operators so far this year – averaging about one launch per week – and has several more scheduled before the end of the year. But this week, a Falcon 9 launch for telecommunications firm Intelsat was postponed because of subtropical storms.
Looking forward: Starship, the company's forthcoming reusable rocket for crew and cargo, is undergoing tests and could launch shortly after NASA's upcoming Artemis mission. SpaceX is already selling seats on Starship for wealthy space tourists, and one mission, nicknamed "#dearmoon," will see Japanese billionaire Yusaku Maezawa and up to eight others fly around the moon by 2023. In addition, SpaceX hopes to use the Starship to land NASA astronauts on the moon.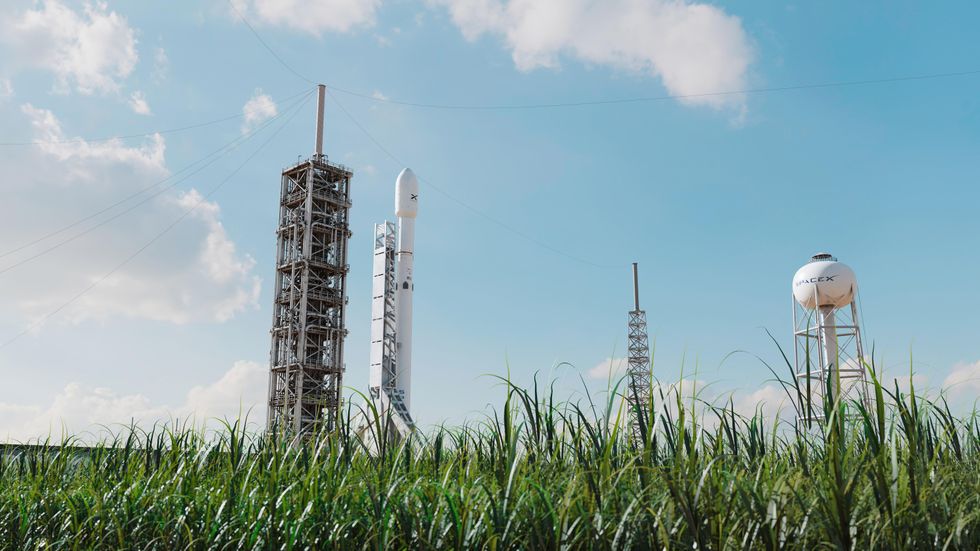 SpaceX Rocket Photo by ANIRUDH on Unsplash
Starlink
The broadband internet service that's a division of SpaceX, is rapidly expanding across the globe. Starlink expanded to Australia Nov. 6. Currently, SpaceX launches Starlink's satellites on its Falcon 9 rockets and completed a launch of 43 more spacecraft – part of Musk's larger plan to create a network of some 42,000 Starlink satellites – on Oct. 28.
But it's not all smooth sailing for Starlink's early adopters. Starlink added a new policy this week that will put data caps on users to throttle speeds. From now on, people who use one terabyte or more of Starlink's unlimited data per month will experience "slower speeds" during "peak hours," which is curently between 7 a.m. to 11 p.m.
Starlink's also accelerating adoption in other non-residential markets, including internet for cellular, moving vehicles and airplanes. In September we covered Starlink's expansion into in-flight internet. On the ground, the company launched an internet for stationary RVs service in May and is now accepting orders for moving vehicle internet.
Tesla
The EV car company continues to produce its vehicles at a rapid clip to meet surging demand.
As it noted in this year's third quarter earnings report, Tesla delivered 343,830 vehicles and reported its revenue grew 56% annually to $21.5 billion. This was a bit shy of analyst estimates of 371,000 cars. But still far more than any of its local electric vehicle competitors like Lucid, Fisker (which begins deliveries this month), or Amazon-backed Rivian. With over 908,000 cars delivered this year, it's possible Tesla could hit 1 million before 2023.
There's also legal proceedings to watch: Tesla is facing a suit from state regulators over its alleged racist treatment of employees and discriminatory policies. That lawsuit, filed in February by the California Department of Fair Employment and Housing, is still pending after Tesla lost a petition to have the suit dismissed.
And a lawsuit about Musk's pay package at Tesla is set to begin trial on Nov. 14. It was filed by Tesla shareholder Richard Tornetta in 2019, who alleged that Musk's 2018 payout worth $56 billion was excessive and undeserved.
In addition to EVs, Tesla is also trying to develop a robot. This September, the company showed off Optimus, a humanoid bot that was y capable of stiffly walking and waving at a crowd and seemed to be far behind other robotics competitors like Boston Dynamics' back-flipping bots. Tesla is far from mass production. But Musk claimed that the robots could one day sell to consumers for "probably" less than $20,000.
SolarCity
One of Musk's less-discussed ventures, SolarCity is a Fremont-based renewable energy firm that Tesla bought in 2016 for $2.6 billion.
SolarCity installs solar panels on residential and commercial properties and Musk was keen to acquire it because of his ambitions to sell Tesla-branded solar panels. In March 2021, Tesla sharply hiked up the price of its Solar Roof tiles by more than 50%, a decision that led some angry customers to sue. Though by September of last year, Tesla decided to honor some buyers' original pricing to appease them.
To that end, GM is looking to compete with SolarCity directly; last month it launched a division called GM Energy focused specifically on selling batteries, charging equipment, and solar panels to consumers and businesses.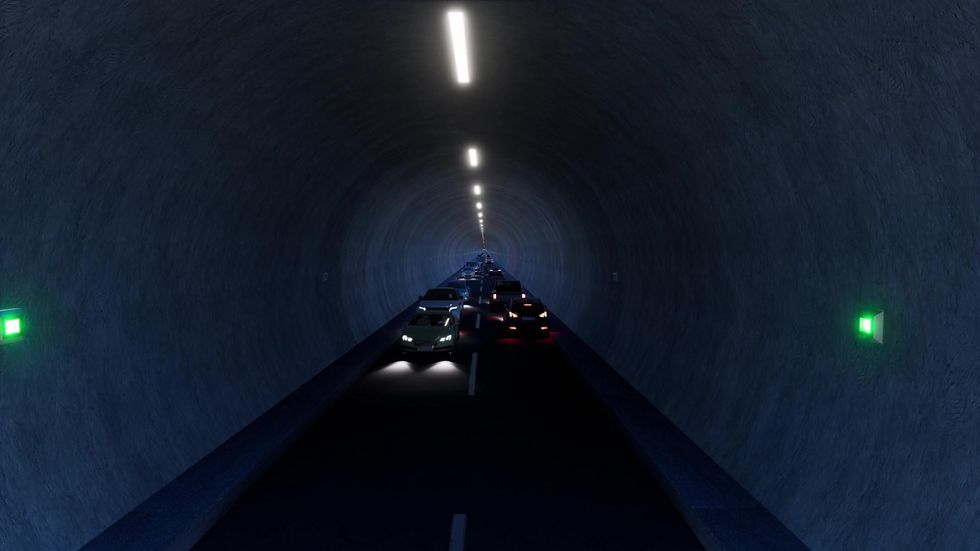 Automative luxury freeway cars in tunnel Boring Company 3d rendering. Image by Volodimir Zozulinskyi/ Shutterstock
The Boring Company
It seems Musk is getting bored of Boring Co. After all, he hasn't tweeted about it since April.
The ambitious project, which would have seen the company build lengthy underground hyperloop transportation tunnels in an attempt to beat traffic, seems to be winding down operations in LA.
Boring Co. was founded in 2016. In 2018, Musk unveiled a Boring Co. test tunnel in Hawthorne to much fanfare. But by November of that same year, a proposed tunnel under the 405 freeway on Los Angeles' Westside was out of the question, and so was a planned tunnel network connecting the Vermont Ave. metro station and Dodger Stadium.
In recent weeks, more signs have emerged that Boring Co. might not be around for long. Last month, Musk abandoned plans for a tunnel at California's Ontario Airport. The company's first test tunnel, which sat above ground adjacent to SpaceX's Hawthorne headquarters, was dismantled and the site was turned into a parking lot last week. In Kyle, Texas, a plan for a Boring Co. pedestrian tunnel was scrapped this week.
For the record, Musk once admitted that Boring Co. was just an expensive, glitzy ruse to disrupt California's attempt at building a functional high-speed rail system, which he felt was "outdated and expensive." So perhaps his full passion isn't behind this particular piece of his portfolio.
Still, several projects in Nevada are listed as under construction on Boring Co.'s website. These include a hyperloop tunnel at the Las Vegas Convention Center and a loop underneath Las Vegas that will connect to the existing LVCC loop completed in 2021. Nonetheless, according to Boring Co.'s website, it's still "working with various local governments and private stakeholders to consult, advise, and perform research, development, and testing on the viability in their cities for Hyperloop, the high speed transportation of passengers and goods in tubes."
In August, Boring Co. tweeted that "full-scale testing" of the Hyperloop will begin "later this year," but it didn't clarify where, or when that might occur.
Neuralink
One of Musk's more controversial projects, Neuralink, is working to realize the billionaire's vision of implanting chips directly into human brains to allow us to interact directly with computers via thought. In the past, Musk has referred to the concept as a "Fitbit in your skull."
Neuralink was launched in 2018 and unveiled its brain-chip technology in 2020. In July 2021, Neuralink raised a $205 million Series C round led by Vy Capital and including Google Ventures.
A demonstration event was originally planned for Oct. 31, but Musk recently tweeted that it was rescheduled for Nov. 30.
As of this writing, it's unclear what we'll see at this upcoming "show and tell" event. Back in July 2020 the U.S. Food and Drug Administration granted Neuralink approval for "breakthrough testing" which made the company eligible to begin trials on animals. As a result, last April the company made headlines after showcasing a nine year-old monkey with a Neuralink chip playing the game "Pong" with its brain. Though we're still far from human trials and the technology has been called "outdated" by experts, in January however, reporters noticed job postings for a clinical trials director at Neuralink. The implication? Musk is looking for human volunteers sooner than expected.