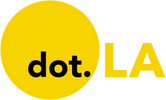 Get in the KNOW  
  on LA Startups & Tech  
X
Creator Startup Jellysmack Buys YouTube Analytics Firm AMA Digital
Christian Hetrick
Christian Hetrick is dot.LA's Entertainment Tech Reporter. He was formerly a business reporter for the Philadelphia Inquirer and reported on New Jersey politics for the Observer and the Press of Atlantic City.
12:39 PM | April 26, 2022
Creator economy startup Jellysmack has acquired AMA Digital, a Chicago-based YouTube analytics company, for an undisclosed amount.
Jellysmack said Tuesday that it will use AMA's data analytics to boost its creator program, which helps roughly 500 content creators grow their audiences and revenues. The company, which has more than 120 employees in Los Angeles and partners with over 80 L.A.-based creators, uses A.I. technology, proprietary data and video editing tools to optimize and launch videos on YouTube, TikTok, Snapchat and other platforms.
---
"We believe Jellysmack offers the best tech stack available in the creator economy, and the acquisition of AMA will further strengthen our core product to better serve our creator partners," Michael Philippe, Jellysmack's co-founder and co-CEO, said in a statement.
Founded in 2019 by Mateo Price, Chicago-based AMA claims to use proprietary data and technology to help YouTubers increase their revenue and viewership. The company says it has generated millions of dollars in incremental revenue for its creators—including popular YouTubers Jesser, Ali Abdaal and Dylan Lemay, among others—who collectively have 60 million subscribers. As part of the deal, Price will join Jellysmack as director of YouTube development.
In addition to enhancing its creator program, Jellysmack said AMA's platform will help with its catalog licensing business, as well. In January, the company announced it would spend $500 million to license the monetization rights to YouTube creators' back catalogs. The business of YouTube catalogs as lucrative assets has quickly gained ground, with L.A.-based Spotter also offering upfront payments to license YouTubers' libraries.
Founded in 2016, New York-based Jellysmack's most recent funding round, announced in May 2021, was led by Japanese investment giant SoftBank. While the startup did not disclose the size of the investment, PitchBook data indicates that Jellysmack raised $950 million at a $3 billion valuation. (A company spokesperson would only disclose the startup's valuation as over $1 billion.) Jellysmack claims its managed content generates 10 billion global monthly video views and reaches 125 million unique U.S. users. Its roster of creators includes YouTubers like MrBeast, PewDiePie and Karina Garcia.
The AMA deal is Jellysmack's second-ever acquisition, following the November purchase of A.I. video editing technology company Kamua.
Christian Hetrick
Christian Hetrick is dot.LA's Entertainment Tech Reporter. He was formerly a business reporter for the Philadelphia Inquirer and reported on New Jersey politics for the Observer and the Press of Atlantic City.
02:16 PM | March 02, 2023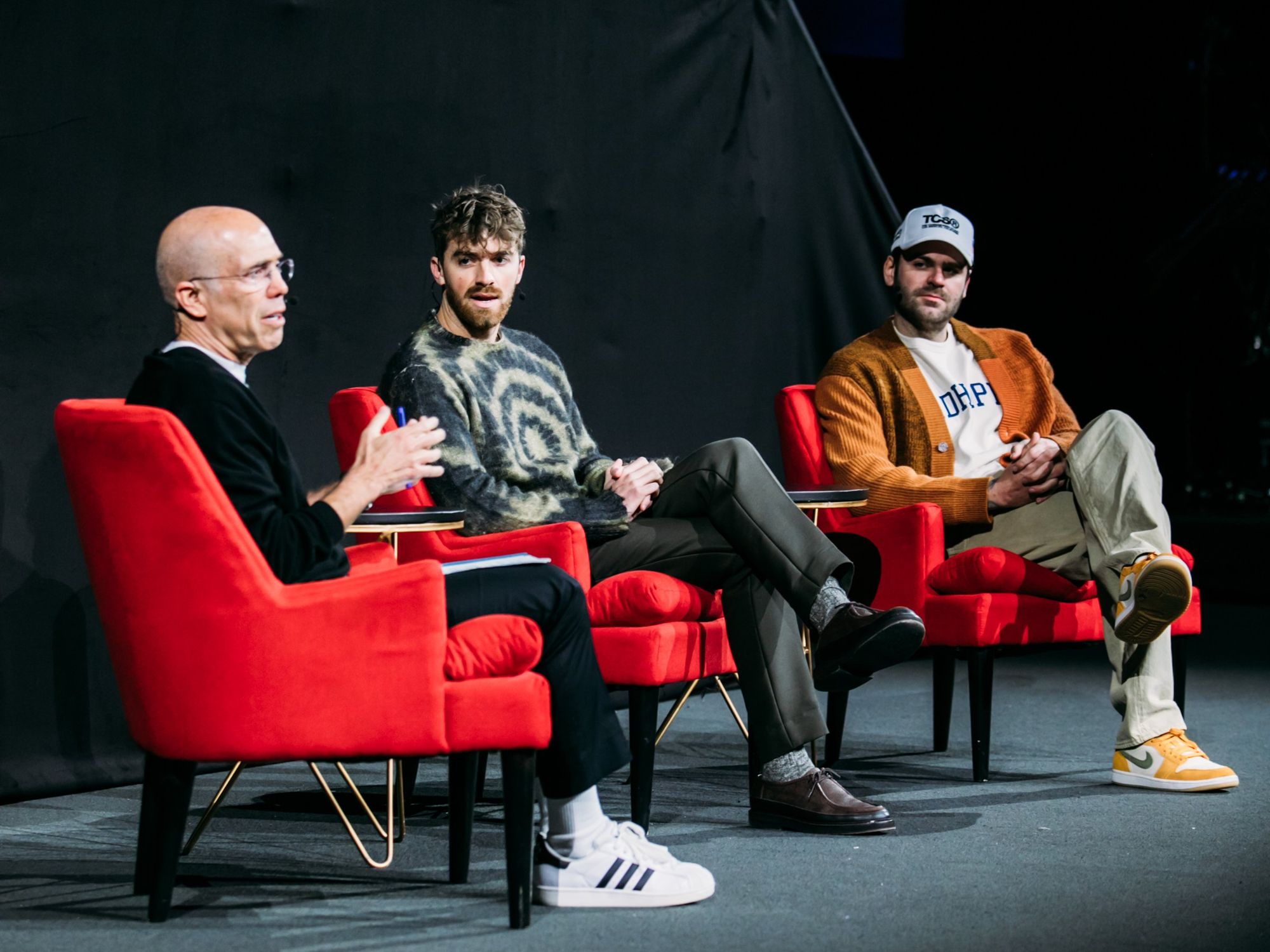 Clark Studio
On Thursday, Upfront Ventures hosted its 2023 Summit and music icons Alex Pall and Drew Taggart of The Chainsmokers hit the stage, not to perform, but instead to discuss their venture journey.
The duo launched MantisVC, a Marina Del Rey-based early stage tech venture fund in 2019.
Pall and Taggart shared the stage with WndrCo's managing partner Jeffrey Katzenberg to dive deeper into what their music career has taught them and how it translated over to their venture firm.
Here are some of the most important takeaways:
The duo believes hustle is more important than talent to achieve success.
"There's just so much content out there that's just happening all the time for no reason," Taggart said. "There's just so much to pay attention to and if you have to wake up every day, and think out what your angle is going to be, try stuff, have it not work. You have to accept defeat so frequently and still get up and do it."
Creating music was their foray into building communities.
"I think we have some real insight into how to build that community and tell that story because essentially, that's all we're trying to do," Pall said. "No matter what your business is, you're telling the story about something that you think is important that someone else needs and will enjoy."
Building connections and having conversations with pioneers in the space helped them launch MantisVC.
"Humility and being self aware are two of our strengths," Taggart said. "I think knowing what we don't know is a big part of how we've gotten to where we are, and with the support of people around us, and the relationships we built, we understood that we were going to have to go out and prove to the world that we were serious about this and we respected the people that have come before us and the people that are doing it right now."
VCs should offer all their founders support.
"When you're building something early on, you want that support, that hands-on feeling and the purpose of Mantis isn't necessarily right now to replace the incredible institutional investors that exist out there and have been around for a while," Pall continued.
"But we want to be the Robin to their Batman, and we think there's a way that we can kind of partner with everybody in the space and provide our founders that holistic support they need. It's inspiring to work alongside people that share that same energy and we're constantly working on ourselves and I feel like it takes a really special type of human being to be successful in this world. Level of grit and determination and something that's continually fueled us and we want to invest in people like that."
Feedback is necessary and essential to create successful products and businesses.
"Similar to products or services that you're building, it's important to get real life feedback out there and iterate on those things," Taggart said. "And there's really just no substitute for that."
Pall added, "I think for some reason in our culture, it's become an issue for people just to be straightforward and say no, about things and give honest feedback and, and move on. I think we can all learn a lot from just having more honest conversations with each other."
Never lose sight of your core audience and mission as a company.
"Never forget what your core product is and what people love about that and make sure that every piece of innovation is derivative of that," Taggart said. "I see a lot of friends of ours that have had really successful companies start to build ancillary projects that don't really feed their core audience that they're just making to compete with their competition. We do the same thing in songwriting, and you can never lose sight of what people love about you."
Decerry Donato
Decerry Donato is a reporter at dot.LA. Prior to that, she was an editorial fellow at the company. Decerry received her bachelor's degree in literary journalism from the University of California, Irvine. She continues to write stories to inform the community about issues or events that take place in the L.A. area. On the weekends, she can be found hiking in the Angeles National forest or sifting through racks at your local thrift store.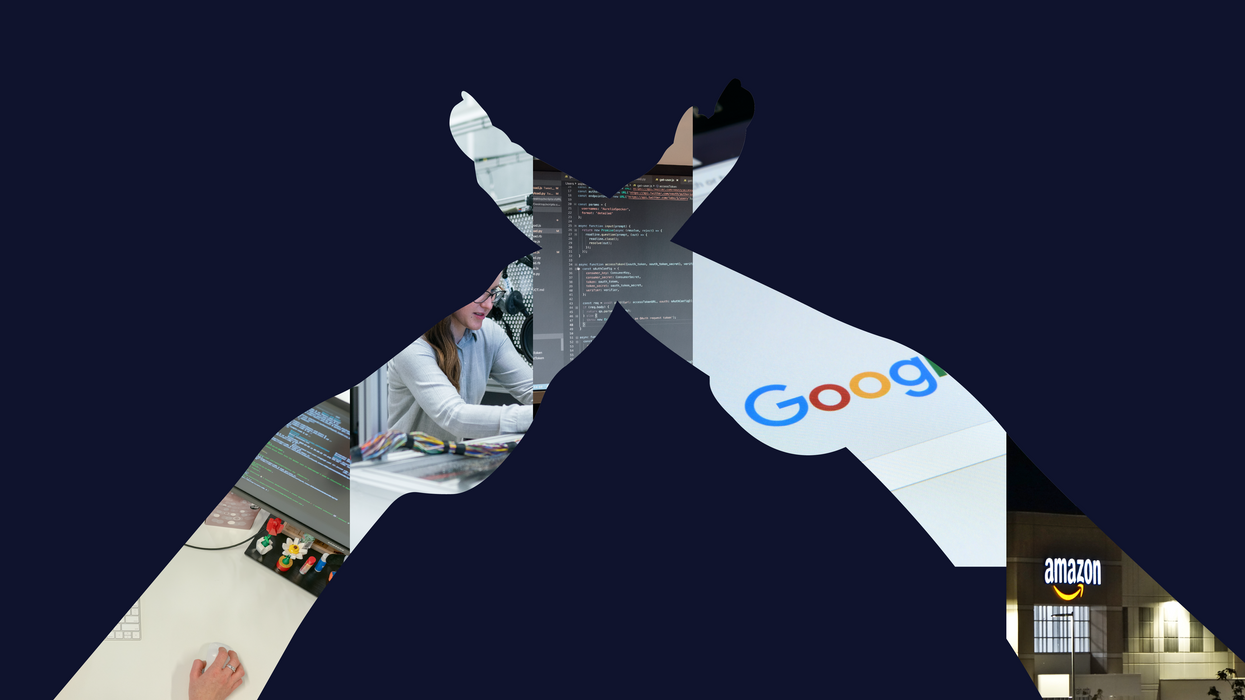 Evan Xie
A new report in Bloomberg suggests that younger workers and college graduates are moving away from tech as the preferred industry in which to embark on their careers. While big tech companies and startups once promised skilled young workers not just the opportunity to develop cutting-edge, exciting products, but also perks and – for the most talented and ambitious newcomers – a relatively reliable path to wealth. (Who could forget the tales of overnight Facebook millionaires that fueled the previous dot com explosion? There were even movies about it!)
But aside from the intensity and hype around employment-eradicating AI apps, the big tech story of 2023 has been downscaling, belt-tightening, and massive layoffs. So far this year, tech companies have laid off thousands of workers, while cutting back on compensation packages, fringe benefits, and some of the other amenities and perks that made these jobs so sought after in the first place.
According to data compiled by Bloomberg, tech has shed nearly 200,000 jobs just since October, more than twice the number of layoffs that have hit the financial sector. Additionally, data on industry pay from Levels.fyi suggests that overall compensation packages within the industry have dipped as much as 25% in the past year. The rate at which these layoffs are happening also doesn't seem to be slowing down very much, and may still even be increasing month-over-month.
Layoffs aren't just bad PR that make current employees nervous and potential new hires dubious. They also mean there are simply fewer hands on deck at these companies to collaborate on important jobs; major rounds of layoffs also mean more work for the employees who got to keep their gigs. Meta, Amazon, Alphabet, and Twitter have all massively reduced the size of their workforce, including teams that deal with important time-sensitive tasks, such as fact-checking or community moderation. Those jobs don't stop needing to be done because the people doing them got laid off; it's just now more work for fewer staffers.
Many tech companies also rely on the promise of lucrative stock options when recruiting top graduates with significantly in-demand skills. But with tech stocks slumping in 2022, and bouncing back this year mainly on the backs of the AI craze, embarking on a new career with a brand like Meta or Amazon suddenly seems less appealing than it did just a few years ago.
According to Insider, anecdotal evidence from job forums like Blind and other communities such as Reddit also indicate that the "rise-and-grand" hustle mindset so prevalent in the industry – which became synonymous with tech culture during the last startup wave – has led to widespread stress, discontent, and burnout among employees, many of whom are purposefully seeking jobs outside the industry now that the big paydays are also drying up. The Washington Post reported that disaffected Amazon employees in Seattle – fed up with layoffs, return-to-office mandates, and some of the company's other practices – are currently attempting to organize a mass walkout.
Within the tech industry, the massive hype around AI has been something of a reprieve from this torrent of bad news. But from the perspective of young people considering careers in tech, the industry's love affair with thinking machines may also be triggering some concerns about the future.
In late April, Dropbox announced it would lay off 500 employees – around 16% of its total workforce – and use the savings to build out an AI division instead. CEO Drew Houston explained that "I'm determined to ensure that Dropbox is at the forefront of the AI era." IBM CEO Arvind Krishna echoed a similar sentiment in May, suggesting that his company will pause hiring for roles that could potentially be replaced with AI in the near future. He suggested, over the next five years, IBM will likely replace 30% of its employees – around 7,800 people – with apps.
It shouldn't be that terribly surprising when young people develop cold feet about entering an industry that's already decided they're irrelevant, with CEOs simply biding their time before they can fire everyone working on the floors below them. But even beyond the personal stakes, it's also possible that young people are turning their backs on technology due to a reputational downgrade.
That said, some tech firms dominate both the top and bottom of Axios Harris' annual "brand reputation survey," which investigates how American adults feel about various companies. IN particuar, tech companies that produce tangible products or offer vital services continued to perform very well on the survey, with Samsung, Amazon, Apple, and Sony receiving positive appraisals from about 80% of surveyed adults. Conversely, social media and related internet companies – including Google, TikTok, Meta, and Twitter – found themselves near the bottom of the list, with reputation scores around the 60% line. That's around the same level as bankrupted crypto exchange FTX.
Anecdotally too, it appears that many recent grads who would otherwise be pursuing careers in tech are moving over to the banking industry instead. As one global talent partner told Bloomberg, while tech course-corrects by dropping tens of thousands of workers, "on Wall Street, you work really hard and you make a lot of money. That's the deal."
In light of this moment, JPMorgan Chase, in particular, has ratcheted up its recruiting. The company's workforce jumped 8% in the first quarter of 2023 vs. one year ago. All other factors aside, many of the top college grads are simply going to follow the money. Right now, that's clearly leading them to the financial sector.
Lon Harris
Lon Harris is a contributor to dot.LA. His work has also appeared on ScreenJunkies, RottenTomatoes and Inside Streaming.