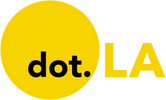 Get in the KNOW  
  on LA Startups & Tech  
X
Design, Bitches
Looking to Build a Granny Flat in Your Backyard? Meet the Firms and Designs Pre-Approved in LA
Sarah Favot
Favot is an award-winning journalist and adjunct instructor at USC's Annenberg School for Communication and Journalism. She previously was an investigative and data reporter at national education news site The 74 and local news site LA School Report. She's also worked at the Los Angeles Daily News. She was a Livingston Award finalist in 2011 and holds a Master's degree in journalism from Boston University and BA from the University of Windsor in Ontario, Canada.
07:10 AM | March 12, 2021
Adding a backyard home in Los Angeles is now nearly as easy as buying a barbecue.
Homeowners who for years have wanted to build a granny flat in their backyard, but dreaded the red tape, can now choose from 20 pre-designed homes that the city has already approved for use.
The shift, made official last week, will speed up a weeks-long process and bring more badly needed units to an overpriced market. It also has the potential to elevate the 14 startups and firms building the next generation of homes.
---
The designs for the stand-alone residences range from a 200-square-foot studio to a 1,200-square foot, two-story, two-bedroom unit. And many of the homes are filled with design flourishes, reflecting the diverse architecture of the city, from a house in the silhouette of a flower to one with a spiral outdoor staircase leading to the roof.
It's no surprise. The program was spearheaded by Christopher Hawthorne, a former architecture critic at the Los Angeles Times and now the city's chief design officer.
The firms are primarily local and startup architecture and design firms, while others are well-known with a history of building granny flats, also know as accessory dwelling units, or ADUs.
The standard plans avoid the Los Angeles Department of Building and Safety's typical four-to six-week review process and can allow approvals to be completed in as quickly as one day.
Some aspects of the plans can be modified to fit a homeowner's preferences. Eight other designs are pending approval.
Mayor Eric Garcetti believes by adding more such units, the city can diversify its housing supply and tackle the housing crisis. Recent state legislation made it easier to build the small homes on the lot of single-family residences. Since then, ADUs have made up nearly a quarter of Los Angeles' newly permitted housing units.
Because construction costs are relatively low for the granny flats – the pre-approved homes start at $144,000 and can go beyond $300,000 – the housing is generally more affordable. The median home price in L.A. County in January was $690,000.
Here's a quick look at the designs approved so far:
Abodu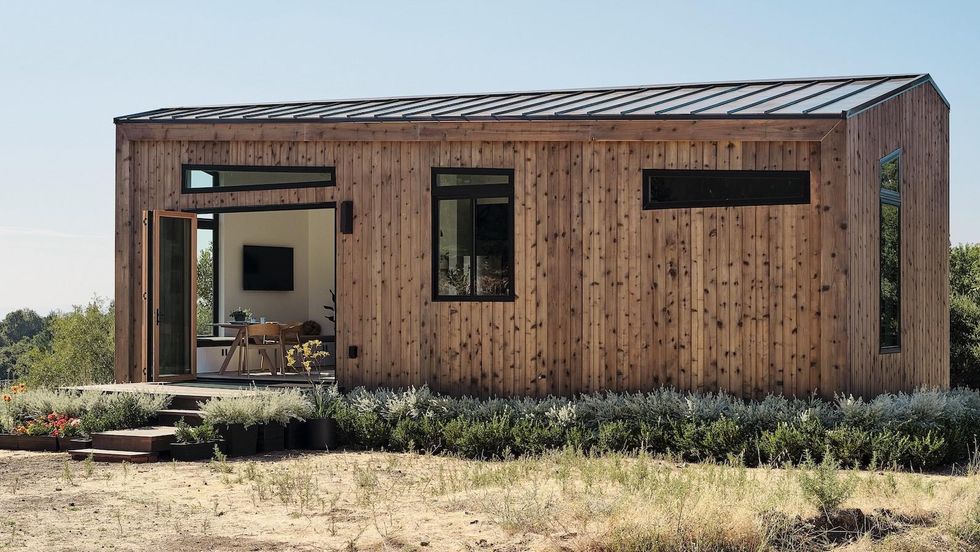 Abodu
Abodu, based in Redwood City in the Bay Area, exclusively designs backyard homes. In 2019, it worked with the city of San Jose on a program similar to the one Los Angeles is undertaking.
In October, it closed a seed funding round of $3.5 million led by Initialized Capital.
It has been approved for a one-story 340-square-foot studio, a one-story one-bedroom at 500 square feet, and a one-story, 610-square-foot two-bedroom.
The pricing for the studio is $189,900, while the one-bedroom costs $199,900 and the two-bedroom is $259,900.
Amunátegui Valdés Architects
Led by Cristobal Amunátegui and Alejandro Valdés, the firm was founded in 2011 and has offices in Los Angeles and Santiago, Chile. Amunátegui is an assistant professor at the Department of Architecture and Urban Design at UCLA.
The firm designs work in various scales and mediums, including buildings, furniture and exhibitions.
Its one-story, two-bedroom with a covered roof deck 934-square-foot unit is pending approval from the city.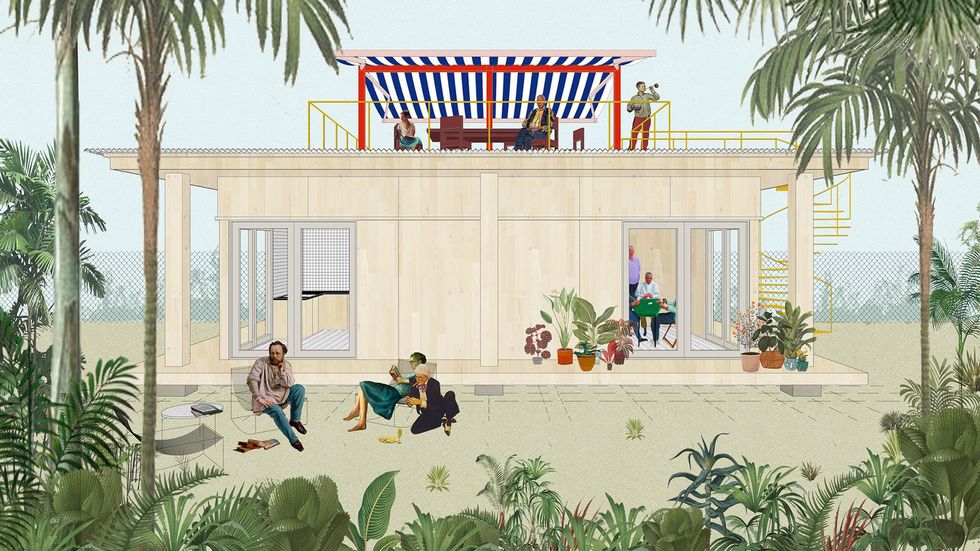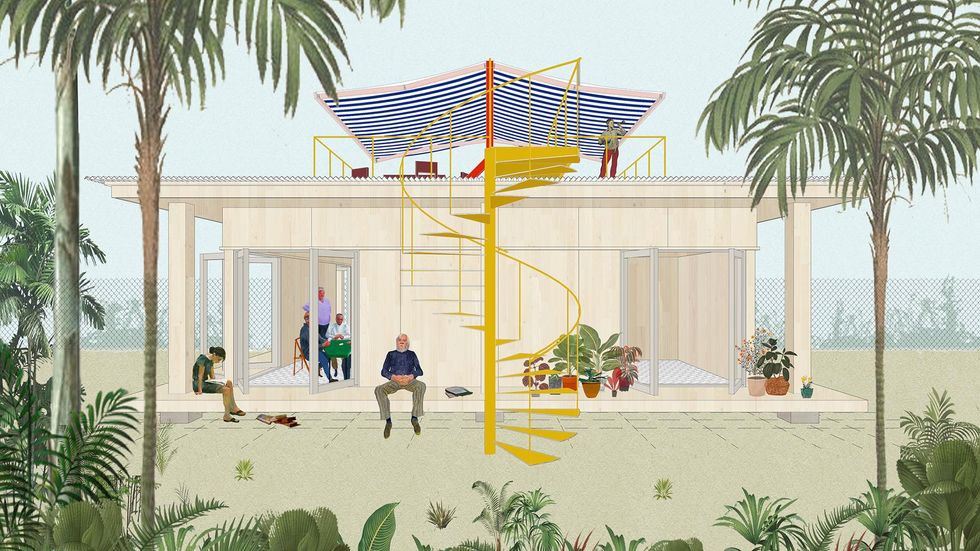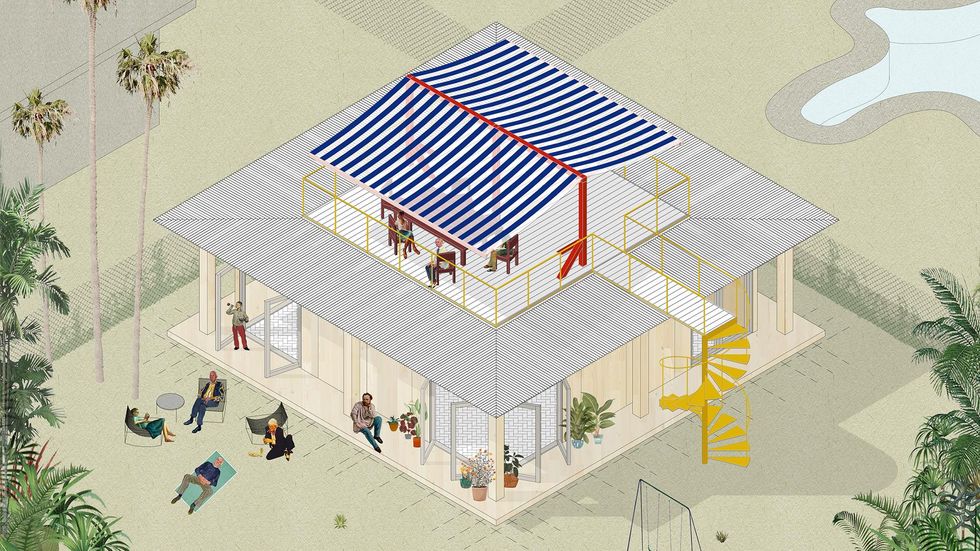 Connect Homes
Connect Homes has a 100,000-square foot factory in San Bernardino and an architecture studio in Downtown L.A.
It specializes in glass and steel homes and has completed 80 homes in California. Its designs have an aesthetic of mid-century modern California residential architecture.
It has two one-bedroom models pre-approved by the city, one is 460 square feet, which costs $144,500 with a total average project cost of $205,000. The other is 640 square feet, which costs $195,200 with a total project cost of $280,000.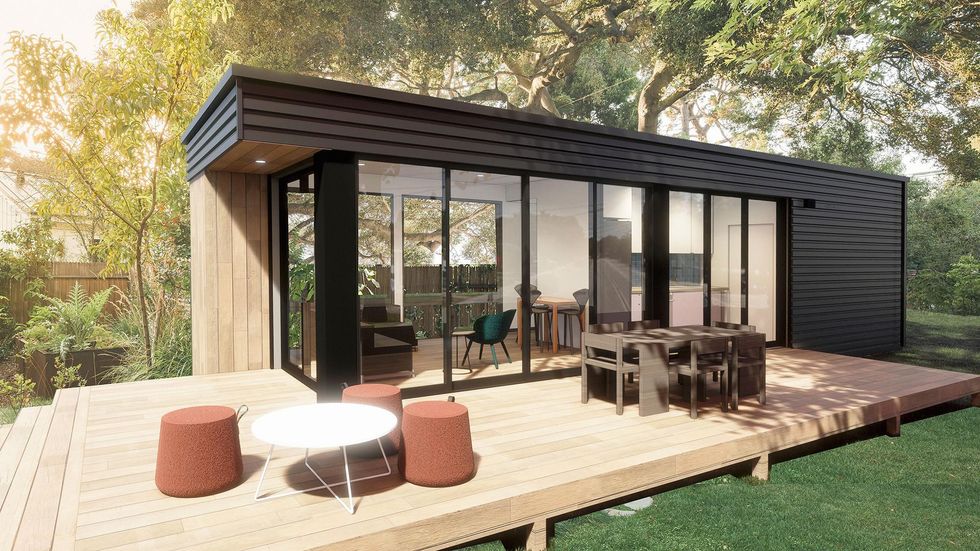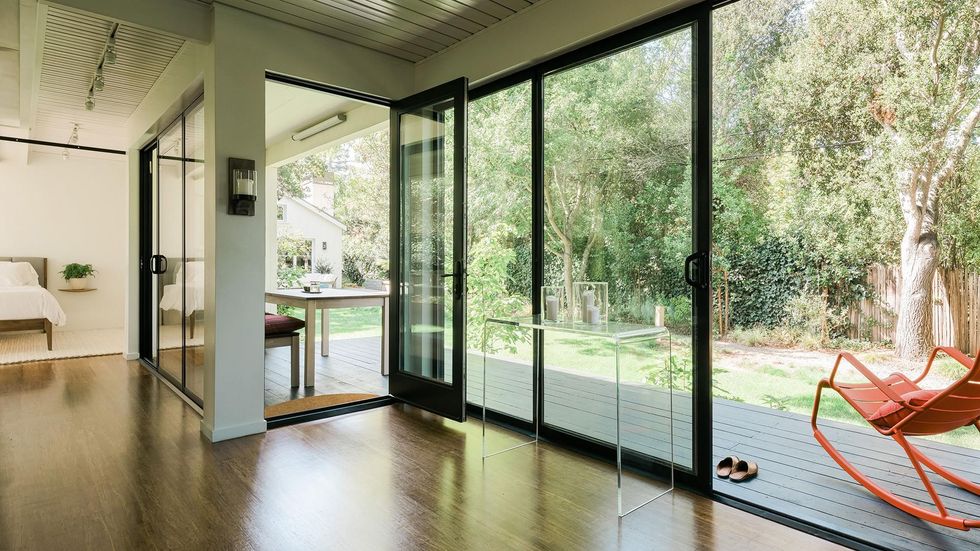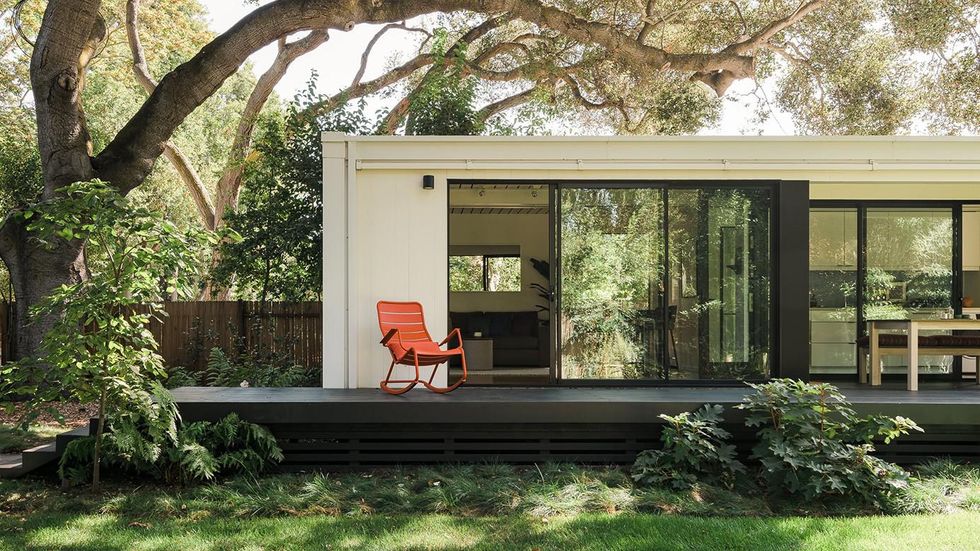 Design, Bitches
The Los Angeles-based architectural firm founded in 2010 describes itself as having a "bold and irreverent vision." Its projects include urban infill ground-up offices to single-family homes, adaptive re-use of derelict commercial buildings and renovations of historic landmarks.
Its pre-approved design, named "Midnight Room," is a guest house/ studio. Its bedroom can be left open for a loft feel or enclosed as a separate room. The design is a one-story, one-bedroom at 454 square feet.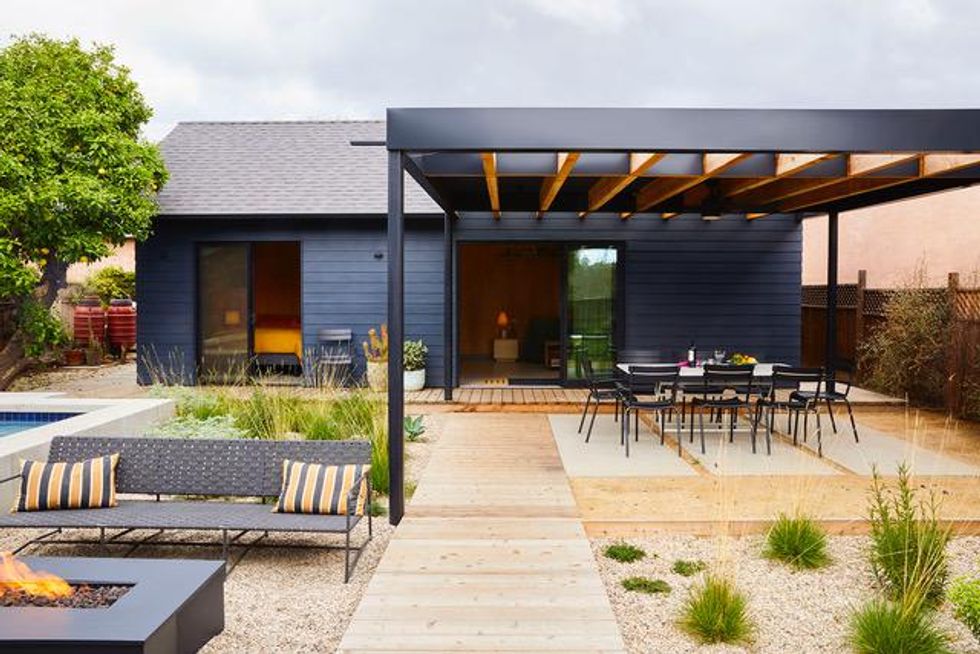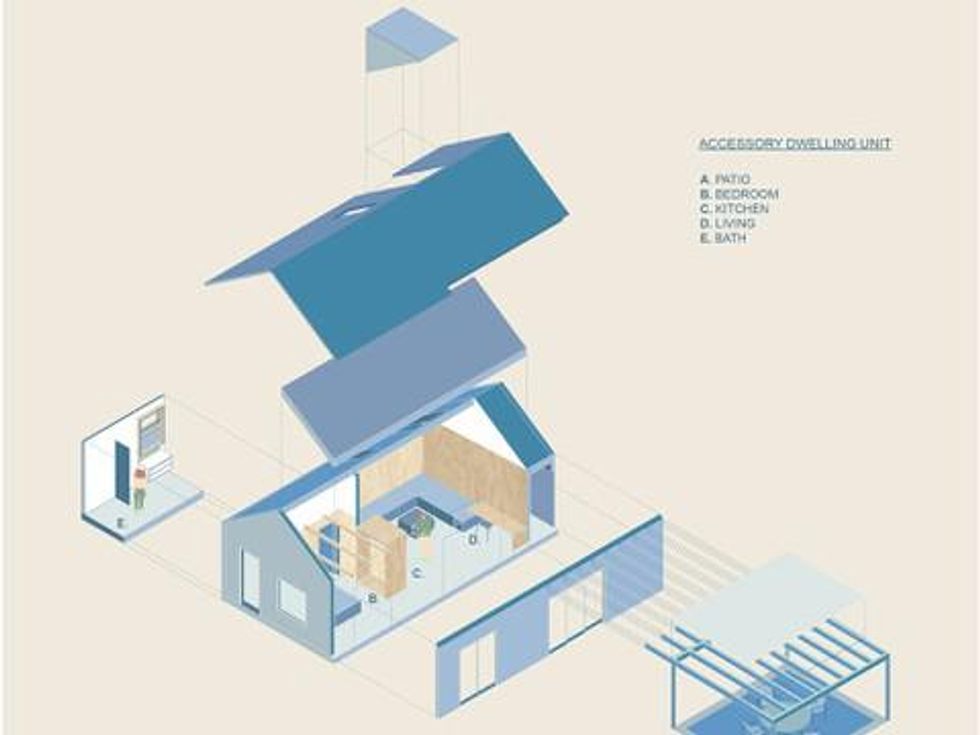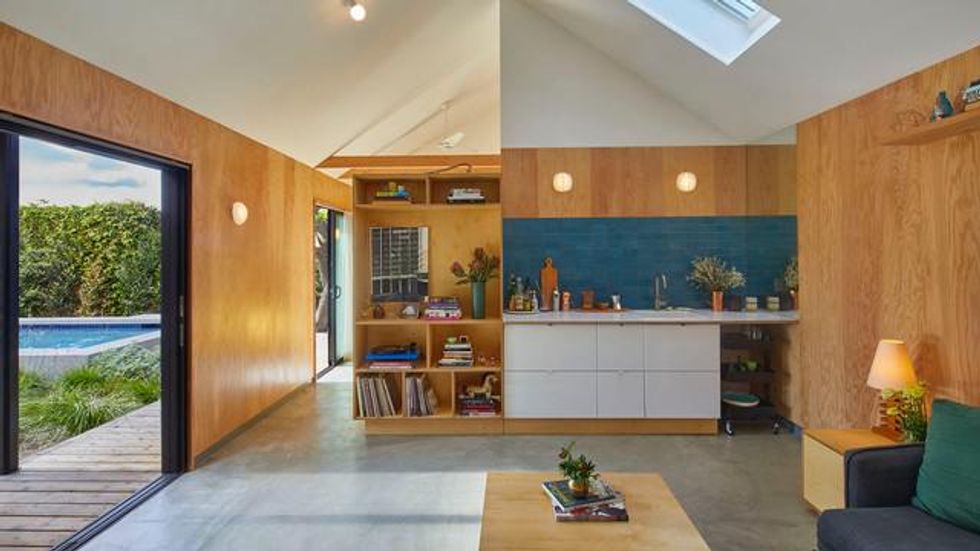 Escher GuneWardena Architecture
Founded in Los Angeles in 1996, Escher GuneWardena Architecture has received international recognition and has collaborated with contemporary artists, worked on historical preservation projects and more.
The company has been approved for two different one-story, one- or two-bedroom units, one at 532 square feet with an estimated cost of $200,000 and another at 784 square feet with an estimated cost of $300,000. The firm noted the costs depend on site conditions and do not include soft costs. Those could add 10% to 12% to the total construction costs.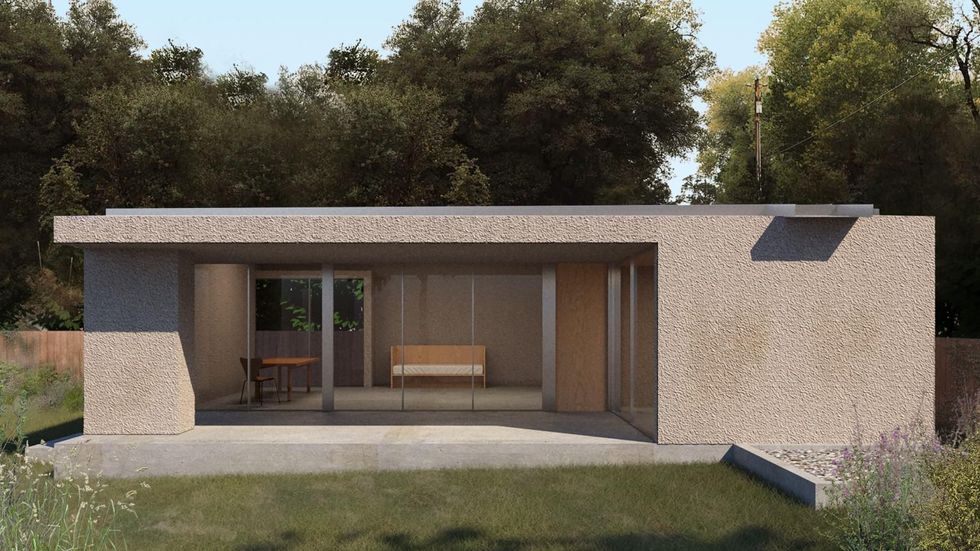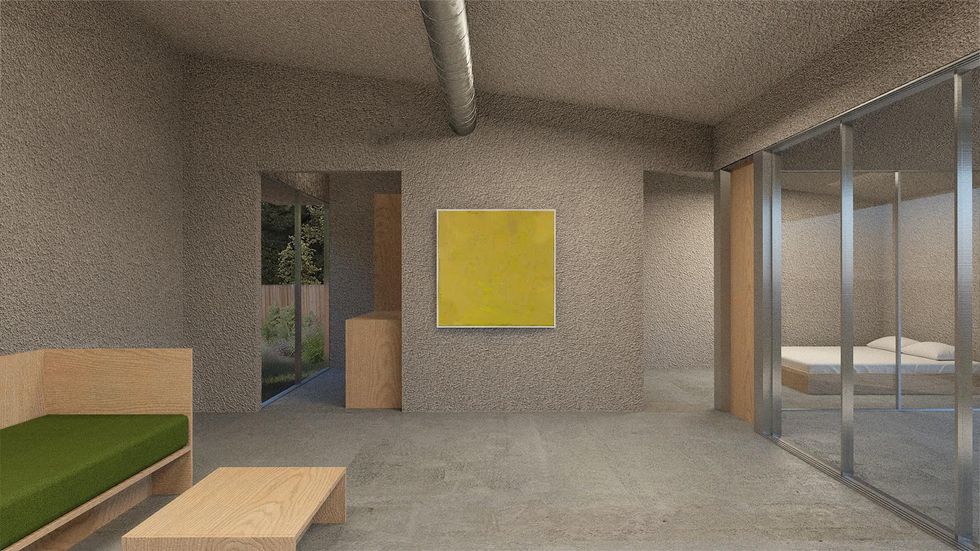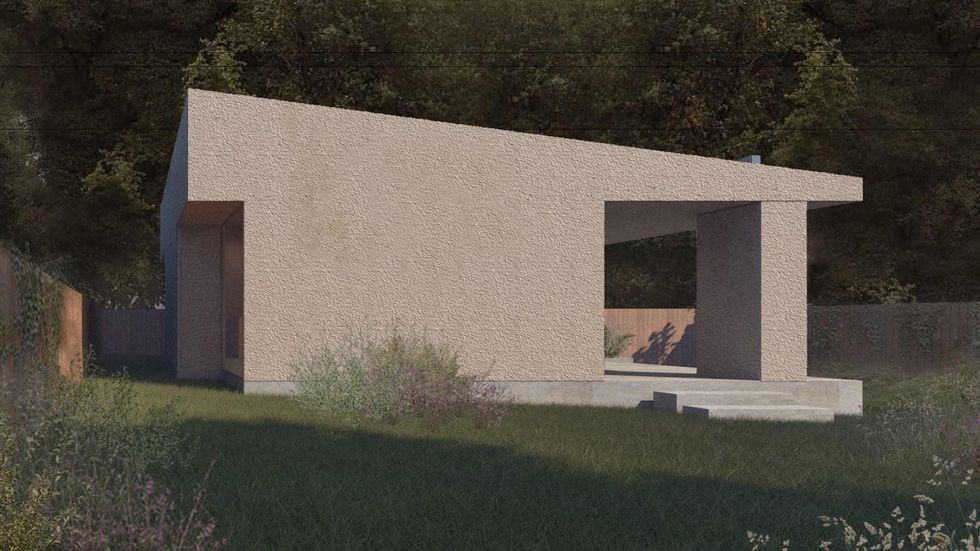 First Office
First Office is an architecture firm based in Downtown Los Angeles. Its approved ADUs will be built using prefabricated structural insulated panels, which allow for expedited construction schedules and high environmental ratings.
The interior finishes include concrete floors, stainless steel counters and an occasional element of conduit.
There are five options:
A one-story studio, 309 to 589 square feet
A one-story one-bedroom, 534 to 794 square feet
And a one-story two-bedroom, 1,200 square feet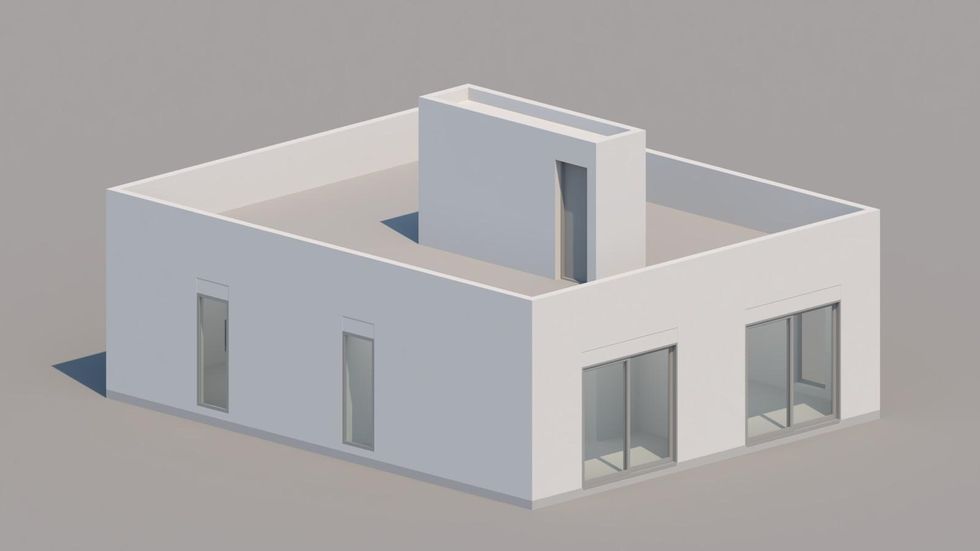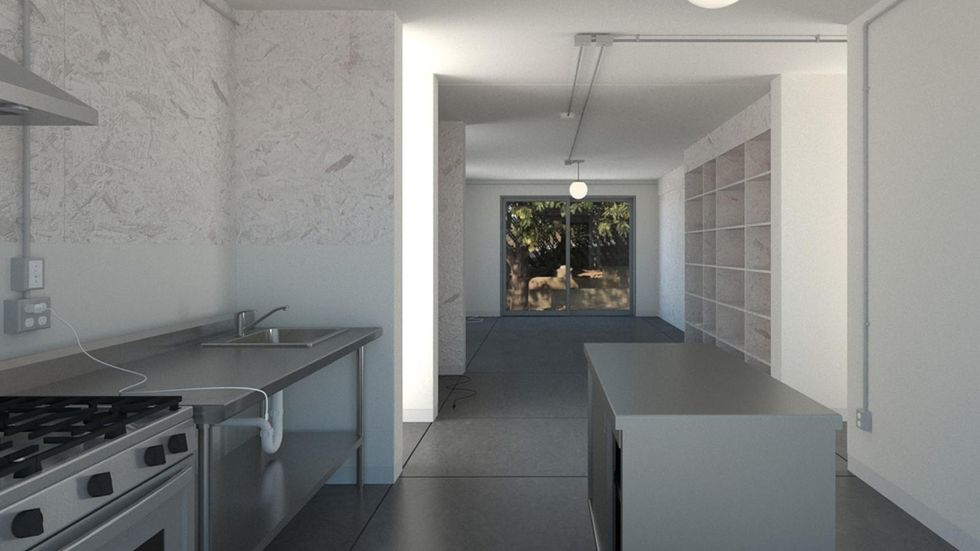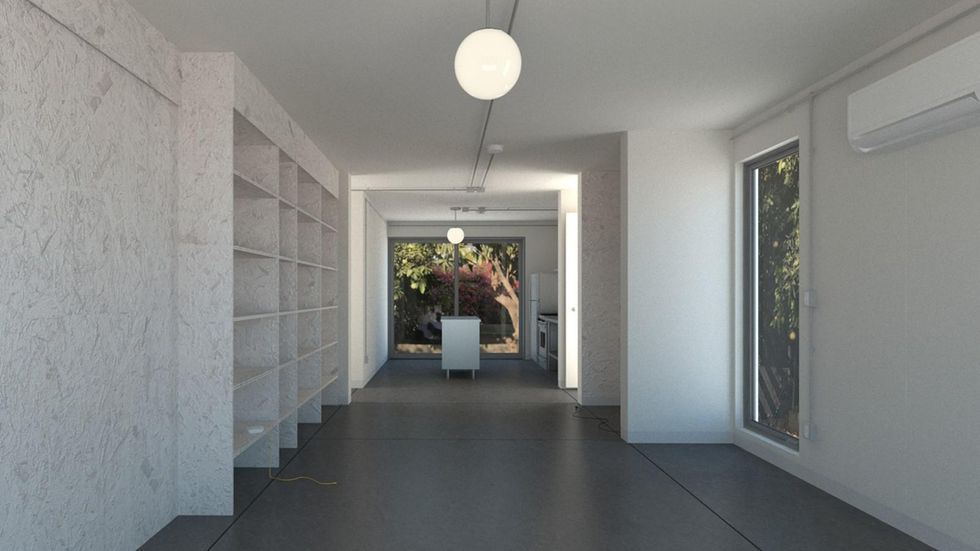 Fung + Blatt Architects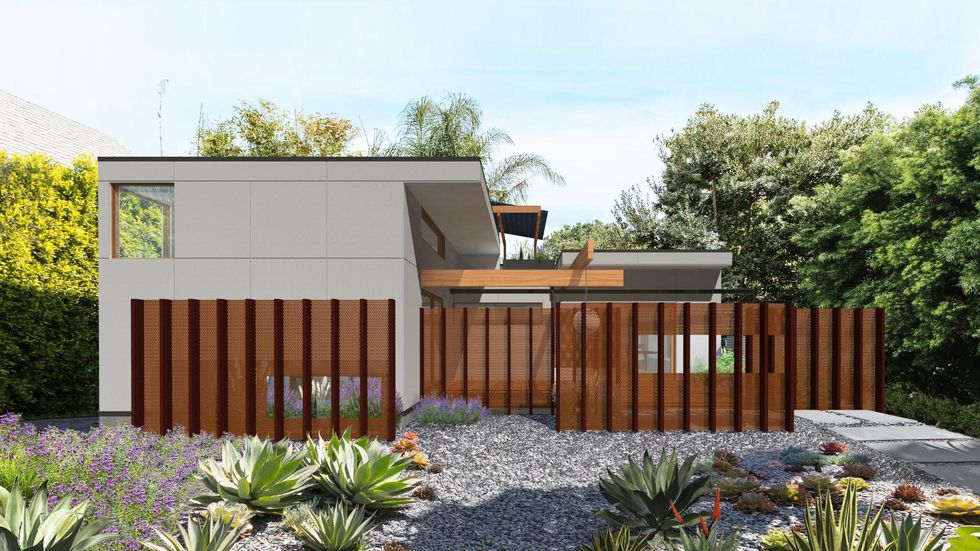 Fung + Blatt Architects is a Los Angeles-based firm founded in 1990.

The city has approved its 795-square-foot, one-story, one-bedroom unit with a roof deck. It estimates the construction cost to be $240,000 to $300,000, excluding landscape, site work and the solar array. Homeowners can also expect other additional costs.
Taalman Architecture/ IT House Inc.
The design team behind "IT House" is Los Angeles-based studio Taalman Architecture. Over the past 15 years, IT House has built more than 20 homes throughout California and the U.S.
The IT House ADU standard plans include the tower, bar, box, cube, pod and court.
The city has approved four options, including:
A two-story including mechanical room, 660 square feet
A two-story including mechanical room, 430 square feet
A one-story studio, 200 square feet
A one-story including mechanical room, 700 square feet
The firm also has another two projects pending approval: a 360-square-foot one-story studio and a one-story, three-bedroom at 1,149 square feet.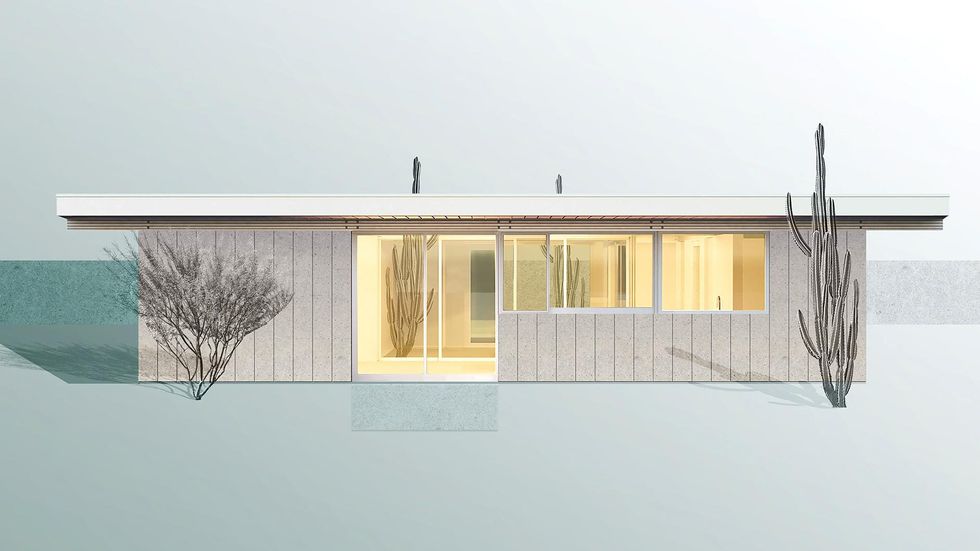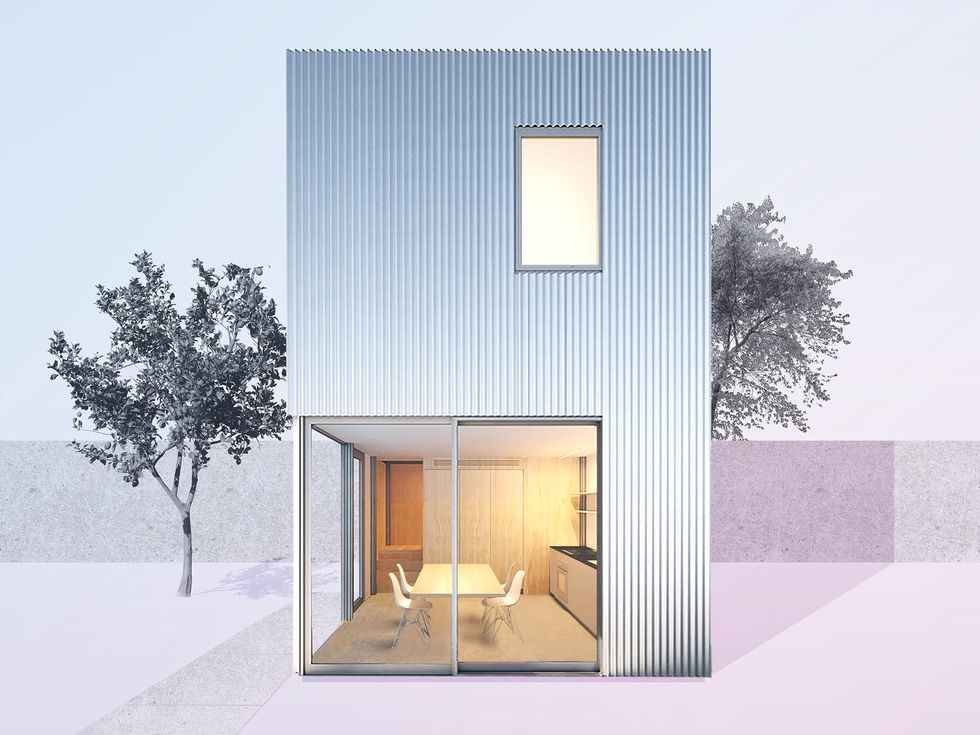 LA Más
LA Más is a nonprofit based in Northeast Los Angeles that designs and builds initiatives promoting neighborhood resilience and elevating the agency of working-class communities of color. Homeowners who are considering their design must commit to renting to Section 8 tenants.
The city has approved two of LA Más' designs: a one-story, one-bedroom, 528 square feet unit and a one-story, two-bedroom, 768 square feet unit. The firm has another design for a one-story studio pending approval. That design would be the first 3D-printed ADU design in the city's program.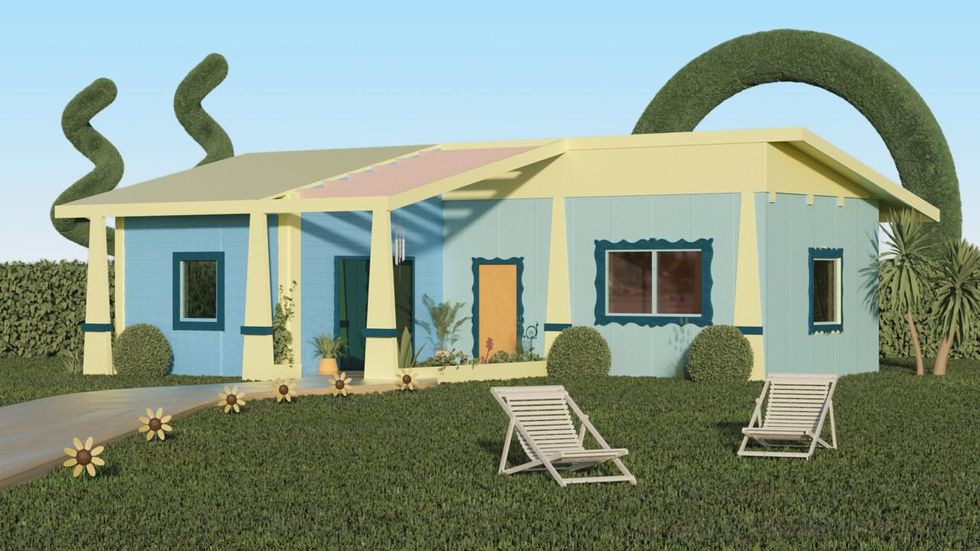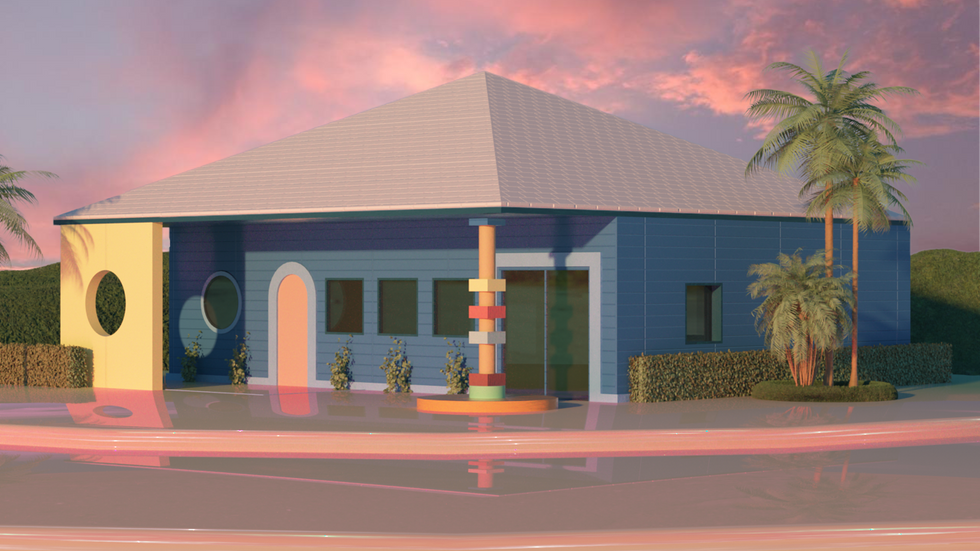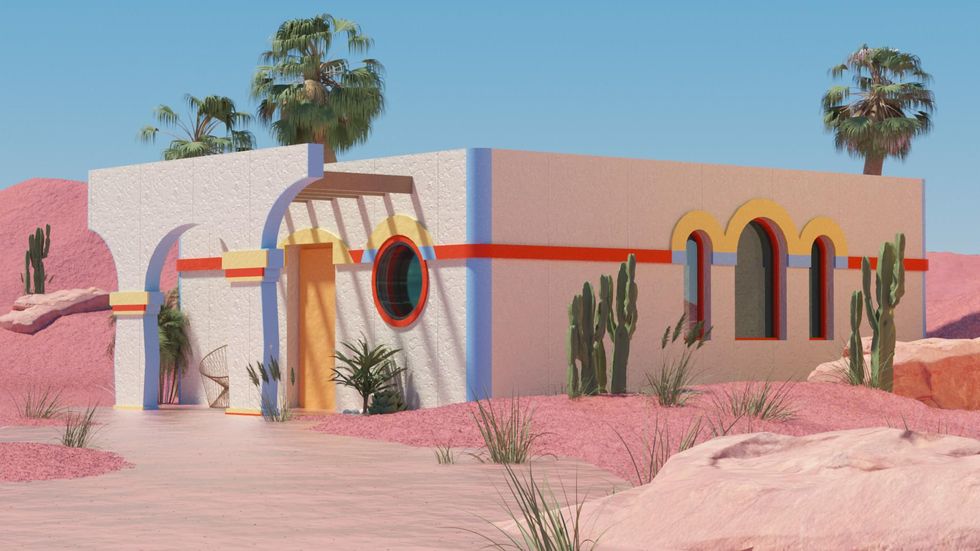 Jennifer Bonner/MALL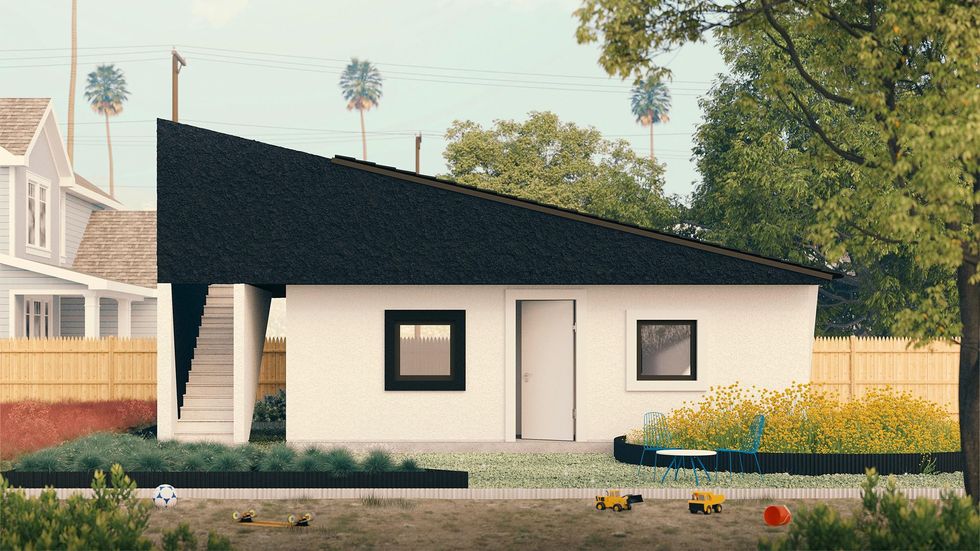 Massachusetts-based Jennifer Bonner/MALL designed a "Lean-to ADU" project, reinterpreting the stucco box and exaggerated false front, both Los Angeles architectural mainstays.
The design has been approved for a 525-square-foot one-story, one-bedroom unit with a 125-square-foot roof deck.
sekou cooke STUDIO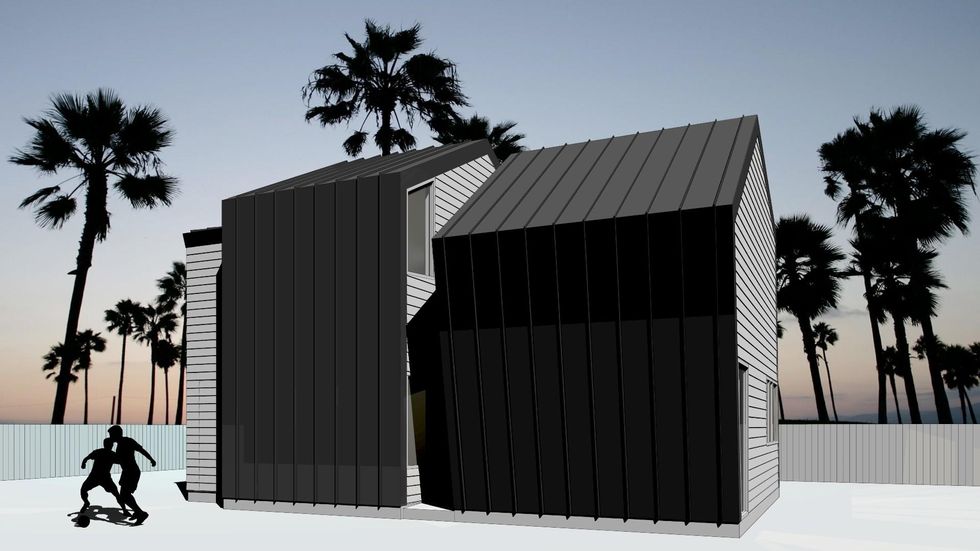 New York-based sekou cooke STUDIO is the sole Black-owned architectural firm on the project.

"The twisted forms of this ADU recalls the spin and scratch of a DJ's records" from the early 90s, the firm said.
Its design, still pending approval, is for a 1,200-square-foot, two bedroom and two bathroom can be adapted to a smaller one-bedroom unit or to include an additional half bath.
SO-IL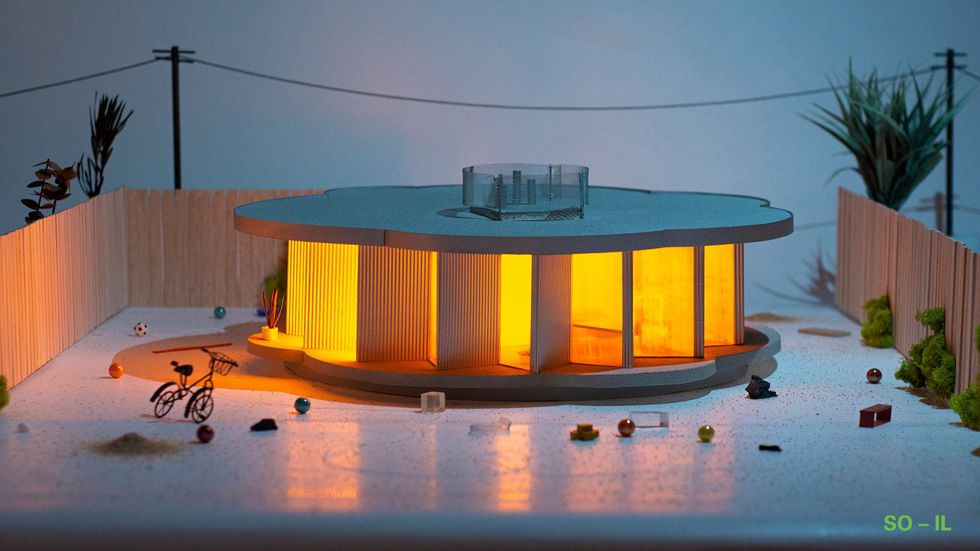 New York-based SO-IL was founded in 2008. It has completed projects in Leon, Seoul, Lisbon and Brooklyn.
Its one-story, one-bedroom 693-square-foot unit is pending approval. It is estimated the construction cost will be between $200,000 and $250,000.
WELCOME PROJECTS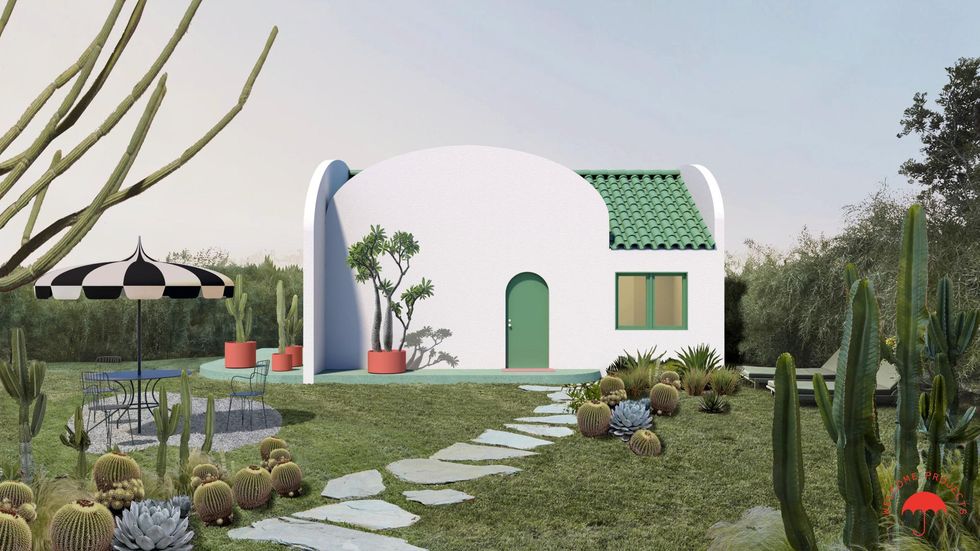 Los Angeles-based Welcome Projects has worked on projects ranging from buildings, houses and interiors to handbags, games and toys.
Its ADU is nicknamed The Breadbox "for its curved topped walls and slight resemblance to that vintage counter accessory."
It has been approved for a one-story, one-bedroom 560-square-foot unit.
wHY Architecture
Founded in 2004, wHY is based in Los Angeles and New York City. It has taken on a landmark affordable housing and historic renovation initiative in Watts.

Its one-story, one- or two-bedroom 480 to 800-square-foot unit is pending approval.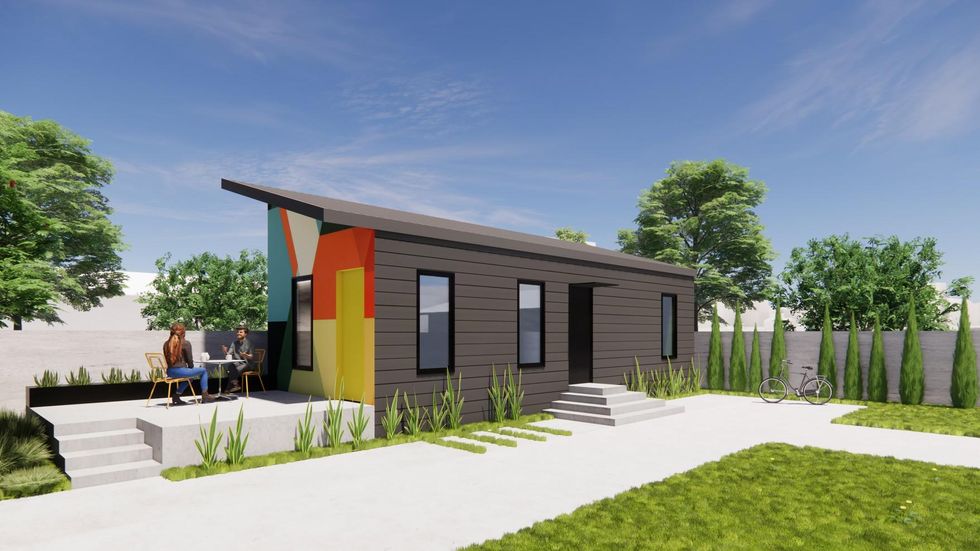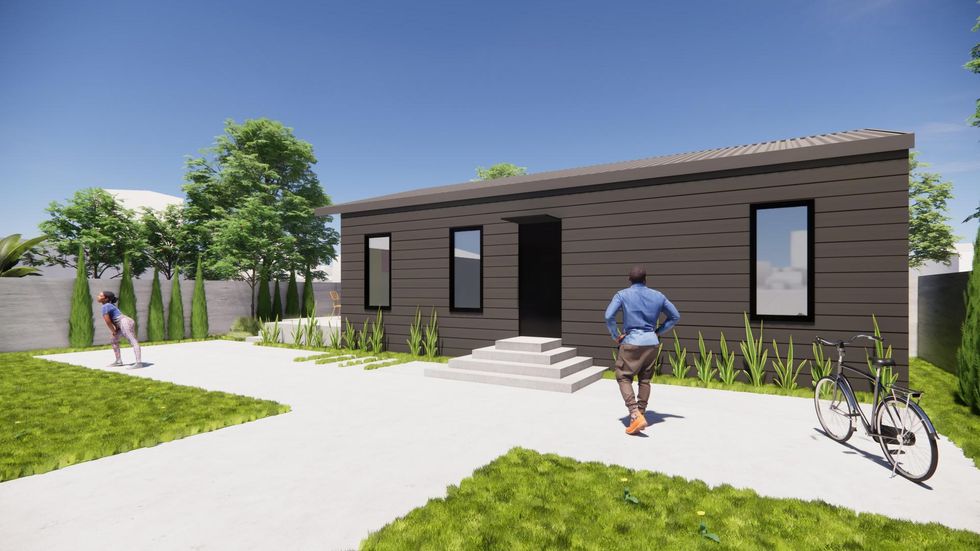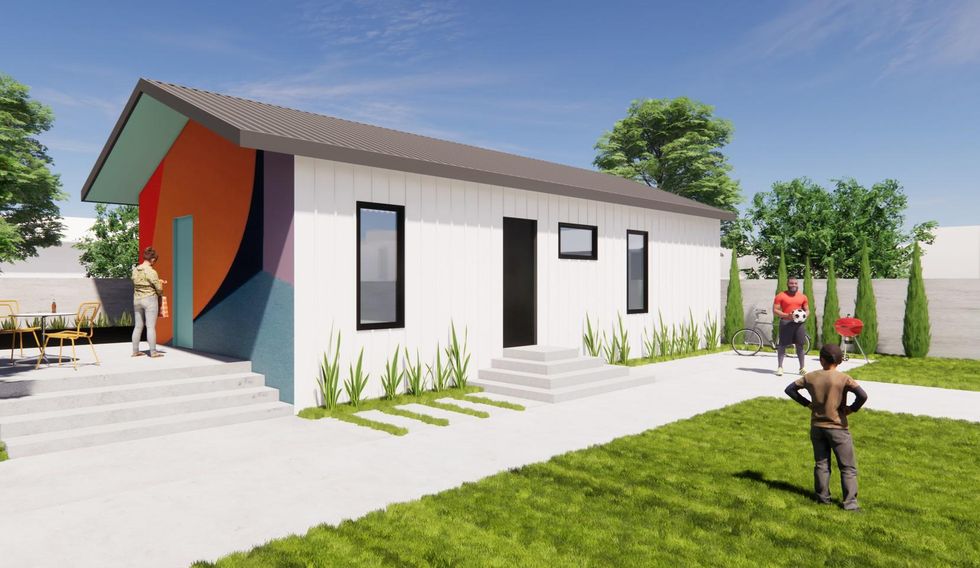 Firms that want to participate in the program can learn more here . Angelenos interested in building a standard ADU plan can learn more the approved projects here.
Sarah Favot
Favot is an award-winning journalist and adjunct instructor at USC's Annenberg School for Communication and Journalism. She previously was an investigative and data reporter at national education news site The 74 and local news site LA School Report. She's also worked at the Los Angeles Daily News. She was a Livingston Award finalist in 2011 and holds a Master's degree in journalism from Boston University and BA from the University of Windsor in Ontario, Canada.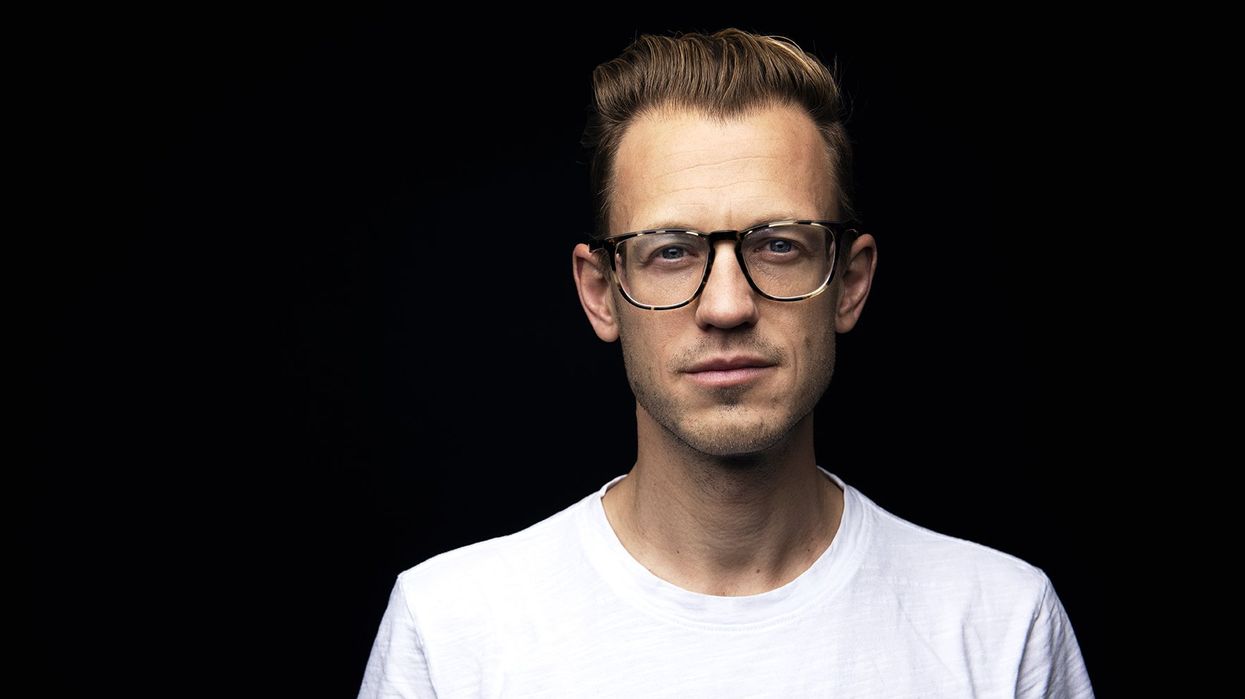 Carl Fritjofsson
On this episode of the LA Venture podcast, Creandum General Partner Carl Fritjofsson talks about his venture journey, why Generative-AI represents an opportunity to rethink products from the ground up, and why Q4 2023 and Q1 2024 could be "pretty bloody" for startups.
Creandum is a European VC firm that invests in early stage startups — typically at the "late Seed to Series A" stage. The firm's investments are focused across six major buckets: fintech, health, climate, SaaS, infrastructure and consumer internet.
Some of Creandum's most prominent investments include Spotify, Klarna, and Trade Republic.
"We started to build our own confidence that what we were doing was actually pretty good," Fritjoffson said. "I think we've come now to a position where we've seen enough high quality companies throughout the years, we know what good looks like and we've also seen the best of the best firms have invested in some of our companies and we've sat along boards with them, so we come to learn from them as well."
Working in the VC industry for the last decade, Fritjofsson has developed a unique approach to identifying opportunities for startups. His approach starts with recognizing that there are only so many types of large software categories that exist in the world (CRM, ERP, and Cloud Computing, to name a few)
"Each one of them are, to some extent, reinvented every X number of years. The reason why they are being reinvented is because the underlying core infrastructure has innovated" and the "winners of the last cohort…do not innovate as fast as the market expects" he said.
Fritjofsson thus spends a majority of his time waiting for significant inflection points- those moments when new technology comes along that fundamentally changes an individual's experience interacting with a software product or service.
Take Generative AI for example. Fritjofsson believes that recent innovations represent a "horizontal wave" that impacts each of the six investment buckets mentioned above. He further believes that AI changes how we "engage and interface with software", which necessitates fundamentally rethinking the way companies service a market
As Fritjofsson puts it, "I actually think that more or less every software category can be rewritten with a Generative AI-first approach. Now the question is, of course…how much better does that experience become?...I'm not necessarily convinced that it'll…disrupt every software category in the world, but I can at least build excitement around the potential." Where there's an inflection point, there's opportunity.
Despite the present opportunity with AI, Fritjofsson described a bleaker outlook for the cohort of startups that raised their last round of financing in 2021.
Fritjofsson believes that "Q4, Q1 is gonna be pretty bloody." He reasons that many startups cut costs in Q1'23 and Q2'23 to avoid coming to market when investor sentiment was negative. While these startups may have prolonged their runway, they likely did so at the expense of growth, which new investors will not like. As Fritjofsson puts it, Q4 '23 and Q1'24 will "be the moment of truth…where there's gonna be a lot of bodies in the wake because a lot of firms have slowed down."


Given his experience as a founder and now a VC, Fritjofsson advises younger folks to veer away from entering the world of venture too early.

"I think there's a really dangerous path when you get stuck in venture too early in your career," he said. "Because it's very hard to climb the ranks in a venture firm. Most venture firms are small and it's not a super clear path on how you become a partner."
While he's content in his own role, he cautions others who view a junior role at a VC firm as a stepping stone to an operating role inside an organization. The skill set, while valuable, is not necessarily transferable.
Finally, Fritjofsson shared the similarity he sees between the startup ecosystems in Europe and Los Angeles.
Homegrown success stories like Spotify helped Europe, as a startup ecosystem, "build confidence and trust their own intuition."
In Fritjofsson's view, LA is similar in that respect. It is significantly smaller than Silicon Valley, which simultaneously creates "a little bit of…insecurity" but also a willingness to "prove ourselves."
While Creandum and the team are constantly evolving, Fritjofsson has experienced various instances where the team won competitive deals by "thinking outside the box."
One example he points to was a time when Creandum was looking to win over Better Stack, a company in the observability space and said the firm was up against big names in the U.S. and Europe.
One of their products is a monitoring solution. Fritjofsson said Creandum created a sub page on the firm's website, which looked like they were using the company's product.
"We were building our conviction for the company," he said. "Obviously the founder loved this. No one else did this. This was unique to him and he will remember it for the rest of his life, and we ended up winning the deal. I'm not sure if we won it because of that, but it definitely played to our advantage."
dot.LA Reporter Decerry Donato contributed to this post.
Click the link above to hear the full episode, and subscribe to LA Venture on Apple Podcasts, Stitcher, Spotify or wherever you get your podcasts.
This podcast is produced by L.A. Venture. The views and opinions expressed in the show are those of the speakers and do not necessarily reflect those of dot.LA or its newsroom.
Decerry Donato
Decerry Donato is a reporter at dot.LA. Prior to that, she was an editorial fellow at the company. Decerry received her bachelor's degree in literary journalism from the University of California, Irvine. She continues to write stories to inform the community about issues or events that take place in the L.A. area. On the weekends, she can be found hiking in the Angeles National forest or sifting through racks at your local thrift store.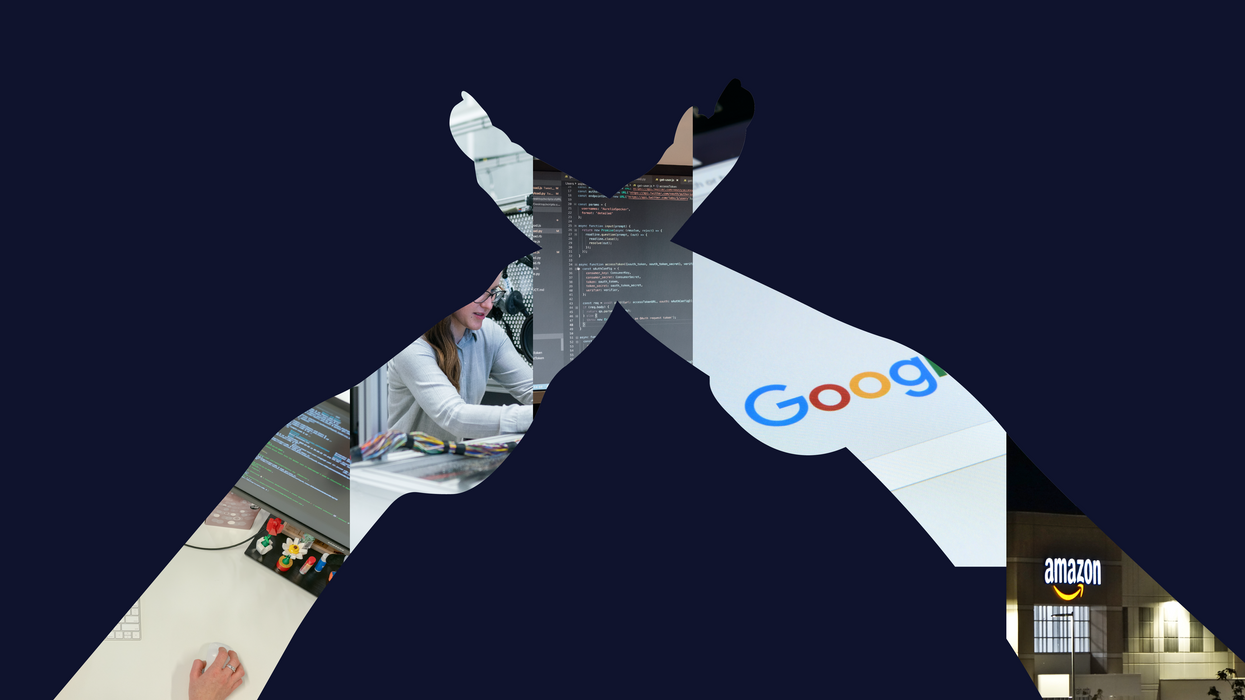 Evan Xie
A new report in Bloomberg suggests that younger workers and college graduates are moving away from tech as the preferred industry in which to embark on their careers. While big tech companies and startups once promised skilled young workers not just the opportunity to develop cutting-edge, exciting products, but also perks and – for the most talented and ambitious newcomers – a relatively reliable path to wealth. (Who could forget the tales of overnight Facebook millionaires that fueled the previous dot com explosion? There were even movies about it!)
But aside from the intensity and hype around employment-eradicating AI apps, the big tech story of 2023 has been downscaling, belt-tightening, and massive layoffs. So far this year, tech companies have laid off thousands of workers, while cutting back on compensation packages, fringe benefits, and some of the other amenities and perks that made these jobs so sought after in the first place.
According to data compiled by Bloomberg, tech has shed nearly 200,000 jobs just since October, more than twice the number of layoffs that have hit the financial sector. Additionally, data on industry pay from Levels.fyi suggests that overall compensation packages within the industry have dipped as much as 25% in the past year. The rate at which these layoffs are happening also doesn't seem to be slowing down very much, and may still even be increasing month-over-month.
Layoffs aren't just bad PR that make current employees nervous and potential new hires dubious. They also mean there are simply fewer hands on deck at these companies to collaborate on important jobs; major rounds of layoffs also mean more work for the employees who got to keep their gigs. Meta, Amazon, Alphabet, and Twitter have all massively reduced the size of their workforce, including teams that deal with important time-sensitive tasks, such as fact-checking or community moderation. Those jobs don't stop needing to be done because the people doing them got laid off; it's just now more work for fewer staffers.
Many tech companies also rely on the promise of lucrative stock options when recruiting top graduates with significantly in-demand skills. But with tech stocks slumping in 2022, and bouncing back this year mainly on the backs of the AI craze, embarking on a new career with a brand like Meta or Amazon suddenly seems less appealing than it did just a few years ago.
According to Insider, anecdotal evidence from job forums like Blind and other communities such as Reddit also indicate that the "rise-and-grand" hustle mindset so prevalent in the industry – which became synonymous with tech culture during the last startup wave – has led to widespread stress, discontent, and burnout among employees, many of whom are purposefully seeking jobs outside the industry now that the big paydays are also drying up. The Washington Post reported that disaffected Amazon employees in Seattle – fed up with layoffs, return-to-office mandates, and some of the company's other practices – are currently attempting to organize a mass walkout.
Within the tech industry, the massive hype around AI has been something of a reprieve from this torrent of bad news. But from the perspective of young people considering careers in tech, the industry's love affair with thinking machines may also be triggering some concerns about the future.
In late April, Dropbox announced it would lay off 500 employees – around 16% of its total workforce – and use the savings to build out an AI division instead. CEO Drew Houston explained that "I'm determined to ensure that Dropbox is at the forefront of the AI era." IBM CEO Arvind Krishna echoed a similar sentiment in May, suggesting that his company will pause hiring for roles that could potentially be replaced with AI in the near future. He suggested, over the next five years, IBM will likely replace 30% of its employees – around 7,800 people – with apps.
It shouldn't be that terribly surprising when young people develop cold feet about entering an industry that's already decided they're irrelevant, with CEOs simply biding their time before they can fire everyone working on the floors below them. But even beyond the personal stakes, it's also possible that young people are turning their backs on technology due to a reputational downgrade.
That said, some tech firms dominate both the top and bottom of Axios Harris' annual "brand reputation survey," which investigates how American adults feel about various companies. IN particuar, tech companies that produce tangible products or offer vital services continued to perform very well on the survey, with Samsung, Amazon, Apple, and Sony receiving positive appraisals from about 80% of surveyed adults. Conversely, social media and related internet companies – including Google, TikTok, Meta, and Twitter – found themselves near the bottom of the list, with reputation scores around the 60% line. That's around the same level as bankrupted crypto exchange FTX.
Anecdotally too, it appears that many recent grads who would otherwise be pursuing careers in tech are moving over to the banking industry instead. As one global talent partner told Bloomberg, while tech course-corrects by dropping tens of thousands of workers, "on Wall Street, you work really hard and you make a lot of money. That's the deal."
In light of this moment, JPMorgan Chase, in particular, has ratcheted up its recruiting. The company's workforce jumped 8% in the first quarter of 2023 vs. one year ago. All other factors aside, many of the top college grads are simply going to follow the money. Right now, that's clearly leading them to the financial sector.
Lon Harris
Lon Harris is a contributor to dot.LA. His work has also appeared on ScreenJunkies, RottenTomatoes and Inside Streaming.