How 3D Printing Could Help Tackle Homelessness in LA
Emily Beyda
Emily Beyda is an L.A.-based novelist and the author of "The Body Double."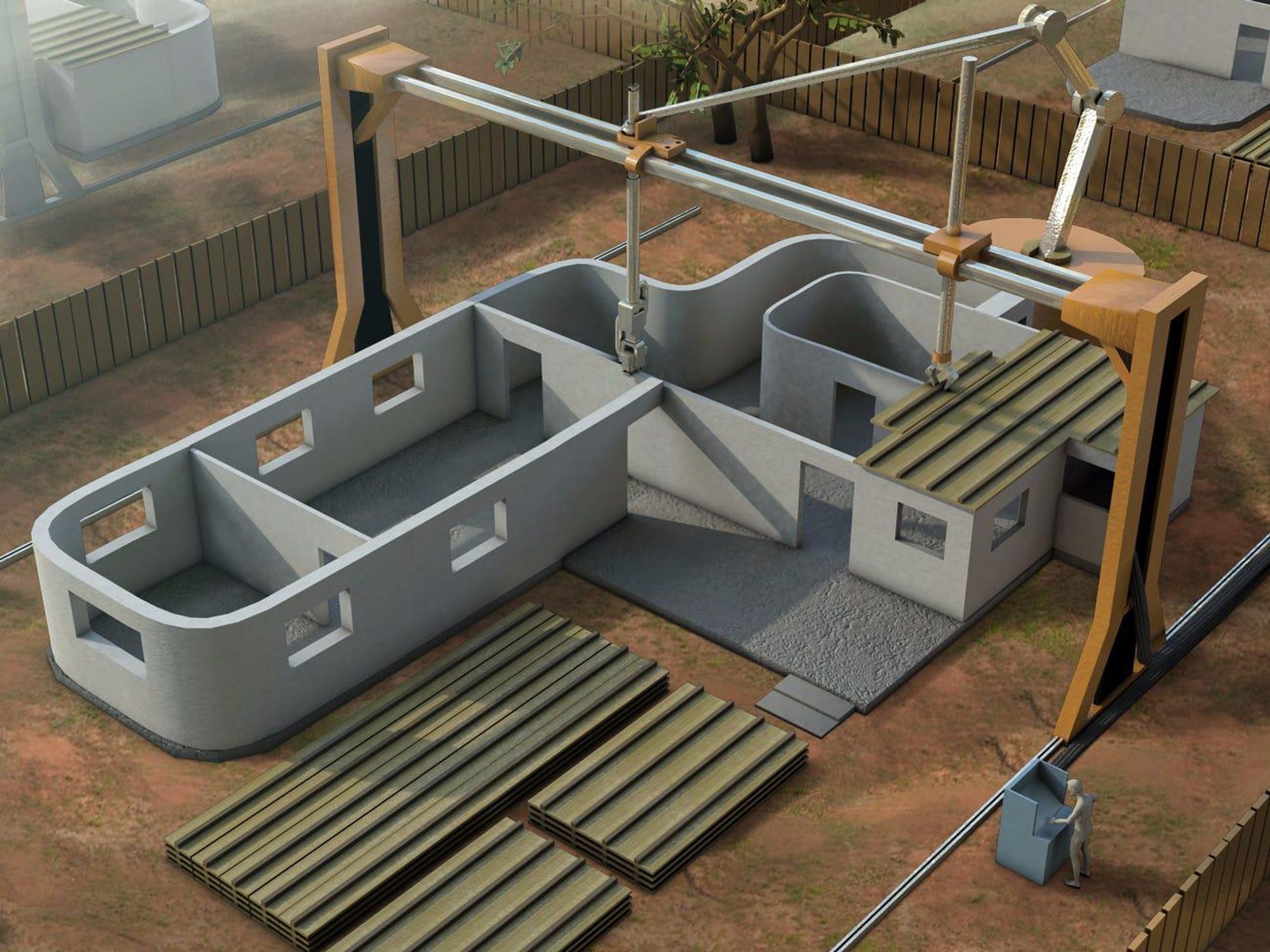 Los Angeles is home to the second-highest largest homeless population in the U.S. While new resources have been allocated to creating housing during the pandemic, it's not enough. Tent cities crowd freeway underpasses and sit alongside neighborhoods.

For Berok Khoshnevis, this crisis represents an opportunity. Khoshnevis is a professor of engineering at the University of Southern California and has had a lifelong interest in the potential of 3D printing. Since the 1980s, he has been working with 3D printed machinery, with a special emphasis on the creation of large structures.
---
Lately, Khoshnevis has been turning his attention to automated 3D printing construction technology, an application he believes could be used to meet Los Angeles' dire need for new housing solutions.
His vision is off to a promising start: In 2020, he was awarded a project by the L.A. County Development Authority to build four low-income housing units. Given the push for housing in California (and the rest of the U.S.), Khoshnevis' project could be a bellwether for a new phase of affordable housing.
Printing Buildings on Demand

Khoshnevis has invented a new method of 3D printing structures called Contour Crafting. While in certain aspects 3D printing of structures is limited, and only able to use certain materials, the speed at which it enables you to build new structures with reduced labor is impressive.
For Khoshnevis, one of the most promising aspects of 3D printed building technology is the ability it creates for users to print buildings whenever, and wherever, the need for new construction arises.
"The intention is to print on site, which is the main potential of this technology," he said. "You have to have a foundation, and then the machine will build the structure from the ground up."
With a single user machine, the user prints each layer of the structure in sequence, pausing in between each layer to allow the substrate to dry.
"We can add chemicals to make sure the materials can cure more quickly," said Khoshnevis, meaning that whatever concrete material the user chooses to base their structure on will dry much faster than is typical for conventional construction processes.
The way the machine operates varies considerably depending on the demand of the build site, as well as the type of machine used.
"There are different machine designs that require different levels of preparation," explained Khoshnevis. "For example, we created a system for the government that allows a single person to set up the machine on site in fifteen minutes. The machine can use any kind of structural material that can be turned into paste, any form of concrete."
New Housing in Record Time
According to Khoshnevis, this method can cut the time needed to build by as much as half. Conventional construction methods are able to complete the framing process, building walls and a roof, in about a month or two.
"Typically for a thousand square foot building you should be able to print it in one day," said Khoshnevis. "At that point, you can add other components, such as HVAC and electrical. Right now, 3D printing can only create the shell of a building, but I have patented processes for automated plumbing and electrical insulation, as well as automated reinforcement."
With faster new technologies and a streamlined permitting process, contour crafted buildings could help dramatically close Los Angeles' housing gap, providing housing to the approximately 41,290 unhoused people living in Los Angeles County alone.
The Economics of New Housing
Although housing advocates were just given a massive infusion of new funding from the county, building as many new units of housing as possible within budget is always of paramount concern. And according to Khoshnevis, contour crafting technologies can help save money as well as time.
"This technology can be used to speed up construction and make it cheaper, saving money on labor costs while reducing material waste," he said. "Part of the cost-saving is in the speed of construction, but there's also a reduction in the amount of workers you need to hire, and lowered material costs."
As Khoshnevis points out, the price of land is often the largest expense in the construction of new public housing. Contour crafting can help save money here too, enabling builders to erect new units on lots that aren't suitable for conventional, large scale construction.
Los Angeles still has tens of thousands of vacant lots scattered throughout the city, many of them oddly shaped or difficult to access with construction machinery. But with a single operator contour crafting machine, builders could begin to take advantage of some of this unused space.
Dana Bean from Union Station Homeless Services agrees that innovative thinking is necessary if Los Angeles has any hope of addressing the homeless crisis.
"Los Angeles is in dire need of additional housing opportunities for our unhoused community members," she said. "We have seen some additional housing resources in the past months of the pandemic, including vacant hotels through project homekey and product roomkey, as well as palette shelters that are going up around the city that provide temperature controlled rooms with a door that locks. These interim housing solutions can provide a safe space for those in need of it."
Bean says that technologies like Khoshnevis' key utility is enabling housing first solutions oriented towards getting people off the streets.
"We're opening a tiny house village in Eagle Rock at the end of the year, and while we initially saw some community concern about the construction issue," she said. "But once people saw that the project would be taking people off the streets of their neighborhoods and giving them housing, they were incredibly grateful."
Ultimately, Khoshnevis says that he's interested in seeing the ways housing advocates put his contour crafting technology to use, adding that he believes this technology has the potential to change the face of the contemporary construction industry.
"Construction is the only domain of human endeavor that is still done manually," he said. "It is a very dangerous task, and many people are unable to participate in the industry due to physical limitations. 3D technology would allow more people to participate in the construction industry. One thing I can say for certain is that construction is not going to stay manual forever."
And with the potential of contour crafting technology, an automated solution to Los Angeles' housing construction crisis could be closer than we think.
Emily Beyda
Emily Beyda is an L.A.-based novelist and the author of "The Body Double."