Edtech
Browse the latest news about education technology and startups in Southern California from dot.LA.
Los Angeles students are returning to classrooms this month that will look different and not only because desks will be six feet apart.
Laptops and tablets, which have been students' only connection to their teachers and classmates for the past year, will become prominent in classrooms that for generations have relied on paper and pen.
"I do think it's going to be a new game," said Michael Finn, who teaches at Marshall High School in Los Feliz. While technology has been available to Los Angeles Unified School District teachers long before the pandemic, teachers used it to varying degrees. Now, every teacher has adopted it and many are discovering more of its features and functions.
The nation's second largest school district began a phased reopening last week, with middle and high schools doors to open the week of April 26.
"Laptops, cameras, tablets are now just part of our learning environment," said Sophia Mendoza, who heads LAUSD's instructional technology division.
And so too are an array of educational software and other programs from Google Classroom and Schoology to quiz app Kahoot!, Newsela, a platform that hosts thousands of different texts geared toward different reading levels, and Nearpod, an app that allows teachers to take students on virtual field trips.
It will be a transformational shift in some classrooms where technology has been lacking.
When the pandemic hit last year and schools shuttered, districts across the country scrambled to ensure that students had devices to access online classes as well as a reliable connection to high-speed internet.
Some school districts also had to sign contracts for online learning management systems or other tools.
Tech Growth
Google Classroom said more than 150 million students and teachers now use its services, up from 40 million last year.
And venture investment in education tech startups more than doubled last year to $13.49 billion compared to $5.1 billion in 2019, according to Pitchbook.
Analysts expect the pandemic to accelerate the growth of a digital learning infrastructure.
At the L.A.U.S.D. tech companies raked in $70 million during the first two months of the pandemic, documents first obtained by LAist show.
The largest share of the money, $37.8 million, went to Apple for iPads as the district scrambled to arm a half million students with internet access and devices.
The district spent another $22 million to purchase Chromebooks and Windows devices through a company called Arey Jones. Verizon also received school district money, although the exact amount wasn't clear based on the documents.
In May, Superintendent Austin Beutner said its push to distribute devices to all of the district's 550,000 students was nearly complete.
"If the transition to online learning is our moonshot, the rocket's been built and lift off has occurred. We're in the early days of an extraordinary voyage," Beutner said in May.
While teachers will still rely on fundamental techniques they've learned throughout their careers, new tech programs like Pear Deck — which integrates with Google Slides and allows students to interact with the teacher's presentation — could make teaching more effective.
"What we're seeing now is that teachers are starting to see the value in some of these things when they may not have really been interested in trying it out before," said Corinne Hyde, an associate teaching professor at USC's Rossier School of Education.
"A lot of teachers who were a little bit unsure before have gotten over that initial hump of being nervous of the technology or skeptical of the technology and seeing that there's some opportunity there even when students and teachers are going back into the classroom."
Flipgrid, a tool that was popular before the pandemic, is one that Hyde sees as remaining in use once students are back in classrooms. Teachers can create a prompt within a grid where students can collaborate to post video responses.
Hyde also imagines apps that allow students to take virtual field trips to places like the Louvre will remain in widespread use by teachers.
"There are certain things that we can do with technology on the ground that actually do transform the learning experience that are simply not possible without the technology," Hyde said.
Marshall High School's Finn said he'll continue to use a digital audio workstation program called Soundtrap for his songwriting class. He thinks other teachers will also be adopting apps and other tools they became accustomed to during the pandemic.
Mendoza envisions teachers using the technology for introductory videos from the teacher and students, digital forms for parents that can be accessed in real time, collaborative tools like digital documents that can be shared among students, and digital polls, quizzes, assessments and instant feedback.
"It's going to be strategic," Mendoza said. "Educators will have to decide when and how much and be purposeful."
What started out as crisis management has turned into a sustained change, Mendoza said.
"Our educators have really taken this crisis and turned it into opportunity," Mendoza said. "There are so many silver linings here in L.A. Unified...I do see our future as being very bright in the sense that a lot of learnings that we have all learned over the last 12 months will continue on."
Not Business as Usual
Devices will also take more of an outsized role as students gradually return. Teachers will still have to conduct their classes online, as some parents opt to keep their children home and many classes remain remote.
A recent survey by the district shows that less than a third of parents are ready to send their children back to the school yard. Those children will be offered instruction online.
At high schools, for example, students will only be on campus two to three days a week. The hustle and bustle of students rotating from classroom to classroom will be gone, instead, teenagers will have to remain seated at one desk and log on to classes. As a result, the teacher in the classroom may be teaching a completely different class than the ones students are logged into..
To accommodate this, the district is making noise-canceling headphones available.
Officials say while the arrangement isn't ideal, students will still have the social interaction with their classmates and teachers.
Instruction will also look different in elementary schools where students will attend class five days a week for a half day in small, staggered groups and log in for the remaining school day from home.
Mendoza envisions students coming to class with their device with them and when they sit down at their desks, they will pull it open to access the day's lesson plans and materials.
"The school walls have been broken down, virtually," Mendoza said.
Finn is looking forward to when he can stand up in the front of his classroom and ask his students to open their computers, without being worried that he's on mute.
"That's going to be magic," he said.
He's looking forward to being able to see students as they're completing their assignments online as some students turn off their cameras during virtual classes for various reasons.
"I'm excited and I feel it from my colleagues as well," he said. "We're excited to take the things that we've learned and be able to implement them with a student in front of us."
Lead image by Ian Hurley
From Your Site Articles
Related Articles Around the Web
Edtech startup Quizizz will build out their Santa Monica offices with a $12.5 million Series A round announced Tuesday.
The platform, which lets teachers make gamified quizzes and interactive lessons spanning subjects from elementary school math to technical education, plans to use the funding boost hiring in the U.S., where a majority of Quizizz users live. The startup says it instantly reviews student submissions, cutting down on the time teachers usually spend grading tests by hand.
"Quizizz runs on teacher feedback so it's incredibly important for us to be close to our users here in the U.S. ," said Connor Pierson, the startup's head of growth. "We think that the EdTech community in Los Angeles is going to grow significantly over the next few years and there's no place we'd rather be."
In the era of remote learning, investors have flocked to companies building tools to supplement class time. The company has customers in more than 100 countries and says over 65% of U.S. schools use the platform. And it's turned a profit, although a company representative declined to elaborate.
Quizizz was founded in 2015 by Ankit Gupta and Deepak Cheenath, who tested the first version of its platform with remedial math volunteers in Bangalore, India, where it's based.
"No matter what is being taught, we think the best and most personalized learning happens when an educator is freed from busywork like grading worksheets and rigid, out-of-the-box curriculum," said Gupta, the company's chief executive, in a statement announcing the raise.
Tuesday's round was led by Eight Roads Ventures. GSV Ventures, Rocketship VC and existing investors Nexus Venture Partners and Prime Ventures Partners also participated in the round. To date, Quizizz has raised $15.5 million.
From Your Site Articles
Related Articles Around the Web
Sugerman is now in charge of Sketchy's operations, content development and growth. He'll be working to increase Sketchy's reach and expand its subject matter beyond medicine.
He will build upon his experience as executive vice president of Disney's global digital media and publishing arm. Part of his role there was to spread Disney's franchises across multiple formats, including comics, books, mobile apps and social media.
He'll also draw on his education experience. At Disney, for example, Sugerman led a program to teach English as a second language to 30,000 students in mainland China. And prior to joining the House of Mouse, he spent seven years building distance-learning products as president of Swedish company EF Education First.
"There are a lot of learning companies that exist," Sugerman said, "but what separates Sketchy from all of those is the ability to create and tap into its visual learning platform."
Sketchy uses images like this to teach complex concepts
Founded in 2013 by medical students for medical students, Sketchy uses image-based pedagogy to help with memorization. As CEO and co-founder Saud Siddiqui has said, "Our brain has evolved to be really good at visual spatial recall."

Sketchy's teaching technique boosts information retention by 30%, according to Siddiqui. Since launching, the company has acquired 30,000 users.
As part of his growth plan, Sugerman wants to transition Sketchy from a product to a service.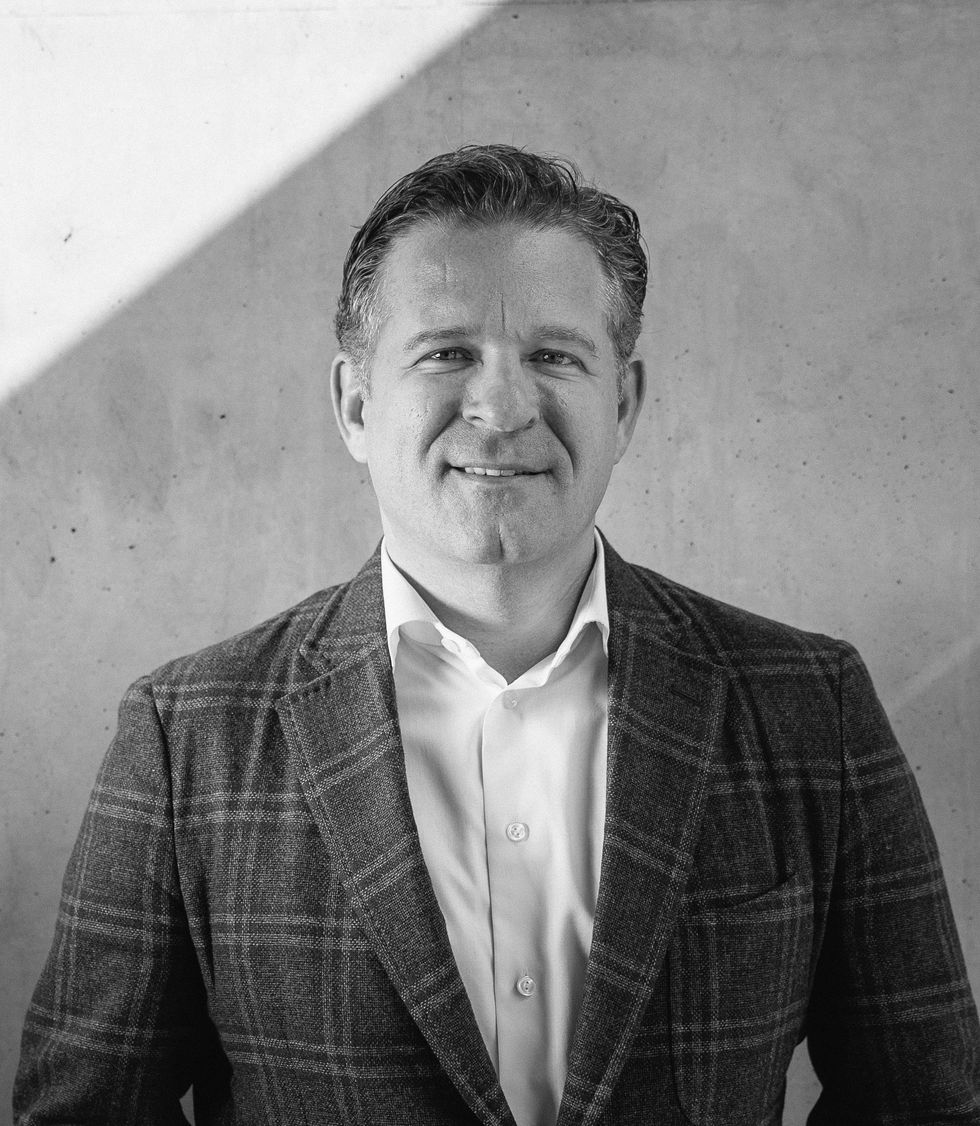 Former Disney executive Andrew Sugerman is the new head of Sketchy.
"When Sketchy started, it was helping students to prepare for a specific exam – a product for a defined period, for a defined outcome. Where we're looking to make a broader change," he said, "is to make Sketchy a program for a student who can start as early as undergrad, when they're preparing for pre-med or in the sciences, then making their way to the MCAT, into med school, into an adjacent program – and Sketchy will be there from the minute you start, all the way through."
A new price tag may accompany such a change, Sugerman said. In the past, new prices emerged when Sketchy bundled formerly separate courses on microbiology, pharmacology and pathology. Something similar may happen as the company explores new ways to package its offerings.
"Pricing is an active conversation right now," Sugerman said
To this point, Sketchy has had a tiered pricing structure, ranging from roughly $230 to $550 for up to two years of programming.
Sketchy's team will be growing as well. Sugerman wants to hire people for product, sales and marketing and engineering roles. The recent fundraise puts the company in a good position to hire such roles, he said, and "build out everything we'll be building over the next 12 to 24 months."

One other buildout in Sugerman's plans is creating new characters, to try to arouse "an emotional connection" in learners.
That effort aligns, he added, with another Disney experience of his, when his group relaunched the "Muppet Babies" to "make our dreams come true" again, and created a new character, Summer Penguin.
"I view the future of Sketchy as combining story content and character development into one unified opportunity for learning that can have a major impact," he said.
From Your Site Articles
Related Articles Around the Web