Edtech
Browse the latest news about education technology and startups in Southern California from dot.LA.
Burcin Becerik-Gerber was 22 years old when a catastrophic earthquake hit Turkey in 1999. Though she emerged from the 7.6 magnitude quake unharmed, the disaster killed over 17,000, including a number of Gerber's own friends.
That tragedy never left Gerber. As she went on to earn a master's degree in construction engineering and management at UC Berkeley and her doctorate in information systems at Harvard, she always knew she'd use her education as a vehicle to help those suffering through tragedies of their own.
As USC's Engineering Department Chair, Gerber has pioneered a course that allows students to learn about ongoing global crises and have the opportunity to create tangible applications to help aid people in need like the world refugee crisis.
The program is driven by the idea that there isn't one solution or one organization to tackle a given problem — more resources and new approaches are always required.
"I see my role as educating and inspiring the next generation," Gerber said. "I bring in my architectural background along with the engineering background to look into how technology enables spaces that could help support safety and security."
The nine-month long course involves not just students but also brings in advisors from the local and international community from Doctors Without Borders to SpaceX and the World Health Organization.
Students who want to participate must submit an application to be considered into the cohort. Since 2018, seven startups have emerged; all of them are still around today.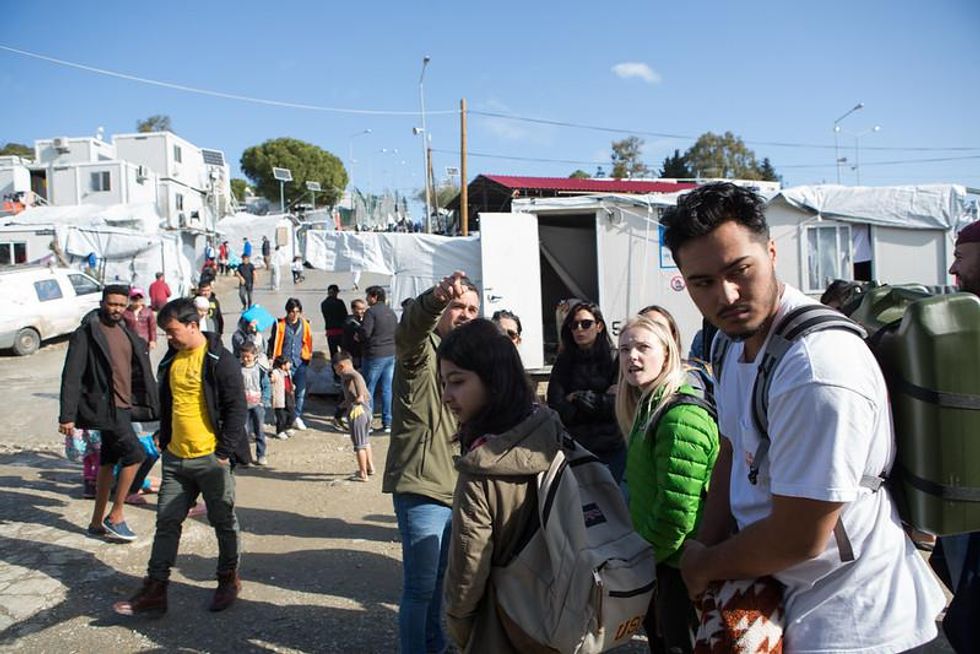 USC students gather to view the refugee camp in Lesbos, Greece.Photo by Elias Marcou
According to the UN Refugee Agency, there are 82.4 million refugees around the world.
While the course has focused on the global refugee crisis in the first two years and now they are shifting the focus to the pandemic, where another crisis has taken hold.
Among the technologies to emerge from her course is Frontida Records, a digital database that stores medical records for refugees. (Many refugees flee their country with barely anything, let alone health records.)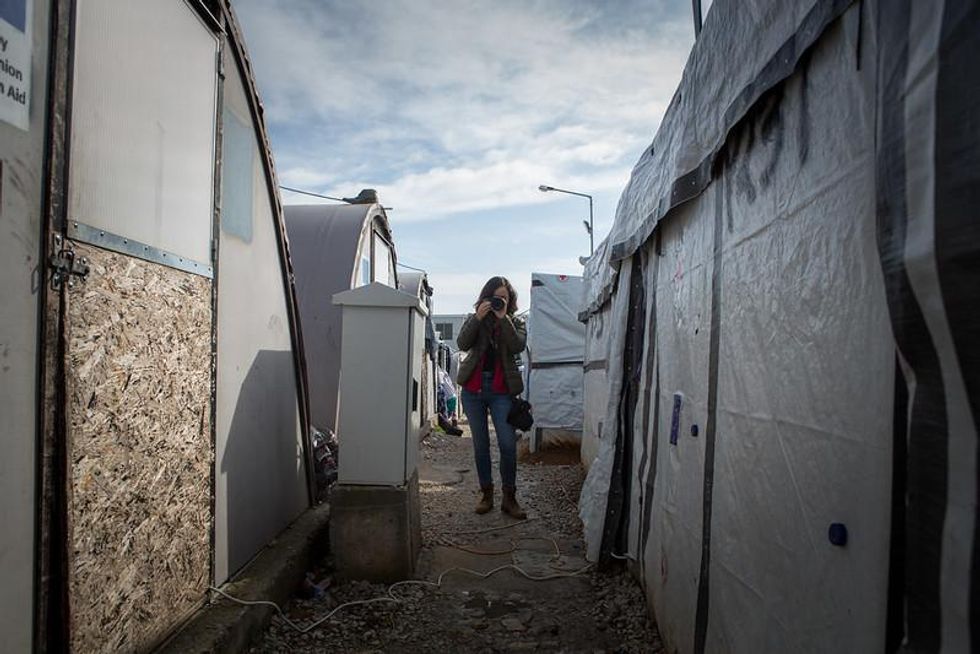 A USC student is captured on photo between the tight spaces of between each tent.Photo by Elias Marcou
The idea for the tech came from a class trip in 2018, when a group of students was sent to a refugee camp in Lesbos, Greece, for 10 days. They emerged with the idea for their database.
"Burcin is fantastic. She is caring and critical, pushing students to exceed their own expectations for themselves," said Laura Roed, a former student of Gerber's and a co-founder of Frontida. "My biggest takeaway from the course is that no matter who you are, if you put in the time, effort, and research you can truly make a difference in the world."
Roed said that Frontida has supported over 5,000 refugee patients as of May 2021. "We recently deployed with a medical organization in Panama that serves 25-plus local villages and are currently expanding in several Central American and Middle Eastern countries," she added.
And, given that 682,891 individuals have fled Afghanistan since January—a staggering 59% of them children under 18—it's not hard to imagine the company seeing an uptick in usage in the coming months.
Another company to come out of Gerber's class, Duet, serves as a micro-philanthropy platform to connect donors with refugees. To date, Duet has raised 140k donations, 175k total funding.
"This course proved that students can actually make a real, tangible difference in the world," said Rhys Richmond, Gerber's former student and Duet's co-founder and COO. "It gave us the opportunity to work across disciplines and create a sum bigger than the individual parts and taught us how important interdisciplinary work is to innovation."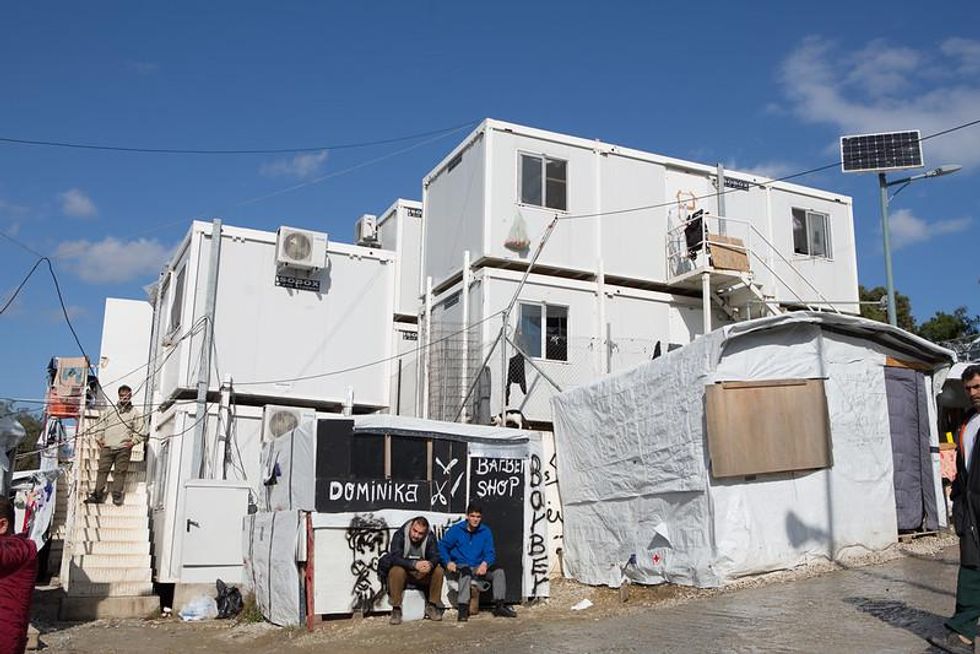 Two men sit in front go a makeshift barbershop in Greece, right beside a refugee tent.Photo by Elias Marcou
Gerber, for her part, is supervising research aimed at improving building design to become safer during fires or active shooter incidents. "I was interested in understanding how countermeasures implemented in buildings affected behavior," she said. "So we created these virtual environments at school and an office."
The lion's share of that work is being carried out by students, too. "It's important that students see how they can also be part of this change," Gerber said.
William Cunningham's voice is calm and patient over the phone. That sense of serenity will serve him well in the coming years as he helms the effort to digitize tens of thousands of artifacts, books and photographs, some nearly 3,000 years old, from USC's collections of Mesoamerica as well as those at California State University Los Angeles.
Cunningham, a digital imaging specialist at the University of Southern California Libraries Digital Library, will be responsible manning the camera and rig to capture a sprawling collection of artifacts and rare books such as recreations of Aztec codices copied directly from the original sources and a 16th-century edition of the "Cronica Mexicana" by Hernando de Alvarado Tezozómoc, a writer and direct descendant of Aztec emperors.
Cunningham's work is integral to the Cal State-USC joint project funded by a grant from the Council on Library and Information Resources (CLIR). The project could have implications for generations of academics, students, and indigenous peoples in North and Central America trying to understand the connection between the thousands of years of pre-Columbian history and colonialism in the Americas.
"It's going to be a useful pedagogical tool, and, obviously, quite a resource outside of Cal State as well to the broader community," said Mario H. Ramirez, head of special collections and archives at the University Library at CSULA. Ramirez is also a principal investigator in the project's joint-team that includes Cunningham, Azalea Camacho (also a principal investigator) along with several other researchers.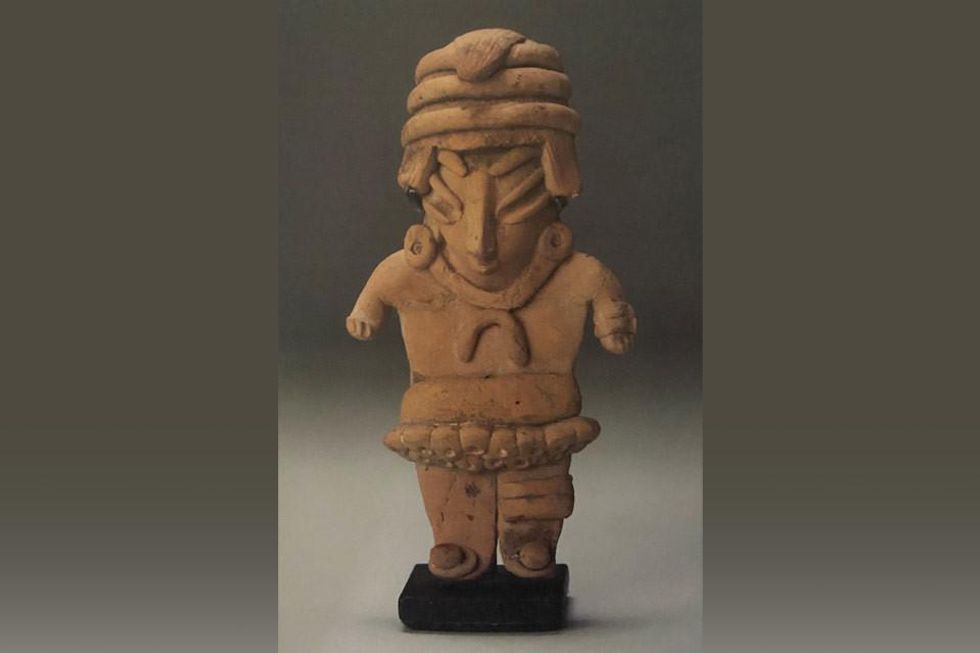 Image: Standing Male Figure of Ballplayer; Mexico, Guanajuato, Chupícuaro; late pre-classic 200 BC-1 BC. Credit: Cal State LA Special Collections & Archives/MAW Collection
"Our intent with it is to work with local K through 12 districts and work with community groups in order to really make clear the connection between the materials and history they document and a lot of the Latin American communities that reside here in Los Angeles as well," said Ramirez.
The items from CSULA's Mesoamerican and Colonial Mexico Rare Book Collection and MAW Collection and the USC Libraries' Special Collections include stone and clay figures from more than a dozen cultures that thrived before the Spanish conquest. Among the pieces are an effigy figure of the rain god Tlaloc from Teotihuacan culture in the heart of Mexico that retains much of its original earthen pigments.
There thousands of photos taken during the early 20th century of historic pre-Colombian sites and Spanish colonial architecture across Mexico and Central America before excavations, tourism and the hundreds of thousands of seekers it attracts faded much of the glory of those areas.
The digitized archives will eventually be shared freely via the Cal State digital library, the USC digital library, Calisphere and the Digital Public Library of America. The intent is to bring these collections to life for students and to those who might otherwise not get the chance to see them.
"We're hoping to do some 3D printing on campus of some of the objects," said Ramirez. "It's supposed to be a teaching collection in many ways but, obviously, many of the artifacts are very delicate so we don't want people accidentally dropping them. We're hoping to 3D print some of them so that it's feasible and students can actually handle some of them because we have a Mesoamerican Studies minor on our campus."
The photography collection also includes nearly 10,000 images printed on 35mm slides. The images are dated from the 1950s to the 1980s and feature Mesoamerican objects held in museums in Italy, Spain, Germany, France, the US, and South America. Of these, Cunningham has digitized 4,500 of them.
Cunningham uses a different camera and process to digitize physical objects such as statues and jars. He uses a Phase One XF camera with a 100-megapixel Phase One IQ3 digital back. Normally, he shoots 32 images of each item from one of three angles for a total of 96 images to create a single 3D render of an object. The 3D render is processed using Agisoft Metashape.
However, the massive number of items he needs to scan within the three-year period has forced him to experiment with other methods. He's currently testing out a method to create 3D renders with only 16 photos using either one or two camera angles depending on the shape and size of the artifact.
One of Cunningham's biggest challenges is handling the items. Many are centuries old and are very brittle or fragile. Some of the rare books that he's digitized so far, for example, have to be handled with care or the pages may break apart at the edges. Some have pages missing or have contents that have faded due to the elements. Despite this, he's found some amazing pieces of history sitting in the archives.
"There were about 10 different books," said Cunningham. "Some of them were late 19th century, early 20th century and some of them were reproductions of Aztec codices, which were written and illustrated at the time of the Spanish conquest. Those were kind of fascinating just to see if this was someone sitting there drawing pictures of Aztec rituals and ethnic daily life, and also images of the Spanish and their boats and their cannons and swords and armor coming ashore. These were done by people who were bearing witness."
Rachel Miller, founder and CEO of Closegap, has always been interested in helping kids who did not win the "birth lottery," as she calls it.
She is one of them.
Growing up, her mother had schizoaffective disorder, but did not take medication for it. Miller often stayed at strangers' houses or with family and friends because her mother had a hard time keeping a job. As a result, she often found herself exposed to others who were using drugs.
One night when she was 9, Miller thought she would have to sleep on the streets, but she and her mother received a last-minute motel voucher after standing outside a welfare office for hours.
It was in education that Miller found refuge. She'd often bounce around to several different schools in a year, but often was surrounded by teachers she saw as "guardian angels" who cared about her and her situation.
The support propelled her to attend Los Angeles Pierce College and then USC's Marshall School of Business before getting a master's degree in entrepreneurship at the University of Amsterdam. Drawing on an entrepreneurial spirit, she started a donation platform where people could gift specific items to disadvantaged families. It ultimately failed but something else bloomed.
"I learned so much and actually realized that I don't want to try to eliminate the adversity that kids experience," she said. "I want to optimize the support that they get from the adults around them and teach them the coping skills they need."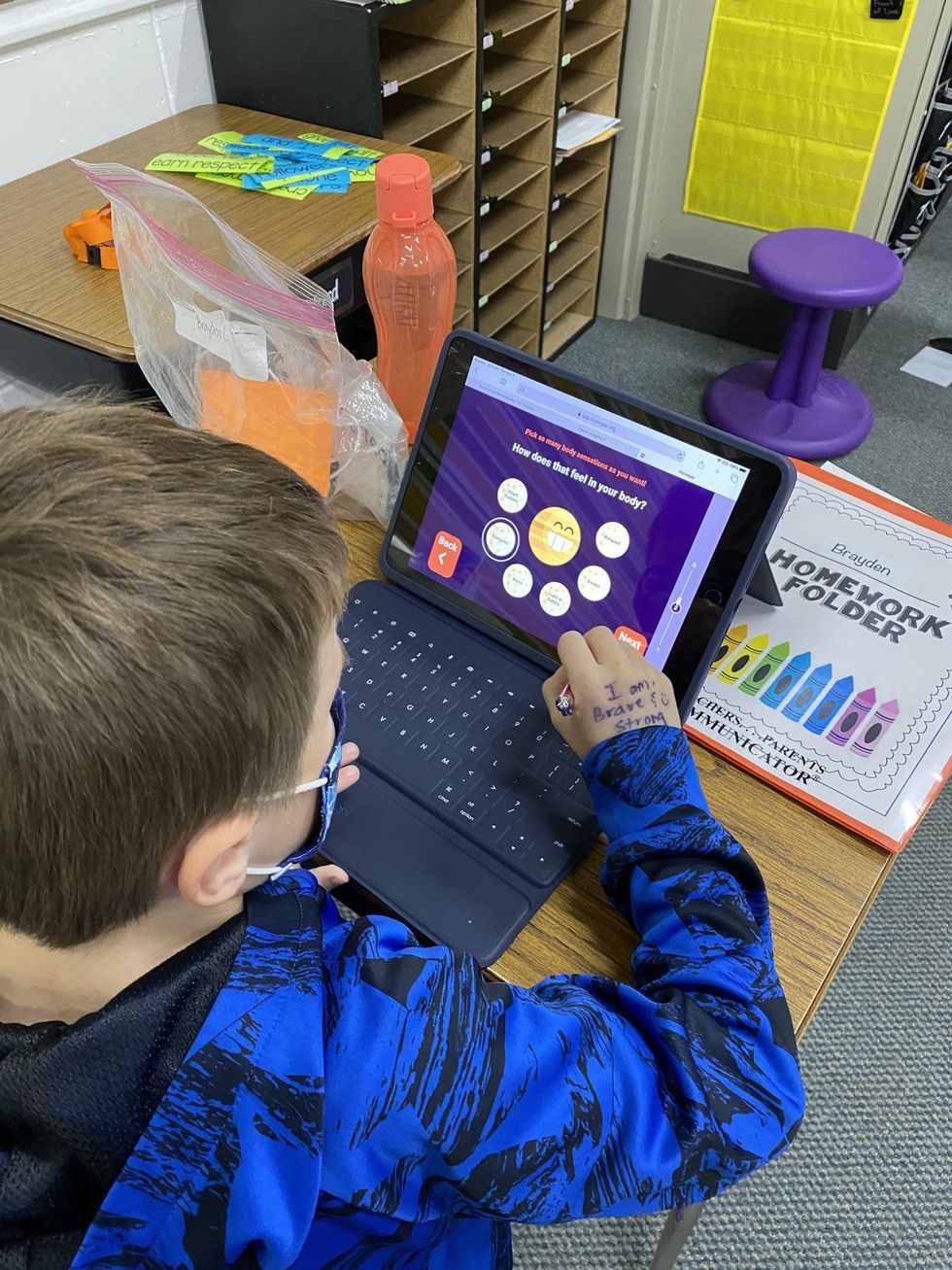 She launched Closegap in 2019. The web-based app used by schools lets students check in daily with their emotional well-being by answering questions like: Are you feeling worried or are you feeling like you are worth less than others. The questions are tailored to different age groups and teachers and counselors get results for each student. It tells them whether a child hasn't had breakfast that morning or is experiencing suicidal ideations.
For years, Miller was reluctant to share her story. She had a difficult childhood, one that she often didn't feel comfortable talking about. But she came to understand that it was that pain where her passion for disadvantaged kids comes from.
About 2,100 schools across the U.S. use the Los Angeles-based nonprofit's app, as well as schools in 25 countries. Students have completed about 2.5 million "check-ins."
When COVID hit, the app went from reaching 10,000 students to 140,000 students in two months, Miller said. That number has now reached about 160,000 students.
It's no coincidence. The American Psychological Association's Stress in America 2020 study shows that 43% of Gen Z teens, aged 13 to 17, say the level of stress in their life has increased over the past year. And a UNICEF report on the mental health of children globally found that 1 in 7 adolescents is estimated to live with a diagnosed mental disorder.

School districts across the country, and here in Los Angeles, are hiring school psychologists and psychiatric social workers to address the need.
Closegap targets schools because that's where Miller thought it would be most effective. "Not all families are created equal," she said. Community resources often fall short. She thought Closegap could help students make a connection with at least one adult.
"If we can optimize for that, if every kid had at least one trusted adult, our entire society would look different, that would literally change everything," she said. "That's why Closegap really focuses on that check in and getting them in contact with school counselors and teachers," Miller said.
The app has a free version that's more focused on the connection with an individual student as well as a recently launched paid premium product that provides aggregated data to school districts.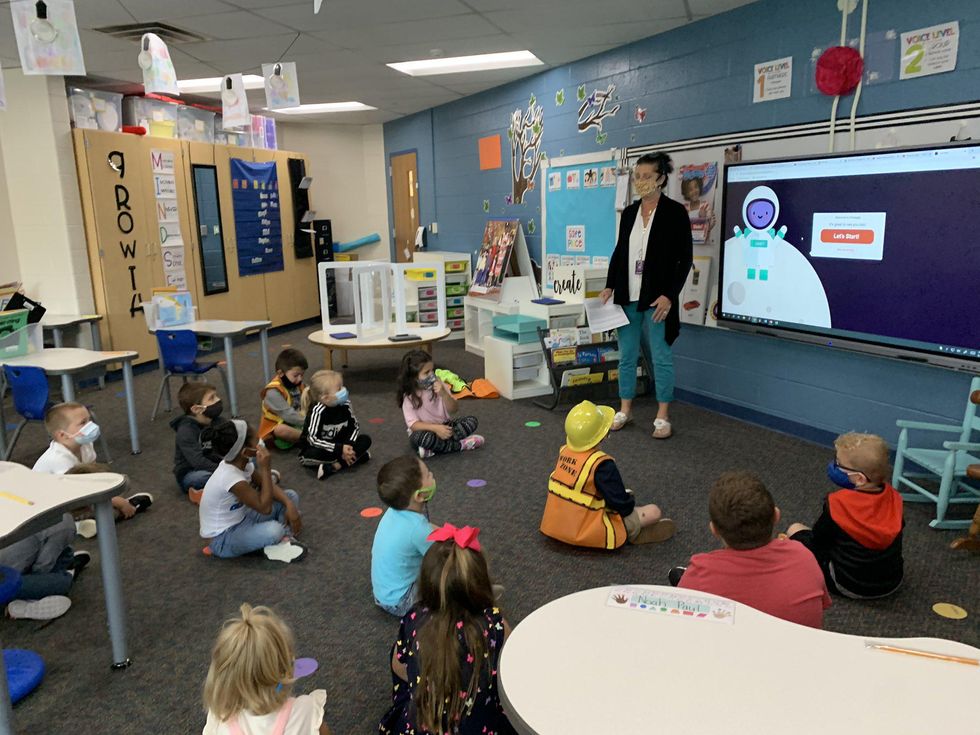 dot.la
"The idea is to create a safe digital space, where they feel comfy sharing, so it's not just a survey," she said. "It's really this moment where you get to check in with your emotions, your somatic sensations, your energy level and then you get to share if you have any challenges."
There are then activities on the app that students can do if they choose, like deep breathing exercises, progressive muscle relaxation and therapeutic shaking.
When it comes to student data privacy, Miller said it's something she takes seriously and part of the reason she founded the organization as a nonprofit.
So far, the only time Closegap will intervene is when a student reports ideas of self-harm or suicide. They will follow-up with the school to ensure an adult has been in contact with that student. She said all of the students who have reported self-harm or suicide on the app are receiving treatment.
Miller has relied on philanthropic donations to fund the app so far. She has several investors, rather than a single one -- much like a startup backed by venture capitalists would have.
The company is now working on integrating pieces into the app that orient children to the future, rather than living in the here and now. Students who experience trauma are often stuck in their present situation, in survival mode, she said.
"What I want to work on next is really making sure that all students, regardless of the circumstances they find themselves in, have some concept of the future and can start to at least a little bit visualize what their lives might look like after whatever it is they're in," Miller said.
From Your Site Articles
Related Articles Around the Web