Edtech
Browse the latest news about education technology and startups in Southern California from dot.LA.
Craig Jones, co-founder and CEO of Formative, a platform that helps teachers track real-time student data, wants to live in a world where students don't have to take a final exam at the end of the school year.
Founded in 2013, his software platform allows teachers to see students' level of comprehension and achievement in real time, allowing teachers to assess students as they learn and adjust the curriculum to focus on areas where students may need more help.
"There will be a day where students don't take a big test at the end of the year as a school's primary way to assess student learning," Jones said in an interview.
The software enables teachers to give timely feedback to the student, rather than students having to wait for teachers to grade an exam for the entire class.
Jones wants to build even more features for teachers and more services for school leaders. On Tuesday, he got a boost to do just that with a $70 million Series A funding round led by global growth investor Summit Partners, with participation from existing investors including Emerson Collective, Fika Ventures, Mac Ventures and Rethink Education.
He said the company plans to triple its headcount to 150 this year as they build partnerships with top content providers and publishers and expand into additional markets.
Jones started creating solutions to help improve data collection and feedback for his students when he was teaching for Teach For America at a Los Angeles Unified School District middle school from 2008 to 2012. Jones then went on to co-found the company with Kevin McFarland in 2013 when they were UCLA graduate students.
Formative, like many edtech companies, saw growth during the pandemic, becoming an integral part of the classroom as learning shifted online, after Formative launched its COVID assistance program. That program gave teachers and their students free access to features that would normally cost money.
The company found many of those teachers kept using its service even as they returned to their classrooms.
"We were feeling like the solution that helped them during the virtual environment was just as applicable and maybe even more useful when they had all the students in the same room," Jones said. "It put us in the position where the growth would sustain into the future…and we would be part of the future of what school looks like."
Formative assessments, from which the company gets its name, have become more common in classrooms recently. Formative assessments include things like short, informal quizzes at the end of the lesson, or even in the middle, that can give teachers a snapshot of a student's understanding.
Experts have encouraged teachers to use them to improve student learning, rather than wait for "summative" assessments like a final exam or a standardized test. The approach gives educators timely data that indicate students' skill level and their progress toward learning standards before a course has been completed.

Inspired by the concept, Formative lets students submit video and audio clips, images, drawings or file uploads to respond to questions. In addition to instant results, teachers can see their students' performance over a longer period of time.
Formative said four million students engaged with the platform in the past year. The company added that it has an annual recurring revenue growth of about 700%.
Jones said 92% of all school districts in the U.S. have at least one teacher who uses Formative. Some school districts such as Omaha Public Schools, Atlanta Public Schools and Portland Public Schools have contracts with Formative.
Companies that directly connect creators to users are decidedly in vogue, even in the colorful cuddly world of kids' content.

Encantos, the L.A.-based children's book publisher-turned-edtech startup, plans to include a creator platform on its new app that it will roll out this fall, chief executive Steven Wolfe Pereira told dot.LA.
"Where Roblox as a creator platform connects gamers and developers, we're going to be connecting creators and kids," Wolfe Pereira said.
The startup is taking a page from creator marketplaces set up by Roblox, Substack and Patreon — along with YouTube and virtually every social media platform trying to lure influencers to their apps.
In 2020, Encantos launched a subscription service that packages its games, puzzles and books tied to its growing roster of what it calls its "storyworlds." These include "Canticos," which features three baby chickens who help kids prepare for kindergarten and learn English and Spanish, "Tiny Travelers," which is focused on geography and culture and "Skeletitos," which features dancing skeletons who teach critical life skills like telling time.
The company's subscription revenue has since grown to surpass income from its retail products, and as Encantos' digital footprint grows, the company aims to pull in 95% of its sales from subscriptions, Wolfe Pereira said.
Encantos' Canticos app is part of that digital growth goal. It launched last fall as an early step toward creating a direct-to-consumer personalized learning platform that it plans to release this September. The company wants its Encantos app to become the "home for learning 21st century skills," Wolfe Pereira said.
In addition to Encantos' own storyworlds, the app will incorporate educational storytelling content from external creators, who will be paid based on how much user engagement their content produces. Exactly what that compensation will be based on hasn't been finalized, but it will likely depend on how much the users are learning and showing signs of having fun, Wolfe Pereira said.
Encantos said it's creating an approval process for creator submissions , which will entail a combination of human review and machine learning. No formal teacher certification will be required.
"You don't need to be a teacher to teach," Wolfe Pereira said.
And just as Netflix recommends what its users should watch next, so too will Encantos recommend what its users should learn next, based on data that informs the personalized learning experiences.
Encantos launched in 2015 after Wolfe Pereira, his wife and another couple grew frustrated by the publishing industry's lack of interest in bilingual books targeted at Latino children. The company's first storyworld was "Canticos," which went on to become a popular series for Nick Jr. after Encantos struck a deal in 2017 to license it to Nickelodeon.
Encantos has raised $8.5 million and last year brought on global tech executive Sol Trujillo as its board chairman. dot.LA Chairman Spencer Rascoff is an investor in the startup.
It is not yet clear how many creators will ultimately feed into the Encantos platform. Wolfe Pereira said he has begun lining up some celebrities and subject matter experts. But he is also looking forward to watching unexpected creators break through.
"We're gonna have story teachers from around the world put stuff onto this platform and we have no idea what is going to go viral," he said. "I know there's going to be this pent-up demand where you'll have all these people wanting to share and help kids learn something."
From Your Site Articles
Related Articles Around the Web
TikTok changed the way we watch, shop and discover music. Can it change how we learn?
That's the bet Emile's three co-founders are making. Their TikTok-style app uses short form video to tutor high school students in advanced placement subjects from psychology to literature.
During the pandemic, teachers had a similar idea. They took to TikTok, posting mini multiplication lessons, virtual field trips and humor videos such as "things my students have said to me over Zoom" during a year that left most students isolated at home.
"We're really taking the best trends from social media, consumer tech and consumer media and bringing them to education," said co-founder and COO Michael Vilardo.
But instead of channeling the sway of celebrities and comedians, Emile is flying Ivy League professors to a studio in Woodland Hills to film five to 10-minute lessons.
With $5.3 million in capital, the company and its subscription-based tutoring service thinks it can change how high school students absorb AP course material. And his backers include venture capitalists who backed Coursera and Cameo's CEO Steven Galanis.
Class Is In Session — For Three Minutes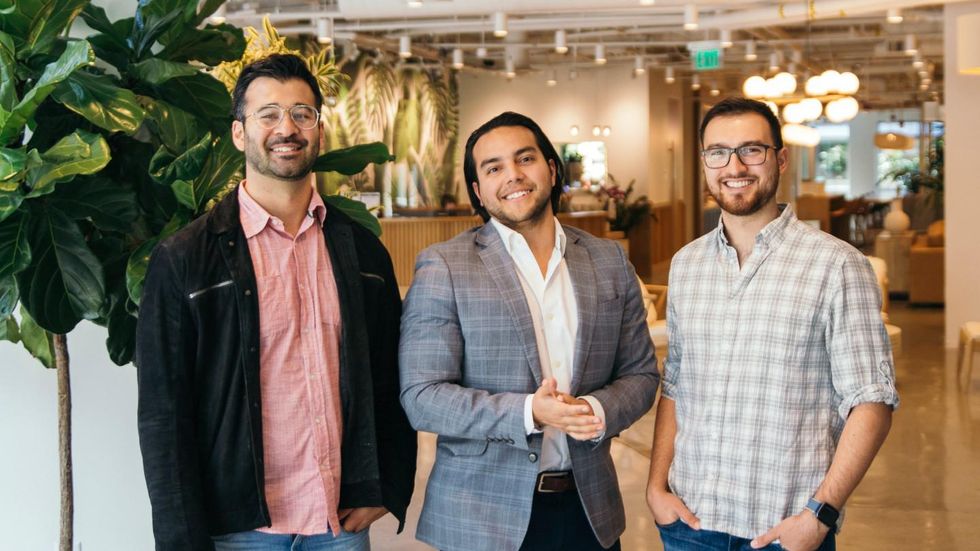 Left to right: Emile co-founders Michael Vilardo, Felix Ruano and Jon Quiros
This year alone, investors sunk $6.39 billion into edtech. It's a market that knows how to keep up with the trends. As Gen Z spends more time online, venture backed tech startups have started packaging tutoring and test prep content like they would a 30-second cooking tutorial.

"It's not like taking a video from the back of the room of your local high school," said Annie Case, an investor Kleiner Perkins who led the company's seed round. "But a high quality Netflix or Masterclass experience."
For an annual membership of $119.88 (or a month-to-month subscription for $27.99), members can scroll through hundreds of "mini lessons" taught by teachers and professors across the country.
The idea is to make AP courses — and studying for them — more available to students regardless of their school's resources. Like other ACT or SAT test prep companies, the startup also guarantees users will pass the AP test so long as they finish every video and quiz listed for that subject.
"There's been a whole backlash on who gets AP courses, who can access them," said Alan Arkatov, a professor of educational entrepreneurship, technology and innovation at USC's Rossier School of Education. "I love that this company is going after it in a thoughtful way."
By the fall, the startup plans to begin issuing accredited transcripts for home-schooled students and expects to have locked in place partnerships with school districts and state governments.
"We're in a prime position to take advantage of that," the company's CEO and co-founder Felix Ruano said.
Lesson plans are condensed into three to eight-minute videos designed to teach a single concept that fits into a teenager's attention span. Like the Masterclass of edtech, the company boasts.
"Let's say it's calculus," Vilardo said. "It'll be a five minute intro to limits video with a short study guide and short quiz attached to it."
He said 90% of users that signed up for one-month paid membership renewed their subscriptions.
But whether the company can demonstrate the educational results it promises is another question.
"There's going to be a lot of shiny, bright lights," Arkatov said of the innovation coming out of edtech startups. "Whether they can quantify that they can get the kind of outcomes they want to get, we'll soon find out."
Investors, meanwhile, seem sure that on-demand tutoring and study aids won't lose traction even as schools resume in-person learning.
"Quite the opposite," said Case, whose investment portfolio includes edtech startups Coursera and Duolingo. "What I see as the opportunity for Emile is to work really nicely with the existing education system rather than replace it."