Edtech
Browse the latest news about education technology and startups in Southern California from dot.LA.
Jorge A. Caballero agonized over whether to send his toddler to preschool, but ultimately decided he couldn't teach his child how to socialize and share with other children at home. On the third day of school, he received the news all parents dread: His child was in contact with another who tested positive for COVID-19.
He now regrets that decision and doesn't know if he'll send his toddler back.
"We're setting ourselves up for a major wave that starts with children," he said.
Caballero, co-founder and head of data insights for Coders Against COVID and a clinical informatics researcher, should know. For more than a year he's been poring over COVID data and posting aggregated metrics from the Los Angeles Unified School District (LAUSD) and other large school districts on his Twitter feed, @DataDrivenMD.
And just over a week ago, LAUSD parent advocacy group Parents Supporting Teachers tapped Caballero to help them get data they were asking the district for for months.
Less than a week after the district reported the first school-based COVID-19 outbreak at Grant Elementary School in East Hollywood where seven children contracted the virus, the parent group detailed thousands more COVID cases.
Those cases do not appear to be contracted at schools, but according to the parent group, district data shows there were 2,862 active COVID cases among students and staff as of Sunday night.
LAUSD has its own dashboard where parents can search for their child's school and see how many students or staff tested positive for COVID and how many cases were linked to a "school-based transmission." It also shows the infection rate for the community of schools and the community identified by the L.A. County Department of Public Health.
But the dashboard doesn't show district-wide aggregated data like the figures reported Sunday. That's where Caballero stepped in.
Caballero wrote a script that scrapes the district's data, and every morning he turns it over to a group of parents who've created a public Google spreadsheet that shows the rates district-wide, not just the individual school. It also creates a record of what the numbers were each day so parents can compare the rates and see trends over time. The district data offers just a snapshot of the data for that day. It helps parents "better understand and contextualize COVID-19 cases across our schools and neighborhoods," the group said.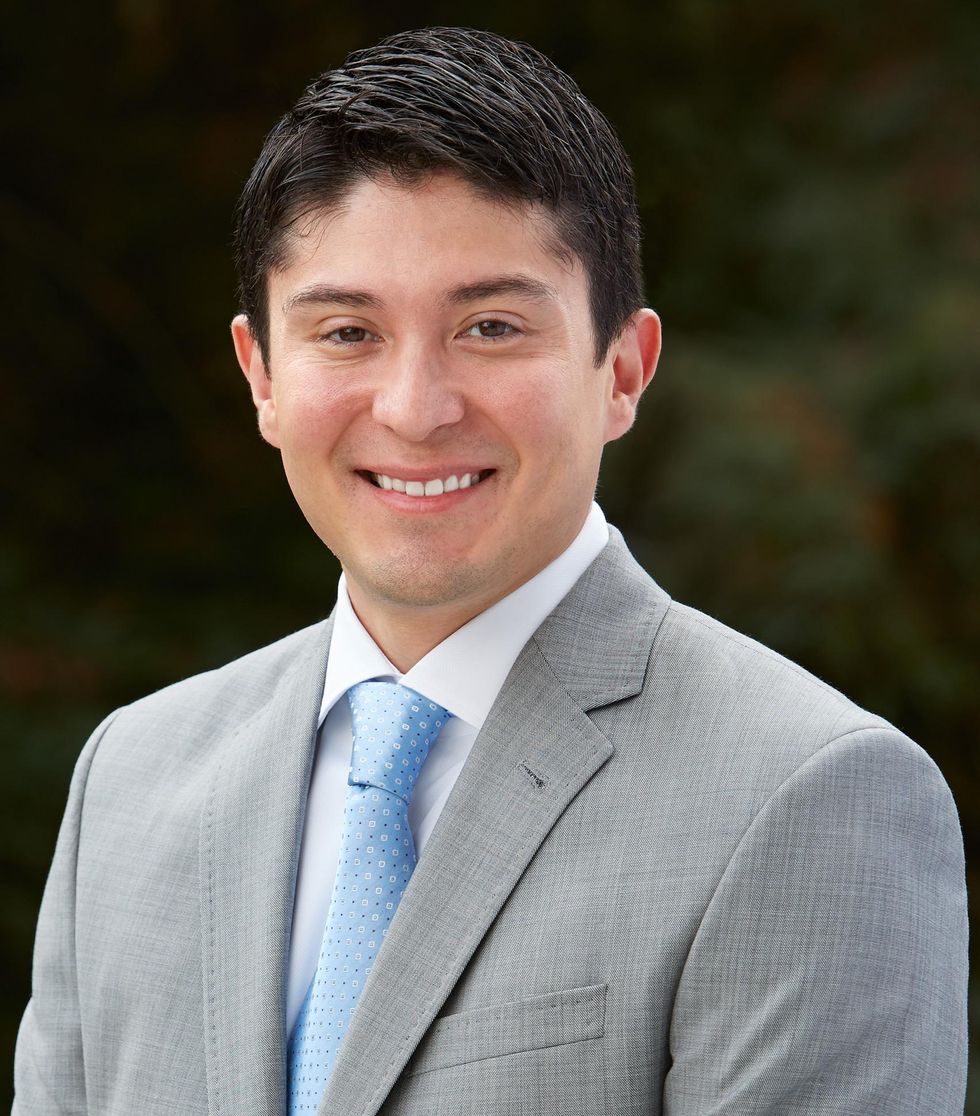 Jorge Caballero is co-founder and head of data insights for Coders Against COVID.
"He has been a godsend," said Jenna Schwartz, co-founder of Parents Supporting Teachers. She quickly realized how monumental the task was after members of her group began to input the data for nearly 1,000 campuses by hand. Then, they found Caballero. "None of this would have been possible without him."
LAUSD has such robust data about positive cases because it requires every staff member and student to be tested weekly, regardless of their vaccination status. That is the strictest testing protocol of any major school district in the nation.
We talked to Caballero about why it was important to release this cumulative data.
What prompted you to start pulling the LAUSD data yourself and posting it on Twitter?

The reason I have an interest in what's going on at LAUSD and even New York City schools is because what they do ends up having a ripple effect across the country. We have a child who is too young to be vaccinated. We are in a precarious position where we can't safely send them to school because the community case rate is so high across the country [and] there is a known risk of our child getting exposed. In fact, we were just notified yesterday that they were exposed.
In the absence of effective public health measures, we will continue to have exposures and outbreaks that have collateral damage in that they harm people that are either immunocompromised or children who are too young to be vaccinated.
From my perspective of over a decade of health data expertise and analysis, it's in the data. We cannot afford to have people choose not to be vaccinated if we hope to keep schools open safely, if we hope to regain any sense of normality moving forward.
The moment that you put unvaccinated children and staff in an enclosed space for hours at a time, with the highly transmissible delta variant, you're going to have clusters of cases almost immediately.
When you talk to parents and you talk to teachers about the process — the process that is actually going on in terms of exposure notification — you quickly get the sense that LAUSD only has had seven school-linked cases, because they're not being reported effectively. They're not being contract-traced effectively.
The numbers don't add up. We're setting ourselves up for a major wave that starts with children.
Do you fault LAUSD for not having effective contact tracing, specifically, or are you saying in general that's a problem we're having at the national level as well?
It's not LAUSD's fault that we squandered the summer. We should have done better at a national, state and local level at recognizing the clear and present threat that was and is the delta variant.
We knew what was coming our way. Everything that's making headlines in the U.S. now made headlines in England, Scotland, the U.K, Israel, India, New Zealand, Australia.
We did fail at the policy level to adapt back-to-our-school policies to this new reality. It's taking a lot of effort to overcome the inertia of all of these existing policies and to move the Titanic in a direction that's going to steer away from that iceberg.
We all worked as hard as we could. We were at mile 23 of a marathon. Delta variant set us back to around mile 13. We have to adapt and we will make this into a relay race, we will find a way to get to the finish line, but we have to recognize that there needs to be a change in the strategy. We can't keep doing what we were doing.
Are there tech issues that you're seeing with the LAUSD dashboard?
You can tell that the folks at LAUSD are struggling with the dashboard. There's just little quirks shown up over the course of the past two weeks. As a software engineer myself, I can tell that they're having difficulty getting their hands around the data.
In LAUSD's COVID dashboard and in your database you have the data divided by the communities identified by the L.A. County Department of Public Health and include the community case rate reported by the county. Why is it important to compare infection rates at schools to the community as a whole?
Comparing the case rate at the individual schools to the broader community is one way to identify data gaps and/or the need for improved contact tracing. For nearly every facility, the school-based case rate has been higher than the community and county case rates. This observation was the first indication, to me, that LAUSD was going to run into problems. When the school-based case rates are significantly higher than the community and county rates, this suggests that the community and county-level data is underestimating the actual case rate. For example, asymptomatic persons aren't getting tested and it could mean that school-based transmission is under-reported due to inadequate contact tracing resources. Before school started, the former issue was dominating the disparity in rates, but the more time that unvaccinated and/or unmasked kids spend in classrooms, cafeterias and hallways, the more that the latter comes into play.
Why is it important to have aggregated data rather than just data by school?
Detecting hotspots requires the ability to zoom in-and-out of the data across geography and time. Say that you're a family with a child under 12 who is in a social bubble with families that have kids in high school: You'd probably want to avoid having one of those high schoolers babysit when the case rate for the community of schools is trending upward.
Dr. Anthony Fauci, director of the National Institute of Allergy and Infectious Diseases and the chief medical advisor to the president, said he hopes we will have "some good control" over COVID by spring 2022 if people get vaccinated.
We can absolutely change that. It just requires the political will to acknowledge the problem and to be willing to make those tough decisions.
Would you support a federal vaccine mandate?
Absolutely. There's talk about a state level vaccine mandate and I'm very supportive of that. We are in a public health emergency. Based on the data that I'm seeing, it makes absolute sense and it would be quite frankly political and public health malpractice not to consider a vaccination mandate for those who are eligible for a fully approved vaccine.
You decided to send your toddler child to school and that's where they were exposed?
Just like any other set of parents, there's only so much you can do to help your child develop especially at this early age. There's no way two adults can teach their child how to share, how to socialize, how to resolve conflict.
We made the very difficult decision to try to send our kiddo back to pre-school and we thought we had everything covered. They spent no more than 15 minutes inside of a classroom, because we picked them up late and dropped them off early. We bought them HEPA filters, we made sure the windows were open and the staff were fully vaccinated. We did everything we possibly could within our control, and then some.
Three days into the school year, we received a notification that our child was exposed on the first day of class. We find ourselves in a situation that is all-too-common across the country, certainly across the state and definitely across the L.A. Unified School District.
Do you think you'll send your child back?
I didn't want to send them at all, but we had to for their sake. We needed to send them to school. I'm not certain that we will send them back. In our case, it seems as though somebody sent their child to class while waiting for test results. That is a frustratingly common scenario based on what my pediatrician friends are telling me. That's a betrayal of trust that we had placed on the other families in the school. We haven't decided yet, but right now, I'd say absolutely not.
This interview has been lightly edited for brevity and clarity.
The pandemic has been wrenching for parents as schools fling their doors open and throngs of unvaccinated children return to the classroom.

With the delta variant raging and child hospitalizations shooting up, virtual charter schools are making their pitch and it's working. Enrollment is ballooning.
In Los Angeles, one national charter network is marketing its program as an option for parents fearful about the spread of COVID.
Stride Inc, a publicly traded company that runs virtual charter school network K12, promoted its California schools called California Virtual Academies in an announcement encouraging parents to enroll. On Twitter, the company touts online learning as giving "families an option that is not only safe, but prioritizes student growth and success."
But online charters are controversial even among charter school supporters and past research shows the virtual schools have a weaker academic performance than traditional schools. The state has clamped down on them amid a spat of financial misdeeds, including one virtual charter school where its two founders pleaded guilty to felony charges of conspiracy to commit theft of public funds.
Still, enrollment in virtual charter schools surged during the pandemic. Enrollment at K12, one of the biggest national operators, increased 57% last year. In Los Angeles, which boasts more enrollment in charter schools than anywhere in the nation, its schools saw enrollment jump 40% compared to this time in 2019, according to the school.
The Los Angeles Unified School District has also seen a jump in students who are enrolled in its online independent study program.
Honestly I can't imagine her stepping foot on a campus right now.

Angela Covil, CAVA's director of high schools, said the virtual schools are "teacher supported," rather than "teacher directed." Students meet with their teachers every day for about one-and-a-half to two hours in elementary and middle school and three to three-and-a-half hours in high school. Students spend four to six hours on coursework each day. The curriculum can be accessed anywhere and it includes videos and animation with assessments built in, so teachers can monitor student progress, she said.
Some parents that recently enrolled their children turned to the schools that already had a virtual curriculum, rather than stay in a school district that was learning how to teach online on the fly.
"We've been doing it for years and so we have all those systems set up and established," Covil said.
She said there are generally three types of new parents who are enrolling their children: those who have health worries, those who want stability in case COVID-19 worsens and instruction at district schools goes online again, and those who saw their child thrive in the online environment during the pandemic and want that to continue.
Roxann Nazario is one of those parents whose daughter, Scarlett, thrived in an online environment because of her social anxiety. Nazario said she saw a weight lift off of Scarlett's shoulders in March 2020 when schools closed.
Her charter middle school at the time, Girls Athletic Leadership School, switched swiftly to an online curriculum where instructional videos and assignments were posted online through Google Classroom and students weren't required to sit on Zoom for several hours a day. Nazario saw her daughter's grades improve.
But the school changed course in the fall of 2020, requiring students to be on Zoom from 8:30 a.m. until 12:30 p.m. and Scarlett burned out quickly.
Nazario, who works as a parent engagement coordinator for parent advocacy group Speak UP, talked to parents who were raving about an online charter called iLEAD and after meeting with teachers and school administrators, she enrolled her daughter in the school, where live instruction is optional.
"Honestly I can't imagine her stepping foot on a campus right now. I think it would be very difficult for her especially since it's been so long," Nazario said. "I'm excited to see how well she can do with a program that's very well established and very customized that I think is going to be a good fit to her, but we'll see and we'll evaluate that as we go along."
Virtual Learning Has Its Limits
But several studies have criticized cyber schools, finding that many of its academic programs pale in comparison to traditional brick-and-mortar schools.
One national study by the Center for Research on Education Outcomes at Stanford University found that virtual charter schools across the nation have an " overwhelming negative impact" on students.
"It was desperately bad," said Macke Raymond, who directed the study. "It was as if the kids didn't go to school at all in math." Though she noted the 2015 study was based on data from 2013.
And in 2016 even the National Alliance for Public Charter Schools, a charter school advocacy group warned legislators about the poor performance of virtual charters in a report.
More recent national research is needed and Raymond said she is embarking on a new national study next month that will answer the question of whether online charters have gotten any better.
"One would hope that a program that was as vulnerable as we showed it to be in 2015 would sort of pick itself up by the bootstraps and do something different," Raymond said.
Covil said she hopes that parents look past some of the negative publicity about virtual charters and do their own research.
"A lot of great things are happening in these schools," Covil said. "There are students that are really thriving. We just have so many great things happening with our kids, and we hear so much great feedback from our parents."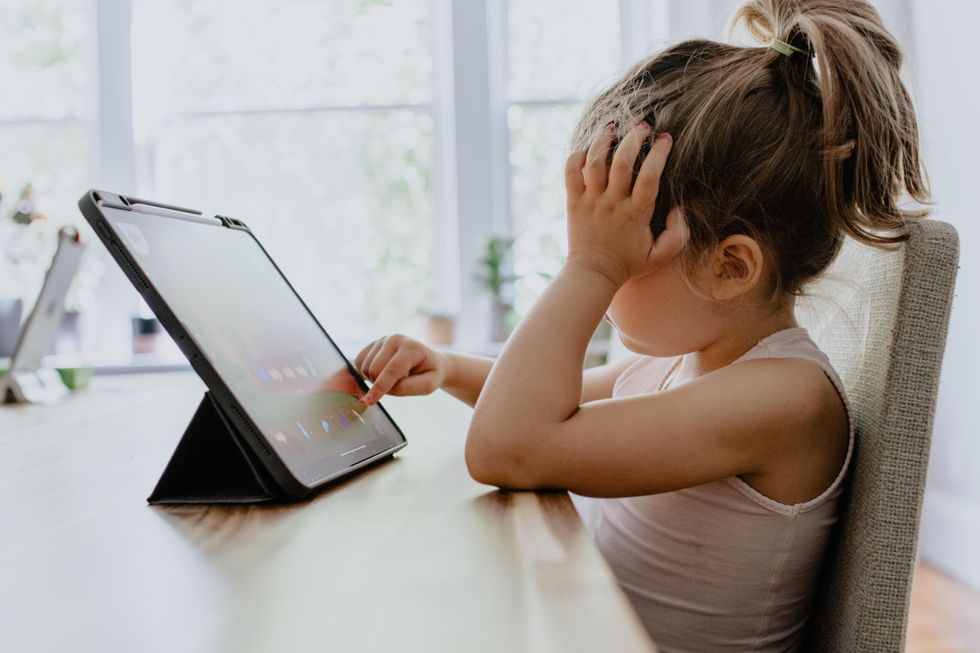 Learning Loss
As teachers in traditional schools scrambled to shift their curriculum online and students lacked the social interaction of being in a classroom with teachers and their peers, studies show children suffered a "learning loss" or "COVID slide."
A McKinsey & Company report on the 2020-21 academic year found that on average students were five months behind in math and four months behind in reading by the end of the school year. And the achievement gap between low-income and students of color and their white peers worsened with students in majority Black schools ending the year with six months of "unfinished learning" and students in low-income schools with seven.
NWEA used its MAP Growth adaptive assessments that schools can voluntarily give to their students three times a year to analyze the impact of the pandemic. Results from 5.5 million students in grades 3 through 8 who took the tests showed that students made reading and math gains in 2020-21, but at a lower rate when compared to before the pandemic.
For example, in the spring of 2021, median math scores fell 12 percentile points compared to the spring of 2019.
Following the publication of the NWEA report, Stride Inc. issued its own response, saying its students did not experience the same learning loss as their peers.
"In fact, they were more likely to maintain or grow academically than to slide," it said.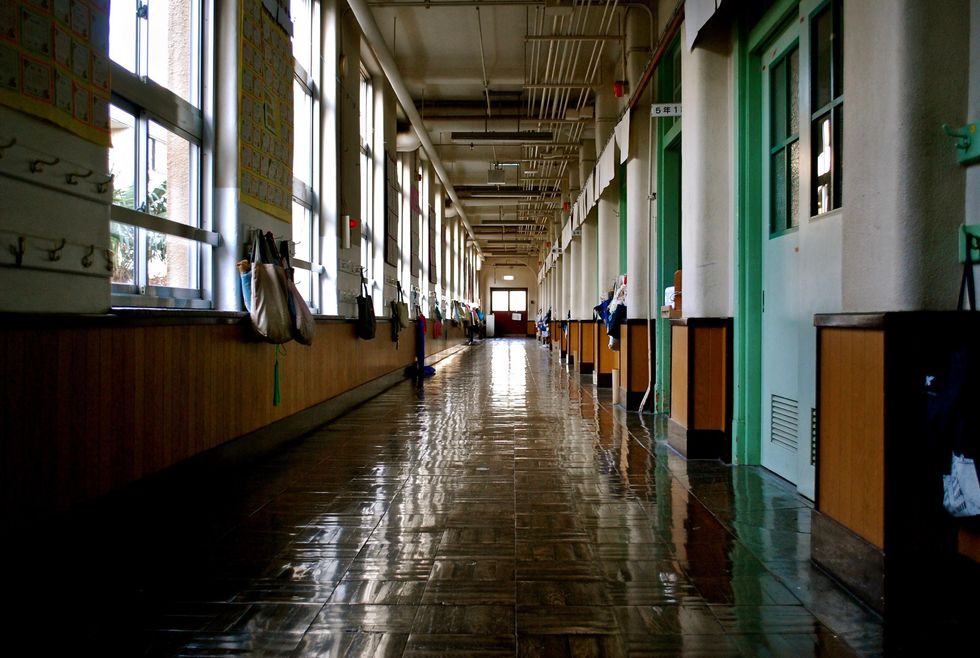 Investigation
CAVA itself was under investigation by the California Attorney General's Office before reaching an $8.5 million settlement in 2016 over allegations that the network published misleading advertisements about students' academic progress, parent satisfaction and class sizes.
For example, the network didn't include a "large number of students whose test results did not show significant change," when it promoted its students' academic performance, according to the complaint.
The state also alleged the schools were improperly inflating attendance numbers, reaping more state education dollars, which are allocated based on average daily attendance.
The AG's office was also looking into the schools' services for students and families with limited English proficiency, and the school's support for those students with special needs.
Under the settlement, the schools admitted no wrongdoing and the settlement funds repaid the state for the cost of the investigation.
"Improvements to accessibility were already in our internal plans and did not change our multi-year capital plans," a K12 spokesperson said. "We have always tried to continually improve accessibility, mobility, teacher tools, and student engagement, and will continue to do so."
These types of academic problems and financial misdeeds that occur at some virtual charters helped provoke a two-year moratorium on new online charter schools signed by Gov. Gavin Newsom in 2019, which was set to expire at the end of this year, but was extended through 2024.
In California, charter schools are publicly funded, yet independently operated. Traditional public school supporters oppose charter schools because they say money is drained from district schools, as state funding is based on enrollment.
For parents who want to keep their children online this school year, there are limited options.
Newsom and the state legislature ordered that school districts must offer in person instruction this fall unless it's through an independent study program, but it authorized independent study for a student "whose health would be put at risk by in-person instruction, as determined by the parent or guardian."
The legislature is hashing out a new bill that aims at improving the independent study program, such as establishing a minimum amount of live instruction per day.
"Many, many policymakers are trying to put a different standard into this conversation that they don't hold the district schools to, but they do want to hold the virtual charter schools to," Raymond said. "That's the story that's happening in California."
From Your Site Articles
Related Articles Around the Web
The University of Southern California was among a group of universities awarded a $15 million grant from the National Science Foundation to invest in and incubate startups.
The new program is called NSF Innovation Corps Hub: West Region. USC, UCLA and UC Riverside are among the participants, along with Caltech, the University of Colorado Boulder, the Colorado School of Mines, University of New Mexico and the University of Utah. The plan is to add more university affiliates as the program develops.
The colleges will identify potential startups and provide mentoring, campus resources and labs to help standout companies develop. Each university will also monitor work happening in campus labs that might lead to the next big company.
USC Viterbi School of Engineering will lead the program, guided by Dean Yannis Yortsos.
"There is a big diversity of the population in the West," Yortsos told dot.LA, "and so that's something that we also are going to focus on. The idea is to also engage more and more other institutions in this and keep increasing the footprint."
The program will look to invest in scientists, engineers and entrepreneurs who are people of color or "from the many diverse backgrounds of the Western United States."
It won't directly invest in startups. Instead it will look to connect startup companies to potential investors. "We are helping people demystify the process of innovation," Yortsos added.
The USC-led West Coast hub is one of five that the NSF is investing in. Each will receive $3 million every year for five years, contingent on progress milestones, rather than one lump sum upfront.
Yortsos said "the emphasis is on funding deep technology — by this I mean, technology that is not simply creating an app for something, but doing something that has fundamental technological value that can then essentially transform the landscape in different ways, whether this is bioengineering, defense, aerospace [or] artificial intelligence."
Yortsos pointed out that several big technology companies started with support from the government or NSF funds, including Qualcomm, which was created by USC Engineering School namesake Andrew Viterbi.
"Viterbi started with a startup and this startup was funded by National Science Foundation grants," Yortsos said, "then it became what is known as Qualcomm."
"Google, in some sense, came out of intellectual property that was developed by support within Stanford," Yortsos added.
The I-Corps Hub West will also give its startups opportunities to show off their work and court potential investors at technology scouting showcases and by leveraging its existing connections with accelerators and national laboratories. No companies have been selected for this year's class yet; the program begins in January 2022.
The National Science Foundation created the I-Corps in 2011, and a decade later is adding this division to focus specifically on emerging startups in West Coast markets. The NSF reports that since the program's ceration, roughly 1,280 colleges and universities have helped launch over 1,000 startups— and those companies have gone on to raise more than $760 million in funding.

Correction: This story was updated to clarify that USC was not the grant's sole recipient.