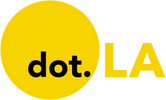 Get in the KNOW  
  on LA Startups & Tech  
X

Image courtesy of Wheels
Can WeHo-Based Wheels Get More Underserved Angelenos to Ride E-Bikes?
Maylin Tu
Maylin Tu is a freelance writer who lives in L.A. She writes about scooters, bikes and micro-mobility. Find her hovering by the cheese at your next local tech mixer.
08:00 AM | March 18, 2022
When Los Angeles launched its micromobility pilot in 2019, it had big dreams for improving transportation equity for all Angelenos.

Three years later, less than 3,000 people make use of micromobility programs aimed at helping poorer sections of the city, despite stringent requirements on companies to provide these options and programs to help raise awareness. At issue, experts said, is a patchwork of rules and regulations between municipalities that can be a logistical headache for riders, infrastructure that doesn't offer much protection for scooter and bike riders in these areas and a public outreach campaign that has failed to gain traction.
---
"It's a big challenge because when you drive your car, for example, people don't pay attention to municipal boundaries. They just want to get from point A to point B in the most seamless way possible," said Will Sowers, director of public affairs at Wheels.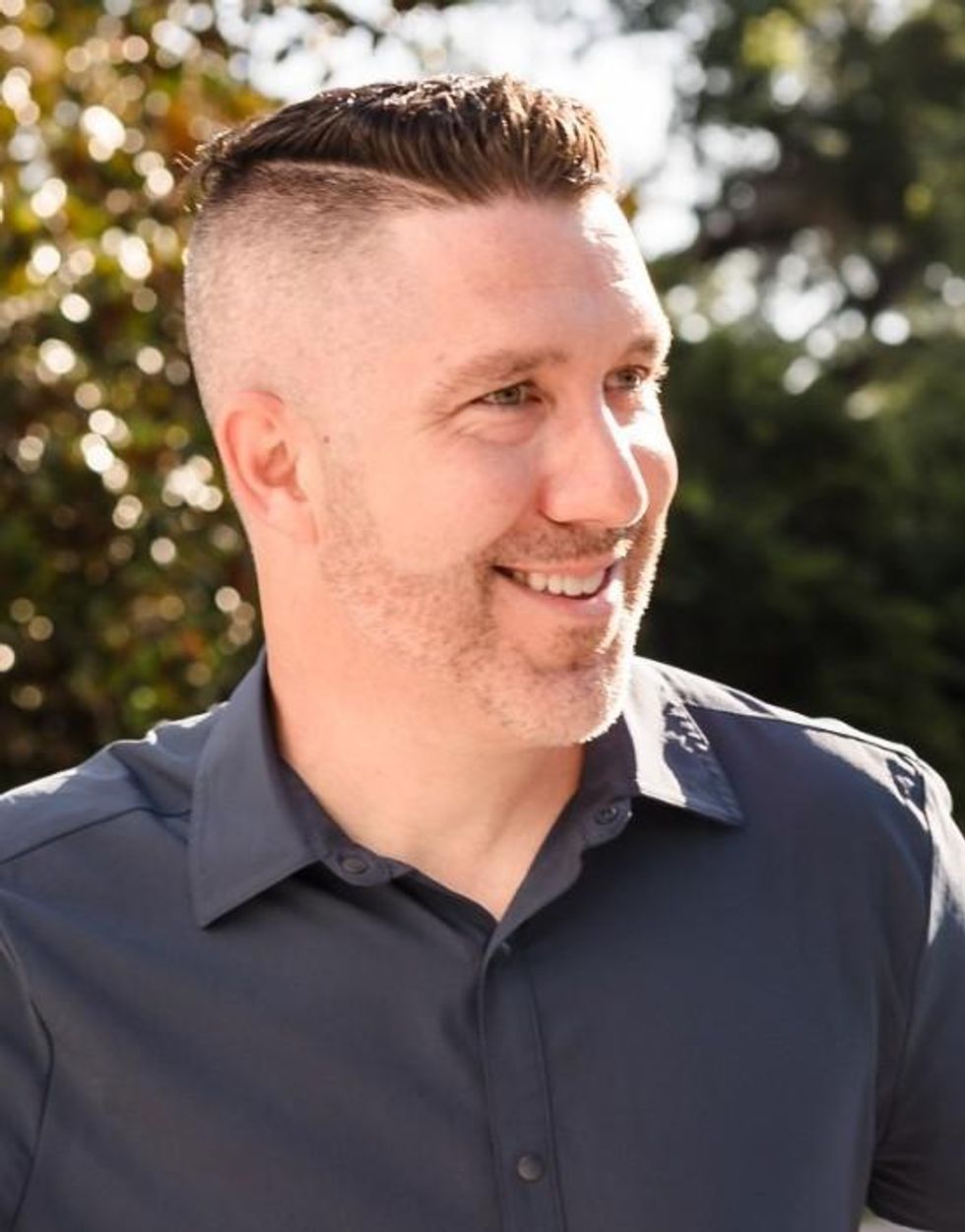 Wheels Director of Public Affairs Will Sowers.
Image courtesy of Wheels
While each city has its own equity requirements, the city of L.A. established its current program in 2021. Any operator deploying vehicles in special operation zones (including Venice, Hollywood and Downtown) is required to deploy 20% of its fleet in equity zones. There is no trip fee for rides that begin or end in these zones. The city also requires operators to offer a low-income option for riders, attend meetings with neighborhood councils and other local stakeholders, provide a non-credit-card and non-smartphone option for payment and partner with a community-based organization.
But those efforts haven't made as much an impact as the city might have hoped.
As of October 2021 there were 2,915 active users enrolled in low-income programs across all operators, according to information provided by L.A.'s Department of Transportation. That's just 17 more riders than the city reported a year and a half earlier–in a report which also noted that 85% of users did not know that equity programs were available.
Riders in L.A.'s underserved neighborhoods use micromobility differently than those in more affluent areas, according to Sowers. While a rider in Venice might ride to the beach or to a restaurant, riders in underserved areas often use e-scooters as a way to get from a transit stop to work and vice versa.
"We've even seen examples of people using our device as a courier," he added, "where they may — with one of many delivery apps — grab a short shift."

Wheels Plan to Go Further
Wheels is trying something different. The company has made an effort to design its scooter for the way that lower-income riders use them, and is one of the few scooter companies able to thread the requirements of multiple municipalities in L.A.
It currently boasts it has the most interconnected micromobilty network in the L.A. metro region, with permits to operate in the city of L.A., Santa Monica, Culver City and West Hollywood, as well as plans to launch in Glendale.
Practically speaking, that means a user could ride a Wheels device between municipalities to get to work or school without worrying about landing in a no-parking zone (Beverly Hills, for instance, is geofenced and off-limits for scooter riding and parking).
Wheels was founded in 2018 in West Hollywood by Jonathan and Joshua Viner, who previously co-founded pet-walking startup Wag. The company's scooters are designed for traveling longer distances. While a typical standup scooter goes one mile per ride, a Wheels seated mini-bike goes about one and a half miles. Along with its app-based service, the company also offers monthly rentals.
So far, the company has raised $96.3M in funding..
As part of its "Wheels for All" program, riders in all four municipalities who use state or federal benefits can ride at a steep discount. Currently, Wheels devices are $1.10 to unlock and then $0.39 per minute to ride. But underserved riders get unlimited rides of 30 minutes or less, paying only the unlocking fee.
The program is also more expansive than L.A. requires. In addition to low-income riders, people with disabilities and older adults who the city designates as "underserved populations," Wheels program is also available for unhoused people.
To qualify, applicants fill out a form online and provide proof of enrollment in a state or federal program.
In comparison, its competitor Lime offers rides for $0.50 to unlock plus $0.07 per minute plus tax through its Lime Access program; Bird offers 50% off rides for low-income Angelenos through its Community Pricing program.
Although Wheels has the most interconnected equity program, enrollment is low. Only about 1,000 riders are signed up across the greater L.A. area. The program has provided just over 23,000 rides in the last year.
Sowers said this is an issue his company is doing its best to address. He added that he frequently talks to social service workers and organizations to help spread the word. Many, he said, are initially skeptical of recommending micromobility options to their clients.
One such person called him after seeing someone with a disability riding a Wheels device:

"They called me and were like, 'That makes sense to me. It makes sense that someone can sit down and potentially have an accessibility challenge, but still be able to ride your device'."
Berkeley professor and co-director of the Transportation Sustainability Research Center Dr. Susan A. Shaheen told dot.LA over email that Wheels' approach to equity has potential.
"It could provide a more affordable alternative to private vehicle use, particularly during these times of high gas prices," she said.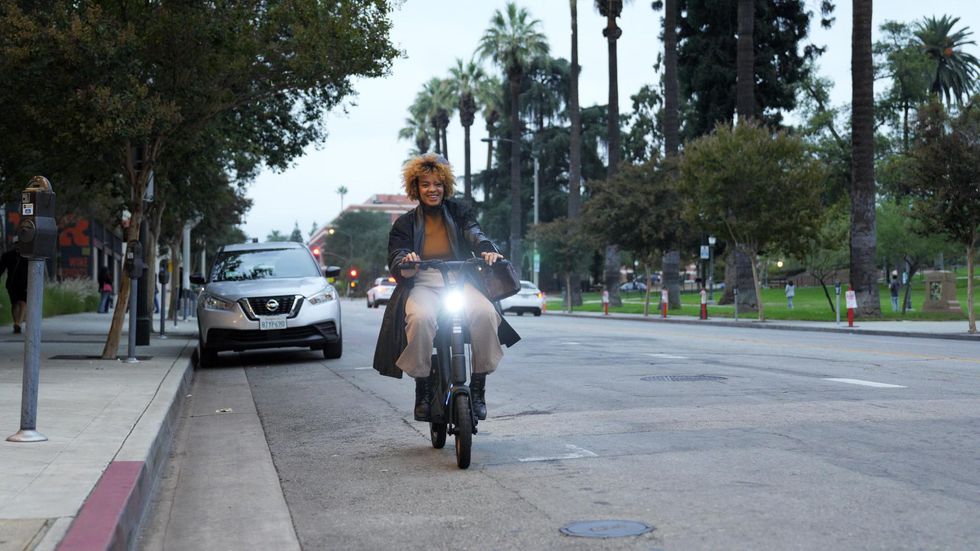 Image courtesy of Wheels
No Equity Without Infrastructure
Another challenge that Wheels, like its competitors, deals with is infrastructure. California law bans e-scooters from operating on sidewalks. But not everyone is comfortable riding an e-scooter or e-bike in the street, especially where there are no bike lanes and little infrastructure to keep riders safe. That's especially true in many low-income neighborhoods.
"If you want to prioritize equity, you need to build infrastructure for micromobility in the places that are the most dangerous to use micromobility, which is in the least-invested communities," said Michael Schneider, founder of advocacy group Streets For All. He added that providing equity means building interconnected cycling infrastructure throughout the city, especially along L.A.'s high injury network.
The city has said it's trying to address the disparity.
Los Angeles has brought in $4 million over two fiscal years through its micromobility permit program, according to the city's Department of Transportation. It's using some of that money to fund a redesign of the 7th Street corridor, including protected bike lanes, after data showed that this segment of Downtown was one of the busiest for e-scooters and e-bikes, Public Information Director Colin Sweeney said via email.
In the future, Sowers sees the potential for L.A. to use that funding, along with the data it collects from operators, to build better infrastructure in underserved areas.
"If someone in a transit desert is riding one of our devices, and I give the city good data and say, 'Hey, I've got tons of rides in this neighborhood, but there's no protected bike lanes,' then that creates a reason for the city to build that."
Maylin Tu
Maylin Tu is a freelance writer who lives in L.A. She writes about scooters, bikes and micro-mobility. Find her hovering by the cheese at your next local tech mixer.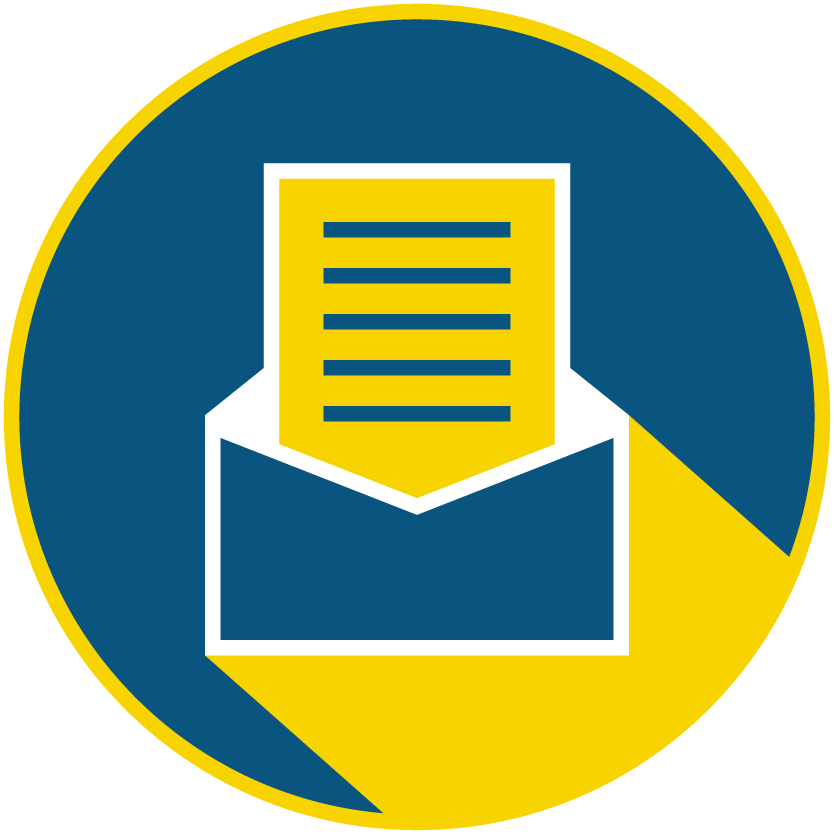 Subscribe to our newsletter to catch every headline.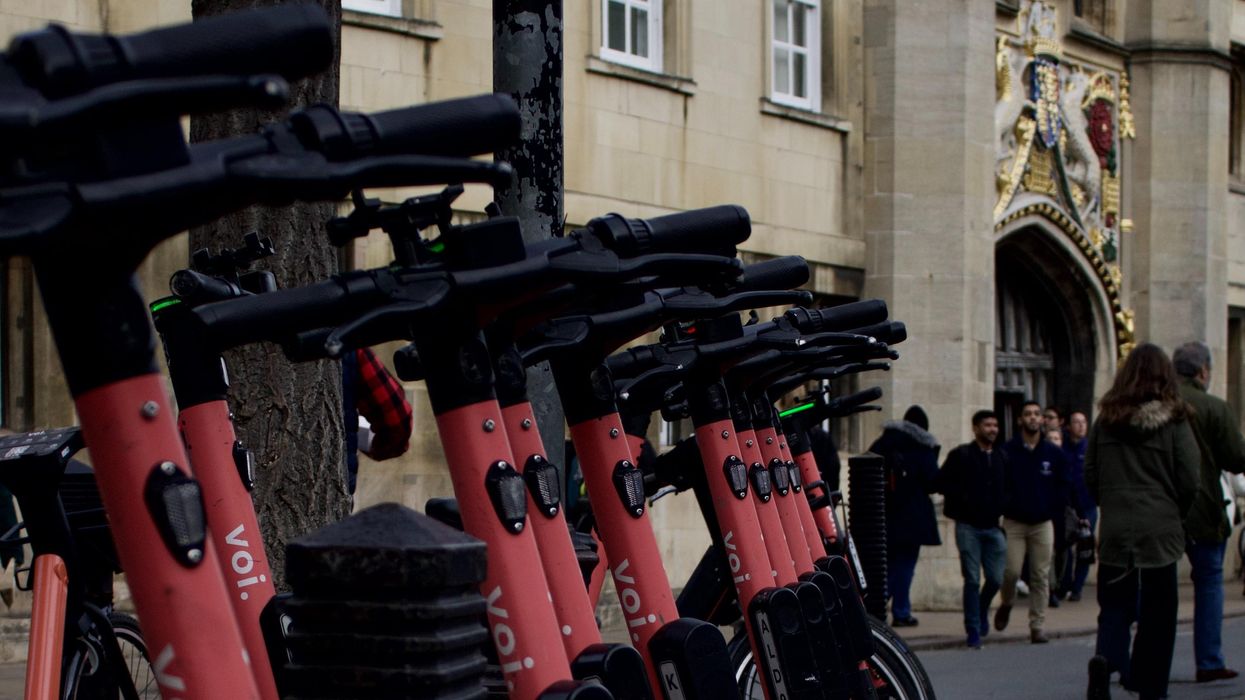 "If you get the chance, make sure to test drive a Toyota."
I'm walking down a row of booths at Electrify Expo at the Long Beach Convention Center on a hot June day. I thank the red-shirted brand ambassador and scurry towards the nearest e-scooter.
Sorry, Toyota. I'm not here for the cars.
Electrify Expo—the biggest outdoor electric vehicle festival in the U.S.—took place this past weekend and e-scooters, e-bikes and other micro EVs took center stage.
At an event focused on electrification, more than half of the companies represented were in the micromobility space. And there's a good reason for that.
According to industry leaders, electrification means significant room for growth in the market as American consumers emerge from the dark years of the pandemic and seek out more active and eco-friendly modes of transportation.
Only 6% of bikes sold in the U.S. are e-bikes, compared to a rate of 17% in Europe and 50% in the Netherlands, said Claudia Wasko, vice president and general manager of Bosch eBike Systems, at the event's Industry Day.
"Last year, 2021, in Europe, almost 6 million e-bikes have been sold; just in Germany, 2 million e-bikes have been sold. And in the US, not even 1 million. But this shows us the huge potential we still have," she said.
Industry speakers also praised European countries for their adoption of comprehensive micromobility infrastructure.
"If you drive around Los Angeles… you'd have a tough time being on an electric bike or an electric scooter or even one of our mopeds, that can hit speeds of 60 miles an hour," said Joseph Constanty, director of global strategy at Niu. "You still feel out of place when a huge Ford Ranger F-150 comes riding up right next to you and you're dwarfed by it. It's an infrastructure problem."
Companies are banking on a cultural shift as Americans get out of their cars and onto an e-bike, moped or e-scooter.
Jesse Lapin, chief operating officer of Magnum Bikes, suggested that it's less of a shift and more of a return. Americans ride their bikes as children and then abandon them in the garage as soon as they turn 16. However, driving itself might be going out of style; millennials are driving less than their elders and Gen Z is in no rush to get in the driver's seat (of a car). And who can blame them? Gas prices have hit record highs with no sign of relief on the horizon.
What are they gonna do, take the bus? JackRabbit Mobility is hoping they take a micro e-bike instead, with a 24 pound, 20 mile-per-hour device marketed to college students and other casual riders. But why stop with one? Lapin sees the future American garage filled with not one, but two e-bikes as the market diversifies.
"E-bikes truly are the best way to communicate and to connect people with other people, people with places, people with views. It's the best way to visit national parks; it's the best way to get out there and connect with yourself," he said.
And there's one other advantage to micromobility: It's hella fun. And with a looming recession and two years and counting into a pandemic, American adults with disposable income just want eco-friendly toys that go zoom. Or at least that's what the industry is banking on.
It's true: When I'm flying around the test track on an e-bike and I hit the throttle, getting that coveted 28-miles-per-hour, I feel like a kid again.
Provide a mode of transportation that you can charge from the comfort of your one-bedroom apartment, one that's fun, good for the environment and lets you fly past stopped rush hour traffic on Venice Boulevard?
Cars could never.
Maylin Tu
Maylin Tu is a freelance writer who lives in L.A. She writes about scooters, bikes and micro-mobility. Find her hovering by the cheese at your next local tech mixer.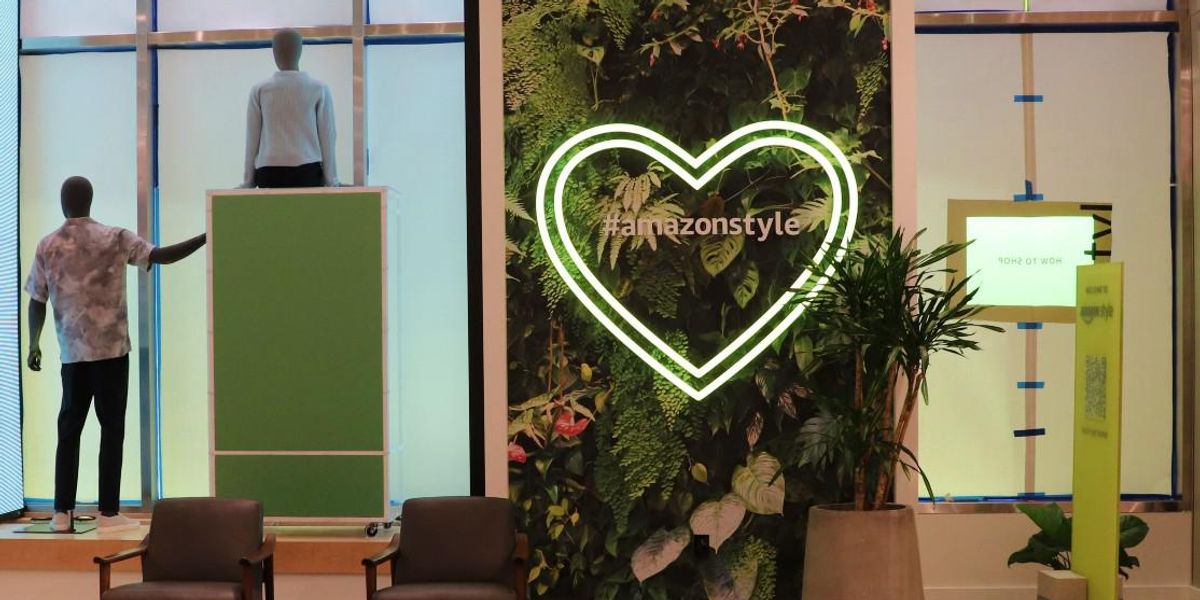 Image by Joshua Letona
Starting today, Glendale's most meme-able outdoor mall, The Americana at Brand, will be home to the Amazon Style store—the ecommerce giant's first foray into brick-and-mortar apparel retail. We got an early sneak peak inside the new digs (located on the corner with Sprinkles Cupcakes, next to H&M and the Apple store) and were able to try out some of its tech-enabled features, which—as ever with Amazon—seek to make the act of shopping as easy as possible.
1. It's Bigger Than It Looks—Even From the Inside

The floor is massive—laying out original products from Amazon's own apparel lines alongside name brands like Theory, Adidas and Calvin Klein, as well as several other lines that have up until now only existed online. But the actual store is much larger than the two floors that most customers will only ever see.
Amazon Style is just the front—the homepage, if you will—behind which a large warehouse facility keeps a gigantic surplus of inventory. A floor-to-ceiling glass window on the main floor gives shoppers just a peak behind the scenes, as employees help load industrial-sized elevators with racks of goods to send upstairs to the dressing rooms.
2. Online Shopping IRL

When perusing the store's bouquet of cottagecore maxi dresses, Kendall & Kylie blazers and, yes, a whole section dedicated to Y2K apparel, one doesn't just pick an item off the rack and take it with you while you shop. Instead, each rack has a barcode that you can scan via the Amazon Shopping app, which has your sizes pre-loaded from previous purchases. (You can opt for a different size if you choose.) That cues an AI-enabled algorithm to start searching through the store's warehoused catalog and zip the desired item over to the second floor, where the dressing room provides its own glimpse into the future of shopping.
The store also boasts a version of The Drop, an Amazon staple that allows online customers to shop entire influencer-curated collections for a 30-hour flash window.
3. Changing Stations of the Future—Today
Your phone also acts as your keycard to get into your personal dressing room. To prevent waiting, you are put in a virtual cue the moment you scan your first item; should the Amazon app prompt that your room is ready while you're still shopping, a tap of your screen allows you to hold your spot in the queue while freeing up the room for someone else. (And if your phone dies while you're waiting, Amazon says a Style employee on the floor will be happy to help you keep your place in line, or hook you up with a charge.)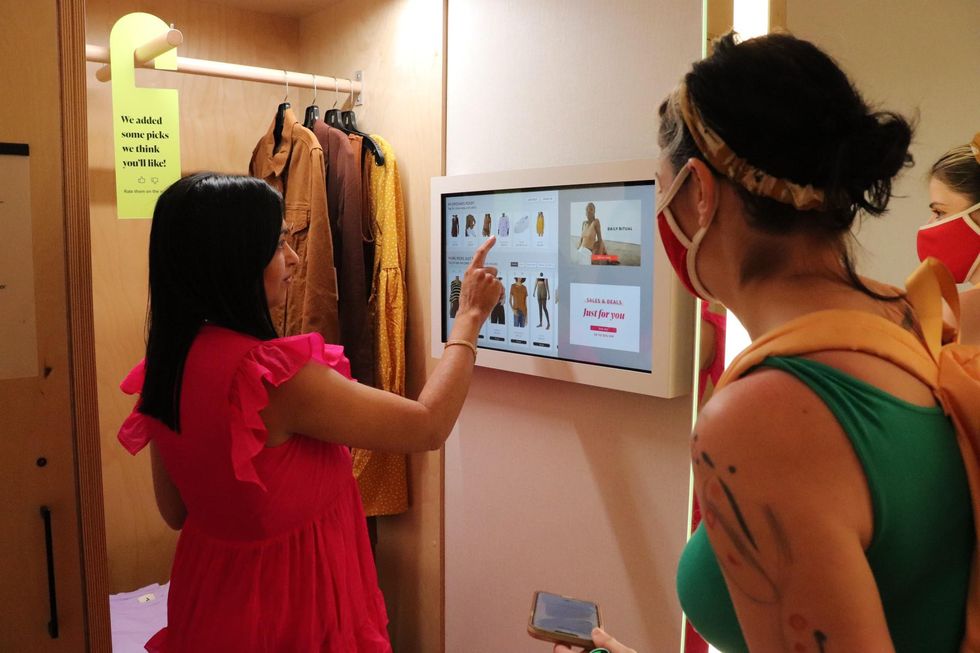 Amazon Style's dressing rooms offer a tech-enabled twist to trying on clothes.Image by Joshua Letona
The changing room is like its own parlor trick. Designed to look like a walk-in closet, one wall has a full-length mirror and a giant touchscreen while another has all the clothes you scanned in your style and size preference. Expect to see a few surprises in there, as Amazon's algorithm picks out other stuff you might want to try on based on your picks. It would be spooky if it wasn't so convenient—an IRL mashup of the online retailer's "Recommended Based on Your Purchases" and "Frequently Bought Together" features.
If an item doesn't fit quite right or you want to see how a skirt looks in blue instead of black, just tap the touchscreen to request a variant. Or an entirely new outfit, as the screen makes available everything in the facility. Then just bring it down to checkout—perhaps the wildest part of this ride.
4. Palming the Bucks
Checking out of Amazon Style's flagship store is what really blew my mind—although apparently it's because I haven't been to one of the Amazon Go, Amazon Fresh or Whole Foods locations where cashless checkouts have been an option in select stores since 2020.
I assumed you could just walk out the door with your purchase, because I watch "Saturday Night Live" sketches for news. While the Go payment option isn't available at Amazon Style, there are several checkout options to keep the experience as frictionless and non-cumbersome as possible.
One way is to take the clothes you want out of the dressing room and go directly to Amazon's palm-enabled checkout kiosks. That's right: Register on the spot for an Amazon One account, and you need merely to wave your hand over a little black device that reads your palm and charges your on-file payment method. It's super convenient for everyone except $10 boardwalk psychics, who just may be put out of business by such technology.
For the more traditional set, you still have the option of paying via credit card or cash.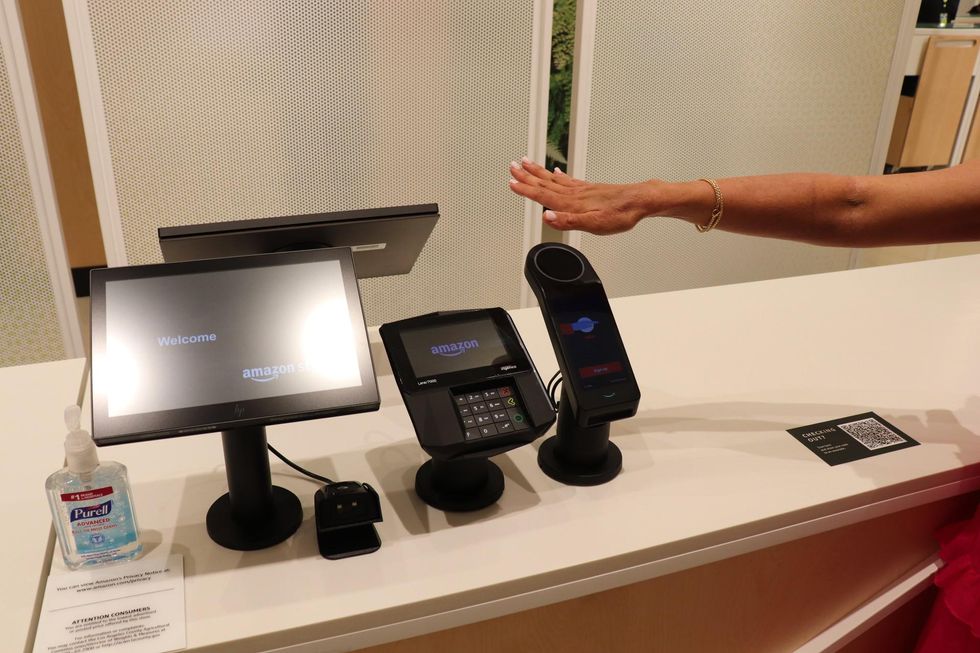 Shoppers can check out of Amazon Style with the wave of a palm. Image by Joshua Letona
5. Supply & Demand & Return
Amazon Style's brick-and-mortar location opens up a variety of new ways to shop, return and exchange clothing. For instance, you can order a load of clothes online and pick them up in the store; anything you don't want can be returned in the store without you ever having to print a shipping label.
See something you like but don't have time to try it on? Just scan the barcode, pick it up at the front of the store and pay on your way out without ever going into a dressing room.
The Amazon Shopping app also boasts a Deals feature, which automatically sorts for the best price on items to help customers either save money (or believe they are).
While Glendale is home to the only Style store so far, Amazon isn't ruling out more locations. With fewer retailers able to afford rents on America's main strips and shopping malls, Amazon's resources—and its unique position at the intersection of tech and retail—make it easy to envision more Style stores on the horizon.
Drew Grant
Drew Grant is dot.LA's Senior Editor. She's a media veteran with over 15-plus years covering entertainment and local journalism. During her tenure at The New York Observer, she founded one of their most popular verticals, tvDownload, and transitioned from generalist to Senior Editor of Entertainment and Culture, overseeing a freelance contributor network and ushering in the paper's redesign. More recently, she was Senior Editor of Special Projects at Collider, a writer for RottenTomatoes streaming series on Peacock and a consulting editor at RealClearLife, Ranker and GritDaily. You can find her across all social media platforms as @Videodrew and send tips to drew@dot.la.