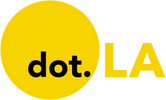 Get in the KNOW  
  on LA Startups & Tech  
X
Image courtesy of Lime
Lime Is Bringing Its New, More Eco-Friendly Scooters to LA
Maylin Tu
Maylin Tu is a freelance writer who lives in L.A. She writes about scooters, bikes and micro-mobility. Find her hovering by the cheese at your next local tech mixer.
06:00 AM | April 27, 2022
The first Lime electric scooters hit the streets of Los Angeles in June 2018, some nine months after rival e-scooter startup Bird first took flight in Santa Monica. In the years since, Lime has battled Bird and a wave of other micromobility operators for market dominance—seeking to transform the urban transportation landscape while facing losses, regulatory backlash and even destructive anti-scooter sentiment.
---
Now, Lime is upping the ante in the great e-scooter wars once again by bringing its latest e-scooter model—the Lime Gen4—to the streets of Los Angeles, with the goal of replacing all 7,000-plus vehicles in its L.A. fleet by this summer. Lime has already rolled out the Gen4 globally in markets from Denver to London.

The San Francisco-based company told dot.LA that it designed the Gen4 to be more eco- and user-friendly—with a swappable battery, bigger wheels, a lower center of gravity and swept-back handlebars akin to a bicycle.
"As of [the week of April 17], you'll start to see them in Hollywood, West Hollywood and in some of the Hills area," said Alyssa Edelen, Lime's general manager for the southwest region.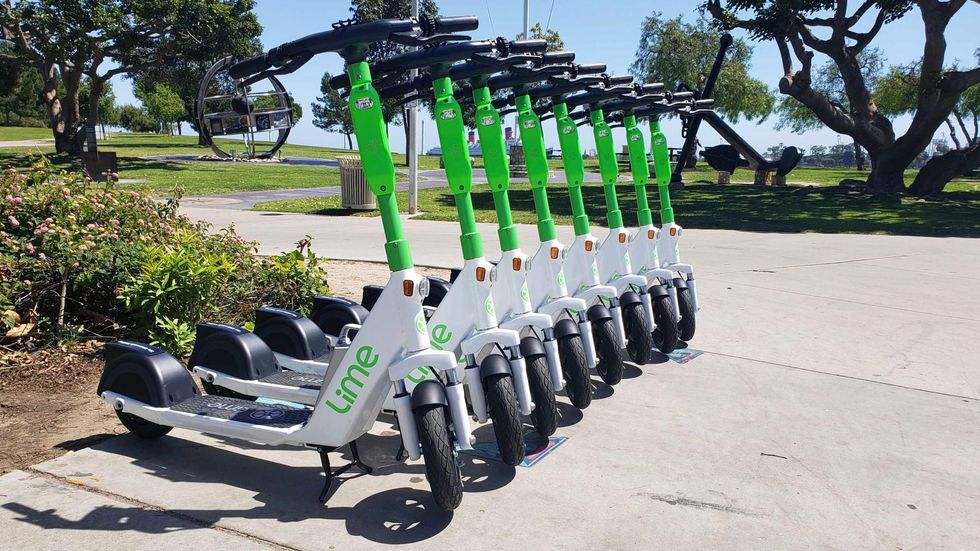 Lime's new Gen4 e-scooter features a swappable battery, bigger wheels, a lower center of gravity and swept-back handlebars.Image courtesy of Lime
The Next Generation
Originally a bike-sharing company, Lime launched its e-scooter fleet in 2017 with the Segway Ninebot, a popular choice for operators at the time. However, early e-scooters were not built for the harsh conditions of shared use. One 2018 study by Quartz of Bird scooters in Louisville, Ky., found that the vehicles lasted less than 29 days on average before breaking down or falling prey to vandalism or theft.
The next Lime generation to hit L.A. streets in 2018 was the Gen2.5, a hardier model built to last 18-to-24 months. Then last year, the company swapped out the Gen2.5 for Okai scooters inherited through its 2020 acquisition of Uber's micromobility business, Jump. Instead of recycling the Jump scooters, Lime wanted to deploy them in select markets.
Now, Lime says that its latest model—designed and manufactured completely in-house—is built to last for up to five years. In comparison, competitor Bird's latest model, the Bird Three, has an estimated shelf life of two years.
Lime didn't share details on how much the company invested in R&D for the Gen4. The scooter was initially developed by Jump, with Lime continuing the work after acquiring the former Uber subsidiary.
How Eco-Friendly Are E-Scooters?
The lifespan of an e-scooter doesn't only affect a company's bottom line—it also has a significant impact on sustainability.
In a 2019 study conducted at North Carolina State University, researchers calculated the life-cycle emissions of shared e-scooters. The study found that although riding one was better for the environment than driving a car, it was not as green as riding an electric bike or even taking a gasoline-powered bus.
And that's not just because of the energy required to charge e-scooters, which represented only 5% of their total emissions. According to the study, most of the greenhouse gas emissions from shared micromobility comes from manufacturing a device's parts, as well as the logistics of collecting and charging the vehicles. In other words: the longer a scooter's lifespan and the easier it is to charge it, the lower its carbon footprint will be
To address the environmental impact of charging scooters and returning them to the streets, Lime and other micromobility operators are now embracing models that feature swappable batteries. According to Lime, the Gen4's swappable battery makes the charging process more streamlined and energy-efficient; vehicles no longer need to be transported to a warehouse for charging. Lime's new Gen4 e-bike model is also using the same swappable battery.
While some competitors, like Bird and Superpedestrian, have called into question the environmental benefits of swappable batteries, the industry at large seems to be trending in their favor. Veo CEO Candice Xie told dot.LA earlier this year that the micromobility firm is using its Cosmo seated scooter to tow trailers filled with batteries that are swapped into its vehicles in Santa Monica.
"We don't need to collect all the devices back to the warehouse to charge and then roll [them] out again," Xie said. "All we need to do is swap the battery on site, and that increases our efficiency and reduces our operations by 40-to-50% compared to other vendors."
West Hollywood-based Wheels is testing out a similar strategy in Austin, Texas, where it's using its own electric seated scooter to swap batteries and service its vehicles, with plans to implement this method in L.A. Meanwhile, a Lyft spokesperson said many of the company's maintenance teams are using electric golf carts and e-cargo tricycles to swap batteries on its own micromobility vehicles.
Lime has yet to use electric vehicles in L.A. for charging and maintenance operations, but said it's in the process of acquiring and implementing them.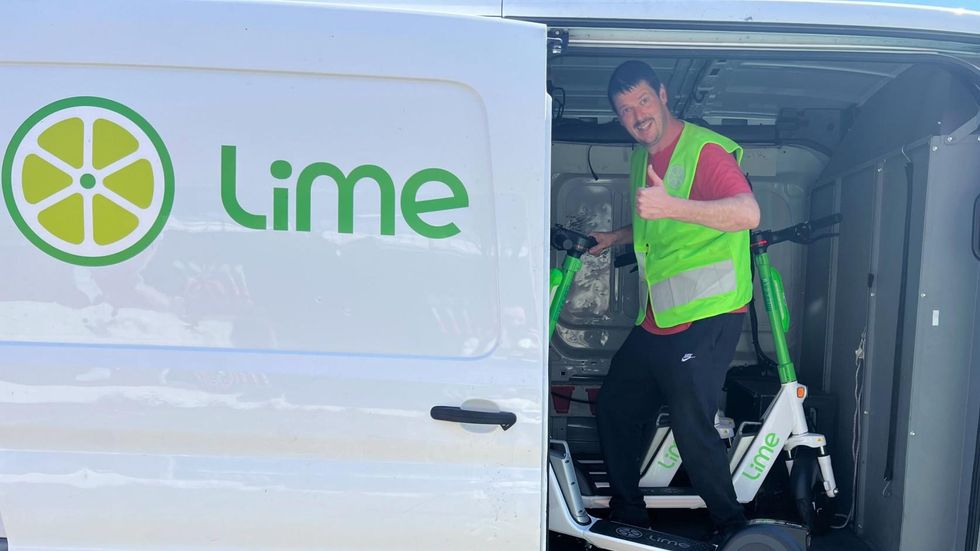 Lime says the Gen4's swappable battery makes the process of recharging its e-scooters more streamlined and energy-efficient.Image courtesy of Lime
The Adoption Issue
Lime's more eco-friendly approach comes as Angelenos are increasingly turning to shared transit options to avoid record-high gas prices. As of mid-April, Lime had seen its ridership in L.A. grow "about 35%" in the preceding two-to-three weeks, Edelen said. The company's Lime Access equity program, which provides discounted rides to underserved Angelenos, logged 12,000 rides in March, the highest number since its inception.
But despite the lofty environmental goals of micromobility companies—Lime is aiming to have a zero-emissions operations fleet by 2030—some experts note that their impact on the greater transportation sector is limited.
In a study released in February, researchers at Carnegie Mellon University examined the environmental impact of replacing short car trips with micromobility vehicles during peak travel hours. For context, in the U.S., almost 50% of car rides are three miles or less—a sweet spot for bicycles, e-bikes and scooters. Using the city of Seattle as a model and factoring in weather conditions, trip type and user demographics, the study found that only 18% of short car trips could be replaced, leading to just a 2% reduction in overall emissions.
Carnegie Mellon assistant professor Corey Harper, a co-author of the study, noted that most carbon emissions come from long-distance travel. "We have a lot more work to do if you really want to reduce emissions in our transportation sector," Harper told dot.LA. "Because even if we were able to fulfill every single trip that could be done by bike or scooter, 98% of emissions would still be there."
The study suggests that e-scooters have the most impact when combined with public transit as a first- and last-mile option. Choosing to take an e-scooter instead of driving a car has other benefits as well, such as reducing traffic congestion. Ultimately, Harper believes that for people to choose more eco-friendly transportation options, companies and cities have to make those modes more appealing to riders.
Lime is gambling that its redesigned e-scooter—with its bigger wheels, swept-back handlebars and improved suspension—will attract even more riders, and not just because it's the more eco-friendly option.
In a promising sign, Edelen said that L.A. users are riding the Gen4 longer and rating it higher compared to the previous model.
"Ridership is up compared to last year and previous years," she noted. "Comparing this model to our Okai, we are seeing close to double the utilization."
Maylin Tu
Maylin Tu is a freelance writer who lives in L.A. She writes about scooters, bikes and micro-mobility. Find her hovering by the cheese at your next local tech mixer.
03:49 PM | October 14, 2022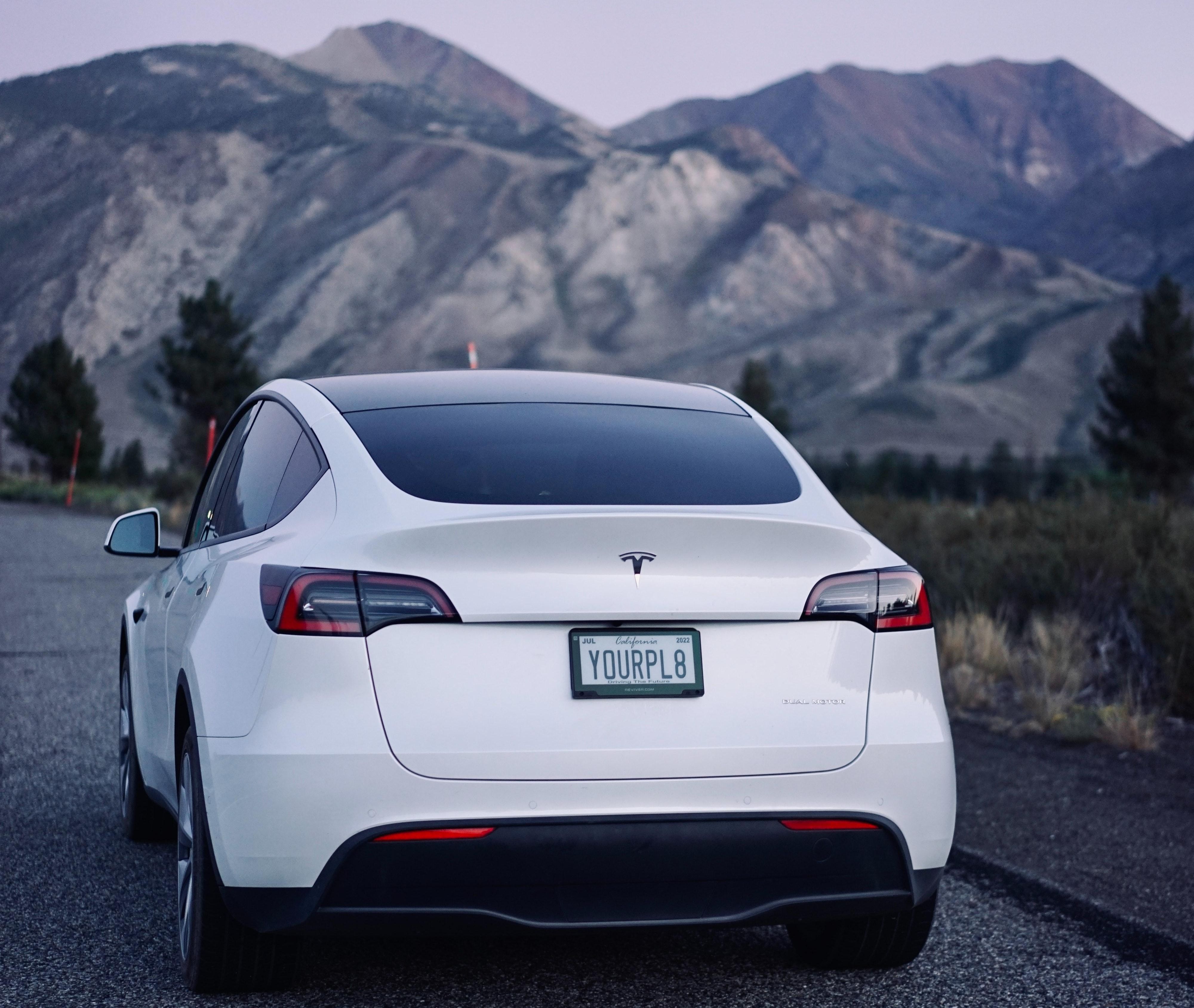 Thanks to a new bill passed on October 5, California drivers now have the choice to chuck their traditional metal license plates and replace them with digital ones.
The plates are referred to as "Rplate" and were developed by Sacramento-based Reviver. A news release on Reviver's website that accompanied the bill's passage states that there are "two device options enabling vehicle owners to connect their vehicle with a suite of services including in-app registration renewal, visual personalization, vehicle location services and security features such as easily reporting a vehicle as stolen."
Reviver Auto Current and Future CapabilitiesFrom Youtube
There are wired (connected to and powered by a vehicle's electrical system) and battery-powered options, and drivers can choose to pay for their plates monthly or annually. Four-year agreements for battery-powered plates begin at $19.95 a month or $215.40 yearly. Commercial vehicles will pay $275.40 each year for wired plates. A two-year agreement for wired plates costs $24.95 per month. Drivers can choose to install their plates, but on its website, Reviver offers professional installation for $150.

A pilot digital plate program was launched in 2018, and according to the Los Angeles Times, there were 175,000 participants. The new bill ensures all 27 million California drivers can elect to get a digital plate of their own.
California is the third state after Arizona and Michigan to offer digital plates to all drivers, while Texas currently only provides the digital option for commercial vehicles. In July 2022, Deseret News reported that Colorado might also offer the option. They have several advantages over the classic metal plates as well—as the L.A. Times notes, digital plates will streamline registration renewals and reduce time spent at the DMV. They also have light and dark modes, according to Reviver's website. Thanks to an accompanying app, they act as additional vehicle security, alerting drivers to unexpected vehicle movements and providing a method to report stolen vehicles.
As part of the new digital plate program, Reviver touts its products' connectivity, stating that in addition to Bluetooth capabilities, digital plates have "national 5G network connectivity and stability." But don't worry—the same plates purportedly protect owner privacy with cloud support and encrypted software updates.

5 Reasons to avoid the digital license plate | Ride TechFrom Youtube
After the Rplate pilot program was announced four years ago, some raised questions about just how good an idea digital plates might be. Reviver and others who support switching to digital emphasize personalization, efficient DMV operations and connectivity. However, a 2018 post published by Sophos's Naked Security blog pointed out that "the plates could be as susceptible to hacking as other wireless and IoT technologies," noting that everyday "objects – things like kettles, TVs, and baby monitors – are getting connected to the internet with elementary security flaws still in place."
To that end, a May 2018 syndicated New York Times news service article about digital plates quoted the Electronic Frontier Foundation (EFF), which warned that such a device could be a "'honeypot of data,' recording the drivers' trips to the grocery store, or to a protest, or to an abortion clinic."
For now, Rplates are another option in addition to old-fashioned metal, and many are likely to opt out due to cost alone. If you decide to go the digital route, however, it helps if you know what you could be getting yourself into.
Steve Huff
Steve Huff is an Editor and Reporter at dot.LA. Steve was previously managing editor for The Metaverse Post and before that deputy digital editor for Maxim magazine. He has written for Inside Hook, Observer and New York Mag. Steve is the author of two official tie-ins books for AMC's hit "Breaking Bad" prequel, "Better Call Saul." He's also a classically-trained tenor and has performed with opera companies and orchestras all over the Eastern U.S. He lives in the greater Boston metro area with his wife, educator Dr. Dana Huff.
steve@dot.la
05:57 PM | January 25, 2022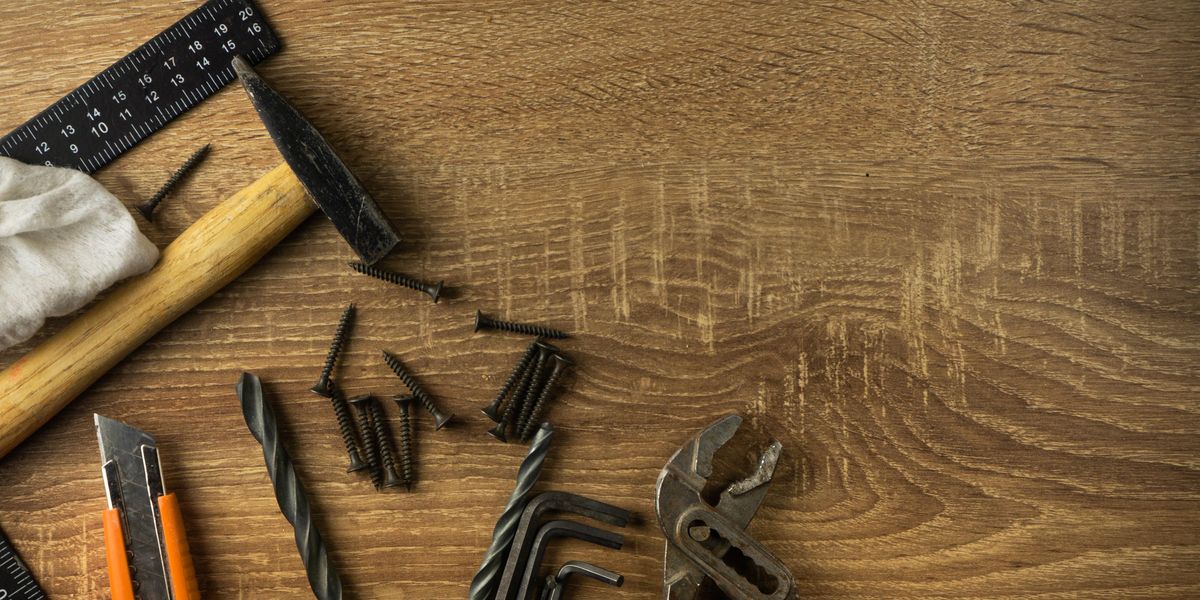 ServiceTitan—which has parlayed its field service software for contractors into one of Southern California's most valuable tech startups—has reportedly confidentially filed for an initial public offering, Business Insider reported Tuesday.

The Glendale-based firm is said to be pursuing a valuation as high as $18 billion via an IPO sometime this year—though the report cautioned that both the timing and valuation could change. At that figure, ServiceTitan would rank among the five-most valuable venture capital-backed businesses in Southern California, according to Pitchbook data.
Reuters previously reported that ServiceTitan had begun preparing for an IPO last fall.
ServiceTitan's software offers back-office tools for a wide range of service industries, from plumbing and landscaping to pest control and HVAC. It has grown in part by gobbling up other businesses, such as landscaping software provider Aspire and pest control-focused platforms ServicePro and, earlier this month, FieldRoutes.
The startup—founded in 2012 by Armenian immigrants Ara Mahdessian and Vahe Kuzoyan—has also secured venture funding at a prolific rate. ServiceTitan has raised a total of $1.1 billion in capital to date, according to PitchBook data—most recently a $200 million Series G round that closed last June. At the time, the firm pegged its valuation at $9.5 billion.
ServiceTitan's investors include prominent venture capital firms Tiger Global and Sequoia, as well as private equity firms Thoma Bravo and Arena Holdings. Santa Monica-based VC firm Mucker Capital is also among ServiceTitan's backers.
Representatives for ServiceTitan did not immediately respond to a request for comment on the Business Insider report.
Harri Weber
Harri is dot.LA's senior finance reporter. She previously worked for Gizmodo, Fast Company, VentureBeat and Flipboard. Find her on Twitter and send tips on L.A. startups and venture capital to harrison@dot.la.