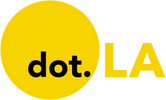 Get in the KNOW  
  on LA Startups & Tech  
X
Image courtesy of Lime
Lime Is Bringing Its New, More Eco-Friendly Scooters to LA
Maylin Tu
Maylin Tu is a freelance writer who lives in L.A. She writes about scooters, bikes and micro-mobility. Find her hovering by the cheese at your next local tech mixer.
06:00 AM | April 27, 2022
The first Lime electric scooters hit the streets of Los Angeles in June 2018, some nine months after rival e-scooter startup Bird first took flight in Santa Monica. In the years since, Lime has battled Bird and a wave of other micromobility operators for market dominance—seeking to transform the urban transportation landscape while facing losses, regulatory backlash and even destructive anti-scooter sentiment.
---
Now, Lime is upping the ante in the great e-scooter wars once again by bringing its latest e-scooter model—the Lime Gen4—to the streets of Los Angeles, with the goal of replacing all 7,000-plus vehicles in its L.A. fleet by this summer. Lime has already rolled out the Gen4 globally in markets from Denver to London.

The San Francisco-based company told dot.LA that it designed the Gen4 to be more eco- and user-friendly—with a swappable battery, bigger wheels, a lower center of gravity and swept-back handlebars akin to a bicycle.
"As of [the week of April 17], you'll start to see them in Hollywood, West Hollywood and in some of the Hills area," said Alyssa Edelen, Lime's general manager for the southwest region.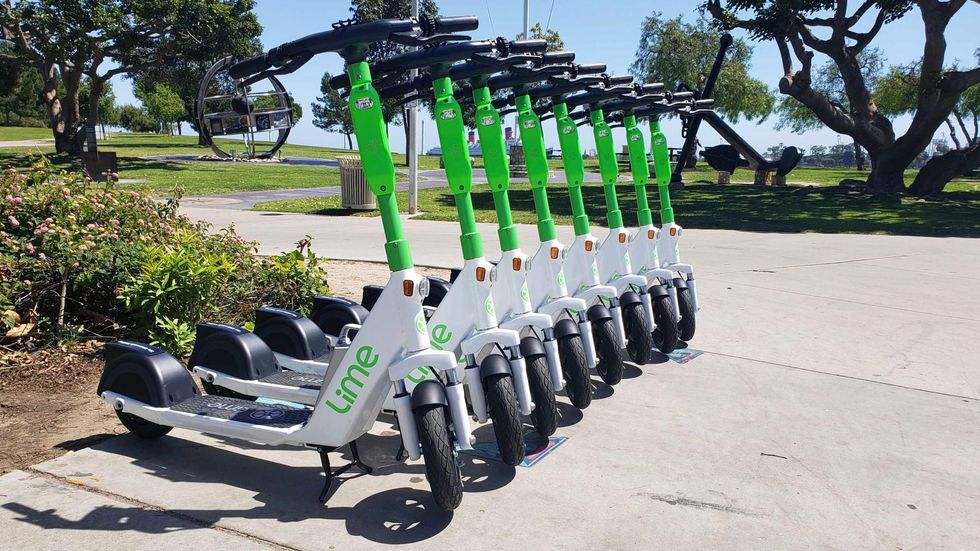 Lime's new Gen4 e-scooter features a swappable battery, bigger wheels, a lower center of gravity and swept-back handlebars.Image courtesy of Lime
The Next Generation
Originally a bike-sharing company, Lime launched its e-scooter fleet in 2017 with the Segway Ninebot, a popular choice for operators at the time. However, early e-scooters were not built for the harsh conditions of shared use. One 2018 study by Quartz of Bird scooters in Louisville, Ky., found that the vehicles lasted less than 29 days on average before breaking down or falling prey to vandalism or theft.
The next Lime generation to hit L.A. streets in 2018 was the Gen2.5, a hardier model built to last 18-to-24 months. Then last year, the company swapped out the Gen2.5 for Okai scooters inherited through its 2020 acquisition of Uber's micromobility business, Jump. Instead of recycling the Jump scooters, Lime wanted to deploy them in select markets.
Now, Lime says that its latest model—designed and manufactured completely in-house—is built to last for up to five years. In comparison, competitor Bird's latest model, the Bird Three, has an estimated shelf life of two years.
Lime didn't share details on how much the company invested in R&D for the Gen4. The scooter was initially developed by Jump, with Lime continuing the work after acquiring the former Uber subsidiary.
How Eco-Friendly Are E-Scooters?
The lifespan of an e-scooter doesn't only affect a company's bottom line—it also has a significant impact on sustainability.
In a 2019 study conducted at North Carolina State University, researchers calculated the life-cycle emissions of shared e-scooters. The study found that although riding one was better for the environment than driving a car, it was not as green as riding an electric bike or even taking a gasoline-powered bus.
And that's not just because of the energy required to charge e-scooters, which represented only 5% of their total emissions. According to the study, most of the greenhouse gas emissions from shared micromobility comes from manufacturing a device's parts, as well as the logistics of collecting and charging the vehicles. In other words: the longer a scooter's lifespan and the easier it is to charge it, the lower its carbon footprint will be
To address the environmental impact of charging scooters and returning them to the streets, Lime and other micromobility operators are now embracing models that feature swappable batteries. According to Lime, the Gen4's swappable battery makes the charging process more streamlined and energy-efficient; vehicles no longer need to be transported to a warehouse for charging. Lime's new Gen4 e-bike model is also using the same swappable battery.
While some competitors, like Bird and Superpedestrian, have called into question the environmental benefits of swappable batteries, the industry at large seems to be trending in their favor. Veo CEO Candice Xie told dot.LA earlier this year that the micromobility firm is using its Cosmo seated scooter to tow trailers filled with batteries that are swapped into its vehicles in Santa Monica.
"We don't need to collect all the devices back to the warehouse to charge and then roll [them] out again," Xie said. "All we need to do is swap the battery on site, and that increases our efficiency and reduces our operations by 40-to-50% compared to other vendors."
West Hollywood-based Wheels is testing out a similar strategy in Austin, Texas, where it's using its own electric seated scooter to swap batteries and service its vehicles, with plans to implement this method in L.A. Meanwhile, a Lyft spokesperson said many of the company's maintenance teams are using electric golf carts and e-cargo tricycles to swap batteries on its own micromobility vehicles.
Lime has yet to use electric vehicles in L.A. for charging and maintenance operations, but said it's in the process of acquiring and implementing them.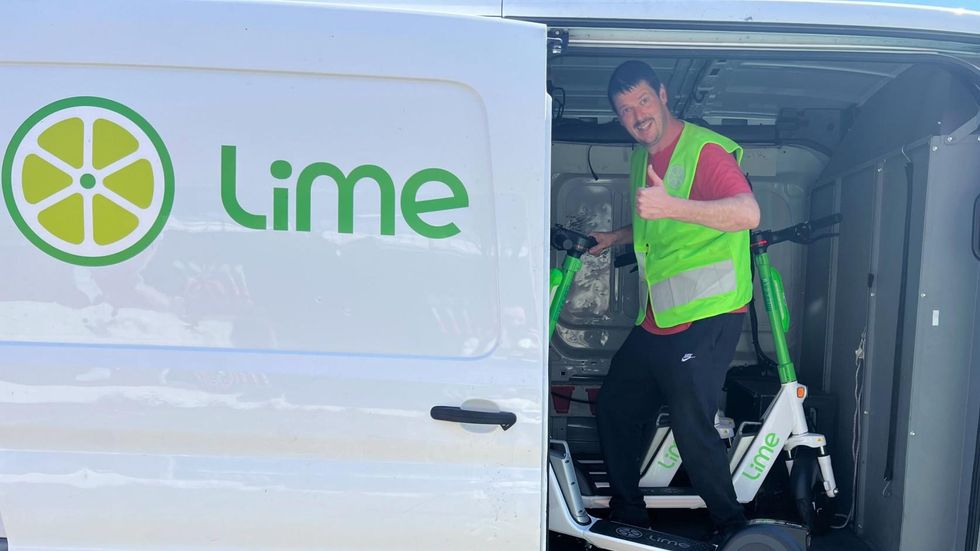 Lime says the Gen4's swappable battery makes the process of recharging its e-scooters more streamlined and energy-efficient.Image courtesy of Lime
The Adoption Issue
Lime's more eco-friendly approach comes as Angelenos are increasingly turning to shared transit options to avoid record-high gas prices. As of mid-April, Lime had seen its ridership in L.A. grow "about 35%" in the preceding two-to-three weeks, Edelen said. The company's Lime Access equity program, which provides discounted rides to underserved Angelenos, logged 12,000 rides in March, the highest number since its inception.
But despite the lofty environmental goals of micromobility companies—Lime is aiming to have a zero-emissions operations fleet by 2030—some experts note that their impact on the greater transportation sector is limited.
In a study released in February, researchers at Carnegie Mellon University examined the environmental impact of replacing short car trips with micromobility vehicles during peak travel hours. For context, in the U.S., almost 50% of car rides are three miles or less—a sweet spot for bicycles, e-bikes and scooters. Using the city of Seattle as a model and factoring in weather conditions, trip type and user demographics, the study found that only 18% of short car trips could be replaced, leading to just a 2% reduction in overall emissions.
Carnegie Mellon assistant professor Corey Harper, a co-author of the study, noted that most carbon emissions come from long-distance travel. "We have a lot more work to do if you really want to reduce emissions in our transportation sector," Harper told dot.LA. "Because even if we were able to fulfill every single trip that could be done by bike or scooter, 98% of emissions would still be there."
The study suggests that e-scooters have the most impact when combined with public transit as a first- and last-mile option. Choosing to take an e-scooter instead of driving a car has other benefits as well, such as reducing traffic congestion. Ultimately, Harper believes that for people to choose more eco-friendly transportation options, companies and cities have to make those modes more appealing to riders.
Lime is gambling that its redesigned e-scooter—with its bigger wheels, swept-back handlebars and improved suspension—will attract even more riders, and not just because it's the more eco-friendly option.
In a promising sign, Edelen said that L.A. users are riding the Gen4 longer and rating it higher compared to the previous model.
"Ridership is up compared to last year and previous years," she noted. "Comparing this model to our Okai, we are seeing close to double the utilization."
Maylin Tu
Maylin Tu is a freelance writer who lives in L.A. She writes about scooters, bikes and micro-mobility. Find her hovering by the cheese at your next local tech mixer.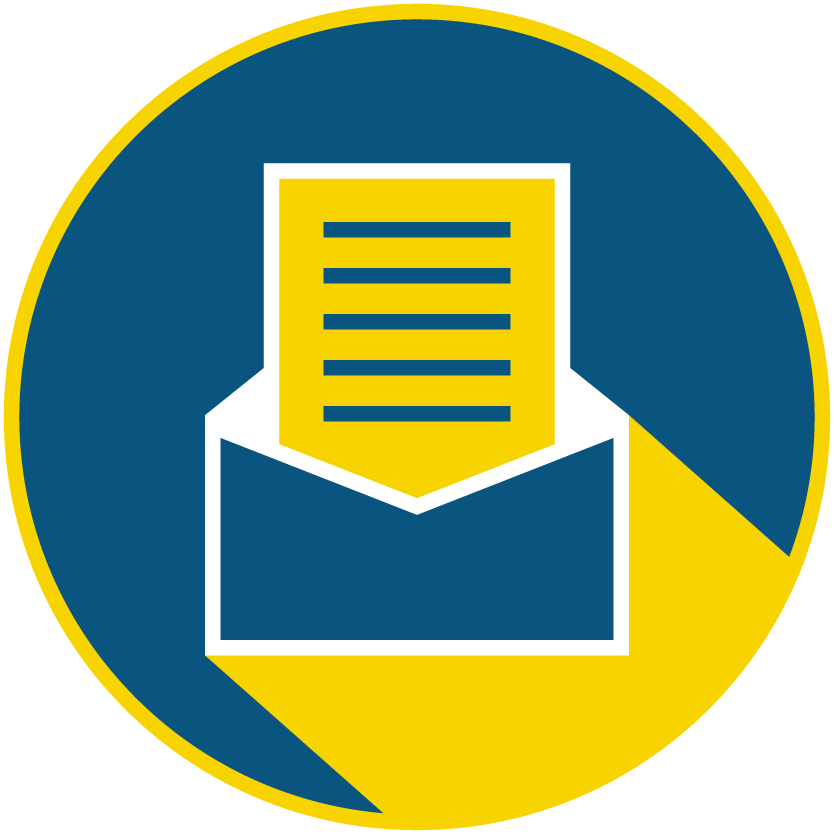 Subscribe to our newsletter to catch every headline.
06:00 AM | December 12, 2022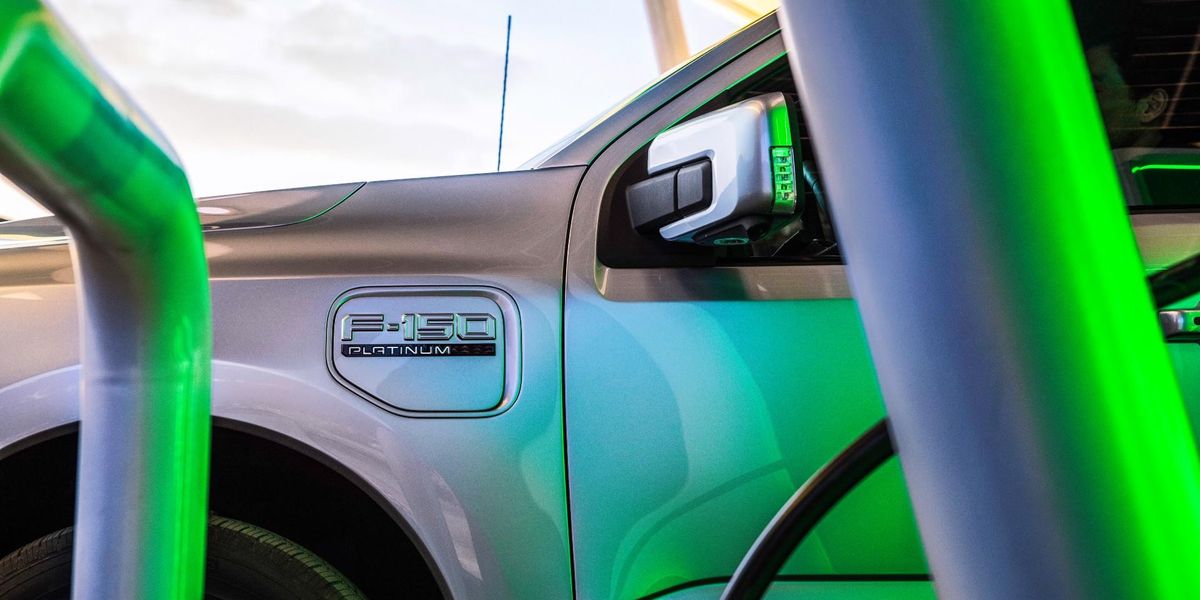 Photo courtesy of Ford
Pacific Gas and Electric is in the midst of enrolling customers into an ambitious new pilot program that seeks to use electric car vehicles as a means of powering daily life and stabilizing the grid.
The "Vehicle to Everything" pilot envisions a future in which automobiles not only draw their power from the electrical grid but can also strategically add electricity back in when demand is high — and generate some money for their owners along the way.
The concept of bidirectional energy flow using EV batteries isn't new, and dot.LA has covered various vehicle-to-grid endeavors in the past. But having a utility company as large as PG&E onboard could begin to transform the idea into a reality.
Though the program's website has been live for a few weeks, PG&E officially began to invite customers to pre-enroll starting on December 6th. The pilot has space for 1,000 residential customers and 200 commercial customers. PG&E isn't releasing the numbers for how many people have signed up so far, but Paul Doherty, a communications architect at the company, says he expects the enrollment period to take several months, stretching into Q1 2023.
On the residential side, customers can receive financial incentives up to $2,500 just for enrolling in the pilot. That money, says Doherty, goes towards the cost of installing a bidirectional charger at the customer's residence. The cost of installation varies according to the specifications of the residence, but Doherty says it's unlikely that $2,500 will cover the full cost for most users, though it may come close, with most installations ranging in the low thousands.
But there's more money to be had as well. Once the bidirectional charger is installed, customers can not only use the electricity to power their homes but also begin selling electricity back to the grid during flex alerts. Southern California residents may remember back in September when the electric grid was pushed to its breaking point thanks to an historic heatwave. During such events–or any other disaster that strains the system–customers can plug their vehicle in, discharge the battery and get paid.
Doherty says that users can expect to make between $10 and $50 per flex alert depending on how severe the event is and how much of their battery they're willing to discharge. That might not seem like a huge sum, but the pilot program is slated to last two years. Meaning that if California averages 10 flex alerts per year like in 2022, customers could make $1,000. That could be enough to offset the rest of the bidirectional charger installation or provide another income stream. Not to mention, help stabilize our beleaguered grid.
There is one gigantic catch, however. PG&E has to test and validate any bi-directional charger before it can be added into the program. So far, the only approved hardware is Ford's Charge Station Pro, meaning only one vehicle–the F-150 Lightning–can participate in the program. That should change soon as the utility company tests additional hardware from other brands. Doherty says they're expecting to add the Nissan LEAF, Hyundai's IONIQ 5, the KIA EV6 and others soon since it's just a matter of testing and integrating those chargers into the program.
One name notably absent from that list is Tesla. So far, the country's largest EV presence hasn't announced concrete plans for bidirectional charging, meaning there's no way for Tesla owners to participate in the pilot.
"We hope they come to the table as soon as possible," says Doherty. "That would be a game changer."
The commercial side of the pilot looks similar to the residential. Businesses receive cash incentives upfront to help offset the cost of installing bidirectional charger and then get paid for their contribution to stabilizing the grid in times of duress. PG&E says electric school bus fleets, especially, represent attractive targets for this technology due to their large battery capacity, high peak power needs, and predictable schedule–a strategy that mirrors what V2G pioneer Nuvve described to dot.LA back in October.
If California's plan to transition all new car sales to electric by 2035 actually succeeds — which would require it to add nearly two million new EVs to state roads every year — that's two million rolling, high power batteries with the potential to power our homes, our jobs and the grid at large. Getting there will be a colossal undertaking, but PG&E's pilot should be a litmus test of sorts, assuming they can figure out how to get more vehicles than the Ford Lightning into the program.
David Shultz
David Shultz reports on clean technology and electric vehicles, among other industries, for dot.LA. His writing has appeared in The Atlantic, Outside, Nautilus and many other publications.
05:15 AM | December 13, 2022
Vinfast
Vinfast, the Vietnamese EV company with headquarters in Los Angeles, shipped its first order of vehicles to U.S. soil from Hai Phong, Vietnam on November 25th. The batch of 999 automobiles is due to arrive here in California on Thursday this week.
The VF8 SUVs on board will have the difficult task of convincing American buyers that an unknown, untested Vietnamese manufacturer can deliver on a new technology. And so far, the company appears to be off to a rocky start.
According to an email sent to reservation holders on November 29th, the VF8s in the initial shipment will be a special "City Edition" and have lower range advertised than the previously announced versions–just 180 miles in total. Over the weekend, Vinfast confirmed to dot.LA via Twitter that all of the vehicles in the first batch are the City Edition, and that the standard edition would be coming Q1 of 2023. Until this email, there had been little, if any mention of this new City Edition. The message to reservation holders offered no rationale as to why the company was choosing to ship this version of the car instead of the 260-292 mile-range VF8 it's been advertising for months. Despite the lower range, however, the EVs will still carry a price tag of either $55,500 or $62,500, depending on trim–just $3,000 less than the previously-announced versions.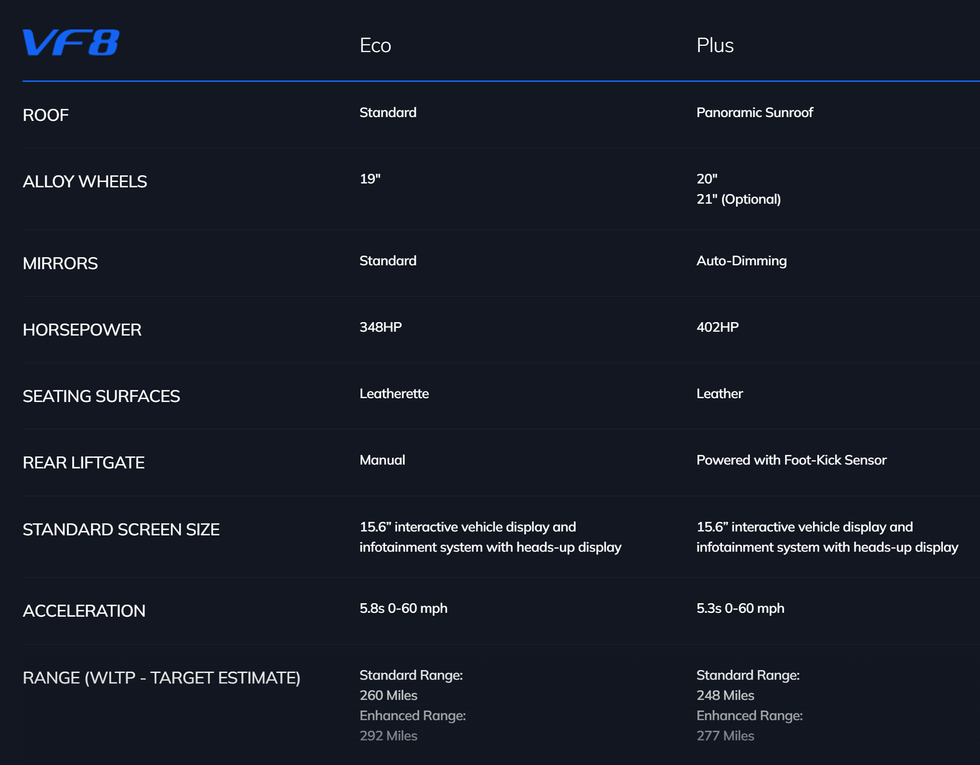 The VF8 Specs page from Vinfast's site still bears no mention of a "City Edition," but that's what's coming to America this month.
Vinfast is offering reservation holders an additional $3,000 off these City Edition variants (bringing the total to $6,000 less than the previously announced versions). But even at a discount, the vehicle's $52,000 price tag is far from competitive with more established EV makers and raises questions about the brand's strategy and value.

For comparison:
The 2023 Hyundai Ioniq 5 has 220 miles of range and starts at $42,745. Or 303 miles of range for $60,000.
The base model Kia EV6 costs $49,795 and goes 206 miles on a full charge.
The Mustang Mach E starts at 46,895 and reaches 224 miles.
And the list goes on. In fact, you'd be hard pressed to find a 2023 EV with a worse cost to range ratio than the VF8. Vinfast, which has been nearly impossible to reach on this matter despite numerous calls and emails, hasn't explained why they chose to offer such a range-compromised version as their initial foray into the U.S. market, or why the cost remains so high.
The reaction to the news, especially on Reddit, has been largely negative, with users accusing the company of "springing" the City Edition on reservation holders. Others speculated that the company rushed out the first batch so it could drum up good press before its recently announced IPO. Whatever the reason, most redditors didn't seem to be buying it, and with Vinfast so reluctant to comment, it's hard to see the announcement in a light that bodes well for the company's future. First impressions tend to last, and this doesn't seem like a good one for the EV hopeful.
David Shultz
David Shultz reports on clean technology and electric vehicles, among other industries, for dot.LA. His writing has appeared in The Atlantic, Outside, Nautilus and many other publications.