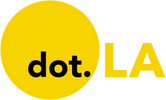 Get in the KNOW  
  on LA Startups & Tech  
X

Image courtesy of Wheels
Can WeHo-Based Wheels Get More Underserved Angelenos to Ride E-Bikes?
Maylin Tu
Maylin Tu is a freelance writer who lives in L.A. She writes about scooters, bikes and micro-mobility. Find her hovering by the cheese at your next local tech mixer.
08:00 AM | March 18, 2022
When Los Angeles launched its micromobility pilot in 2019, it had big dreams for improving transportation equity for all Angelenos.

Three years later, less than 3,000 people make use of micromobility programs aimed at helping poorer sections of the city, despite stringent requirements on companies to provide these options and programs to help raise awareness. At issue, experts said, is a patchwork of rules and regulations between municipalities that can be a logistical headache for riders, infrastructure that doesn't offer much protection for scooter and bike riders in these areas and a public outreach campaign that has failed to gain traction.
---
"It's a big challenge because when you drive your car, for example, people don't pay attention to municipal boundaries. They just want to get from point A to point B in the most seamless way possible," said Will Sowers, director of public affairs at Wheels.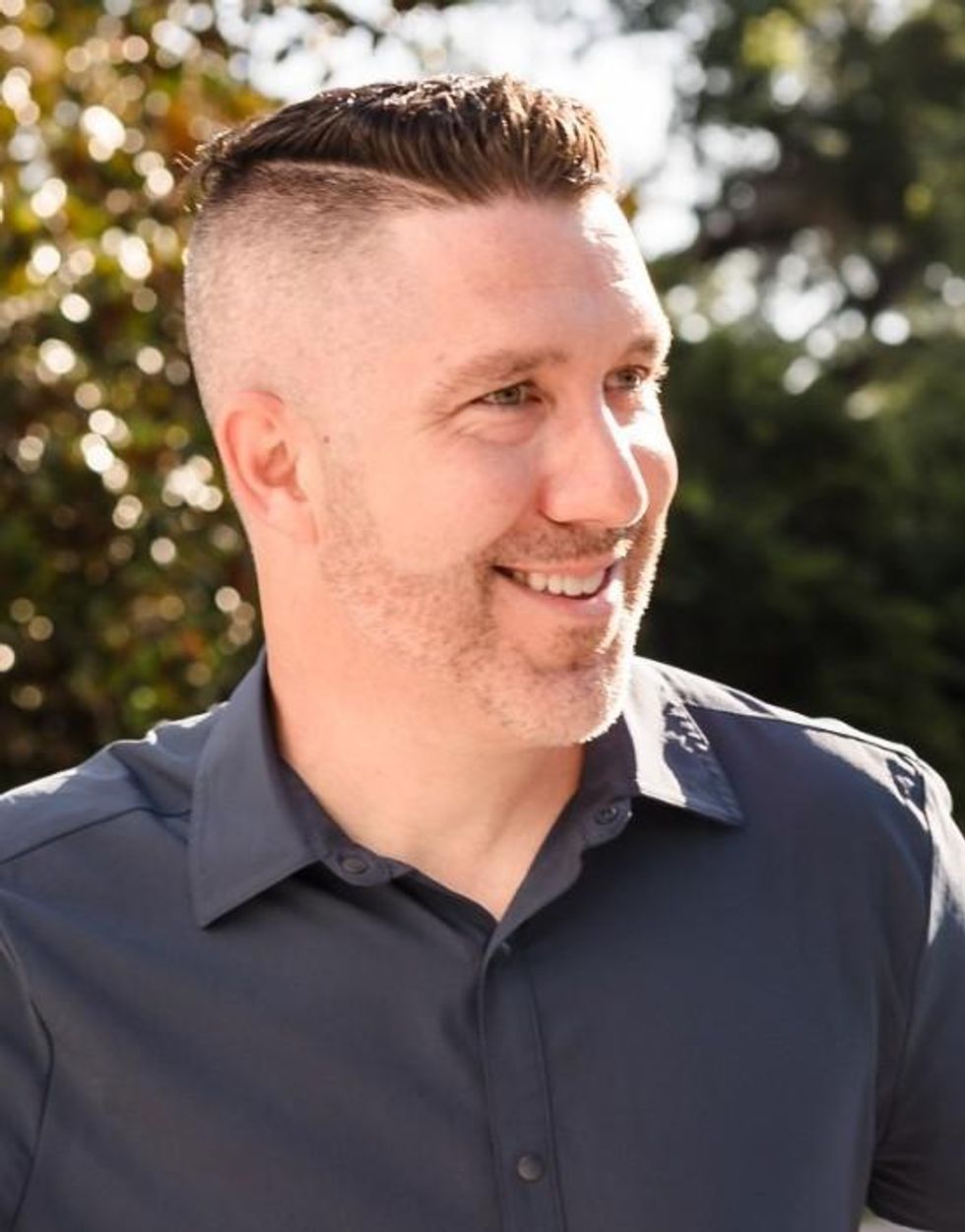 Wheels Director of Public Affairs Will Sowers.
Image courtesy of Wheels
While each city has its own equity requirements, the city of L.A. established its current program in 2021. Any operator deploying vehicles in special operation zones (including Venice, Hollywood and Downtown) is required to deploy 20% of its fleet in equity zones. There is no trip fee for rides that begin or end in these zones. The city also requires operators to offer a low-income option for riders, attend meetings with neighborhood councils and other local stakeholders, provide a non-credit-card and non-smartphone option for payment and partner with a community-based organization.
But those efforts haven't made as much an impact as the city might have hoped.
As of October 2021 there were 2,915 active users enrolled in low-income programs across all operators, according to information provided by L.A.'s Department of Transportation. That's just 17 more riders than the city reported a year and a half earlier–in a report which also noted that 85% of users did not know that equity programs were available.
Riders in L.A.'s underserved neighborhoods use micromobility differently than those in more affluent areas, according to Sowers. While a rider in Venice might ride to the beach or to a restaurant, riders in underserved areas often use e-scooters as a way to get from a transit stop to work and vice versa.
"We've even seen examples of people using our device as a courier," he added, "where they may — with one of many delivery apps — grab a short shift."

Wheels Plan to Go Further
Wheels is trying something different. The company has made an effort to design its scooter for the way that lower-income riders use them, and is one of the few scooter companies able to thread the requirements of multiple municipalities in L.A.
It currently boasts it has the most interconnected micromobilty network in the L.A. metro region, with permits to operate in the city of L.A., Santa Monica, Culver City and West Hollywood, as well as plans to launch in Glendale.
Practically speaking, that means a user could ride a Wheels device between municipalities to get to work or school without worrying about landing in a no-parking zone (Beverly Hills, for instance, is geofenced and off-limits for scooter riding and parking).
Wheels was founded in 2018 in West Hollywood by Jonathan and Joshua Viner, who previously co-founded pet-walking startup Wag. The company's scooters are designed for traveling longer distances. While a typical standup scooter goes one mile per ride, a Wheels seated mini-bike goes about one and a half miles. Along with its app-based service, the company also offers monthly rentals.
So far, the company has raised $96.3M in funding..
As part of its "Wheels for All" program, riders in all four municipalities who use state or federal benefits can ride at a steep discount. Currently, Wheels devices are $1.10 to unlock and then $0.39 per minute to ride. But underserved riders get unlimited rides of 30 minutes or less, paying only the unlocking fee.
The program is also more expansive than L.A. requires. In addition to low-income riders, people with disabilities and older adults who the city designates as "underserved populations," Wheels program is also available for unhoused people.
To qualify, applicants fill out a form online and provide proof of enrollment in a state or federal program.
In comparison, its competitor Lime offers rides for $0.50 to unlock plus $0.07 per minute plus tax through its Lime Access program; Bird offers 50% off rides for low-income Angelenos through its Community Pricing program.
Although Wheels has the most interconnected equity program, enrollment is low. Only about 1,000 riders are signed up across the greater L.A. area. The program has provided just over 23,000 rides in the last year.
Sowers said this is an issue his company is doing its best to address. He added that he frequently talks to social service workers and organizations to help spread the word. Many, he said, are initially skeptical of recommending micromobility options to their clients.
One such person called him after seeing someone with a disability riding a Wheels device:

"They called me and were like, 'That makes sense to me. It makes sense that someone can sit down and potentially have an accessibility challenge, but still be able to ride your device'."
Berkeley professor and co-director of the Transportation Sustainability Research Center Dr. Susan A. Shaheen told dot.LA over email that Wheels' approach to equity has potential.
"It could provide a more affordable alternative to private vehicle use, particularly during these times of high gas prices," she said.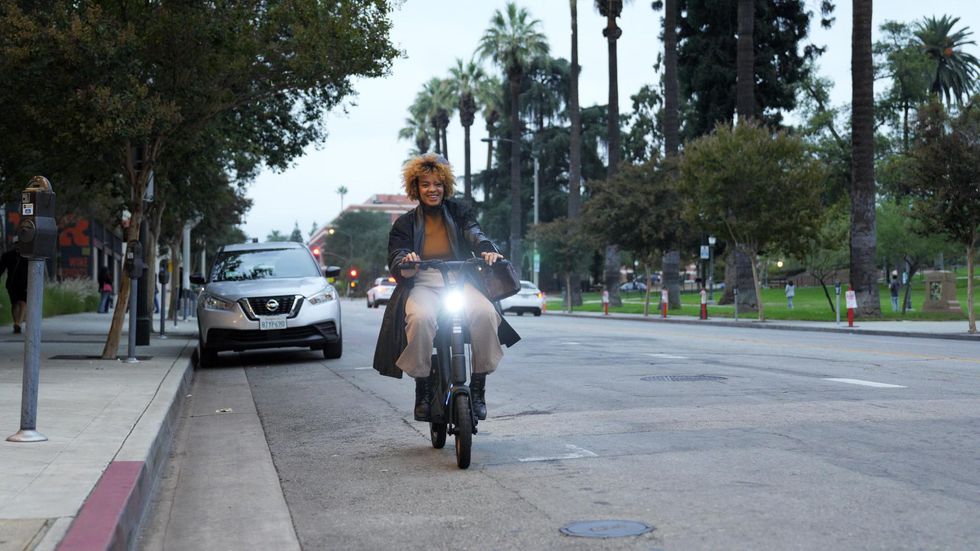 Image courtesy of Wheels
No Equity Without Infrastructure
Another challenge that Wheels, like its competitors, deals with is infrastructure. California law bans e-scooters from operating on sidewalks. But not everyone is comfortable riding an e-scooter or e-bike in the street, especially where there are no bike lanes and little infrastructure to keep riders safe. That's especially true in many low-income neighborhoods.
"If you want to prioritize equity, you need to build infrastructure for micromobility in the places that are the most dangerous to use micromobility, which is in the least-invested communities," said Michael Schneider, founder of advocacy group Streets For All. He added that providing equity means building interconnected cycling infrastructure throughout the city, especially along L.A.'s high injury network.
The city has said it's trying to address the disparity.
Los Angeles has brought in $4 million over two fiscal years through its micromobility permit program, according to the city's Department of Transportation. It's using some of that money to fund a redesign of the 7th Street corridor, including protected bike lanes, after data showed that this segment of Downtown was one of the busiest for e-scooters and e-bikes, Public Information Director Colin Sweeney said via email.
In the future, Sowers sees the potential for L.A. to use that funding, along with the data it collects from operators, to build better infrastructure in underserved areas.
"If someone in a transit desert is riding one of our devices, and I give the city good data and say, 'Hey, I've got tons of rides in this neighborhood, but there's no protected bike lanes,' then that creates a reason for the city to build that."
Maylin Tu
Maylin Tu is a freelance writer who lives in L.A. She writes about scooters, bikes and micro-mobility. Find her hovering by the cheese at your next local tech mixer.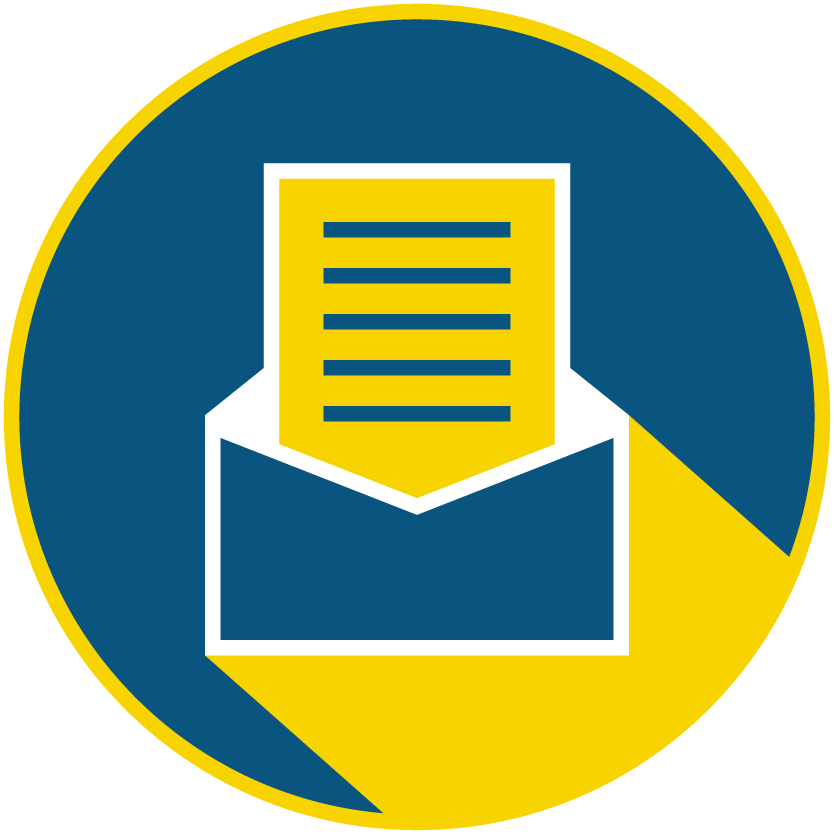 Subscribe to our newsletter to catch every headline.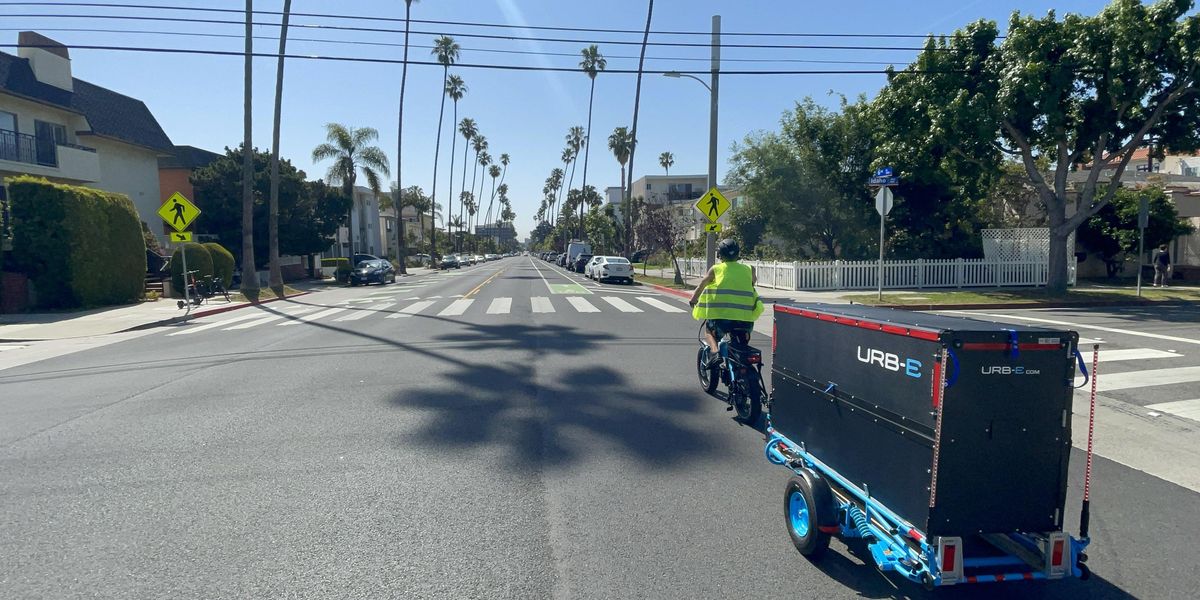 Image courtesy of URB-E
Whether it's Amazon's enormous investment in electric vans or Starship Technologies' autonomous food transport rovers, there's no shortage of tech companies looking to electrify last-mile deliveries and cut carbon emissions.

URB-E, a Los Angeles-based startup, may have the simplest solution of all: electric bicycles. With its fleet of souped-up, battery-powered custom e-bikes equipped with collapsible box trailers, the company is ferrying meals, groceries, ecommerce orders and other packages to doorsteps in L.A. and New York City.
Now, the mobility and logistics company is returning to its roots in California to partner with the Los Angeles Cleantech Incubator (LACI) and the city of Santa Monica on a pilot program that establishes zero-emission delivery zones. Santa Monica has established itself as the cradle of micromobility in recent years, and the city's initiative—described as the first of its kind in the U.S.—aims to live up to that reputation by carving out priority curb space for electric delivery vehicles in certain high-traffic corridors. In addition to luring new operators, the program should also lower air pollution, greenhouse gas emissions and noise pollution in some of the busiest parts of Santa Monica.
The pilot will feature 10 URB-E e-bikes that will service zero-emission delivery zones along Santa Monica Boulevard and Colorado Boulevard, with plans to expand the pilot to 20 URB-E vehicles in the near future. The startup will share the curb space with electric vehicles from the likes of Coco, Fluid Truck, Maxwell Vehicles and Nissan, as well as vendors like Ikea and Shopify. The pilot will run until the end of the year.
"I think we've already seen an enormous amount of excitement in this space," LACI president and CEO Matt Petersen told dot.LA. "We know that URB-E is going to just crush it as they hit the streets."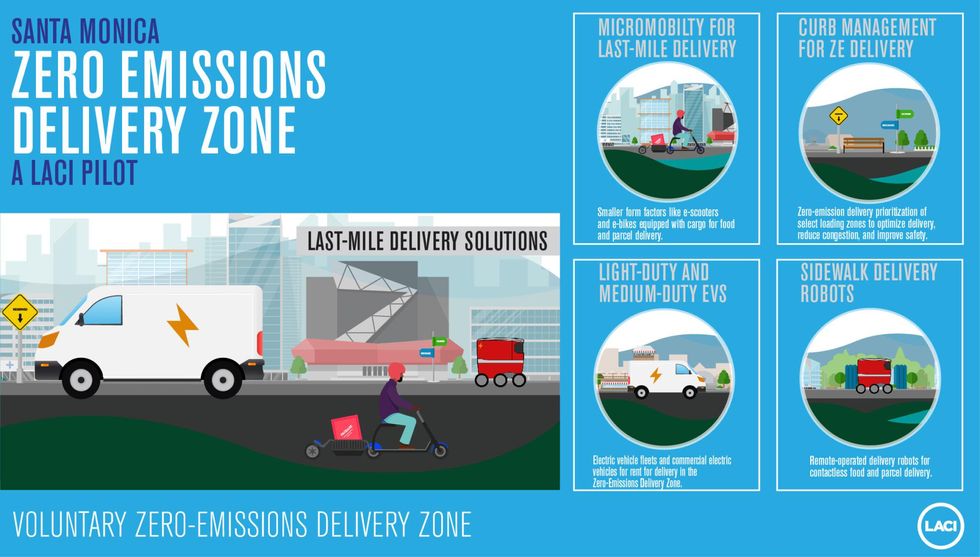 Courtesy of LACI
URB-E is no stranger to LACI: Founded in 2015 by former Ford and Fisker engineer Sven Etzelsberger and business development veteran Peter Lee, the startup joined the incubator in 2018—a stint that helped propel its business forward. Back in those days, URB-E was focused on developing e-scooters; initially, the company wanted to use its scooter technology and to deliver packages around the Burbank area, but quickly discovered that, to be cost-efficient, it needed to carry more weight than the scooters could handle.
"[The scooters] could pull around 300 or 400 pounds, which is not actually that much," recalled URB-E CEO Charles Jolley, an Apple and Facebook veteran who now leads the startup. "In order to get that good balance of efficiency, you needed to carry around 800 pounds." So URB-E went back to the drawing board and revamped its designs—moving on to e-bikes that can haul up to 800 pounds and a completely new container system.
In addition to its hometown, the company has also cut its teeth in New York City, where delivery riders pedal across neighborhoods in Manhattan and Brooklyn. Jolley said the length of a delivery run depends on the shape of the neighborhood, but it usually takes five-to-nine miles of riding to unload a full container of goods. The startup was boosted by a $5 million Series A funding round led by UBS Group early last year.
Another week, another new neighborhood for URB-E! Where is it?pic.twitter.com/VmLa2O1bNe

— URB-E (@URB-E) 1650992421
While bikes and containers are core to URB-E's platform, the company is also collecting logistics data every step along the way. With a custom software app that riders use to navigate and deliver packages, URB-E is actively mapping the infrastructure needs of neighborhood-scale electric delivery. As the startup has grown, it's gained insights into where to position charging stations and staging areas and how to efficiently execute deliveries.
That will help it support whatever electric contraptions may show up down the road as the delivery vehicles of the future, according to Jolley. "The vehicles can evolve over time, and we actually now have all of this infrastructure to support [them]," he said.
From Your Site Articles
Related Articles Around the Web
David Shultz
David Shultz is a freelance writer who lives in Santa Barbara, California. His writing has appeared in The Atlantic, Outside and Nautilus, among other publications.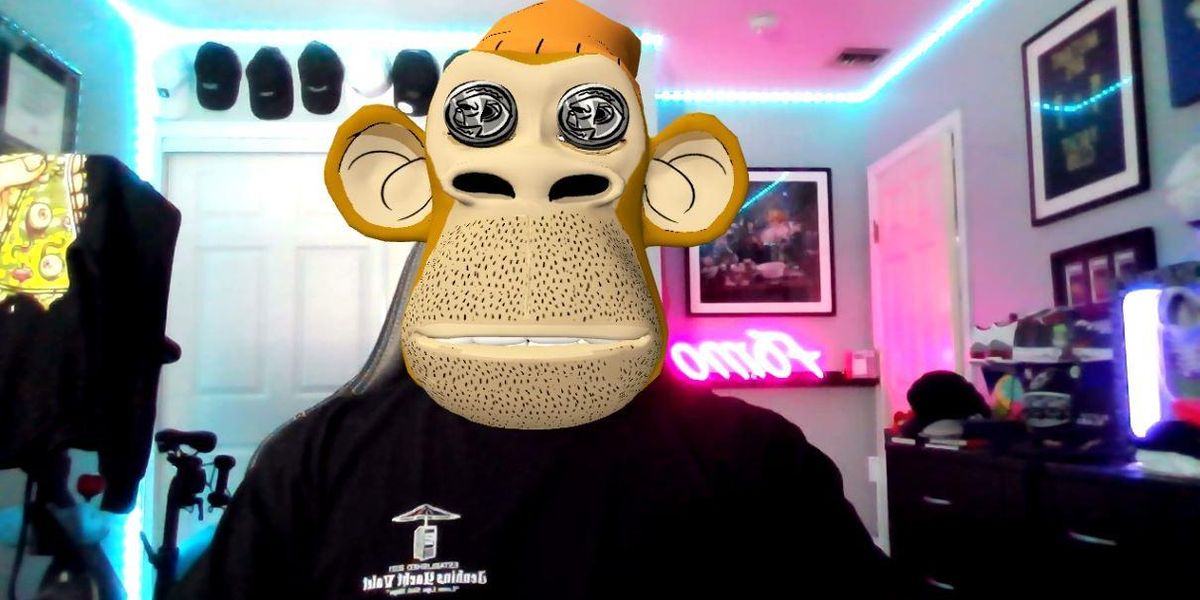 Photo courtesy of Gene Nubla
On a Zoom call last week, Gene Nubla was explaining the name and origin story he gave "Nicky Nickels," his Bored Ape NFT who will be a character in a forthcoming novel.
Nubla's Bored Ape Yacht Club #6717 wears a leather vest and orange beanie hat, but the cartoon ape's most distinctive feature is the silver coins covering his eyes. The 39-year-old Nubla—an associate vice president for a flower delivery service—imagined his Bored Ape as a member of a biker gang called the "Apes of Anarchy" who died during a botched cargo heist. Loved ones sometimes place silver dollars over the eyes of the dead during funerals, but Nicky's family used plain old nickels, Nubla told dot.LA. That somehow barred the ape from properly entering the afterlife, rendering him undead.
It may not be the best ghost story to come out of Los Angeles, but Nicky will soon haunt the pages of a book written by bestselling author Neil Strauss, who has penned autobiographies for the likes of Marilyn Manson and Jenna Jameson. Nubla has licensed Nicky to an NFT storytelling project called Jenkins the Valet, which is backed by Creative Artists Agency and will see Strauss cobble together stories from various Bored Ape holders.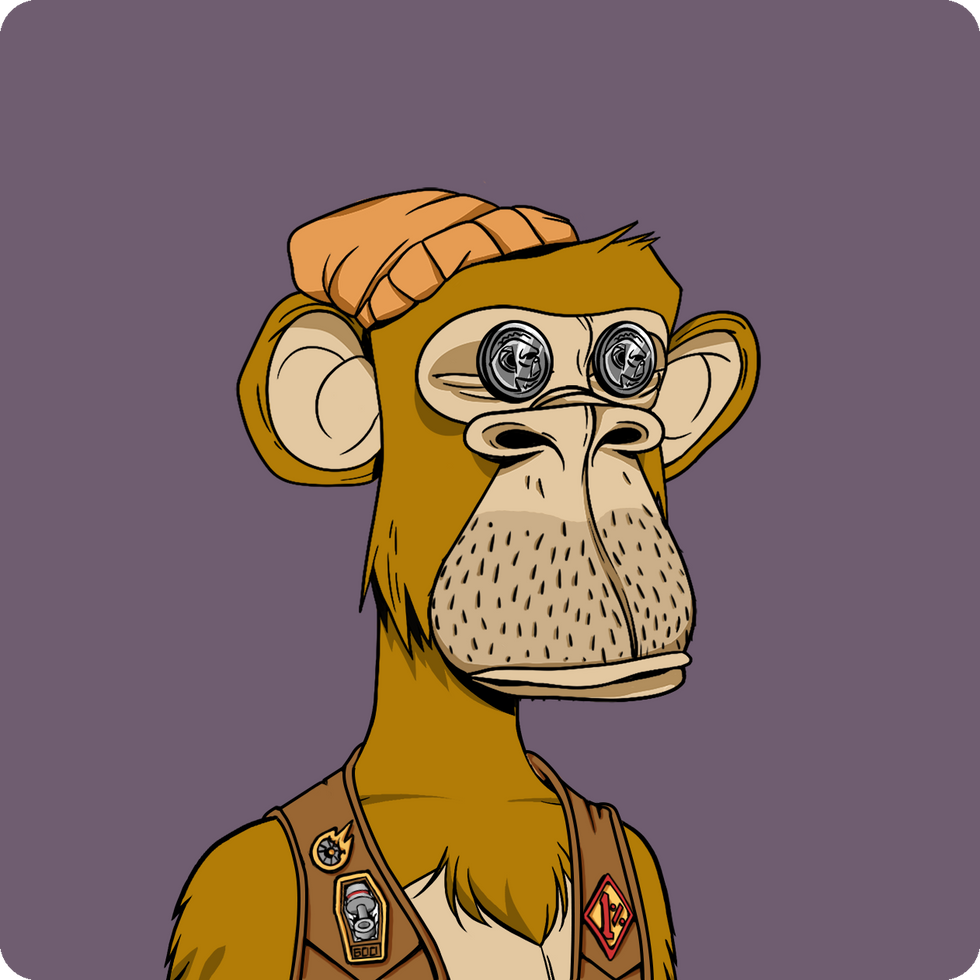 Nubla's Bored Ape Yacht Club #6717, which he affectionately named "Nicky Nickels."
Photo courtesy of Gene Nubla
"This goes into the philosophy of Web3—like, I can participate as an owner now," said Nubla. "I'm in the door now, versus on the outside looking in and just watching the movies [and] paying the ticket."
These days, there are scores of artists, startups and entertainment companies—as well as ordinary NFT holders—who are parlaying non-fungible tokens into commercialized intellectual property. Santa Monica-based Universal Music Group, one of the world's largest record labels, has created a "metaverse group" consisting of four Bored Apes who ostensibly make music, while crypto exchange Coinbase is using Bored Apes as characters for a film trilogy. Talent agencies like WME and United Talent Agency, meanwhile, have added Bored Apes and other NFT characters to their client rosters.
These creative works are possible because blockchain firms like Yuga Labs, the company behind Bored Ape Yacht Club, have attached broad commercialization rights to NFTs, which are unique digital assets verified using blockchain technology. Granting those rights could boost the value of NFT collections by making them more culturally relevant, according to experts, though it remains to be seen whether such projects can appeal to audiences beyond NFT adopters.

A lot of legal questions remain, too, as actor and producer Seth Green just learned the hard way. Green is developing a hybrid live-action/animated comedy called "White Horse Tavern," in which the creator's own Bored Ape—whom Green affectionately named "Fred"—comes to life as a friendly neighborhood bartender. The project was almost sabotaged last month when a scammer duped Green in an online phishing scheme—stealing four of his NFTs, including Fred. Since Bored Ape NFTs come with a license to commercialize the art, Green may have momentarily lost the rights to produce the show (Fred has since returned home safely). The drama turned Green into a poster child for how sketchy the world of NFTs can still be—the "Wild West" of digital assets, as some observers have put it.
Ready for Primetime?
Jeremy Goldman, a Los Angeles attorney who leads the blockchain group at law firm Frankfurt Kurnit Klein & Selz, credits companies like Yuga Labs for generating immense value for their NFT collections. The problem, as he sees it, are the collections' relatively brief terms and conditions that don't spell out what happens in certain situations, like when an NFT is stolen. That has the risk of killing projects and productions if investors or distributors are uncertain of the consequences.
"All of these NFT projects, including Bored Ape Yacht Club, are highly experimental and in some ways were never meant for primetime," Goldman told dot.LA. "A lot of questions about the license are sort of unanswered."
That hasn't stopped some entertainment tech firms from sticking NFT avatars in their stories. L.A.-based Invisible Universe is developing an animated parody called "The R3al Metaverse," which will include characters from five NFT collections. (Disclosure: dot.LA co-founder and executive chairman Spencer Rascoff is an investor in Invisible Universe).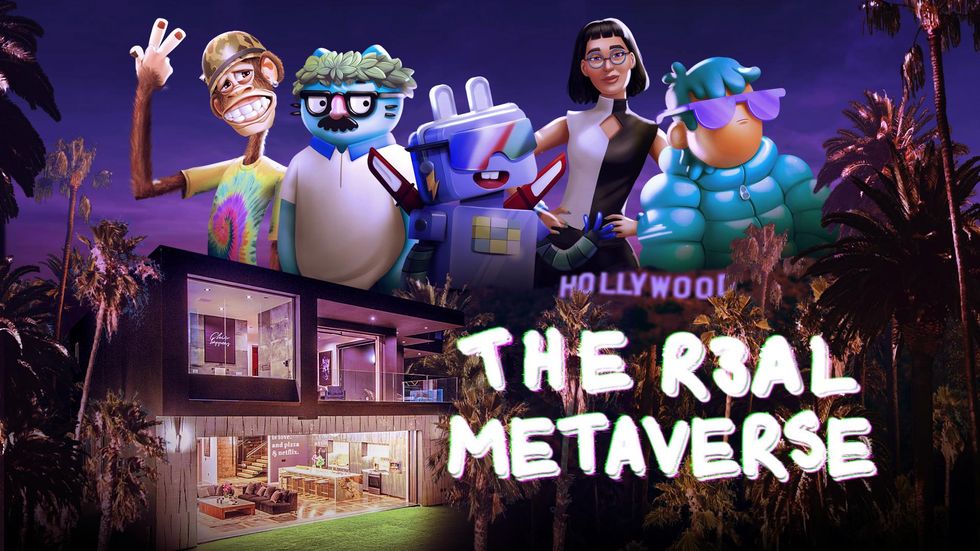 Promotional art for the "The R3al Metaverse."Photo courtesy of Invisible Universe
The startup bought three NFTs and secured licenses for two more that fit well with the story, CEO Tricia Biggio told dot.LA. Just to be sure, Invisible Universe approached the creators behind the NFT projects, as well. While those organizations had varying views on using the IP, they all saw the value of Invisible Universe's project, she noted.
"It was funny—some of them would be like, 'Well, you actually don't have to run it by us,'" Biggio said.
In "The R3al Metaverse," NFTs who live in the digital world come over to the real one after they're cast in a reality TV show and move in together. The parody pokes fun at the debate around the value of NFTs, as well: In one episode, the characters stare at a painting and are confused by its lack of "real-world application" besides being a wall decoration. ("Like zero utility," one observes, according to a storyboard of the scene.) Invisible Universe will release around 40 episodes of the program on social media platforms starting in late July, with each episode running between 45 and 90 seconds.
Who will watch a show about NFTs—which, for all of their recent hype, are still owned by just a tiny fraction of the population? Biggio said that the audience for "The R3al Metaverse" will primarily be holders of its featured NFT communities: Bored Ape Yacht Club, Cool Cats, Doodles, World of Women and Robotos, which collectively have roughly 50,000 tokens in circulation. That said, Biggio believes the show can build an audience outside the not-yet-mainstream NFT market and, in turn, boost the value of those collections.
"Because we aren't gating the content, we have a unique opportunity to onroad people into the Web3 space who enjoy the content, fall in love with the characters and want to be a part of the collaborative storytelling experience," Biggio said.
'A Unique Opportunity To Create Wealth'
At their most basic level, NFTs—like artwork at large—generate much of their value from their scarcity and cultural relevance. Yet companies like Yuga Labs have popularized the idea of giving NFT holders commercial rights as well, allowing Bored Ape holders to put their ape's face on a t-shirt or other merchandise and sell it. That not only makes the NFT itself more lucrative, but may well make the entire collection more valuable as Bored Apes are plastered on storefronts or featured in films.
"By giving broad IP rights—either making them public domain or granting commercial rights to holders—you're increasing the chances, potentially, that these items are going to get out there and go viral and become culturally relevant, and therefore sought after," said Goldman, the attorney.
Bill Starkov, a real estate developer who lives near Calabasas, "right by the Kardashians," in his words, is the founder of another primate-inspired NFT project, Apocalyptic Apes. (The collection's zombified primates look like scarier versions of Bored Apes.) Starkov said his team gave NFT holders the right to do "whatever you want" with the artwork—so long as they don't use the Apocalyptic Apes brand name. "We have to make sure they use it properly enough and it's used to promote our project and our brand in a good way," he explained.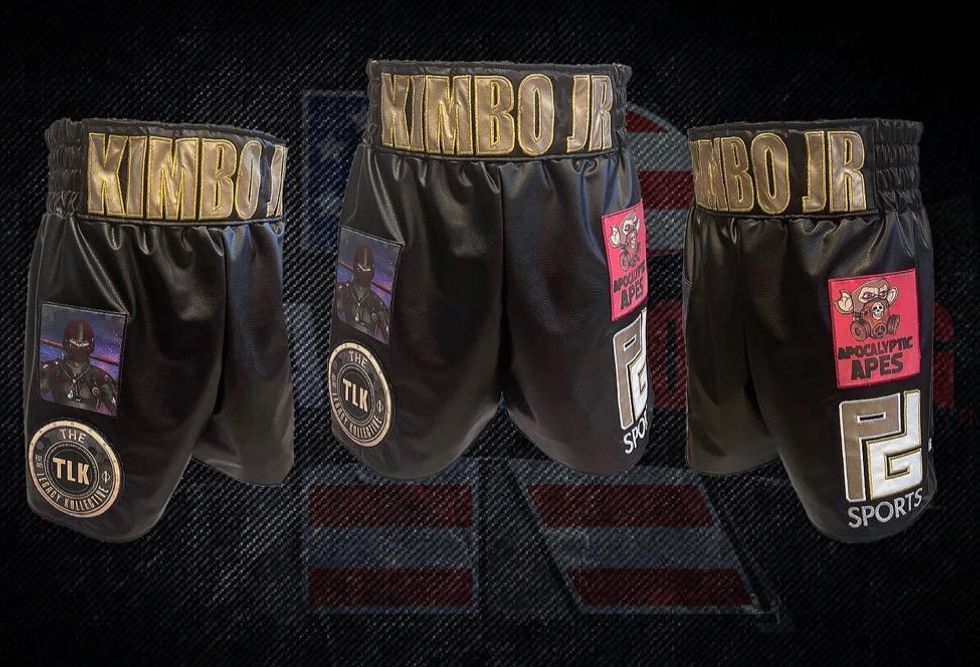 Apocalyptic Apes have been featured on the shorts of mixed martial arts fighters. Photo courtesy of Bill Starkov
Apocalyptic Ape holders have placed their simians on hot sauce bottles, exercise equipment and sunglasses, he noted, while on the entertainment side, a car-racing game, comic books and movies depicting the apes are all in the works, too. Starkov, who goes by Fity.Eth online, has also partnered with Nicky Diamonds, the owner of clothing company Diamond Supply, on licensing deals with Ape holders to create merchandise. Those deals are generating tens of thousands of dollars for ape holders who collaborated with Diamond, he said.
"One thing that people are sleeping on is the understanding of IP rights," Starkov said of some people in the NFT community. "They think it's a quick flip, but it's not. It's something long-term. It's something that's here to stay. It's a unique opportunity to create wealth."
Nubla is among the NFT holders who have taken advantage of those IP rights. Speaking through an augmented reality filter on his computer that made him look like Nicky Nickels, Nubla said he's earned some cash by allowing artists to make works based on his Bored Ape, including one artist who sells lapel pins bearing NFT art. A street painting of Nicky also adorns the side of a brick building in Brooklyn—part of a mural by the graffiti artist Masnah, who was paid for his work by NFT holders.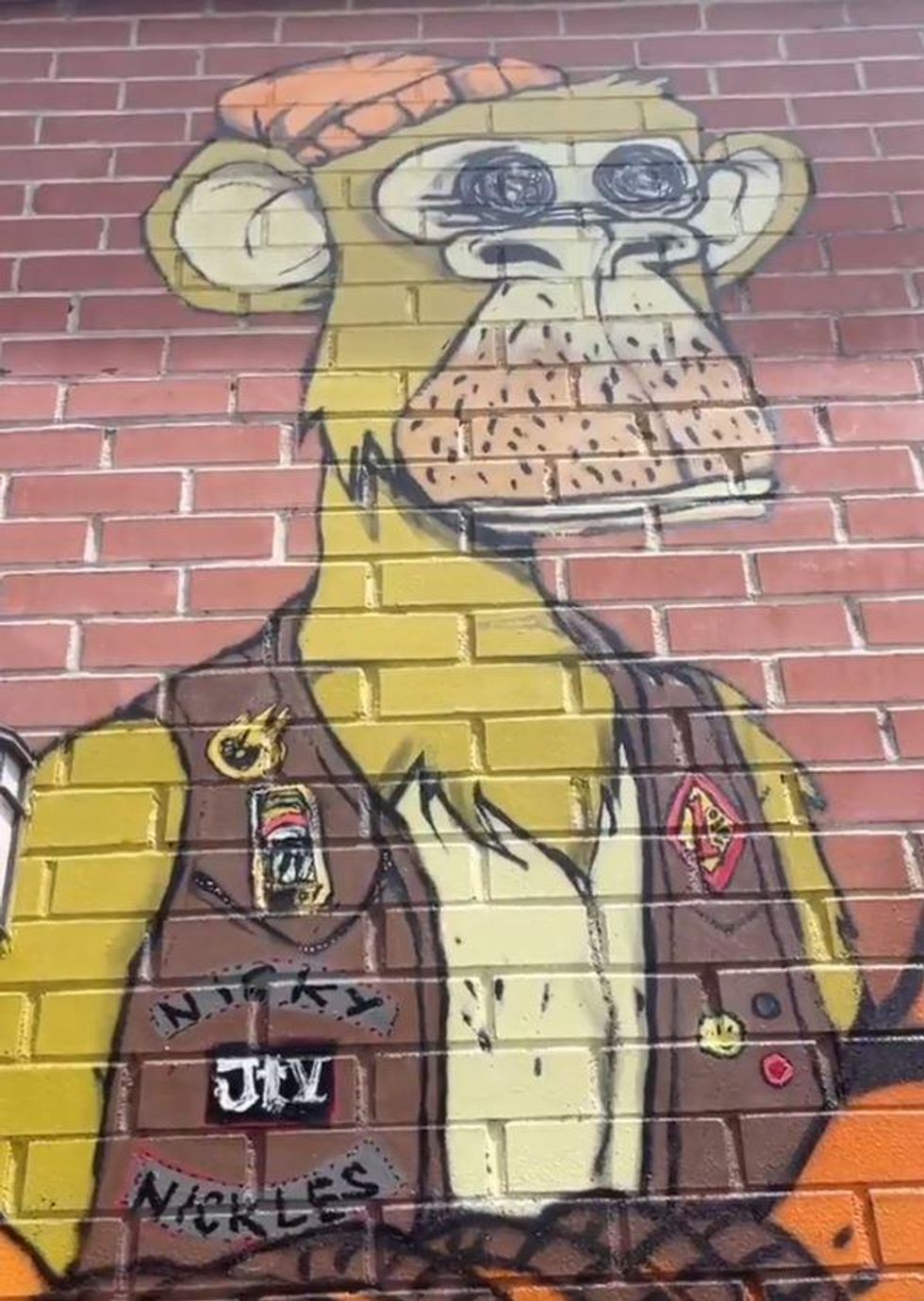 "Nicky Nickels" was featured in a Brooklyn street painting. Photo courtesy of Gene Nubla
When the Florida-based startup Tally Labs launched the Jenkins the Valet project last June, Nubla was one of the 69 lucky people to randomly mint a rare "Yacht" NFT. That allowed him to license his Bored Ape as a character in Strauss' novel and receive a share of the book's royalties. Nubla debated selling the Yacht NFT as its value reached six figures, but ultimately decided to keep it and build out Nicky's IP "just to see where it goes."
Nubla does see some risk in NFT collections decentralizing their IP; he noted that there isn't much stopping another Bored Ape holder from using their NFT to promote ideas or views that others may disagree with or find offensive. But like a lot of people involved in the space, he's enamored with the idea of Web3—a decentralized vision for the internet that runs on blockchain-powered applications.
"It'd be nice to be able to benefit off the royalties of anything that comes off this," Nubla said of the Strauss novel, which is coming out this summer. "But I'm doing it mainly just for the vibes."
Christian Hetrick
Christian Hetrick is dot.LA's Entertainment Tech Reporter. He was formerly a business reporter for the Philadelphia Inquirer and reported on New Jersey politics for the Observer and the Press of Atlantic City.