What Should I Watch? Ranker's New App Aims to Make it Easier to Choose Across Viewing Platforms
Sam Blake
Sam primarily covers entertainment and media for dot.LA. Previously he was Marjorie Deane Fellow at The Economist, where he wrote for the business and finance sections of the print edition. He has also worked at the XPRIZE Foundation, U.S. Government Accountability Office, KCRW, and MLB Advanced Media (now Disney Streaming Services). He holds an MBA from UCLA Anderson, an MPP from UCLA Luskin and a BA in History from University of Michigan. Email him at samblake@dot.LA and find him on Twitter @hisamblake
Ranker, an L.A.-based digital media firm boasting 40 million monthly visitors, on Monday morning released Watchworthy, a service that uses machine learning to give users bespoke what-to-watch recommendations. Watchworthy will initially be available only on the iOS app store, but Chief Executive Clark Benson told dot.LA that the company plans to roll it out to Android and connected devices like Roku and Apple TV later this year.
---
The average video streaming user spends over seven minutes deciding what to watch, per a 2019 study from Nielsen. With Comcast, AT&T, Quibi and Discovery all planning to launch streaming services to compete with the likes of Netflix, Amazon, Hulu, Disney, and Apple, making a choice is poised to only get harder.
Enter Watchworthy, which — in contrast to the platforms' own recommendation engines — will provide suggestions across over 200 streaming services.
People are streaming shows and movies more as the coronavirus fallout has decimated leisure alternatives and flushed people's lives with free time. According to a Bloomberg story, Wurl Inc. estimated that globally time spent streaming last weekend rose by an average of 20%. That seems likely to grow, based on a separate analysis from Nielsen finding that viewing spiked by over 60% during certain past shut-ins.
This could prove fortuitous for Watchworthy, which has been under development for a year or so, according to Benson, and coincidentally launches as demand for its service may be rising.
How does it work?
"It starts on Ranker.com," explains Chantelle Silveira, Ranker's Chief Product Officer, who helped manage the development of Watchworthy.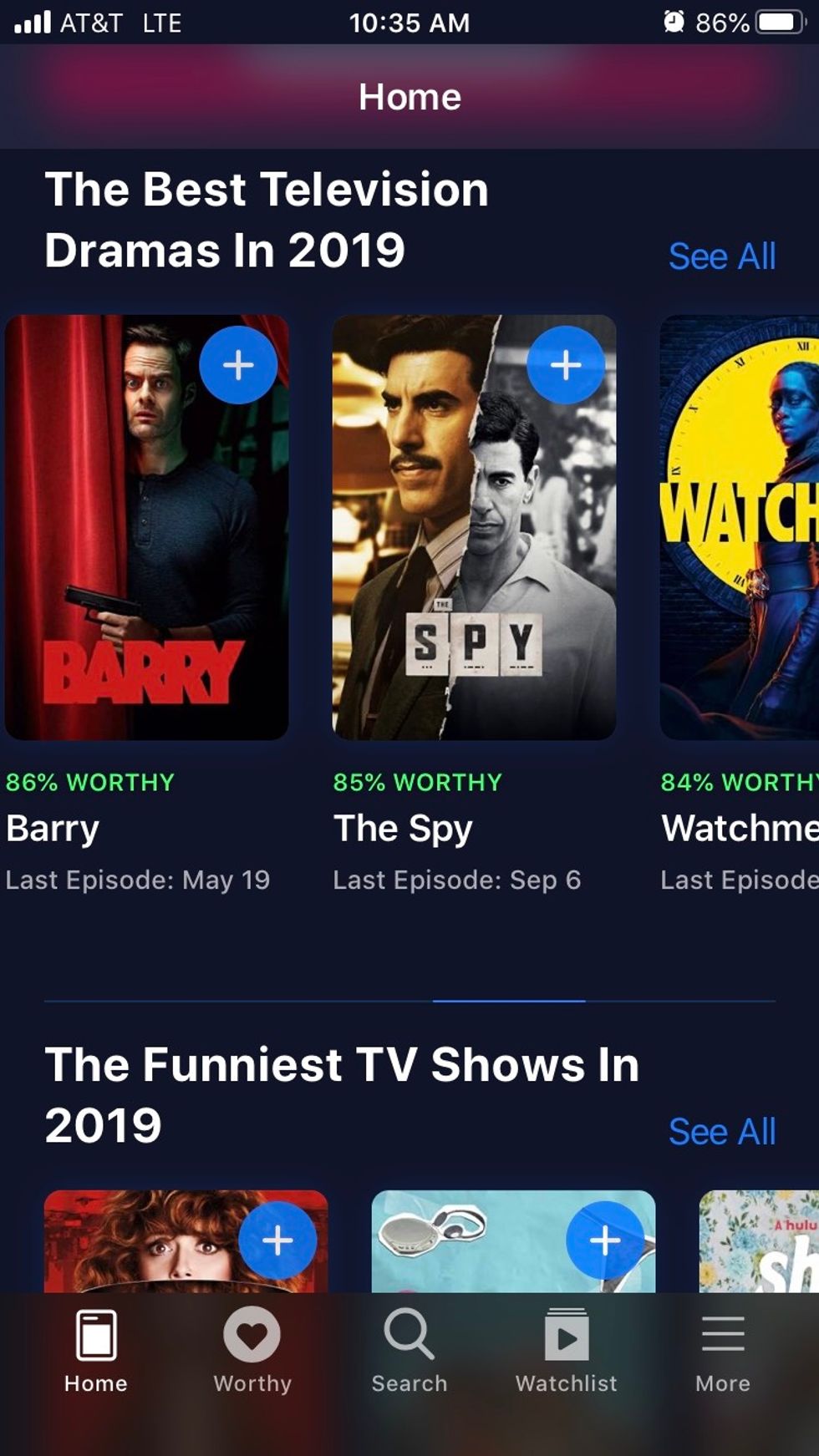 Ranker.com, which launched in 2009, is a trove of all kinds of rankings derived from user votes. Categories range from the relatively normal (The Best TV Shows to Binge Watch, The Greatest Animated Series Ever Made) to the wildly specific (TV Shows That Only Smart People Appreciate, The Most Epic Insults from Game of Thrones).
"Ranker collects around 15 million votes per month across tens of thousands of rankings," said Benson. "We have over 5,000 rankings about TV alone."
Over one billion votes in total have amounted so far.
Tracking and analyzing users' voting behavior across varied categories has enabled Ranker to construct user groups with highly detailed preference profiles, the company says. When Watchworthy users answer a few questions–a process described to dot.LA as akin to Tinder for movies and shows–it is this backend data from Ranker.com that the Watchworthy model uses to propose a recommendation.
"Watchworthy creates a digital taste fingerprint based on your unique combination of likes and dislikes," explains Silveira. The model then compares that fingerprint to millions of others in the Ranker database, and finds a similar user group. "Then it looks at what those people are watching, and not watching, to come up with your personalized list of recommendations."

Data and the Entertainment Business: What Watchworthy Shows
One of Netflix's early competitive advantages was its digital proximity to customers. Whereas legacy companies like Disney formerly needed to rely on third parties for much of their customer data–which was usually coarse and of limited usefulness–Netflix early on had direct access to highly granular, extremely useful data about its customers. Among other outcomes, this enabled their lauded recommendation engine, which got better the more customers used it and so helped Netflix retain subscribers.
The power of customer data goes a long way in explaining the rise of Disney+ and other direct-to-consumer (D2C) platforms. Information about user behavior and preferences will help those companies make decisions.
The story of Ranker and its release of Watchworthy shows how the broader entertainment industry's data evolution is far from complete.
"I didn't know there would be a data business in this when I first started," reflects Benson. But now, entirely new businesses have sprung from the information collected from Ranker visitors.
Earlier this year Benson hired David Yon to lead Ranker Insights, a new business unit aiming to use Ranker data to provide insight to entertainment businesses.
Watchworthy will be free for users, but will generate advertising revenue and referral fees from streaming platforms, Benson said.
Though there is already plenty to watch, such industrial ripples will continue to provide yet more content to keep an eye on.
Follow Sam Blake on Twitter and email him at samblake@dot.la


Sam Blake
Sam primarily covers entertainment and media for dot.LA. Previously he was Marjorie Deane Fellow at The Economist, where he wrote for the business and finance sections of the print edition. He has also worked at the XPRIZE Foundation, U.S. Government Accountability Office, KCRW, and MLB Advanced Media (now Disney Streaming Services). He holds an MBA from UCLA Anderson, an MPP from UCLA Luskin and a BA in History from University of Michigan. Email him at samblake@dot.LA and find him on Twitter @hisamblake
https://twitter.com/hisamblake
samblake@dot.la