at t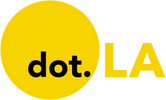 Get in the KNOW
on LA Startups & Tech
X
at t
As airlines start to pick back up, the demand for fast internet connectivity in travel hubs is expected to become a central concern for travelers. And that bodes well for Boingo Wireless, the Wi-Fi company that might sound vaguely familiar to anyone who's ever been in an airport or a ballpark and needed a network.
In the innovation-obsessed battleground that is the tech world, Boingo is an old, grizzled veteran.
They're an infrastructure company — one of those things that's everywhere but you never notice until it stops working.
With Boingo's networks in use in places including The Hollywood Bowl, the company continues to be a main portal to the digital world for Angelenos and the rest of the world. Boingo claims its networks reach more than one billion consumers a year and there's an upgrade coming, for all those frustrated with bad signals.
Early in June this year, DigitalBridge, a digital infrastructure company based in Boca Raton, FL, purchased the two-decade-old Boingo for $854 million. The move will help the 463-person Westwood-based wireless company build its operational expertise and gain access to capital to "supercharge" its business.
"We're still Boingo. It's business as usual," said Boingo CEO Mike Finley in an email to dot.LA.
But that business is getting a makeover to match the superspeed demands of consumers streaming, texting and sharing posts - often at the same time. Boingo announced last week a new partnership with AT&T to bring the telecommunications giant's new 5G+ technology to 12 airports across America, including John F. Kennedy International, LaGuardia and Chicago O'Hare International.
Of course, the network will only be available to AT&T customers, but Boingo has already partnered with Verizon for similar networks in other airports and unlicensed Wi-Fi options are available at all these airports through Boingo's network.
The company's vision is to remain technology and provider agnostic, said Finley.
But don't expect perfect service.
Both Wi-Fi and cellular signals, at their core, are radio waves. AT&T's 5G+ leverages the shortest end of the radio wave spectrum to deliver extremely fast internet with extremely low latency to large numbers of devices at once. The catch is that these smaller wavelengths do not travel as far and do not penetrate walls or other barriers very well, meaning the technology works best in open indoor spaces. How much of these airports in terms of volume will be covered by 5G+, Finley said, is a matter of how many antennas AT&T chooses to install. "I think they're going to start with the high traffic areas—you know, the gates, where you have three or four hundred people getting ready to board a plane." Food courts and security checkpoints also seem like natural targets, he said Finley.
The other catch is that hardly any devices support 5G+ connectivity yet. "This is a plan for the future," says Dr. Kevin Ramdas, Director at TelecomTRAIN, and a professor at Humber College. Ramdas says that, for now, this announcement is mostly marketing hype since so few users will be able to leverage the power of the new technology. But he also points out that networks and technology are the foundation on which innovation is built. We don't necessarily yet know what applications 5G will allow just like we didn't know that 4G LTE would enable live video streaming. "You can't build services without infrastructure," Ramdas says.
Beyond Wi-Fi Signals
One domain that Finley and Ramdas both see as ripe for 5G is autonomous vehicles. Airports, Finley says, are beginning to explore the concept of robotic cleaners — like an industrial-grade Roomba. The low latency afforded by the next generation Wi-Fi will be critical to keep the robots functioning safely and securely. Finley also thinks the improved network will help airports meet many of the new client demands driven by COVID. Specifically, he points to the new desire for contactless services like venue entry and concessions. With tickets, boarding passes, concession and merchandise orders all moving away from person-to-person models and onto devices, COVID has — in some ways — brought the future here even faster.
For Finley, who grew up in Cincinnati, Ohio, the move to Los Angeles came organically as he transitioned from Qualcomm's San Diego branch to a CEO at Boingo.
"L.A.'s been incredible. We've built this company up from L.A. What we find as you go across LA and meet with a lot of the tech companies is that it's a great scene." If Finley has his way, he'll be there to keep them connected with the nearly invisible Wi-Fi company with the weird name.
Correction: An earlier version of this post erroneously included Los Angeles International Airport and Dodger Stadium among Boingo's clients, as reported by a company representative.
AT&T has decided to shed its entertainment assets in exchange for $43 billion and intends to merge them with Discovery into a new entertainment company, the companies announced Monday. The deal, which is expected to close in mid-2022, will still need to be approved by regulators.

The new company will combine streaming services HBO Max, which falls under AT&T's WarnerMedia subsidiary, and Discovery Plus, into a publicly traded parent company that is yet to be named.
Together, the new company will control nearly 200,000 hours' worth of programming and will invest about $20 billion per year in making more, said David Zaslav, the Discovery boss who will run the new firm. That level of spending will outpace the current content investment plans of two of the new service's biggest competitors: Netflix (which plans to invest $17 billion per year) and Disney ($8 billion to $9 billion on Disney Plus and $14 billion to $16 billion across Hulu, Star and ESPN Plus).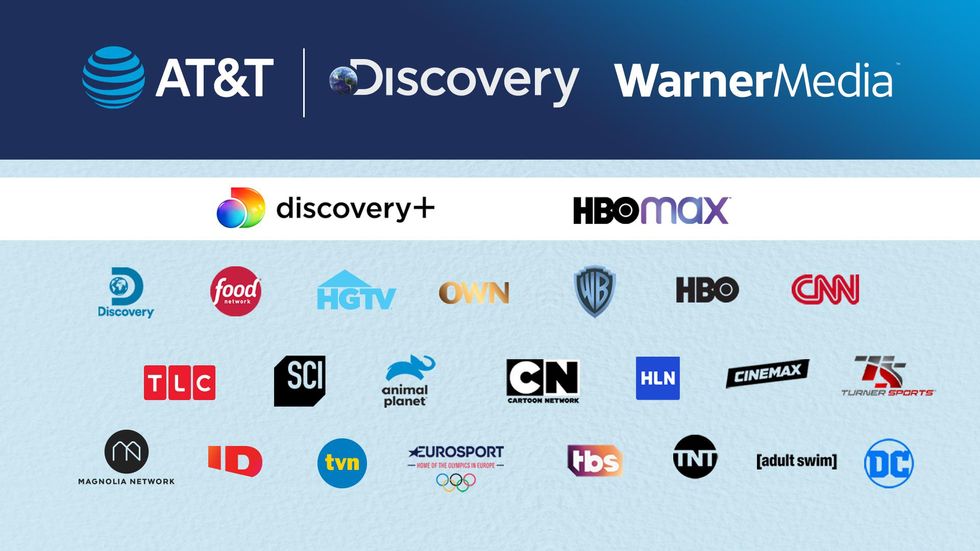 It is not yet clear the extent to which consumers will notice a change. Subscribers to HBO Max may receive a discount to Discovery Plus, and vice versa. Or a new service combining the companies' assets may yet launch. WarnerMedia's brands include HBO, TNT, TNN, CNN, Cartoon Network and Warner Bros Studio. Discovery's include HGTV, Food Network and Animal Planet.

Whether they are combined or remain separate, analysts say the content offerings of the two companies are complementary; Discovery's focus on reality television is an area where Warner's cupboard is relatively bare.
Among other implications, the move brings some foreseen consolidation to the streaming market. The nature of entertainment makes bundling content an economically advantageous strategy; that's partly why it's so hard for a niche streaming platform to succeed.
With over 200 million and 100 million subscribers respectively, Netflix and Disney have a big lead over a combination of HBO Max and Discovery Plus, which together serve around 60 million subscribers. Yet both of those leading platforms have been experiencing slowing growth and declining share prices following a banner 2020 that saw subscribers climb quickly amid the pandemic.
The merger will see some collateral damage ripple throughout the entertainment industry. In the announcement of the deal, the two companies boasted it would save the combined company $3 billion in "cost synergies" which, as with most mergers, will likely mean substantial amounts of people losing their jobs.
WarnerMedia's boss Jason Kilar is reportedly negotiating his exit. The former head of Hulu has become somewhat of a symbol of the move-fast-and-break-things approach to modernizing traditional entertainment, to the chagrin of many. Discovery's boss, David Zaslav, has been tapped to run the new company, according to the companies' statements.
Other players in the streaming market are also on notice. There are still likely more services in existence than consumers are willing to pay for, according to industry analysts.
Sony has seemingly committed to retaining its "arms dealer" strategy. NBCUniversal and ViacomCBS' platforms, Peacock and Paramount Plus, appear to have more ground to make up in a market that is even more competitive.
If the deal is approved, AT&T's shareholders would receive 71% worth of the new company's stock, with Discovery's shareholders receiving the remainder. The name of the new company is expected to be announced next week.
From Your Site Articles
Related Articles Around the Web
HBO Max will be available for a cheaper price than its top-of-the-market $15 per month in June – as long as you're willing to stomach ads.
AT&T, the parent company of WarnerMedia, which operates HBO Max, announced the decision Friday. It did not say what the exact price will be.
The hybrid, multi-tiered strategy echoes that of NBCUniversal's Peacock and ViacomCBS's Paramount Plus, both of which offer a premium, ad-free package alongside a cheaper one with ads. Subscribers to HBOMax's lower tier will not have access to the slate of Warner Bros. films that will appear on the service the same day they debut in theaters, representatives at the service told dot.LA. HBO content will not have ads on either tier option. Content produced by HBO itself will not have ads on either tier option, so you won't see commercials break up the next episode of "True Detective."
HBO Max's relationship with AT&T may help bolster its advertising prowess, as the conglomerate's many consumer touch points make it much easier for the streaming service to target customers.
AT&T has said its combined subscribers across HBO Max and HBO (via cable) were 61 million at the end of 2020. It expects that to climb to as many as 150 million by 2025 – a 67% increase from the company's previous upper-bound projection of 90 million subscribers made in October 2019.
The HBO Max library consists of about 3,400 titles, according to analytics firm Whip Media. These include shows and movies from HBO, Turner Classic Movies, Cartoon Network, Crunchyroll, Studio Ghibli and the DC comics universe. That compares to about 17,000 on Amazon Prime Video, 11,000 on Hulu, 6,700 on Netflix, 1,900 on Peacock and 1,200 on Disney Plus, according to Whip Media.
From Your Site Articles
Related Articles Around the Web