As the NBA Returns, This Short-Form Video Startup Hopes to Score in China
Sam Blake
Sam primarily covers entertainment and media for dot.LA. Previously he was Marjorie Deane Fellow at The Economist, where he wrote for the business and finance sections of the print edition. He has also worked at the XPRIZE Foundation, U.S. Government Accountability Office, KCRW, and MLB Advanced Media (now Disney Streaming Services). He holds an MBA from UCLA Anderson, an MPP from UCLA Luskin and a BA in History from University of Michigan. Email him at samblake@dot.LA and find him on Twitter @hisamblake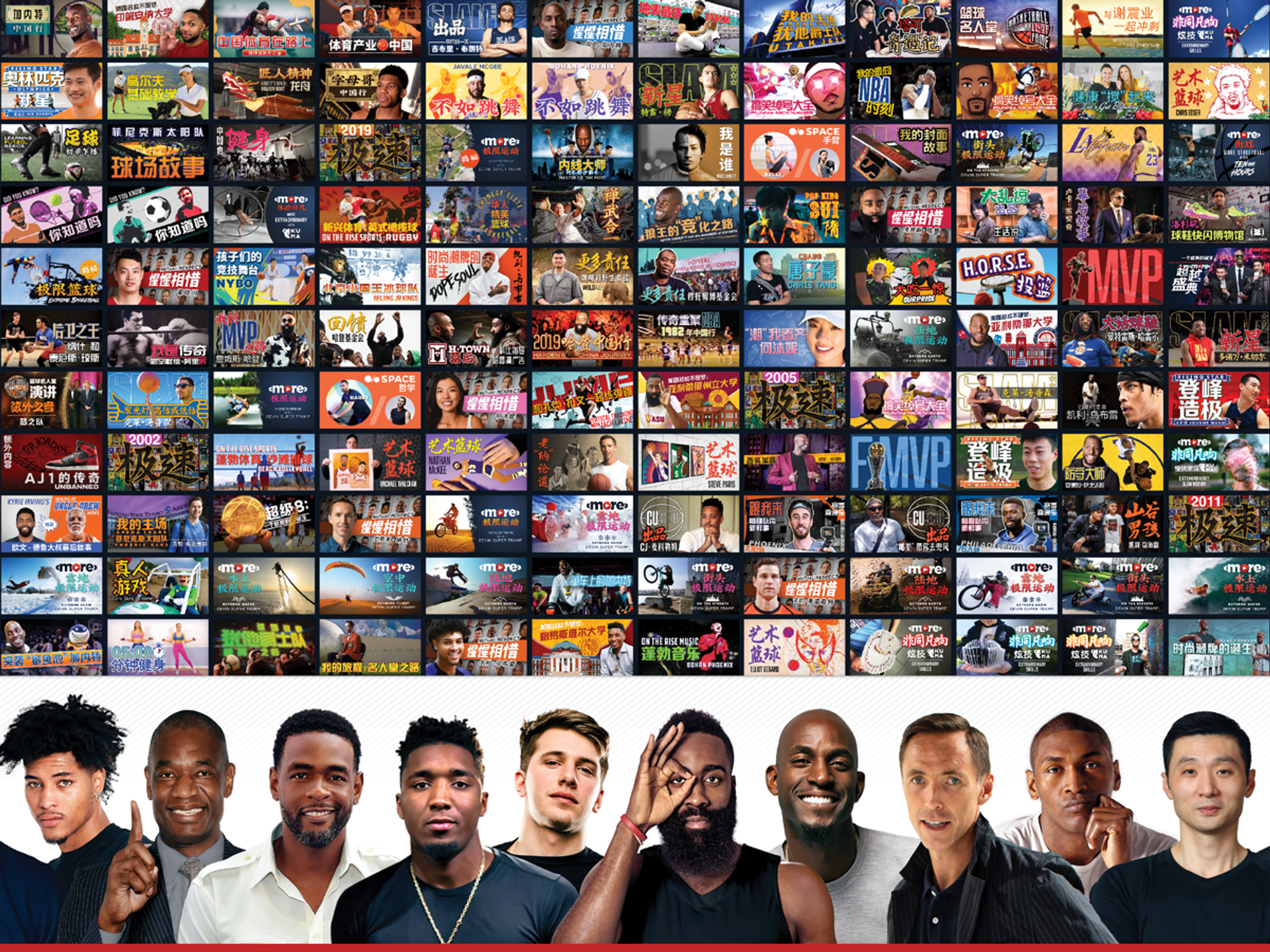 The video clip shows NBA hall-of-famer Karl Malone, the bruising power forward for the Utah Jazz, barreling down the lane and crashing head-on into what awaits. But the highlight doesn't show "The Mailman" delivering one of his punishing slam dunks. Instead, Malone is driving a dune buggy, and the obstacle he's trampled along the dirt path is now roadkill.

Such is the kind of short-form video content that appears on More Sports, an app developed and produced by Beverly Hills-based AIB Sportsbrands — and currently exclusively targeting China.
---
As China's love for basketball has grown over the years, several NBA players have earned their own Mandarin monikers. Golden State Warriors sharpshooter Stephen Curry goes by Wa Wa Lian Sha Shou: Babyfaced Assassin. 2019 NBA MVP Milwaukee Bucks forward Giannis Antetokounmpo, whose real name could stump a spelling bee champion, is called Alphabet Brother. And Demarcus Cousins, a big man in the twilight of his career, is Kao Shen – the transliteration of his last name, which also means "God of the Test." Some Chinese students have even been known to offer him a quick prayer before an exam.
"China is totally basketball crazy," summarizes Zak Dychtwald, author of "Young China" and consultant on all things related to the 400 million millennials in the biggest market on Earth.
And More Sports, which launched in 2019, believes it has a unique remedy for the Middle Kingdom's NBA infatuation.

The content on the app focuses on professional athletes' lives off the court. "It's what they do – how they train, their hobbies, what they cook. What they're like as real people," says Brooks Branch, AIB Sportsbrands' chief executive.
The roster of players who both star in the video content and are also equity partners with the company includes James Harden, and retired all-stars Steve Nash and Kevin Garnett.

The Chinese market can be hard for players to access, Branch and his co-founder Fred Goldring note, and athletes have been enthusiastic about using the app as a way to build their brands in unfamiliar territory. Many also appreciate the opportunity to play an unfamiliar position as entrepreneurs.
Celebrity excitement for these kinds of extracurricular channels is "usually in proportion to the size of the check," Branch says. "(But) in this case, it's a little bit like when indie boutique studios were popping up – when Disney bought Miramax, and Warner bought New Line. We're almost like that, where the talent's excited to do what we're doing and loving the spirit of what we're doing."
"We're getting engagement from these partners in an entrepreneurial way, much deeper than traditional sponsorship," Goldring adds.
Following several years of complex and costly negotiations with the Chinese authorities, the company was able to design an acceptable corporate structure and obtain the necessary broadcast licenses before launching last year. Branch chalks up their ability to get situated in what can often be a tricky environment for foreigners to hard work, persistence, connections, luck and "guanxi" – a Chinese term that he says means "goodwill juju". In other words, it was about "getting the right people to endorse us and getting friends in the right places."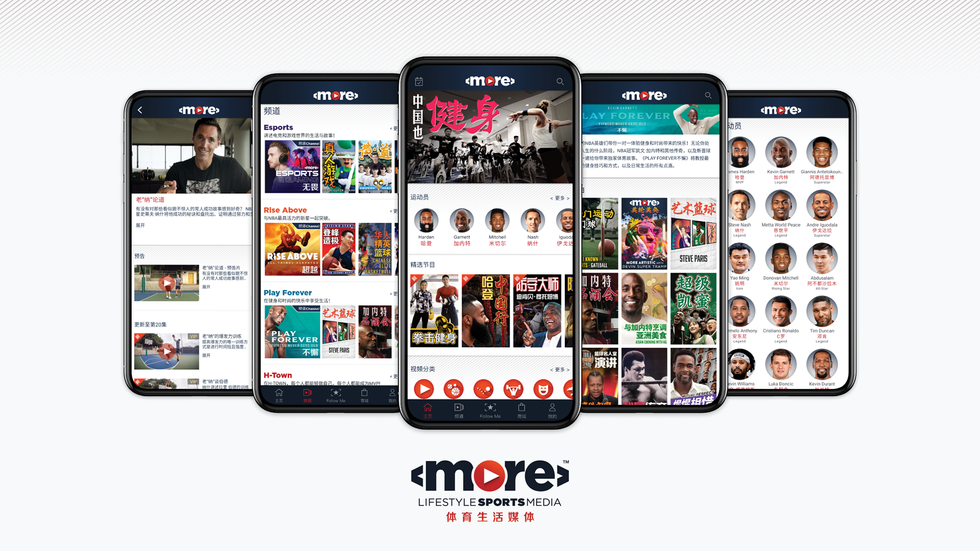 The company says it has yet to make much money because most of the first year its app was in beta. But Branch tells dot.LA that things are off to a good start.

"We'd hoped to have one million active users in the first year and we have 6-7 times that," he says.
As an indication of what's possible, Chinese firm iResearch forecasts that China's short-form video market revenues will grow to nearly $30 billion by 2021. For comparison, the entire global market for recorded music revenue in 2019 was about $20 billion.
Branch admits that the postponed NBA season has likely fueled demand for More Sports, as fans in and outside of China have been starved of content. But as the league prepares to resume its season with a truncated schedule starting July 31, Branch and Goldring think More Sports is poised for growth, and profitability. The app was designed, they note, to complement the on-the-court action, rather than substitute for it.
The Chinese Market
Dychtwald points to two trends that could make More Sports particularly well-suited for the Chinese market.
One is basketball's popularity. China's love for the NBA, Dychtwald says, has grown steadily since the 1992 U.S. Olympic dream team boosted the international cache of the league and its culture. Chinese national Yao Ming was the first overall pick in the 2002 NBA draft, and his subsequent success with the Houston Rockets brought China's enthusiasm to new heights. The 2008 Beijing Olympics — which Dychtwald says brought "Kobe Fever" to the mainland — sealed the deal. Today basketball is up there with soccer as "far and away" the most popular sports in China, at least among the youth.
The second factor is More Sports' focus on short-form video. TikTok raked in $17 billion of revenue in 2019, according to Bloomberg. It's a format that Chinese consumers understand well, Dychtwald says.
"TikTok was made for China, by China," he adds. "(Short-form video) is far more natural and native to China than here."
Dychtwald also notes a recent trend in China of successful "products around products" that offer an insider's view of what's going on behind the scenes of, say, scripted drama programs. The country's version of Dancing With The Stars, for example, has spawned a successful spin-off that follows the participants off the dance floor.
Can More Sports Score More?
Branch, Goldring and More Sports head of talent Bill Sanders all have backgrounds that give the app an edge, they say. Goldring is an Emmy-winning executive producer and former entertainment lawyer whose clients included Beyoncé and Will Smith. Sanders is a sports agent who works with Yao Ming on his Napa-based wine company. And Branch has a long history in entertainment, branding and creative development, including running a division at Paramount Pictures and advising several other major studios.
The team also highlights the deep market research they conducted as a reason for their initial success.
"What we did really well was not try to be anything other than what the fans wanted in China," Branch says.
They plan to take a similar, culturally tailored approach as they expand into other international markets. Launching in the U.S., they say, will come last.
Dychtwald wonders whether More Sports would benefit from pursuing a multi-platform strategy, providing content to the many short-form video platforms such as TikTok that already have a foothold in China. Goldring notes that the company has distribution partnership deals with Chinese digital incumbents including TikTok-parent company ByteDance's Douyin platform, WeChat and Tencent.
The company also touts another advantage: being based in Los Angeles, the world's center stage for where sports meets entertainment. It's no coincidence, they say, that the 1980s Los Angeles Lakers were known as "Showtime."
This year's Lakers are among the 22 teams set to participate in the NBA's salvaged season. Fans in China, who've fallen increasingly in love with the purple and gold since catching Kobe Fever, will have plenty to watch, both on and off the court.
---
Sam Blake primarily covers media and entertainment for dot.LA. Find him on Twitter @hisamblake and email him at samblake@dot.LA

Sam Blake
Sam primarily covers entertainment and media for dot.LA. Previously he was Marjorie Deane Fellow at The Economist, where he wrote for the business and finance sections of the print edition. He has also worked at the XPRIZE Foundation, U.S. Government Accountability Office, KCRW, and MLB Advanced Media (now Disney Streaming Services). He holds an MBA from UCLA Anderson, an MPP from UCLA Luskin and a BA in History from University of Michigan. Email him at samblake@dot.LA and find him on Twitter @hisamblake
https://twitter.com/hisamblake
samblake@dot.la