logistics
Amazon and other industry giants have long used robots to replace warehouse workers and ship off more packages per day.
Starting at $4,000 a month, inVia Robotics' Picker robot and management software is still more expensive than a minimum wage worker, but the Westlake Village-based startup and Rufus Labs think it will help smaller manufacturers keep up.
As a swell in ecommerce fuels demand at warehouse distribution centers, companies like San Jose-based Fetch Robotics is just one of a growing number of companies selling robotic subscription services in a tight labor market.
They pitch the technology as an easy answer to problems with warehouse efficiency, labor shortages and worker safety, and by lowering the cost of robots and AI software, which can run into six figures, inVia and Rufus hope to bring in smaller clients.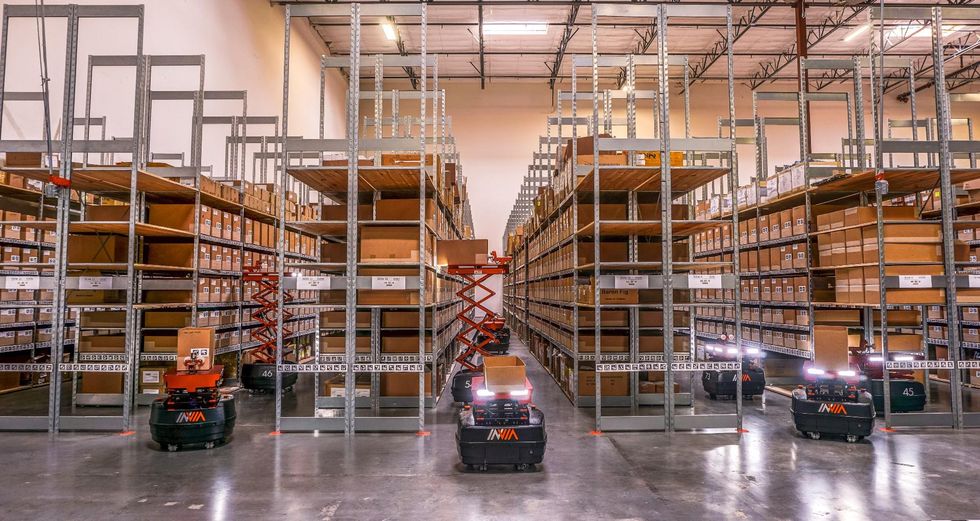 Courtesy inVia Robotics
The two L.A. tech startups said their goal isn't to replace human workers, but to usher in a new work environment — one where robots are doing the heavy lifting.
"It's important for them to work together," said Gabe Grifoni, the CEO and co-founder of Rufus Labs. "There's a lot that has to be worked on to coordinate that dance."
The autonomous robots are designed to retrieve items from warehouse shelves and bring them to workers who scan each product using Rufus' wearable computers and tablets.
The red and black machine is quiet, expands to about eight feet and can move much quicker than a person.
"They basically look like a Roomba with a scissor lift and a suction cup," said Lior Elzary, chief executive of inVia Robotics.
How many times an employee scans every hour, the routes they walk around the center — it's all measured via the Android devices strapped to a worker's arm.
And those metrics can be displayed on big screens for employers and their bosses to track.
"I would say that we do it without a lot of the human capital costs that may be associated with how Amazon does things," Gifroni said. "I don't know any of our customers who penalize workers for certain metrics."
But the robots aren't likely to solve all warehousing's problems. Even Amazon, with its hundreds of thousands of robots, still has much higher injury rates than other warehouse facilities.

The retail giant, which owns its own robotic company, introduced warehouse robotics in its fulfillment centers years ago. Customers today can place an order one day and expect the package to arrive the next thanks to the speed products move through massive warehouses.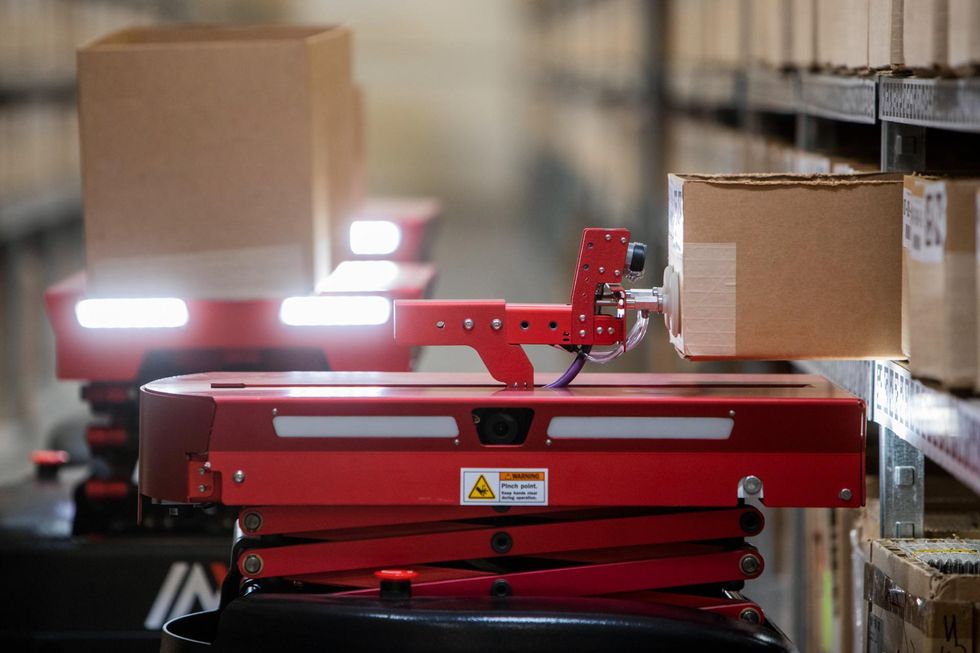 Courtesy inVia Robotics
It can be tricky for new entrants to integrate them into workplaces, said Lynn Wu, a professor at the Wharton School specializing in the way new technologies change employment and management practices.

And robots can only replace so much human work.
"Even in the simple tasks of moving products from shelf A to Shelf B, then bringing them to a box, a human has to be involved," she said.
This means that jobs aren't necessarily vanishing. And workers might avoid certain injuries that come with tracking down and carrying items around the center.
But, Wu said, safety will remain a concern.
"There will be a new type of safety issue," she said. "It could be repairing a robot or repetitive injuries associated with putting so many things in a box. You may have a wrist injury now that you're packing at a much higher speed than you used to before."
Related Articles Around the Web
Former Cisco executive Shaun Cooley's two-year-old Los Angeles startup is creating a platform to make buildings smarter.
Mapped, which just raised $6.5 million led by Allegion Ventures and MetaProp, helps commercial real estate companies operate their buildings remotely.
So far, it has about a dozen commercial customers that have anywhere from 100 to 1,000 buildings where HVAC, elevators and other systems can be controlled from a central brain.
Although their current customers are all commercial real estate, Cooley hopes to expand that to refineries, energy production facilities, manufacturing floors and retail spaces.
Mapped's software represents physical buildings in standardized, open-source digital database graphs and automates everything from heating and air to lighting, elevators and even conveyor belts — adjusting them based on the temperature outside or time of day, all without the need for human intervention.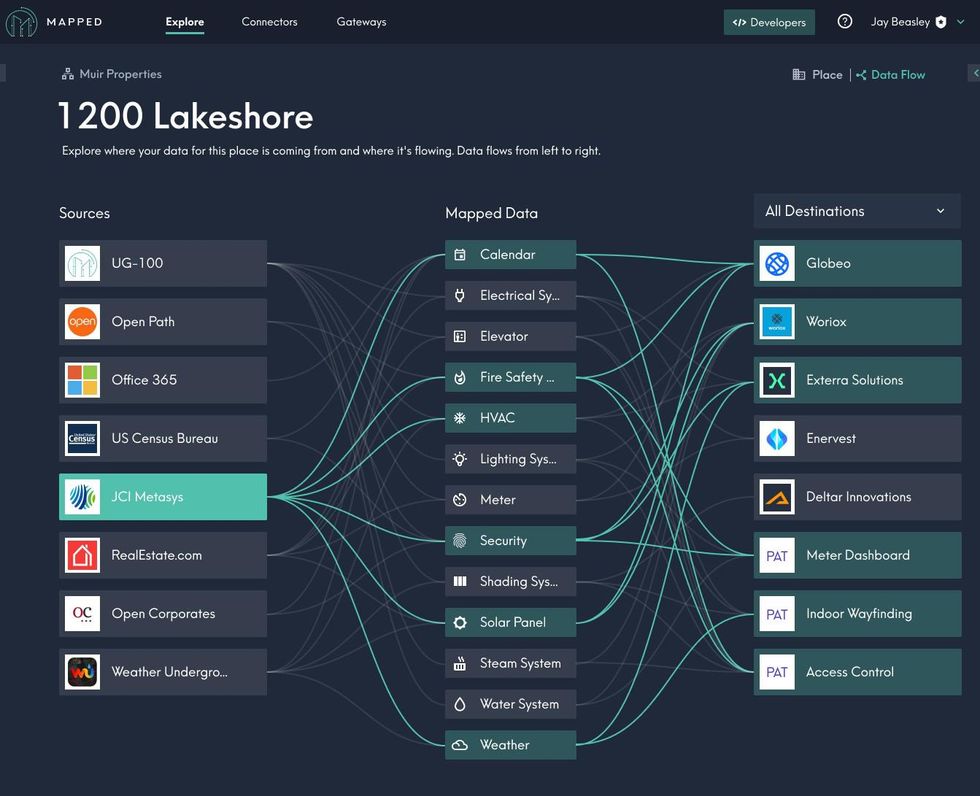 Cooley came up with the idea after years as Cisco's CTO and vice president of IOT and industries, where he saw his customers struggle with extracting data from their systems and making it usable.

"Just because you digitize, or you IoT enable one factory, doesn't mean you can take that digitization and move it to the factory across the street," said Cooley. "They have different systems, installed in a different time period, by a different system integrator."
For example, a decades old building might have an HVAC, lighting, security, elevators, irrigation system, gas metering and other systems feeding into a central hub. For owners of multiple building, the interfaces that those systems operate on are often different. Mapped offers a platform for developers to standardize those interfaces.
Using APIs, Mapped's software constantly scans the environment, communicates with devices in their native protocols, and then brings data back to its central platform. Thus, software developers can write applications one time and instantly deploy them across all of a company's buildings.

Cooley said his product is different than what's offered by Oracle and Microsoft because its designed to be an all-in-one automated platform, making it much faster than his competitors.

In March 2020, Mapped raised $3 million in its first seed round, bringing today's total to $9.5 million.

The latest round was co-led by Legion Ventures and MetaProp, Singtel joined the round and Greycroft and Animo participated.
Related Articles Around the Web
The past year has been a boon for ecommerce, but some companies have struggled to handle the sudden onslaught of orders.
Flowspace, with software that helps businesses manage warehousing and fulfillment needs, aims to make things easier.
The Los Angeles-based company has raised $31 million in Series B funding, bringing its fundraising haul to $46 million since coming out of Y Combinator's accelerator program in 2017.
"The pandemic has accelerated the adoption of e-commerce among businesses and consumers alike and warehousing and fulfillment is critical in supporting this growth," co-founder and CEO Ben Eachus said in a statement announcing the raise Tuesday. "We make it easy for brands to scale by giving them access to one of the largest and most efficient fulfillment networks in the country."
Before he started Flowspace, Eachus experienced firsthand the perils of warehousing when he oversaw fulfillment at The Honest Company, panicking as he watched trailers of diapers arrive at his warehouse but not having enough space to store them.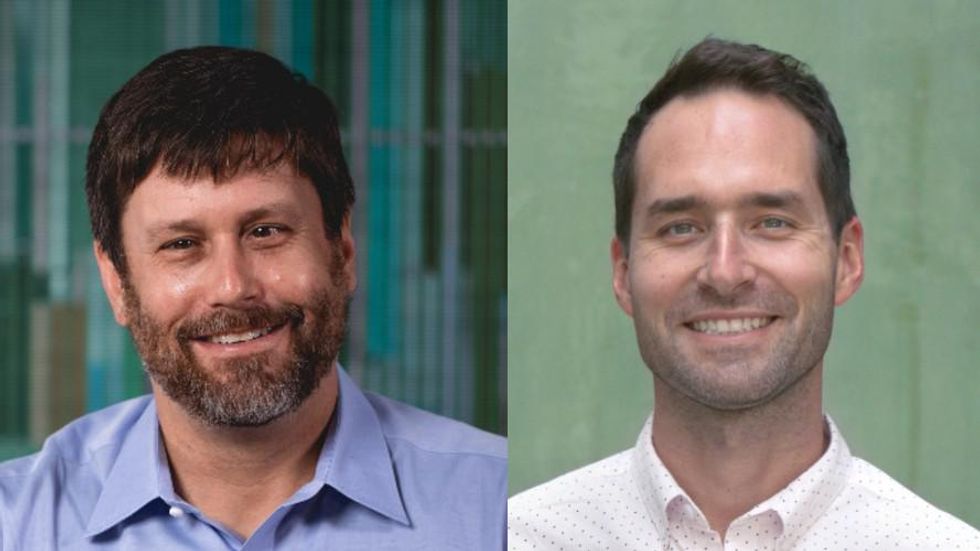 BuildGroup co-founder Jim Curry (L) and Flowspace co-founder Ben Eachus.
The latest investment in Flowspace was led by BuildGroup of Austin, Texas, which specializes in SaaS growth stage investments. Existing investors also participated, including Canvas Ventures, Industrious Ventures, Moment Ventures, 1984 Ventures, eGateway Capital and Y Combinator. 75 & Sunny Ventures, the investment company of dot.LA co-founder and Chair Spencer Rascoff, also invested in the round.

"In the same way that the pandemic increased adoption of video conferencing, it also accelerated the adoption of plug-and-play warehousing and fulfillment services by retailers and e-commerce companies, Jim Curry, co-founder and managing partner of BuildGroup said in a statement.
"As the industry continues to advance, no company is better positioned for long-term category leadership than Flowspace."
Flowspace last raised $12 million of Series A venture funding in a deal led by Canvas Ventures in 2019 at pre-money valuation at $28 million, according to Pitchbook data.
Editor's note: This story has been updated to include Spencer Rascoff's investment.
Related Articles Around the Web