logistics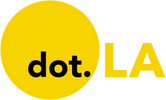 Get in the KNOW
on LA Startups & Tech
X
logistics
Image from Wikimedia Commons
Sign up for dot.LA's daily newsletter for the latest news on Southern California's tech, startup and venture capital scene.
Virgin Hyperloop has laid off roughly half of its staff as it pivots its high-speed vacuum train technology away from passenger transportation and toward shipping freight due to regulatory and supply chain issues.
The Los Angeles-based company confirmed to the Financial Times this week that it had laid off 111 people, with the job cuts meant to allow it "to respond in a more agile and nimble way and in a more cost-efficient manner" as it shifts its focus from passengers to cargo, according to a company spokesperson. The spokesperson added that "global supply chain issues" and "changes due to COVID" had driven that shift.

"Virgin Hyperloop as a company is responding to strong customer demand for a cargo-based hyperloop system and is focusing its resources on delivering this product," the company said in a subsequent statement to the BBC—though adding that its long-term vision still involved "address[ing] passenger mobility."
DP World, the Dubai-based logistics company that holds a majority stake in Virgin Hyperloop, told the FT that prioritizing cargo over passengers reduces the company's operating risks and regulatory burdens. "It's abundantly clear that potential customers are interested in cargo, while passenger is somewhat farther away," DP World said. "Focusing on pallets is easier to do—there is less risk for passengers and less of a regulatory process."
DP World added that Virgin is in talks with at least 15 potential customers interested in a cargo-only hyperloop transportation system—including a project spearheaded by the Saudi Arabian government that would link the port city of Jeddah with the capital city of Riyadh.
Virgin Hyperloop did not immediately respond to dot.LA's requests for comment.
The news appears to quash, for the time being, Virgin Hyperloop's futuristic designs on transporting people
from Los Angeles to San Francisco in only 45 minutes
, and is also a blow to
federal efforts exploring hyperloop technology
. The concept of super-fast vacuum trains
dates back hundreds of years
, and was revived and popularized by Tesla CEO Elon Musk
in a 2013 white paper
.
From Your Site Articles
Related Articles Around the Web
Photo courtesy of the Port of Los Angeles.
Los Angeles' City Council adopted an ambitious maritime resolution last week that calls on top importers like Walmart, Dole, Nike, Amazon and Home Depot on 100% zero-emissions ships by 2030, even though the technology doesn't yet exist.

Idling ships sitting off the San Pedro Bay Coast have captured national attention as a symbol of broken supply chains, but those ships are also big polluters.
Research suggests ship pollution contributes to more than 250,000 premature deaths each year around the world, and at least 1,300 premature deaths each year in Los Angeles and Long Beach. Low-income communities of color who live near the ports are especially affected.
While the city doesn't have any regulatory power over maritime rules, the move places pressure on some of the world's biggest retailers and their supply chains. The resolution asks shippers ferrying everything from televisions and cars to sofas and microwaves to "immediately adopt" existing emissions-reducing technologies, such as wind-assisted propulsion and slow-steaming.
It also calls for a broader effort to create zero-emission shipping corridors along the California coast and across the trans-Pacific trade route.
dot.LA spoke with Christopher Cannon, chief sustainability officer of the Port of Los Angeles, to discuss the resolution, and why he thinks all parties will do what they can to achieve such a drastic industry overhaul.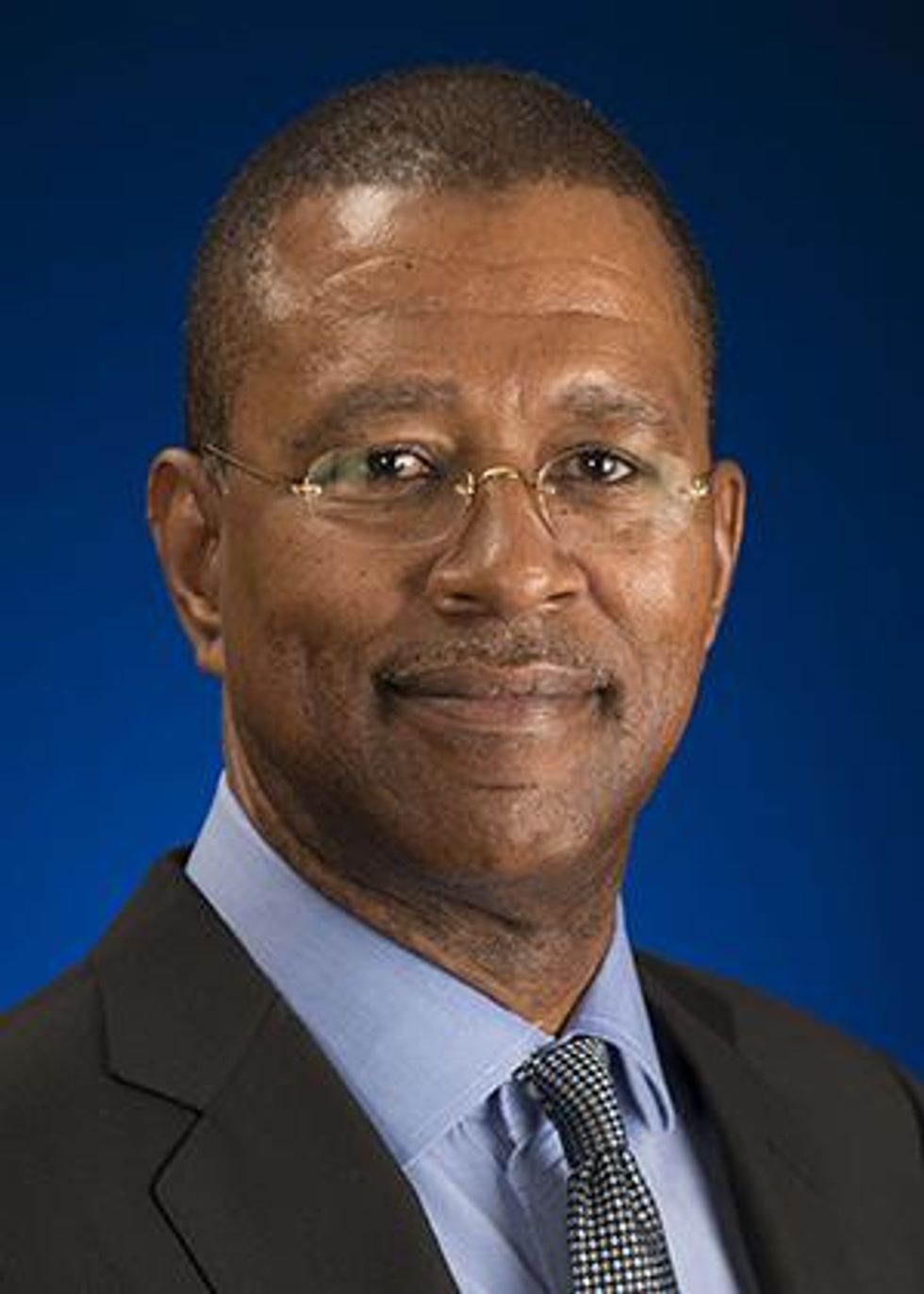 Port of Los Angeles Chief Sustainability Officer Christopher Cannon
dot.LA: In layman's terms what does this new resolution do?
Christopher Cannon: It really encourages the industry to move toward low carbon and zero carbon fuels as soon as possible and this is important.
We think that the move to low carbon fuels can happen pretty quickly, like in the next few years.
We see, for instance, that some of the shipping lines are talking about using methane feedstock that arrived from renewable sources starting in 2024.
The goal to get to 100% zero emission ships by 2030 is very aggressive.
Technology does not exist today to do that, but it does not mean that it isn't a good goal and an important goal, and we want to push ourselves and the maritime industry to get there.
Rapidly decarbonize the maritime shipping industry to create zero emissions corridors—we like that, and we want to create green shipping corridors. You start doing this stuff now, not waiting until zero emissions is possible. You start doing low carbon and even zero carbon elements in a shipping corridor.

Maybe not everything is fully zero [emissions], but you can have parts of it be zero. A lot of different activities can occur from the movement of cargo from one port to another: the loading and unloading, the sorting.
All the activity associated with moving that ship can be green and we can reduce the carbon footprint, we can decarbonize all of it with best management practices.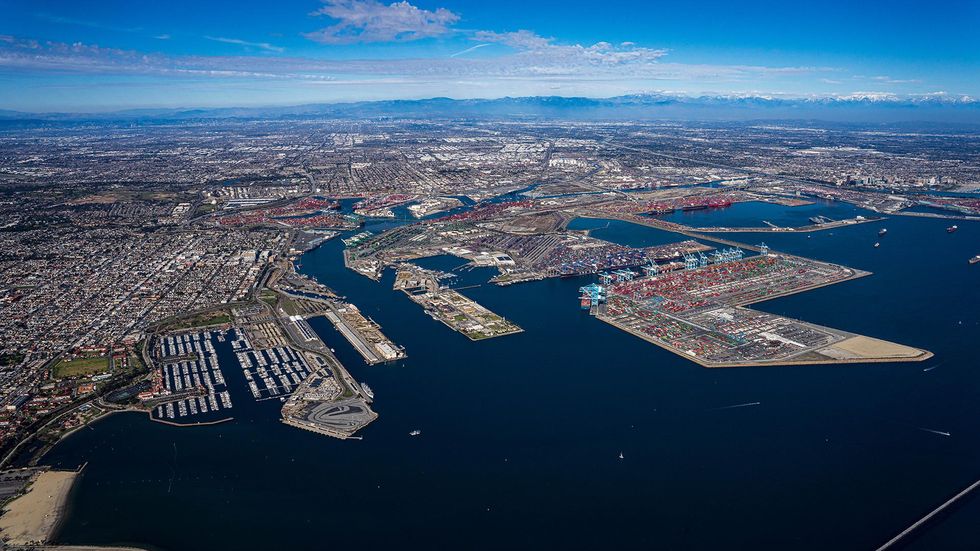 Photo courtesy of the Port of Los Angeles.
Does the city have any enforcement power, say if they adopt legislation, in this domain?
No, we don't run the ships and we don't control the ships. We don't regulate the ships. They are regulated by international bodies, but we certainly have the ability to exert influence on the shipping industry and on international regulators like the International Maritime Organization.
We're engaged in discussions with them on these goals. While we can't enforce, we certainly can influence what the industry does, and we will do our best to work with the industry and help to help them transition to these cleaner fuels.
What is the shipping industry saying about the push to zero emissions?
They tell us that their customers want the same thing, that their customers want low carbon and zero carbon and zero emission ships, too.
They are as interested in doing it as we are because that's what the Home Depots and Amazons are pushing for, too, and the reason those customers are pushing for it is because people like you and I, who are ultimately buying products, we're pushing for it. Everyone wants to do it.
It's just a matter of getting the technology to the point where it can be deployed. The industry is testing this equipment now. There are different pieces of the journey. There is the cargo handling equipment, there's the tugboats. There are other parts of the journey where we can improve efficiency and reduce carbon and get to zero carbon emissions, and we want to get every part of that journey.
We want zero emissions ultimately but you want to start out with low carbon right away, then get to zero carbon as quickly as you can, then get to zero emissions as quickly as you can after that.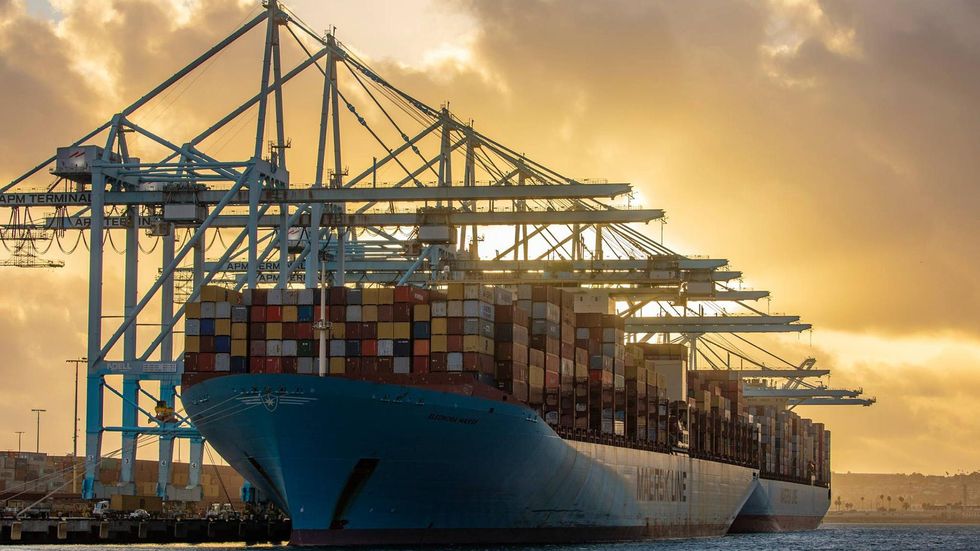 Photo courtesy of the Port of Los Angeles.
Is there any concern that this could impact shipping in any way?
No, we hope not. I mean the industry, as I said, their customers are pushing for the same thing so their customers certainly don't want the delivery of their cargo to be adversely affected, so the shipping lines don't want to do that either.
It's pretty exciting because it's a case where everyone seems to now realize that we have to reduce our carbon footprint as soon as we possibly can in order to fight climate change.
So we're starting to see consumers are demanding it. Manufacturers of goods are seeking it. Goods and movement, the industry is hearing a strong message from their customers that they want it, so the goods and movement industry, the shipping lines, the trucks, even the trains, everybody is being pushed to do this and so we, too, want to push as hard as we can.
These resolutions, like the one from the City Council, are important because they send a message too that this is something that everybody wants.
Are there enough resources to make the technology a reality?
It's expensive. Private industry has to invest mostly, to be honest with you, but I think there's a role for government to help incentivize this activity through grants and other kinds of inducements; certainly ports can help to incentivize those by offering favorable rates and other things for people who are moving cargo in a manner that is convenient and ultimately with a zero carbon footprint.
The technology is expensive but I think everyone believes that once the technology becomes commercialized and ready for widespread deployment, that you'll have a reduction in cost.
This interview has been edited for length and clarity.
In 2019, Caltech announced a partnership with Amazon Web Services to resurrect a 21,000-square-foot building as a shrine to quantum computing. Inside, researchers from MIT, Stanford, Harvard and more are planning to build out quantum computers that may look more like the giant IBM computers from the 50s than our current laptops.
Now, the building has officially opened.
Simply put (without getting into Scrodinger's cat), quantum computing has the ability to take a problem with several variables, generate millions of permutations or outcomes and pick the best or most efficient one.
This kind of technology has the power to transform industries that need to take a lot of risk into account. For instance, it could help pharmaceutical companies create more effective drugs without having to experiment as much. It could help doctors deliver personalized medicine by leveraging the human genome sequence. It could also help the financial sector sift through data projections of different companies to understand the risk of an investment or an acquisition. It could help delivery companies find the most efficient route in a matter of minutes.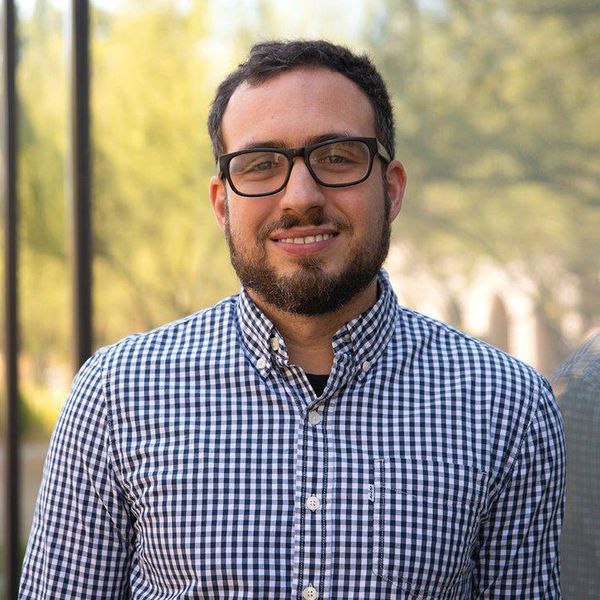 Fernando Brandão, a professor of theoretical physics
The systems that power cell phones and laptops don't have the ability to process large, complex problems that could sift through millions of permutations to calculate the best solutions.
In a landmark study for quantum computing in 2019, Google said it was able to feed a problem through a quantum computer and get results in minutes. That same problem would have taken a normal computer 10,000 years to complete.
The Caltech building is one of many quantum computing projects in Amazon's portfolio. The company previously unveiled a cloud-based quantum computer called Amazon Bracket to rival Azure's quantum offering in the never ending cloud wars between the two companies.
We sat down with Fernando Brandão, a professor of theoretical physics who is co-leading the AWS Center for Quantum Computing.

How did this partnership between AWS and Caltech come about?

A lot of computing probably started 40 years ago. It was actually Caltech's Richard Feynman, who was a professor here back then, that had this idea that, on a fundamental level, nature is quantum mechanical. We need to build our computers out of something right out of quantum mechanical systems then actually quantum mechanics has some pretty different problems from the physics we learn at school, and therefore, there is an opportunity for building a better kind of computer using quantum mechanics. For 40 years, he had been developing this idea, and Caltech had played a major role.
But if you really move to the next step and scale up the technology and build a quantum computer at a scale that can be useful for society and for people, then you need very serious engineering effort and special investments; this is not something cheap to do. We need a big player, either in government or industry, to do that. Caltech can bring all the scientific expertise. And Amazon can bring other expertise in engineering and all the investment necessary to really go to the next step.
What is quantum computing?
You want to make a company that has to optimize the routes to deliver some product to a customer. What is the best route to deliver this product? This question is challenging because there are so many different possibilities. So quantum computation is exploring all of the options at the same time.
But it is not like parallel computing. There's a second step where you have to find a clever way to make the solution interfere in a way that only gives you one of the options. So Quantum computation will not speed up every problem. There are particular problems for which it gives an advantage. So the problem has to have the right structure. And a lot of the research in quantum computing is to find out which problems have the right structure so we can explore them to give better quantum solutions.
What sectors will have the first or most immediate impact of quantum computing?
This goes back to the vision of Richard Feynman from 40 years ago, where he said, "Look, let's actually build this quantum computer for nothing else than just simulating very complicated quantum mechanical systems."
I've seen industries where the bottleneck to making progress is to simulate very large quantum mechanical systems. For example, we know in pharmaceuticals we want to understand the quantum structure of molecules to make new drugs. But it's very easy to get complicated molecules [that are] out of reach for the computers that we have today.
In material science for people who are looking at batteries, for example, we have to model how these batteries work on a quantum level, and it can get very complicated, very quickly. So it would be a lot of R&D research for companies that work in energy or in pharmaceuticals or in chemistry. I think they would find quantum computation very useful.
Then at some point if you had even better machines, faster machines, bigger machines, you might end up in applications for optimization problems for logistics, currency, finance.The issue there is quantum can give an advantage, but it is a small advantage than for these simulation problems like pharmaceuticals or material science. So you need a more sophisticated machine to get there.
What are some of the bottlenecks here? What's preventing us from building this quantum computer and deploying it for pharmaceutical companies everywhere within the next year?
In a quantum mechanical system, they are very fragile, unlike the systems that we experience in our everyday life. So there is a rule of quantum mechanics that whenever you go and see how the system is, you've disturbed the system.
So what this means is that all kinds of information like the magnetic field of the environment or the temperature of some particles in the environment all affect your quantum system, so it's very hard to isolate your quantum system from these detrimental effects of the environment. And that's the challenge of quantum computers. If you don't isolate them, then there is noise in our quantum computer and this noise will spoil our operations.
At the same time we want one qubit [a unit of information in quantum computers] to interact very strongly with the other qubit to do the operation.
So you have two conflicting requirements. You want to completely isolate your qubits in the quantum computer from the environment, and that's very hard for quantum mechanical systems. But at the same time, you want [the qubits] to couple very strongly. So making these two things happen at the same time and at the scale that we need for a large number of qubits, we think that's possible. We don't see any roadblock, but it's just that it is very ambitious scientific engineering.
Where will quantum computing be in, let's say, 10 years?
I'm hoping within the next decade or so, we start getting to this stage of quantum computers where they start impacting society in a meaningful way. It's an ambitious goal, but I think we are well-positioned. So by the end of the decade, we may start having quantum machines that can solve problems of society that cannot be solved on our current computers.
This interview has been edited for clarity and brevity.
From Your Site Articles
Related Articles Around the Web