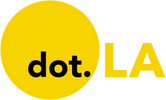 Get in the KNOW
on LA Startups & Tech
X
Brenda Gazzar
Brenda Gazzar is a multilingual multimedia reporter who has worked for a variety of news outlets in California and in the Middle East since 2000.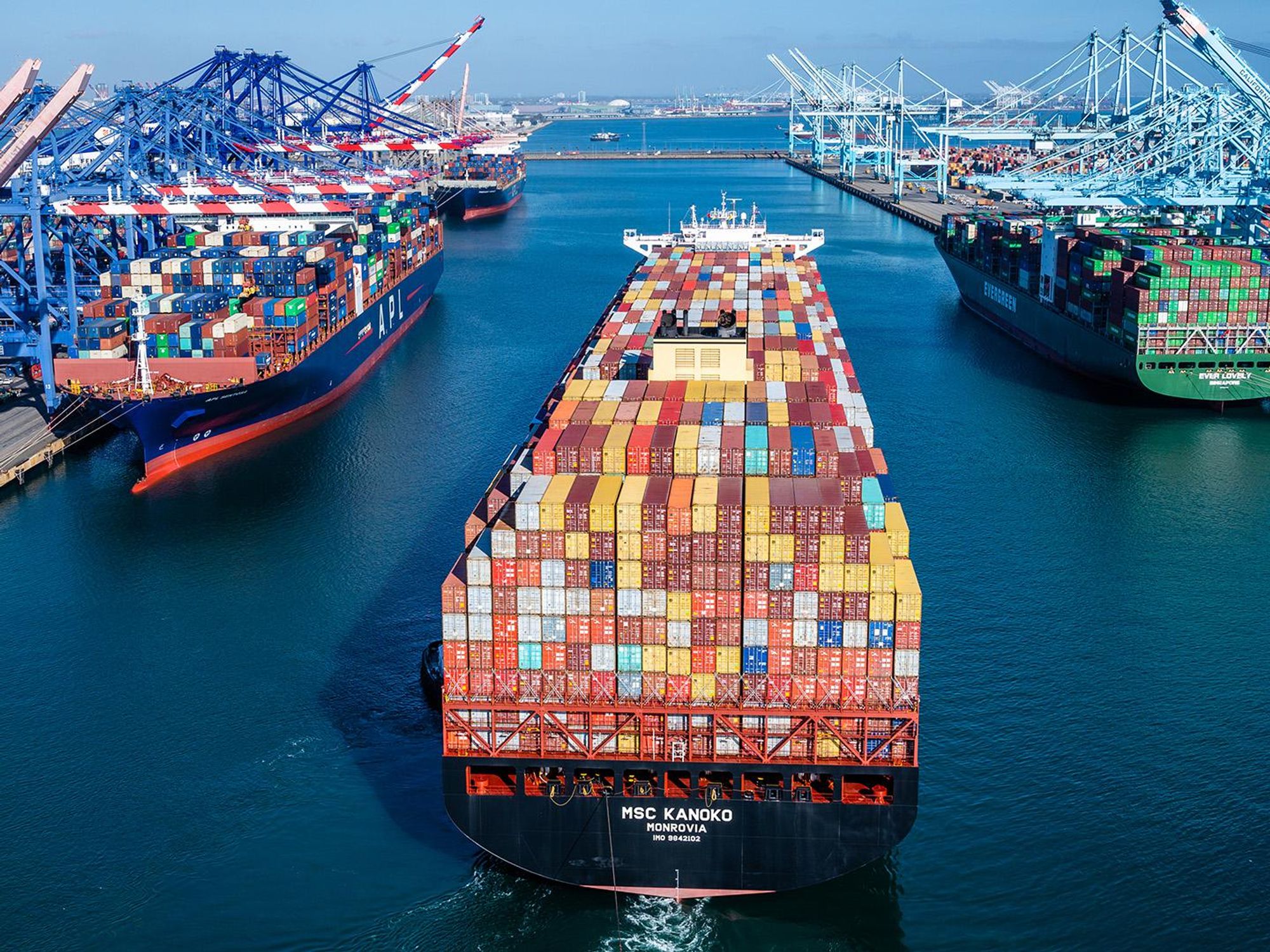 Photo courtesy of the Port of Los Angeles.
Los Angeles' City Council adopted an ambitious maritime resolution last week that calls on top importers like Walmart, Dole, Nike, Amazon and Home Depot on 100% zero-emissions ships by 2030, even though the technology doesn't yet exist.

Idling ships sitting off the San Pedro Bay Coast have captured national attention as a symbol of broken supply chains, but those ships are also big polluters.
---
Research suggests ship pollution contributes to more than 250,000 premature deaths each year around the world, and at least 1,300 premature deaths each year in Los Angeles and Long Beach. Low-income communities of color who live near the ports are especially affected.
While the city doesn't have any regulatory power over maritime rules, the move places pressure on some of the world's biggest retailers and their supply chains. The resolution asks shippers ferrying everything from televisions and cars to sofas and microwaves to "immediately adopt" existing emissions-reducing technologies, such as wind-assisted propulsion and slow-steaming.
It also calls for a broader effort to create zero-emission shipping corridors along the California coast and across the trans-Pacific trade route.
dot.LA spoke with Christopher Cannon, chief sustainability officer of the Port of Los Angeles, to discuss the resolution, and why he thinks all parties will do what they can to achieve such a drastic industry overhaul.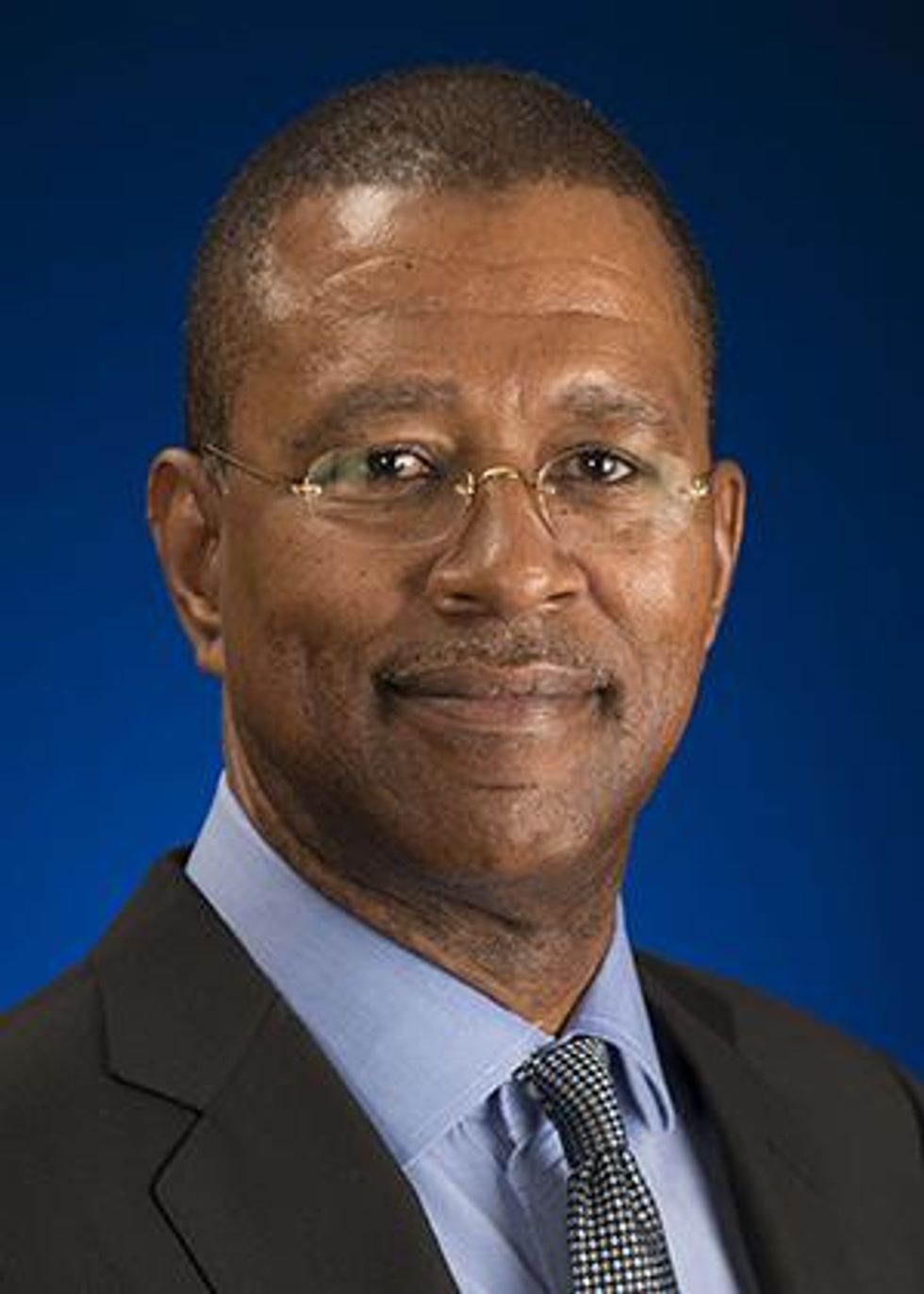 Port of Los Angeles Chief Sustainability Officer Christopher Cannon
dot.LA: In layman's terms what does this new resolution do?
Christopher Cannon: It really encourages the industry to move toward low carbon and zero carbon fuels as soon as possible and this is important.
We think that the move to low carbon fuels can happen pretty quickly, like in the next few years.
We see, for instance, that some of the shipping lines are talking about using methane feedstock that arrived from renewable sources starting in 2024.
The goal to get to 100% zero emission ships by 2030 is very aggressive.
Technology does not exist today to do that, but it does not mean that it isn't a good goal and an important goal, and we want to push ourselves and the maritime industry to get there.
Rapidly decarbonize the maritime shipping industry to create zero emissions corridors—we like that, and we want to create green shipping corridors. You start doing this stuff now, not waiting until zero emissions is possible. You start doing low carbon and even zero carbon elements in a shipping corridor.

Maybe not everything is fully zero [emissions], but you can have parts of it be zero. A lot of different activities can occur from the movement of cargo from one port to another: the loading and unloading, the sorting.
All the activity associated with moving that ship can be green and we can reduce the carbon footprint, we can decarbonize all of it with best management practices.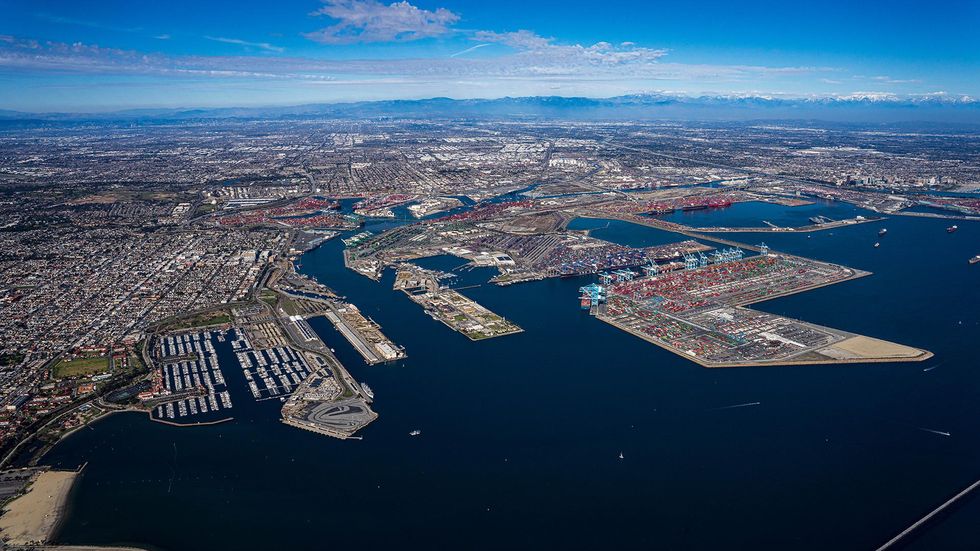 Photo courtesy of the Port of Los Angeles.
Does the city have any enforcement power, say if they adopt legislation, in this domain?
No, we don't run the ships and we don't control the ships. We don't regulate the ships. They are regulated by international bodies, but we certainly have the ability to exert influence on the shipping industry and on international regulators like the International Maritime Organization.
We're engaged in discussions with them on these goals. While we can't enforce, we certainly can influence what the industry does, and we will do our best to work with the industry and help to help them transition to these cleaner fuels.
What is the shipping industry saying about the push to zero emissions?
They tell us that their customers want the same thing, that their customers want low carbon and zero carbon and zero emission ships, too.
They are as interested in doing it as we are because that's what the Home Depots and Amazons are pushing for, too, and the reason those customers are pushing for it is because people like you and I, who are ultimately buying products, we're pushing for it. Everyone wants to do it.
It's just a matter of getting the technology to the point where it can be deployed. The industry is testing this equipment now. There are different pieces of the journey. There is the cargo handling equipment, there's the tugboats. There are other parts of the journey where we can improve efficiency and reduce carbon and get to zero carbon emissions, and we want to get every part of that journey.
We want zero emissions ultimately but you want to start out with low carbon right away, then get to zero carbon as quickly as you can, then get to zero emissions as quickly as you can after that.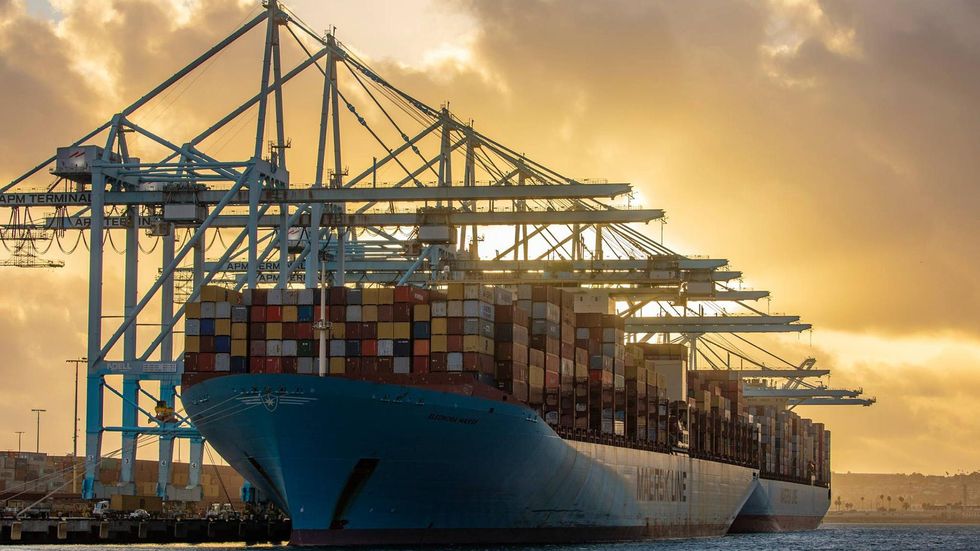 Photo courtesy of the Port of Los Angeles.
Is there any concern that this could impact shipping in any way?
No, we hope not. I mean the industry, as I said, their customers are pushing for the same thing so their customers certainly don't want the delivery of their cargo to be adversely affected, so the shipping lines don't want to do that either.
It's pretty exciting because it's a case where everyone seems to now realize that we have to reduce our carbon footprint as soon as we possibly can in order to fight climate change.
So we're starting to see consumers are demanding it. Manufacturers of goods are seeking it. Goods and movement, the industry is hearing a strong message from their customers that they want it, so the goods and movement industry, the shipping lines, the trucks, even the trains, everybody is being pushed to do this and so we, too, want to push as hard as we can.
These resolutions, like the one from the City Council, are important because they send a message too that this is something that everybody wants.
Are there enough resources to make the technology a reality?
It's expensive. Private industry has to invest mostly, to be honest with you, but I think there's a role for government to help incentivize this activity through grants and other kinds of inducements; certainly ports can help to incentivize those by offering favorable rates and other things for people who are moving cargo in a manner that is convenient and ultimately with a zero carbon footprint.
The technology is expensive but I think everyone believes that once the technology becomes commercialized and ready for widespread deployment, that you'll have a reduction in cost.
This interview has been edited for length and clarity.
Brenda Gazzar
Brenda Gazzar is a multilingual multimedia reporter who has worked for a variety of news outlets in California and in the Middle East since 2000.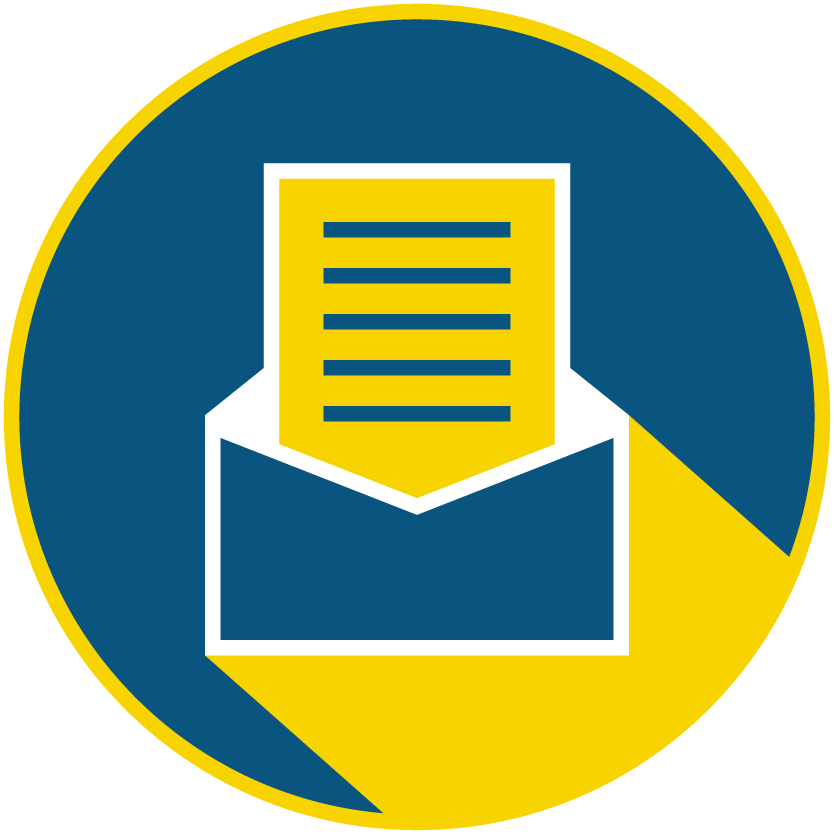 Subscribe to our newsletter to catch every headline.
Christian Hetrick
Christian Hetrick is dot.LA's Entertainment Tech Reporter. He was formerly a business reporter for the Philadelphia Inquirer and reported on New Jersey politics for the Observer and the Press of Atlantic City.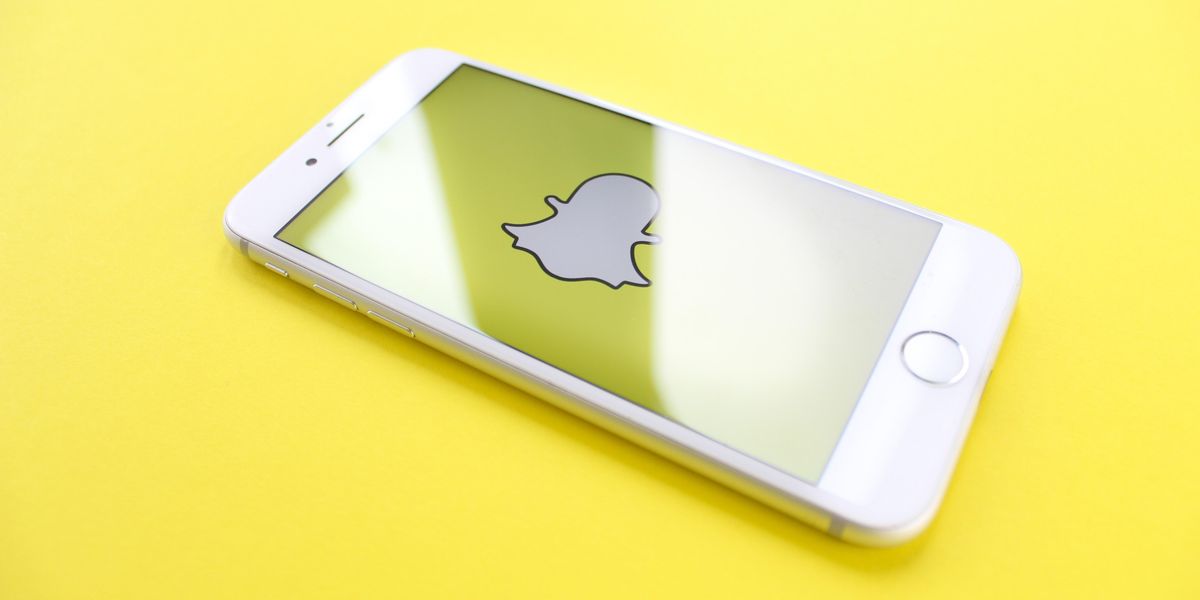 Snap warned on Monday that it will likely report lower-than-expected revenues and profits this quarter—a revelation that sent the social media firm's stock price plunging by 30%.
"The macroeconomic environment has deteriorated further and faster than anticipated," Snap disclosed in a filing with the Securities and Exchange Commission. "As a result, we believe it is likely that we will report revenue and adjusted EBITDA below the low end of our [second quarter] 2022 guidance range."
The Santa Monica-based company was already bracing for another challenging quarter due to economic headwinds like inflation and Russia's invasion of Ukraine, which it said have harmed the digital advertising market. Snap, which generates virtually all of its revenue from ads, is also still grappling with Apple's decision to restrict how users are tracked on mobile devices.
As a result of the gloomy outlook, Snap is set to slow down on hiring. The company now plans to hire another 500 new employees through the end of this year, compared to the 900 employees who have already accepted offers this year and the 2,000 people it added over the last 12 months, according to The Verge, which cited a memo from Snap CEO Evan Spiegel.
"Our most meaningful gains over the coming months will come as a result of improved productivity from our existing team members," Spiegel wrote in his note to staff.
Snap's shares subsequently fell more than 30% in after-hours trading, to $15.71 as of 4:45 p.m. Pacific Time. The company's stock closed Monday's trading at $22.47—down 52% since the start of this year and 73% off its 52-week high in September. (Disclosure: Snap is an investor in dot.LA.)
Christian Hetrick
Christian Hetrick is dot.LA's Entertainment Tech Reporter. He was formerly a business reporter for the Philadelphia Inquirer and reported on New Jersey politics for the Observer and the Press of Atlantic City.
Kristin Snyder
Kristin Snyder is an editorial intern for dot.la. She previously interned with Tiger Oak Media and led the arts section for UCLA's Daily Bruin.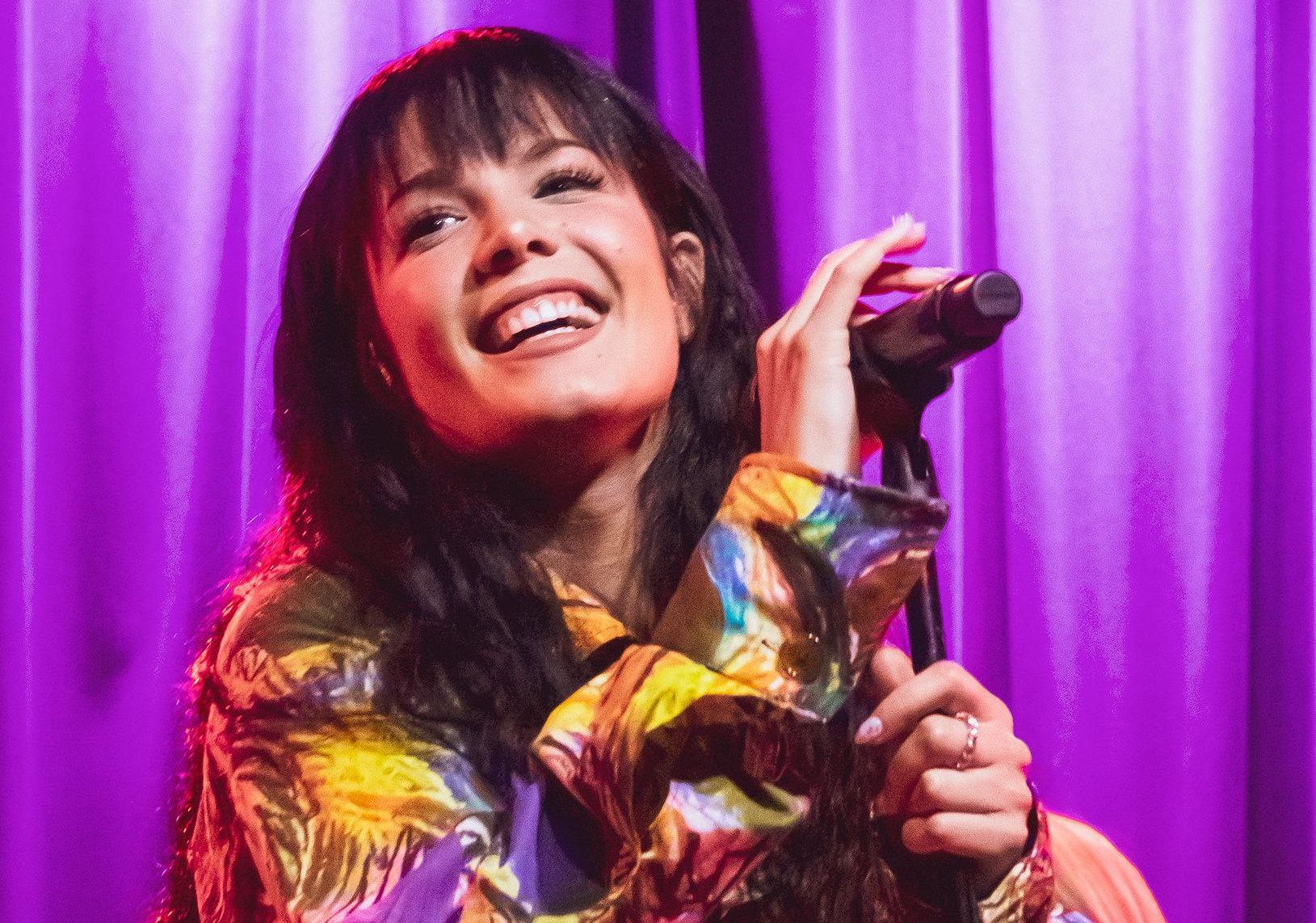 The singer Halsey has claimed that their record label is requiring TikTok momentum before letting them release new music, in comments that draw attention to the video-sharing app's growing influence over the music industry.
In a TikTok video released Sunday, Halsey claimed the Astralwerks-Capitol label will not allow them to release their latest song until "they can fake a viral moment on TikTok." Halsey played the song in the background as they said that "basically every artist these days" is stuck waiting for TikTok virality as they plan music releases. In a subsequent series of Tweets, Halsey said that their TikTok video ironically going viral has not yet resulted in a release date, despite the song having been ready for a month.
The response has ranged from people viewing the video as a disingenuous marketing scheme meant to gain sympathy to others expressing support for the musician.
"Our belief in Halsey as a singular and important artist is total and unwavering," an Astralwerks-Capitol rep told Variety. "We can't wait for the world to hear their brilliant new music."
Other musicians have recently expressed similar complaints. Ahead of Adele's 2021 album, the singer said she shot down her team's request to share her new music on TikTok. But few in the industry have Adele's reach, and artists like Florence Welch, Ed Sheeran and FKA Twigs have all taken to TikTok at their labels' behest.
In April, Lizzo released her latest single "About Damn Time" on TikTok with an accompanying dance; the audio has since been used in over 1 million videos on the app, while the song made it to no. 9 on the Billboard Hot 100 chart. Other music artists are using TikTok stars to promote their material, with singer Harry Styles tapping influencer Brittany Broski to take over his social media ahead of his recent concert.

As artists can now grow their audiences on social media without relying on traditional mainstream media, it's clear that TikTok has disrupted the industry. Take Lil Nas X, who used the app to promote "Old Town Road" and was up for five Grammy awards this year. On occasion, a short singing clip can even lead labels to sign new artists, as was the case with Australian singer Peach PRC.
A viral moment on TikTok can also take an unknown song or music project to new heights. "The Unofficial Bridgerton Musical," a passion project started on the platform, beat theater legend Andrew Lloyd Webber to take home a Grammy earlier this year. Having bought the rights to Universal Music Group's catalog and launched a platform that would allow artists to monetize their music uploaded to the app, TikTok is certainly leaning into its industry impact.
Related Articles Around the Web
Kristin Snyder
Kristin Snyder is an editorial intern for dot.la. She previously interned with Tiger Oak Media and led the arts section for UCLA's Daily Bruin.
Samson Amore
Samson Amore is a reporter for dot.LA. He previously covered technology and entertainment for TheWrap and reported on the SoCal startup scene for the Los Angeles Business Journal. Samson is also a proud member of the Transgender Journalists Association. Send tips or pitches to samsonamore@dot.la and find him on Twitter at @Samsonamore. Pronouns: he/him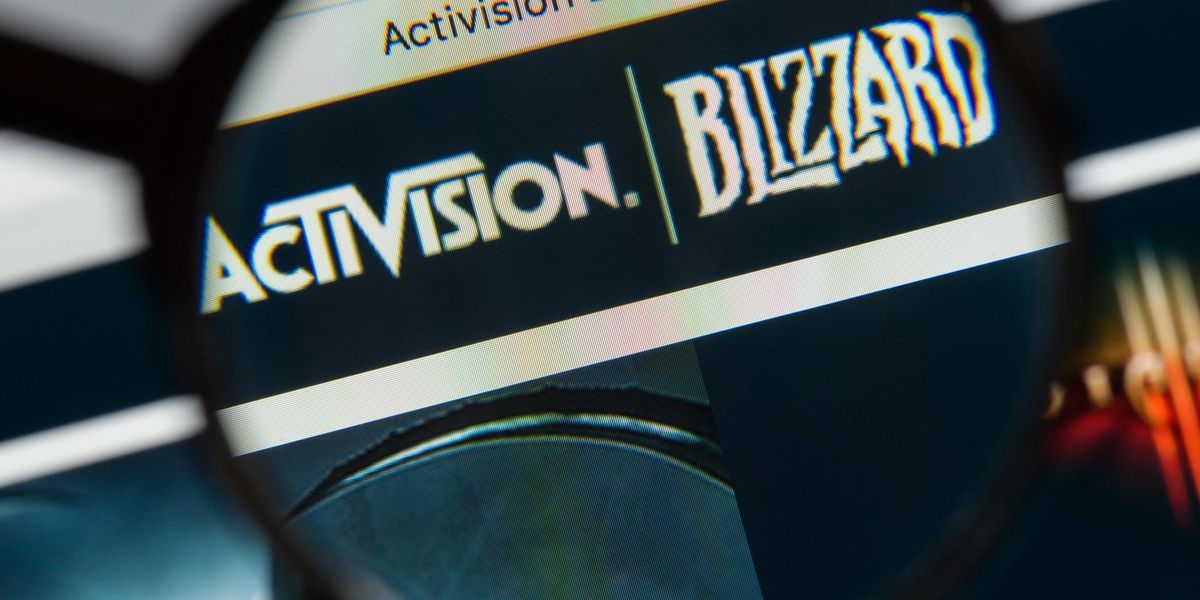 Activision Blizzard Logo Under Microscope
Workers at Activision Blizzard subsidiary Raven Software won their labor union vote today—a move that certifies the first union at a major video game publisher in the U.S., and one that could potentially transform the Santa Monica-based game developer that Microsoft is paying $69 billion to acquire.
Twenty-two employees at Wisconsin-based Raven voted 19-to-3 in favor of ratifying their Game Workers Alliance union in a National Labor Relations Board-sponsored election on Monday. The Raven workers—who do quality assurance testing for popular Activision titles like "Call of Duty"—formed the Game Workers Alliance in January and proceeded with the vote after Activision refused to voluntarily recognize the union.
The vote marks the first time that employees at a AAA game publisher in the U.S. have successfully unionized their workplace. It could also be a key step toward unionizing the rest of Activision's 10,000-person workforce—something that Raven labor organizers told dot.LA earlier this year is part of their larger plan.
"We respect and believe in the right of all employees to decide whether or not to support or vote for a union," Activision spokesperson Talia Ron told dot.LA in an email Monday. "We believe that an important decision that will impact the entire Raven Software studio of roughly 350 people should not be made by 19 Raven employees."
None of Activision's major competitors, such as West Los Angeles-based Riot Games, have unionized employees. Across the entire video game industry, only indie studio Vodeo Games has a labor union—one which became the first certified game workers' union in North America last year.
"This is a huge win for not only the gaming industry but AAA gaming, because this is the first studio you're seeing out of a AAA [publisher] actually unionizing," labor organizer and former Activision quality assurance tester Jessica Gonazlez told dot.LA.
Pro-union Activision employees have long felt that an organized workplace could provide the muscle they need to address issues that have plagued the company and their industry at large—from long, grueling work hours to sexual harassment and discrimination. "I'm very, very hopeful that this is going to be part of a larger wave of unionizing in the video game industry as a whole," Gonzalez added.
While Microsoft executives have said that the Seattle tech giant won't stand in the way of union efforts at Activision, the game developer has taken steps perceived as anti-union among its workers—such as leaving Raven Software employees out of a pay bump for quality assurance testers and proposing contract language that would prevent workers from organizing. Raven workers began organizing after walking off the job in December in protest of Activision's decision to lay off 12 quality assurance contractors.
In a statement, Sara Steffens, secretary-treasurer for the Communications Workers of America labor union backing Raven's Game Workers Alliance, said "Activision did everything it could, including breaking the law, to try to prevent the Raven QA workers from forming their union."
"Quality assurance workers at Raven Software are bringing much-needed change to Activision and to the video game industry," Steffens said. "At this critical time for the company and its employees, these workers will soon have an enforceable union contract and a voice on the job."
From Your Site Articles
Related Articles Around the Web
Samson Amore
Samson Amore is a reporter for dot.LA. He previously covered technology and entertainment for TheWrap and reported on the SoCal startup scene for the Los Angeles Business Journal. Samson is also a proud member of the Transgender Journalists Association. Send tips or pitches to samsonamore@dot.la and find him on Twitter at @Samsonamore. Pronouns: he/him