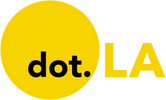 Get in the KNOW  
  on LA Startups & Tech  
X
Meet the 10 Startups in Techstars' 2021 Space Accelerator Class
Samson Amore
Samson Amore is a reporter for dot.LA. He holds a degree in journalism from Emerson College and previously covered technology and entertainment for TheWrap and reported on the SoCal startup scene for the Los Angeles Business Journal. Send tips or pitches to samsonamore@dot.la and find him on Twitter @Samsonamore.
07:00 AM | June 08, 2021
Techstars' Space Accelerator took off this week with its third class of space-related companies that make everything from AI-powered smart cameras to technology that can anticipate celestial collisions.
---
The 10 startups selected for the competitive four-month program are based across the U.S. and Australia and will work with Techstars on a mostly remote basis.

All are developing technology with multiple uses in space and will receive a $120,000 investment in addition to access to Techstars' expanding network of mentors.
That network includes aerospace experts at the Pasadena-based NASA Jet Propulsion Laboratory. Participating companies include Lockheed Martin, Arrow Electronics, SAIC and Israel Aerospace Industries.
"Alumni from our previous cohorts are launching space systems and infrastructure, raising tens of millions of dollars in venture capital as well as receiving lucrative contracts from both government and commercial customers," said Jonathan Fentzke, the program's managing director.
The program will culminate in a demo day on Sept. 2 where the startups will show off their work in hopes of winning potential investors or clients.
Fentzke noted that while no companies in this year's cohort are based in LA, Techstars still has partners mentors and investors based here.

"As it turns out the four companies in California out of 10 are not based in L.A. today, but will likely have a presence over time," Fentzke told dot.LA.
Here's a look at the 10 companies selected for this year's Techstars Space Accelerator.

Correction: An earlier version of this post stated this is Techstars' second space accelerator cohort. It's the accelerator's third such class. It also, misnamed the CEO of Hyperspec.ai.
Samson Amore
Samson Amore is a reporter for dot.LA. He holds a degree in journalism from Emerson College and previously covered technology and entertainment for TheWrap and reported on the SoCal startup scene for the Los Angeles Business Journal. Send tips or pitches to samsonamore@dot.la and find him on Twitter @Samsonamore.
https://twitter.com/samsonamore
samsonamore@dot.la
Evan Xie
Back in 2017, the Ports of Los Angeles and Long Beach announced plans to go zero emissions. The pledge, which built on the ports' 2006 clean air goals, was an ambitious one, and officials estimated the cost of eliminating air pollution could reach $14 billion. Still, the plan, which involves transitioning to zero-emission terminal equipment by 2030 and zero-emission trucks by 2035, represented a critical step in the fight against climate change.
Six years later, there's been progress.
The ports recently established a clean truck fund, which introduces a fee for cargo owners operating internal combustion drayage vehicles at the ports. In 2021, Los Angeles city council adopted a resolution asking major importers to transition to zero-emission vehicles by the end of the decade. The ports have also agreed to collaborate with ports in Asia on a Green Shipping Corridor, which pushes for the use of low and zero-emission fuels along major trade routes. The nearly a hundred shoreside cranes at the Port of LA are powered by electricity.
But one of the primary decarbonization strategies the ports have pursued is incubating new technologies. The ports have essentially turned themselves into development platforms for new shipping tech—devoting time, space, and money toward companies and projects that focus on zero-emission vehicles and port infrastructure. The idea is to play a role in developing the tools that could eventually help the port complex reach its environmental goals.
"Our view is: the sooner you deploy it, obviously, the sooner you get emissions reductions," says Chris Cannon, the chief sustainability officer at the Port of Los Angeles. "The sooner we get that stuff deployed and out there, the sooner you learn those lessons, and the sooner you get the next generation"
The stakes are high. These hurdles are a reminder of how hard, but incredibly important, going zero-emissions at the ports truly is. Together, the Ports of LA and Long Beach represent the largest port complex in the United States, and take in around 29 percent of the goods that travel to and from the country via water every year. All this activity means that the ports represent a significant chunk of the US economy, but a significant source of carbon emissions, too.
There is already a wide range of technology under investigation.
Fenix Marine Services is currently conducting a nearly $12 million test to understand the efficacy of a battery-electric and hydrogen fuel-powered top handler — a port vehicle that's used to load shipping containers. There's also AtlaSea, a nonprofit accelerator that supports blue economy startups based at the Port of Los Angeles, which recently installed thousands of solar panels to power its facilities and hundreds of homes nearby.
This strategy has some real caveats. While the port has taken a range of steps to test emergent technologies, these systems still need to work — and then be deployed on a wide scale. And while the ports can take action to encourage companies to use new green technologies, those companies aren't necessarily eager to invest in infrastructure that's better for the environment.
"Some of the biggest contributors are actually the ships that are calling at the port, and then what we would call harbor craft, like ferries and tugs that are spending a lot of their time in the port," explains Bryan Comer, the marine program lead at the International Council on Clean Transportation, a nonprofit that produces transportation-focused environmental analyses. "You end up having, on the land side, these pollution hotspots and hot corridors where you have older trucks that have higher emissions."
Right now, one possible way to cut down on the emissions created by ports is to deploy battery electric technology, explains Comer, in part because it's already been deployed. The Southern California ports have reached some milestones on this front. Cannon says there are already about 80 electric trucks registered to do business within the port, and the Port of Los Angeles has agreed to invest $6 million toward 22 more electric trucks for the port. With the help of federal and state funding and other incentives — like the new fee for internal combustion engines — the hope is to get 4,000 electric trucks over the next five to six years.
But in some cases, replacing these vehicles with battery electric cars isn't the right solution.
The Ports of Los Angeles and Long Beach are also looking at hydrogen fuel cell technology. Hydrogen fuel technology works somewhat like a battery, but emits water, and could be particularly helpful for vehicles that need to carry heavier cargo or cargo that needs to travel longer distances. For this reason, the port doesn't want to limit itself to battery-electric technology, and instead wants to focus on the broader idea of reducing carbon emissions.
"We always say, 'going zero-emissions and not 'electrify,'" says Cannon. "We're completely fuel neutral [...] There may be another technology or two that somebody figures out over the years here that also allows you to have zero emissions."
An $82.5 million program called Shore to Store, which involves demonstrating two hydrogen fueling stations and 10 hydrogen trucks, finished up last month. The container terminal operator TraPac tested two yard tractors powered by hydrogen fuel cells last year — final results of the test are pending. With more than $17 million from the Japanese government, the terminal operator YTI is testing several types of hydrogen-powered equipment at the port, including a yard tractor, a crane, and a top handler. Initial deployment is expected in 2024.
Overall, the port has about 16 technology demonstrations in process, which collectively reflect about 200 pieces of equipment. More funding could come from the Infrastructure Investment and Jobs Law, as part of California's bid to become a clean hydrogen hub.
Other incubators are also active at the ports.
Pacific Environment, the environmental advocacy organization, announced that it would partner with the venture advisory Braid Theory, on a zero-emissions shipping accelerator that will be based at the Port of LA. AltaSea also focuses, in part, on green maritime technology.
This past February, for example, ACUA Ocean — a company developing an uncrewed, hydrogen-powered vessel — announced a memorandum of understanding with AltaSea, as well as plans to demonstrate its tech at the port.
A company called Ecowave is developing technology to generate electricity from waves, which could eventually be used to power port infrastructure. The company is currently using AltaSea to demonstrate its technology and working on the permits and licensing necessary to expand further.
"Ports require a tremendous amount of electricity for their operations," explains Inna Braverman, the co-founder and CEO of EcoWave. "By being able to power ports with ocean energy, that will help lower port operations footprint."
Of course, these efforts face real headwinds.

Some of the ports' demonstrations haven't run on time or produced promising results. More broadly, logistical problems and supply chain woes at the ports have undermined some of the improvements on air quality thus far.
One estimate from the California Air Resources Board, the state agency that focuses on protecting air quality, found that the surge in container ships triggered by pandemic-era supp;y chain issues created severe air quality issues, including increases in particulate matter and oxides of nitrogen.
And while tech might be part of the solution, it won't be enough on its own. For example, the National Resources Defense Council has continued to criticize the ports' approach to air quality, an issue that disproportionately impacts the neighborhoods nearby and disproportionately impacts communities of color and low-income communities. Three years ago, the organization, along with others, successfully sued the Port of Los Angeles for failing to follow environmental laws when negotiating a leasing agreement with China Ocean Shipping Company.
"To demonstrate the ports' commitments to these goals, the ports must commit to ending all new, renewed or expanded fossil fuel infrastructure on port property," said says Allyson Browne, Climate Campaign Director for Ports, Pacific Environment, an environmental organization pushing for zero-emissions at the ports. "The math is crystal clear – we simply don't have the carbon budget for any new fossil fuel infrastructure."
02:16 PM | March 02, 2023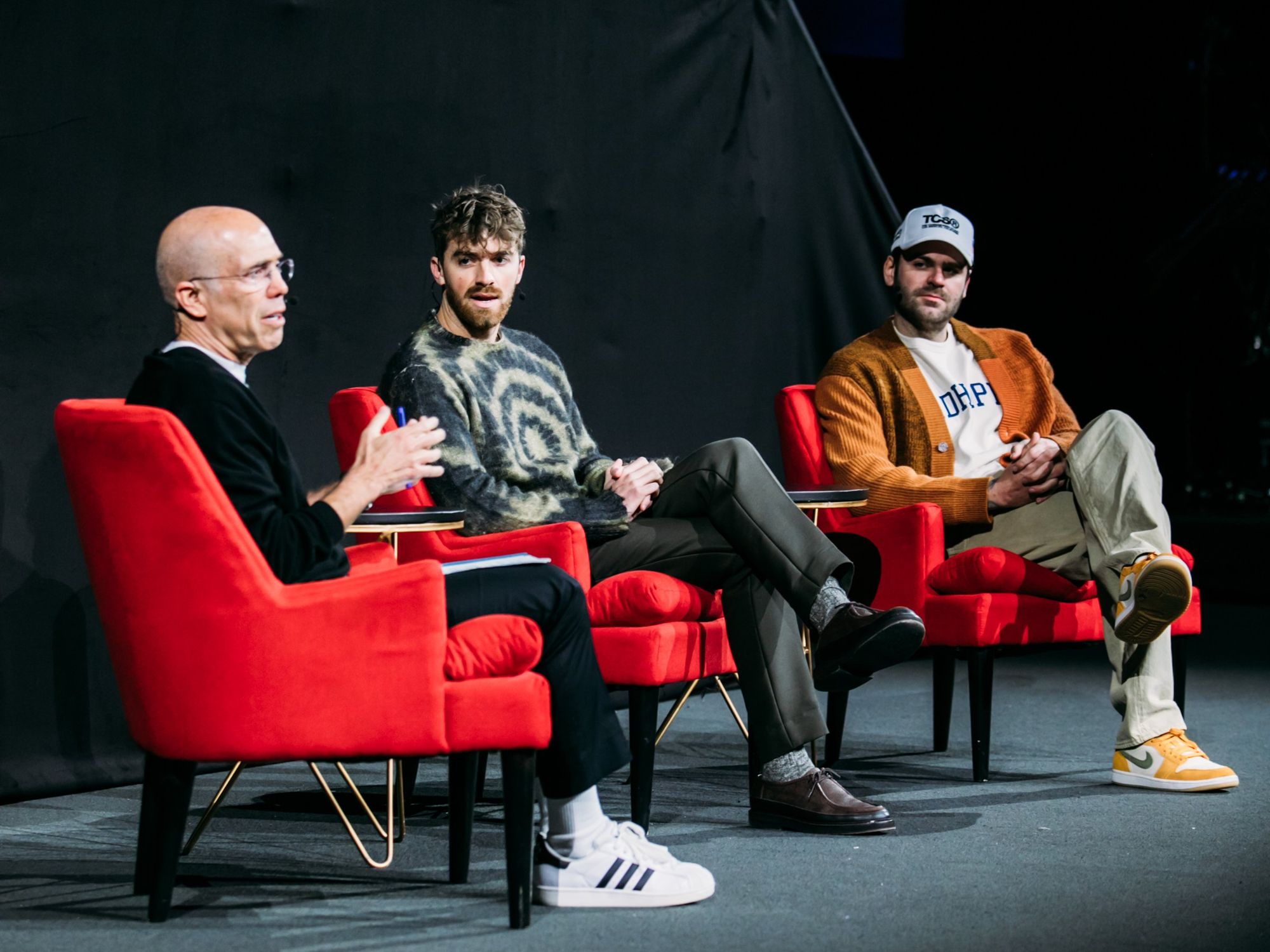 Clark Studio
On Thursday, Upfront Ventures hosted its 2023 Summit and music icons Alex Pall and Drew Taggart of The Chainsmokers hit the stage, not to perform, but instead to discuss their venture journey.
The duo launched MantisVC, a Marina Del Rey-based early stage tech venture fund in 2019.
Pall and Taggart shared the stage with WndrCo's managing partner Jeffrey Katzenberg to dive deeper into what their music career has taught them and how it translated over to their venture firm.
Here are some of the most important takeaways:
The duo believes hustle is more important than talent to achieve success.
"There's just so much content out there that's just happening all the time for no reason," Taggart said. "There's just so much to pay attention to and if you have to wake up every day, and think out what your angle is going to be, try stuff, have it not work. You have to accept defeat so frequently and still get up and do it."
Creating music was their foray into building communities.
"I think we have some real insight into how to build that community and tell that story because essentially, that's all we're trying to do," Pall said. "No matter what your business is, you're telling the story about something that you think is important that someone else needs and will enjoy."
Building connections and having conversations with pioneers in the space helped them launch MantisVC.
"Humility and being self aware are two of our strengths," Taggart said. "I think knowing what we don't know is a big part of how we've gotten to where we are, and with the support of people around us, and the relationships we built, we understood that we were going to have to go out and prove to the world that we were serious about this and we respected the people that have come before us and the people that are doing it right now."
VCs should offer all their founders support.
"When you're building something early on, you want that support, that hands-on feeling and the purpose of Mantis isn't necessarily right now to replace the incredible institutional investors that exist out there and have been around for a while," Pall continued.
"But we want to be the Robin to their Batman, and we think there's a way that we can kind of partner with everybody in the space and provide our founders that holistic support they need. It's inspiring to work alongside people that share that same energy and we're constantly working on ourselves and I feel like it takes a really special type of human being to be successful in this world. Level of grit and determination and something that's continually fueled us and we want to invest in people like that."
Feedback is necessary and essential to create successful products and businesses.
"Similar to products or services that you're building, it's important to get real life feedback out there and iterate on those things," Taggart said. "And there's really just no substitute for that."
Pall added, "I think for some reason in our culture, it's become an issue for people just to be straightforward and say no, about things and give honest feedback and, and move on. I think we can all learn a lot from just having more honest conversations with each other."
Never lose sight of your core audience and mission as a company.
"Never forget what your core product is and what people love about that and make sure that every piece of innovation is derivative of that," Taggart said. "I see a lot of friends of ours that have had really successful companies start to build ancillary projects that don't really feed their core audience that they're just making to compete with their competition. We do the same thing in songwriting, and you can never lose sight of what people love about you."
Decerry Donato
Decerry Donato is a reporter at dot.LA. Prior to that, she was an editorial fellow at the company. Decerry received her bachelor's degree in literary journalism from the University of California, Irvine. She continues to write stories to inform the community about issues or events that take place in the L.A. area. On the weekends, she can be found hiking in the Angeles National forest or sifting through racks at your local thrift store.