The Next Set of Space Startups Will Show Their Work at Techstars Demo Day Wednesday
Tami Abdollah
Tami Abdollah was dot.LA's senior technology reporter. She was previously a national security and cybersecurity reporter for The Associated Press in Washington, D.C. She's been a reporter for the AP in Los Angeles, the Los Angeles Times and for L.A.'s NPR affiliate KPCC. Abdollah spent nearly a year in Iraq as a U.S. government contractor. A native Angeleno, she's traveled the world on $5 a day, taught trad climbing safety classes and is an avid mountaineer. Follow her on Twitter.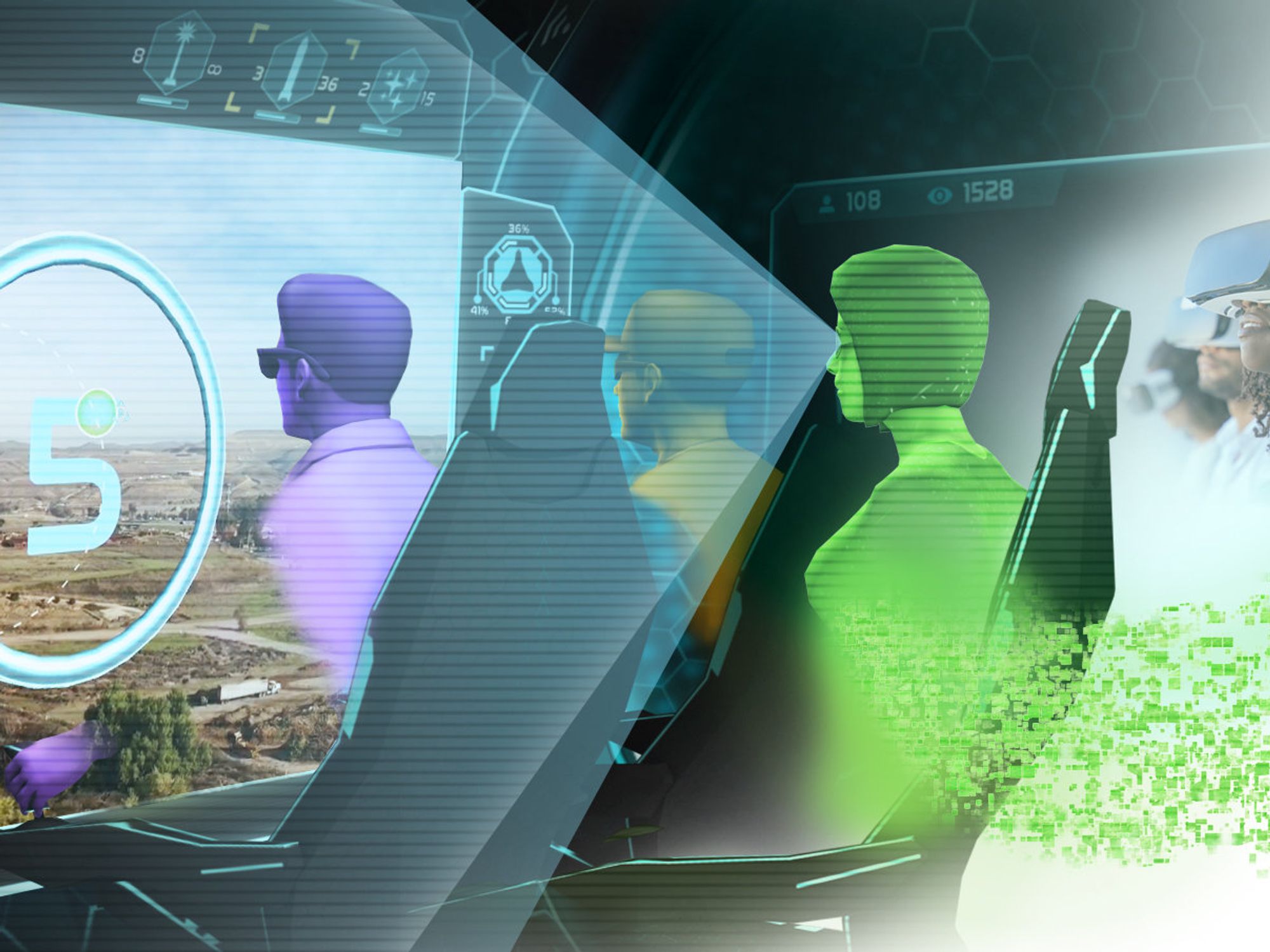 It's been a strange summer for the Techstars Starburst Space Accelerator.
One team of founders in Singapore worked through the night on Los Angeles time to create an AI system for data. Another in Wisconsin kept each other's stoke strong while working remotely these last grueling weeks on their virtual reality (VR) platform. A third team was able to participate in the program because the pandemic let them work remotely next to their near-space balloon in Colorado.
They're all part of the second class to participate in the accelerator's mentorship-driven program that aims help build the next generation of space technology companies. The program is usually based in Los Angeles.
---
On Wednesday, founders of the 10 companies chosen to be part of the accelerator program will showcase their goods, publicize their recent triumphs and give potential investors a pitch that is the culmination of three months of work during this year's virtual "Demo Day." This year's demonstrations will take place virtually over YouTube, rather than at the California Science Center, where they're usually held.
Techstars Starburst Space Accelerator - Demo Day 2020 (Updated)youtu.be
The companies are expected to announce funding deals and partnerships with some of the biggest names in the aerospace and defense industry, along with small business grants, and details of ongoing work with the U.S. military.
"Our companies have been fundraising this year far faster than in the past," said Matt Kozlov, the program's managing director. "I think that's because investors are much more comfortable writing a check without having met the founders."
The aerospace and defense industry haven't been impacted by the pandemic as much as other such as the hospitality and the travel industries, Kozlov said.
"L.A. is one of the biggest hubs in this sector on the planet, between NASA's JPL, Boeing, Northrop (Grumman), U.S. Space and Missile System, SpaceX," Kozlov said. "We don't think any of that is an accident. This is one of the leading hubs for advanced technology in the world.
The accelerator's program partners, which helped select participants for the accelerator, include the U.S. Air Force, NASA Jet Propulsion Laboratory, Lockheed Martin, Israel Aerospace Industries North America, SAIC and Maxar Technology. The partners provided guidance and contacts to help bring the early-stage companies to maturity.
This year's class hail not just from Singapore, Wisconsin and Colorado, but also Los Angeles, Toronto, Poland, and other areas in the U.S. Among them is a startup that provides an augmented reality (AR) and VR platform for use in education and training, a developer of an advanced AI system for data scientists; and an air contamination and quality monitoring system.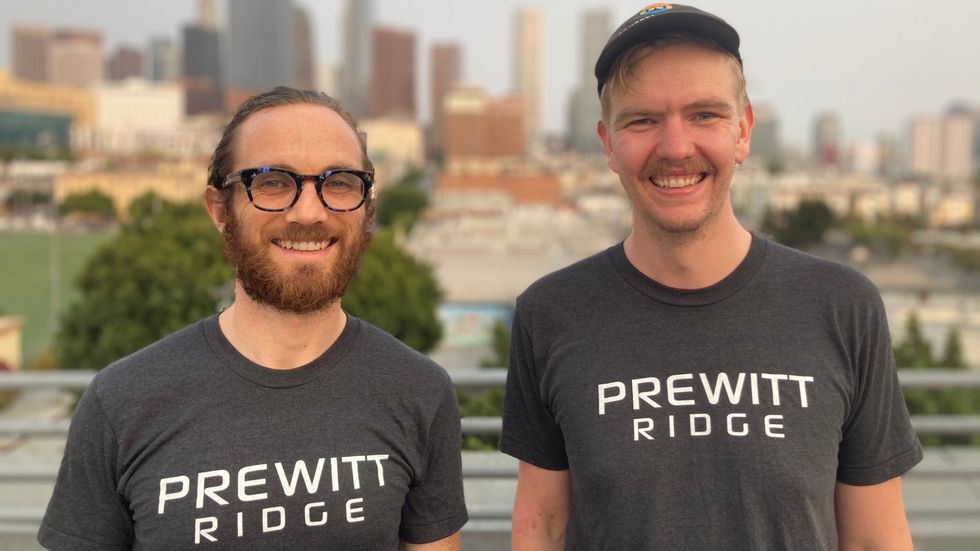 Co-founders Steve Massey and Zeke Brechtel of Prewitt RIdge.Image courtesy of Prewitt RIdge
Software for Space Startups
Los Angeles-based Prewitt Ridge CEO Steve Massey met his co-founder Zeke Brechtel when the two worked at SpaceX in mission management and on the Hyperloop.
During a stint at L.A. startup Slingshot Aerospace, Massey saw a pattern in the how aerospace engineering companies used software for their systems engineering.
"You either see a massive investment in enterprise software and the need to hire a large number of engineers to manage that software deployment (or) small companies and institutions making do with what they can, with Excel spreadsheets, email," Massey said.
Software systems with larger infrastructures have robust, built-in verification and validation tools that are rare in one-off pieces of software used to fill the gap, Massey said. Those system checks are especially important for safety-critical environments like aerospace engineering, he added.
"We're not going to build the Starship Enterprise with the tools in that (one-off) space today," said Massey, a first-time founder. "So we wanted to put together a software package that would help."
We're "building the tools we wish we had early in our career," Massey said. The integrated software aims to remove data duplication, lower the likelihood of error and let companies work faster.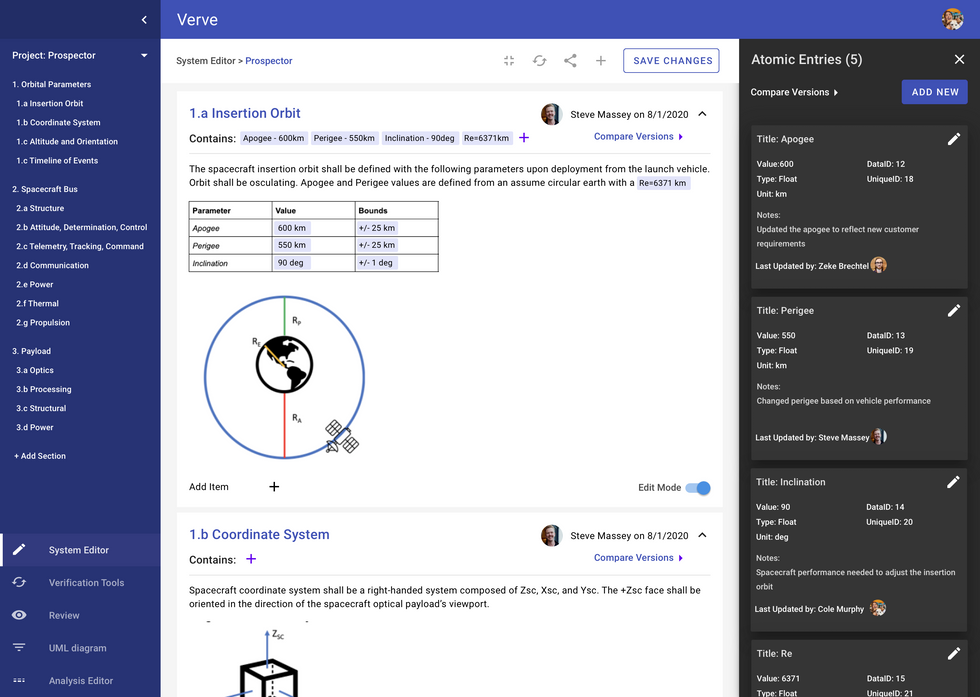 Prewitt RIdge
Their startup, Prewitt Ridge, named after a campground along a rugged stretch of California's Central Coast, was born in late 2019.
It was tricky timing, and the company has had to do all its initial engagements and fundraising remotely. As a participant in the accelerator, Massey said the company got to sit down and interview folks at places like NASA's Jet Propulsion Laboratory, gaining a deeper understanding of their needs.
On Wednesday, Prewitt Ridge will announce its first major external user in the aerospace and robotics space, a target market, Massey said. He declined to provide details in advance.
Universal Remote for Robots
L.A.-based vRotors, which provides a platform to control remote robotics, was founded in late 2018 by co-founders Neil Malhotra and John Zuur Platten, who both came from the video game industry. Malhotra has worked at JPL and aerospace firm Orbital, and co-founded Acclaim Games, which was acquired by Disney's Playdom. He's a former executive at Skybound Entertainment, creator of "The Walking Dead."
Zuur Platten came from a more traditional media background, pivoting from screenwriting to video game storytelling and was an early employee at Niantic Inc., which created "Pokémon Go."
Their basic idea is that "from your PC, your Mac, your VR headset or even your mobile phone, you can control a remote robotic device anywhere in the world," Malhotra said.
Image courtesy of vRotors
vRotors first tested its platform with flying drones, conducting remote drone racing with competitors on Twitch while the drones flew in Southern California. The winner was actually in London.

The company has worked on improving common drone flight issues by overlaying the virtual and real-time experiences, allowing pilots to minimize latency and lag. The interface gives operators a sense of immediate control that provides a more fluid experience when moving their mouse, Zuur Platten said.
Techstars helped vRotors connect with enterprise opportunities for their platform, including a telecom company that needs remote cell tower inspection, an aerospace entity operating an air taxi fleet, and other potential clients for "terrestrial and aerospace applications." The company plans to announce new partnerships on Wednesday, Malhotra said.
Separately, vRotors is also a partner with Duke University and the University of Illinois in the $10 million ANA Avatar XPRIZE competition, and is helping to build human avatar robots that can be controlled remotely using the vRotors platform. Malhotra said such robots can be used for elder care and food prep, among other things.
The software allows people to collaborate remotely in a virtual space through their platform, enabling hundreds of people to virtually join in a remote ride-along, Zurr Platten said.
Image courtesy of Holos
Bringing Virtual Reality to The Masses
Holos aims to "give people agency over the virtual experience" so that they can create immersive education and training environments without having to outsource to a firm, Waite said.
The Madison, Wisconsin-based company was founded in 2016 by Dan Borkhus and Tyler Waite, who met while undergrads at the University of Wisconsin.
For Waite, a Chinese language and literature major, it was a somewhat natural evolution. He went from toying around with mobile development in his free time to VR development. Borkhus majored in economics, but became interested in computer science and mobile programming before being drawn into the VR space.
Borkhus and Waite believe VR is more than a "gimmick or a toy," but something that can be go beyond Powerpoint and improve productivity and learning outcomes.
"You can read a 50-page manual about how to throw a basketball or a football, but it's' a lot easier watching Aaron Rodgers throw a football and try to replicate that," Borkhus said. "When you're moving with your hands and body, more of your neurons and brain is working, which increases how well you can retain information and how well you can retain a task."
In 2018, Holos raised its first round of research and development money, $100,000 that gave it six months of runway. The company has seen early interest from K-12 teachers in Wisconsin. In August 2019, it received a $750,000 small business innovation grant from the U.S. Air Force to develop a virtual maintenance and repair training system for the F-35, working out of Southern California's Edwards Air Force base.
It's also contracted to develop a prototype to integrate the command and control of space, air and cyber assets for the U.S. Air Force.
Holos' efforts to empower "normal people" to create 3-D VR content is especially attractive to the military because contracting with a third-party requires expensive modifications to existing contracts and takes more time.
"Our pitch to the military is, 'You can work with the VR studios for really high-end piloting and combat scenarios, but everything else you need to do, work with us and we can help you out'," Borkhus said.
On Wednesday, the Holos founders plan to announce an investment round and "two pretty significant partnerships."
Borkhus said that the company is trying to bring "drag and drop tools to virtual reality" and in the process empower non-technical people who want to create their own virtual experiences.
"Interface matters a lot," Borkhus. "Multiplication used to be only a thing high-end mathematicians can do in ancient Rome, using Roman numerals, but with the switch to Arabic numerals, now a third-grader can do it."
For Techstars Starburst Space Accelerator, now working remotely, the interface has also made a difference.
The program's managing director, Kozlov, said a virtually-run accelerator has enabled Techstars to include participants and gain mentors globally.
"There's still a lot of benefits from an in-person accelerator," but he said that when it's all over, a hybrid model might be worth considering.
___
Do you have a story that needs to be told? My DMs are open on Twitter @latams. You can also email me at tami(at)dot.la, or ask for my contact on Signal, for more secure and private communications.
Tami Abdollah
Tami Abdollah was dot.LA's senior technology reporter. She was previously a national security and cybersecurity reporter for The Associated Press in Washington, D.C. She's been a reporter for the AP in Los Angeles, the Los Angeles Times and for L.A.'s NPR affiliate KPCC. Abdollah spent nearly a year in Iraq as a U.S. government contractor. A native Angeleno, she's traveled the world on $5 a day, taught trad climbing safety classes and is an avid mountaineer. Follow her on Twitter.
tami@dot.la