ziprecruiter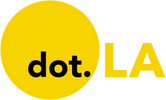 Get in the KNOW  
  on LA Startups & Tech  
X
ziprecruiter
Image courtesy of ZipRecruiter
On this episode of Office Hours, host Spencer Rascoff talked with ZipRecruiter CEO and founder Ian Siegel about how he built his company, the lessons he's learned along the way and how he's seen the pandemic drastically reshape the job market—probably for good.
Siegel moved to L.A. to be a writer in Hollywood. But he quickly realized he hated it. Instead, he moved into the fledgling online division at Warner Bros., From there, he found himself working at a series of VC-backed startups that became successful. As a result, he became known in the industry as an expert in taking online businesses that had plateaued and figuring out a way to help them grow. He said he hated every minute of it.
"What you are in that situation is you're an agent of change. And what I learned is you can be good at that, but no one likes you because everybody fears change."
Instead, Siegel worked up the courage to start his own business.
"Why do I let people pay me such a small amount of money to turn around these businesses?," he asked himself. "If I'm so good at this, why don't I just start my own and build it right from the very beginning. And that's what ultimately gave me the conviction to go launch ZipRecruiter."
His time working at young startups too small to have their own HR departments gave Siegel the idea. After posting the same job position across multiple websites and printing out every single resume submitted, he realized he was facing a problem technology is built to solve.
"I just wanted a magic button that I could push. And it would send a job to all job boards at once, and then all the candidates from all those different sites would go into one easy to review list. That's exactly what we built with the first version of ZipRecruiter," said Siegel.
Over time, ZipRecruiter's mission has changed, he said, from a company aimed at solving a single pain point to a company trying to reinvent how the labor market functions. That, he added, is orders of magnitude more difficult, because "you are retraining America or potentially the world on a new way to do something."
"And now you are knife fighting in the jungle, you are trailblazing," he added. "I don't worry about how anybody in the current ecosystem operates. I'm truly fundamentally trying to change the labor market in the United States right now."
Siegel said he's seen the job market drastically change over the past couple years, as the pandemic accelerated the move to remote work and hybrid and remote positions surged. Fewer than 2% of jobs on ZipRecruiter had the words "remote" in them before COVID-19 stuck. Now, 60% of applicants say they're seeking remote or hybrid work, and 12% of the jobs listed on the site offer a remote option—and that number is growing.
That reality has changed how he runs his own business.
"What I've done at ZipRecruiter is accept change," Siegel said. "We are fully embracing remote. I believe remote is not only here to stay, it's a huge benefit."
That, he says, is because employees and employers both save time on driving and grooming. They save money on gas and parking. The office, he added, will still have a purpose, but it will probably be more for building culture, and less for work.
"It'll be a much smaller space entirely designed around fun," he said. "No one will ever go in there every day purely for the purpose of doing their job, probably ever again."
One of the lessons Siegel said he's learned as a serial entrepreneur is to make sure the work you pick is meaningful to you.
"It turns out every business takes the same amount of time, which is all your time," he said. "So be thoughtful about how you spend it. Pick work that's meaningful for you. Pick work that has scale opportunity to it and that you're going to be excited to go into every day."
Want to hear more episodes? Subscribe to Office Hours on Stitcher, Apple Podcasts, Spotify, iHeart Radio or wherever you get your podcasts.
dot.LA Engagement Fellow Joshua Letona contributed to this post.
The L.A. tech scene is booming despite a year-plus pandemic and a string of natural disasters. Rocket makers, sneaker sellers and fusion power creators were among those that dominated the list of L.A. venture deals for the first half of 2021.
On Wednesday, the National Venture Capital Association and Pitchbook released their Venture Monitor report which tracks investment across the country. Both Los Angeles and the U.S. overall notched record-breaking levels of VC investment as the COVID-19 pandemic rebound continues.
A few highlights from the report:
At the national level, megadeals of $100 million have become more common, and L.A. appears to be no exception, with all 10 of its largest deals coming it at $100 million-plus.
VC investment in Q2 for the Los Angeles-Long Beach area totaled $8.5 billion, spread across 365 different deals. That's slightly down from Q1's $9.4 billion, but still more than double the investment from the same time period last year ($3.9 billion).
Los Angeles remains a powerhouse, but it still lags behind Silicon Valley. The $8.5 billion dollars of Q2 investment puts Los Angeles-Long Beach second, behind only the Bay Area ($26.7 billion) and New York City ($12.6 billion) in terms of total VC deal activity. Boston, Seattle and Denver round out the top 6.
The white-hot market streak continues. For the year to date, VC investment in the Los Angeles-Long Beach area has totaled $17.9 billion across 762 deals. That's easily on pace to shatter 2020's record total of $22.7 billion.
The three largest deals in the Los Angeles-Long Beach area came from the aerospace industry. Elon Musk's SpaceX raised $1.2 billion while upstart rival 3-D rocketmaker Relativity Space pulled in $650 million sending its valuation soaring to $4.2 billion. Defense contractor raised $450 million catapulting the Irvine-based company's valuation to $4.6 billion.
Of the top 10 largest deals, three were fintech software companies.
Energy and software also received large investments in excess of $100 million.
Santa Monica scooter company Bird Rides, which is plotting out an IPO via SPAC, also made the list. The blank-check company Switchback II Corporation was marketing a PIPE offering to investors.
All of the top 10 largest VC investments were later stage investments—a trend which was generalizable across the entire United States.
Exits were strong nationally and for the Los Angeles-Long Beach area, with IPOs representing the dominant pathway to liquidity. The region's largest exits came from FIGS, ZipRecruiter and Bridg.

FIGS, the Santa Monica Healthcare apparel brand, IPO'd for an exit of $3.4 billion.
ZipRecruiter, the Santa Monica online recruiting platform, also IPO'd for an exit of $2.4 billion.
Bridg, the Los Angeles SaaS data infrastructure company, was acquired by Cardlytics for an exit of $350 million.
Here's a look at Pitchbook's list of the biggest second-quarter deals in Southern California — from the Santa Barbara area to Orange County:
Before COVID struck, economists at L.A.-based jobs marketplace ZipRecruiter had found that teacher job applications were down.
"We interviewed some teachers saying they had friends going into edtech companies and other startups, taking UX courses or going into content-marketing and tech roles and quickly 'earning so much more than we are'," ZipRecruiter labor economist Julia Pollak told dot.LA.
That led to a flight from the comforts of a stable job with a pension for the high-risk, high-reward world of startups. "There was a clear trend away from those safe jobs," Pollak said.
That trend seems to have reversed.
A new working paper from the National Bureau of Economic Research finds that, in the wake of the pandemic, job seekers have shifted their searches away from early-stage companies and toward large, established firms. They've also widened their search parameters, seemingly more open to a broader array of roles, industries, locations — even lower salaries.
What they seem less flexible about, however, is stability. And that could spell trouble for startups.
"Our findings uncover a flight to safety," the authors conclude.
The paper is based on proprietary data from AngelList Talent and was written by Shai Bernstein of Harvard Business School, Ting Xu of Darden School of Business at the University of Virginia and Richard Townsend of the Rady School of Management at UC-San Diego.
The trend "happens mainly among high-quality job seekers, which is what drives high-quality talents away from young startups to more established firms," Xu told dot.LA. "For example, you may be willing to commute farther, accept lower wages, or work in a less familiar sector in order to be affiliated with a larger firm."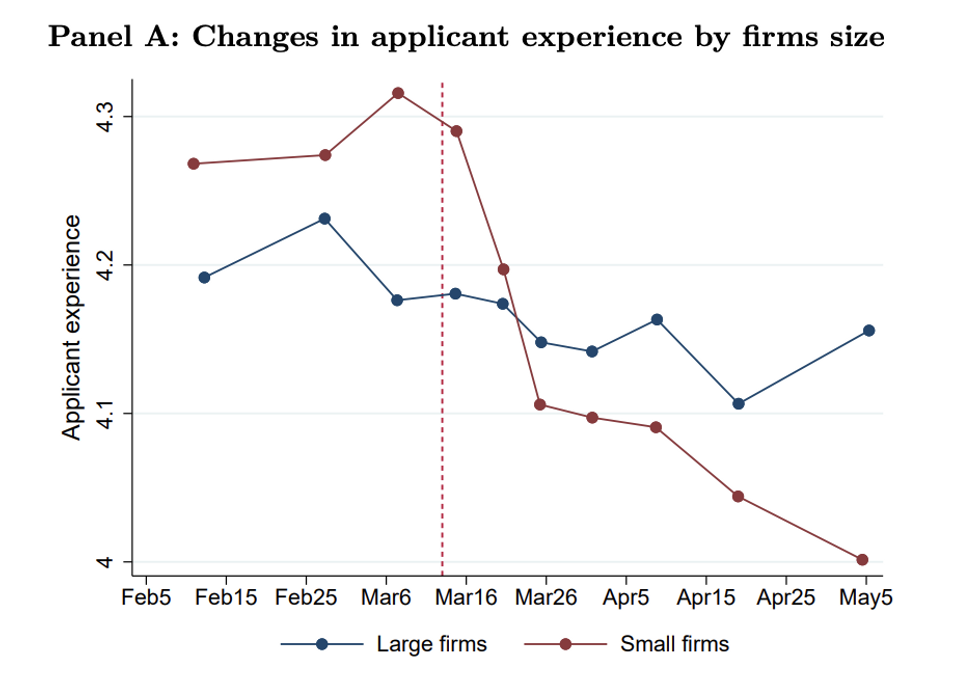 Panel A (Panel B) shows within-firm changes in the average experience (quality score) of job applicants from February to May 2020. Data from AngelList Talent
ZipRecruiter's Pollak was not affiliated with the study, but she said the trend makes sense. At a time when many people have lost their jobs to the pandemic, she said, it's no surprise that big names and established corporations would yield a higher proportion of searches.

"When you have people thrown into a job search very suddenly, they don't know what to search for. (In such a situation), most searches on ZipRecruiter are from people who don't know what they want, but to the extent they know of employers, it's those with household names and brand recognition that often get more applicants," she said.
Pollak added that established companies are more likely than startups to hire in multiple cities, and to offer remote work opportunities. Job searches for "remote work" and "work from home" have skyrocketed, Pollak said, so it follows that firms that offer those opportunities are seeing more applications.
What Can Startups Seeking Talent Do?
"Unfortunately our results mean that early-stage ventures need to try harder to attract talent during downturns," said Xu.
One thing Xu suggested might make top talent accept more risk in unstable times: more money. If that doesn't work, he suggested that startups get creative, perhaps offering more equity and/or flexibility.
Pollak had some suggestions as well.
"These days, when you start a company, you often don't need to hire that many organic staff members. You can get an HR service and an accounting service and rent computers and use an IT service; that's how many, many startups begin and scale initially," she said.
Pollak noted she has seen a sharp increase in activity among staffing companies and agencies that match companies with temporary and contract positions.
One benefit of using such services: they allow young companies to save money on things like payroll taxes and health insurance, she said. And once they start to grow, they'll likely have an easier time demonstrating to prospective employees that they, too, can offer job security.