ziprecruiter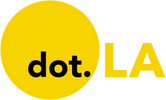 Get in the KNOW
on LA Startups & Tech
X
ziprecruiter
The L.A. tech scene is booming despite a year-plus pandemic and a string of natural disasters. Rocket makers, sneaker sellers and fusion power creators were among those that dominated the list of L.A. venture deals for the first half of 2021.
On Wednesday, the National Venture Capital Association and Pitchbook released their Venture Monitor report which tracks investment across the country. Both Los Angeles and the U.S. overall notched record-breaking levels of VC investment as the COVID-19 pandemic rebound continues.
A few highlights from the report:
At the national level, megadeals of $100 million have become more common, and L.A. appears to be no exception, with all 10 of its largest deals coming it at $100 million-plus.
VC investment in Q2 for the Los Angeles-Long Beach area totaled $8.5 billion, spread across 365 different deals. That's slightly down from Q1's $9.4 billion, but still more than double the investment from the same time period last year ($3.9 billion).
Los Angeles remains a powerhouse, but it still lags behind Silicon Valley. The $8.5 billion dollars of Q2 investment puts Los Angeles-Long Beach second, behind only the Bay Area ($26.7 billion) and New York City ($12.6 billion) in terms of total VC deal activity. Boston, Seattle and Denver round out the top 6.
The white-hot market streak continues. For the year to date, VC investment in the Los Angeles-Long Beach area has totaled $17.9 billion across 762 deals. That's easily on pace to shatter 2020's record total of $22.7 billion.
The three largest deals in the Los Angeles-Long Beach area came from the aerospace industry. Elon Musk's SpaceX raised $1.2 billion while upstart rival 3-D rocketmaker Relativity Space pulled in $650 million sending its valuation soaring to $4.2 billion. Defense contractor raised $450 million catapulting the Irvine-based company's valuation to $4.6 billion.
Of the top 10 largest deals, three were fintech software companies.
Energy and software also received large investments in excess of $100 million.
Santa Monica scooter company Bird Rides, which is plotting out an IPO via SPAC, also made the list. The blank-check company Switchback II Corporation was marketing a PIPE offering to investors.
All of the top 10 largest VC investments were later stage investments—a trend which was generalizable across the entire United States.
Exits were strong nationally and for the Los Angeles-Long Beach area, with IPOs representing the dominant pathway to liquidity. The region's largest exits came from FIGS, ZipRecruiter and Bridg.

FIGS, the Santa Monica Healthcare apparel brand, IPO'd for an exit of $3.4 billion.
ZipRecruiter, the Santa Monica online recruiting platform, also IPO'd for an exit of $2.4 billion.
Bridg, the Los Angeles SaaS data infrastructure company, was acquired by Cardlytics for an exit of $350 million.
Here's a look at Pitchbook's list of the biggest second-quarter deals in Southern California — from the Santa Barbara area to Orange County:
Before COVID struck, economists at L.A.-based jobs marketplace ZipRecruiter had found that teacher job applications were down.
"We interviewed some teachers saying they had friends going into edtech companies and other startups, taking UX courses or going into content-marketing and tech roles and quickly 'earning so much more than we are'," ZipRecruiter labor economist Julia Pollak told dot.LA.
That led to a flight from the comforts of a stable job with a pension for the high-risk, high-reward world of startups. "There was a clear trend away from those safe jobs," Pollak said.
That trend seems to have reversed.
A new working paper from the National Bureau of Economic Research finds that, in the wake of the pandemic, job seekers have shifted their searches away from early-stage companies and toward large, established firms. They've also widened their search parameters, seemingly more open to a broader array of roles, industries, locations — even lower salaries.
What they seem less flexible about, however, is stability. And that could spell trouble for startups.
"Our findings uncover a flight to safety," the authors conclude.
The paper is based on proprietary data from AngelList Talent and was written by Shai Bernstein of Harvard Business School, Ting Xu of Darden School of Business at the University of Virginia and Richard Townsend of the Rady School of Management at UC-San Diego.
The trend "happens mainly among high-quality job seekers, which is what drives high-quality talents away from young startups to more established firms," Xu told dot.LA. "For example, you may be willing to commute farther, accept lower wages, or work in a less familiar sector in order to be affiliated with a larger firm."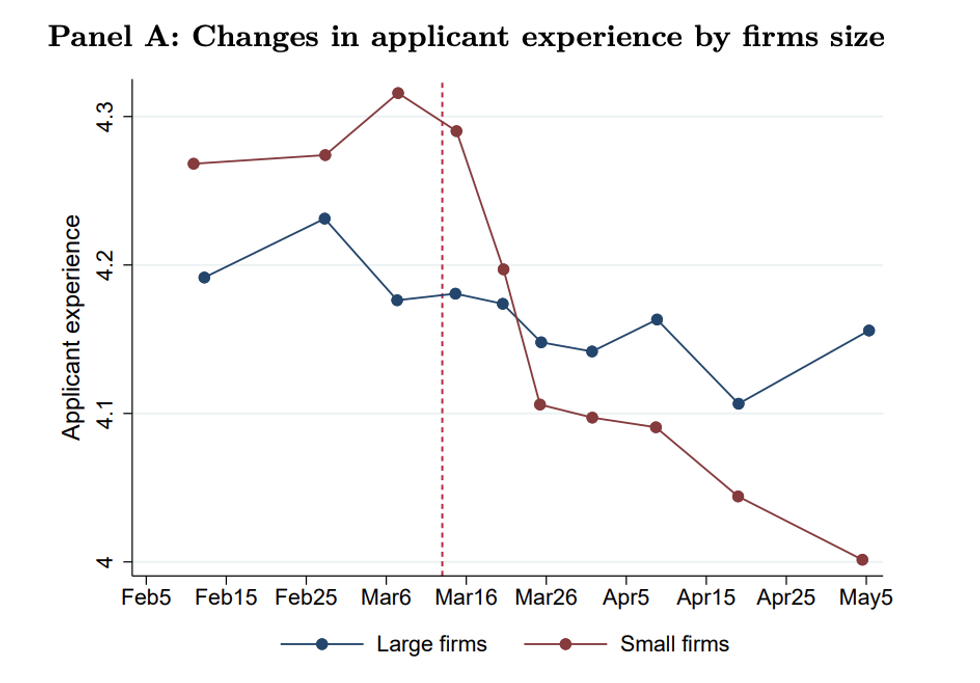 Panel A (Panel B) shows within-firm changes in the average experience (quality score) of job applicants from February to May 2020. Data from AngelList Talent
ZipRecruiter's Pollak was not affiliated with the study, but she said the trend makes sense. At a time when many people have lost their jobs to the pandemic, she said, it's no surprise that big names and established corporations would yield a higher proportion of searches.

"When you have people thrown into a job search very suddenly, they don't know what to search for. (In such a situation), most searches on ZipRecruiter are from people who don't know what they want, but to the extent they know of employers, it's those with household names and brand recognition that often get more applicants," she said.
Pollak added that established companies are more likely than startups to hire in multiple cities, and to offer remote work opportunities. Job searches for "remote work" and "work from home" have skyrocketed, Pollak said, so it follows that firms that offer those opportunities are seeing more applications.
What Can Startups Seeking Talent Do?
"Unfortunately our results mean that early-stage ventures need to try harder to attract talent during downturns," said Xu.
One thing Xu suggested might make top talent accept more risk in unstable times: more money. If that doesn't work, he suggested that startups get creative, perhaps offering more equity and/or flexibility.
Pollak had some suggestions as well.
"These days, when you start a company, you often don't need to hire that many organic staff members. You can get an HR service and an accounting service and rent computers and use an IT service; that's how many, many startups begin and scale initially," she said.
Pollak noted she has seen a sharp increase in activity among staffing companies and agencies that match companies with temporary and contract positions.
One benefit of using such services: they allow young companies to save money on things like payroll taxes and health insurance, she said. And once they start to grow, they'll likely have an easier time demonstrating to prospective employees that they, too, can offer job security.
From Your Site Articles
Related Articles Around the Web
Although Friday's U.S. jobs data show continued declines in unemployment, many economists, such as from ZipRecruiter and LinkedIn, are concerned at the data they're seeing.
One of them called the decline in employers' job postings on ZipRecruiter "an early tsunami warning" and a "pull-the-ripcord emergency moment."
Several factors suggest pessimism from businesses about the near future, including the recent dry-up of government stimulus alongside ongoing operating constraints due to the pandemic.
Friday's jobs report showed the U.S. unemployment figures continuing their decline to 8.4% in August, from a high of 14.7% in April.
Despite that welcome news, more recent data from L.A.-based ZipRecruiter contains unsettling signs for the future. After 10 weeks of rising activity from employers, job postings have reverted to a downward trend since mid-August.
"This is an early tsunami warning," ZipRecruiter labor economist Julia Pollak told dot.LA. "It could be the start of exactly the sort of systemic breakdown the government was trying to avoid in the beginning [of the pandemic]."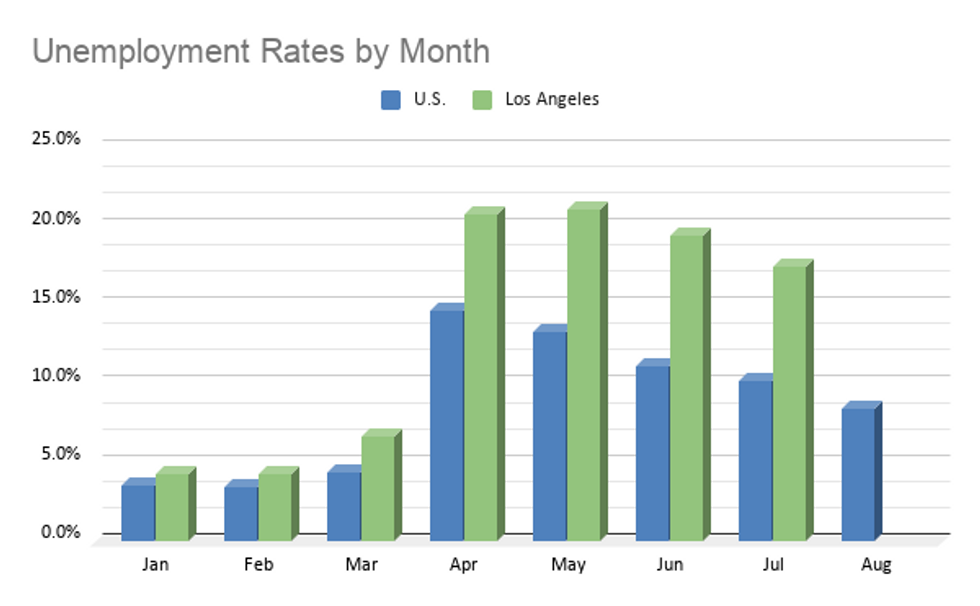 U.S. data provided by the U.S. Bureau of Labor Statistics. Local data provided by the California Employment Development Department and includes seasonally adjusted final data except for July, for which finalized data was not yet available. No local data was yet available for August.
Unemployment rates don't tell a full story about where the economy is headed, Pollak said. It's a reminder that she wants people in power to heed.

"I think Congress should see this as an emergency sign," she said, noting that job postings on ZipRecruiter tend to be an early indicator of job growth – or decline.
The job picture in California and Los Angeles is similar to that of the country at large, according to ZipRecruiter's data. Los Angeles has one of the highest rates of unemployment among large metro areas.

LinkedIn, another job board, found hiring was 16.2% lower this August than last year.
It's not surprising to Jerry Nickelsburg, an economist at the UCLA Anderson School of Management. He worries it will exacerbate inequality in Los Angeles, as industries being hit hardest tend to skew toward lower-income sectors, like logistics and tourism.
Nickelsburg said the federal unemployment data paints it a murky picture. The regulatory changes in recent months that led to a number of re-openings "mask what's going on underneath" at the economic level, he said. "We have less visibility than we normally have," Nickelsburg added. Assuming a continuation of the start-and-stop pace of opening up and the regulatory response, he foresees a "soft labor market in spite of the strong jobs report," noting that the job growth in today's data is fueled in part by temporary positions associated with the U.S. Census.

LinkedIn's principal economist Guy Berger also reported this week that hiring observed on LinkedIn (measured by the share of members adding a new employer to their profiles) fell from July to August. "Our takeaway is that this month's data shows that the virus has created a 'ceiling' on just how much the economy can return to normal," he said. "Given how much higher COVID transmission is here in the U.S. vs. aboard, the ceiling might be lower here."

"My real fear is what will happen in September," Pollak said. "I look at a downturn in job postings as a break-the-glass, pull-the-ripcord emergency moment."
Pollak said her alarm follows weeks of optimism. More companies had been signing up for ZipRecruiter's services. Every single industry and every single state had seen job postings increase in July and August, she said. But now, those trends have stopped, and a number of factors appear to be turning that summer of hope into a fall reckoning:
Ongoing Uncertainty: Without clarity on the pandemic and the government's policy to stop it, businesses remain inclined to do what they usually do in the face of uncertainty: sit and wait. Berger, the LinkedIn economist, said this is due at least in part to a "less centralized U.S. response" to the pandemic and that the uncertainty is holding businesses back from long-term investing and hiring.
Reduced Economic Activity: Anticipated closures of spectator sports, performing arts, colleges and ski resorts will hurt not just the businesses in those industries, but also adjacent ones like bars and restaurants. This expected dampening follows a quiet summer, which is normally the banner season for many such businesses. "Summer profit margins weren't large enough to sustain many businesses," Pollak said. Facing a future with fewer customers, "many will have to close in the fall."
Government Stimulus Is Drying Up: The $350 billion payment protection program loans designed to help employers pay their workers during the shutdowns ceased on August 8th. $600 weekly unemployment checks expired in July, causing a $60 billion reduction in unemployment payouts in August. "That is almost certainly reducing consumer spending right now," Pollak said, pointing to a survey ZipRecruiter conducted this summer that found over 40% of respondents would be unable to pay their rent if unemployment payments shrunk. Congressional talks on renewing a stimulus program have been gridlocked.
Schools Aren't Opening: Berger called virtual classes and delayed school re-openings "a severe challenge for households where all parents work." That's behind his topline takeaway that, in addition to a vaccine, his data point to a "need to get money back in the hands of Americans who need it and a childcare solution for the interim."
Consumer Confidence Is Down: Conference Board, a think tank, released data this week that consumer confidence has fallen two months in a row. "If confidence goes down, we can expect spending to go down," Pollak said – both among those who have no choice and those on the fence about, say, buying a house or a new car.
Pollak added that since neither the stock market nor housing values have crashed, her data point to widespread "concern about COVID, the future course of policy, and the ability for businesses to reopen and be sustainable given reduced sales and rules limiting their capacity."
Over the coming months she and others will be closely watching for the speed at which jobs are able to return to their pre-COVID baseline, and other indicators of a dynamic labor market. These include participation rates among prime-age workers and women, wage growth and long-term unemployment. But as long as the pandemic lingers, those indicators may be tepid.
"We can't fully bounce back until there is more certainty around the virus," Berger said.