national bureau of economic research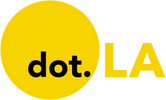 Get in the KNOW
on LA Startups & Tech
X
national bureau of economic research
Before COVID struck, economists at L.A.-based jobs marketplace ZipRecruiter had found that teacher job applications were down.
"We interviewed some teachers saying they had friends going into edtech companies and other startups, taking UX courses or going into content-marketing and tech roles and quickly 'earning so much more than we are'," ZipRecruiter labor economist Julia Pollak told dot.LA.
That led to a flight from the comforts of a stable job with a pension for the high-risk, high-reward world of startups. "There was a clear trend away from those safe jobs," Pollak said.
That trend seems to have reversed.
A new working paper from the National Bureau of Economic Research finds that, in the wake of the pandemic, job seekers have shifted their searches away from early-stage companies and toward large, established firms. They've also widened their search parameters, seemingly more open to a broader array of roles, industries, locations — even lower salaries.
What they seem less flexible about, however, is stability. And that could spell trouble for startups.
"Our findings uncover a flight to safety," the authors conclude.
The paper is based on proprietary data from AngelList Talent and was written by Shai Bernstein of Harvard Business School, Ting Xu of Darden School of Business at the University of Virginia and Richard Townsend of the Rady School of Management at UC-San Diego.
The trend "happens mainly among high-quality job seekers, which is what drives high-quality talents away from young startups to more established firms," Xu told dot.LA. "For example, you may be willing to commute farther, accept lower wages, or work in a less familiar sector in order to be affiliated with a larger firm."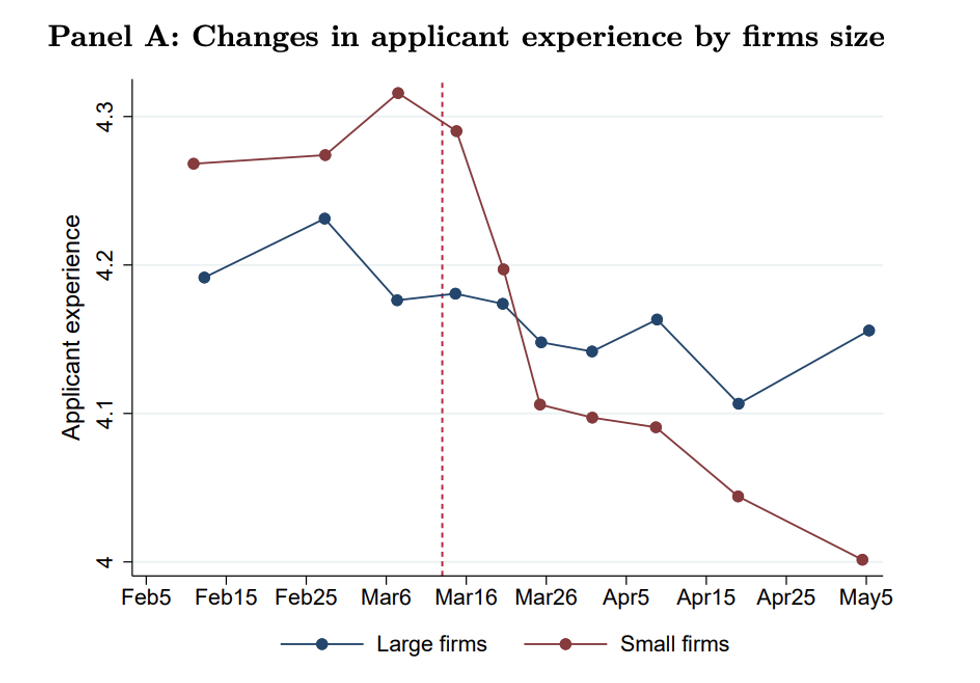 Panel A (Panel B) shows within-firm changes in the average experience (quality score) of job applicants from February to May 2020. Data from AngelList Talent
ZipRecruiter's Pollak was not affiliated with the study, but she said the trend makes sense. At a time when many people have lost their jobs to the pandemic, she said, it's no surprise that big names and established corporations would yield a higher proportion of searches.

"When you have people thrown into a job search very suddenly, they don't know what to search for. (In such a situation), most searches on ZipRecruiter are from people who don't know what they want, but to the extent they know of employers, it's those with household names and brand recognition that often get more applicants," she said.
Pollak added that established companies are more likely than startups to hire in multiple cities, and to offer remote work opportunities. Job searches for "remote work" and "work from home" have skyrocketed, Pollak said, so it follows that firms that offer those opportunities are seeing more applications.
What Can Startups Seeking Talent Do?
"Unfortunately our results mean that early-stage ventures need to try harder to attract talent during downturns," said Xu.
One thing Xu suggested might make top talent accept more risk in unstable times: more money. If that doesn't work, he suggested that startups get creative, perhaps offering more equity and/or flexibility.
Pollak had some suggestions as well.
"These days, when you start a company, you often don't need to hire that many organic staff members. You can get an HR service and an accounting service and rent computers and use an IT service; that's how many, many startups begin and scale initially," she said.
Pollak noted she has seen a sharp increase in activity among staffing companies and agencies that match companies with temporary and contract positions.
One benefit of using such services: they allow young companies to save money on things like payroll taxes and health insurance, she said. And once they start to grow, they'll likely have an easier time demonstrating to prospective employees that they, too, can offer job security.
From Your Site Articles
Related Articles Around the Web
Photo by chris panas on Unsplash
A new study quantifying the impact of COVID-19 on American small businesses confirms what many have suspected. Black small business owners have been ravaged by the pandemic. They were nearly twice as likely to have shut down in the last several months compared to the national average. Latinx, immigrant and female owners have also fared poorly.

The research, published this week in a working paper by the National Bureau of Economic Research, examines data from the U.S. Census Bureau and U.S. Bureau of Labor Statistics to compare small business ownership between February and April of this year, with the onset of the pandemic falling squarely in the middle of that timeframe. In doing so, Robert Fairlie, economics professor at U.C. Santa Cruz and the paper's author, reveals how the virus' effects have damaged small businesses in different communities.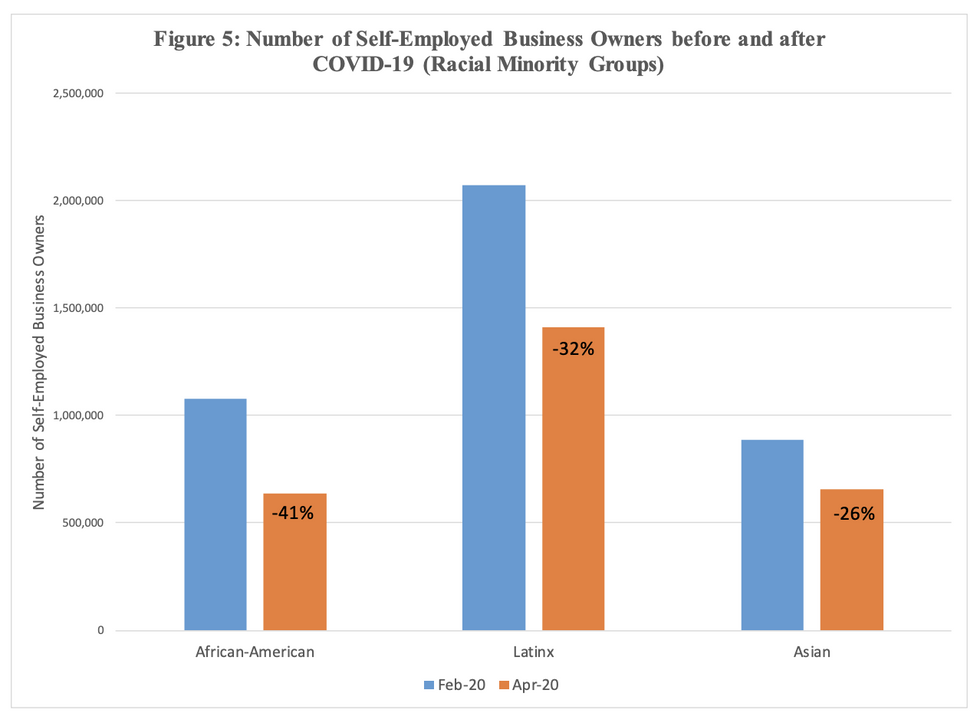 Data from the National Bureau of Economic Research
In the time period studied, the number of people who said the majority of their working week was devoted to their own business fell by 22%. Among black business owners, however, the decline was 41%. That number was 36% among immigrants; 32% among Latinx; and 26% among women.

The analysis does not break the data down by geography, but local experts see a direct connection to what's happened in the L.A. region.
Downtown L.A.-based Camino Financial, a financial services provider, recently published its own study on the current health of Latinx-owned businesses. It examined loan repayment data through May of this year, and found that Latinx businesses in California have had a 40% higher incidence of nonpayment compared to peer companies in Texas and Florida – two of the three other states besides California with the highest proportion of Latinx-owned businesses. The only other state seeing similar nonpayment rates is New York.
"There is a very strong correlation between the impact of COVID on businesses and the overall impact on the area itself," Camino Chief Executive Officer Sean Salas says. What's happened throughout the country is likely to be happening in L.A., he says. Perhaps more intensely, given that 40% of California's population is Latinx, and over 30% of the state's Latinx businesses are in Southern California.
L.A.'s black small business community was hit extremely hard, says Dr. Rhonda Thornton-Crawford, director of the USC Small Business Diversity Office. "Black business has been disproportionately distressed for far longer than the COVID-19 pandemic...We are again face-to-face with the reality of lack, loss, and limited opportunities."
Explaining the Inequity
"I've had perfect credit, I have a six-figure income, I have a degree from a great school. But institutions of all types would still see my name and discriminate," says Lilly Rocha, formally Liliana Patricia Rocha Castellar, Chief Executive Officer of the Los Angeles Latino Chamber of Commerce.
She's seen the pandemic hit her community hard.
"A lot of our smaller businesses...they're gone. They're done."
Latinx business owners have struggled to obtain emergency relief funds and leniency from landlords, among other hardships, Rocha says.
She and Salas both note that the initial implementation of the government-relief Paycheck Protection Program did a poor job of helping the businesses most in need. Some of the damage, however, has been mitigated since the program was expanded, they say.
But in explaining why minority-owned businesses have had less access to relief, Salas points to several factors that make these businesses vulnerable even in normal times.
First, Salas says that such businesses "over-index in operating informally structured companies as it relates to legal formation, cash flow management and other administrative-related tasks." This makes it harder for them to get financing at a level that aligns with their actual business needs, rather than based on what official records show. Undocumented-owned businesses are also more likely to be informal, cash-based companies due to owners' limited formal education and fear of deportation. (For what it's worth, Salas highlights his firm's estimate that, nationwide, approximately 800,000 undocumented-owned businesses generate around $100 billion in sales, "and get zero benefits in exchange.")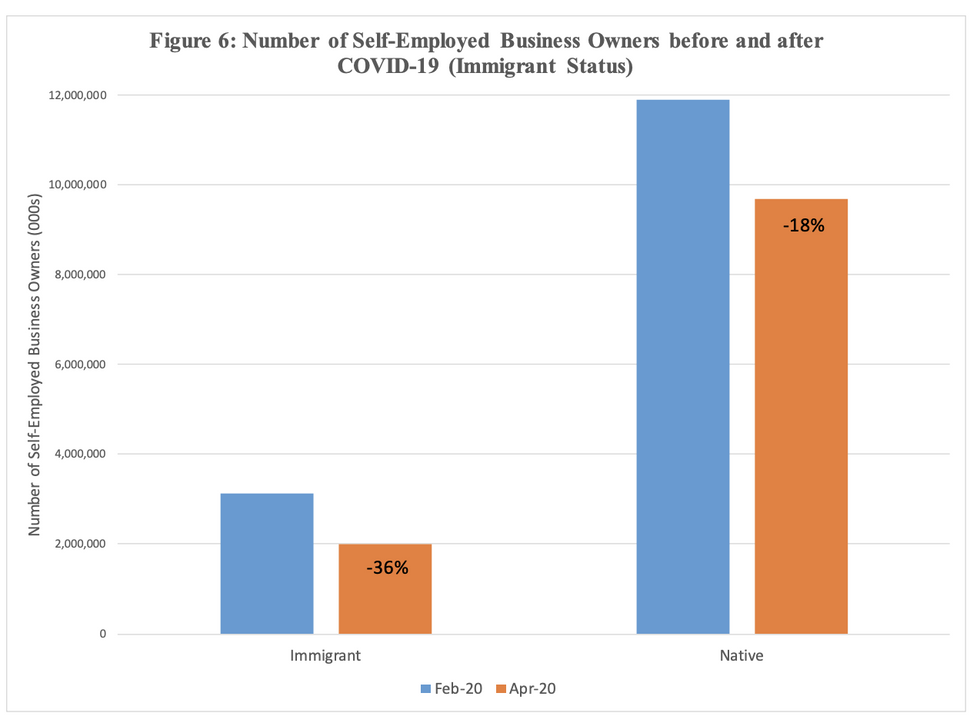 Data from the National Bureau of Economic Research
Minority and immigrant-owned businesses also tend to make less money and have been operating for less time on average, both of which, Salas says, exacerbate their vulnerability.

Jamarah Hayner, vice chair of the Greater L.A. African American Chamber of Commerce, adds that in the black community, "Historic problems like access to capital have been exacerbated... Most of our businesses are smaller and often family-owned, and we don't always have access to in-house or retained accountants and financial staffs, which make loan applications difficult to tackle. Further, we participate heavily in the restaurant, fitness and beauty industries, which were decimated during the shutdown. Lastly, black-owned businesses have found great success in the past decades in the manufacturing supply chain, so we've struggled as factories have shuttered."
What Comes Next?
"The next important question is whether the shutdowns of small businesses are temporary or longer term," Fairlie writes.
Salas sees the situation unfolding in three stages – relief, recovery, and reinvention – and notes that we're just entering the second stage.
"I think there's a silver lining in the reinvention to come," Salas says, pointing to four potential changes that could lay the groundwork for a more equitable future.
One is an accelerated adoption of financial technologies among Community Development Financial Institutions (CDFIs), which are meant to provide financial resources to distressed communities. In tandem, Salas says, the Community Reinvestment Act, a federal law meant to encourage lending to low-income neighborhoods, should be modernized. Its allocation of funding, for example, shouldn't be tied to banks' physical branch locations, which are increasingly closing down as the financial system digitizes.
Salas also points to the need for a realignment of incentives to drive investment from both banks and private investors.
"If we leave these businesses behind," he concludes, "over time it will come back and hurt us."
"Business leaders, businesses and communities must sit down and talk about a cohesive, concrete collective mapping of what is needed," Thornton adds. "The time is now."