Top Talent is Looking for Safety in an Unstable Economy. What's a Startup to Do?
Sam Blake
Sam primarily covers entertainment and media for dot.LA. Previously he was Marjorie Deane Fellow at The Economist, where he wrote for the business and finance sections of the print edition. He has also worked at the XPRIZE Foundation, U.S. Government Accountability Office, KCRW, and MLB Advanced Media (now Disney Streaming Services). He holds an MBA from UCLA Anderson, an MPP from UCLA Luskin and a BA in History from University of Michigan. Email him at samblake@dot.LA and find him on Twitter @hisamblake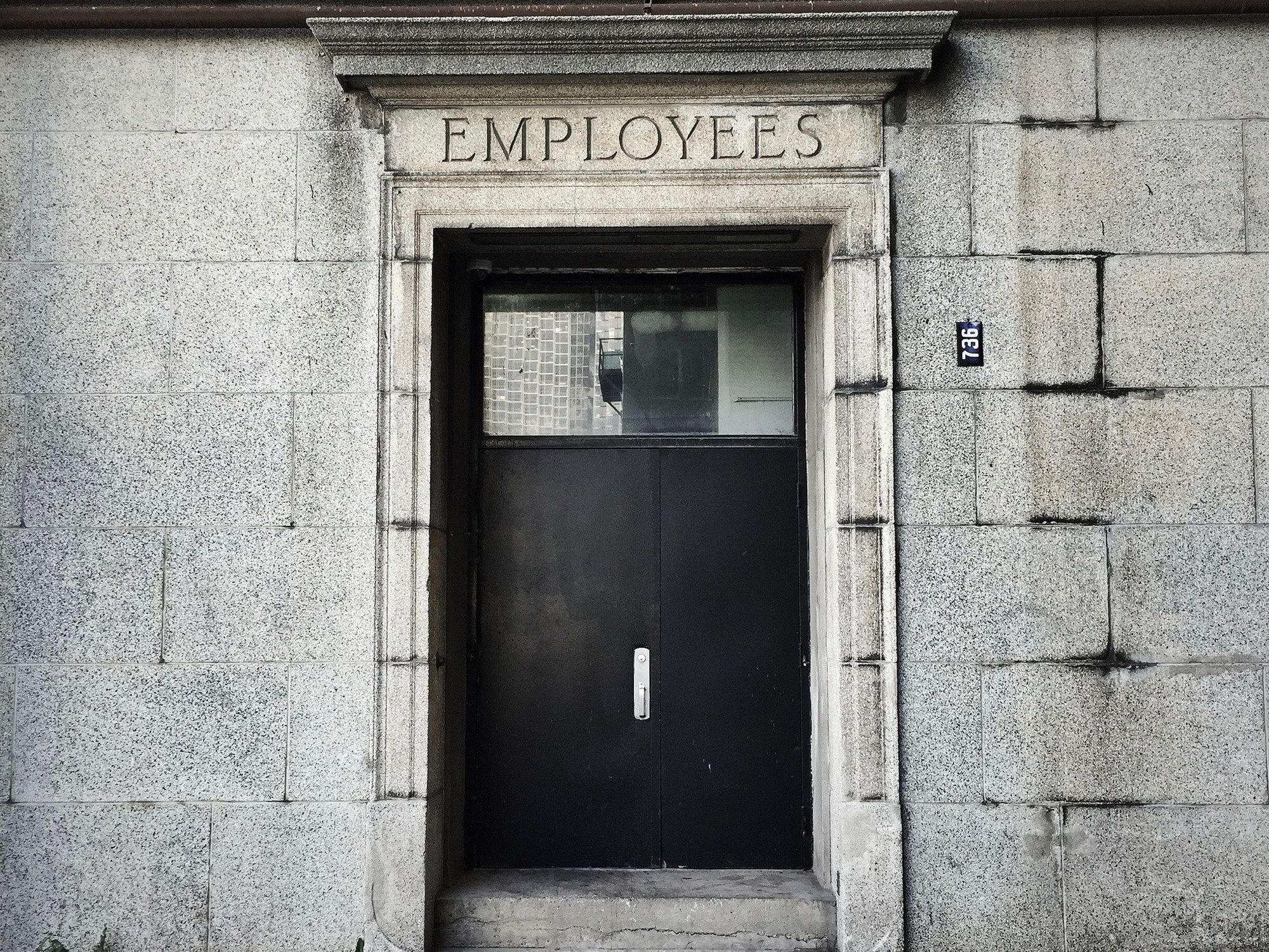 Before COVID struck, economists at L.A.-based jobs marketplace ZipRecruiter had found that teacher job applications were down.
"We interviewed some teachers saying they had friends going into edtech companies and other startups, taking UX courses or going into content-marketing and tech roles and quickly 'earning so much more than we are'," ZipRecruiter labor economist Julia Pollak told dot.LA.
That led to a flight from the comforts of a stable job with a pension for the high-risk, high-reward world of startups. "There was a clear trend away from those safe jobs," Pollak said.
That trend seems to have reversed.
---
A new working paper from the National Bureau of Economic Research finds that, in the wake of the pandemic, job seekers have shifted their searches away from early-stage companies and toward large, established firms. They've also widened their search parameters, seemingly more open to a broader array of roles, industries, locations — even lower salaries.
What they seem less flexible about, however, is stability. And that could spell trouble for startups.
"Our findings uncover a flight to safety," the authors conclude.
The paper is based on proprietary data from AngelList Talent and was written by Shai Bernstein of Harvard Business School, Ting Xu of Darden School of Business at the University of Virginia and Richard Townsend of the Rady School of Management at UC-San Diego.
The trend "happens mainly among high-quality job seekers, which is what drives high-quality talents away from young startups to more established firms," Xu told dot.LA. "For example, you may be willing to commute farther, accept lower wages, or work in a less familiar sector in order to be affiliated with a larger firm."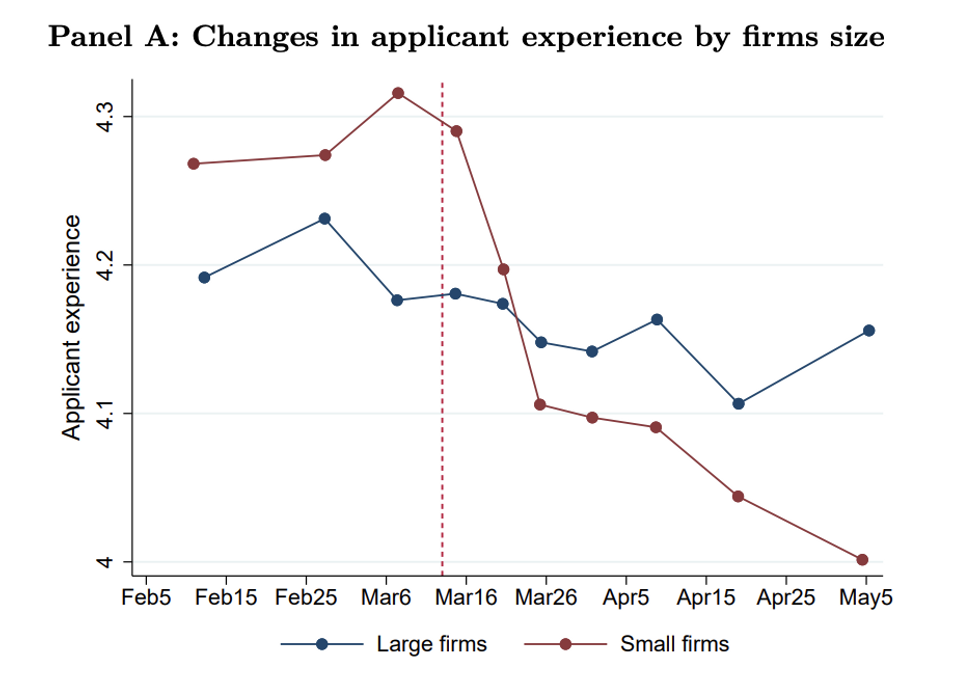 Panel A (Panel B) shows within-firm changes in the average experience (quality score) of job applicants from February to May 2020. Data from AngelList Talent
ZipRecruiter's Pollak was not affiliated with the study, but she said the trend makes sense. At a time when many people have lost their jobs to the pandemic, she said, it's no surprise that big names and established corporations would yield a higher proportion of searches.

"When you have people thrown into a job search very suddenly, they don't know what to search for. (In such a situation), most searches on ZipRecruiter are from people who don't know what they want, but to the extent they know of employers, it's those with household names and brand recognition that often get more applicants," she said.
Pollak added that established companies are more likely than startups to hire in multiple cities, and to offer remote work opportunities. Job searches for "remote work" and "work from home" have skyrocketed, Pollak said, so it follows that firms that offer those opportunities are seeing more applications.
What Can Startups Seeking Talent Do?
"Unfortunately our results mean that early-stage ventures need to try harder to attract talent during downturns," said Xu.
One thing Xu suggested might make top talent accept more risk in unstable times: more money. If that doesn't work, he suggested that startups get creative, perhaps offering more equity and/or flexibility.
Pollak had some suggestions as well.
"These days, when you start a company, you often don't need to hire that many organic staff members. You can get an HR service and an accounting service and rent computers and use an IT service; that's how many, many startups begin and scale initially," she said.
Pollak noted she has seen a sharp increase in activity among staffing companies and agencies that match companies with temporary and contract positions.
One benefit of using such services: they allow young companies to save money on things like payroll taxes and health insurance, she said. And once they start to grow, they'll likely have an easier time demonstrating to prospective employees that they, too, can offer job security.
Sam Blake
Sam primarily covers entertainment and media for dot.LA. Previously he was Marjorie Deane Fellow at The Economist, where he wrote for the business and finance sections of the print edition. He has also worked at the XPRIZE Foundation, U.S. Government Accountability Office, KCRW, and MLB Advanced Media (now Disney Streaming Services). He holds an MBA from UCLA Anderson, an MPP from UCLA Luskin and a BA in History from University of Michigan. Email him at samblake@dot.LA and find him on Twitter @hisamblake
https://twitter.com/hisamblake
samblake@dot.la