bird
bird
Scooter startup Bird is still losing money hand over fist, though the losses are slowing slightly and revenue is picking up as pandemic restrictions ease.

With plans to go public via a SPAC, the Santa Monica company released its second-quarter results for 2021 today and net losses in the quarter dropped to $43.7 million compared to $50 million the same time last year. But revenue soared 477% from $60 million during the same quarter last year , thanks in no small part to riders returning from lockdowns.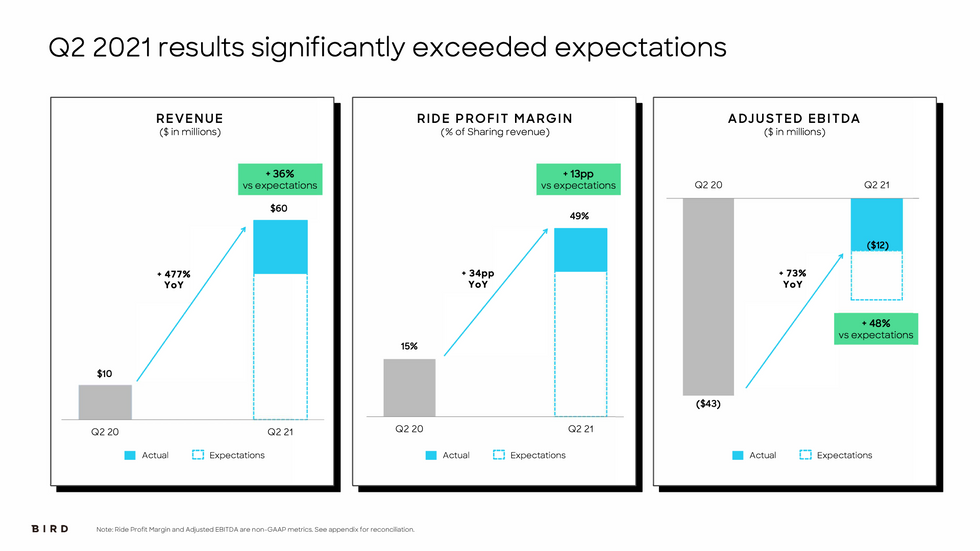 In the runup to Bird's New York Stock Exchange debut, scrutiny has ramped up. The company's release today strikes a tone of reassurance.

"We expect to see continued margin improvement as global demand returns to pre-pandemic levels," said Chief Financial Officer Yibo Ling, who noted that ride profit margins have stayed above 35% in the past four quarters.
Plus Bird said its second quarter revenue topped internal expectations by 36%.
Alongside today's news, Bird is kicking off sales of its first e-bike, which features a range of 50 miles and a removable 36v battery. The company told dot.LA that its Bird Bike was created to be "an alternative to carbon-heavy, short distance car trips."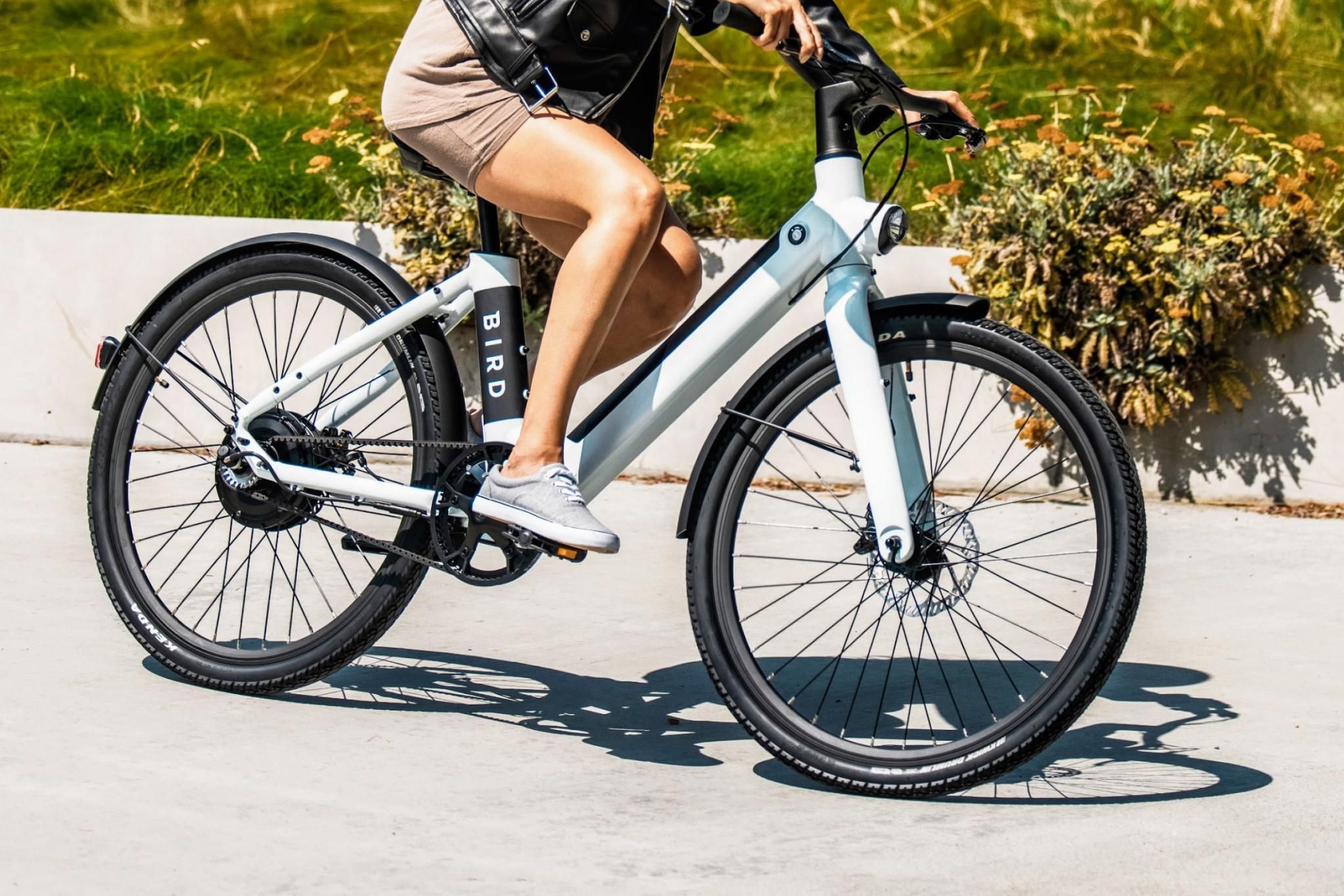 Founded in 2017, Bird leads its competitors Lime, Spin and Lyft by scooter-rental revenue. The firm has grown quickly, but after the pandemic hit it laid off 406 people in two minutes via a Zoom webinar.

So far this year, Bird has expanded into e-bikes and introduced what it calls "the industry's most eco-friendly shared e-scooter," though electric scooters were found to be less green than they might seem in a 2019 study conducted by North Carolina State University researchers.
Also this year, Bird launched in New York City, debuted on Google Maps and notched another milestone as it grew to serve 300 cities. Bird has yet to go public, but the Los Angeles business plans to do so during its third quarter in a blank-check deal that implies a $2.3 billion valuation.
From Your Site Articles
Related Articles Around the Web
People navigating via Google Maps can now easily see Bird scooters available along their routes. Google also added San Francisco-based Spin to their app this week.
The move is the latest in Santa Monica-based Bird's partnerships with mobility-as-a-service platforms around the globe, such as Skipr and Tranzer. The company said in May that it plans to go public in a SPAC valued at $2.3 billion.
In addition to Spin and Bird, vehicles from micromobility giant Lime may also show up on the Google Maps app when searching for bike-friendly routes. The integration of Spin was announced just yesterday while Lime has been integrated in Google Maps since 2018.
To use the new feature, users can type in their location and destination into the Google Maps app and then opt to see bike-friendly routes. Then, if there are Bird scooters nearby, the app will display the Bird logo in those locations. If a user wants to use a scooter, they will be taken to the Bird app to complete their transaction.
Derek Paley, director of the Maryland Robotics Center at the University of Maryland who has done work in micromobility, pointed out that this could make scooter use easier, as it not only helps users find nearby scooters, but also scooter-friendly routes.
The announcement comes on the same day that the company is installing its scooters in New York City for the first time, along with competitors Veo and Lime.
Bird did not respond to a request for comment.
Deirdre Oakley, a professor of Urban Studies at Georgia State University who has done research on micromobility, said she is skeptical that a feature like this could prompt a significant number of non-Bird users to start using Bird vehicles. But, she is optimistic that it could increase the number of rides among those who are already Bird users.
Lime spokesperson Russell Murphy said that the company has seen "great user acquisition through Google Maps as it's one of the most widely used trip planning apps available."
Adding to the environmental benefits of e-scooters, Murphy also said that electric scooters are a preferable pandemic travel option: "With the Delta variant spreading, we also see riders once again turning to micromobility to travel as it's open air and you can socially distance naturally."
From Your Site Articles
Related Articles Around the Web
The L.A. tech scene is booming despite a year-plus pandemic and a string of natural disasters. Rocket makers, sneaker sellers and fusion power creators were among those that dominated the list of L.A. venture deals for the first half of 2021.
On Wednesday, the National Venture Capital Association and Pitchbook released their Venture Monitor report which tracks investment across the country. Both Los Angeles and the U.S. overall notched record-breaking levels of VC investment as the COVID-19 pandemic rebound continues.
A few highlights from the report:
At the national level, megadeals of $100 million have become more common, and L.A. appears to be no exception, with all 10 of its largest deals coming it at $100 million-plus.
VC investment in Q2 for the Los Angeles-Long Beach area totaled $8.5 billion, spread across 365 different deals. That's slightly down from Q1's $9.4 billion, but still more than double the investment from the same time period last year ($3.9 billion).
Los Angeles remains a powerhouse, but it still lags behind Silicon Valley. The $8.5 billion dollars of Q2 investment puts Los Angeles-Long Beach second, behind only the Bay Area ($26.7 billion) and New York City ($12.6 billion) in terms of total VC deal activity. Boston, Seattle and Denver round out the top 6.
The white-hot market streak continues. For the year to date, VC investment in the Los Angeles-Long Beach area has totaled $17.9 billion across 762 deals. That's easily on pace to shatter 2020's record total of $22.7 billion.
The three largest deals in the Los Angeles-Long Beach area came from the aerospace industry. Elon Musk's SpaceX raised $1.2 billion while upstart rival 3-D rocketmaker Relativity Space pulled in $650 million sending its valuation soaring to $4.2 billion. Defense contractor raised $450 million catapulting the Irvine-based company's valuation to $4.6 billion.
Of the top 10 largest deals, three were fintech software companies.
Energy and software also received large investments in excess of $100 million.
Santa Monica scooter company Bird Rides, which is plotting out an IPO via SPAC, also made the list. The blank-check company Switchback II Corporation was marketing a PIPE offering to investors.
All of the top 10 largest VC investments were later stage investments—a trend which was generalizable across the entire United States.
Exits were strong nationally and for the Los Angeles-Long Beach area, with IPOs representing the dominant pathway to liquidity. The region's largest exits came from FIGS, ZipRecruiter and Bridg.

FIGS, the Santa Monica Healthcare apparel brand, IPO'd for an exit of $3.4 billion.
ZipRecruiter, the Santa Monica online recruiting platform, also IPO'd for an exit of $2.4 billion.
Bridg, the Los Angeles SaaS data infrastructure company, was acquired by Cardlytics for an exit of $350 million.
Here's a look at Pitchbook's list of the biggest second-quarter deals in Southern California — from the Santa Barbara area to Orange County: