wondery
Los Angeles-based Goodpods launched at the start of the pandemic in the hopes of answering the question "What podcast should I listen to?"
As the podcast market has become more saturated, more and more companies are trying to make discovery easier. Google's Podcast app relies on AI-powered suggestions to lure listeners. Other podcasting platforms like Breaker take an approach more like that of social media.
"So many podcasts are being created every single day. And so the vast universe of podcasts that you can listen to is just getting bigger and bigger," said JJ Ramberg, co-founder of Goodpods. "Discovery is getting harder and harder."

Ramberg, the former host of MSNBC's weekend business program "Your Business" and "Been There Built That" podcast, came up with the idea for Goodpods after she found herself stalling her daily jog so she could search for a good podcast. She realized there was likely a more efficient way to ask her friends for podcast recommendations.
So she co-founded Goodpods with her brother, Ken Ramberg, as a way to stay connected with friends about what they were listening to in the podcast world. Both Rambergs are investors in dot.LA.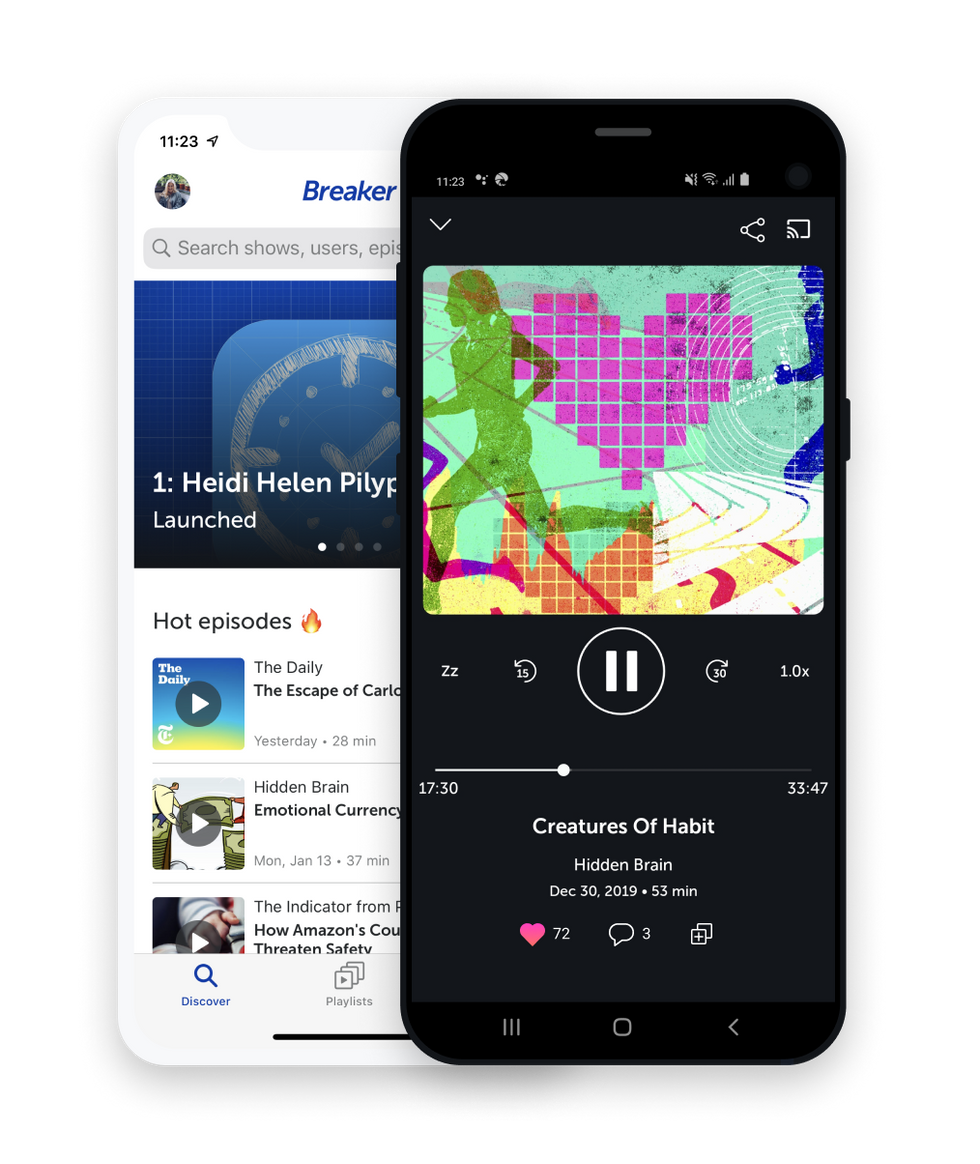 Breaker was recently bought by L.A.-based Maple Media.
"Rotten Tomatoes does it for movies. Yelp does it for restaurants, Goodreads did it for books," said Ken Ramberg. "There was no really social network or discovery platform for good podcasts, really."

Over half of Americans have listened to a podcast and about a quarter listen to a podcast at least once a week, according to a recent survey by Edison Research, which examines trends in digital media consumer behavior.
Breaker, a social podcasting app similar to Goodpods, has also been trying to make it easier for listeners to find podcasts they love. Maple Media, run by Michael Ritter, recently bought the platform and its social media handles after Twitter absorbed their staff. He thinks the problem is that all this content was created without a well-thought-out infrastructure that could channel it to consumers.
"Podcast discovery trails other media formats, such as video," Ritter said. "YouTube executes very well with a robust recommendation system that has been refined over the past 15 years and TikTok is innovating in this area as well. Podcasting does not have this infrastructure, but new shows and audiences are both growing very quickly."
Goodpods launched at the start 2020, and has averaged over 1,000 downloads monthly since, according to Apple app store data. Since March, the Los Angeles-based app has attracted attention from celebrities including Kim Kardashian West, who offered to follow back the first 10 people who followed her on the app — a move that was not a paid partnership in any way, said JJ Ramberg.
Other notable users include journalist and author Malcolm Gladwell, actor and producer Alyssa Milano and journalist and host Katie Couric.
Among the groups that have popped up on the app's recently released feature are "Gen Z College Podcasters," university students who are sharing the podcasts they've made with each other; "History Lovers," podcast listeners who share their favorite podcasts; and "Slopeside Pod Club," whose description reads "Pods for dog walks."
Podcast creators can also use the app to see how many listens their own podcasts are getting and they can interact directly with their audiences, enabling them to crowdsource opinions and ideas for later content.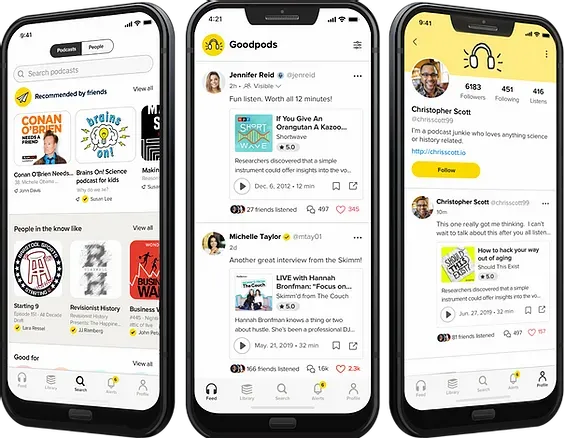 Goodpods aims to make it easier for listeners to find podcasts they love.
Podcasts have long had trouble gaining new audiences, so there is a market for companies like Goodpods if they can successfully create a revenue model.

"Podcast discoverability isn't a business in itself," said Colin Maclay, a research professor of communication at USC and executive director of USC Annenberg's Innovation Lab. "It may be a feature, but it is not a business by itself. But if you imagine a mixture of a social network with that, then you maybe [can] build toward a business."
Maclay is optimistic that larger players in the podcasting world like Amazon, who recently acquired Wondery, Spotify and Apple, won't crowd out smaller companies like Goodpods. He points to Twitter, which started as a podcasting app, and eventually grew into a much more general social media site.
Ritter, who now runs Breaker, said the advantage companies like his have is that larger players have been more focused on exclusive content rather than the social aspects of podcasting such as sharing and listening — both key to discovery.
"We believe social podcasting platforms continue to have plenty of room to innovate and create unique sharing and listening experiences in the future," said Ritter.
As for the Rambergs, this is not their first venture together. In 2005 they founded Goodshop, an online shopping coupon code site that donates a portion of each sale to charity. It's raised $13 million since it launched, donating to causes from local schools and dog shelters to the American Cancer Society. Ken Ramberg also co-founded JOBTRAK, a college job site which was acquired by Monster.com in 2000.
When asked what Goodpods' plans are moving forward, JJ Ramberg said: "We're still early days. It's not even been a year yet. So we are 100% focused on the user experience and fulfilling the promise that users find great new podcasts, and podcasters find new users."
From Your Site Articles
Related Articles Around the Web
Here are the latest updates on news affecting Los Angeles' startup and tech communities. Sign up for our newsletter and follow dot.LA on Twitter for more.
Today:
Apple Podcast Veteran Steve Wilson Joins Startup QCODE
Amazon in Exclusive Talks to Buy Podcast Studio Wondery, Wall Street Journal Reports
Pharrell Launches Black Ambition Incubator
Over the past five years, West Hollywood-based Wondery transformed from Hernan Lopez's hunch about the future of audio to the sixth largest podcast publisher in the U.S., boasting over 8 million monthly listeners and 30 hit shows.
A former 21st Century Fox executive, Lopez started the podcast studio with the belief that in-depth, narrative audio stories were poised to bloom much like serialized television dramas had when he was in TV; he wanted to make "Breaking Bad" and "Mad Men" versions of podcasts.
Wondery has produced dozens of original series including "Dr. Death" and "Business Wars," and has 19 shows currently in development to become television series. Sony and Apple are reportedly interested in snapping up the producer as the media behemoths try to ramp up their presence in the growing podcast market.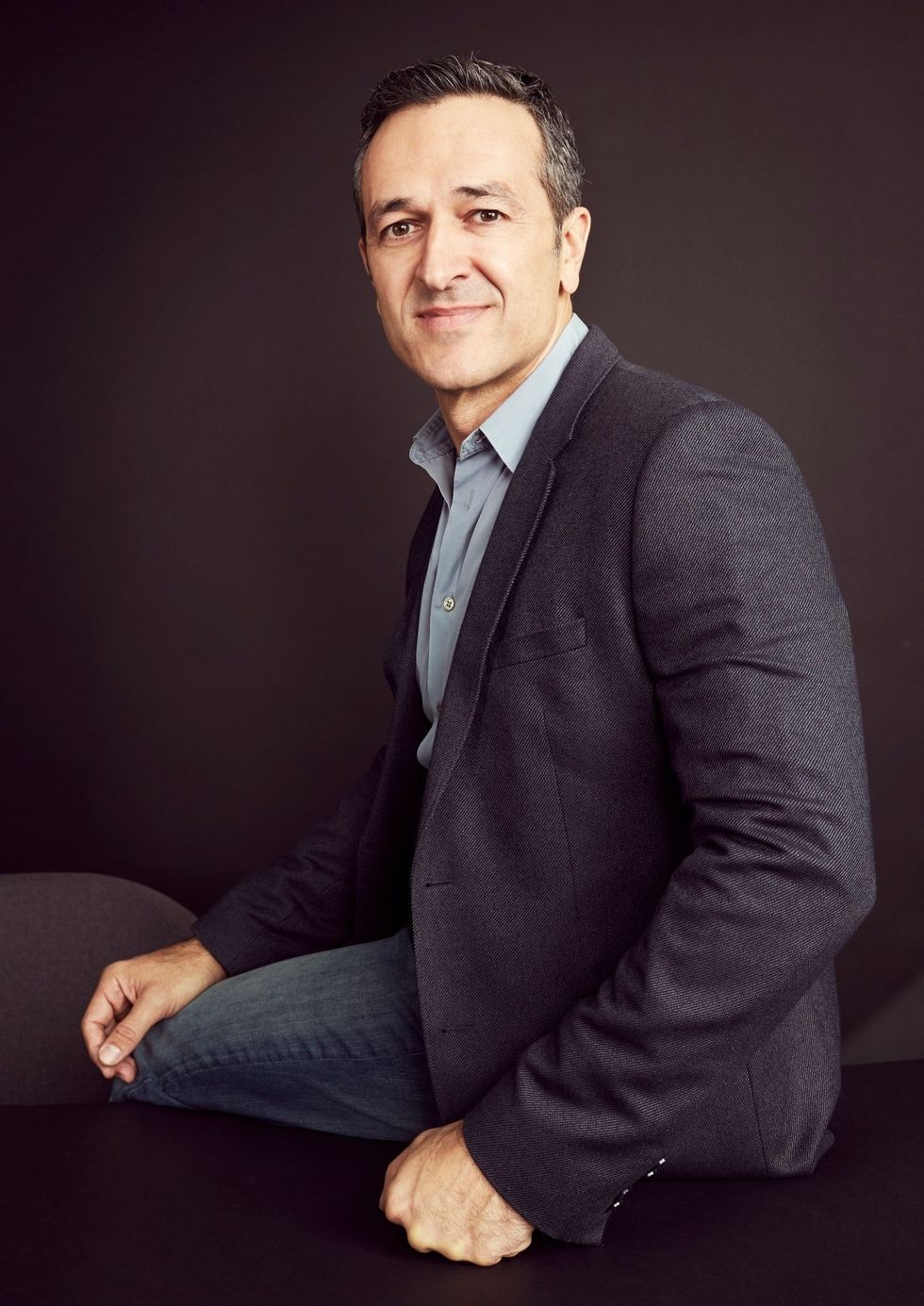 Hernan Lopez started Wondery with the belief that in-depth, narrative audio stories were poised to bloom.
Wondery does not publicly disclosed its financials, but Lopez has previously said the company is profitable. Some analysts reportedly peg its worth between $300 and $400 million. About three-quarters of Wondery's revenue comes from advertising, but Lopez said its revenue share from content licensing is growing (Wondery owns the intellectual property for all of its originals). It also launched a subscription service, Wondery Plus, in June.
While the company is enjoying its moment, Lopez is personally under fire. He's facing allegations for wire fraud and bribery stemming from his time at Fox, in relation to broadcasting rights for international soccer tournaments. He has denied any wrongdoing but the situation has cast a cloud over the company.
dot.LA spoke with the Wondery chief about the allegations, why he thinks the podcast industry needs to diversify its revenue streams, and how memories of the early days of Netflix are driving the surge of podcasting M&A.

Regarding the allegations against you of bribery and wire fraud – around which you've said you maintain your innocence and believe you will be exonerated by a jury – what's your understanding of how the prosecutors even came to the impression that these allegations occurred and that you were involved?

All I'll tell you is that they got it wrong. I know that they got it wrong and my lawyers know that they got it wrong. And, I'm very confident that when the facts come out they will see that they got it wrong, but I don't really want to comment beyond that.
How is this episode affecting the company and you personally?
As you would expect, it's something that you feel is unfair, because being unfairly accused of something, wrongly accused of something, it's just...not great. What can I say? But I just keep my chin up, and I'm going to work every day knowing, in my heart, that people that know my character and know me – that if you ask anybody they will tell you, anybody who knows me, knows that there's no way that that will be true. And it's not affecting the company.
What can you tell me about the swirling talks that Wondery might soon be acquired?

The only thing that we're saying publicly is that it shouldn't be surprising that companies are approaching us.
Hypothetically speaking, then, if you were further to explore being acquired, what kind of arrangement would be attractive to you?
All I can say is that we love being independent. I've had a lot of fun and I'm still having a lot of fun running this company and building it from the ground up. So for us, that independent spirit means a lot. Driving value and continuing to make the shows that our listeners care about is of utmost importance. And making sure that our employees are thriving and happy is hugely important; every single one of our employees has an option or is a stockholder and I just want to make sure that whatever we end up doing, it's the right outcome for them.
What's your vision on how you see the podcasting industry growing and improving its monetization?
The more diversified your revenue streams, and the more recurring, the better for the health of a business. So I think we're going to see more people realizing that revenue streams beyond advertising don't detract from advertising revenue because not only can you have multiple revenue streams, but they sometimes can even help your advertising business. Every time there's a television show on air about one of our podcasts, our listening goes up, and that in turn helps our advertising business and also helps our subscription business, because it's just more awareness of the story and more awareness of the Wondery brand.
How has the pandemic affected Wondery in terms of audience size and revenue?
We were hit in the second quarter on advertising revenue but that's way more than reversed now. On audience size, we're now higher than we were before the pandemic. I think that's true industry-wide, because what's happened is that a lot of people discovered how they could listen to podcasts at home, in moments of the day that they weren't previously listening.
Q3 was through-the-roof strong. For us, it was essentially double year- on- year. And Q4 is very strong as well. Our non-advertising revenue was significantly up versus last year in the second quarter and throughout this year; we finalized a number of licensing deals in the second quarter and that laid the foundation for recurring revenue over the following months.
What are your plans for Wondery's further growth?
The primary driver is continued audience growth, and better monetization from multiple revenue streams and Wondery Plus; a subscription business is a very strategically important part of our business because it not only brings revenue, but it also allows us to connect directly with our superfans.
We also want our share of international revenue to keep increasing over time. We've been doing limited local language translation, partially because the marketplaces outside of the U.S. are younger than the U.S. is, and we have wanted to concentrate first on monetizing our English-language audience, which is significant in Canada, Australia, and the U.K. But now we're ready to accelerate our local language strategy, starting next year, and even produce fully local stories in some places.
How does being headquartered in Los Angeles help Wondery?
Los Angeles is the capital of the entertainment world, especially when it comes to television, and a lot of what we do is borrowed from the television and film industries, both on the creative and editorial side as well as the marketing toolkit. So it's easier here to talk to somebody who knows what characters and stakes are, because everybody in Hollywood talks about characters and stakes.
What do you see as the driver behind the recent consolidation in podcasting, and to what extent do you think it will continue, whether Wondery's involved or not?
I'll give you an analogy. In 2010, when I was at Fox – and you could've said the same thing at Disney or Viacom or Comcast – we were all looking at Netflix and thinking, 'That's a cute little company.' It was worth $3 billion and I can guarantee you, all of us, at the time, thought it was hugely overvalued – that one day people are going to realize how silly they were that they were valuing Netflix at $3 billion.
In 2010, they were two years into streaming, broadband connections weren't as good and streaming libraries were not great and people barely had started using the iPad, so Netflix was still better known for the DVD business than it was known for the streaming business. $3 billion. Only 10 years later, how much is Netflix worth today? More than all of the other media companies. So, I think what's happened is that a lot of the companies that missed out on the potential to buy Netflix, and a lot of companies who are parallel, are looking at that and saying, 'Look, are we going to miss out on a massive consumer trend?' It's undeniable that there's an increase in consumption of audio in general, and in particular of podcasts, so companies want to be part of that consumer trend.
Do you see that affecting Wondery's competitiveness?
I don't, because there's something really powerful about being a neutral and independent platform with the ability to launch 30 number one hits, which is when creators want to make their show, they typically care about three things: a) how they're treated creatively; b) how many listeners are their shows going to be in front of; and c) the economics. It's hard to find the ideal combination of all three for any creator and Wondery's an ideal home for all three. There aren't many other companies that have taken a complex story idea to an end product as repeatedly as we have.
Editor's note: This interview has been edited for brevity and clarity.
From Your Site Articles
Related Articles Around the Web