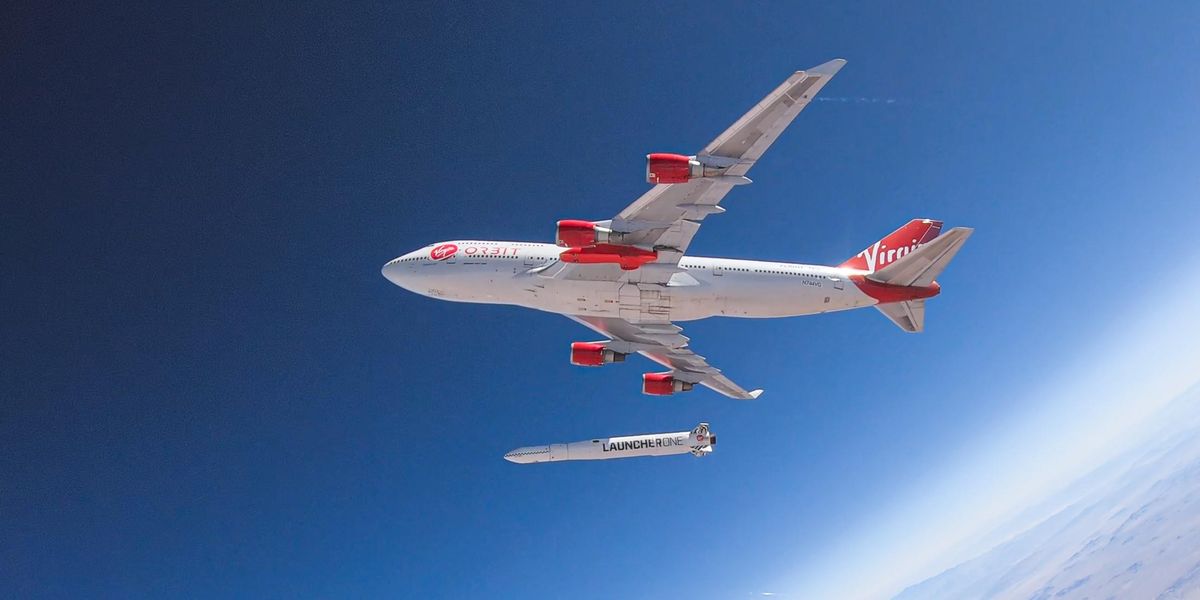 Image courtesy of Virgin Orbit
This is the web version of dot.LA's daily newsletter. Sign up to get the latest news on Southern California's tech, startup and venture capital scene.
Sponsor message: Unlock coworking spaces near you with WeWork All Access. Enjoy 25% off monthly membership fees for up to 5 months with code ALLACCESS25. Terms apply. Visit wework.com to get started.
The last few months have been a choppy ride for Richard Branson's SpaceX competitor Virgin Orbit.
Since going public last December, Virgin's stock has tanked nearly 70%. It's currently sitting at just over $2, prompting this reporter to worry if they might face a delisting warning from the SEC sometime soon.
---
To date Virgin Orbit's pushed 33 satellites into space across four launches, all from Virgin's outpost at the Mojave Air and Space Port.
Local rival Long Beach-based Rocket Lab launched its 152nd satellite in November. Granted, Rocket Lab was founded nearly a decade before Virgin Orbit, so if Virgin Orbit continues its trajectory of at least 33 satellite launches per year for the same time period, it could actually end up outpacing Rocket Lab.
That said, Virgin did say it plans to double its 2022 launch rate next year. The company also implied that there's a handful of customers queued to use its satellite launch services, noting it will "expand backlog" in launch and international space ports. One such spaceports is in Cornwall, U.K., where its equipment is awaiting regulatory approval. In October the company also expressed interest in expanding to Australia, Brazil, Japan, Poland and South Korea. It's currently working to establish an outpost in Belgium.
One potential advantage that Virgin has here is that it uses a unique air-launch system – meaning it straps its rockets to the belly of its Cosmic Girl Boeing plane, then drops its LauncherOne rocket mid-air to finish its journey to orbit. Which means that unlike other rocket companies that need a dedicated launch site and mission control, Virgin can technically turn any airport into a spaceport.
On the other hand, SpaceX's growing footprint in Texas is proof that having a dedicated central base of operations is key to rapidly sending spacecraft to orbit.
In addition, Virgin Orbit has a long way to go to reach profitability. The company lost roughly $44 million last quarter, compared to roughly $31 million in revenue. And by the end of last quarter, Virgin Orbit only had $71.2 million in cash on hand.
Virgin Orbit noted in Q3 it lost at least $960 million. The company is frantically trying to make up for this lost capital by streamlining production. It even noted in recent earnings it plans to lose a lot more. Virgin said its yearly launch service revenue was only about $33 million so far, with costs of revenue at $61 million. Simply put, the company spends double what it makes to get rockets to orbit.
So what's the solution? If immediate profitability can't happen, raising funding would be a start.
Back in June, Virgin Orbit sold $50 million in convertible notes and had plans to sell more. But in late November, Virgin canceled plans for the funding round, blaming "market conditions." Virgin didn't immediately reply to dot.LA's request for clarification on this, but it's clear the company won't pursue any stock sales in the immediate future.
In the coming year it's worth keeping an eye on not only how many launches Virgin Orbit can successfully send up but also how deep the pockets of its founding father truly is. With a track record of out-spending most of its competitors in rocket development by at least 5X, it still remains to be seen how much cash Branson will sink into the venture if it's not even close to profitable and unable to raise market funding. – Samson Amore