peacock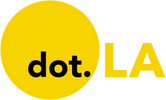 Get in the KNOW
on LA Startups & Tech
X
peacock
The Olympics has helped reel viewers into NBCUniversal's streaming service Peacock, at least on mobile.
From June to July, the app — heavily promoted during and leading up to the Olympics — saw average daily users in the U.S. climb 52%, to about 2.4 million. Across the same period, the app's monthly downloads increased nearly 96%, far outpacing the growth of other streaming apps, according to third-party analytics firm Apptopia.
It's a positive sign for NBCUniversal, although the true impact of the Olympics for Peacock won't be clear until once they conclude, when we're likely to see how many of the new users the Games attracted stick around.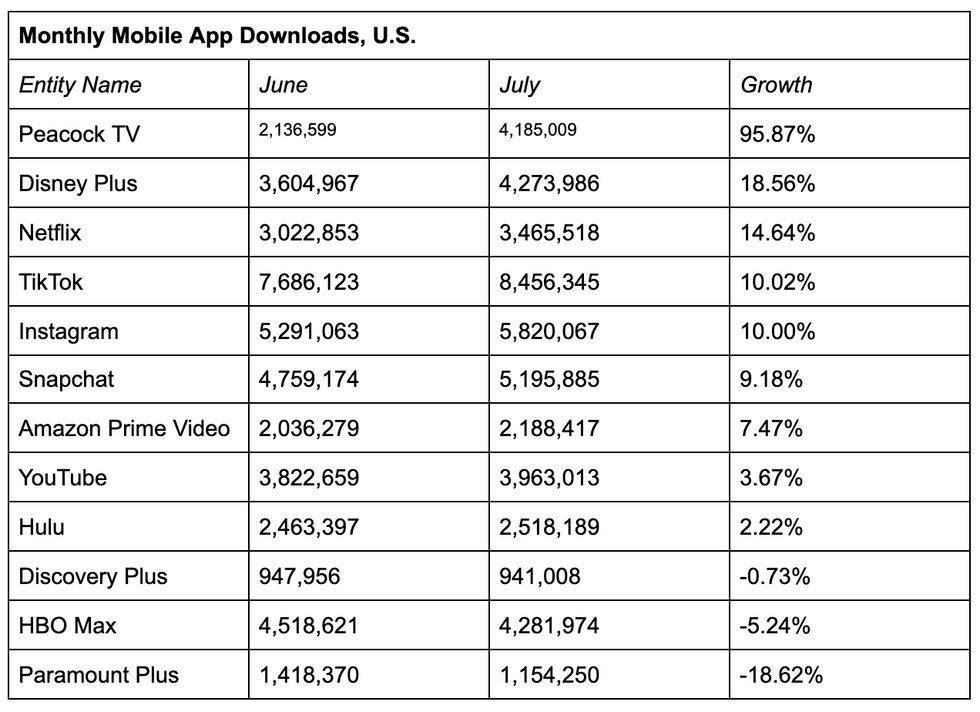 Data from analytics firm Apptopia.
Mobile is an emerging battlefront for streaming platforms. Netflix is ramping up its foray into the small screen with its gaming initiative, which will initially focus on mobile. The company also launched a mobile app in 78 countries in the second quarter this year. The moves are part and parcel of Netflix CEO Reed Hastings' oft-repeated observation that his competitors include TikTok, YouTube and Fortnite.

To elbow their way into consumers' time spent on mobile devices, streamers have a lot of catchup to do. TikTok and Snapchat, both designed from the start for mobile use, are far ahead in terms of daily active users on mobile. And about half of the nearly $160 billion global gaming market in 2020 came from players pressing the screens on their smartphones and tablets, according to analytics firm NewZoo.
Although Peacock far outpaced its competitors in streaming as well as those in the farther reaches of entertainment in terms of mobile growth, it was still in the middle of the pack in terms of absolute monthly downloads. And it remains far behind many of its competitors in terms of total users.
Nevertheless, it's a sign that the Olympics are helping Peacock. And even though the short-lived app Quibi quickly fell from well-financed darling to dud, the prize it was seeking in capturing the mobile attention market remains as enticing as ever.
Cynics are having a field day with the tepid audience that watched Friday's Olympics opening ceremony on NBC.

The data show a 36% decline from the 2016 Games across all NBC's platforms, which include its linear TV channel, Peacock and NBC Sports digital.
On the other hand, the network said Saturday brought Peacock record viewership.
NBCUniversal and its parent company Comcast own the Games' U.S. media rights through 2032. They expected the 2020 Tokyo Summer Olympics to provide a lift to Peacock, their recent entrant into the streaming wars.
The pandemic scuppered that plan, and Peacock has struggled to achieve traction. But the rescheduled Games provided the network a new opportunity to try to make up some ground in the streaming wars. Is it too late?
Actually, some analysts say, it's too early to tell.
"Some people are jumping to conclusions a little too quick here," said media analyst Dan Rayburn.
Peacock is showcasing a few hours of live Olympics content per day, in addition to a curated mix of highlights, recaps and analysis.
"We're gonna see a huge flurry of usage and signups, absolutely," Rayburn said. "But the more important question to ask is, 'What is the engagement going to be once the Olympics are gone?"
The longer-term impact of the Olympics on Peacock's competitiveness, in other words, is less about how many people watch the event, and more about how many of them stick around.
Beginning to answer that question will require waiting for Comcast's future earnings calls. Its third-quarter results will likely come in September and its fourth-quarter results will follow in early 2022.
Streaming companies have been reluctant to share much coveted performance data. The information they do share should be taken with a grain of salt, analysts say, as the companies can cherry-pick from their oceans of data to spin up a story that makes them look good.
NBC has been quick to report Peacock's record-breaking Saturday, but hasn't shared any specific numbers on Peacock.
One metric streamers will be unlikely to avoid sharing, eventually, is whether they achieve profitability on the timelines they've publicized. Peacock head Matthew Strauss told investors in January last year he expects the service to break even by the end of 2024.
In April, Comcast reported Peacock has had about 42 million sign-ups, one-third of whom use the service monthly. For comparison, Netflix reported 209 million paying subscribers in its most recent earnings call, and Disney reported over 103 million for Disney Plus.
A limited version of Peacock is available for free with ads. The full, ad-supported version costs $5 per month and the ad-free version is $10 per month. Comcast has not provided a breakdown of its users across those tiers.
From Your Site Articles
Related Articles Around the Web
Everyone expected the streaming wars to heat up, but no one could have predicted that a global pandemic would upend the theatrical release window and reshuffle the entertainment landscape so dramatically moving into 2021.

While Netflix has retained its dominance, Disney Plus is catching up. WarnerMedia-owned HBO, once the king of cable, has struggled to lure subscribers to HBO Max, but made headlines by throwing the long-entrenched precedent of films debuting on the big screen out the window.
NBCUniversal joined the fray with Peacock while the much-anticipated Quibi quickly burnt out. It remains to be seen whether the vast array of niche services can survive. Meanwhile, cash-rich Amazon and Apple loom with fat balance sheets, setting them up to make big moves if they wish.
With 2020 receding into the rearview, here are three trends to watch in 2021.
Will Streaming Platforms Consolidate Through Mergers and Acquisitions?
The proliferation of direct-to-consumer streaming platforms has precipitated a content arms race. Streamers need to keep filling their pipes if they want to compete and they are looking to old favorites like "The Office," zeitgeist-capturing breakout hits like "The Queen's Gambit" and reliable franchises like "Star Wars" and "Marvel" that can spin off seemingly endless films and shows.
Meanwhile, the pandemic has brought the future of theatrical releases and even theater chains into question after Warner Bros. allocated their entire slate of 2021 films to a streaming release the same day the flicks debut on the big screen. If box office dollars shrivel and sales of the films released directly to streaming are strong, streamers will continue to look to this model as a viable option even after the pandemic subsides. This could add challenges for companies with strong libraries and production chops but lacking a premier streaming platform.
"How do you greenlight a $100 million movie if you don't know what it's going to look like when the lights turn on?" said Adam Goodman, former president of Paramount Pictures.
Related: The Economics of How and Where Movies Are Released
Those companies may be better off paired with one of streaming's established players. The Wall Street Journal recently reported MGM, which owns James Bond among other assets, is looking to sell. Who might be buying?
Apple and Amazon could pay cash for virtually any studio in town and still have money left over. Their interests in streaming are tied to selling other products and services, though, so their acquisition appetites will depend on how badly they think they need to make a move in order to retain and grow their respective competitive advantages. 2021 may reveal the size and scope of their ambitions.

Another area to watch is how the ongoing decline of cable TV may nudge WarnerMedia and NBCUniversal toward spinoffs from their corporate parents, AT&T and Comcast respectively. Some activist investors have been calling for this, in order to free up the cable companies to focus on their super high-margin internet service businesses. One intriguing possibility is a two-step shakeup, in which WarnerMedia spins off from AT&T and NBCUniversal spins off from Comcast, and then their two streaming platforms (HBO Max and Peacock) merge to take on the behemoths of Netflix and Disney Plus.

Then there are the niche services. Sony recently acquired Crunchyroll for $1.2 billion. Might we see more roll-ups into broader-serving platforms?
Can an Advertising-Based Service Compete with a Subscription-Based Model in Streaming's Upper Echelon?
With the exception of Hulu, which has lost some of its luster as Disney has assumed full control and prioritized Disney Plus, the big players in streaming have primarily been subscription-based.
NBCU's Peacock, however, went against the grain by offering both a free, ad-based tier and a premium subscription. Providing free service can help to attract younger audiences strapped for cash, but it remains unclear whether the model can generate enough revenue for Peacock to afford enough content to compete with Netflix and Disney.
To track how NBCUniversal is thinking this through in 2021, keep an eye on the extent to which Peacock invests in content and marketing for its free tier. A significant push in those areas could indicate that its ad business is doing well. Specifically, it'll suggest that Peacock can target ads with relatively high precision, and charge advertisers a premium.
Might Someone Pick Up Where Quibi Left Off, with a Twist?
Although Quibi flamed out spectacularly, it's possible that Jeffrey Katzenberg was onto something: there's arguably an underserved gap between premium content on streaming platforms and user-generated content (UGC) on mobile apps like TikTok, Snapchat and Instagram. Quibi tried to bridge that gap by combining mobile with premium, shelling out for big-name stars and charging users a subscription fee. The pandemic may have exacerbated Quibi's demise, but so did the bevy of alternative short-form video platforms that are free and just a thumb-tap away.
The question, then, is whether the gap that Quibi identified can be filled in another way. As to what that might look like, media analyst Laura Martin told dot.LA that the lesson of Quibi's downfall is that UGC models appear to be "more resilient" when it comes to mobile content.
Rather than turning mobile video into studio-quality content, 2021 could see a premium take on free-to-access UGC content. For example, influencers with big followings may start creating more series with narrative arcs and content with higher production values. It's a model that's been tried to an extent before, unsuccessfully, with Disney's failed acquisition of Maker Studios and the lackluster results of YouTube Red. But with the pandemic increasing consumption of social media and time spent on mobile devices, the environment has changed. Plus,
as the influencer economy and ecommerce evolves
, new business models and funding sources are emerging, which could open up a new realm of creativity in 2021.
---
Sam Blake primarily covers media and entertainment for dot.LA. Find him on Twitter @hisamblake and email him at samblake@dot.LA
From Your Site Articles
Related Articles Around the Web