With gun violence surging in Pasadena, the city has sought help in a controversial technology that some residents fear will infringe on their privacy.
Pasadena saw an 85% increase in gun violence in 2020 over the year prior, according to data released by the Pasadena Police Department. Police officers also reported 288 gun seizures in 2020 — 62 more than in 2019.
In response, the city has signed a $640,000, three-year contract for ShotSpotter, a sound recognition system that detects gunfire in the community.
ShotSpotter's technology's acoustic sensors detect a gunshot as soon as it's fired. It uses artificial intelligence and triangulation to determine the location of the gunshot and alerts police by phone message. ShotSpotter claims the entire process takes 60 seconds.
"Based on the information that we provide them, ShotSpotter technicians come in and they install various sensors throughout the proposed area," said Pasadena Police Lt. Lieutenant Bill Grisafe.
But given broad fears around overpolicing, many worry the technology gives law enforcement yet another surveillance tool — one they worried wouldn't prove that effective, as residents in other cities that use the tech have claimed.
Those tensions were on display Monday evening, when City Council members convened to deliberate the contract with ShotSpotter.
"No one else in L.A. County is using this technology," one resident said during the public comment portion of the meeting. "If that's not a red flag I'm not really sure what is."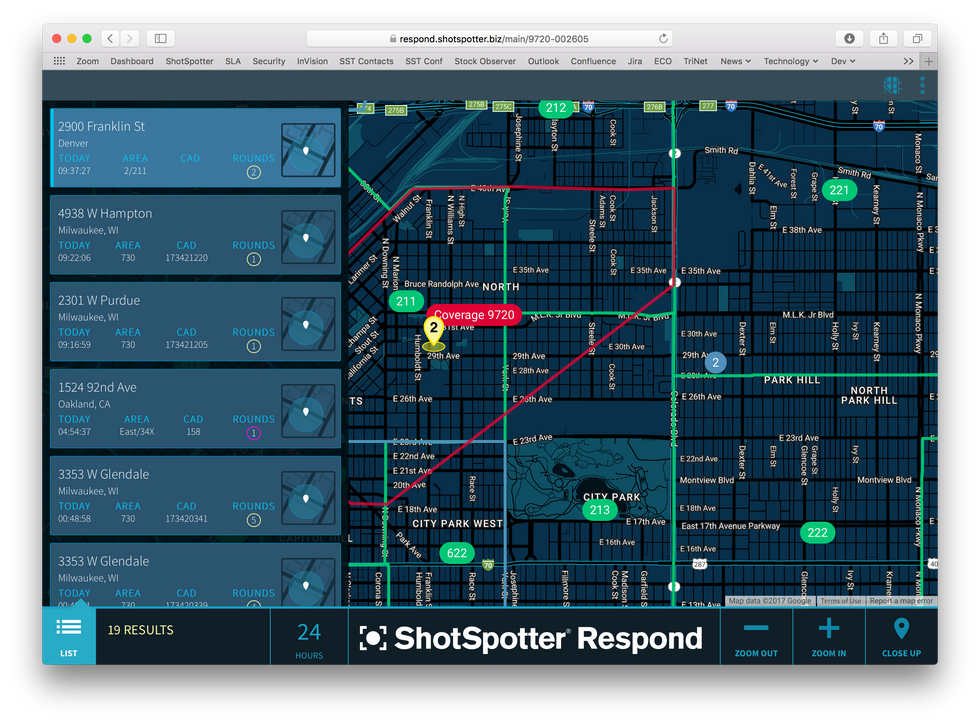 ShotSpotter displays an approximate triangulation where a gunshot is detected.
Grisafe, for his part, maintains that the Pasadena police won't be using Shotspotter in any intrusive way. "This is a system that has not been tested here, or used in Pasadena before, and I understand that there are some concerns," he told dot.LA on Tuesday. "But I think it is important to understand that this is not any type of surveillance equipment."
Some local elected officials aren't so sure. The City Council voted in favor of ShotSpotter, 7 to 1. They also agreed to revisit this technology after a one-year period to see whether it has had any impact.
"Given everything that's going on in my district last year and going out and talking to residents. We hear repeatedly calls to try new things, try new technologies. So while I am wary, it's worth a try," said Jessica Rivas, Council Member of District 5.