el segundo
el segundo
As the White House continues its push for electric vehicles, the demand for semiconductors – a key component in electric vehicles – is about to surge. That spike will mean big business for German semiconductor producer Infineon Technologies, which has its 300-person U.S. headquarters in El Segundo.

Microchips and semiconductors have established vital roles in everyday devices. While laptops, phones and other mobile devices might be the first things to come to mind, transportation—in particular cars—takes a sizable portion of the demand.
Infineon is a significant semiconductor supplier to the automotive and transportation industry, in particular to the Volkswagen Group, which is beginning to deliver on its promises of many electric vehicle launches throughout the decade. Infineon has more than 50 of its semiconductors in the VW ID.4, a compact electric SUV that went on sale in the U.S. earlier this year. It also supplies semiconductors to Electrify America, an EV charging company owned by VW Group of America.
VW's push has come in a year when a global microchip shortage caused by production curtailing in last year's onset of the Covid-19 pandemic. Automakers, in particular, have scrambled to continue building new cars. Dealership lots across the country are running out of inventory and used car prices remain high. At the same time, President Biden has called for a massive increase in electric, hybrid and fuel cell vehicles production. He aims to have half of all vehicles sold by 2030 be non-gas powered.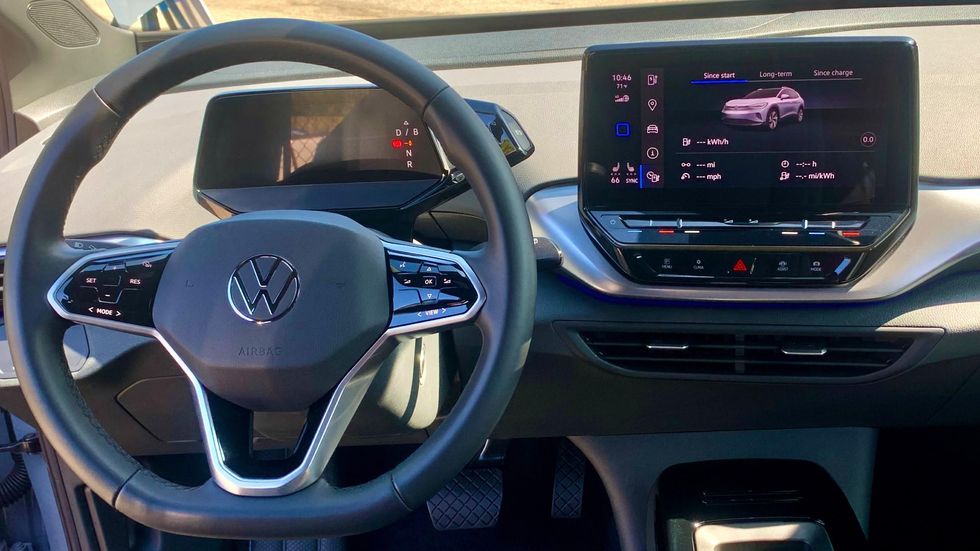 "It's an industry problem," said Shawn Slusser, Infineon senior vice president for marketing and distribution in El Segundo. "The industry overall is in a situation where production and demand are not matched."
A typical car has about $450 worth of power semiconductors to operate features that go from the radio and navigation system to the automatic headlights and windshield wipers, said Slusser. However, that number roughly doubles for EVs when factoring the microchips needed for Infineon's power module to power the car.
The company also supplies semiconductors to Electrify America, an EV charging company owned by VW Group of America. Infineon has more than 50 of its semiconductors in the VW ID.4, a compact electric SUV that went on sale in the U.S. earlier this year.
Auto industry analysis firm IHS Markit predicted in the Wall Street Journal last week that microchip and semiconductor production will allow auto production to get closer to normal by the end of 2022, although some of the problems are likely to stretch into 2023.
And it's a problem that's been brewing long before stay-at-home orders.
"There's a misconception that chips have only been going into EVs recently, but it's been happening since the '80s," IHS Markit analyst Phil Amsrud told dot.LA. "But what it used to be was that there was automotive and everything else. Now there's much more commonality."
Slusser said Infineon has seen demand for semiconductors steadily rising over the last several years. In 2018, the company decided to add capacity with a facility in Austria. But doing so takes between two to three years and billions of dollars — even in a well-functioning climate. And at the time, there were fewer government pushes and mandates to get consumers to buy EVs.
"The timing of how much capacity we need is also dependent on EV adoption," Slusser said. "Is [demand] going to look like a steady incline or a sharp curve?"
Amsrud said EV production may be helped because the semiconductors going into EV power modules don't go into consumer electronics.
"In this case, it may end up being a benefit," he said. "Those are fairly specialized and won't be competing with consumer products or as many markets for the silicon carbide components."
Correction: An earlier version of this post mischaracterized the number of semiconductors in a typical car and the cost of upgrading a semiconductor facility.
Related Articles Around the Web
BallerTV, a livestreaming service for youth sports, is expanding from the gymnasium to the playing field, adding millions of games that it can broadcast into people's homes.
The Pasadena-based company announced Tuesday it acquired NextPro, which films outdoor youth sports and has exclusive rights to record games from nearly 400 of the top soccer and lacrosse event operators.
BallerTV livestreams scholastic and club basketball and volleyball using proprietary autonomous technology. With the acquisition of NextPro, it will increase the scale of its operations from streaming hundreds of thousands of games to millions. The company declined to reveal the terms of the deal.
"Our technology, our platform, is pretty sport agnostic and our business model to connect families and communities to the power of live sports isn't confined to just indoor sports," Baller TV CEO and co-founder Aaron Hawkey said. "It's going to accelerate our entrance into soccer and other field sports which are massive sports in the market."
El Segundo-based NextPro was founded in 2013 by Craig Hochstadt and Amin Edalat and focuses on filming large-scale youth recruiting events in soccer, lacrosse, baseball and softball. It had not delved into livestreaming.
There are 50 million youth sporting events each year and less than 1% are livestreamed, Hawkey said. It's also a lucrative market. Spending in youth sports in the U.S. was $15.3 billion in 2017 and grew to $19.2 billion in 2019.
Critics say that parents are spending thousands on coaches, equipment and other things needed to play competitive youth sports, but only a small percentage of kids will get a college scholarship or go pro.
Still Hawkey said the value of sports is immeasurable.
"All the benefits that I got from sports didn't mete out into a college scholarship. I don't think that was what my parents were hoping for," he said. "The leadership skills I take in building a startup from what I learned from sports, it's hard to place a value on."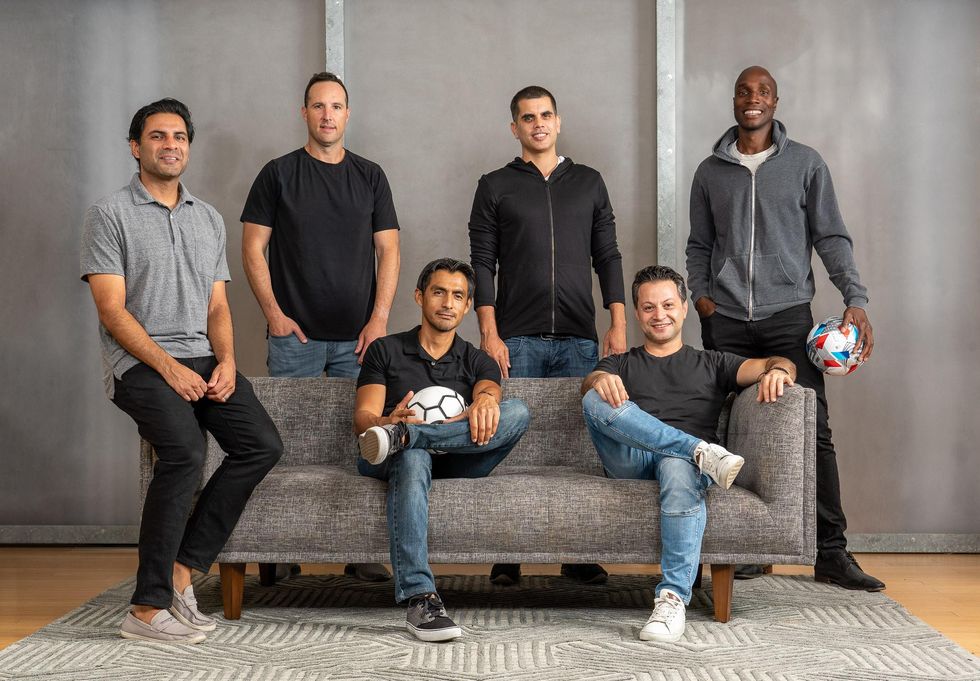 From left: Sandeep Hingorani (EVP of BallerTV), Craig Hochstadt (co-founder, NextPro), Robert Angarita (co-founder, BallerTV), Aaron Hawkey (CEO, co-founder of BallerTV), Amin Edalat (co-founder, NextPro) and Kavodel Ohiomoba (chief technology officer, BallerTV)Photo courtesy BallerTV
During the pandemic, when sports returned but spectators were limited, family members and recruiters turned to BallerTV, Hawkey said.
The service has 3,000 college Division 1 through Division 3 scouts, according to the company, although it did not provide a total number of subscribers. The biggest audience though are family members of the athletes who can't make it to games, Hawkey said.
"I do think there's a lot of upside in providing value and coverage of these events," he said.
Another initiative that BallerTV undertook this year was selling NFTs of the top athletes at a high profile youth basketball tournament. The tournament's MVP earned $4,000 from his NFTs. The idea was inspired by the U.S. Supreme Court ruling that college athletes could be paid modest sums related to education. It does not apply to high school athletes.
"There's a lot we can do in terms of really trying to help these athletes," Hawkey said. "Clearly there's an opportunity for them to make money, not only on NFTs but in other ways and we're trying to push the ball forward on allowing that given all the restrictive rules in the high school space right now."
When it first began, BallerTV hired videographers to stream the games, growing to a network of 30,000 across the country. But soon, Hawkey, who is an engineer, realized that technology would be key to reach the scale that he envisioned.
With a team of engineers, it developed proprietary machine learning to automatically record the action.
It requires less manpower as iPhones, equipped with fisheye lenses, are used rather than video cameras with an operator at each camera. One person can monitor several devices at a basketball tournament where 10 games are being played at once, for example. That person can watch a sort of master feed to monitor whether a basketball crashes into the device or other technical difficulties arise.
Outdoor sports do present a challenge compared to the climate-controlled environment of a gym. Hawkey had wanted to move into outdoor sports eventually, but NextPro's experience will help that expansion.
From Your Site Articles
Related Articles Around the Web
As the pandemic slowed and halted clinical trials to test new drugs, the need for a virtual solution became clear to clinical researchers. El Segundo-based Lightship hopes to keep clinical trials going with a virtual process that allows patients to participate from home.
The three-year-old company is one of many in Los Angeles, including MedVector and Science37, investing in a new model of clinical drug trials that seek to virtualize and speed up a yearslong, data-intensive process heavily regulated by the Food and Drug Administration. Those trials are key to help doctors understand the efficacy and side effects of drugs before dosing their patients.

The approach has proved attractive during a pandemic that has forced traditional drug trials to slow down as researchers scrambled to safely conduct trials without putting participants in danger of COVID-19.
SEC filings from Monday show the startup raised $40 million from 10 undisclosed investors. Neither Lightship nor its previous investors responded to requests for comment.
But the move comes as the Food and Drug Administration shifts its thinking on clinical trials. In November, the agency updated its standards to accommodate patients participating in clinical trials from home. It also acknowledged the process was largely unfair because it failed to include underrepresented patients.
In issuing the guidance, Commissioner Stephen M. Hahn acknowledged "clinical trials requiring frequent visits to specific sites may place an added burden on participants."
The clinical trial process often excludes underprivileged people who would otherwise be prime candidates for the drug. That's because it requires participants to drive to hospitals or research sites, sometimes during the work day.
Lightship, though tight-lipped about its products, says on its website it aims to construct flexible clinical trial solutions for companies that want to accommodate patients that can't drive to a nearby facility for regular testing.
That could help clinical trials solve their diversity problem that some researchers argue have plagued the industry.
Clinical trials depend on racial and financial diversity because a drug's efficacy isn't based solely on the chemical composition of the drug – it also requires an extensive understanding of different environmental factors, such as someone's quality of sleep, outside stressors and genetics. Those factors can influence a drug's performance and they are part of what the FDA considers when it creates a drug's safety profile for doctors and patients before releasing the drug onto the market.
"If you don't include a diverse population in your clinical trial and really study those differences or similarities, you might end up having a situation where the product is out in the market and it has a different safety and efficacy profile [than what was originally written]," said Dr. Eunjoo Pacifici, a professor at the USC School of Pharmacy.
Lightship previously raised $10 million in a debt financing round in April, and nearly $20 million in venture capital in 2020.
MedVector, another LA-based startup tackling the virtual clinical trial space, raised $630,000 in March
for a product to help clinicians document a participant's vitals
without requiring them to travel. Another, Science 37,
raised $40 million in 2020
to construct flexible clinical trials.
Related Articles Around the Web