BallerTV, a livestreaming service for youth sports, is expanding from the gymnasium to the playing field, adding millions of games that it can broadcast into people's homes.
The Pasadena-based company announced Tuesday it acquired NextPro, which films outdoor youth sports and has exclusive rights to record games from nearly 400 of the top soccer and lacrosse event operators.
BallerTV livestreams scholastic and club basketball and volleyball using proprietary autonomous technology. With the acquisition of NextPro, it will increase the scale of its operations from streaming hundreds of thousands of games to millions. The company declined to reveal the terms of the deal.
"Our technology, our platform, is pretty sport agnostic and our business model to connect families and communities to the power of live sports isn't confined to just indoor sports," Baller TV CEO and co-founder Aaron Hawkey said. "It's going to accelerate our entrance into soccer and other field sports which are massive sports in the market."
El Segundo-based NextPro was founded in 2013 by Craig Hochstadt and Amin Edalat and focuses on filming large-scale youth recruiting events in soccer, lacrosse, baseball and softball. It had not delved into livestreaming.
There are 50 million youth sporting events each year and less than 1% are livestreamed, Hawkey said. It's also a lucrative market. Spending in youth sports in the U.S. was $15.3 billion in 2017 and grew to $19.2 billion in 2019.
Critics say that parents are spending thousands on coaches, equipment and other things needed to play competitive youth sports, but only a small percentage of kids will get a college scholarship or go pro.
Still Hawkey said the value of sports is immeasurable.
"All the benefits that I got from sports didn't mete out into a college scholarship. I don't think that was what my parents were hoping for," he said. "The leadership skills I take in building a startup from what I learned from sports, it's hard to place a value on."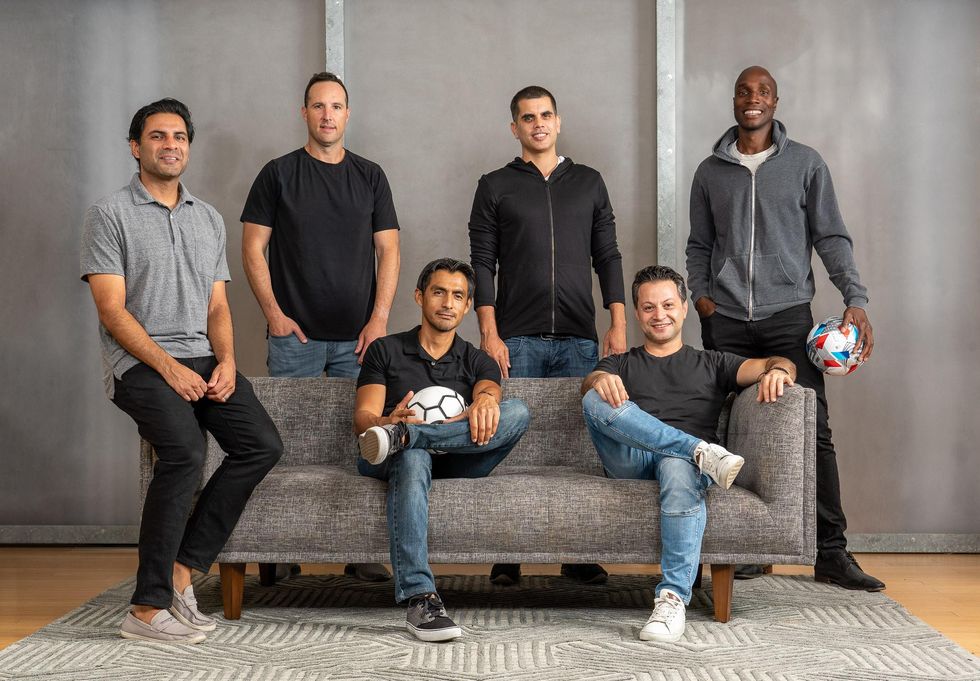 From left: Sandeep Hingorani (EVP of BallerTV), Craig Hochstadt (co-founder, NextPro), Robert Angarita (co-founder, BallerTV), Aaron Hawkey (CEO, co-founder of BallerTV), Amin Edalat (co-founder, NextPro) and Kavodel Ohiomoba (chief technology officer, BallerTV)Photo courtesy BallerTV
During the pandemic, when sports returned but spectators were limited, family members and recruiters turned to BallerTV, Hawkey said.
The service has 3,000 college Division 1 through Division 3 scouts, according to the company, although it did not provide a total number of subscribers. The biggest audience though are family members of the athletes who can't make it to games, Hawkey said.
"I do think there's a lot of upside in providing value and coverage of these events," he said.
Another initiative that BallerTV undertook this year was selling NFTs of the top athletes at a high profile youth basketball tournament. The tournament's MVP earned $4,000 from his NFTs. The idea was inspired by the U.S. Supreme Court ruling that college athletes could be paid modest sums related to education. It does not apply to high school athletes.
"There's a lot we can do in terms of really trying to help these athletes," Hawkey said. "Clearly there's an opportunity for them to make money, not only on NFTs but in other ways and we're trying to push the ball forward on allowing that given all the restrictive rules in the high school space right now."
When it first began, BallerTV hired videographers to stream the games, growing to a network of 30,000 across the country. But soon, Hawkey, who is an engineer, realized that technology would be key to reach the scale that he envisioned.
With a team of engineers, it developed proprietary machine learning to automatically record the action.
It requires less manpower as iPhones, equipped with fisheye lenses, are used rather than video cameras with an operator at each camera. One person can monitor several devices at a basketball tournament where 10 games are being played at once, for example. That person can watch a sort of master feed to monitor whether a basketball crashes into the device or other technical difficulties arise.
Outdoor sports do present a challenge compared to the climate-controlled environment of a gym. Hawkey had wanted to move into outdoor sports eventually, but NextPro's experience will help that expansion.